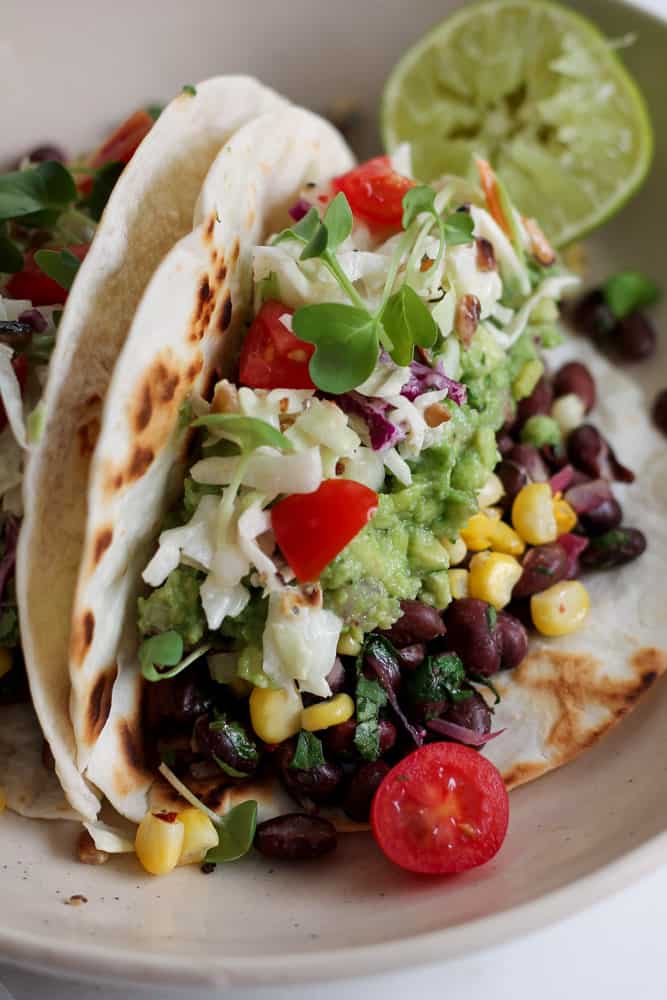 There's nothing like Chilliwack corn when we go home for the summer. It is so sweet and so fresh. The cobs are literally bursting with flavour and goodness. The corn feast situation is real at the lake in the summer - we can't get enough of it. Corn goes with everything - corn relish, corn salad, corn bread, and now Sweet Summer Corn Tacos - simple, delicious, and easy.
If you've been searching for a quick and easy vegan meal for your family, this is it! These tacos are the perfect combo of sweet, salty, sour, spicy, crunchy, fresh and creamy - you're going to love them, I promise. This combo: Corn, guacamole, beans, slaw, and tomatoes wrapped in a toasty warm tortilla. Yum!
These tacos are wonderfully, easy, healthy, nutritious, gluten free, meat free, dairy free, refined sugar free, cruelty free, but incredibly delicious. Use gf wraps or skip the wraps all together and pile the fillings into a big lettuce leaf - equally delicious is pairing these fillings on rice (if you have an instant pot, put the rice on as soon as you start and everything will be ready at the same time). Any way you serve it, it's going to be a crowd pleaser; and you'll feel good serving it to your family!
Enjoy!
x Tracy
Did you make this recipe? I'd love to see it!
Please leave a star rating and comment at the bottom of the page.
Thank you so much for sharing! Tag me on Instagram
For more Vegan Recipes: Sign up for my email NEWSLETTER!
Sweet Summer Corn Tacos
Rate this recipe!
INGREDIENTS
4

cobs

sweet corn on the cob, cut off

1

tsp

oil (optional)

1

clove

garlic, crushed

1

tsp

oil (optional)

¼

cup

onion, medium dice

2

cloves

garlic, crushed

1

tsp

cumin

1

tin

black beans

1

lime, juice

1

handful

cilantro, chopped

S&P

1

pinch

hot pepper flakes, to taste

1-2

cups

slaw mix or shredded cabbage

2

tbsp

vegenaise*

4

tbsp

pickle juice or vinegar with chopped dill

squeeze

lemon, juice

lots

cracked black pepper

1

sprinkle

sunflower seeds (toasted) *optional

2

avocados, smashed

2

tbsp

onion, chopped fine

1

handful

cilantro chopped

1

splash

chipotle tobasco

½ - 1

lime, juice

salt, to taste

1

cup

cherry tomatoes, halved

4-6

tortillas, dry toast
INSTRUCTIONS
Steamed Corn
Steam corn (I used triple sweet Chilliwack corn - which is incredible in season) and then cut niblets from the cob. Heat a cast iron skillet until very hot, then add the corn, cracked black pepper and crushed fresh garlic - stir the corn while it is searing - if using oil, add 1 tsp here and proceed as above. Cook until heated through and slightly charred. Remove from heat and set aside. Place in serving dish.
*Express version: skip the sautéing and just season the steamed corn with S&P or use frozen corn and season as directed.

Black Beans
Chop ~ ¼ cup onion and 2 garlic cloves (crushed and chopped). Place small drizzle of olive oil in pot (if using), add onion and garlic and cook until soft and fragrant. If limiting oil, add a little splash or broth or water to the pan to soften the onion and garlic. Add cumin, black beans, lime juice, cilantro, S&P, and a sprinkle of hot pepper flakes. Remove from heat, place in serving dish.

Dilly Slaw
Prepare cabbage by slicing thin or using a mandolin (when pressed for time, I use a bag of slaw from the store).
Mix all dressing ingredients together in a medium serving dish - Vegenaise (I use Follow Your Heart), pickle juice (or juice from pickled hot peppers; or vinegar and chopped dill), lemon juice, lots of cracked black pepper, salt, sometimes I'll use a ¼ tsp maple syrup if it's too sour.  I had some toasted sunflower seeds in the fridge and threw them into the slaw which was spectacular - but totally optional.  Set aside in serving bowl.

Guacamole
Peel and pit 2 ripe avocados and place in medium bowl. Mince onions and cilantro. 
Gently mash the avocado with the back of a fork (I leave mine pretty chunky). Add the minced onions and cilantro, salt, lime juice, and a splash of Chipotle Tabasco. Stir as necessary to incorporate. Taste and re-season as required. Set aside in serving bowl.


Slice cherry tomatoes in half (through the belly), squeeze with lime, add any leftover chopped cilantro (if available). Place in serving bowl.

Warm tortillas in a dry pan over medium high heat, on a grill or wrapped in tin foil in the oven until warmed through. I prefer the dry pan method.

Time Management Tips:
Boil water for corn, peel and husk the corn.  While the corn is steaming, saute onions and garlic for beans.
Remove corn from water and let cool.
Add the beans and spices to the onions and garlic. When heated through, remove from heat.
Make slaw dressing in medium bowl.  Prepare and place cabbage in dressing.
Remove niblets from cobs and saute with garlic.  While corn is sautéing, make guacamole and set aside. Slice tomatoes in half and place in serving dish.
Warm tortillas.  Serve hot. Enjoy
This recipe is from simplyceecee.co food blog. All images and content are copyright protected. Please do not use my images or republish this recipe without prior permission. Thank you.