These vegan black bean tacos with fresh summer corn, guacamole, and creamy coleslaw wrapped in a toasty warm tortilla are super flavorful and nourishing. Ready in 20 minutes, they make the perfect, healthy and filling summer meal the whole family will love. Easily gluten-free and oil-free friendly.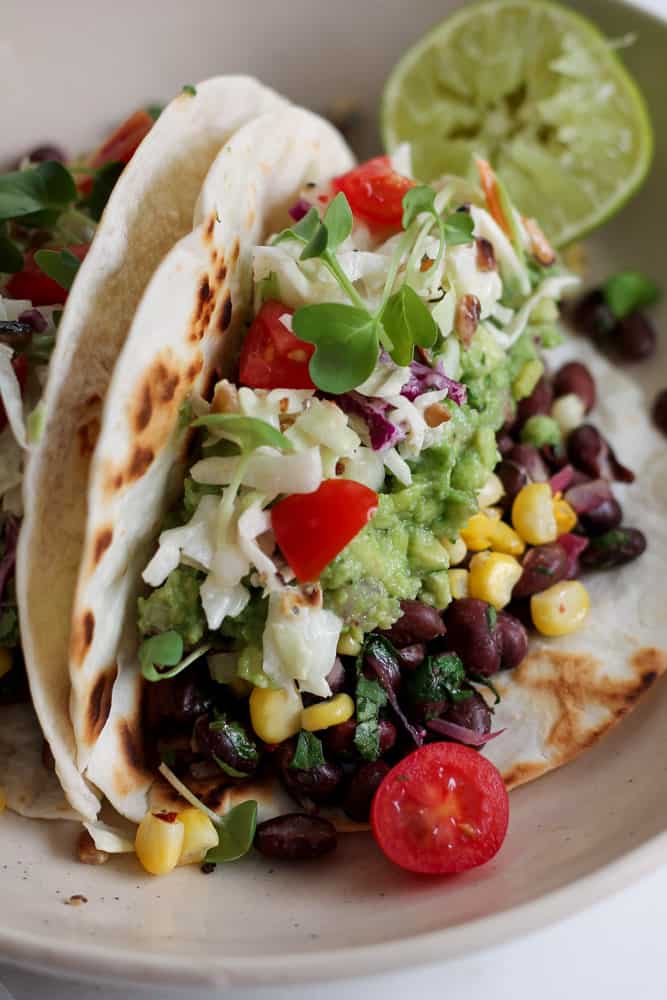 We're obsessed with tacos at our house, and have them at least once a week! We absolutely love cauliflower chickpea tacos, smoky saucy jackfruit tacos, sometimes a classic tofu taco or an indulgent vegan fish taco.
Ingredients
These nourishing, vegan black bean tacos are the perfect combo of sweet, salty, sour, spicy, crunchy, fresh and creamy - they are super flavorful, you're going to love them!
Other than corn, black beans, and tortillas, you'll need ingredients to make guacamole (avocado, lime juice, red or white onions, and cilantro); vegan coleslaw (cabbage, vegan mayo, pickle juice or vinegar, and maple syrup); and some tomatoes.
How to Make Vegan Tacos
These vegan tacos are an easy, healthy, weeknight meal to feel your family. Let's get cooking!
Corn: Start off by steaming fresh summer corn (or if using frozen corn, let it thaw while you gather the other ingredients together). Once the corn has cooled, cut the niblets from the cob and quick stir fry it with garlic and salt for extra flavor. Transfer the corn to a bowl.
Black Beans: Warm the beans next using the same pan as the corn. Heat the oil over medium high heat, add the onions and garlic and cook until fragrant. Add the beans, spices and cilantro and warm through.
Guacamole: Make the quick and easy guacamole by gently mashing the avocados and stirring them together with the other ingredients. Taste and adjust the lime and salt as necessary.
Coleslaw: This simple dairy-free coleslaw takes only minutes to make. Use pickle juice, white vinegar or freshly squeezed lemon juice for the tanginess. Add the maple syrup if the coleslaw dressing tastes too sharp which will soften the acidity.
Tortillas: I like to serve these black bean and corn tacos in a flour tortilla that has been warmed on a hot, dry skillet on the stove - just 20 or 30 seconds on each side. You want it to be warm and slightly crispy but still pliable.
To Serve: Set everything out in bowls and let the family build their own vegan tacos - buffet style.
Options & Variations
Beans: switch up the beans and use pinto beans or chickpeas.
Guacamole: skip the guac and just slice or dice the avocados.
Tomatoes: make a quick pico de gallo for extra flavor.
Sauces: feeling extra saucy, try a drizzle of spicy green tahini or Mexican inspired vegan southwest dressing
Storage Tips
The corn and beans can be made a few days in advance so are great for meal prep or quick weeknight dinners. The guacamole and slaw take only 5 minutes each to make and are best served fresh.
Store any leftovers in separate containers in the fridge for 2 or 3 days.
More Easy Vegan Dinners
If you're looking for easy, nourishing weeknight dinners, here's a few more ideas:
Did you make this recipe? I'd love to see it!
Please leave a rating and comment below and tag me on Instagram with your photos.
For more Vegan Recipes: Sign up for my NEWSLETTER!
Vegan Black Bean Tacos (with corn and slaw)
Black bean tacos with fresh summer corn, guacamole, and creamy coleslaw in a toasty warm tortilla. The perfect, healthy and filling summer meal the whole family will love. Easily gluten-free and oil-free friendly.
Rate this recipe!
INGREDIENTS
Black Bean and Corn Filling
4

cobs

sweet corn on the cob, cut off

1

teaspoon

oil (optional)

1

clove

garlic, crushed

¼

cup

onion, medium dice

2

cloves

garlic, crushed

1

teaspoon

cumin

1

can

black beans

1

lime, juice

1

handful

cilantro, chopped

S&P

1

pinch

hot pepper flakes, to taste
Coleslaw
1-2

cups

slaw mix or shredded cabbage

2

tablespoons

vegenaise (vegan mayo)

3-4

tablespoons

pickle juice, fresh lemon juice or vinegar

½

teaspoon

coarse black pepper

½

teaspoon

kosher salt

¼

teaspoon

maple syrup (optional)

2

tablespoons

sunflower seeds (optional)
Guacamole
2

avocados, mashed

2

tablespoons

red onion, diced

1

handful

cilantro chopped

1

teaspoon

chipotle tobasco

½ - 1

lime, juiced

salt, to taste
Garnish
1

cup

cherry tomatoes, halves

4-6

tortillas, dry toast
INSTRUCTIONS
Corn Filling
Steam the corn, let it cool then cut the niblets off the cob. Or if using frozen corn, defrost it.

Add 1 teaspoon of oil to a cast iron skillet and warm until shimmering.

Add the corn, cracked black pepper and crushed fresh garlic - stir the corn until heated through and slightly charred. Transfer to a bowl - use the skillet for the black beans next.
Black Beans
Warm 1 tablespoon of oil in a skillet, add the onions and minced garlic. Cook until soft and fragrant.

Add the cumin, black beans, lime juice, cilantro, S&P, and a sprinkle of hot pepper flakes stirring until incorporated and warmed through.
Make the Slaw
Mix all coleslaw dressing ingredients together in a medium serving dish. Add maple syrup if the slaw is too sour.

Toss with shredded cabbage. Sprinkle with toasted sunflower seeds for extra crunch (optional).
Make the Guacamole
Gently mash the avocado with the back of a fork (I leave mine pretty chunky).

Add the minced onions, cilantro, salt, lime juice, and a splash of Chipotle Tabasco. Taste and adjust seasoning as required.
Putting it All Together
Warm tortillas in a dry pan over medium high heat.

Add a scoop of corn and black beans, top with tomatoes, guacamole, and slaw.
This recipe is from simplyceecee.co food blog. All images and content are copyright protected. Please do not use my images or republish this recipe without prior permission. Thank you.