Tangy tomato and olive hummus pasta is a bright, creamy, healthy, vegan meal that everyone loves! It's easy to make, is easily oil-free, dairy-free, and gluten-free, and is packed with bold flavours and textures. It's going to be a new family favourite - trust me!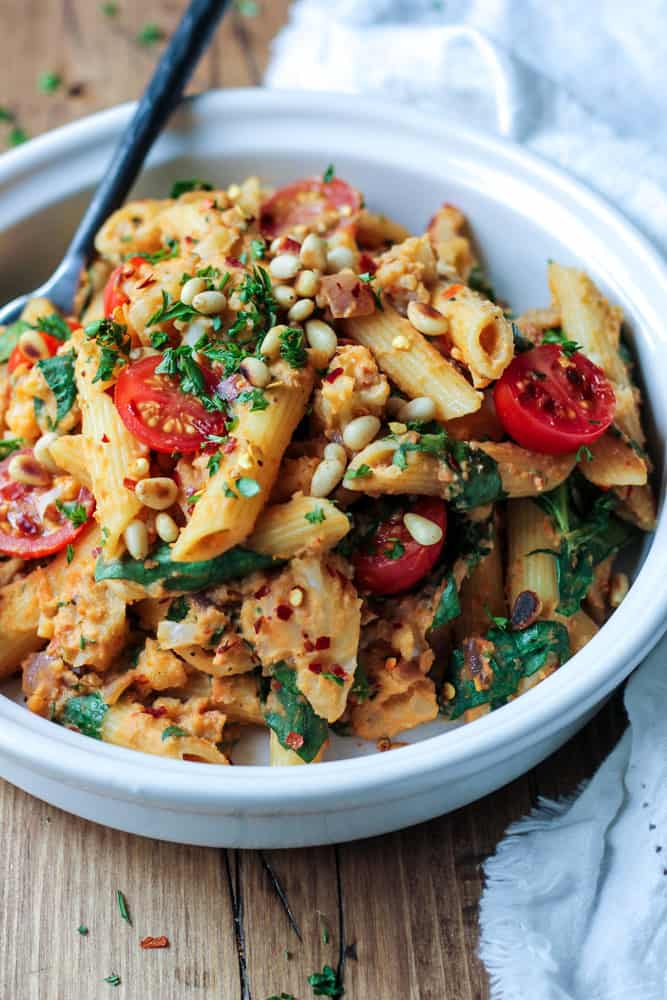 Pasta is a staple in our house in the winter - who doesn't love a great pasta dish when it's snowy and cold outside!! (We're Albertans, we know about cold, snowy months upon months!) But these last few weeks as winter turns to spring has my pasta dishes turning a little lighter and little quicker. This tangy tomato and olive hummus pasta keeps things light and fresh, but still imparts the warmth and comfort you expect from a cozy pasta dish.
Why You'll Love This Pasta Recipe
healthy, oil-free, dairy-free, gluten-free friendly, plant-based
easy to make, and versatile
packed with protein and nutrients
restaurant-quality vegan comfort food
rich and creamy
Tangy Tomato Olive Hummus Recipe
This MAGIC hummus is bold, tangy, briny, creamy, and tomatoey!
Hummus is easy to make, incredibly healthy, and super versatile. You can take a basic hummus recipe and add absolutely anything to create the flavour you want. This Tangy Tomato Olive Hummus recipe is going to knock your socks off. It's the perfect flavour profile for pasta because it carries a bold, creamy flavour.
Packed with goodness, this pasta is a perfect symphony of flavours and textures with sweet caramelized onions, cauliflower, sun-dried tomatoes, juicy cherry tomato halves, ribbons of spinach and basil, and the creamy, tangy olive hummus sauce.
Managing Your Time
Take all ingredients out and prepare the vegetables as directed.
Blend hummus and set aside.
Boil salt water for pasta.
Sauté veggies as directed.
Cook and drain pasta (DON'T FORGET to reserve 1 cup of the hot, salty-starchy pasta water to thin out the sauce).
Toss the remaining fresh ingredients, pasta, and hummus sauce with the pan ingredients. Serve immediately.
ENJOY!
More Vegan Pasta Recipes
QUICK AND EASY PASTA: try my most pinned pasta recipe on the blog Fast Fresh Tomato and Spinach Fettuccine or this incredibly nutty and delicious Spanish Best Romesco Sauce with spaghetti noodles.
KINDA FANCY OR SUNDAY DINNER PASTAS: one of the most incredible vegan meals I've ever created (worth the extra effort) is this World's Most Delicious Vegan Lasagna Roll which will knock your socks off!
Or try this slow-cooking-Sunday pasta that will make your house smell like a fine Italian Restaurant Slow Roast Tomato Pasta.
Other Uses for Hummus
If you've got a bit of hummus leftover, here's a few ideas to use it up:
Swap hummus for mayo on any sandwich - if you are feeling kinda extra, make this Epic Veggie and Tofu sammie to really impress your family and friends (and your taste buds will thank you too!).
Missing your cheesy pizza? Smother a layer of hummus under your tomato sauce and you won't even miss the cheese - honest!
Cocktail Party Season is coming - serve this hummus with crackers on your Charcuterie Board instead of cream cheese or on a veggie and dip plate.
Enjoy! Tracy
Did you make this recipe? I'd love to see it!
Please leave a star rating and comment at the bottom of the page.
Thank you so much for sharing! Tag me on Instagram 
For more Vegan Recipes: Sign up for my email NEWSLETTER!
Tangy Tomato and Olive Hummus Pasta Recipe
This penne is super healthy and easy to make. Packed with veggies and tossed in a tangy tomato-olive hummus sauce, it's a perfect symphony of flavours and textures. Yummy vegan comfort food!
Rate this recipe!
INGREDIENTS
1

cup

tangy tomato and olive hummus recipe*

1

tbsp

oil (optional)

1

cup

onion, chopped

2-4

garlic

cloves, crushed

2

cups

cauliflower, small florets

2-3

pieces

sun-dried tomato, chopped fine

1

cup

cherry tomatoes, halved

salt and coarse ground pepper to taste

½-1

cup

reserved salty pasta water

4

servings

pasta (penne, rigatoni), cooked

2-3

cups

spinach, chopped

10

leaves

basil, sliced into ribbons

2-4

tbsp

pine nuts, roasted

hot pepper flakes, to taste
INSTRUCTIONS
Make the tangy tomato and olive hummus recipe and set aside. OR use your favourite store-bought hummus.Pro Tip: I add a splash of juice from the olives to add a little extra brininess to the hummus when I'm making this pasta.

Prepare all the veggies as indicated. 

Put the salted pasta water on to boil. When the water is ready, cook the pasta according to the package directions - drain **SAVE 1 cup of pasta water to thin sauce**

While the pasta is cooking (~ 8-12 minutes), add 1 tbsp oil to a large deep skillet, add chopped onion, garlic, and cauliflower florets - cook over medium for about 5-6 minutes (until soft and fragrant). Season with salt and pepper to taste. Add sun-dried tomatoes and halved cherry tomatoes and let saute for 3 or 4 more minutes on medium.

When the pasta is ready and drained, toss it into the tomato-cauliflower mixture, add the hummus and ½ cup of salty pasta water. Mix to incorporate. Add chopped spinach and stir - leave cooking for 1-2 minutes. 

Heap the pasta into a serving bowl, top with basil ribbons, chopped sun-dried tomato, toasted pine nuts, hot pepper flakes, and more pepper to taste.
NOTES
Hummus - feel free to swap out the hummus your favourite flavour.
Vegetables - Use any veggies you have on hand, you don't have to stick to these.
Oil-free Recipe- It's easy to make this recipe oil-free by sweating the onions and cauliflower with a little veggie broth as needed.
Gluten-free Pasta- use your favourite gluten-free pasta (I like Banza which is a chickpea pasta). I recommend undercooking the Banza pasta by a couple minutes as I found the manufacturer's directions to produce slightly overcooked noodles. Test for yourself starting a couple minutes before the suggested time so you get the perfect texture.
How to Make Basil Ribbons - Pile 10 basil leaves on top of each other. Roll them in a tight cigar from bottom of leave to top. Make thin slices from end to end to create ribbons.
Storage - leftovers store well in the fridge for a number of days. Package them in individual containers and take them for lunch throughout the week.
This recipe is from simplyceecee.co food blog. All images and content are copyright protected. Please do not use my images or republish this recipe without prior permission. Thank you.