The most incredible, tender-crisp vegan fish tacos ever. I'm over the moon with the flavour and texture combination of these scrumptious vegan fish-free tacos. I think you will be too!
If you had to choose just one type of food to eat for a month, what would it be? For me, TACOS. I mean, you can put just about anything in a taco shell and you get a fistful of YUM. Authentic - not necessarily. Delicious - yup!
So if you're like me, and serve tacos frequently, here's a great combo to add to your rotation. This is an easy-to-make, crunchy, fish-free taco. Made with pressed, battered tofu, loaded with tangy slaw and fresh pico de gallo in a warm tortilla. Then it's drizzled with creamy vegan tartar sauce that knocks this taco out of the park.
I don't eat fried food very often so if I'm going to indulge it has to be worth it, and these tender-crisp fish tacos are absolutely worth it!
There are a few things to remember when making fish-free tacos - tofu doesn't taste like fish. What?! So during recipe testing, I played around with spices, batters, cooking methods (bake, fry, airfryer, etc), and different sauces that would mimic the crunchy, creamy, tangy essence of a more traditional fish taco, but without the fish.
How to Make Crispy Vegan Tacos
Batter: It was important to me that the tofu fillets were crunchy on the outside and tender on the inside. I didn't want a heavy, greasy coating. I tried lots of combinations of flour, corn starch, baking powder, etc. but we loved this combination the most. It produced the crispiest, lightest batter for our taste.
You want your oil to be hot when the tofu hits the pan (around 350-375º F). If you don't have a cooking thermometer, use the chopstick test. Put a chopstick in the pan until it touches the bottom of the skillet, if bubbles rise up around the chopstick immediately, you're good to go.
It takes a couple minutes to crisp up the tofu pieces on each side. Once the first side is all beautiful and brown and crispy, flip using a fork or tongs. Pro Tip: always place the tofu into the oil so the splash goes away from you and do the same for flipping. Hot oil splats suck!
Sides to Serve with Vegan Fish Tacos
TARTAR SAUCE (duh): This Tasty Vegan Tartar Sauce is really unbelievable - it's tangy and creamy with an unexpected hit of flavour from a secret ingredient! It takes no time to whip up and keeps well in the fridge if you want it for leftovers later in the week. It's delicious on burgers and sandwiches too!
SAUCE OPTIONS: However, if you are pressed for time you could make a quick mayo-sriracha sauce instead (⅓ cup mayo, squeeze in sriracha until you are happy with the flavour, add a few drops of soy sauce as necessary for the desired consistency). But the tartar sauce is really delicious - you can make it a few days ahead and store in the fridge.
SLAW: really just cabbage to add crunch and sour-saltiness, but its simplicity is perfect in combination with the fat from the tofu fillet and the creaminess of the tartar.
PICO DE GALLO: This chunky, fresh salsa is super easy to make and is so healthy. It's a big bowl of so many of my favourite things - sweet summer tomatoes, pungent white onions, cilantro, lime juice, and coarse salt. I always add a splash of chipotle Tabasco sauce cause we like it - but if you're a purist, you can leave it out!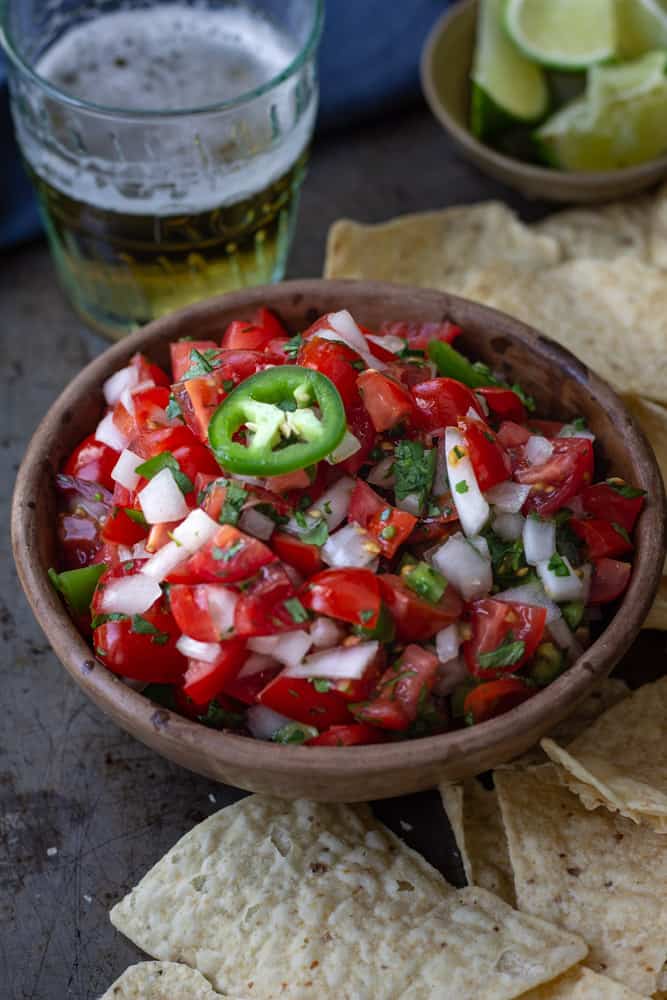 We tested these on warm flour tortillas (dry fried over medium heat on a griddle) as well as corn tortillas (wrapped in a cloth and placed in microwave til warm). For me the corn won hands down. They have a wonderful chewiness and the corn flavour was the perfect complement. Either way, the tortilla is just a vehicle to get all that yumminess to your mouth! AM I RIGHT?
How to Make Tacos (managing your time)
TOFU: first up, press the extra-firm tofu block by wrapping it in a clean dish towel and stacking a few heavy cookbooks or a cast iron pan on top. For some reason, the stack always turns into the Leaning Tower of Pisa so you may have to adjust your weight source periodically to keep things pressing evenly.
TARTAR SAUCE: make the tasty tartar sauce next or use your favourite commercial vegan brand.
SLAW: Shred the cabbage (purple or white) - or just grab a bag or pre-shredded in the produce aisle at the market. Then add lime and salt. Toss together and set aside.
PICO DE GALLO: Chop, slice, and dice the veggies add the rest of the ingredients and toss together.
BATTER UP!: Mix the dry ingredients in a medium bowl. The batter is the consistency of a pancake batter with a few lumps.
PUTTING IT ALL TOGETHER: Once the tofu is pressed and sliced, the tartar sauce, slaw, and pico are made, the avocado and limes are sliced; heat the oil and make the batter. Warm the tortillas. Last thing you do is pan fry the tofu fillets - they cook fast and you want to serve them HOT!
I layer as follows: slaw, tofu, pico, avocados tucked on one side. Don't forget the napkins! Enjoy!
More Vegan Taco Recipes
We LOVE tacos and I serve the often. Here are a few of our weeknight-friendly vegan taco recipes.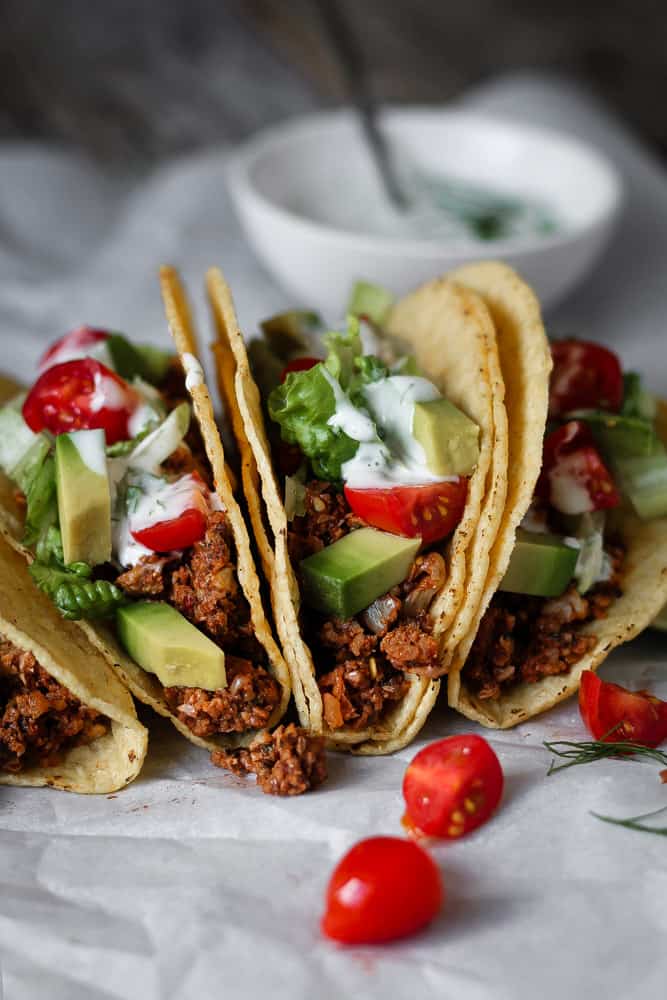 Did you make this recipe? I'd love to see it!
Please leave a star rating and comment at the bottom of the page.
Thank you so much for sharing! Tag me on Instagram
For more Vegan Recipes: Sign up for my email NEWSLETTER!
Tender-Crisp Vegan Fish Tacos
These crunchy, juicy, saucy fish free tacos are dairy-free and vegan. But you'd never know it - they are tender, tangy and delicious. You're going to be drooling in no time!
Rate this recipe!
INGREDIENTS
Tofu and Toppings
1

block

extra firm tofu, 350 g (pressed)

1

slaw recipe

1

pico de gallo recipe

1

tartar sauce recipe
Tofu Fillet Batter
¾

cup

flour

½

tsp

salt

1

tsp

garlic powder

½

tsp

onion powder

½ - 1

tsp

hot chili powder (ancho, sriracha) or spicy paprika

2-3

tsp

Old Bay seasoning

1 ½

cups

Mexican lager beer (or carbonated drink)

6-8

corn tortillas, warmed
Garnish
1

avocado sliced (optional)

chopped cilantro

1

lime, cut into wedges
INSTRUCTIONS
TOFU
Press tofu between some sheets of paper towelling or a clean dish towel. Add a few heavy cookbooks or a cast iron pan on top and let it sit while you prepare the rest of the meal.
SLAW
Into a medium sized bowl add 2-3 cups of shredded green or red cabbage. Or bag of slaw from grocery store. Add a small handful of chopped cilantro (¼ - ½ cup more or less to taste). Squeeze the juice of 1 lime over the cabbage-cilantro. Add a pinch or two of salt and toss until incorporated. Set aside until assembling.
PICO DE GALLO RECIPE
Add 2 cups chopped tomatoes (use the juiciest, reddest tomatoes you can find) to a medium-sized bowl.

Chop a small bunch of cilantro (1 cup loosely packed), 1 or 2 jalapenos (to taste), and ½ a white onion and add to the bowl.

Season with the juice of 1-2 limes (mine was really large and juicy so I used only 1), a pinch or two of coarse salt (to taste), and a splash of chipotle sauce (if using). Toss to incorporate.

Set aside. Taste and adjust seasoning before serving.
PREPARING THE OIL
Best oil for pan frying: chose a neutral oil with a high smoke point like vegetable or canola.

Heat about ½" of oil in a cast iron or heavy bottomed skillet over medium to high heat. Test the oil to be sure it's perfect by using the chopstick method above or drop a small dot of batter into the pan and it will sizzle and bounce about when the oil is ready.
SLICING THE TOFU FILETS & MIXING THE BEER BATTER
Slice the pressed tofu into 1" x 3" x ½" thick fillets (approximately). Pat dry if wet.

Mix the flour (I used AP but you could sub out your favourite GF AP flour mix - like Bob's Red Mill) and spices together in a medium-sized bowl.

Add 1 cup of the beer and stir. If the batter is too thick, add more beer until the desired consistency is reached (like pancake batter - there will be a few lumps too).

Working in batches, dip each piece in the batter and place in the hot oil, once it's golden and crispy, flip the piece. Remove from the oil and transfer to a cooling rack with a piece of paper towelling below to catch the drippings.
PUTTING IT ALL TOGETHER
Warm the tortillas (microwave or dry fry on griddle), add slaw, tofu fillets, pico, tuck avocado slices on the side, drizzle with tartar sauce. Add a sprinkle of chopped cilantro and a squeeze of lime for an added punch of wow!
NOTES
Be sure to press the tofu before you start that way everything will be ready at the same time.
Make all the sauces and sides first.
Use extra caution working with hot oil, it splatters when you add food to the pan. Do not leave the handles of your pots and pans hanging over the edge when they can be bumped or grabbed by little ones.  OIL IS HOT PEOPLE.
Best results when eaten immediately after cooking. The fillets will keep in the fridge but they lose their crispiness. 
This recipe is from simplyceecee.co food blog. All images and content are copyright protected. Please do not use my images or republish this recipe without prior permission. Thank you.