This Baked Teriyaki Tofu is one of our favorite quick and easy weeknight meals! Made with super crispy tofu and a savory-sweet, homemade teriyaki sauce, this mega flavorful tofu dish is perfect served over rice with a side of veggies. It's gluten-free, vegan and ready in 30 minutes!
Tofu is popular at our house (it wasn't always that way); we eat it several times a week. Along with this tasty teriyaki tofu recipe, some of our favorite tofu dishes include Tofu Peanut Noodles and Vegan Taco Bowl.
Why is this Baked Tofu so Good?
This Asian-inspired tofu dish is the best! The tofu is seriously crispy and the teriyaki sauce is so incredibly delicious it's downright drinkable!
If you need more reasons to love this tofu recipe …
Quick and easy: This recipe requires minimal prep time and only 20 minutes of cook time, and the oven (or air fryer) method is no-fuss and easy on the cleanup. 
Healthy and affordable: Tofu is a healthy, low carb, low fat, lean plant protein; and it's super affordable. Find it in the refrigerated section of most grocery stores.
Mega flavorful: While tofu may be the star of the show, its co-star 'gluten-free teriyaki sauce' brings a ton of flavor. The sauce is thick and glossy with the perfect balance of sweet and savory. Bonus: it's easy to make and stores well in the fridge for weeks!
Ingredients
Packed full of flavor with only a handful of ingredients that's what I call maximal flavor for minimal effort! For this tasty tofu teriyaki recipe, you'll need 2 sets of ingredients: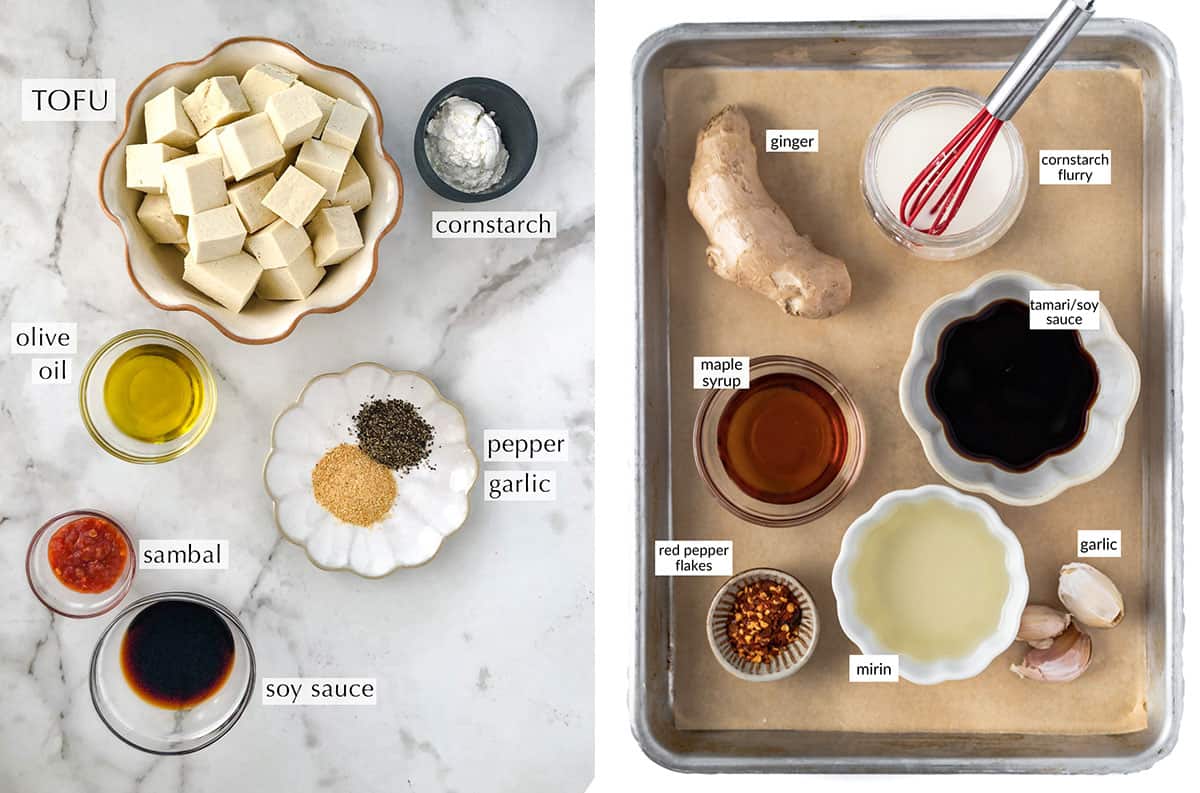 For the baked tofu you'll need a block of extra-firm or super-firm tofu, soy sauce/tamari, sambal oelek, garlic powder, sesame or olive oil, and cornstarch.
To make the teriyaki sauce, gather together soy sauce/tamari, mirin, maple syrup, minced garlic, grated ginger, red chili flakes, cornstarch, and water.
Optional garnishes: green onions, sesame seeds, red pepper flakes.
Ingredient Substitutions & Variations
If you're craving teriyaki tofu but don't have all the ingredients on hand; don't worry, here's a few substitutions so you can get cooking right away:
Soy sauce: to make the teriyaki sauce gluten free, sub in gluten free soy sauce or tamari. Use low sodium soy sauce if desired.
Mirin: Mirin is a type of rice wine common in Japanese cooking. Similar to sake but with a lower alcohol content and slightly sweeter. I find it to have a smooth, mildly sweet, tangy flavor. You can buy Mirin at the grocery store in the Asian food aisle, at any Asian grocery store or order Mirin online. A simple pantry substitute for the mirin would be 1 tablespoon seasoned rice vinegar and 2 teaspoons maple syrup/sugar.
Maple syrup: brown sugar, coconut sugar or vegan honey are good substitutions.
Red chili flakes: or use a chili paste like sambal oelek (to taste).
How To Bake Tofu (The Easy Way!)
This is my go-to baked tofu recipe that I batch cook to add to veggie sandwiches, tofu peanut bowls, tofu pasta and so much more. It's super easy, healthy, and delicious - here's how to make it: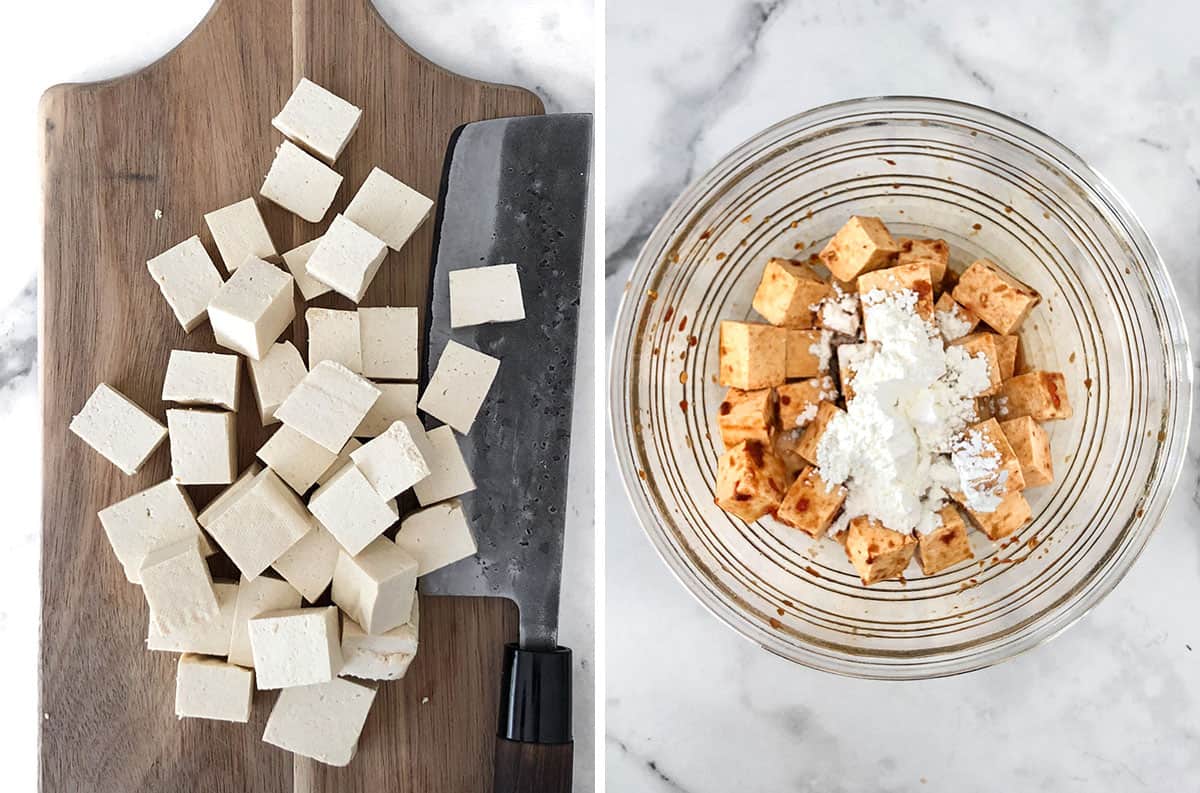 Cut or break the pressed tofu into approximately 1 inch cubes and place in a large bowl.
Toss the tofu in the soy sauce mixture (not the cornstarch). Sprinkle with 1 tablespoon cornstarch and toss again. The tofu cubes should be sticky, if not, add another tablespoon of cornstarch until it's sticky and coated.
Bake the tofu: Arrange the tofu on a baking sheet (drizzled with oil) leaving space in between. Bake for approximately 20 minutes.
How To Make Vegan Teriyaki Sauce
We're obsessed with flavorful sauces, and trust me when I say this teriyaki sauce is incredible on EVERYTHING. It's quick and easy to make while the tofu is baking:
Combine the ingredients: Place all ingredients in a saucepan. Bring up to a boil and then reduce the heat to medium.
Make the slurry: Whisk together the cornstarch and water (slurry) until combined. Pour into the teriyaki sauce whisking until smooth, thick, and glossy. Thin with extra water if it becomes too thick.
Toss teriyaki sauce with tofu: Once the tofu is baked, toss together with the teriyaki sauce until coated. Garnish with sliced green onions and a sprinkle of sesame seeds. Serve immediately with rice, noodles or veggies to complete the meal.
Expert Tips
Making tofu that tastes good is pretty easy. Here are a few tips that will help ensure your tofu is delicious and flavorful: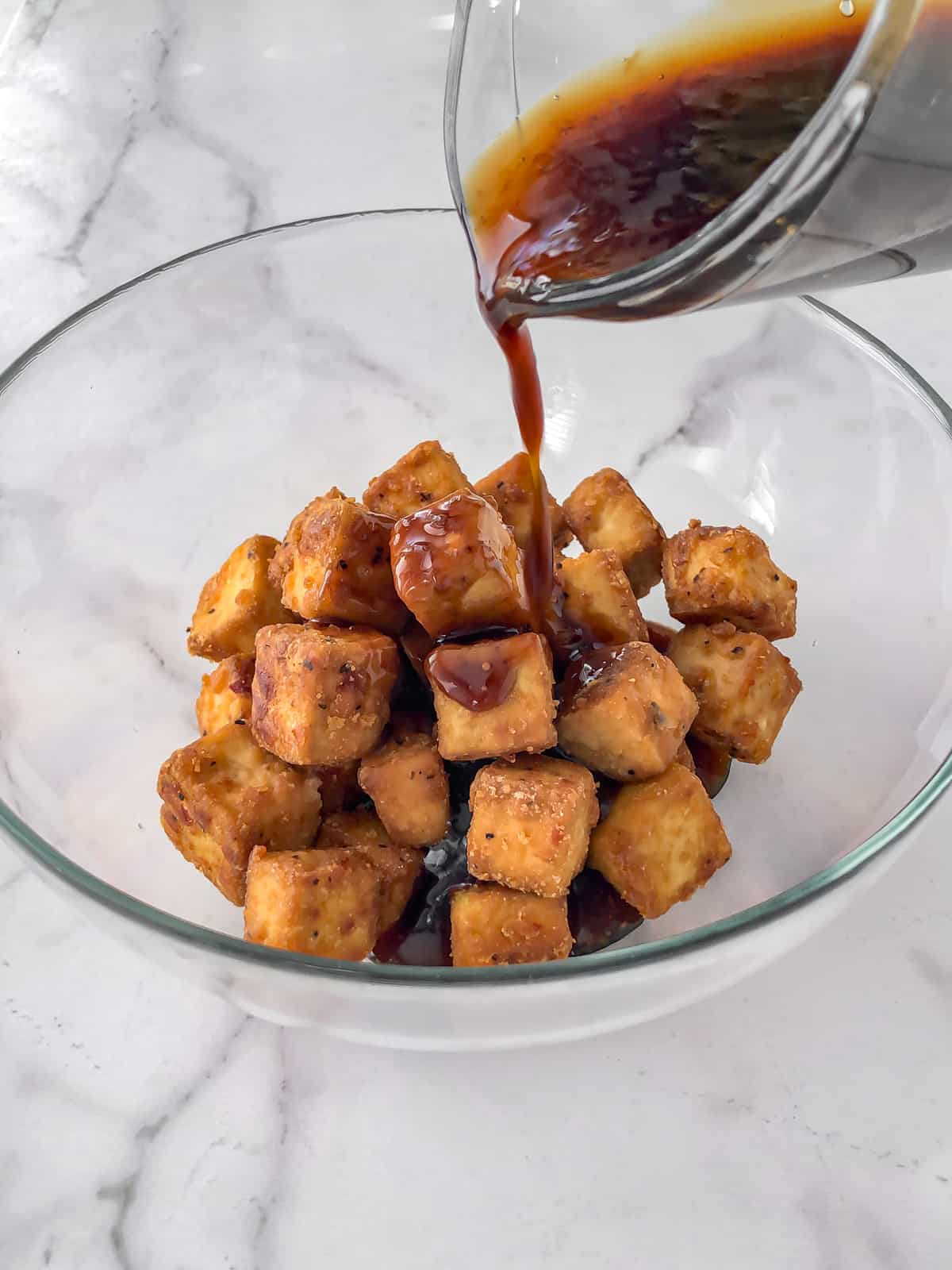 Use extra firm tofu: For this recipe extra firm or super firm tofu is best. For a deep dive into choosing, preparing, seasoning, and cooking tofu, check out my How to Cook Tofu that Tastes Good guide - you'll be a pro in no time!
Don't forget the secret ingredients: The secrets to making crispy tofu is a dusting of cornstarch, a hot oven, and for extra crispiness - oil!
Air fryer option: If you don't want to turn on your oven (especially when it's hot out), make crispy air fried tofu! See the recipe card for details.
Pan fried tofu option: For the crispiest crunchy tofu, give pan fried tofu a try.
Last thing to do before serving: The teriyaki sauce adds a ton of flavor, but don't add it too soon or your tofu will get soggy. Have everything else ready so that once the tofu is finished baking, you can toss it with the teriyaki sauce and serve immediately.
Dinner for one or meal prep tips: If you're meal prepping for the week, don't add ALL the tofu to ALL the teriyaki sauce right away. As well, if you are making a dinner for one, put a single serving of baked tofu into a bowl and add only the amount of teriyaki sauce you need. Store everything else in separate containers in the fridge. This way you can crisp up the tofu in the air fryer, on the stove or in the oven before serving on subsequent days.
FAQs
Is teriyaki sauce vegan?
Yes! Teriyaki sauce is usually a combination of soy sauce/tamari, sugar, vinegar, and spices like garlic and ginger making it naturally vegan.
What tofu should I use?
For crisp, baked tofu, I recommend extra-firm or super-firm tofu. It's already compressed and therefore has a low water content. Depending on the brand, it may not require any additional pressing (see notes).
How To Store
Of course, the tofu will be crispiest when served right away; however, leftover prepared teriyaki tofu lasts in the fridge for 3 or 4 days. Although not as crispy, the tofu texture is very meaty (much like chicken) and the flavor is delicious - very enjoyable.
Storing: Store any leftover baked tofu and any leftover teriyaki sauce in the fridge in separate containers for up to 7 days.
Freezing: I don't recommend freezing.
Reheating: Reheat leftover tofu already mixed in teriyaki sauce in a saucepan on the stove or in the microwave. If the teriyaki sauce is too thick, add a splash of water to thin it.
Serving Suggestions
We love serving this tasty teriyaki tofu as an appetizer at family get-togethers and potlucks with just a sprinkle of green onions and sesame seeds - everyone devours it!
Of course it makes a delicious, healthy, weeknight meal served with a few side dishes like basmati or jasmine rice, couscous, steamed veggies (broccoli is a favorite) or a crunchy rainbow salad.
Next Up!
Try these flavorful vegan recipes next:
Did you make this recipe? I'd love to see it!
Please let me know in the comments. Thank you so much for sharing!
Tag me on Instagram
NEVER MISS A RECIPE: Sign up for my email NEWSLETTER.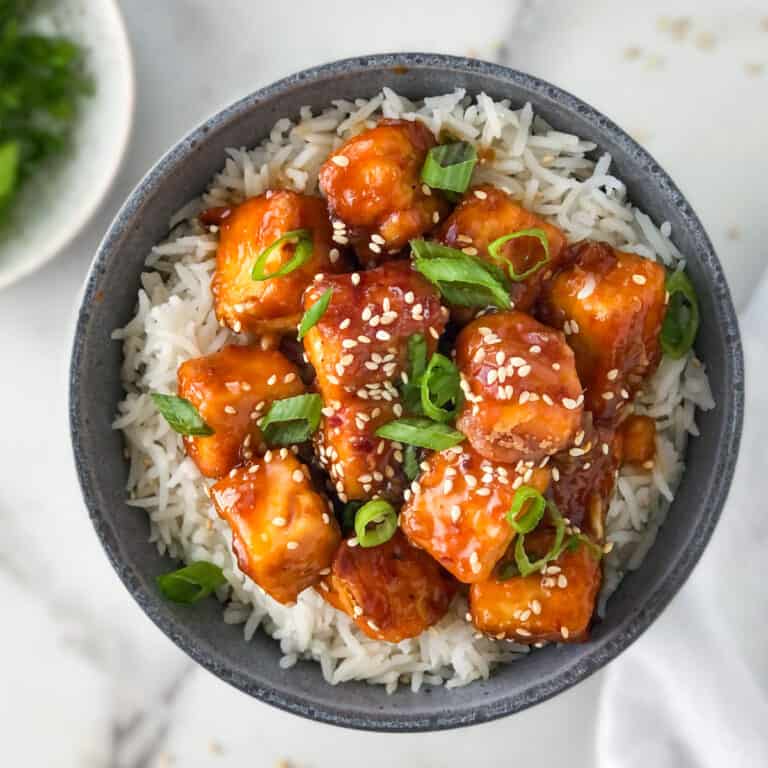 Baked Teriyaki Tofu
Crispy Teriyaki Tofu is a quick and easy, incredibly flavorful, protein-rich meal! Healthier and better than takeout, it's the perfect weeknight friendly gluten-free, vegan dinner served with jasmine rice and broccoli. Super versatile, and make ahead friendly too!
Rate this recipe!
INGREDIENTS
1

block

tofu, extra firm or super firm

2

tablespoon

soy sauce/tamari

2

teaspoons

sambal oelek

1

teaspoon

garlic powder

2

teaspoons

olive oil or sesame oil (optional)

1-2

tablespoons

cornstarch
Homemade Teriyaki Sauce
¼

cup

soy sauce/tamari

¼

cup

mirin*

1 - 1 ½

tablespoons

maple syrup

¼

teaspoon

red pepper flakes (to taste)

1-2

cloves

garlic, minced

1"

knob

ginger, grated

¼ - ⅓

cup

water
Cornstarch Slurry
1

tablespoon

cornstarch

2

tablespoons

water
Garnish
2-3

green onions, sliced

1

tablespoon

sesame seeds
INSTRUCTIONS
Preparing the Tofu
Wrap tofu (12-16 ounce block) in a clean kitchen towel, gently squeeze any extra water and pat dry. If your tofu is softer, it would benefit from being pressed. (see notes).

Cut into ~1" cubes. Place in a large mixing bowl.

Sprinkle the tamari, sambal, garlic and oil over the tofu and shake the bowl to toss and evenly coat the tofu. Sprinkle with 1 tablespoon cornstarch and shake again to coat the tofu. If the tofu is still watery (not sticky), add another 1 -2 tablespoons cornstarch until everything is coated and sticky.
Baking the Tofu
Cover a baking sheet with parchment or a silicone mat, add 1 tablespoon of olive oil and spread evenly.

Arrange tofu on the baking sheet in a single layer with space between.

Bake 400º F for 12 minutes. Flip the tofu pieces and return to the oven for an additional 6 minutes. Bake for additional time as needed.
Air Fryer Cooking Option
Rub the air fryer basket with oil or spray with cooking spray. Preheat the air fryer to 370º F for 5 minutes while you prepare the tofu as per the recipe.

Arrange the tofu in a single layer with space between and cook for 6 minutes. Shake the basket so the tofu gets crispy on all sides and cook for another 2-3 minutes until crispy and golden. Extra Time: It may require more time depending on your air fryer and how big the tofu pieces are. Crispy Tip: For a crispier tofu crust, give another light spray of oil at the 6 minute mark.
Making the Teriyaki Sauce
Place all ingredients in a saucepan and heat over medium-high heat. Bring up to a boil then reduce heat to medium.

Optional - add red pepper flakes or 2-3 teaspoons sambal, garlic chili or sriracha sauce for a spicy teriyaki sauce.

Whisk the cornstarch and water together to create a slurry.

Pour the slurry into the teriyaki sauce whisking until smooth. Once it starts to thicken and get glossy, remove from heat. Taste and adjust flavors as necessary.

The sauce does thicken as it cools so leave it slightly thinner than you'll need. Add in another splash or two of water if your sauce gets too thick.

Toss the crispy tofu and the teriyaki sauce together - serve over rice with a sprinkle of green onions and sesame seeds.
NOTES
Do I have to press the tofu?: If using extra firm* or super firm tofu, you can probably get away without press it. If the tofu is firm or medium firm (which means it is less compressed and therefore has a higher water content) or if it feels soft (saturated), it will benefit from being pressed. *In my experience, not all extra firm and super firm tofu is created equally. So some Brands of extra firm tofu can still be pretty soft (looking at you Costco), in that case, go ahead and press it for the crispiest baked tofu. If you live in Canada and use Sunrise Soya Tofu, their extra firm tofu is very firm and compressed! Pressing tofu ahead: Pressing tofu is super simple and can be done days in advance: press then store the tofu block in the fridge wrapped in paper towels in a plastic bag until ready to use. How to press tofu: Wrap the tofu in a clean kitchen towel (or paper towels) and stack a few heavy cookbooks or a heavy cast iron skillet on top. Or use a tofu press if you have one. Let the towel absorb the excess water for ~15 minutes (or longer) while you prepare the other recipe components. 
This recipe is from simplyceecee.co food blog. All images and content are copyright protected. Please do not use my images or republish this recipe without prior permission. Thank you.