Marinating tofu makes it taste good! Today I'm sharing some of the best tofu marinades to wake up bland tofu infusing it with tons of flavor! They're a yummy combination of savory, sweet, salty, hot, smoky, and spicy - next level tofu at its best!
Best of all, these tofu marinade recipes are made with pantry friendly ingredients like Dijon mustard, soy sauce, wine vinegar, maple syrup, hot sauce, herbs and spices so they are fuss free and ready in minutes. Plus tofu is super healthy, packed with protein, naturally gluten free, oil-free, and vegan!
I'll confess, I was slow to the tofu game (I didn't know what I was missing). It was an Instagram contest that inspired me to give tofu a try. My tofu won a prize (satay tofu) and our family gained a super delicious, versatile, protein rich, low fat, healthy food to eat! Tofu is an easy and inexpensive protein source for vegetarian, vegan, meatless main dishes.
Don't like tofu? Keep reading, I'll teach you the secret for how to make the best, most flavorful tofu!
Perfect for meal prep, tofu is super easy to prepare, incredibly versatile, and abundantly available at the supermarket. I make a batch or two at the beginning of the week and we enjoy with tofu sandwiches and wraps, stir fries, Buddha bowls, salads - it's a staple in our kitchen!
How to Marinate Tofu
Marinating tofu adds TONS of FLAVOR and couldn't be EASIER or quicker to prepare.
Select firm or extra firm tofu, press excess water from it, pour the marinade over the tofu and let it soak in for around 30 minutes or overnight.
The marinades take only a few minutes to whip up - each marinade recipe will have some leftover sauce for stir frying, basting or drizzling over the tofu doubling the flavor! (details below)
Method:
if your tofu block is really thick, slice it in half through the middle. Wrap the two pieces in a few paper towels or a kitchen towel to absorb the liquid. Stack some heavy cookbooks or pans on top and let it press while you make the marinade (or use a tofu press!). After 15 - 30 minutes, cut tofu into desired shape and size.
transfer tofu to baking dish, bowl or bag then pour marinade over top. Gently toss and stir to coat tofu with marinade. Let it sit for around 30 minutes or more so the flavors can infuse into each piece of tofu.
drain, but don't throw out excess marinade.
cook tofu as desired.
How to Cook Tofu
If you want to learn how to get the most flavor out of tofu, check out my post, How to Cook Tofu that Tastes Good, for a complete guide on selecting, pressing, and cooking tofu.
Marinated tofu is quick and easy to cook in a variety of ways from pan frying, baking, grilling, and air frying. The cooking time will depend on how thick your tofu cubes, slices or slabs are, the type of pan you choose, and how high you turn the heat.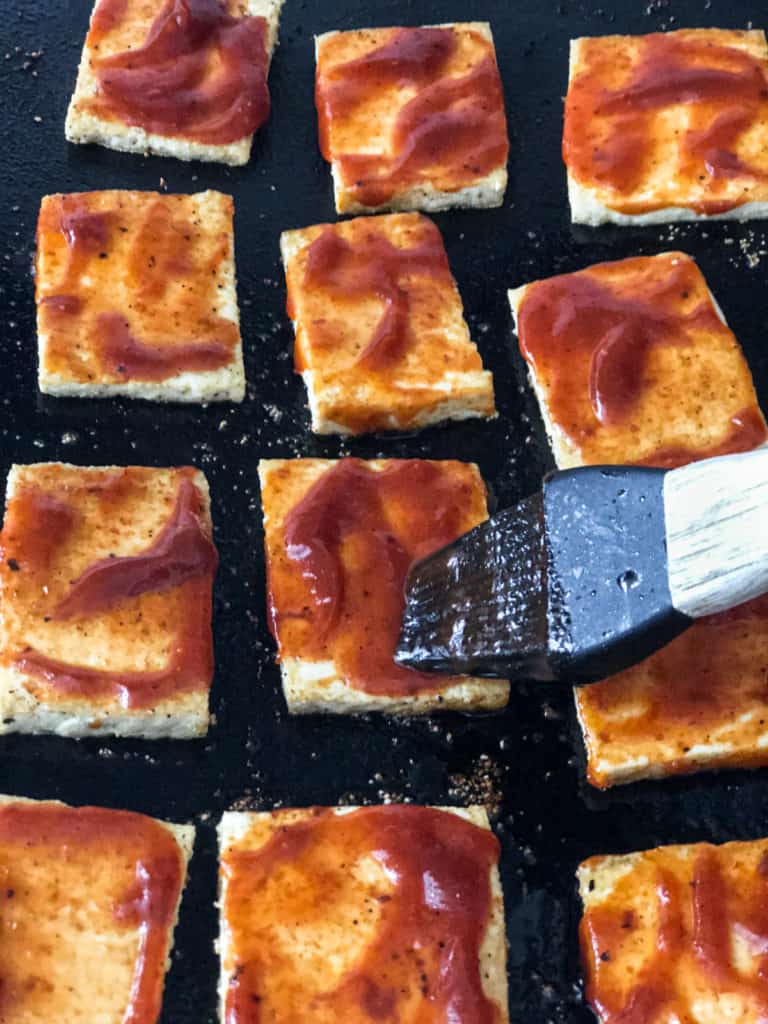 Pan Frying Tofu Method
Oil-free Method: Pan fry the marinated tofu on a non-stick pan or stove top griddle over medium-high heat (no oil, single layer, don't crowd the skillet). Place tofu pieces in a hot pan, don't move or flip them until they naturally release (about 3 minutes), flip and cook the other side.
Crispy Fried Tofu Method: Warm a splash of oil in a non-stick skillet or cast iron pan and fry the marinated tofu over medium-high heat until golden brown and crispy.
THE SECRET to preventing tofu from sticking when pan frying (with or without oil): place tofu pieces in the hot pan and don't move or flip them until a crust forms and they naturally release. Flip and repeat on other sides (a few minutes on each side).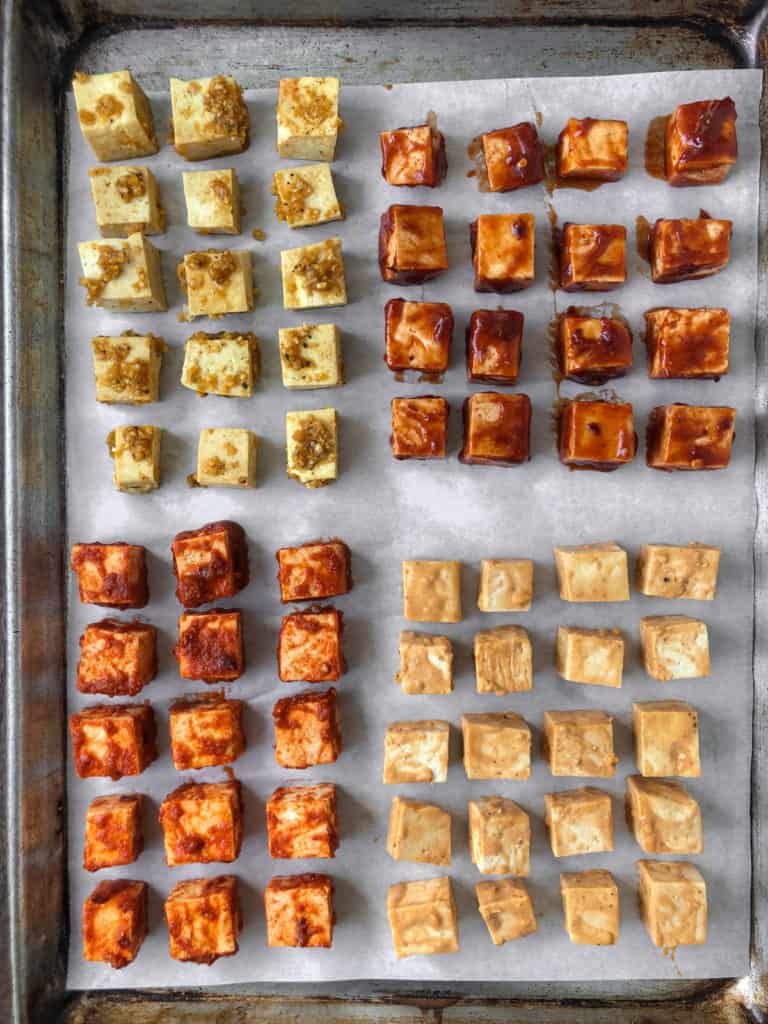 Marinated Oven Baked Tofu Method
Preheat oven to 400º F.
Place tofu in a single layer, evenly spaced, on a prepared baking sheet (parchment paper or silicone mat),
Flip tofu after 12-15 minutes.
Cook another 5-10 minutes until the tofu is firm but still tender.
Brush tops with extra marinade once flipped (if desired).
This is my go-to method for baking tofu - it's tender and creamy on the inside with a lightly crisp crust on the outside (around 20 minutes total in my oven).
Air Fryer Tofu Cooking Method
Spray the basket surface with cooking spray.
Place the marinated tofu pieces* in a single layer with space around each piece (*shake off excess marinate before cooking).
Cook at 400º F for 7-12 minutes (shaking the basket halfway through).
It may take longer or shorter depending on the size of your tofu pieces and how crispy you like it. Mine was perfect at 8 minutes.
I have a small air fryer so cooked in two batches.
Common Questions
Do I need to press tofu before marinating?
Yes, pressing excess water from tofu makes room for the marinade to seep in as well it compresses the tofu which improves the texture.
Should you marinate tofu before cooking?
Yes, marinade adds a lot of flavor to tofu! Tofu will have a nice flavor after ~30 minutes, but can be marinated for up to 2 days in the fridge for more intense flavor.
How do you know when tofu is cooked?
First timers and tofu hesitant might enjoy the tofu cut into slightly smaller pieces and also cooked for a couple minutes longer. Perfectly cooked tofu is crisp on the outside but creamy-tender on the inside. Test as you go to determine the perfect level of soft and crispy tofu for your preference.
Can I freeze the tofu?
Freezing tofu is definitely popular. Keep in mind that freezing tofu changes the texture of it. To freeze tofu: toss a package in the freezer, then let it thaw (still in the package). Once thawed, remove it from the package and press it for a couple hours. Proceed with marinating the tofu to see if you enjoy the texture. Marinated tofu is definitely delicious and flavorful either way.
Easy Savory 5 Minute Tofu Marinade
These are some of our favorite marinades for tofu, tempeh, and seitan; but you can use your favorite chicken or beef marinade on tofu too. It's almost certainly vegan! Pretty much all flavors go well with tofu because of its neutral, mild taste - let me know your favorite in the comments below.
Double the tofu marinade for basting and drizzling:
Mustard Maple Tofu Marinade - drizzle extra marinade over a rice bowl or salad.
BBQ Tofu Marinade - brush marinade over the tofu slabs/slices while grilling.
Vietnamese Lemongrass Tofu Marinade - drizzle over veggie noodle bowl.
Greek Tofu Marinade - drizzle over rice bowl or gyro sandwich.
Spicy Nashville Hot Tofu Marinade - stir in 1-2 tablespoons of mayo to use as a drizzle in a Nashville Hot 'Chicken style' sandwich or taco.
Asian Tofu Marinade - add to a quick veggie tofu stir-fry right before serving.
More Tofu Recipes
If you're a new vegan, new to tofu or tofu curious, try this tofu recipe first:
Spicy Peanut Tofu Noodle Bowl - THE best tofu recipe ever! It's easy to make and the tofu is finger licking good (we call it the tofu whisperer - because after the first bite, everyone is hooked)

.
Did you make this recipe? I'd love to see it!
Please let me know in the comments. Thank you so much for sharing!
Tag me on Instagram
NEVER MISS A RECIPE: Sign up for my email NEWSLETTER!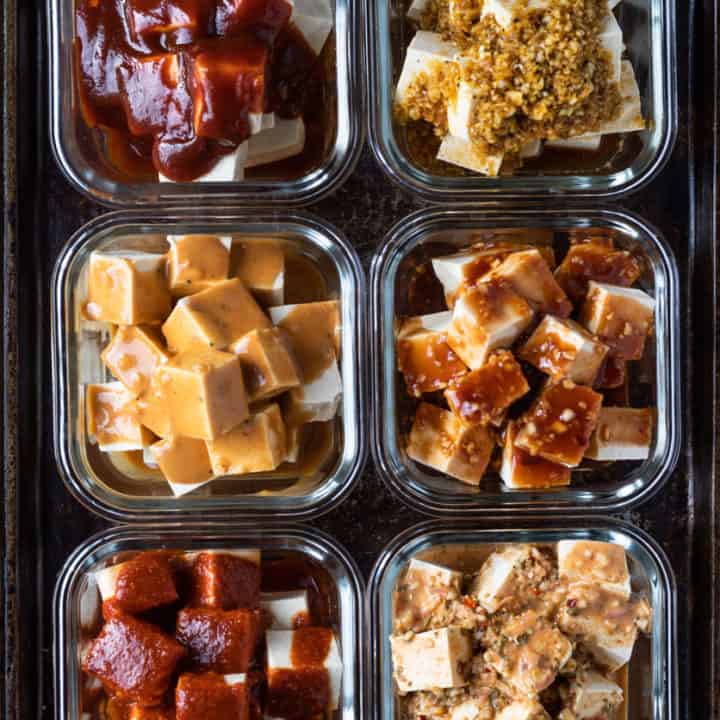 Tofu Marinade (6 flavors!)
Marinating tofu is a quick and easy way to infuse flavor into a its neutral profile. Tofu is a healthy, gluten-free, oil-free friendly, protein rich, meaty, vegan and vegetarian meat replacement. It's so versatile - serve it in sandwiches, bowls, and salads; make it spicy, sweet, salty or smoky; bake it, fry it, grill it or stir fry it - anything goes.
Rate this recipe!
INGREDIENTS
Spicy Maple Mustard Tofu Marinade (the best!)
3

tablespoons

dijon mustard

3

tablespoons

soy sauce or tamari

1

tablespoon

maple syrup

1

clove

garlic

2-3

teaspoons

sriracha

black pepper to taste
Asian Tofu Marinade
2

tablespoons

soy sauce

2

tablespoons

hoisin sauce

1 ½

tablespoons

ketchup

1 ½

tablespoons

mirin

1

tablespoons

maple syrup / brown sugar

1

tablespoon

sambal oelek

2

cloves

garlic, minced

2

teaspoons

ginger, grated/minced

1

teaspoon

rice wine vinegar
Nashville Hot Tofu Marinade
2

tablespoons

hot sauce (eg. Valentina, sriracha)

1

teaspoon

cayenne pepper (more or less to taste)

1

tablespoon

maple syrup or vegan honey

1

teaspoon

smoky paprika

2-3

tablespoons

pickle juice (or vinegar)

1

teaspoon

garlic powder

1

tablespoon

butter (optional - see recipe note)
Smoky BBQ Tofu Marinade
⅓

cup

bbq sauce, bold smoky

1

tablespoon

sriracha sauce

1

teaspoon

lime juice (more to taste)

1

teaspoon

maple (if needed)
Greek Tofu Marinade
3 - 4

tablespoons

white (or red) wine vinegar

2

tablespoons

dijon mustard

1-2

tablespoons

lemon juice

½

teaspoon

sweet paprika powder

1

tablespoon

oregano, dry (or fresh to taste)

1

tablespoon

shallot, chopped

2-4

cloves

garlic, minced

salt and pepper (to taste)

2

teaspoons

maple syrup (more to taste)

red pepper flakes
Vietnamese Lemongrass Tofu Marinade
2

teaspoons

garlic, minced

2

teaspoons

shallot, chopped

1

stem

lemongrass (white part only), minced

2

tablespoons

orange/tangerine juice (freshly squeezed)

2

tablespoons

maple syrup

4

teaspoons

soy sauce

¼

teaspoon

turmeric powder

½

teaspoon

black pepper, coarsely ground
INSTRUCTIONS
How to Marinade Tofu
Press the tofu: First press the tofu by wrapping the block in a kitchen towel or paper towels then stack some heavy cookbooks on top. Or use a tofu press if you have one (15 - 30 minutes).

Mix up the marinade: Select one of the sensational marinade flavors. Mix all the ingredients together in a bowl or jar.

Cut the tofu: Cut the pressed tofu into bite size pieces (1" cubes) or any desired shapes ie. slabs, slices or triangles.

Time to soak: Add the tofu cubes to a zip top bag, pour in the marinade then gently massage to coat each piece thoroughly. Halfway through, massage again and flip the bag to make sure the tofu is evenly soaking up marinate.

Cooking the Tofu: Remove the tofu pieces from the marinade (save the marinade). Shake off excess marinade before cooking. Enjoy!
NOTES
Pressing Tofu: In my complete guide to tofu, you'll find a deep dive into selecting, pressing, and cooking tofu that tastes good. However, the basic steps are to wrap the tofu in some paper towels or a kitchen towel. Then stack a few heavy cookbooks on top to extract excess water (or use a tofu press) for 15 minutes or more. Choose firm or extra firm, organic, tofu if available.
Tofu Marinade: The marinade recipes are all simple to make, oil-free, gluten-free friendly, and super flavorful. Some use fresh garlic and herbs while others use dry spices; however, feel free to use whichever you have in the pantry and fridge. Sub in your favorite hot sauce or vegan sweetener as desired.
Nashville Hot Marinade: Don't add the butter to the marinade sauce. Once the tofu is baking, stir 1 tablespoon of melted butter into the remaining marinade and use it to baste the tofu or drizzle it over the tofu before serving. A traditional Nashville hot style sauce is MUCH hotter than this recipe - add cayenne pepper to your taste!!!
Pro Tip to stop tofu from sticking: Place tofu pieces into a hot skillet and then don't touch until the water has cooked off and the tofu has formed a light crust. Then flip it and repeat on the other side. This takes only a few minutes per side. If you start moving it around too early, the tofu will stick - give it time to naturally release.
How to cook the crispiest tofu: If you are going for super crispy marinated tofu, use the pan-frying method (oil heats to a very high temperature which in turn forms a crispier crust on the tofu than its oil-free counterpart).
Cooking the tofu: Marinated tofu can be cooked using any method. See the post above for 4 of our favorite methods!
Leftover marinade: Most of these tofu marinades are on the thicker side so can be used as is for basting or drizzling the tofu during or after cooking. If the marinade is thin, heat it up in a small sauce pan with a cornstarch slurry over medium heat for 2 or 3 minutes until thickened. Cornstarch slurry (1 teaspoon cornstarch + 2 teaspoons water).
This recipe is from simplyceecee.co food blog. All images and content are copyright protected. Please do not use my images or republish this recipe without prior permission. Thank you.