This tofu pasta is the perfect choice if you're looking for an easy vegan meal that doesn't skimp on texture or flavor. With its irresistible combination of crispy crusted tofu served on a vibrant Italian tomato veggie sauce, this recipe is sure to become your go-to when you're in the mood for pasta. Throw it together in 30 minutes for a meal that's protein-packed, nutrient-dense, and oh-so-craveable!
I serve tofu at least twice a week, so you could say we're huge tofu fans in our family! If you're like us and love tofu, you'll definitely want to add this Peanut Satay Tofu Bowl and this Vegan Taco Bowl to your weekly rotation.
Why Should You Try This Recipe
Succulent, crispy Italian herb tofu tenders baked to perfection take this pasta to the next level. The tomato veggie pasta is super flavorful plus it smells incredible - everyone will think it's from a 5-star Italian restaurant (it'll be our little secret). Here are some other reasons why you should get this Italian tofu pasta on the table ASAP:
Quick and easy: If you follow my tips below, you can have this tofu pasta ready to go in ~30 minutes! It's a quick and easy weeknight meal that's perfect when you want minimal effort yet mouthwatering results.
Affordable: Store-bought tofu is typically $3 or less, making it a super affordable, low carb, plant-based protein source. Most of the other ingredients are probably already in your pantry and fridge!
Allergy/special diet friendly: This tomato tofu recipe is vegan, vegetarian, dairy free, gluten-free friendly, refined sugar free, and nut free.
Air fryer option: If you're in the warmer months and don't want to turn on the oven, bake the Italian tofu in an air fryer (see recipe notes).
Ingredients Needed
This baked tofu and pasta recipe is made up of several fresh veggies, spices, tofu, and a pasta of choice. I personally think this combination is delicious! Here's what you'll need: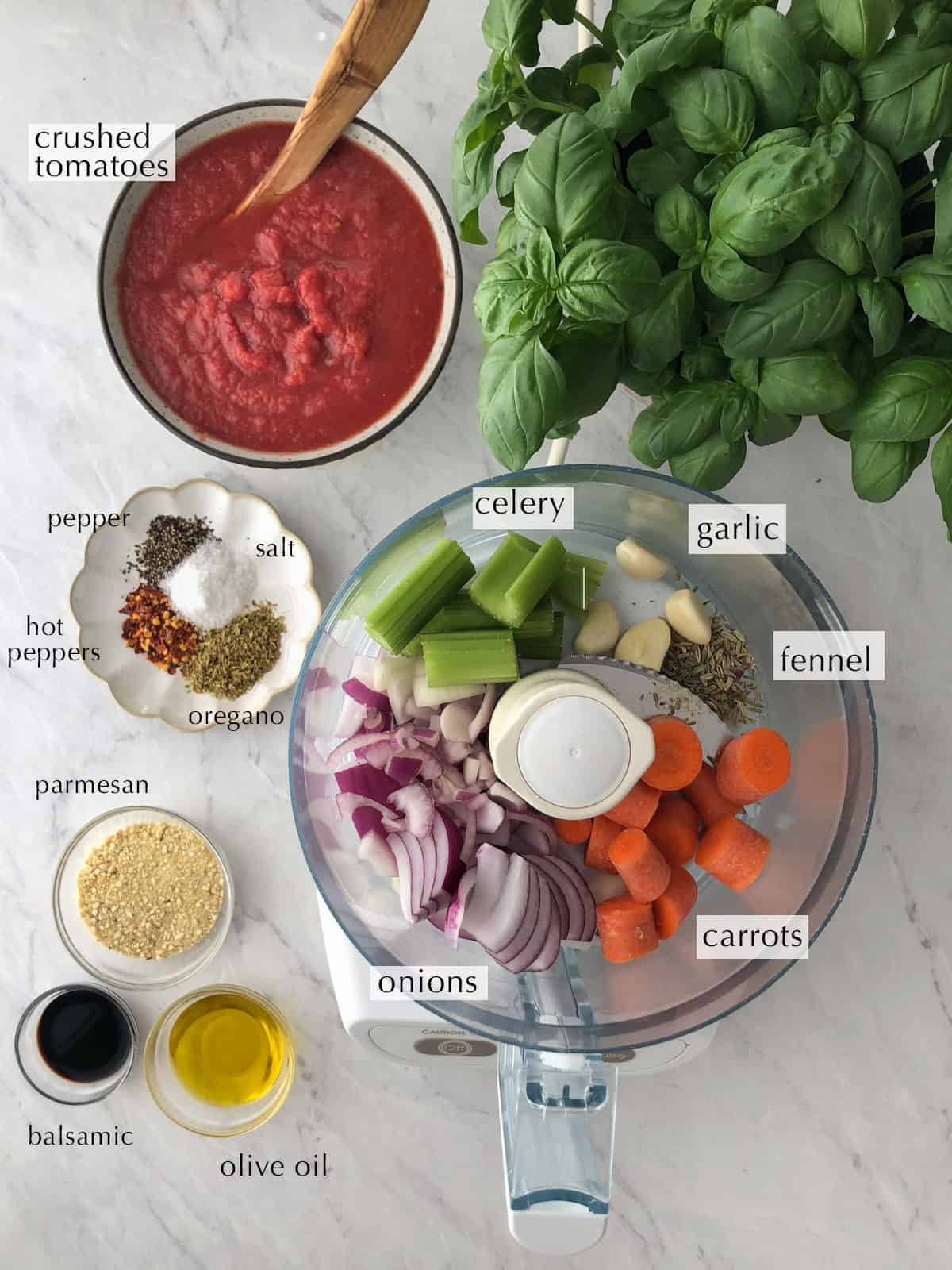 Tofu: I like to use extra-firm tofu, which I toss in spices and cornstarch to create a beautiful crispy crust.
Veggies: You'll need an onion, carrot, celery, and crushed tomatoes.
Oil and spices: Olive oil, balsamic vinegar, fennel, dried oregano, and fresh garlic give this tofu pasta an Italian flair!
Pasta: Use penne, rotini or your pasta of choice!
Garnishes: Vegan parmesan cheese, fresh basil, and hot pepper flakes.
Ingredient Substitutions & Variations
This pasta with tofu and vegetables is incredibly versatile and can accommodate a variety of substitutions. Here are a few ideas:
Tofu: Use extra-firm or firm tofu for the best meat-like texture and crispy crust. Medium-firm and silken tofu are too soft for this recipe. If you accidentally buy that tofu, don't waste it! Check out the best tofu marinade for some inspiration.
Tomatoes: You can sub diced or whole canned tomatoes for the crushed tomatoes.
Gluten-free option: Easily turn this into a gluten-free meal by using gluten-free pasta!
Can I add other vegetables?: Yes, this tofu pasta sauce is easily customizable. Sub with any veggies you have on hand - try mushrooms, cauliflower, leeks or spinach.
Parmesan cheese: Top this pasta with dairy-free parmesan store bought or make your own vegan parmesan cheese.

How To Make
Ready to start cooking? Follow these simple steps:
Prep the tofu: Prepare the tofu by tearing/slicing it, tossing it with spices.
Baking the tofu: Then get the tofu baking while you make the pasta and sauce.
Cook the pasta: Start the pasta water and cook per package directions.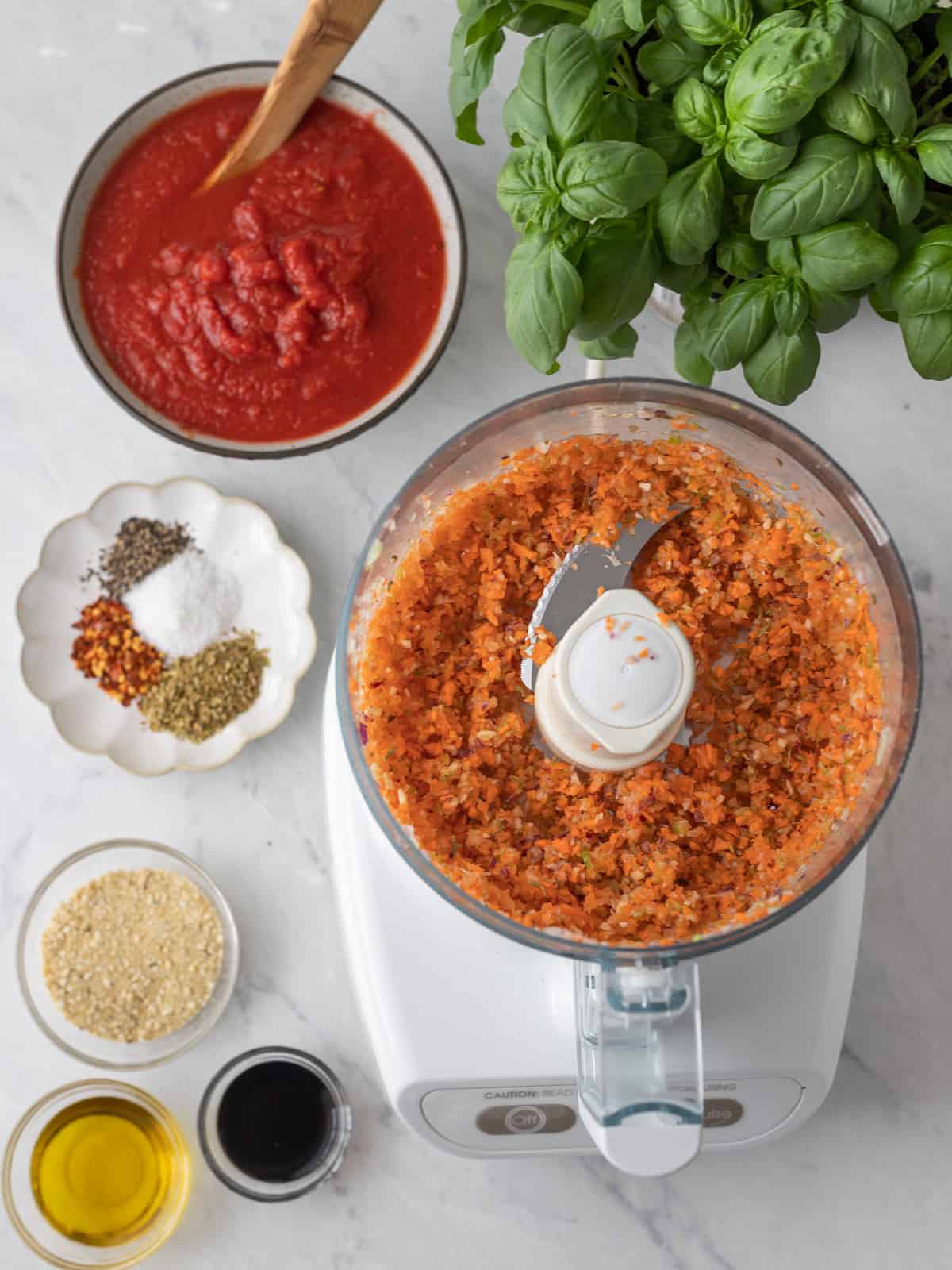 Prep the veggies: Roughly chop the carrot, celery, garlic, onion, and place in a food processor with the fennel seeds. Pulse until the veggies are finely diced.
Cook the veggies and make the sauce: Next saute the veggies in a large saute pan until fragrant (~ 7-10 minutes over medium). Deglaze the pan with a splash of pasta water, wine or broth as needed.
Add the tomatoes and spices: Next add the balsamic, remaining spices, and crushed tomatoes. Stir to incorporate and let simmer over low heat.
Drain the pasta: reserving ~1 cup to finish the tomato sauce.
Assemble the pasta and tofu: Toss the cooked pasta and sauce together along with a splash or two of pasta water to loosen the sauce and make it silky smooth. Top with garnishes and baked tofu.
Expert Tips
I've been making tofu and pasta for a very long time! Here's a few tips to help you make the best baked tofu and tomato pasta dish on your first try:
Break the tofu into chunks: This creates lots of rough surfaces for the spices to stick to and form a crust. I get about 18-20, 1 ½" chunks from my block of tofu (see photo). Cutting into ~1" cubes works too!
Baking tofu: The secret to the best baked tofu is don't overcook it which causes it to become rubbery! For this recipe, the tofu is meant to be tender and meaty on the inside with an irresistible Italian herby-spiced crust on the outside - slight crisp and juicy.
Pasta: Start the pasta water right away so you have salty starchy water for the tomato sauce. If the pasta gets cold/stiff before you use it, run it under hot water for a minute to loosen and soften it.
Flavor booster: Add a teaspoon of veggie broth (Better than Bouillon is a favorite) to the reserved pasta water for an extra boost of flavor.
Flavor Adjustments: Taste the sauce along the way and adjust the seasonings to your preference. Keep in mind that no component is eaten in isolation: if you taste the sauce and it seems too acidic, too spicy, too strong, when served with a mild ingredient like pasta, rice or potatoes, it will come together in perfect balance.
Budget Friendly: To feed a lot of hungry mouths with just one block of tofu, serve this pasta and tofu with a side salad or vegan slaw and dinner rolls.
How to Store & Reheat
It's unlikely you'll have any leftovers after one bite of this flavorful Italian pasta and tofu! But if you do, it keeps well in the fridge and is great for meal prep. Here's how:
Storing leftovers: Store leftover pasta and tofu (separately) in airtight containers in the fridge for up to 4 days.
Reheating instructions: Reheat the pasta in the microwave or warm in a saucepan over medium heat. Reheat the tofu in the microwave of air fryer.
FAQs
How do you make tofu taste good?
The key to transforming tofu from bland and rubbery to flavorful and crispy/meaty is all in the way you prepare, cook and season the tofu. Selecting the right texture (silken, medium, firm, extra firm), pressing out excess water, choosing the right cooking method, and lots of seasonings. Read my guide, How to Make Tofu Taste Good for more expert tips! 
Is tofu good for you?
Yes, tofu is a healthy, plant-based protein that's high in calcium, fiber, and other nutrients. Read more about the healthy benefits of tofu in Dr. Greger's research.
More Vegan Pasta Recipes
If you love this tofu pasta, try one of these meatless pasta recipes next:
Did you make this recipe? I'd love to see it!
Please let me know in the comments below. Thank you so much for sharing!
Tag me on Instagram
JOIN US SUNDAY MORNINGS: Sign up for my NEWSLETTER!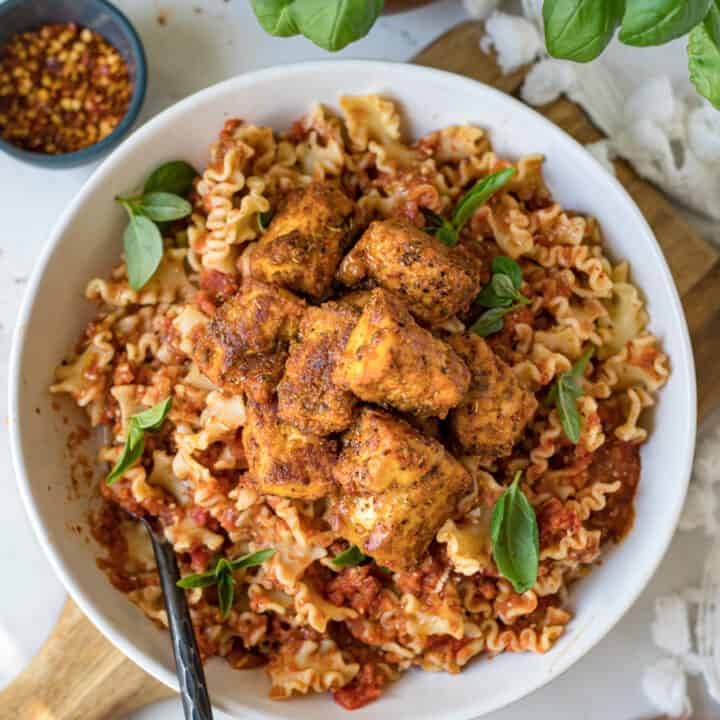 Tomato Tofu Pasta Recipe (with Italian Herb Crusted Tofu)
THE BEST baked tofu ever (spicy Italian crusted tofu) served on veggie tomato pasta sauce. This is vegan comfort food at its best and tofu at its best. Impossible to resist, this easy tofu pasta dish will have everyone lining up for seconds!
Rate this recipe!
INGREDIENTS
Tofu
1

block tofu, extra firm

2

tablespoon

soy sauce

1 - 1 ½

tablespoon

Sambal Oelek chili

1

teaspoon

garlic powder

1

teaspoon

oregano

¼

teaspoon

paprika

salt and pepper

1

teaspoon

olive oil

2

tablespoons

nutritional yeast

1-2

tablespoon

cornstarch
Pasta Sauce
1

cup

onions, chunks

3-4

cloves

garlic, peeled

1

large

carrot, big chunks

1

large

celery stalk, big chunks

1

teaspoon

fennel seeds

2

teaspoons

dried oregano (more to taste)

1

tablespoon

balsamic vinegar

1

teaspoon

hot pepper flakes

2 ½

cups

crushed tomatoes

salt and pepper to taste

8-10

leaves

basil, sliced into ribbons

¼

cup

vegan parmesan cheese
INSTRUCTIONS
To Start
Gather all ingredients and equipment together. Preheat oven to 400º F. Prepare a baking sheet with parchment or a silicone mat and drizzle with 1 tablespoon of olive oil. Put a large pot of salted water on to boil for the pasta.
Preparing the Tofu
Wrap the tofu block in paper towels and gently squeeze to remove excess water. Extra firm tofu does not need to be pressed for this recipe. * If using firm tofu - see recipe notes below for how to press tofu.

Break or cut the tofu into ~1 - 1 ½" chunks. Place them in a large mixing bowl - toss with spices and liquid. Sprinkle with nutritional yeast - shake the bowl to coat. Sprinkle with 1 tablespoon of cornstarch. Shake the bowl until the tofu chunks are coated and sticky. Add another tablespoon of cornstarch only if the tofu coating isn't sticking (see photo).
Baking the Tofu
Transfer the tofu to the prepared baking sheet. Bake for 12 minutes on the center rack. Flip the tofu pieces after 12 minutes (Optional: drizzle with 1 tablespoon of olive oil or give a light spritz with cooking spray for extra crispy tofu).

Return to the oven for 6-7 minutes until the spicy crust is cooked and crisping up.

Air Fryer Option: see recipe notes below for baking tofu in the air fryer.
Cooking the Pasta
Add the pasta to boiling salted water and cook until al dente per package instructions (~12 minutes). Save 1-2 cups of starchy pasta water before draining.
Making the Pasta Sauce
Wash and peel* the veggies and cut into large chunks. Add the veggies and fennel to the food processor bowl and blitz until a fine dice.

Heat a large skillet with 1 - 2 tablespoons olive oil over medium heat. Spoon the veggie mixture into the hot skillet, stirring as needed until the veggies are soft, fragrant and translucent - approximately 7-10 minutes. Deglaze with a splash of water, white wine or veggie broth as needed.

Add the oregano, balsamic vinegar and hot pepper flakes stirring to incorporate. Add the tomatoes and a splash of starchy cooking water to loosen the sauce as needed.

Taste the sauce, season with salt and pepper. Stir in ¼ teaspoon baking soda if the sauce is too acidic.

Once you've drained the pasta (don't forget to reserve ~1 cup of cooking water), pour the pasta into the pan of sauce and stir to incorporate. Add enough starchy water to get a silky creamy sauce (splash or two at a time). Taste and adjust seasonings as needed.

Top with grated parmesan cheese, basil ribbons, red pepper flakes, and the Italian herb crusted tofu.
NOTES
All the components of this recipe will be ready at the same time following this order: gather all ingredients and equipment:
start the pasta water, preheat oven
prepare the tofu and put in oven to bake
make the pasta sauce
toss together and enjoy

Flavor Boost Option: for an extra boost of flavor, add 1 teaspoon veggie bouillon to the reserved pasta water.
Pressing Tofu:
If using firm tofu, it will benefit from being pressed for 20-30 minutes. Wrap the tofu in a few sheets of paper towel and stack a few heavy cookbooks on top. (see this
how to cook tofu guide
for more details).
Air Frying Tofu: When it's too hot to turn the oven on, cook the tofu in the air fryer! Spray a basket air fryer with oil (or rub with a thin layer of oil). Preheat the air fryer to 370º F for 5 minutes. Arrange the Italian spiced tofu in a single layer with space between and cook for 6 minutes. Shake the basket so the tofu gets crispy on all sides (f

or crispier tofu, give another light spray of oil). Continue to bake for another ~2 minutes until crispy but tender

.
Creamy option for the pasta sauce: for a creamier version, stir in ¼ cup of cashew cream or plant-based milk.
For a cream-free, creamy version remove and blend one cup of the sauce until smooth then stir it back in.
Storage and Reheating: Store the leftover tofu and pasta in the fridge in airtight containers for 4 days. Reheat in a microwave or on the stove in a saucepan.
This recipe is from simplyceecee.co food blog. All images and content are copyright protected. Please do not use my images or republish this recipe without prior permission. Thank you.