So much fun to look back on the year and see which recipes were cooked and shared the most. Of course, I love them all equally (it's a mom thing); but these vegan sauces, dinners, desserts, and appetizers were the most visited on the blog in 2021!
Thank you so much for cooking, baking, enjoying, and sharing my recipes this year. I've got some exciting plans for Simply in 2022 including more tips for cooking vegan food that is craveable and tastes good, more series to add to the vegan meat (tofu) and bucket of dough series, some cooking classes, give-a-ways, and tons of new recipes!
Keep reading to the end for a bonus: two of my favorite, go-to recipes this year - probably globally the most popular, posted, baked, most requested, viral, vegan recipes of the last two years - any guesses . . . . ?
Okay, if you're ever stuck for a quick and easy dinner idea, and you have some leftover bits and bobs to use up, these chickpea pancakes are the perfect recipe.
Made with just a few simple pantry ingredients, any leftovers, fresh guacamole or avocado, and tomato chunks or pico on top. Top with a yummy drizzle (cashew cream, dilly hummus drizzle or sweet and spicy tahini)! Oil-free friendly, soy-free, gluten-free, super healthy and delicious.
This authentic Italian marinara sauce is a fabulous sauce to have on hand. It's super easy to make, is incredibly flavorful, and is the golden key to almost every other Italian sauce.
Spoon over a big bowl of pasta with a sprinkle of parmesan, slather on a vegan meatball sub or pizza, serve with warm garlicky breadsticks for dipping. Marinara is the base sauce in cheesy ziti, veggie Rosé and luxurious vegan lasagna with bechamel sauce. It'll be the hardest working sauce in your kitchen!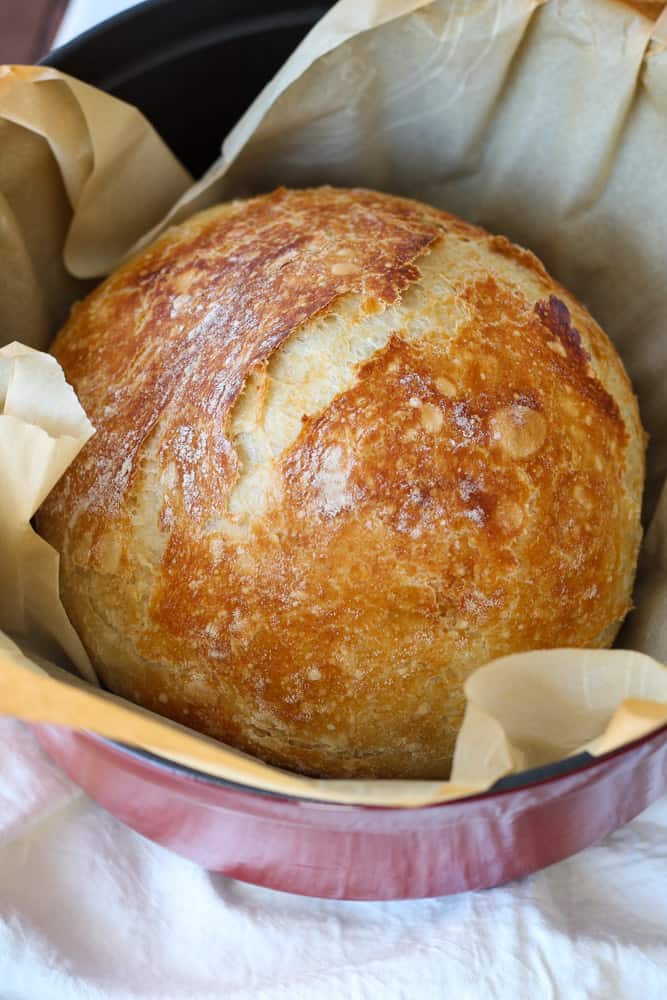 I mean, I'm not surprised this easy, homemade, fuss-free overnight bread is on the Top 10 list for 2021! It's so easy to make, it practically makes itself; and it's so super delicious that it disappears before your eyes!
Honorable Mention: My ultra magical Bucket of Dough recipe was on the cusp of the Top 10 list this year! Easy to make, no kneading necessary, and stores in the fridge for two weeks! Use this master dough recipe to make bread, soft classic dinner buns, hamburger buns, soft breadsticks, pitas, cinnamon buns, sticky buns, pizza, and so much more.
BREAD - you gotta love it!
So happy that my hearty, flavorful vegan bolognese made the top 10 this year - it's a family and friends favorite too!!
This recipe is a delicious vegan spin on traditional Italian bolognese sauce made with mushrooms, lentils, and walnuts. Super easy to prepare, this crowd favorite is a healthy, gluten-free, dairy-free, oil-free friendly, meat-free, and super cozy, stick-to-your-ribs vegan meal. Great for meal prep and batch cooking too!
Sushi is my jam so I'm so happy that vegan sushi made the top 10 list! Many sushi classes, lots of practice, and tons of attempts has our family sushi obsessed.
This recipe includes easy step-by-step directions for perfect rice and rolling every time. If you're a saucy vegan like we are, you'll be happily dipping your way through this homemade sushi in no time (more sauce options in the vegan sushi bowl recipe too)! Happy rolling!
If you love sweet potatoes, you've hit the jackpot. This is the mother of all stuffed sweet potato recipes. It's super nourishing and healthy, naturally gluten free and oil free, is an epic flavor pairing, and is packed with protein and nutrients.
It's no wonder this vegan sweet potato recipe is gaining big popularity on the blog.
These incredible mushroom sausage rolls are uber popular on the blog this year and for good reason! They were coming hard for the number one spot, but just ran out of time - next year!
I'm sure my family alone made devoured 12 dozen! I think you'll love them too because they are super easy to make, can be batch cooked and frozen ahead then baked from frozen when guests pop over. How simple and convenient can you get! Plus everyone loves them - vegan, vegetarian, and meat eaters.
Serve with 3 minute honey mustard sauce (amazing on everything!) and a glass of wine, and you've got yourself a fabulous appetizer for date night!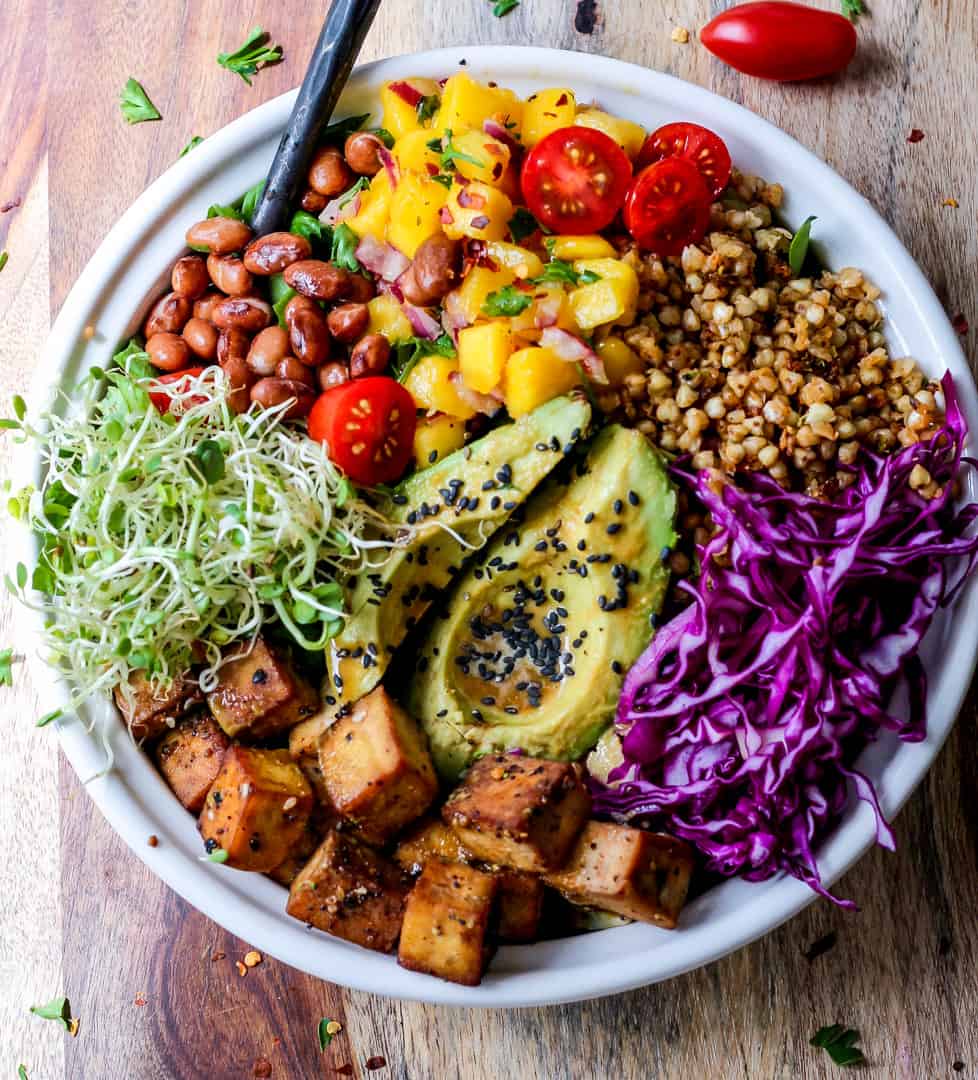 Vegan Buddha bowls are the perfect customizable vegan dinner! They are quick and easy, healthy, gluten-free, oil-free, dairy-free, and of course meat-free. They're packed with flavor, texture, and nutrients.
Choose your favorite grain, green, bean, and veggies. Top with something fresh and bright like pickled onions or a creamy slaw and a drizzle (always a drizzle)! The Dragon dressing in this recipe is spectacular, but choose your favorite vegan sauce for drizzling (lots of options to choose from on my Sauce/Dressing page).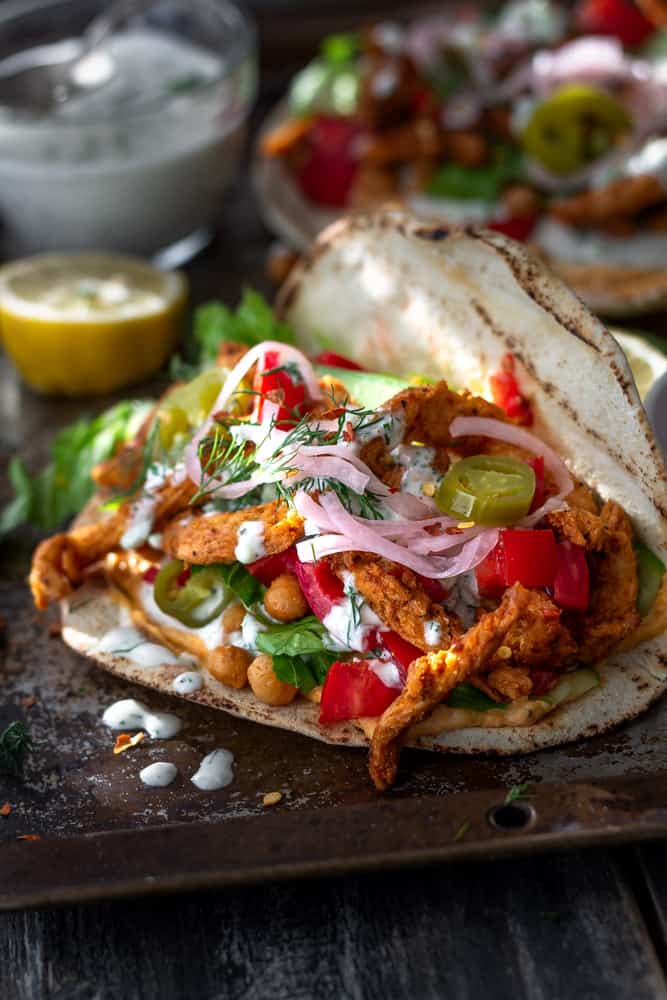 One of my Top 3 best recipes ever! Succulent, spicy, soy curl tenders and crispy baked chickpeas, fresh veggies, pillowy soft pita, and 2 irresistibly craveable sauces. This incredible vegan shawarma is bursting with epic flavors and textures!
Have you tried soy curls yet? They are a game changer in vegan kitchens. Amazing vegan chicken replacement for ginger chicken/beef and sweet and spicy cashew chicken.
And the number one, most popular recipe on the blog for 2021 (by a landslide) - sweet and spicy tahini sauce.
This tahini sauce is super easy and unbelievably irresistible! It's absolutely fantastic drizzled over anything and everything. If you haven't tried it yet, I highly recommend you do STAT (let me know what you think)!
BONUS RECIPES!
I mean could we wrap up the year without talking about sourdough bread and banana bread? I don't think so . . .
Sourdough Bread
One of my favorite things to bake this year - homemade sourdough bread! I tried to get a sourdough starter going many times over the years and could never get any traction.
Late in 2019 with the help of my friend, Amy, over at Little Spoon Farm, I finally made an active starter! Amy is a pro - her sourdough starter recipe is the best! It's easy to follow and she includes lots of expert tips, suggestions, troubleshooting, and step-by-step videos. If you've been rebuff by sourdough starter in the past or have been wondering what all the hype is about, check out Amy's sourdough starter recipe, you'll be happy you did!
My other favorite food to bake this year - my famous vegan banana bread! This recipe is for THE best banana bread ever - vegan or not!! It has an incredible, rich brown crunch on the crust and the most tender, moist and delicious crumb.
Don't worry, it's quick and easy to make, is gluten-free friendly, and is loved by ALL EATERS. The only problem with it, it doesn't last long (mom tip: hide a slice or two for your afternoon tea before it disappears)!
Some favorite Vegan-Friendly Food Brands
Here's a few brands that I love and use regularly (watch for full post in 2022):
That's a wrap for 2021 - welcome to 2022!

Thank you so much for making and sharing my vegan recipes with your family and friends this year. Thank you for your support, suggestions, feedback, and reviews. It's been so much fun creating new recipes and sharing them with you.

I've got some exciting plans for 2022 including an amazing vegan chorizo sausage, some easy and delicious vegan cheeses, more incredible vegan dinner bowls, quick and easy pastas, sauces, and baking! Plus a few cooking classes and a new vegan kitchen series.
PLEASE LET ME KNOW WHAT YOU'D LIKE TO SEE MORE OF IN 2022!

HUNGRY FOR MORE?: Sign up for my email NEWSLETTER