This Ultimate Mediterranean Bowl with tender-crispy Greek potatoes is a flavor bomb in a bowl. The authentic Greek potatoes are roasted until tender but crispy and are irresistibly delicious.

I mean a bowl full of creamy, crispy Greek Potatoes, rich roasted red pepper harissa sauce, tangy cucumbers, and loads of veggies - what could be better? Let the drooling begin!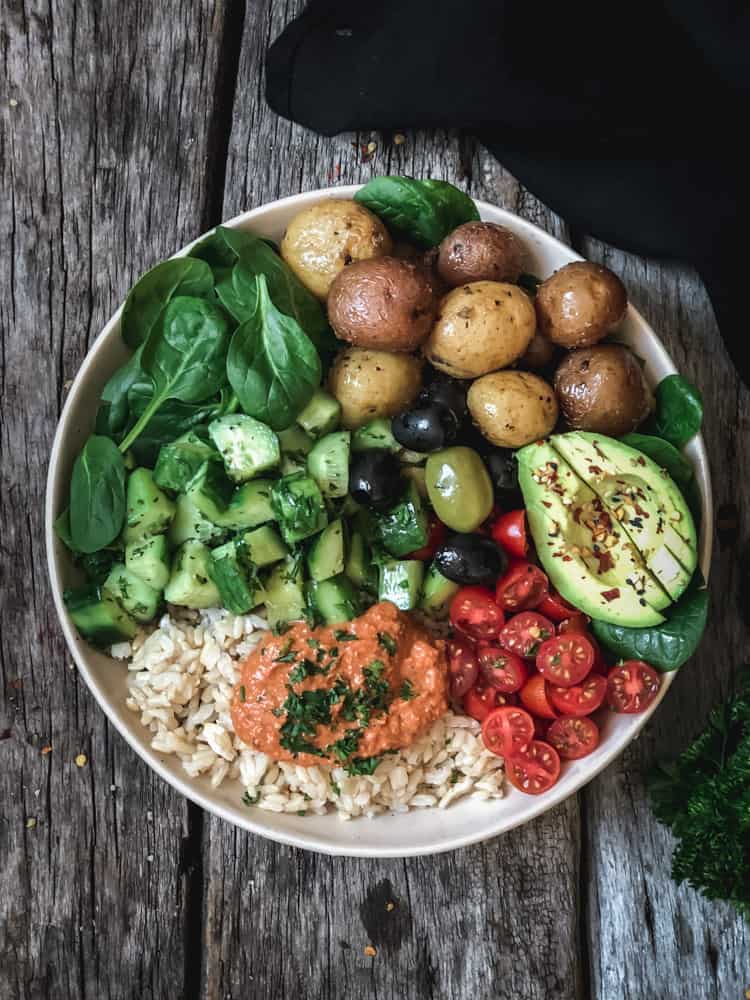 The star (maybe co-star) of this bowl is killer Greek Potatoes, and they are incredible!!! This old, family, potato recipe was generously shared with me by a lovely foodie friend, Joanne at The Olive and Mango. They are tender, slightly crispy with golden, crunchy bits, and bursting with lemony-garlicky-oregano goodness. These Greek Potatoes are super easy to make, you guys; and they are succulent! I could eat a pan of these every night to myself.
Also starring is the rich, chunky, Roasted Red Pepper Harissa sauce which is a riff on my Romesco Sauce. I added a twist or two to switch up the flavor. It's still got all the traditional goodies - roasted red pepper, almonds, tomatoes, garlic, and lemon; but I added sun-dried tomatoes and harissa seasoning!
This is a left-over bowl so I added some brown rice, but you can add any grain you have on hand for example quinoa is a great choice.
How to Make a Vegan Buddha Bowl
Managing the components in a recipe is a skill that takes a bit of practice to master - keep reading for a few tips to help make this recipe fuss free . . .
Turn the oven to broil. Broil the red peppers. If you bought a jar of roasted peppers, skip this step.
Cut and prepare the potatoes next. I've made this recipe with both mini potatoes and russets, both were delicious - so use what you have on hand.
While the potatoes are baking, make the Roasted Red Pepper Harissa sauce.
Chop the remaining vegetables and herbs.
Divide everything between some pretty bowls, top with fresh herbs and enjoy!
I'm sure your family and friends will be oohing and ahhing over this big vegan rice bowl just like mine does!
More Delicious Vegan Bowl Recipes
Spicy Satay Tofu Peanut Bowl - this bowl is easy to make and a top family favorite!
Chopped Salad with Tex Mex Dressing - Spicy, smoky, creamy and nourishing! Not boring!!
Lemon Fennel Orzo Bowl - all the yummy flavors + textures of sensational vegan comfort food!
Greek Salad with Vegan Feta Cheese - crunchy, healthy and bright (plus hearty meal option).
Did you make this recipe? I'd love to see it!
Please leave a star rating and comment at the bottom of the page.
Thank you so much for sharing! Tag me on Instagram 
For more Vegan Recipes: Sign up for my email NEWSLETTER!
Ultimate Mediterranean Bowl with Greek Potatoes (vegan)
Delicious vegan rice bowl with incredible, authentic Greek potatoes, avocado, tomatoes and harissa sauce served on warm rice and topped with a sprinkle of vegan tofu feta cheese. Super flavorful and tons of texture make this vegan bowl a family favorite!
Rate this recipe!
INGREDIENTS
Greek Roasted Potatoes
5

pounds

potatoes

1

cup

vegetable stock

¼

cup

oil

¼

cup

lemon juice

1

tbsp

oregano, dry leaves

1

tsp

garlic powder

1

tsp

onion powder

½

tsp

sea salt

1

tbsp

vegan butter (optional)
Roasted Red Pepper Harissa Sauce
1 - 2

red peppers, roasted

½

cup

almonds

2

cloves

garlic

½

cup

whole peeled San Marzano tomatoes, canned

¼

cup

sun-dried tomatoes (in oil)

2-4

tsp

harissa seasoning (to taste)

2

tbsp

sherry vinegar

1

tsp

smoked paprika

¼ - ½

cup

parsley
Additional Bowl Ingredients
1

cucumber, cut into quarters (chunks)

lemon juice, S&P

10 - 12

cherry tomatoes, halved

1

avocado, sliced

10

olives, black or green

1-2

cups

cooked brown rice or quinoa (optional)

vegan feta cheese (optional)
INSTRUCTIONS
Preheat oven to 400º F

Make Vegetable stock (I use Better than Bouillon).
GREEK ROASTED POTATOES 
3-5 pounds of potatoes, I used the small (mini) potatoes and cut the bigger ones in half. The original recipe uses russets, cut in half lengthwise and then into wedges.

Place in large roasting pan and cover with remaining ingredients (vegetable stock to sea salt), toss well to incorporate.  

Place pan in preheated oven, tightly covered, for 30 minutes.  Remove lid, stir well, and continue to cook for an additional 20-30 minutes (depending on how large your potatoes are). 

If you want the potatoes a little crispier, add the butter and broil for the last minute or two.
ROASTED RED PEPPER HARISSA SAUCE
Combine all ingredients in the bowl of a food processor and pulse until desired consistency is reached.

You can use fresh tomatoes instead of canned, and jarred roasted red peppers instead of roasting your own but this will change the flavour somewhat.
PUTTING IT ALL TOGETHER
For this bowl I had some leftover brown rice so I used that up (you can use any grain, rice, quinoa or skip).

Slice cucumbers or cut into chunks, add a squeeze of fresh lemon juice and a sprinkle of salt.

Add a pile of greens to a bowl, some roasted Greek potatoes, red pepper sauce, cucumber slices, a few cherry tomato halves, half an avocado, a few olives, vegan feta cheese (optional), fresh oregano/parsley and hot pepper flakes for garnish.

Serve as a bowl or in a pita and enjoy for dinner or lunch.
NOTES
To save time, make the roasted potatoes up to a few days in advance then just warm on the stove before serving.
The homemade vegan feta cheese is spectacular. It can be made a week in advance and stored in the fridge.
This recipe is adaptable, add any leftover bits and bobs you have to use up in the fridge.
This recipe is from simplyceecee.co food blog. All images and content are copyright protected. Please do not use my images or republish this recipe without prior permission. Thank you.