Big bold epic flavors and textures make up these delicious vegan Buddha bowls. Made with spicy crusted black pepper tofu, toasted buckwheat, creamy avocado halves, and tangy mango salsa served on a bed of leafy greens and doused with THE MOST incredible dragon dressing ever - irresistible!
Keep reading for guidelines on how to build a Buddha bowl, ingredient suggestions, tips and meal prep ideas to make weeknight meals a breeze . . .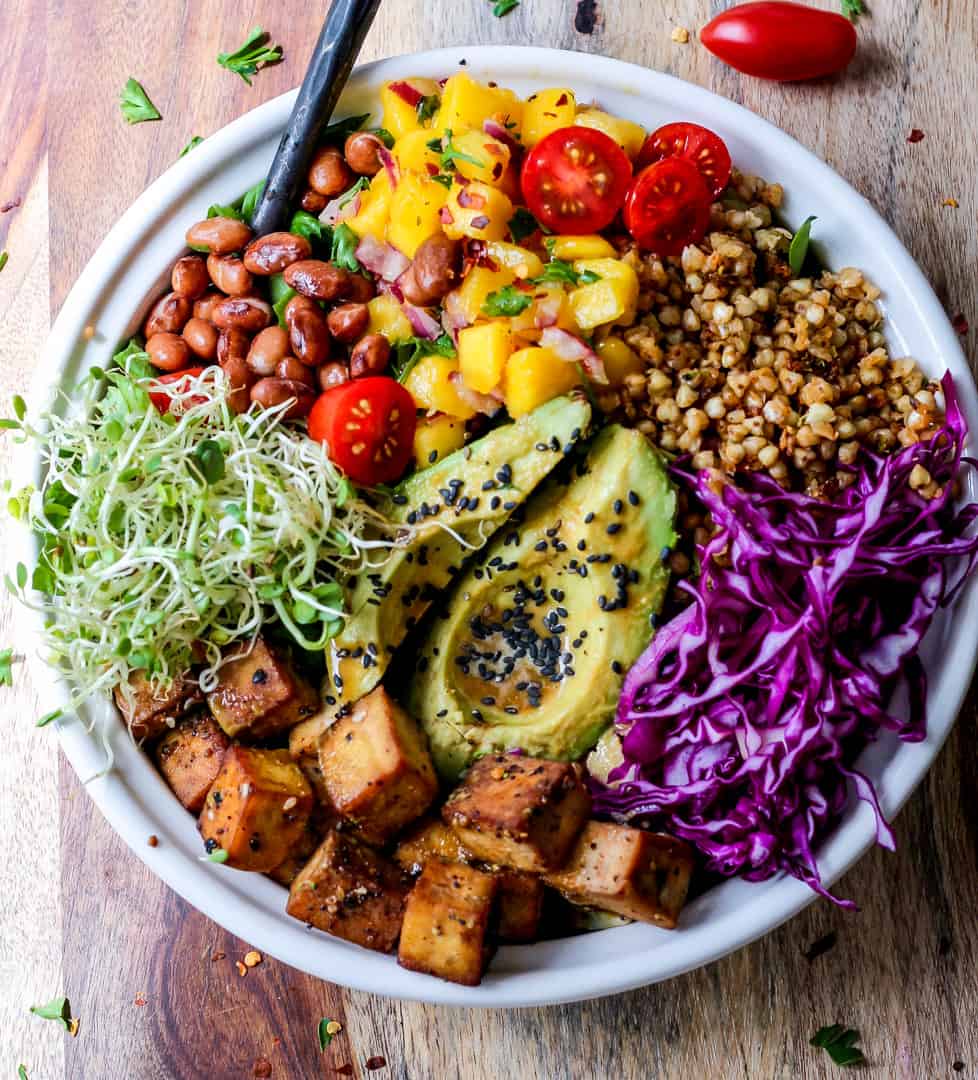 Buddha bowls are the perfect meal for my family, and I make them often. They are easy to make, super versatile and nourishing, served in a bowl, and include a sauce!!! Some of our favorite sauces include spicy green tahini sauce, sweet and spicy tahini sauce, and dragon sauce to name a few.
What is a Buddha Bowl?
Buddha bowl, rice bowl, hippie bowl, power bowl or whatever you call them are an easy, inexpensive, healthy, typically vegetarian or vegan meal. The old adage 'a bean a green and a grain' holds true when building your Buddha bowls.
Start with a warm (or cold) grain like rice, then add beans or other plant protein, lots of fresh or roasted veggies, and your favorite toppings. It's an excellent way to use up bits of leftovers and perfect for meal prep.
Let's build a vegan Buddha Bowl . . .
Bowl Ingredient Highlights
Tofu - easy to prepare, nutritious and delicious, tofu is an amazing vegan meat alternative. It's super adaptable, the texture is transformative; and it takes on flavor like a boss. (If you're interested in how to cook tofu that tastes good check out this guide.)
Other plant protein suggestions: peanut satay tofu, soy curls, tempeh, jackfruit (sweet-spicy jackfruit recipe)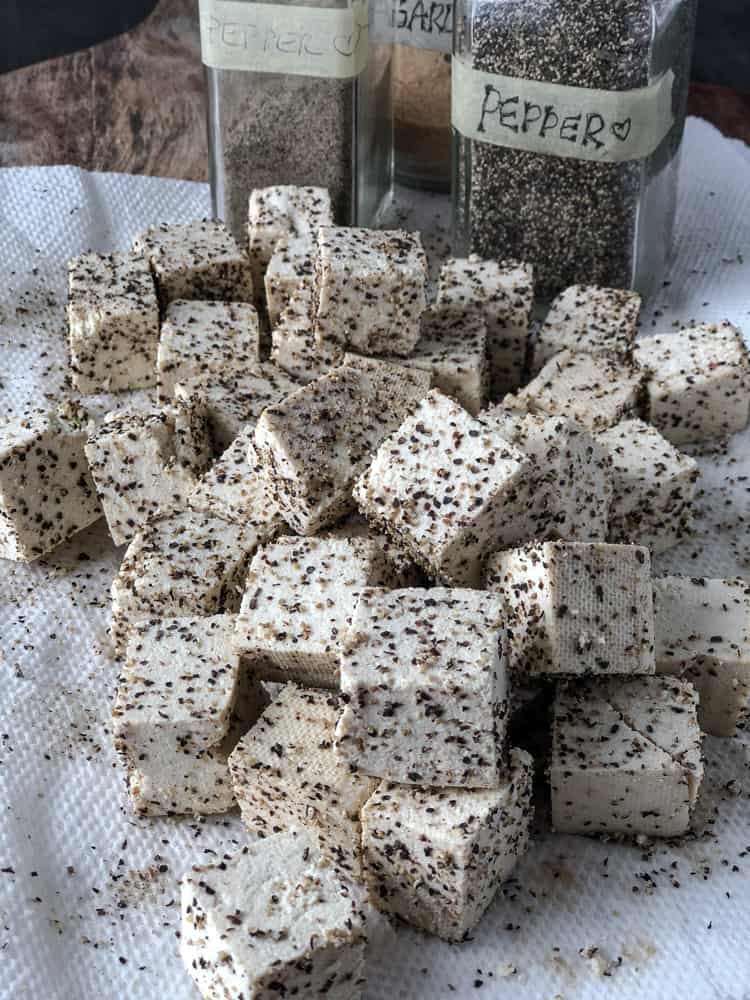 Buckwheat Groats - an interesting gluten free, fiber and protein packed pseudo grain. Buckwheat is super versatile and can be served cooked whole like rice, stewed into porridge, toasted, eaten in raw desserts or made into flour.

Grain Ideas: Try buckwheat or choose any grain, lentil, rice, quinoa, bulgur, barley, couscous, etc. that you have on hand. Serve warm or cold.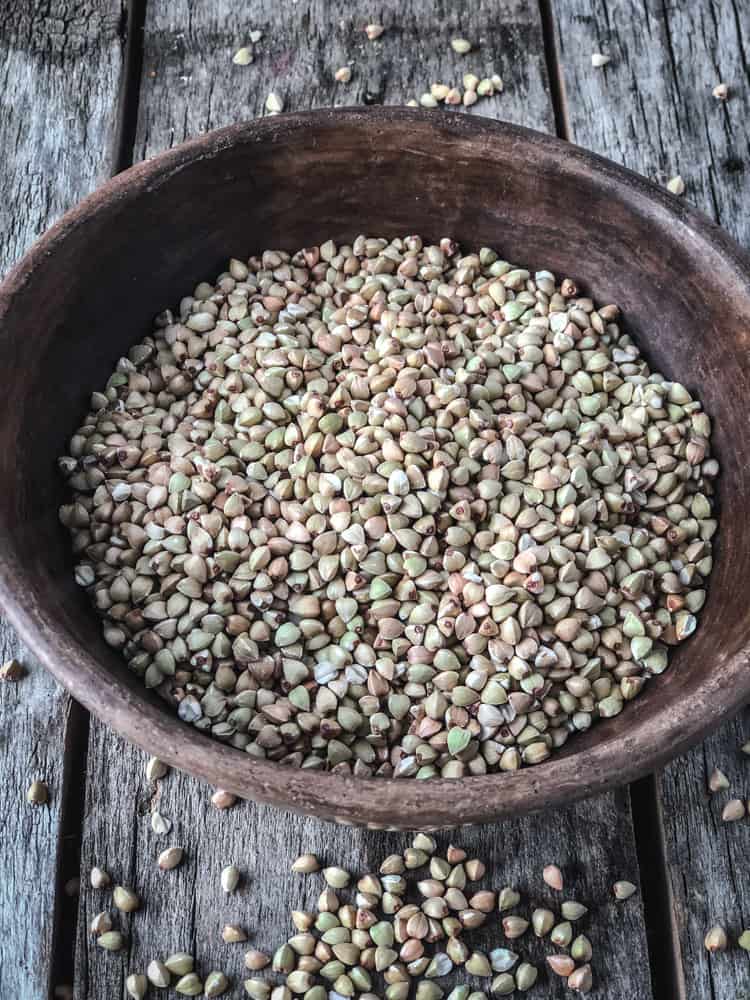 Mango Salsa - Salsa is a great tangy, fresh component to include in a Buddha bowl. This sweet, juicy mango salsa is incredible but try mango corn salsa or pico de gallo or buy one from the market that will add some acidity, tanginess, and juiciness to your bowl.
Dragon Dressing - This dairy-free dragon dressing is irresistible. Lots of umami flavours, plus tangy, salty, garlicky notes and a slight sweetness. Beyond super addictive, I drizzle (free pour) it liberally on this bowl, and everything else!

Find more Buddha bowl dressing ideas - Vegan Sauces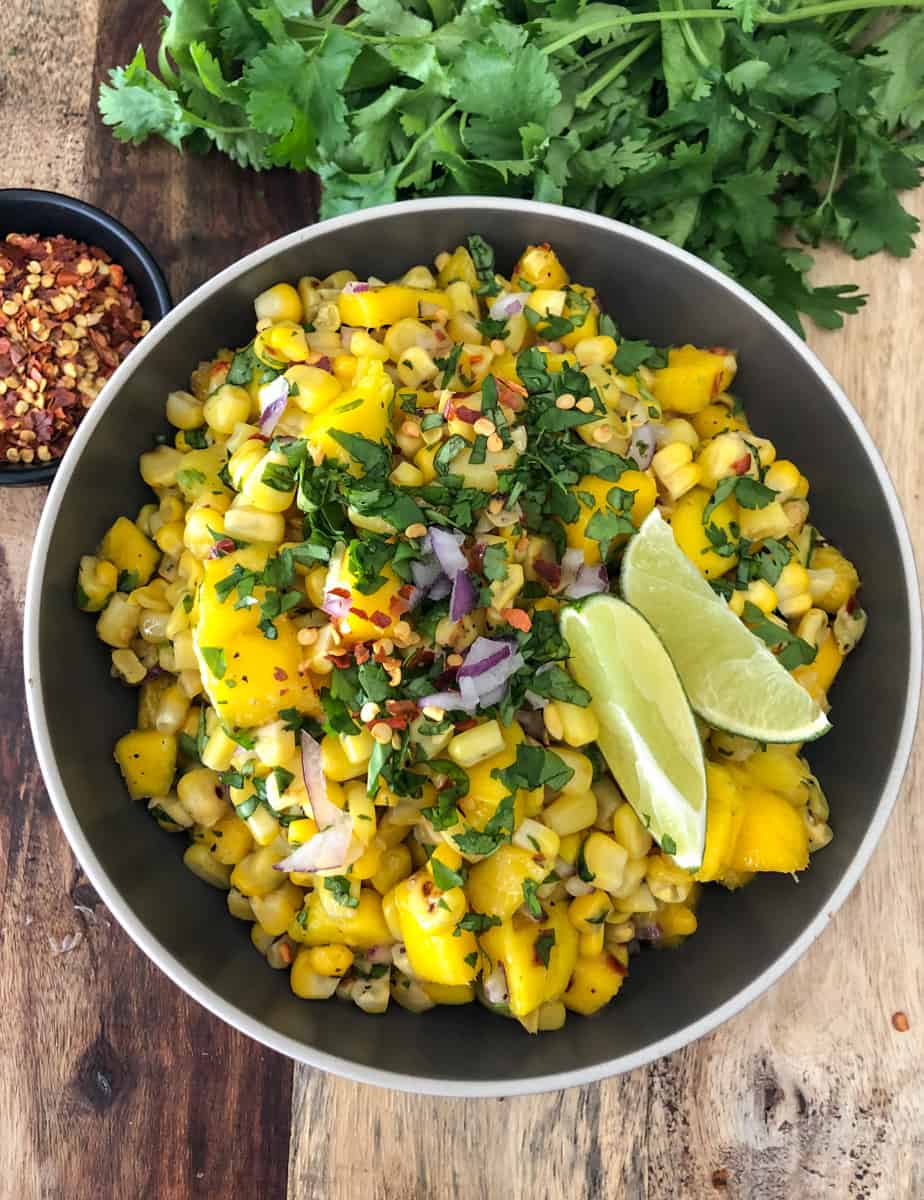 Buddha Bowl Ingredient Variations
The most epic vegan bowls include a variety of flavors and textures (something with 'toothsomeness' like the tofu).
Each vegetable, grain, herb, bean, nut/seed brings its own nutrient and flavor profile so have some fun and add a big variety. Here's some ideas to get you started:
roasted veggies like cauliflower, broccoli, carrots, leeks, sweet potatoes
beans such as chickpeas (baked crispy or raw), black beans, pinto beans
cherry tomatoes (cut in half)
cucumber slices - use a crinkle cutter for fun
purple cabbage or creamy slaw
avocado or guacamole
sprouts or microgreens
leafy greens like spinach or kale, romaine or spring mix
nuts/seeds (toasted pumpkin seeds, sunflower seeds, pistachios, walnuts)
fresh herbs like mint, cilantro, parsley or Thai basil
pickled onions or hot peppers
FAQ
What are the main ingredients of a Buddha bowl?
A Buddha bowl is typically made of a grain, veggies (raw and roasted), plant protein, beans, toppings, and Buddha bowl dressing (very important!). They are very convenient and versatile (use up ingredients you have on hand).
Are Buddha Bowls healthy?
Buddha bowls can range from healthy to indulgent depending what ingredients are chosen. A typical 'hippie or grain' bowl would include a bean, a green, a grain, some veggies, seeds and a simple dressing and would be very nourishing and healthy.
Can you make Buddha Bowls ahead?
Yes, they are great for meal prep. Prepare the ingredients in advance and store in individual containers in the fridge to be used all week in different combinations with a variety of Buddha bowl sauces.
More Vegan Dinner Recipes
If your schedule allows, take a couple hours on the weekend for meal prep. Bulk cook rice, quinoa or lentils, mix up a big salad, quick pickle some red onions or other veggies, and cook a batch of chickpeas or tofu to make dinners a breeze all week. Here are some more yummy, vegan meals and sauces we love: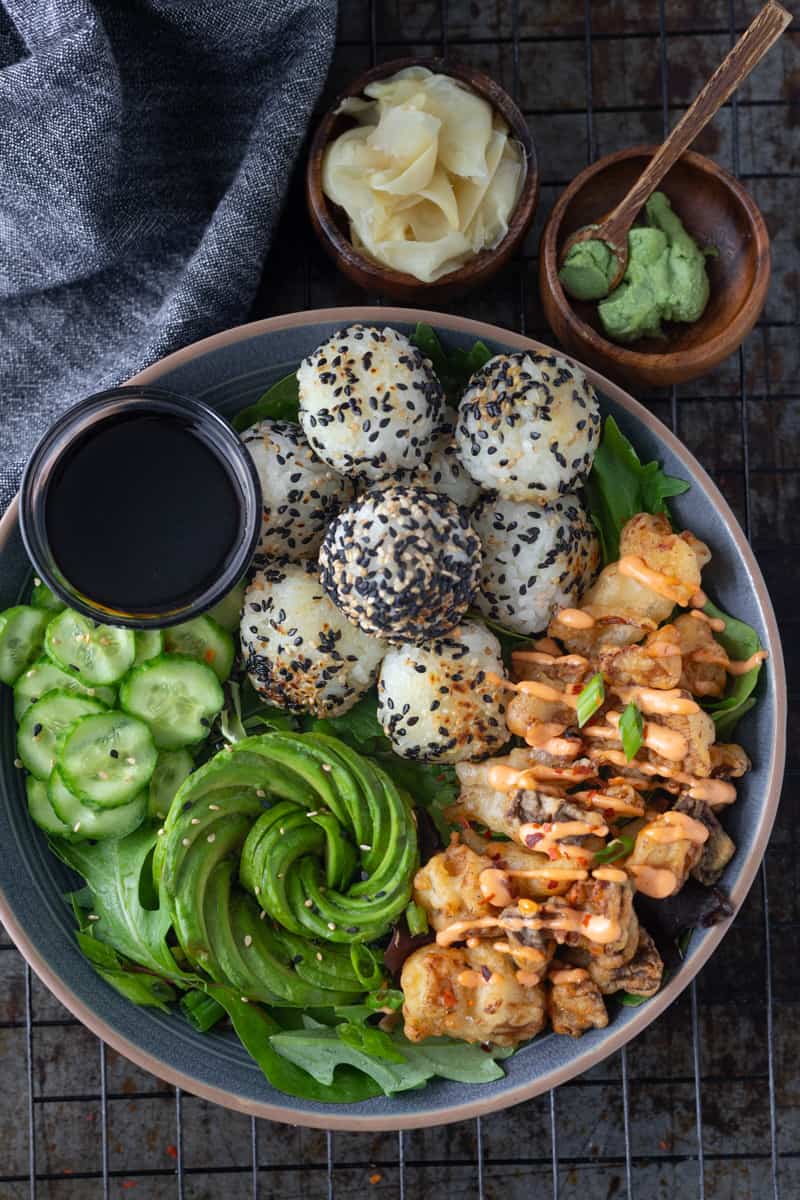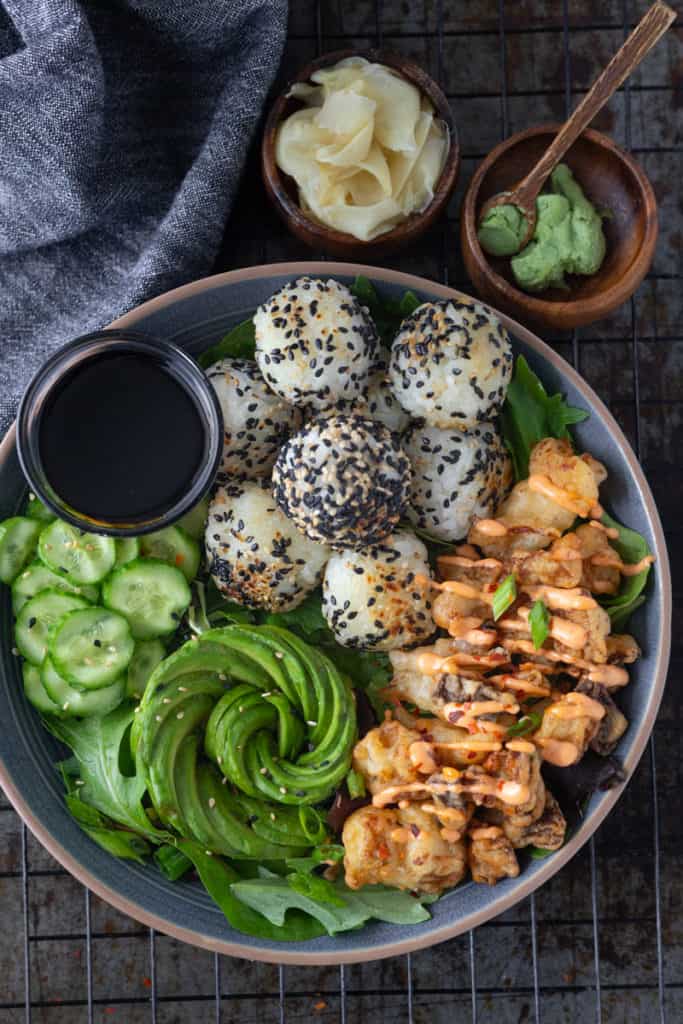 Did you make my Vegan Buddha Bowl recipe?
If so, I'd love to see it! Tag me on Instagram and Facebook!
Thank you for making & sharing my recipes with your family and friends!
NEVER MISS A RECIPE: Sign up for my email NEWSLETTER!
Vegan Buddha Bowl
Delicious, nutritious vegan Buddha Bowl. It's gluten free, oil free friendly, packed with nutrition and that dragon dressing is addictive!!!
Rate this recipe!
INGREDIENTS
Dragon Dressing
⅓

cup

nutritional yeast

4

tablespoons

soy sauce

2

tablespoon

apple cider vinegar

2

tablespoons

olive oil

1-4

teaspoons

maple syrup (more to taste)

1-2

cloves

garlic, minced

S&P, to taste
Pepper Crusted Tofu
1

block

tofu, firm or extra firm

1

tbsp

cracked black pepper (to taste)

sprinkle

garlic powder

sprinkle

sea salt

1

tablespoon

olive oil (skip if oil-free)

1-2

tablespoons

sriracha sauce
Buckwheat Stir Fry or use brown or white rice, quinoa, couscous
1

cup

buckwheat groats, cooked as per package directions

¼ - ½

cup

cauliflower florets, cut small

¼ - ½

cup

broccoli florets, cut small

2

cloves

garlic, chopped

S&P to taste

2-3

green onions, chopped
1

mango, peeled and cubed

¼ - ½

red onion, fine chop

1

handful

cilantro, fine chop

1

lime, juiced

S&P

½

teaspoon

red pepper flakes, to taste

¼

teaspoon

cayenne
Toppings (optional)
1-2

avocadoes, cut into chunks

10-12

cherry tomatoes, cut in half

purple cabbage, shredded

1 ⅓

cups

beans (brown, pinto, black, chickpeas)

sprouts

seeds/nuts, eg. pumpkin, sesame, sunflower

3-4

cups

mixed leafy greens, chopped
INSTRUCTIONS
PEPPER CRUSTED TOFU (or any flavor)
Tofu can be made 3 or 4 days in advance and stored in fridge.

Wrap a block of extra firm tofu in some paper towelling or a clean kitchen towel. Place a couple heavy books or a cast iron skillet on top to press for about 5-15 minutes.

*While the tofu is pressing make the dragon sauce.

Cut the tofu block into ~1" cubes and place back on paper towel.

Dust tofu cubes with liberal amounts of cracked black pepper and finely ground pepper - pressing pepper into all sides. Add a sprinkle of garlic powder (or any spice) over the cubes.

Heat oil in a cast iron pan (or oven safe skillet) on high heat until shimmering, sprinkle with sea salt.

Sear the tofu on each side until golden and crispy. The tofu will naturally release from the pan as it crisps up.

Oil-free Tip: Place the tofu in the hot non-stick pan (medium-high) and don't touch it until the tofu naturally releases. Then flip to sear on all the sides.
DRAGON DRESSING (make while tofu is pressing)
Whisk all sauce ingredients until smooth. Taste and adjust seasoning as necessary.

I like my dressing garlicky, sour (apple cider vinegar) and not very sweet so I recommend starting with the lower quantities, blending, and adjusting to your own taste preference.

Will keep in fridge in airtight container for up to 3 or 4 days.
BUCKWHEAT STIR FRY
Cook 1 cup of buckwheat groats according to package directions - do not overcook! Can also serve on brown or basmati rice, quinoa, couscous, etc.

Meanwhile, heat oil a large pan over medium-high heat. Add cauliflower and broccoli florets and stir fry for 3 or 4 minutes until they are tender crisp.

Add the minced garlic, and cooked buckwheat and stir while they toast up. 

Taste and season with S&P.

Stir in sliced green onions. Remove from heat immediately and set aside. 
MANGO SALSA RECIPE
Peel and cut the mango into chunks, dice the red onion, and chop the cilantro. Add all ingredients including spices to a bowl and toss to incorporate.
KITCHEN TIME MANAGEMENT TIPS
Start cooking the buckwheat/rice.

Make the dressing, put in fridge. 

Make the mango salsa, set aside. 

Cut and prepare all veggies and toppings.

Add a handful or two of your favourite leafy greens (chopped) to a serving bowl. Pile everything on top in piles including any beans, sprouts, and tomatoes, drizzle liberally with the dragon sauce.  ENJOY!
NOTES
First thing: Tofu - wrap and press the tofu (5-15 minutes). 
Grains - switch out the buckwheat for your favourite grain or use leftovers from the week. I frequently use plain brown or basmati rice served warm and skip the stir fry.
Salsa - if mangos not in season, any salsa or pico de gallo would be tasty.
Toppings - I like to add as many fresh, raw ingredients as I have on hand to amp up nutrition and texture. Really diversify your colour profile and add some almonds or pumpkin seeds for crunch!
Greens - choose 2 or 3 different types of leafy greens (or Spring Mix) and then just chop them up together. 
Dragon Dressing - the dressing will store well in the fridge for 3 or 4 days.
Video Dinner Ideas - Visit my Instagram Highlight for my 'Dinner on the Fly' series which includes planning a meal on the fly from foraging the fridge and pantry for ingredients to the finished meal in under 20 minutes. Lots of cooking, flavor, and texture tips for creating craveworthy meals in minutes!
This recipe is from simplyceecee.co food blog. All images and content are copyright protected. Please do not use my images or republish this recipe without prior permission. Thank you.