Forget takeout! This easy Vegan Stir Fry is ready in just 30 minutes and makes a delicious weeknight meal. It's loaded with chunks of juicy vegan chicken, tender-crisp veggies, and crunchy cashews tossed in a spicy-sweet stir-fry sauce. It's a full flavored, affordable, vegetarian meal to feed your family.
If you're on the lookout for quick and easy weeknight dinners, stir fry is the way to go! You get vegan protein (soy curls) and tons of veggies (use whatever's in the fridge) cooked in a tasty stir fry sauce in just one skillet!
There's lots of color and crunch; it's super healthy, gluten-free, dairy-free, vegan, and make-ahead friendly! I love serving this nourishing meal to my family, and the kids LOVE searching for the cashews to see how many they got!
If you haven't tried soy curls yet, I have a feeling you're going to love them as much as we do. They are delicious in my vegan shawarma and spicy vegan ginger chicken too!
What are Soy Curls?
Soy curls are an amazing vegan meat substitute. They are made from soybeans which are rich in fiber and protein (gluten free too!). I use the Butler Brand of soy curls which are non-GMO soybeans, processed without chemicals, and packaged without additives or preservatives.
The first time I had soy curls, I was very surprised and impressed by the texture: so similar to chicken tenders! Also soy curls are super versatile - bake, stir fry, deep fry, pan fry or air fry them. Serve them tender and juicy or crispy and crunchy, your choice!
Where to Buy Soy Curls
Order soy curls directly from Butler in the USA. Most health food stores and vegan grocery stores (like Vegan Supply in Vancouver, Canada) and large grocery stores carry them. Or buy soy curls online. I recommend ordering several bags at a time.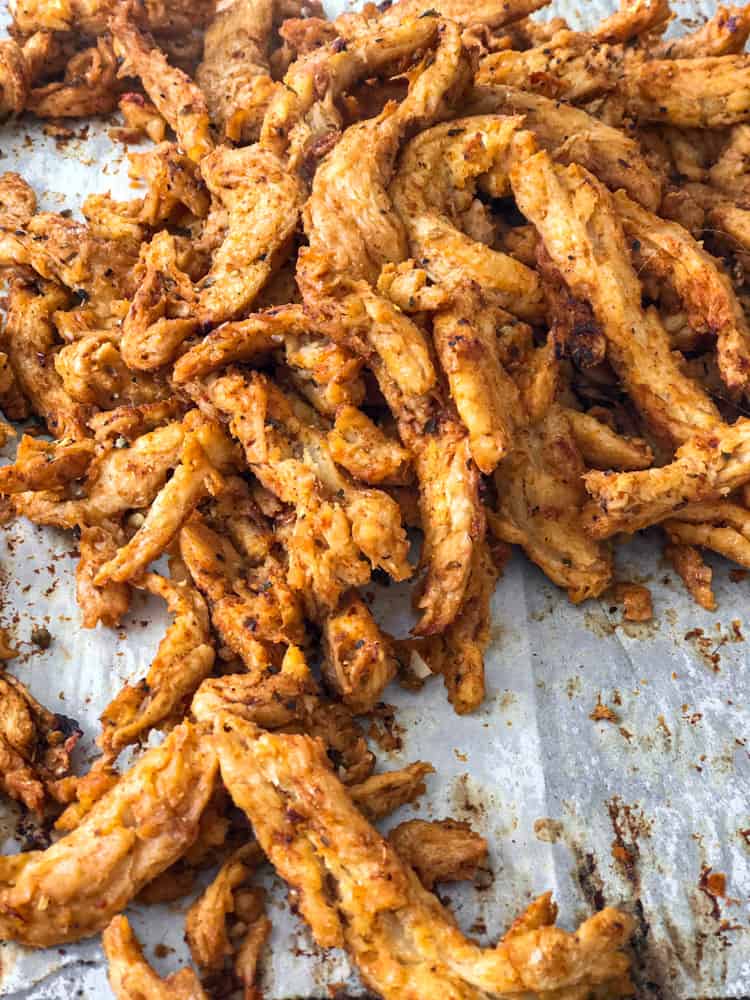 Ingredients for Cashew Chicken Stir Fry
Aside from the soy curls, this vegan stir-fry recipe is made with pantry and fridge friendly ingredients. Let's take a look at what you'll need (full measurements in the recipe card at the bottom of the post):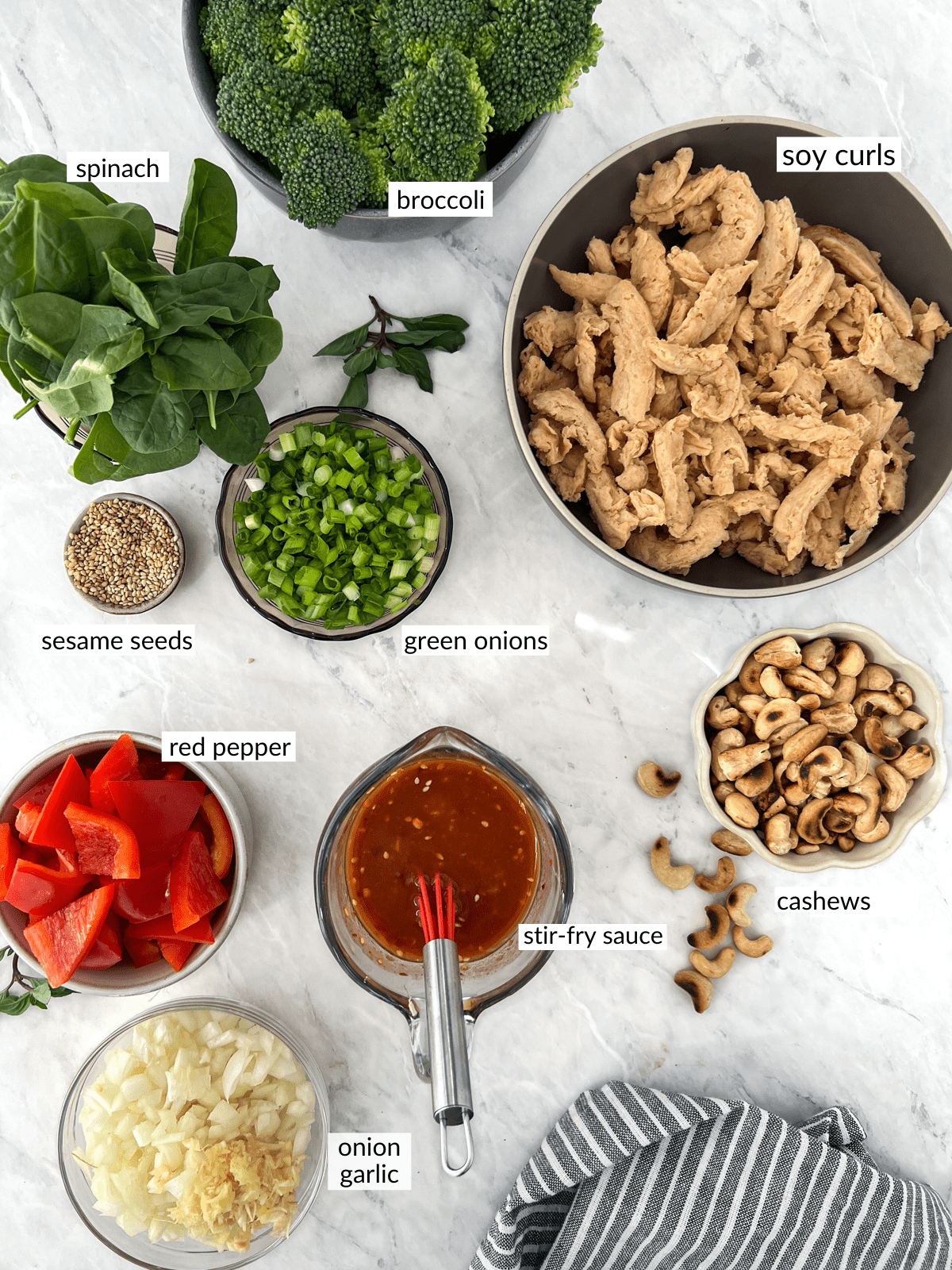 For the chicken and veggies: Gather together soy curls, broccoli (florets & stems), red bell pepper, carrots, and spinach.
Cashews: Use raw unsalted cashews. Toasting the cashew nuts unlocks their nutty flavor and makes them crunchy.
Aromatics: Fresh garlic, ginger, and onion to build flavor.
Garnish: Sliced green onions, sesame seeds, and more toasted cashews.
Every stir-fry deserves an addictively delicious sauce! This garlic ginger stir-fry sauce is a scrumptious balance between salty, sweet, and spicy. It's made with hoisin or ketchup, soy sauce (low sodium or gluten free), rice vinegar, toasted sesame oil, sriracha sauce, vegetable broth (eg. Better than Bouillon), maple syrup, minced garlic, fresh ginger, and cornstarch. Make extra stir-fry sauce for those weeknights you need an easy meal in minutes – the sauce will keep in the fridge for up to 2 weeks.
Ingredient Substitutions & Variations
This stir-fry recipe is easy to customize! Follow the recipe as written or throw in any veggies you have on hand - that's the magic of stir-fry dinners! Here's a few ideas:
Best veggies for stir-fry?: I love broccoli in stir fry and always include it; but add mushrooms, celery, carrots, cabbage, snap peas, green beans, baby corn or water chestnuts - whatever you've got in the fridge.
Vegan meat replacement: If you don't have or can't find soy curls, you can bake, air fry or pan fry tofu instead. Pan fried, shredded king oyster mushrooms are a great choice for the meaty texture as well.
Customize the sauce: This recipe has two choices for the flavor base: hoisin or ketchup - both are delicious. The hoisin sauce is slightly sweeter so decrease added sweetener as needed. As well, you may prefer a tangier or spicier sauce - taste the sauce as you go and make ingredient adjustments to your personal preferences.
Serving suggestions: Jasmine or basmati rice is our favorite! But this veggie stir fry is fabulous served on rice noodles, soba, udon or ramen noodles or even a narrow pasta.
How to Make Vegan Cashew Chicken & Veggies
This recipe comes together quickly and will blow your favorite restaurant version out of the water! Ready to get started? Let's take a closer look at how to make the stir fry:
Make the rice: Start rice cooking on the stove, in a rice cooker or the Instant Pot (my preferred method).
Prep the vegetables: Depending on your knife skills, this step can take the most time. Pre-chopped vegetables are available at the grocery store if you prefer.
Prep the soy curls: Hydrate the soy curls in broth or water. This takes 6 minutes of hands free time! Then drain and squeeze out excess fluid. Set aside.
Toast the cashews: While the soy curls are hydrating, toast the cashews in a skillet over medium heat until visibly toasted in some spots. This unlocks their flavor.
Stir-fry sauce: Add ingredients to a bowl or jar. Stir/shake until well blended.
Cook the soy curls: Pan fry the drained soy curls in a saute skillet or wok over medium-high heat until lightly browned or charred in spots. Don't overcrowd the pan. You may need to work in batches if your pan is small. Transfer to a bowl.
Stir fry the veggies: In the same pan, saute the onions for several minutes to brown then add in the garlic and veggies. Stir fry until tender crisp. Don't overcook as the vegetables will finish cooking in the sauce.
Add the stir-fry sauce: Add the soy curls back into the skillet along with the spinach and half the cashews. Pour in the sauce and simmer until thickened.
Serving: Garnish with remaining cashews and green onion slices. Serve on a bed of rice. Enjoy!
Expert Tips
Rehydrating the soy curls: Soy curls are dehydrated so they need liquid to plump them up. Soak them for 6 minutes in veggie broth or water. Don't leave them to soak for too long though or they become mushy.
Cooking rice: If you haven't batch cooked rice for the week yet, this is a great time to do it! You're making rice anyway, so make an extra cup or two to save time later in the week. The Instant Pot is a simple and hands free way to make rice. Store extra rice in freezer bags or containers in 1 or 2 cup servings for up to several months in the freezer. This is a great tip when cooking for one!
Toasting nuts: any time, I'm toasting/roasting nuts, I make a double batch and store the extras in the fridge or freezer to save time for future recipes.
Sauce consistency: The consistency of the sauce is up to you. For a thicker sauce, simmer for a little longer; for a thinner sauce, simmer for less time and/or add an extra splash of broth or water as needed.
MILLION DOLLAR DIP (managing your time): the two first steps are starting the rice and prepping the veggies in that order. To save time don't choose too many different types of veggies (stick with 2 or 3). Alternatively you can buy pre-chopped vegetables at the store which saves time (but not money). Then rehydrate the soy curls which gives you 6 minutes to toast the cashews and make the stir-fry sauce. Now you're ready to start cooking!
Make ahead & options: if you have a busy week ahead and need quick but nourishing meal ideas, veggie stir-fry is a great choice! The rice, vegan protein, and stir-fry sauce are all make ahead friendly - smoothing the way to easy 15 minute meals all week. Change up the veggies or sub in tofu (using this method) and serve over noodles instead of rice for a different meal each night!
Storing & Reheating
Stir fries have the best texture when served fresh; however, you can safely store them in the fridge for 2-3 days to enjoy as leftovers. To reheat, use stovetop or microwave. I don't recommend freezing this meal.
Vegan Food at Its Best!
Along with some of my best soy curl recipes, I've included a couple other super flavorful, quick vegan meals to try next:
Did you make this easy vegan cashew chicken stir fry recipe?
I'd love to hear about it! Please leave a star rating and review below.
Tag me on IG @ceeceecooks and Facebook!
CRAVING MORE VEGAN RECIPES?: Sign up for my Sunday NEWSLETTER!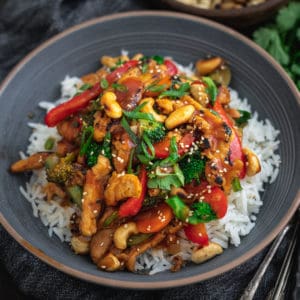 Easy Vegan Cashew Chicken Stir Fry (gf)
Our favorite, better-than-takeout, vegan stir-fry made with soy curls, veggies, and crunchy cashews! This one skillet, protein rich, vegan stir fry is tossed in a delicious savory-sweet and spicy Asian sauce for an easy and healthy weeknight meal. GF
Rate this recipe!
INGREDIENTS
The Prep Work
2

cups

basmati rice, cooked

1 ¼

cups

cashews, toasted in a dry pan
The Vegetables
1

tablespoon

oil

1

cup

onions, diced

1

tablespoon

garlic, minced

1

large

red pepper, bite-size chunks

1

large

carrot, sliced into rounds

2-3

cups

broccoli (stalks & florets), chopped

2

large handfuls

baby spinach or sliced into ribbons
The Soy Curls
4

ounces

soy curls, dry

1 ½

cups

veggie broth or water

1-2

tablespoons

oil (for cooking)
The Stir-Fry Sauce
⅓

cup

hoisin sauce OR ketchup

¼

cup

soy sauce

¼ +

cup

vegetable or vegan chicken broth

2

tablespoons

rice vinegar

1 - 2

tablespoons

maple syrup

1

teaspoon

toasted sesame oil

1

tablespoon

sriracha sauce

2

large cloves

garlic, minced

1

tablespoon

ginger, minced (more to taste)

1

tablespoon

cornstarch
The Rest
3

green onions, sliced

sesame seeds
INSTRUCTIONS
The Prep Work
Make the rice as per package directions (either stove top, rice cooker or Instant Pot). I made enough for 2 cups cooked rice (½ cup cooked each serving). Adjust for your family's appetites.

Prepare the vegetables, garlic, onions, and ginger.

*Add more or less vegetables customized to your family's taste.
Hydrate the Soy Curls
Cover the dry soy curls in vegan chicken broth or water and soak for ~6 minutes.

Drain and gently squeeze to remove excess liquid. Set aside.
Toast the Cashew Nuts
While the soy curls hydrate, toast the cashews and make the stir-fry sauce.

Toast the cashews in a skillet over medium heat until visibly toasted in some spots. Shake the skillet periodically to prevent burning. Remove from heat.
Make the Stir-Fry Sauce
Put all sauce ingredients into a jar and shake to combine. Set aside.

Choose ketchup OR hoisin as your base (or half of each). *Hoisin is slightly sweeter so you may want to adjust the added sweetener (taste as you go).
Cook Soy Curls
Heat 1 tablespoon oil in a wok or large saute skillet over medium-high to high heat until shimmering.

Add the drained/squeezed soy curls to the pan. Stir fry for ~5 minutes until they take on some color/charring. Don't overcrowd the pan or the soy curls will steam instead of fry. Depending on the pan size, you may need to do 2 batches. Transfer to a bowl.
Stir Frying Vegetables
Add another tablespoon of oil to the wok/skillet. Once, shimmering, add the onions, sauté over medium-high heat for ~3 minutes or until fragrant.

Add the garlic and veggies (except the spinach) continue to cook for 3-5 minutes until tender but still crisp. Keep the veggies moving to prevent sticking (add a splash of water or broth if necessary).

Next add the soy curls back in along with the spinach, half the cashews, and ¾ of the sauce. Stir to combine. Allow the sauce to simmer over medium heat for 1 to 2 minutes to thicken.

Add the remaining sauce if the stir-fry is dry or you like a super saucy stir fry (this will vary depending on the amount and type of vegetables you choose as well). If the sauce gets too thick, add a splash or two of water/broth to correct.

Remove from heat, garnish with remaining cashews, green onions, and sesame seeds. Dig in!
NOTES
SOY CURLS: I use Butler Brand soy curls. In the USA you can order directly from Butler Foods. In Canada, I use Vegan Supply online. They can also be ordered online from Amazon. The price is around $6.99 (Canadian) for a bag.
NUTS: toasting the nuts unlocks the flavor and crunch. Batch cook them and store in a jar in the fridge or in the freezer for longer storage.
NUT ALLERGY?: If nut free, skip the cashews. If you can eat peanuts, they are a nice substitution. Or sesame seeds.
STORING & REHEATING: Store any leftover vegan cashew chicken in the refrigerator for up to 3 days. Simply reheat in a microwave safe dish and enjoy!
This recipe is from simplyceecee.co food blog. All images and content are copyright protected. Please do not use my images or republish this recipe without prior permission. Thank you.