Forget takeout. When you're craving Chinese takeout, try this 30 minute vegan sweet and spicy cashew chicken and veggie dish instead! It's easy to make, incredibly delicious, and way healthier than the restaurant version!

Plump, succulent soy curls are grilled until crispy on the outside then stir fried with tender crisp veggies and crunchy cashews in an incredibly flavorful salty, sweet and spicy cashew sauce. Totally irresistible served over rice.
Everyone loves this amazing cashew chicken - vegans, vegetarians and meat eaters all request it for dinner time and time again!
We love this irresistible Asian-inspired stir fry recipe. It comes together pretty fast, is super nourishing and colorful, and it's gluten-free, dairy-free, vegetarian, and finger lickin' good! Your whole family is going to love it too!
Ingredient Spotlight - Soy Curls
Soy curls are an amazing vegan meat substitute (really authentic crispy vegan chicken tender alternative). They are made from soybeans which are rich in fiber and protein. I use the Butler Brand of soy curls (affiliate link) which are non-GMO soybeans, processed without chemicals, and packaged without additives or preservatives.
Not going to lie, I was SUPER surprised and delighted by the texture the first time I tried them. It's quite similar to chicken! Not even joking one little bit!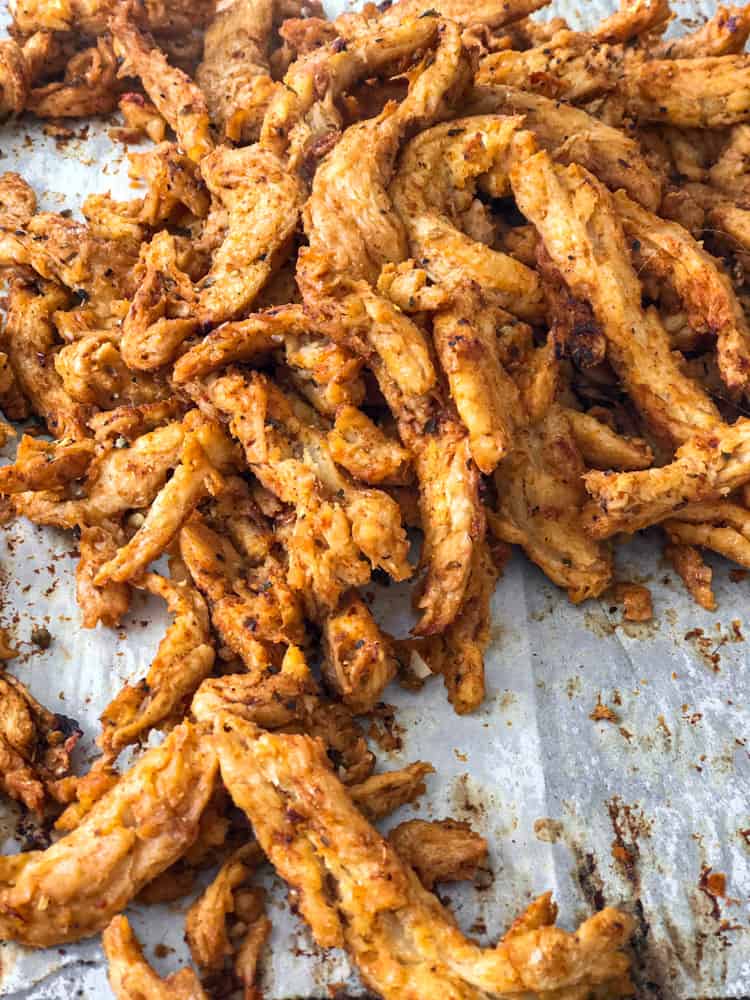 How To Cook Soy Curls
Soy curls are sold dry (dehydrated) and must be rehydrated before cooking. That's a simple 6-8 minute process. Then it's time to get cooking.
Oven baking soy curls is easy and produces a slightly crispy, chewy chicken tender. Season them first (like I did for this unbelievable Vegan Shawarma recipe) or bake them plain and add them to sauce after. Arrange in a single layer on a parchment lined baking sheet. Bake in a 425º F preheated oven for about 20 minutes stirring halfway through. Remove from oven and use as desired (try them on a salad, rice bowl, appetizer, vegan ginger beef/chicken).
Stir frying or sautéing the soy curls is easy and delicious too. Heat a tablespoonful or two of oil in a large skillet and cook over medium to high heat. This method produces juicy, chewy curls with a bit of color and crust. Perfect texture for adding to stir fries, tacos, quesadillas, and so much more.
Either way you'll get juicy, tender, flavourful results. Try them both and see which you prefer.
Ingredient Essentials
Here's what you'll need to make this saucy veggie stir fry.
Vegan Chicken (aka Soy Curls) - I use the Butler Brand which I picked up from Vegan Supply in Vancouver (you can order them online from Butler Foods (USA), Vegan Supply (Canada) or Amazon).
*Pro Tip: if you can't find soy curls, use another vegan chicken replacement like seitan or tofu. As well, there are lots of brands offering delicious plant-based chicken - Gardein, Beyond Meat, Morning Star, and Lightlife to name a few.
Cashews - toasting nuts enhances their flavour and makes them crunchier.
Vegetables - veggies add flavor, texture and crunch. This combination is pretty traditional (and delicious) for cashew chicken, but use any vegetables you have on hand. Celery and water chestnuts are a great additional as well. Pro Tip: cut the vegetables in a uniform size so that they cook at the same rate. Hold back veggies that are tender (like greens and peas which cook much faster) and add them for the last few minutes only.
The Stir Fry Sauce - The sauce is easily customizable for heat and sweetness. If you don't have mirin on hand, sub with maple syrup or sugar. For the vegetable broth, I use this one - Better than Bouillon (affiliate link).
Rice - Use Basmati or Jasmine for a lovely, fluffy, flavourful rice. I use my Instant Pot (affiliate link) which cooks the rice and keeps it warm until ready to serve. Pro Tip: A nice time saver (with no loss of flavour or texture) is to make a big batch of rice on the weekend and freeze it for use throughout the week.
Managing Your Time
This recipe is easy to manage. There are a few steps but everything is easy and quick. Let's get started . . .
Hydrate the soy curls.
Start the rice.
Prep the vegetables, garlic, and ginger. Keep them handy as this dish comes together quickly!
Make the cashew stir fry sauce.
Quick fry the soy curls to crisp up. Set aside.
Stir fry the onions, garlic and ginger.
Add the veggies and then the sauce.
Stir in the cashews and soy curls and heat until bubbly.
Serve immediately over fluffy rice with more cashews and garnishes.
Trending Vegan Dinner Ideas
Easy Hearty Vegan Chili that everyone loves with lots of serving suggestions!
Vegan Shawarma - succulent saucy soy curls + chickpeas and 2 incredible sauces.
Fast, Fresh Tomato and Spinach Fettuccine - easy vegan pasta with crispy capers and scrumptious vegan feta recipe!
Delicious Stuffed Sweet Potatoes - most popular, reader and family favorite!!
Did you make this sweet and spicy Vegan Cashew Chicken stir fry? 
If so, giving it a star rating and comment helps others discover my blog and recipes. Thank you so much for your support!
IG @ceeceecooks and Facebook!
NEVER MISS A RECIPE: Sign up for my email NEWSLETTER!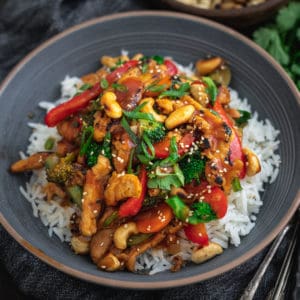 Sweet and Spicy Cashew Chicken Stir Fry (vegan)
Easy, quick, and super flavorful vegan cashew chicken and veggie stir fry! Succulent soy curls and crisp vegetables in an incredible spicy-sweet stir fry sauce with toasted cashews all served on a fluffy bed of rice. An incredibly flavorful and filling family favorite that everyone loves - vegan or not!
Rate this recipe!
INGREDIENTS
The Prep Work
4

oz

soy curls, dry

1 - 1 ½

cups

cashews, toasted

2

cups

cooked basmati rice
The Soy Curls
soy curls, hydrated

1

tablespoon

oil
The Vegetables
1

cup

onions, chopped

1 - 1 ½

tablespoons

oil

1

tablespoon

garlic, minced

2-3

tablespoons

fresh ginger, minced

1

large

red pepper, cut into strips or triangles

2

medium

carrots, sliced thin on diagonal

1 - 1 ½

cups

broccoli florets

½ - 1

cup

snow peas, cut in half

1-2

handfuls

baby spinach or sliced into ribbons
The Sweet and Spicy Cashew Sauce
½

cup

ketchup

4

tsp

soy sauce

1-2

tbsp

oyster sauce, vegan

1

tbsp

mirin

1 ½

tsp

sesame oil

¼ - ½

tsp

cayenne pepper

½+

cup

vegetable broth*

1

tbsp

cornstarch
Garnish
sesame seeds, cilantro leaves, and lime wedges (optional)
INSTRUCTIONS
The Prep Work
Cover the dry soy curls in water and soak for 6-8 minutes. Drain water and gently squeeze to remove excess water. Set aside.

Toast the cashews in a dry skillet over medium-high heat. Shaking skillet often to toast evenly. Remove from pan and set aside.

Make the rice as per package directions (either stove top or Instant Pot). I made enough for 2 cups cooked rice (½ cup each serving). Adjust for your family's needs.

I like the Instant Pot because it's easy, fuss free, and keeps the rice warm until ready to use.
The Vegetables
Chop onions, mince/grate ginger, mince garlic.

Cut the red peppers into long thin strips or triangles.

Wash and peel the carrots and cut into slices on a slight diagonal or coins.

Top and tail the peas - cut in half if large.

Break the broccoli into small size florets.

Use baby spinach or cut large spinach leaves into ribbons.
The Sweet and Spicy Cashew Sauce
Stir the sauce ingredients together in a bowl or large measuring cup. Set aside.
Cooking - soy curls
Add oil to wok or large deep skillet over medium to high heat.

Add soy curls to pan. Let them sit without stirring for about a minute. Flip them and cook uninterrupted for another minute or so (to get a little crust and color on the other side).

Stir and cook for another 3 or 4 minutes then transfer to paper towel or bowl.
Stir Frying - veggies
Add another tablespoon of oil to the wok. Once, shimmering, add onions, Sauté over medium-high for 2-3 minutes or until fragrant.

Add garlic and ginger and cook for another minute.

Add the veggies (except peas and spinach) - continue to cook for 3 or 4 minutes stirring to prevent sticking (add a splash or broth or water if necessary).

Add the peas, spinach, and soy curls.

With the wok over moderate heat, add half the sauce to the veggie mixture. Stir to incorporate. Taste and adjust seasoning as needed.

Add more sauce until desired saucy-ness is achieved.

If the sauce gets too thick, add another splash or two of water/broth to thin.

Add half the toasted cashews (leaving the rest for garnish). Stir and cook for another minute or two. Remove from heat and serve immediately over rice.
To Serve
Place a scoop of rice onto 4 plates, divide the cashew chicken and veggies evenly getting all the sauce from the bottom of the pan.

Garnish with a few toasted cashews, some cilantro or Thai basil leaves, and a wedge of lime.
NOTES
SOY CURLS: I've only ever used Butler Brand which are incredible. In the USA you can order directly from Butler Foods. In Canada, I use Vegan Supply online. They can also be ordered online from Amazon. The price is around $6.99 for a bag.
BAKED NOT FRIED: The soy curls can be baked instead of stir fried. Preheat the oven to 400º F. Prepare them as above but then arrange the hydrated curls in a single layer on a prepared baking sheet. Bake them for approximately 20 minutes (until starting to get crispy) stirring once at the halfway point. Once they are baked, just stir them into the veggies before you add the sauce.
VEGETABLES: Cut the vegetables evenly so they cook at the same speed.
GINGER:  I go through fresh ginger pretty fast; but if you don't, you can cut it into 1" pieces, peel, and freeze them for use later.
It stores well in the freezer for a couple months and grates easily when it comes out of the freezer.
Delicious for smoothies, etc. as well.
Alternatively you can sub ginger paste or ginger powder if you are out of fresh.
NUTS: toasting the nuts brings out the flavour and crunch.
THE SAUCE: change up the sweetness (mirin) or the spiciness (cayenne, ginger) of the sauce by adjusting these ingredients to your taste preference. Swap maple syrup or sugar instead of mirin. 
If the sauce gets too thick, reduce the heat and add a splash or two more of water or broth.
LEFTOVERS & STORAGE: Leftovers store easily in the fridge for a day or two and are delicious for lunch the next day.
This recipe is from simplyceecee.co food blog. All images and content are copyright protected. Please do not use my images or republish this recipe without prior permission. Thank you.
Original recipe post January 2020, updated photos and instructions September 2021