This is the best vegan chili recipe you'll ever eat. Ultra hearty and craveable, it's packed with loads of veggies, beans, and plant-based Beyond meat simmering in a velvety rich and smoky chili sauce. It's the ultimate vegan chili recipe that's easy to make, protein rich, gluten free, and so delicious even meat lovers devour it!!
Keep reading for tips on how to build the flavor profile, lots of vegan meat alternatives, topping ideas, storage and freezer tips, plus what to do with leftovers!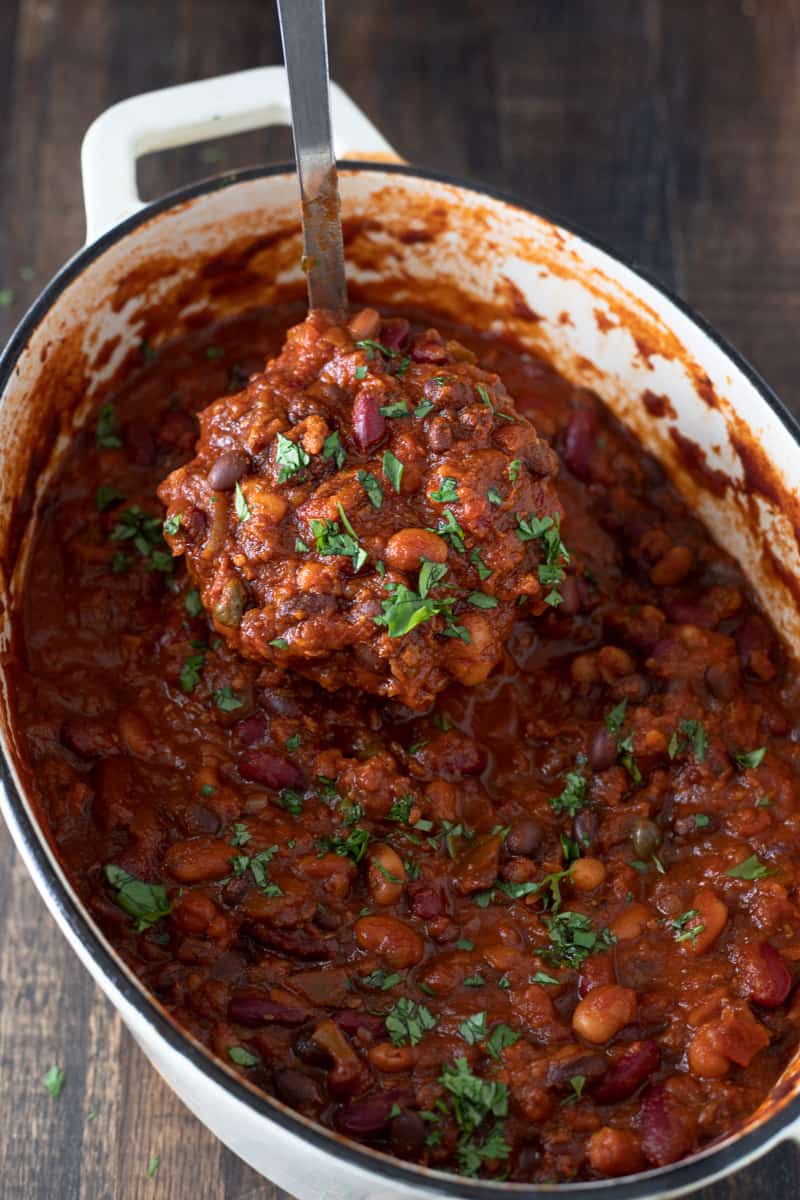 Chili is one of my all time favorite comfort foods! It's so versatile plus quick and easy to make from scratch! This simple, meatless chili makes a big batch and is always a crowd pleaser.
While it simmers on the stovetop or in the crockpot, make some rice, rustic bread, flaky cloud biscuits, garlicky breadsticks or pillowy soft dinner rolls to serve alongside for the most incredibly satisfying vegan meal ever.
What goes into Meatless Chili?
One of the best things about homemade chili is it's totally customizable! Make it thick, rich, light, mild, spicy, gluten-free, oil-free, soy-free, dairy-free, plant-based, vegetarian - you get the picture. No matter your preference, this recipe works!
Vegan chili includes all the traditional chili ingredients: juicy vegan ground meat, pantry staples like beans, tomatoes, and spices but made without meat!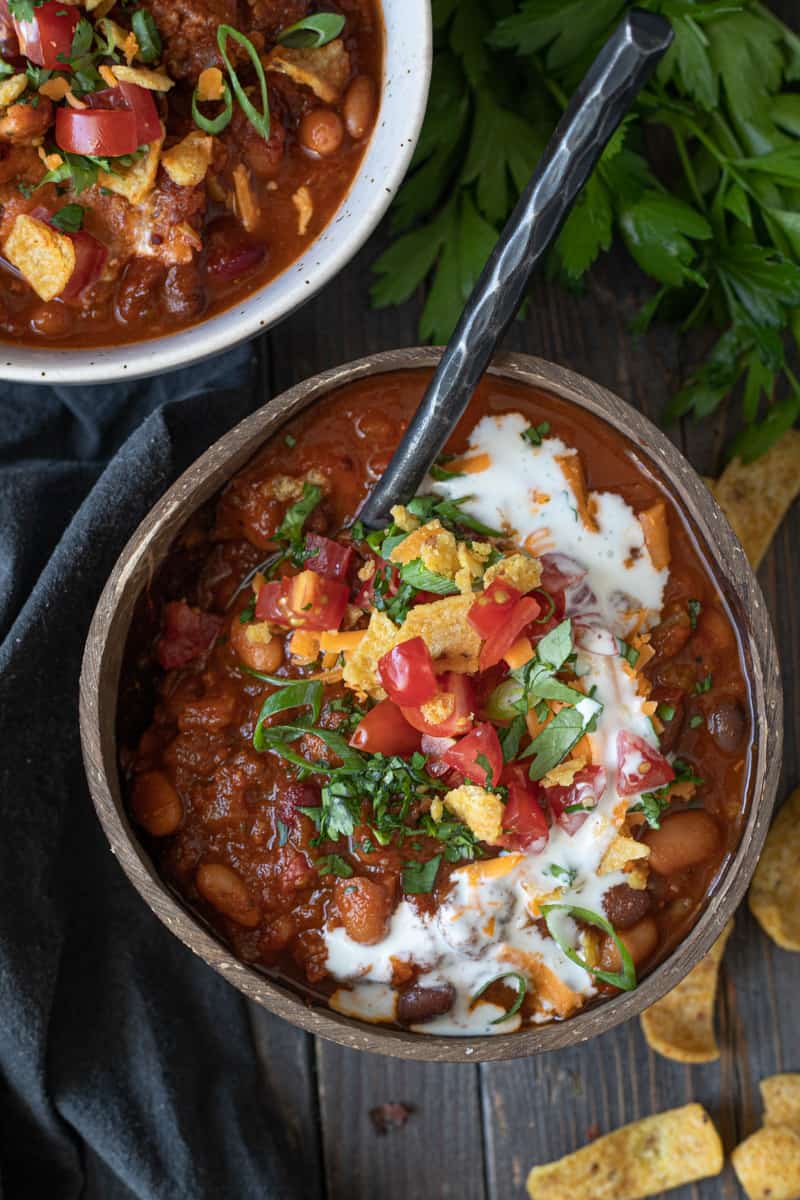 Here's what you'll need . . .
Soffritto - saute vegetables to create a flavor base. Typically used in sauces, soups, and stews. Usually consists of onions, carrots, garlic, celery and/or peppers.
Beans - add texture, protein, fiber, and heartiness. Some of the most popular beans for chili include creamy, tender red kidney beans; small, firm brown or pinto beans; and robust, flavorful black beans. Note: could also add in a tin of chili beans (seasoned pinto beans).
Tomatoes - crushed tomatoes and tomato paste add the tomatoey richness, acidity and flavor for the chili sauce.
Green Chilies - mild, diced green chilies are optional, but add great tangy flavor and texture.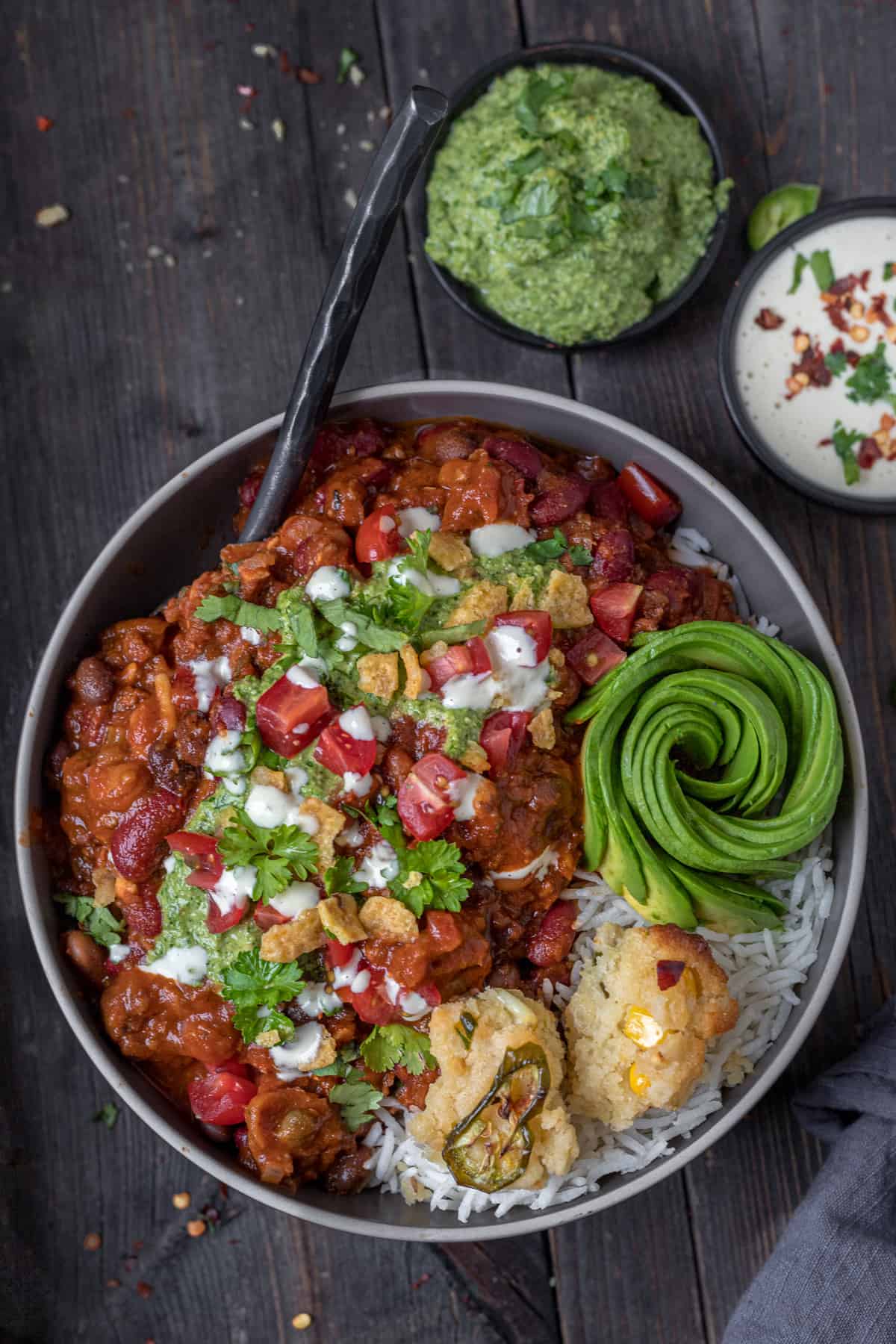 Meaty filling - Beyond meat patties are a wonderful substitute for ground beef in chili. I chose them because they cook like ground beef and bring a juicy, meaty texture with a slightly smoky, grilled flavor that plays well with the classic flavors of chili.

Other delicious plant-based meat alternatives include: Impossible Foods ground meat, tofu or tempeh crumbles, beefless crumbles, veggie ground, Beyond sausages, Field Roast sausages or similar.
Spices - traditional chili spices like cumin, smoked paprika, chili powder, cayenne pepper, oregano, smoky chipotles and ancho chili powder (dried poblanos) create a deep, warm (or hot!), smoky flavor profile.
Finishing sauces - bold, smoky-sweet BBQ sauce and soy sauce enhance and balance the flavors.
Toppings - toppings push this vegan chili recipe over the top! See a full list of topping suggestions below.
How to Make the Ultimate Vegan Chili
Follow these easy, step-by-step instructions to make your own big pot of nourishing chili. The whole house will smell incredible in no time!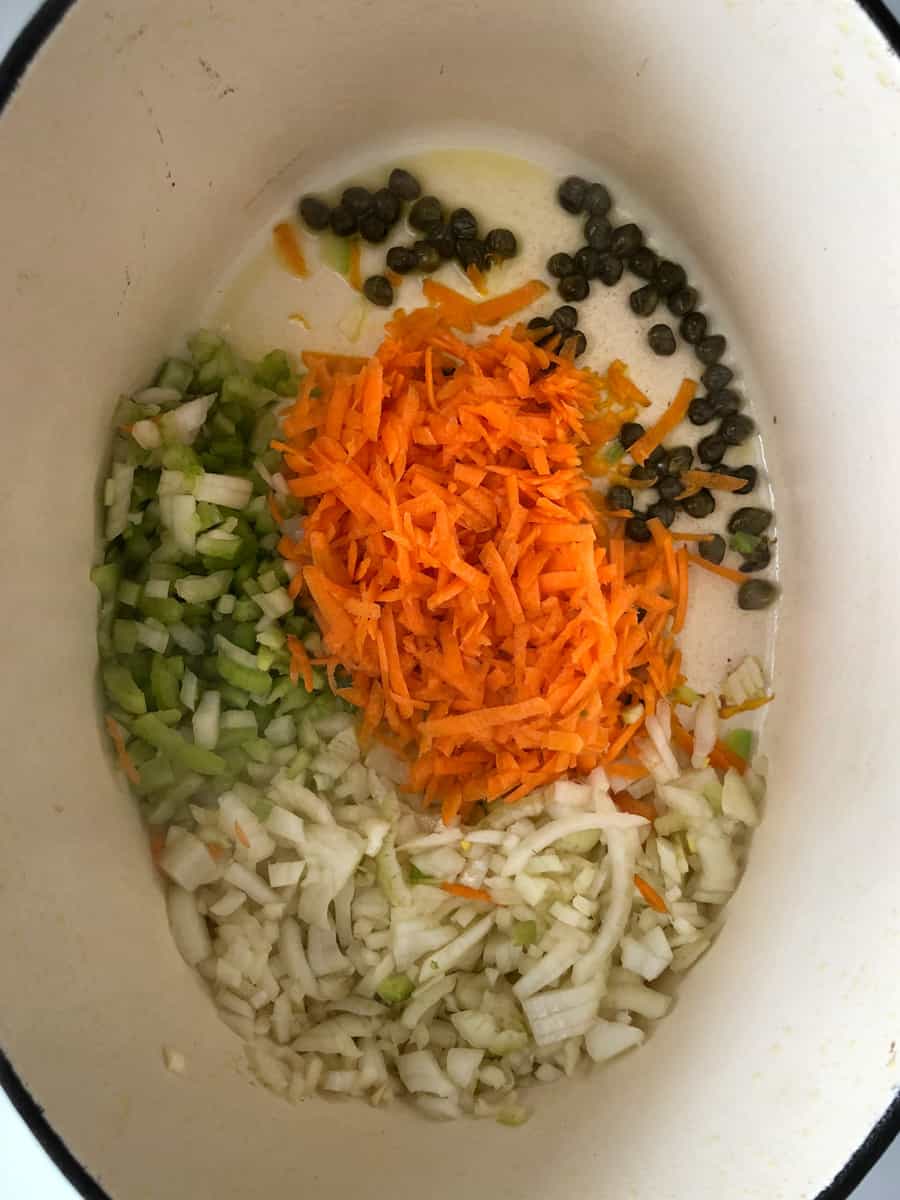 Saute the onions, garlic, carrots, and celery in oil in a large Dutch oven or pot.
Add the Beyond meat patties (thawed), browning over medium heat.
Sprinkle in the spices and roast off for a minute.
Add the tomato paste, tomatoes, beans, and chopped green chilies.
Let warm through until bubbling.
Stir in the finishing sauces to intensify the flavor and make your chili taste even better.
Let simmer partially covered for 20 minutes or longer. Pro Tip - to thicken the chili let it simmer for longer with the lid off. For a thinner chili consistency, add more water, reduce simmering time or leave the lid on while cooking.
Finish with a squeeze of lime to balance the flavor profile. Top with chopped cilantro.
What are the Best Chili Toppings?
Here's the secret for the best vegan chili: toppings!!! From cheese and sour cream to avocado and crunchy corn chips - sprinkle them liberally!
Perfect for Sunday football games, family dinners or buffets - just set out bowls of chili, toppings, rice, and sauces so everyone can create their own epic chili bowl!
shredded vegan cheese (dairy-free)
sour cream (w/chopped cilantro and lime)
homemade pesto sauce
sliced green onions
avocado chunks
crushed tortillas or corn chips
rice (family tradition!!!)
long pasta like spaghetti or spaghettini (Cincinnati style chili!)
serve with a wedge of rustic bread or salted maple cornbread (coming soon)!
More Ways to Serve Chili
This recipe makes a big batch - easily feeds 8-10 depending how you serve it (on rice/pasta with a side of cornbread, etc.)! Here are some easy, delicious weeknight meal ideas using chili . . .
Chili Cheese Dogs - Field Roast Frankfurter (or similar), bun, mustard, scoop of vegan chili, drizzle of cheese sauce, chopped tomatoes and white onions, sauerkraut and/or pickled peppers. Craveable and irresistible!
Baked Potato Skins (sweet or jacket) - baked potato skins with shredded dairy-free cheese until crispy, top with chili, more cheese, a dollop of sour cream, and green onions or load all that cheesy chili goodness onto crispy oven-baked fries instead.
Nachos Supreme topped with spicy vegan chili con carne and drizzled with cheese sauce - big yums!
How to Store, Reheat and Freeze It
Great for meal prep, chili keeps well in the fridge in an airtight container for several days or in the freezer for up to 6 months.
Reheat on the stove (you may need to add a splash of water) or in the microwave.
Freeze in individual serving size containers to take for lunches (plus it makes thawing quick and easy).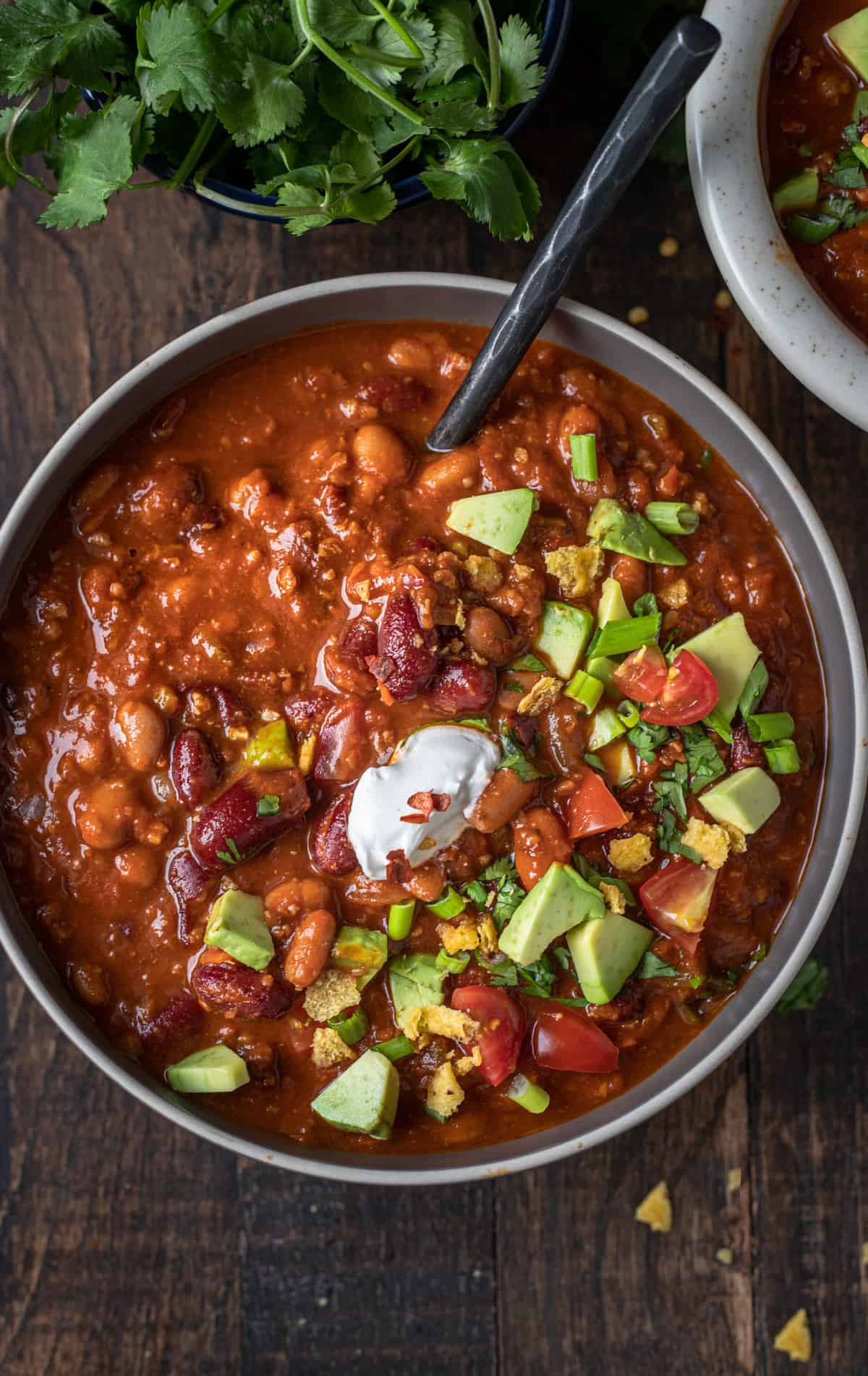 Did you try this Easy Vegan Chili recipe?
I'd love to see it!
Please let me know in the comments. Thank you so much for sharing!
Tag me on Instagram
NEVER MISS A RECIPE: Sign up for my email NEWSLETTER!
Vegan Chili that Everyone Loves!
This is the best vegan chili recipe ever! It's packed with all the things you love in traditional chili - meaty texture, variety of beans, rich and velvety tomato sauce and plenty of classic chili spices plus loads of toppings! Enjoy your bowl of chili over rice or pasta with a big piece of salted maple cornbread! I'm sure you'll love it - everyone does!
INGREDIENTS
Soffritto (sautéed veggies)
1

tablespoon

oil

1

small

onion, diced

2

stalks

celery, diced

1

large

carrot, grated and chopped

4

cloves

garlic, minced
Beefless Ground Crumbles and Spices
2

Beyond meat patties*, thawed

4-6

oz

tomato paste

2

tablespoons

chili powder

1

tablespoon

chipotle powder (or chipotle Tabasco)

1

tablespoon

smoky paprika

1-2

teaspoons

cumin

2

tablespoons

dried oregano

½-1

teaspoon

cayenne powder

salt and pepper, to taste
Chili
28

oz

crushed tomatoes

3,

19 oz

mixed beans (pinto, red kidney, black)

4

oz tin

chopped mild green chilies (optional)

2

tablespoons

BBQ sauce

2

tablespoons

sriracha sauce (to taste)

1-3

cups

water or broth (for thinning)

1

lime (to finish)
Optional Topping Ideas
2

green onions, sliced

cilantro, chopped

1-2

tablespoons

grated cheese (per serving)

1

dollop

sour cream (per serving)

1

avocado, sliced

tortilla or corn chips, crumbled

2

cups

cooked rice

2-4

servings

long pasta, cooked
INSTRUCTIONS
Saute the Veggies (mirepoix, soffritto, holy trinity)
Chop the onions, celery, carrots, and mince the garlic.

Heat the oil in a large Dutch oven or similar large pot (crock pot). Add the chopped vegetables and garlic.

Saute for 5-8 minutes over medium heat until soft and translucent.
Beefless Ground Crumbles
Push the vegetables to the side, add the two thawed Beyond meat patties (or Impossible meat) to the pan. Let them brown, breaking them up with a large spoon as they cook.

Stir in the tomato paste (let it cook off for a minute or two to improve flavor - it will start to turn dark rusty red). Add ¼ - ½ cup water to thin out the sauce.
Chili Spices
Add the spices* and stir to incorporate. Adjust the seasonings to your taste.

*This chili has about a medium-hot heat index; but it really depends how hot your chili powder is, how much cayenne and sriracha you add, and your individual palate - adjust to taste.
Beans + Tomatoes + Green Chilies
Add 3, 19 oz tins of beans - use a variety of large and small, firm and soft beans for great texture and heartiness. *I usually end up adding extra red kidney beans (we like beans!).

Crushed tomatoes are a good choice for chili. They create the perfect thick texture and intense tomato flavor. I like the texture of the Whole Foods 365 and Muir Glen crushed tomatoes. If you have 6n1 ground tomatoes at your market, they are always my first choice.

Add a tin of chopped green chilies (optional, but delicious).

Taste the sauce, adjust seasonings as desired.

To stretch the chili to feed a larger crowd, add another tin or two of beans, another cup of crushed tomatoes, and more water/broth as needed for thinning.
Everything Else for the Chili Sauce
Stir in smoky bold BBQ sauce and sriracha for additional smokiness, flavor, and heat.

Add water to thin out the sauce as it simmers for 20+ minutes over low heat with the lid partially on. Stir frequently and adjust temperature as needed.

Finish by squeezing ½ - 1 lime (to taste) over sauce and stir to incorporate.

Spoon over rice into bowls and top with chopped cilantro plus any optional toppings if desired.
Optional Toppings
Green onions, chopped fresh tomatoes, grated vegan cheese, crushed taco chips or corn chips, avocado slices, sour cream or cashew cream or a swirl of pesto.
NOTES
Building flavor - step one in the recipe is sauteing the soffritto. Don't rush this step, a lot of flavor comes from the vegetables softening, releasing their juices, and turning slightly golden. This will produce some browning in the bottom of the pan - deglaze that with a little water, broth or beer as needed to prevent sticking and to incorporate the scrapings into the sauce.
There are several individual spices to create the complex depth of flavor and smokiness in this chili sauce. In a pinch you could sub in a store-bought chili seasoning blend (~3 tablespoons or more to taste).
Beyond Meat patties - the Beyond patties have a grilled, smoky flavor and meaty texture to them which is a great pairing with this chili.
Mock meat - another popular substitute for ground beef in chili is the incredible, plant-based, Impossible Meat. It browns just like ground beef, looks like it and is meaty - but made without meat!
Vegan/Vegetarian ground beef alternative - tofu crumbles, soy crumbles, crumbled tempeh, veggie ground or mince, etc.
How to thicken chili - as the sauce simmers, it will thicken naturally. Simmering with the lid on will keep the sauce looser and runnier because the lid traps the steam from escaping. Simmering without the lid allows the steam to evaporate and the sauce reduces and thickens. More ways to thicken chili: simmer for longer, turn the heat up or make the day ahead (the chili will thicken up as it chills overnight).
Storage - store in individual containers in the fridge for 3 or 4 days or in the freezer for up to 6 months.
Award Winning - the perfect contender to win first place at all the chili competitions - I'm thinking about taking it on the circuit this year! What do you think?
This recipe is from simplyceecee.co food blog. All images and content are copyright protected. Please do not use my images or republish this recipe without prior permission. Thank you.