A collection of some of our favorite, vegan mother's day lunch/dinner ideas for you to enjoy with your family. These recipes are easy to prep before hand so you can get out and enjoy the day with your family.
These saucy jackfruit tacos are a spectacular flavor explosion of spicy, smokey and subtle tropical sweetness making them perfect for a spring or summer brunch. My family gobbles them up - I think your family will too! Don't forget the extra napkins!
This vegan shawarma wrap with succulent soy curls and crispy chickpeas is off the charts delicious - my family goes crazy for it! The combination of flavors and textures is going to knock your socks off. Make both the sauces, you won't regret it, I promise!!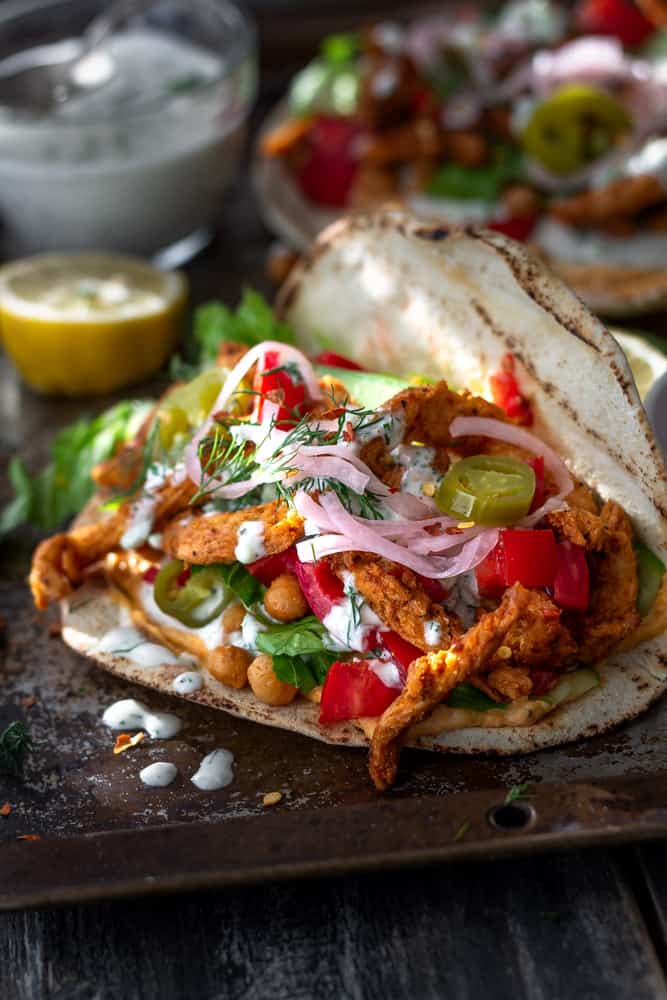 For the sweet potato lovers, this stuffed sweetie is going to be your new favorite. Easy to make, lots of options, super simple, and kinda elegant, it's a wonderful brunch recipe.
This harissa cauliflower burger might be the most delicious vegan dish I've ever created! The cauliflower pieces are sweet and tender on the inside with a creamy, bubbling spicy harissa sauce baked on the outside - it's completely irresistible. This is the vegan meal I would make my mom for Mother's Day!!!
This chopped salad is loaded with lots of great summer produce, black beans, crispy vegan tenders, and then liberally doused with the most delicious dairy-free, Tex-Mex salad dressing. Light, healthy, gluten-free, oil-free, and vegetarian - this is a simple, full-meal salad that brings the heat!
DIY Vegan Sushi!! Prepare the fillings and make the sauces ahead of time. Then set up a do it yourself vegetarian sushi bar at the kitchen table - everyone rolls their own! This is a simple and fun family activity for Mother's Day or any day.
My mom's favorite dessert is this decadent chocolate obsession cupcake recipe. They are simple and easy to make, can be made ahead of time, and are super duper delicious!
And if you're like us and loooove sauces, check out my Vegan Sauce page for lots of dairy-free dips, drizzles, and dressings!
I hope you have lovely, sunny, weather this weekend to explore and enjoy the great outdoors with your family. Let me know if you make any of these yummy vegan dinner ideas for your Mother's Day meal/brunch.
Did you make any of my Mother's Day Vegan Dinner Recipe Ideas?
Which was your favorite? Let us know in the comments below.
And share your creations please!! Tag me on IG @ceeceecooks and Facebook!
NEVER MISS A RECIPE: Sign up for my email NEWSLETTER!