A spicy vegan ginger chicken recipe to die for! Crispy, chewy soy curl tenders coated in a heavenly salty-sweet-spicy ginger sauce. Better than takeout, this stir fry is ready in 30 minutes, and there's never a morsel left behind! Keep reading for all the tips, time management and serving suggestions for this incredible vegan dinner . . .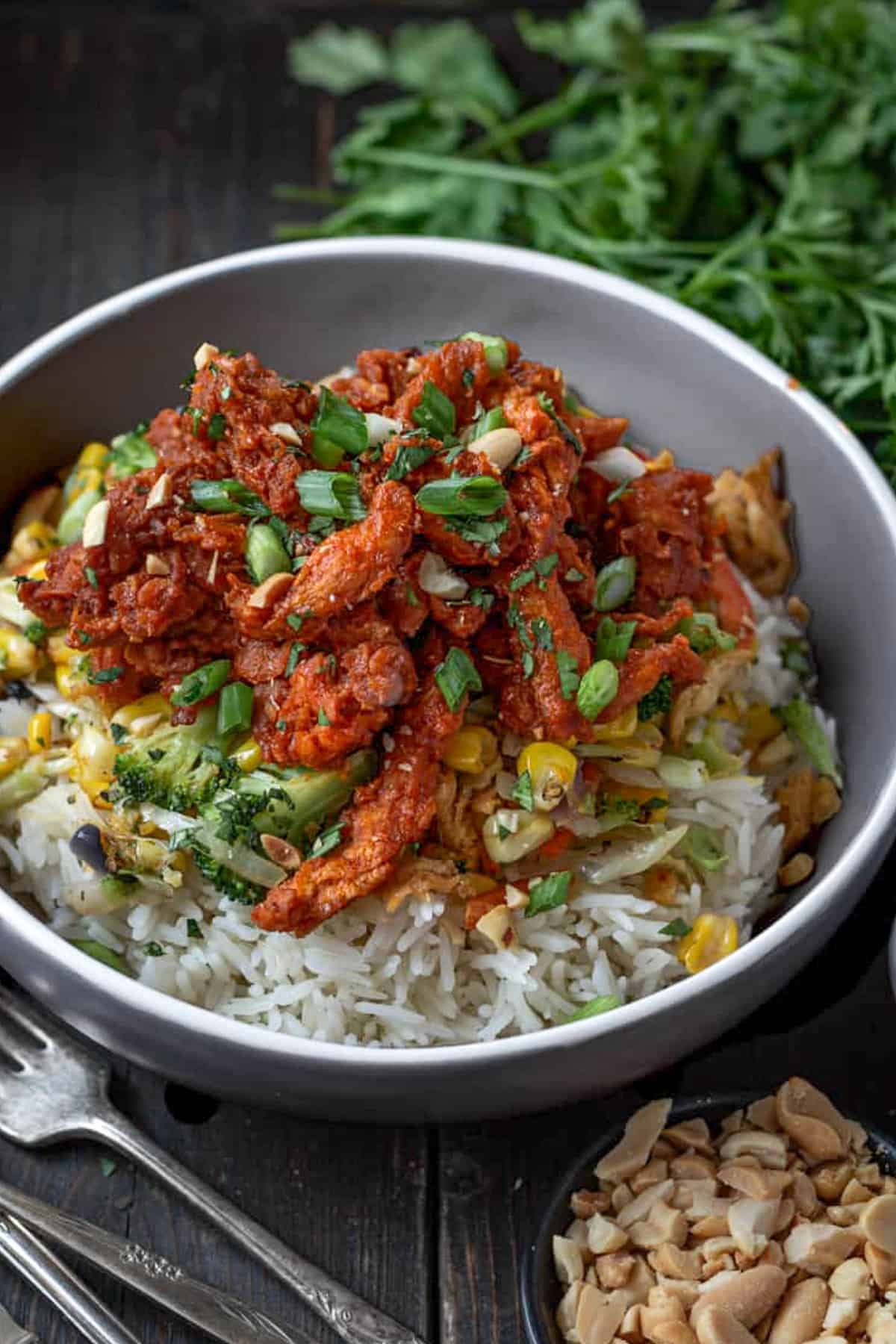 We cannot get enough of this yummy Vegan Ginger Chicken (beef) recipe served with tender crisp vegetables on a bed of fluffy rice. It's so totally addictive! If you like General Tso takeout (who doesn't), you'll love this succulent vegan stir fry!
Why Soy Curls are the Perfect Vegan Meat Replacement
Soy Curls are an amazing plant-based meat substitute. They are made from soybeans which are rich in fiber and protein and are gluten free. I use the Butler Brand soy curls (affiliate link) which are non-GMO soybeans, processed without chemicals, and packaged without additives or preservatives. They are very versatile both texture and flavour-wise.
If you like soy curls like we do, you'll love this Sweet and Spicy Cashew Chicken stir fry recipe or my mega popular Vegan Shawarma Wrap with 2 irresistible sauces. They are lip-smackingly delicious!
Soy curls are the perfect choice for this ginger chicken/beef stir fry recipe. I wanted to mimic the chewy, crispy texture that traditional ginger fried chicken is famous for but without deep frying. Both oven baking and air frying achieved that texture perfectly which freed up enough time to stir fry the vegetables and make the sauce!
Oven Baked Method - spread rehydrated soy curls in a single layer on a prepared baking sheet and cook 400º F for 20 minutes (stirring half way through). Feel the soy curls, they should be crispy on the outside but still tender on the inside. The recipe calls for 1-2 tbsp of oil, but if you are oil-free, you can skip the oil and still get a good result!
Air Frier Method - cook in batches in the air frier at 380º F for 5 minutes. Shake then cook another 2 or 3 minutes until crispy on the outside.
The Sweet Spicy Ginger Sauce
When two of our favorite vegan dinners collide (ginger beef and General Tso), you get this epic, spicy-sweet, sticky, ginger stir-fry sauce. Here's what you'll need to make this simple but super flavorful sauce:
Ginger - ginger is the star ingredient and adds a pungent, peppery warmth. I use it liberally!
Garlic - this sauce is pretty garlicky. Depending on the size of the cloves (4 or 5 cloves can mean different things) aim for ~1 tbsp. Add more or less to your preference.
Gochujang - is a thick, sticky, spicy Korean pepper paste usually sold in tubs. You can find it in the International aisle at grocery stores, at any Asian Market or online (affiliate link).
Soy Sauce or Tamari (low sodium) - soy sauce adds umami flavour and saltiness. Use low sodium if you prefer and tamari if you are gluten free.
Brown Sugar/Maple Syrup - just a hint of sweetness to cut through and smooth out the heat.
Tahini - more traditional recipes use sesame oil, but I chose to sub it for tahini sauce which offers the flavour of sesame and also a creamy element.
Hoisin - adds some zestiness, depth of flavour, and body to the sauce.
Rice Wine Vinegar and lime - add the acid and tang to balance out the flavor profile

Vegetable Stir Fry Ingredients
Any vegetables you have on hand can be used for this yummy rice bowl. I chose these vegetables because they offer a variety of colour, texture, and have a slight sweetness when cooked which balances beautifully with the spicy, pungent ginger-garlic flavors. Here's what you'll need:
Cabbage - shredded with a mandoline or sharp knife or buy pre-cut slaw in a bag at the market.
Broccoli - chop these quite small so they cook at the same rate as the other ingredients.
Corn - fresh (off the cob) or frozen.
Red Peppers - I don't always include red pepper; but when I do, I slice them thin.
Prepare all vegetables before you start cooking as the stir frying goes quite fast. Start with the firm veggies (cabbage and broccoli), then add the more tender vegetables (corn and red peppers). Add the wilty vegetables just before serving (green onions, fresh herbs).
Be careful not to overcook the vegetables. They should be bright, vibrant, and tender-crisp.
Managing Your Time - pro tips
Here's a few tips to help manage your time so everything is ready together.
Preheat the oven and soak the soy curls (6 minutes).
Start the rice (I use the instant pot). Chop the vegetables and toppings.
Bake soy curls.
Make the ginger sauce and yum yum drizzling sauce.
Stir fry veggies, set aside in a dish. Wipe out pan.
Put soy curls into hot pan with sauce. Stir until well coated (use same pan from veggies).
Serve on a bed of rice with vegetables on top then pile on the ginger chicken soy curls. Drizzle with yum yum sauce, some chopped cilantro, a sprinkle of toasted sesame seeds, and a squeeze of lime. Mouth wateringly yummy!
More Delicious Vegan Dinner Ideas
Succulent Vegan Shawarma with Spicy Tahini Drizzle - two incredible sauces!
Only the BEST Meaty Vegan Lasagna with Bechamel sauce ever! - second to none!
BBQ Jackfruit Burger with Sloppy Slaw - flavour combo that's unbeatable!
Delicious Vegan Tacos with Dilly Firecracker Sauce. All-time family favourite!

Did you make my Vegan Ginger Chicken Recipe?
Please leave feedback and a rating below. 
For more vegan food inspiration, follow along on Instagram and Facebook!
NEVER MISS A RECIPE: Sign up for my email NEWSLETTER!
Spicy Vegan Ginger Chicken with Yum Yum Sauce
Crispy vegan ginger chicken/beef in a perfectly balanced salty-sweet ginger sauce served with tender-crisp vegetables on a bed of fluffy rice and a yummy drizzle. This is vegan comfort food at its scrumptious best!
Rate this recipe!
INGREDIENTS
Soy Curls and Rice
5

oz

soy curls, dry measure

2

tbsp

oil

1 ½

cups

basmati rice
Spicy Ginger Sauce
2

tbsp

gochujang paste

2

tbsp

tahini

¼

cup

low sodium soy sauce, tamari

2

tbsp

brown sugar or maple syrup

1

tbsp

hoisin

1

tbsp

rice wine vinegar

2-4

cloves

garlic, minced

1-2"

piece

ginger, grated (to taste) ~ 2 tbsp

½

cup

hot water
Bowl Ingredients
2

cups

fresh corn or frozen nibblets

1

cup

broccoli, chopped

2

cups

cabbage, shredded or use bag of slaw

½

red pepper sliced thin (optional)

4

green onions, sliced

cilantro, chopped

sesame seeds, toasted

hot pepper flakes (optional)

lime (optional)
Yum Yum Sauce
½

cup

Vegenaise

2

tbsp

sriracha sauce (or sambal)

1-2

tsp

maple syrup (to taste)

1

tbsp

soy sauce
INSTRUCTIONS
Soy Curls and Rice
Preheat oven to 400º F. Prepare a baking sheet with parchment paper and drizzle 1 tbsp of oil.

Measure out 5 oz of dry soy curls (about 3 cups), place them in a bowl and cover with warm water/broth. Let them rehydrate for around 6 minutes.

While the soy curls are soaking, start the rice. Cook 1 ½ - 2 cups of basmati rice following the package directions. I like to use my Instant Pot because it's fuss free.

Drain and gently squeeze the soy curls to remove excess water. Place on prepared, oiled, baking sheet drizzle 1 tbsp of oil over soy curls then toss to incorporate.

Oven Method: Arrange in a single layer and place in the oven for 10 minutes. Stir the soy curls then return to the oven for an additional 10 - 12 minutes until crispy on the outside but still tender on the inside. Remove from the oven and set aside.

Air Fryer Method: working in small batches, cook at 380º F for 5 minutes, shake the basket and cook for another 2-3 minutes. Set aside. Continue until all soy curls are cooked.
Bowl Ingredients
Chop and prepare all vegetables, herbs, and toppings.

Place 1 tbsp of oil* in a large skillet or wok-style pan. Add the hard vegetables first (cabbage and broccoli). Let them cook over high heat for 3 - 5 minutes. Add the softer vegetables (corn and red peppers) and cook for another 3 or 4 minutes until tender crisp.

*If oil-free cooking, add the vegetables and then a splash of water or broth as needed to prevent sticking.

Add a pinch of salt and coarse black pepper. Remove from heat and place in a bowl. Wipe the pan out.
Spicy Ginger Sauce
Add all ingredients to a bowl and whisk until smooth. Taste and adjust for personal preference - spicier, sweeter, etc.
Yum Yum Sauce
Whisk all ingredients together in a small bowl.
Putting it All Together
Heat the pan again over medium-high heat. Add 1 - 1 ½ tbsp oil and ½ tsp sesame oil till shimmering. Add the crispy baked soy curls.

Pour in half the Spicy Ginger Sauce and stir to incorporate. Let the sauce start to bubble, adding more sauce until desired sauciness.

Warm any leftover sauce in microwave or saucepan to drizzle over top.

To each bowl add a layer of fluffy rice, a scoop of tender-crisp vegetables, and a big pile of ginger chicken.

Finish the bowls with a drizzle of yum yum sauce, chopped cilantro, green onion slices, a sprinkle of toasted sesame seeds and a squeeze of lime.
NOTES
Soy Curls - I use Butler Brand soy curls and order them online (affiliate link) in USA. In Canada, try Vegan Supply online.
Soy Curls - for the cooking method, both the oven and the air fryer produced great results. I prefer the oven method for one reason - only one batch, so it frees up time for prepping vegetables and making sauces.
Make Ahead Sauce - both sauces can be made ahead of time and stored in the fridge for a day or two. If you have leftovers, they are both delicious in a tofu rice bowl.
Leftovers - any leftovers can be stored in the fridge in a lidded container and eaten the next day. Still delicious the day after, it won't be as crisp tho!
Additionally, you can serve any leftover ginger 'chicken' in a baked potato topped with sloppy slaw and sliced green onions. 
This recipe is from simplyceecee.co food blog. All images and content are copyright protected. Please do not use my images or republish this recipe without prior permission. Thank you.