This vegan heavy cream substitute is so thick, rich, and luxurious. Easy to make with only 2 ingredients, it's a staple in my vegan kitchen and an essential in dairy-free kitchens. Stir it into soups, sauces, and vegan desserts for extra creaminess. And it makes THE BEST, dairy-free cream for coffee!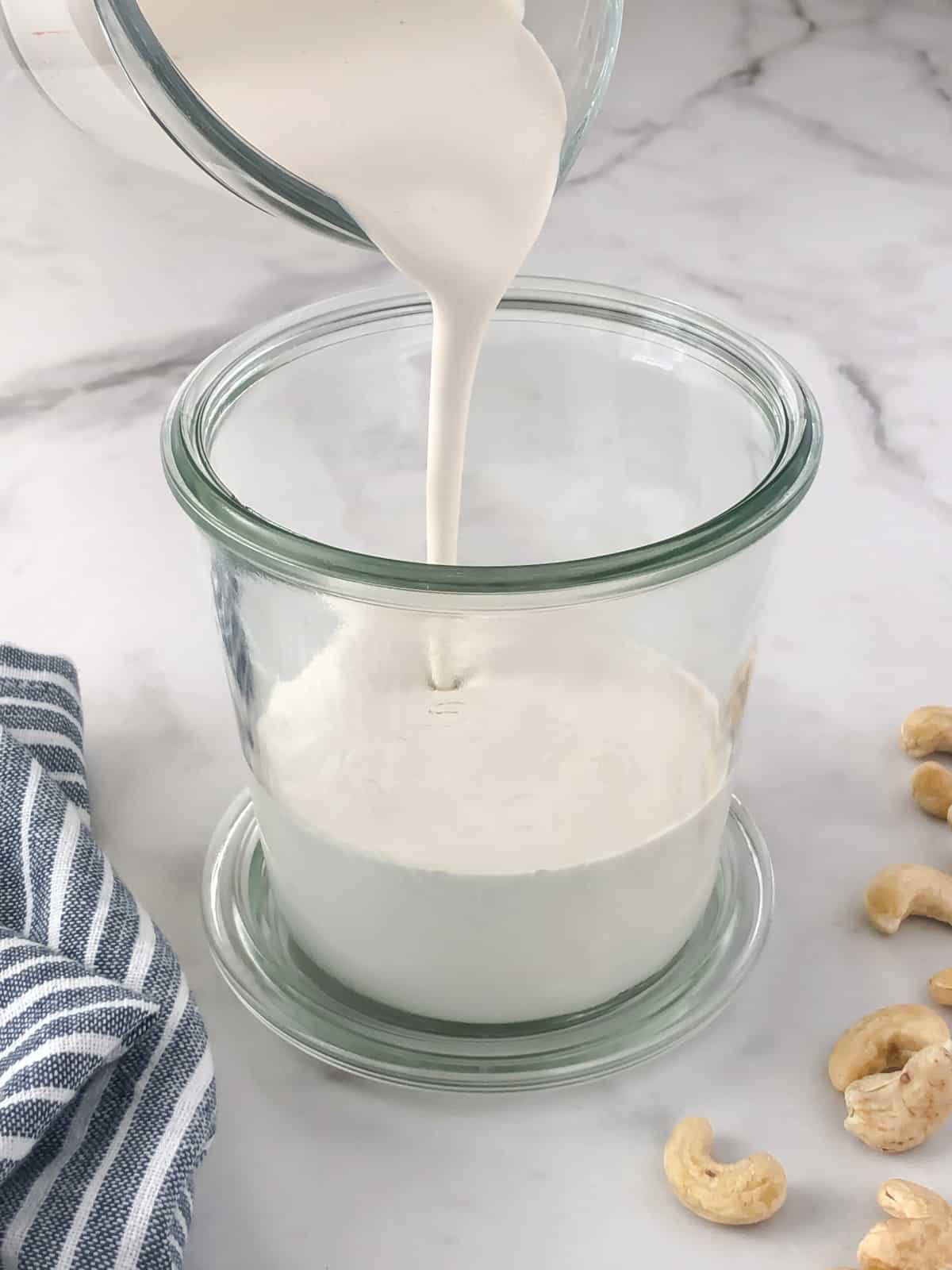 If you're allergic to milk, going dairy free or follow a vegan diet, a delicious heavy cream can be difficult to find. But don't worry, this fabulous vegan heavy cream recipe is easy to make at home, tastes delicious, and has a texture very similar to dairy cream without the milk!
Cashews are a magical, versatile ingredient to have in your pantry. Not only for vegan cream, but also for cashew cream sauce, Vegan Cashew Chicken, and Chana Masala to Baked Chickpea Casserole, epic Vegan Lasagna.
Only 2 Ingredients Needed!
You need only 2 ingredients to make this dairy free heavy cream recipe: cashews and water!
Raw cashews: choose raw, unsalted cashews which have a neutral flavor (roasting is what brings out the flavor in cashews).
Filtered water: some people use plant-based milk instead of water for extra creaminess (but this recipe is ultra creamy and rich made with just water).
How to Make Vegan Heavy Cream
There are other dairy-free alternatives for heavy cream like coconut cream/milk which is great for certain dishes. But this recipe for vegan cream is my first choice when I want rich creaminess without any coconut flavor! And it's so simple to make - let's make it together:
Place the cashews in a large measuring cup or bowl with enough water to cover them. Cover and soak for 4-8 hours on the counter (or overnight in the fridge). Soaking saturates the cashews making them plump and soft for blending. (Soaking short cut below in Tips). Next drain and rinse the cashews.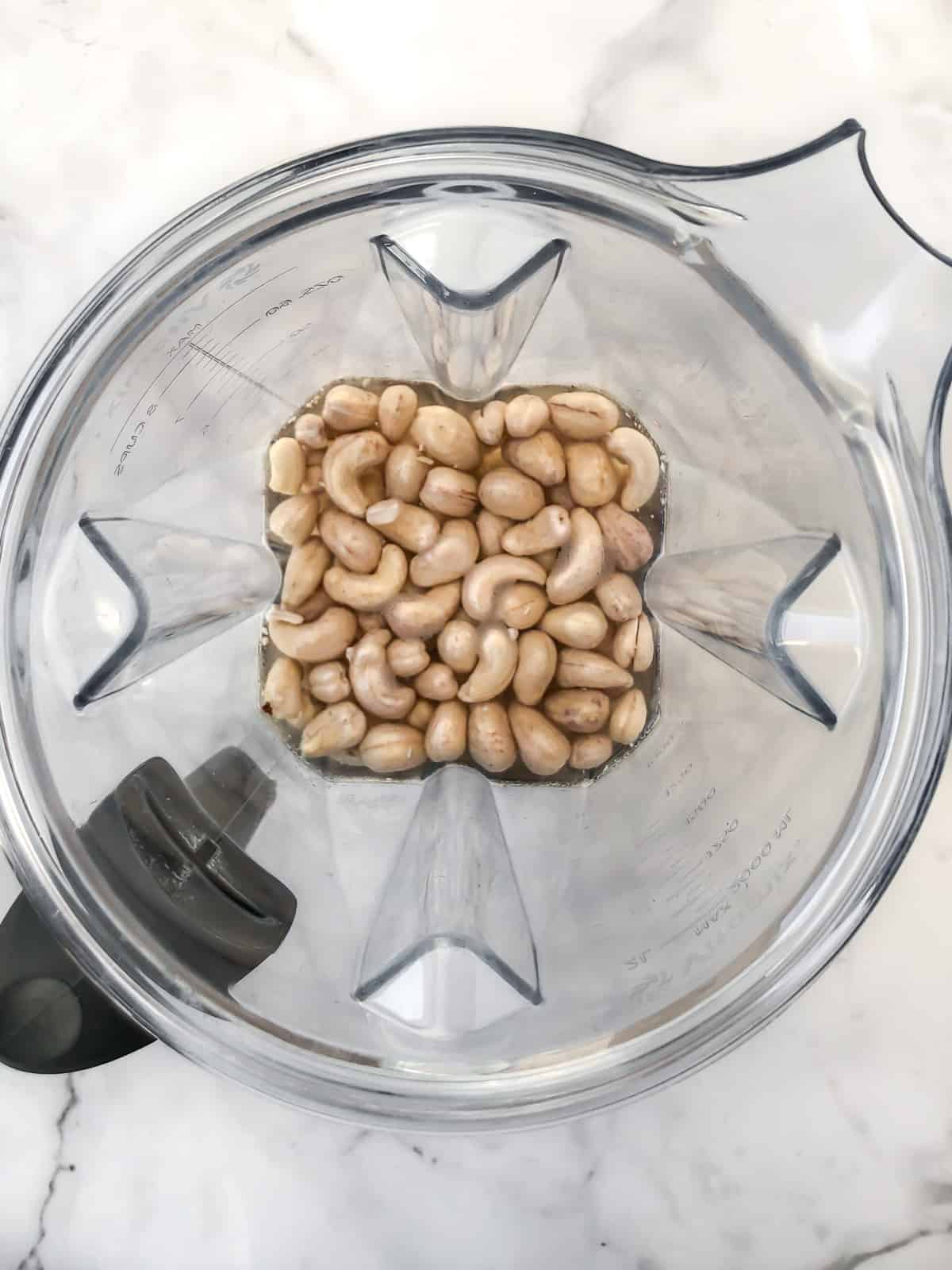 Transfer the cashews to a Vitamix (or similar high power blender) with 2 ¼ cups cold water. Blend until super smooth - this will take a couple minutes. That's it!
Store in the fridge in a covered jar or container.
Dairy-Free Heavy Cream - Tips
A few tips and FAQ answered:
Where to buy cashews: For the best price, check out bulk bins and large bags of cashews at grocery stores, warehouse stores like Costco, bulk stores or order cashews online.
Shortcut for soaking cashews: Boil water, turn off the heat. Add the cashews to the pot, replace the lid. Let soak for an hour or until the cashews are plump and soft. If you're not in a hurry, leave the cashews soaking for longer so they become super soft, creamy, and more blendable. *There is a slight flavor difference between the long, cold water soak and the express soaking version.
How much water?: To create a rich, silky heavy whipping cream consistency, follow the recipe as written. (Note: If you shorten the soaking time, you might need additional water as the cashews may not be completely saturated.)
For a slightly thinner cream more like half and half, double cream or coffee creamer, stir in an extra 1 tablespoon of water to each ¼ cup heavy cream.
For an even lighter cashew milk, add 2 tablespoons of water (or more) to each ¼ cup heavy cream to achieve desired consistency.
Pro Tip: I typically remove the amount of heavy cream I want to thin out and add the water to the smaller quantity rather than thinning out the whole big batch.
No high speed blender?: A professional, high speed blender like a Vitamix produces an ultra smooth vegan cream even with a shorter soaking time. For a standard blender, soak the cashews longer to thoroughly hydrate them for a silker cream. Luckily, cashews are super blendable; but if necessary (with a standard blender), strain the heavy cream mixture through a nut bag or fine mesh sieve to catch any small debris.
Whipped cream: This vegan heavy cream is a perfect substitute for dairy cream in every situation except - vegan whipped cream.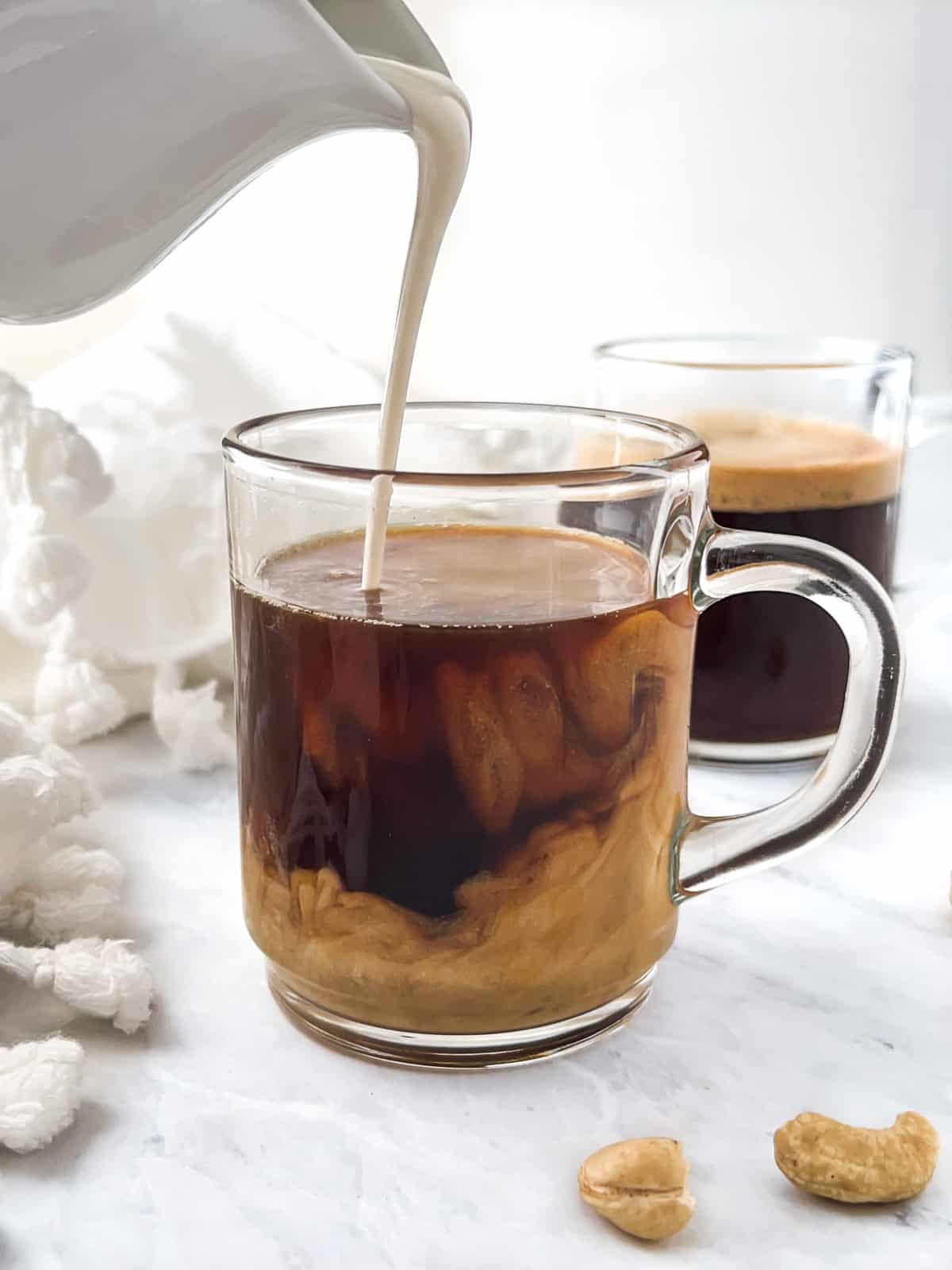 How to Store, Freeze & Thaw
Keep dairy-free cream for 5 or 6 days in a jar with a lid in the fridge. Give it a shake or stir before using.
Didn't use all the cream? No worries, it can be frozen for up to 6 months. Pour the cream into ice cube trays and then once frozen, transfer to a freezer bag.
To reconstitute: thaw, and stir or blend to bring it back together. It may need a splash of water to correct the consistency.
Ways to Use Vegan Cream
Super versatile, here's some of my favorite ways to use dairy-free cream:
More Vegan Milk Recipes
If you've got a dairy allergy, don't like milk or are vegan, try my quick and easy dairy-free almond milk, vegan iced coffee, vegan ricotta cheese, and vegan feta cheese.
Did you make this vegan heavy cream substitute? I'd love to see it!
Please leave a review and ⭐️ rating below. Tag me on Instagram with photos!
NEVER MISS A RECIPE: Sign up for my email NEWSLETTER!
Vegan Heavy Cream Substitute
This recipe is the best tasting, dairy free substitute for heavy cream! Trust me, it's easy to make vegan heavy cream at home. Plus it's gluten-free, plant based, freezes well, and is fantastic in soups, stews, vegan desserts and more. My husband is obsessed with it in his coffee too!!!
Rate this recipe!
INGREDIENTS
2

cups

raw, unsalted cashew nuts (soaked)

2 ¼

cups

cold filtered water
INSTRUCTIONS
Place the cashews in a large bowl or container and cover with room room temperature water. Let soak on the counter for 4-6 hours until plump and soft or cover and place in the the fridge overnight.

Drain and rinse the cashews.

Place the cashews in a high-speed blender with 2 ¼ cups cold water and blend for several minutes until super creamy and all the nuts are completely blended. Scrape down the sides of the blender if needed.

Transfer to a jar with a lid. Store in the fridge for 5-6 days - shake before using.
NOTES
Express Version: boil a couple cups of water and pour over the cashew nuts. Cover and let soak for 60 minutes or more until softened. Drain, rinse, then follow recipe as written. This version works best with a high speed blender.
Storage:
Store in the refrigerator in a jar or container for 5-6 days.
Freeze for up to 6 months. I like to pour the heavy cream into ice cube trays and then once frozen, transfer to a freezer bag with a label. Add frozen to soups, stews or sauces for extra creaminess. Or defrost first then stir or blend* before using as a coffee creamer or in any recipe that calls for heavy cream. *Add a tablespoonful or two of water while blending if needed to correct consistency.
Whipping Cream, Coffee Cream, Cashew Milk:
The recipe as written will produce a thick and rich whipping cream consistency.
For coffee cream, remove ¼ cup portion of heavy cream and stir in 1 tablespoon (or more) of water to thin it. 
For cashew milk, remove ¼ cup portion of heavy cream. Stir 2 tablespoons of water into it for a milky consistency. Add more or less water to your personal taste.
This recipe is from simplyceecee.co food blog. All images and content are copyright protected. Please do not use my images or republish this recipe without prior permission. Thank you.