Fluffy, buttery Vegan Mashed Potatoes make the ultimate side dish for Sunday dinners, Thanksgiving and Christmas holiday dinners or anytime you're craving carbs. Quick and easy to make, they are deliciously creamy, garlicky, and totally dairy free!
One of the things I love about garlic mashed potatoes is it's a simple, foolproof, side dish that everyone loves. They are super versatile, affordable, filling, and nourishing; and they are pure foodie magic paired with savory vegan gravy!
This vegan mashed potato recipe is our family favorite and is deemed an essential side dish on our holiday table served alongside vegan turkey, crispy Brussels sprouts, and soft and fluffy vegan dinner rolls.
Ingredients & Substitutions
It takes only a few basic ingredients to make mashed potatoes. And don't worry if you have a dairy allergy or follow a milk free or vegan diet, you can still indulge in creamy, buttery mashed potatoes. Added bonus: they're gluten free! Here's the main ingredients you'll need:
Potatoes: The two most popular potatoes for mashing are Russet Potatoes (aka mealy potatoes). They have a high starch content, thick skin, and get super fluffy when mashed. AND Yukon Gold Potatoes (waxy potatoes) which have a low starch content and thin skin perfect for boiling because they hold together well when boiled and make creamy golden mashed potatoes. Either is exceptional for mashed potatoes or use a combination.
Vegan butter: Butter flavor is prominent in mashed potatoes so choose the best tasting, dairy-free butter or margarine.
Dairy free milk or cream: Milk/cream brings everything together into a fluffy, creamy cloud. Choose any unflavored, dairy-free milk or vegan heavy cream. The milk flavor transfers to the potatoes so I recommend a neutral plant-based milk like oat or almond (not soy or coconut) that lets the potato flavor shine though.
How to Make Vegan Mashed Potatoes
Follow these 5 easy steps for perfectly fluffy, garlic mashed potatoes every time. Let's make them together!
Prepare the potatoes: Wash, peel, rinse, and cut the potatoes into uniform-size pieces.
Boil the potatoes: Place whole peeled garlic cloves into the pot with the potatoes and salt. Fill with cold water to 1" above the potatoes.
Bring the water to a boil (uncovered). Once they start to boil, turn the heat to medium and set a timer for 15 minutes - cook until the potatoes are fork tender.
Drain (but don't rinse) the potatoes.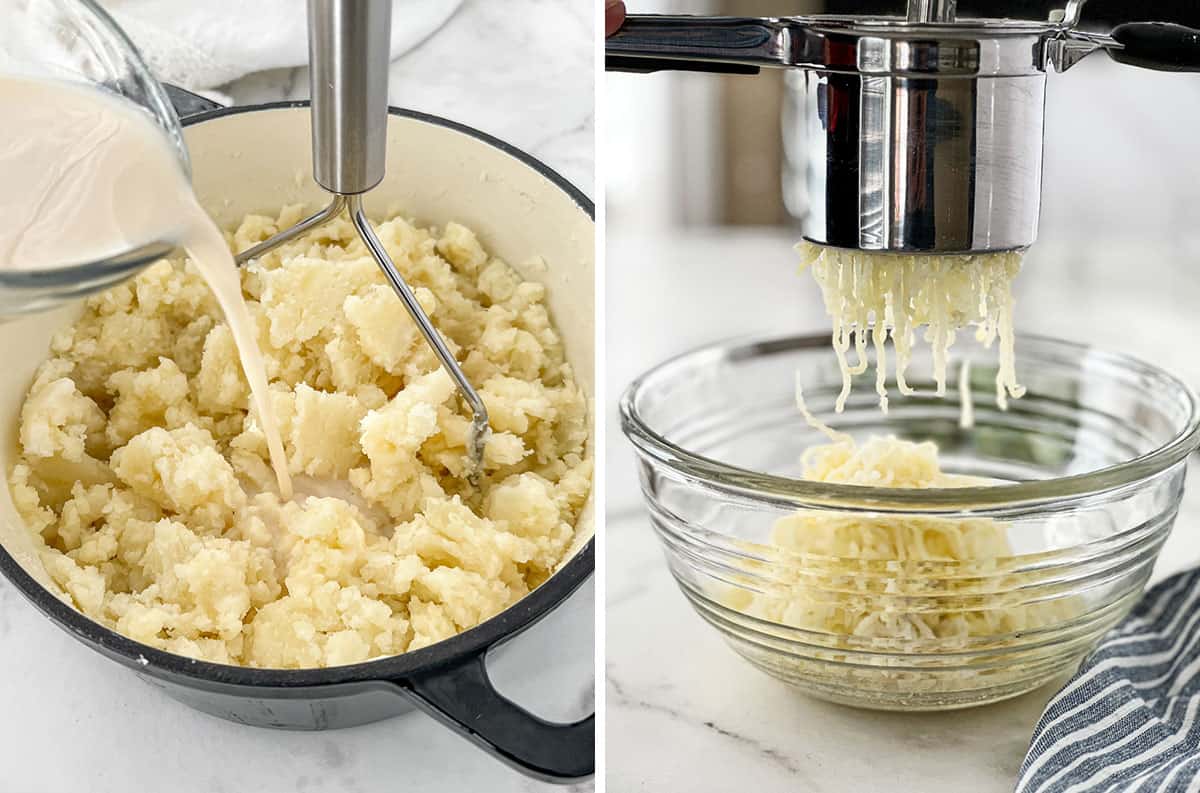 Mash/Rice the potatoes: Mash or rice the warm potatoes with butter and milk/cream until light, fluffy, and creamy. That's it!
Garnish: Add a pat or two of dairy-free butter then cover the pot to keep warm until ready to serve. Enjoy!
Foolproof Mashed Potatoes - Tips!
Easy to make? YES! But here's a few tips so there's no guessing:
Cutting the potatoes: Cut the potatoes into uniform size pieces (4 - 8 pieces) don't go too small or they get water logged making the mashed potatoes mushy and watery. See photo.
How much salt?: The salt you add to the water seasons the potatoes as they boil. So before adding additional salt to the potatoes, be sure to taste them first!
When are the potatoes done*?: The fork test is a reliable test for doneness: a fork should easily pierce the potato pieces without them falling apart. *Some variables to keep in mind: the variety of potato, the size of potato chunks, how hot your stove is, and the type of pan you use to name a few.
Don't rinse!: Don't rinse the potatoes after straining them and don't remove the garlic cloves. The garlic gets mashed along with the potatoes.
Buttering the pot: This is optional, but I add a heaping tablespoon of butter to the bottom of the warm potato pot to melt. This helps distributes the butter evenly when the potatoes are added back.
Mashing potatoes: Mashing potatoes with a potato masher (or even a fork) produces a more textured or rustic mashed potato. Especially true if you use russet potatoes.
Ricing potatoes: Using a potato ricer makes light work of potato mashing. They are super fluffy (no lumps!). Some people swear they need less butter and milk for the same creamy fluffy potatoes (especially when using Yukon gold potatoes).
Pro Tip: Potatoes are easier to mash while they are still warm.
MILLION DOLLAR CLEAN UP TIP: I recommend rinsing or soaking the masher, ricer, and colander immediately after using to wash away any potato and starchy residue.
Questions Everyone Asks!
How many potatoes per person for mashed potatoes?
For a side dish, plan on ~½ a pound of potatoes per person. If you are unsure about the size of appetites, make a few extra potatoes - leftover potatoes are incredible!
Can I make mashed potatoes ahead?
Yes, prep ahead by peeling and cutting the potatoes and then keep them in the fridge covered in cold water until ready to cook. OR prepare the mashed potatoes the day before or the morning of your dinner and store in the fridge. Warm in the oven or slow cooker before serving (add an extra splash of milk and stir to fluff up the potatoes while reheating).
How do I store mashed potatoes?
Keep leftover mashed potatoes in the fridge in a ziplock bag or container all week. Freeze in a freezer bag or container for several months (thaw before reheating). To reheat, warm in the microwave, in a pot on the stove or in the oven in a covered dish at 325º F until warmed through. Add a splash of milk as needed when reheating.
Serving Suggestions
A big scoop of fluffy mashed potatoes topped with a pool of melted butter is perfect served alongside savory dishes like vegan turkey, meatloaf, and vegan meatballs. Here's a few more ways to enjoy garlic mashed potatoes:
Mashed potatoes and mushroom vegan gravy (aka foodie power couple)!
Vegan Biscuits with mashed potatoes and gravy.
Vegan Shepherd's Pie topped with crispy mashed potatoes.
Mashed Potato and Stuffing Pancakes Recipe(a tasty way to use holiday leftovers): mix an equal amount of stuffing (or nut loaf) and mashed potatoes (additional add ins include: vegan cheese, green onions, etc). Form patties (¼ - ½ cup size). Heat 1 tablespoon butter or oil in a skillet and fry the patties over medium-high until golden brown and crispy on both sides and warmed through. Very simple and delicious!!!
More Vegan Potato Recipes
If you've got a thing for potatoes like we do, here's a few tasty potato recipes to try next:
Did you make this recipe? If so, please leave a ⭐️ rating and comment below.
Please tag me with any photos on Instagram!
CRAVING MORE VEGAN FOOD?: Sign up for my Sunday morning NEWSLETTER!
Vegan Garlic Mashed Potatoes (gf)
How to make ultra fluffy, buttery, garlic mashed potatoes. It's surprisingly quick & easy to make mashed potatoes from scratch that are dairy free, gluten free, and vegan. Simple enough for everyday, but fancy enough for holiday dinners!
Rate this recipe!
INGREDIENTS
2 ½

pounds

russet potatoes* (~6-8 medium potatoes)

3-4

cloves

garlic, peeled

½

tablespoon

salt

2-3

tablespoons

vegan butter/margarine

¼

cup

vegan milk or heavy cream

salt and pepper to taste

chives, parsley, oregano, thyme (fresh, minced)
INSTRUCTIONS
Peel, cut, and rinse the potatoes. Place them in a large pot and fill with water to 1" above the potatoes. Add the peeled garlic cloves and salt.

Bring to a boil (uncovered), then turn the heat to medium and cook for 15 minutes or until the potatoes are fork tender.

Check the potatoes periodically for doneness.

While the potatoes are cooking, warm the milk in the microwave just to take the chill off.

Drain the potatoes in a colander or sieve being careful to avoid the steam billowing into your face and on your arms.

Leave the potatoes to drain for a couple minutes. Do not remove the garlic cloves or rinse the potatoes!

Meanwhile, put a tablespoon of butter in the bottom of the hot potato pot and let it melt.
Using a Potato Masher
If using a potato masher, return the potatoes to the pot, add another tablespoon or two of dairy-free butter to the top of the potatoes and start mashing. Add half the warmed milk and continue to mash and stir until desired consistency is met.

Taste the potatoes - adjust the salt, add some pepper, a pat or two of butter and place the lid on the pot to keep warm. Right before serving, transfer to a serving dish and sprinkle with fresh chives or herbs of choice.
Using a Potato Ricer
If using a potato ricer, fill the cup of the potato ricer with warm potatoes and squeeze them back into the potato pot with the butter. Stir in additional butter and warm milk until desired consistency is met - being careful not to overwork the potatoes. Taste and season as above.
NOTES
Cutting the potatoes: Avoid cutting the potato pieces too small as they become waterlogged and mushy (not good). Cut the potatoes into uniform size pieces. Garlic: If making garlic mashed, just peel the garlic - no need to cut, mince or dice it. The cloves will cook with the potatoes and be mashed in with the potatoes. A word about potato ricers: I've always mashed my potatoes because I like a rustic potato (no whipped potatoes in my house!). However, this year I was given a potato ricer and it's been a game changer. Simple to use and clean up is a breeze. The potatoes are perfectly light and fluffy, but still have some texture. I'm in love! I have the OXO large cup ricer (it was a bit $$$, but worth it - linked in post). Storing mashed potatoes: Store any mashed potatoes in the fridge in a ziplock or container for up to 4 days. Or place leftover potatoes in a ziplock and them flatten out  freeze up to a few months. Reheating: Reheat thawed potatoes in a pot on the stove or in the microwave. Add a splash of dairy-free milk as needed while reheating.
This recipe is from simplyceecee.co food blog. All images and content are copyright protected. Please do not use my images or republish this recipe without prior permission. Thank you.