These vegan peanut butter cookies have an irresistibly soft and tender crumb, buttery golden edges, and crinkly tops. Quick and easy to make in one bowl, these melt in your mouth cookies are made without eggs or dairy, are gluten-free, and freezer friendly.
Keep reading for the best, classic peanut butter cookie recipe with a whipped peanut buttery filling (vegan Nutter Butters), fancy salty-crunchy-chocolatey sprinkles, and spooky boney finger options. So dang good!
We are a peanut butter loving family so of course there are plenty of sweet and savory peanut butter recipes on the blog like these super addictive mini peanut butter cups, my famous peanut butter chocolate chip banana bread, and an incredible spicy tofu noodle bowl with scrumptious peanut satay sauce. Enjoy!
How to Make Peanut Butter Cookie Dough
beat together the soften butter and peanut butter until light and fluffy
add sugars and continue to beat
whip in the aquafaba (see note) and vanilla
slowly blend in the dry ingredients until moist crumbles form
using your hands mix the dough until it comes together.
scoop 1 tablespoon balls of cookie dough with spoon or trigger cookie scooper
place balls 2" apart on a prepared baking sheet
press the ball with a fork making a cross hatch design
sprinkle with chopped topping (if using) or a few flakes of maldon salt
place in a preheated oven for 8-9 minutes until the cookies puff up and have golden edges
let cool completely on the pan
FAQ and Tips for perfect Peanut Butter Cookies
Peanut Butter. I've tested these cookies with commercial peanut butter like Jif and Skippy as well as homemade peanut butter and natural peanut butter (Costco) and they all worked. If the peanut butter is really thick or stiff, you may need to add a tablespoonful or two of milk to the batter.
Whipping the peanut butter and butter until light, airy and fluffy will keep the cookie crumb soft and tender.
Does the cookie dough need to be chilled?
It's not necessary to chill this firm cookie dough. However, chilling cookie dough produces a number of benefits - it gives the the flour a chance to fully hydrate, the flavors time to develop, and it strengthens the dough. If you live in a super warm climate; however, you might want to scoop the dough into balls, cover, and put them into the fridge for 30 minutes up to a couple days.
What is aquafaba?
Aquafaba is the liquid from canned chickpeas (really any beans but most popularly chickpeas). It is a wonderful binding and leavening agent for vegan baking.
Can this cookie dough be frozen?
Yes! Scoop into balls, press with fork. Place baking sheet in the freezer for an hour then transfer to a freezer bag or container. When you're ready for freshly baked cookies, transfer frozen cookies to baking sheet to thaw, preheat the oven. Bake as directed.
Things to Make with Peanut Butter Cookies
Nutter Butters. Make the whipped peanut butter filling. Sandwich between two cookies. Dip or drizzle with chocolate!
Crunchy, Salty Sweet Sprinkles. Add this delicious topping to traditional peanut butter cookies when you're feeling fancy, expecting company or entertaining!
Boney Fingers. Fun for spooky Halloween parties! Method in recipe card.
Storing Cookies
After the cookies are completely cool, store in an airtight container on the the counter for up to 3 days or in the fridge until eaten up.
Freezing Baked Cookies. If freezing for later, let the cookies completely cool, place in an airtight bag in the freezer for up to a few months.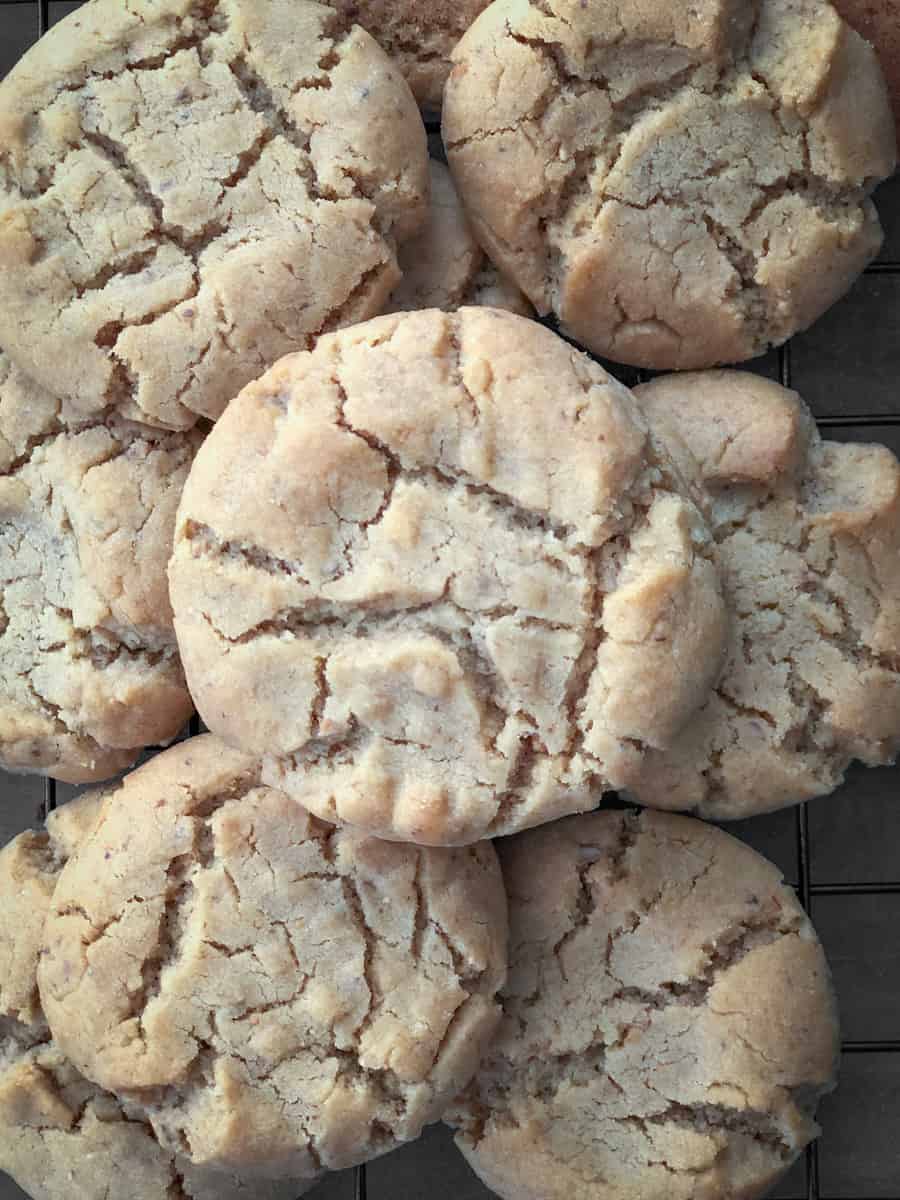 More Delicious Vegan Baking
Marshmallow Chocolate Chunk Cookie Cups - these vegan cookies are extraordinary!
The BEST Vegan Banana Nut Muffins - spicy with a life-changing crunchy topping.
Walnut Praline Biscotti (vegan) - honestly the best biscotti recipe ever!

Did you make this easy, 1 bowl Vegan Peanut Butter Cookies recipe?
Please leave a comment and tag me on Instagram and Facebook!
I love seeing your re-creations!
NEVER MISS A RECIPE: Sign up for my email NEWSLETTER!
Easy Vegan Peanut Butter Cookies
These vegan peanut butter cookies have an irresistibly soft and tender crumb, buttery golden edges, and crinkly tops. They are quick and easy to make without eggs or dairy. Plus lots of options for toppings and fillings!
INGREDIENTS
½

cup

butter, room temperature

½

cup

peanut butter, room temperature

¼

cup

granulated sugar

½

cup

brown sugar

¼

cup

aquafaba

1 ½

teaspoons

vanilla

1 ¼

cups

flour, ap

1

teaspoon

baking soda

¼

teaspoon

salt
Crunchy Salty Chocolate Sprinkles (optional)
2

tablespoons

chocolate or chocolate chips, chopped fine

2

tablespoons

roasted peanuts, chopped fine

pinch

flaky salt
INSTRUCTIONS
Preheat oven to 370º F. Prepare baking sheet with parchment or silicone baking mats.
Peanut Butter Cookie Batter
Cream together the room temperature butter and peanut butter at medium speed for ~2 minutes.

Beat in the sugars, stopping to scrape down the sides as necessary.

Whip in the aquafaba and vanilla.

Stir together the flour, baking soda, and salt.

Add the dry ingredients ½ at a time to wet ingredients and mix on low-medium until incorporated.

The dough will be thick (moist crumbles). Give a stir or a mix with hands.

Scoop balls of dough around 1 ½ tablespoons each and roll with hands or use a spring trigger cookie scoop.

Place 2" apart on baking sheet. Using the tines of a fork, make a cross hatch (criss cross) pattern on each cookie.

Scatter a few sprinkles on top (optional).

Bake for 8-9 minutes or until the cookies puff up and the edges become buttery and golden. The centers will be soft but will continue to bake while cooling on the baking sheet for a few minutes.

*If the dough is soft, pop it into the fridge for an hour or more to firm up before baking.

Transfer to a wire rack to cool.

Place cooled cookies in an airtight container on the counter for up to 4 days or in the fridge for a week.
Crunchy Salty Chocolate Sprinkles (optional)
Finely chop the peanuts and chocolate together with a pinch or two of flaky sea salt.

Sprinkle over cookies before baking.
Homemade Nutter Butter Vegan Cookies (optional)
After baking the cookies, sandwich two together with fluffy peanut butter filling. Then dip or drizzle the cookies in melted chocolate.

Peanut Butter Filling. Whip together until fluffy ¼ cup peanut butter, 1-2 tablespoons soft butter, 1 tablespoon maple syrup, and a pinch of sea salt.

Chocolate for Dipping. Melt ½ cup chopped vegan chocolate or chocolate chips and 1 teaspoon refined coconut oil (more if needed for drizzle consistency). Dip part of the cookie in the chocolate or drizzle over top. Let set on a cookie sheet in fridge.
Halloween Boney Finger Cookies (optional)
Roll cookie dough into small balls about the size of a cherry tomato. Mold into a finger shape, add an almond piece for the fingernail and then make a few indents along the finger with a knife for knuckles.

Bake for ~6 minutes. Remove from oven lift the almond nail and add some red gel or red jam to look like blood.
NOTES
Flour - I make this recipe with all purpose flour but you could sub 1:1 gluten-free flour.
Measuring Tip - spoon the flour into a measuring cup until it's overflowing then level with the flat side of a knife. Scooping straight from the bag where the flour has compacted which will result in too much flour in the dough.
Peanut Butter - the consistency of Brands like Jif or Skippy work well with this cookie dough. If the peanut butter is runny or has a high level of fat, chill the dough for an hour or two. If you're interested in making homemade peanut butter, check out this post.
This recipe is from simplyceecee.co food blog. All images and content are copyright protected. Please do not use my images or republish this recipe without prior permission. Thank you.