Learn how to make the best vegan peanut butter cookies with soft chewy centers and golden brown crispy edges. Made in one bowl without eggs, butter or dairy, these melt in your mouth peanut butter cookies are ready in 20 minutes, are gluten-free friendly, and can be baked in the oven or air fryer!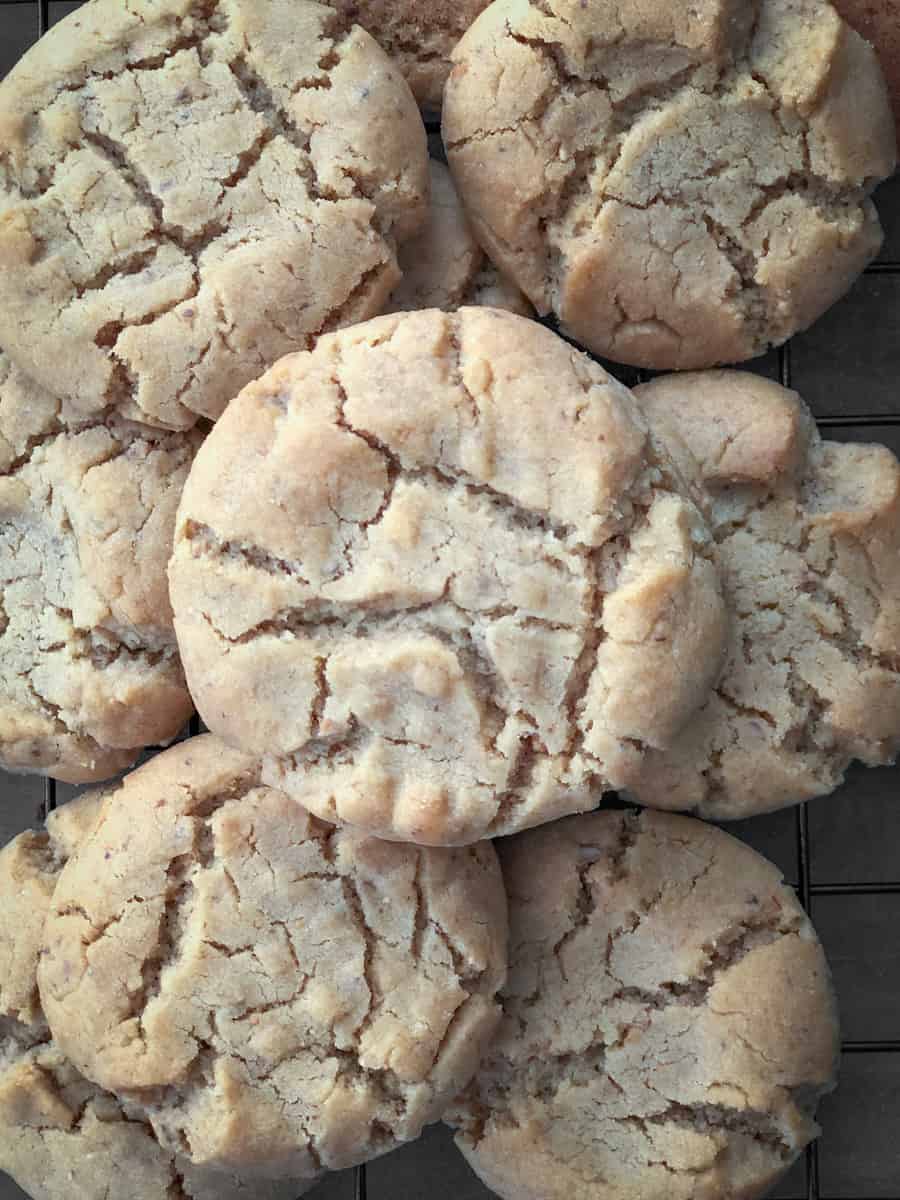 As a busy mom, I know having quick and easy cookie recipes in your back pocket is a lifesaver. Just like my vegan chocolate chip cookies, this flavorful vegan peanut butter cookie recipe is made without eggs or dairy, just simple pantry ingredients.
If you're obsessed with peanut butter like our family is, here's a few more of our favorite recipes with peanut butter (sweet and savory!): vegan peanut butter cups, vegan banana bread, and spicy tofu noodle bowl.
Why You'll Love this Recipe!
If you've been searching for a homemade vegan cookie recipe that's easy and delicious, look no further! My vegan peanut butter cookie recipe is one you'll make over and over again. Here's why I think you'll love it too:
Tried and true recipe. The perfect recipe for all levels of cooks - it's easy to remember, is reliable, and turns out every time! The taste and texture is just like classic peanut butter cookies.
Food allergy friendly. If you're following a special diet or have food allergies, these cookies are vegan, vegetarian, dairy free, egg free, gluten free option, and soy free.
Air fryer Option. For those days, it's just too hot to turn on the oven (or you want to make only 1 or 2 cookies), use the air fryer for perfect peanut butter cookies.
Ingredients You'll Need
To make these tasty cookies, you need only 8 ingredients you probably have in your kitchen right now! Gather together peanut butter, dairy free butter, brown sugar, granulated sugar, vanilla extract, aquafaba or almond milk, flour, baking soda, and salt.
A few notes/substitutions for some ingredients:
Peanut Butter. Use your favorite commercial creamy peanut butter like Jif or Skippy or natural peanut butter (I keep mine in the fridge). Or if you're interested, make vegan peanut butter from scratch.
Dairy Free Butter/Margarine. Use the stick version not the soft tub version.
Brown and Granulated Sugars. In addition to sweetness, brown sugar adds depth of flavor and softness to the cookie. The granulated (white) sugar has less moisture and molasses than brown sugar and makes the peanut butter cookie crisp. Play around with the sugar ratios if you want a softer, chewier or crisper cookie.
Flour. All purpose flour or gluten-free 1:1 flour work well with this recipe.
Dairy Free Milk or Aquafaba. Either works well for these vegan cookies. The texture has some slight differences; no difference in taste.
How To Make Cookies without Eggs!
It's simple to make peanut butter cookies without eggs or milk. And the gluten-free version is tender and delicious too! Ready to get baking?
Using a hand mixer, stand mixer or wooden spoon and bowl, cream together the softened butter and peanut butter until light and fluffy.
Add both sugars, milk, and vanilla - continue to mix/stir until well combined.
Add the dry ingredients and mix on low until the dry ingredients are just incorporated and moist crumbles form. Don't over blend or the cookies will be tough.
Using a spatula or your hands, scrape down the sides and mix the dough until it comes together.
Using a trigger scoop or tablespoon, measure out 1 tablespoon portions of cookie dough. Roll each into a ball and place on a parchment lined baking sheet.
Use the back of a fork to gently press the dough to make a crisscross design.
Add crunchy salty sweet chocolate chip and peanut topping (optional).
Bake right away or chill the cookie dough in the fridge (30 minutes to overnight) before baking. Note: If freezing the cookie dough balls, do that now.
When ready to bake, preheat the oven, arrange the cookie dough balls 2" apart on a baking sheet, and bake for 8-10 minutes until the cookies puff up and have golden edges.
Let cool on the pan for 5-10 minutes before transferring to a cooling rack.
Expert Vegan Cookie Tips
Vegan baking can be tricky because you are replacing several key ingredients with a dairy-free/vegan substitute. This impacts flavor and texture so I tested a lot of cookie dough to create the perfect, vegan peanut butter cookie that would be just like the classic version! Here's some troubleshooting tips:
Chill the cookie dough. Baking these cookies right away will yield a slightly thinner, crisper cookie.
Chilling cookie dough is beneficial as it gives the flour a chance to fully hydrate, the flavors time to develop, and it strengthens the cookie dough so the cookie is a little thicker, the texture is a little chewier, and the bake is a little darker.
*If you have a warm kitchen, are making the gluten free version or you have the time, I recommend chilling the cooking dough for 30 minutes up to a couple hours for perfect results!
Aquafaba v almond milk. Aquafaba produces a thicker, softer vegan peanut butter cookie while the almond milk version is chewier. Both are excellent!
Softening the butter. Choose a dairy free butter or margarine that is solid in the fridge (the stick version not the tub version).
If you forget to let your butter come to room temperature in time, try this trick to speed the process along. Put the butter into the mixing bowl and either flatten it or chop it into small cubes which will decrease the wait time.
How to measure flour. If you have a kitchen scale, use it for weighing the flour. If not, measure it by spooning flour into a measuring cup and then leveling it off with a flat knife rather than scooping directly from the bag of flour.
Let the cookies cool before moving. Cookies (especially vegan cookies) are tender when you take them out of the oven. After 5-10 minutes, they will be sturdier and fully set so you can transfer them to a cooling rack or directly into your mouth!
How Store and Freeze
Frozen cookie dough is a lifesaver when you get a sudden craving for freshly baked cookies! Here's what to do:
Storing baked cookies. Once cooled, store any baked cookies in an airtight container at room temperature for several days or pop them into the fridge (they'll last until the kids find them!). Baked cookies will store in the freezer for up to 6 months.
Freezing raw cookie dough. Roll the cookie dough into balls and arrange them in a single layer on a parchment-line baking sheet. Place in the freezer for a couple hours, once frozen solid, transfer to a freezer bag or container. Frozen cookie dough can be used over the next 6 months.
Thawing instructions. Cookies can be baked from frozen, but I prefer thawing first. Remove from the freezer, arrange on a cookie sheet, then preheat the oven. Bake as directed, adding a few extra minutes of cooking time as needed.
FAQ
Does the cookie dough need to be chilled?
No cookie dough does not have to be chilled, but I do recommend a minimum 30 minute chill (2 hours would be even better) for these vegan peanut butter cookies.
What is aquafaba?
Aquafaba is the liquid from canned chickpeas (or any bean). It is a wonderful, inexpensive and convenient, protein-rich, egg replacement popular in vegan baking.
Why did my cookies flatten/spread?
There are a few reasons cookie dough can spread or flatten. If the dough is too warm or too soft, it will be more likely to spread. The colder the cookie dough, the thicker and sturdier the cookies will be. Soft dough may benefit from more flour. Be sure the cookie sheets are cold/room temperature before adding cookie dough.
Serving Ideas
These vegan peanut butter cookies are surprisingly versatile. Here's a few fun serving suggestions:
Plain and simple: Of course, peanut butter cookies go hand in hand with coffee, tea or a glass of ice cold plant-based milk. Learn how to make almond milk (it's easy!).
Topping Ideas: press chopped dairy-free chocolate chips and peanuts into the cookie dough balls before baking. A simple addition to elevate traditional peanut butter cookies.
Peanut Butter Sandwich Cookies: Sandwich two cookies together with whipped peanut butter filling (like a Nutter Butter) then drizzle with melted chocolate and a sprinkle of crushed peanuts. Or do the same thing but with ice cream to make a dairy-free ice cream sandwich!
More Egg Free Desserts
If you love vegan treats, here's a few chocolate vegan desserts to try next:
Did you make this recipe? I'd love to see it!
Please tag me on Instagram and Facebook and I'll post them on my stories!
Craving More?: Sign up for my email Sunday morning NEWSLETTER!
Easy Vegan Peanut Butter Cookies Recipe
Award winning vegan peanut butter cookie recipe with only 8 ingredients and no eggs! It comes together quickly in one bowl so clean up is a breeze. Soft and chewy in the center with a perfectly golden crisp edge, these delicious peanut butter cookies are a family favorite (gluten-free option too). Voted the BEST vegan peanut butter cookie recipe!
Rate this recipe!
INGREDIENTS
½

cup

vegan butter, room temperature

½

cup

peanut butter

¼

cup

granulated sugar (48 grams)

½

cup

brown sugar, lightly packed (100 grams)

2

tablespoons

aquafaba or almond milk

1

teaspoon

vanilla extract

1 ¼

cups

flour, all purpose (185 grams) or gluten free flour*

1

teaspoon

baking soda

¼

teaspoon

fine salt
Optional Cookie Topping
2

tablespoons

chocolate or chocolate chips, chopped fine

2

tablespoons

roasted peanuts, chopped fine

pinch

flaky salt
INSTRUCTIONS
Preheat oven to 370º F with rack in center position. Prepare baking sheet with parchment paper or silicone baking mats.
Peanut Butter Cookie Dough
Cream together the room temperature butter and peanut butter at medium speed for ~2 minutes.

Beat in the sugars, stopping to scrape down the sides as necessary.

Add aquafaba (or milk) and vanilla - blend to incorporate.

Add the baking soda, salt, and flour. Mix on low-medium speed just until incorporated.

*GF FLOUR: If using gluten-free flour - 1 ¼ cups is approximately 200 grams.

The dough will be thick (moist crumbles). Give a final stir with a rubber spatula or a mix with hands to incorporate.

If the dough is too sticky/soft, add an additional tablespoon of flour.

Using a trigger scoop or tablespoon, measure out 16-18 balls of dough around 1 ½ tablespoons each and roll with hands into a ball.

Arrange 2" apart on parchment lined baking sheet. Using the back of a fork, gently press a criss cross pattern into each cookie.

Scatter and press a few sprinkles onto the cookie (optional topping).

Bake right away or place the baking sheet into the fridge for 30 minutes - 2 hours to chill the dough.
Oven Baked Method
When ready to bake, preheat oven to 370ºF. Bake the cookies for 8-10 minutes until the centers are puffy and the edges become golden. *The centers will be soft but will firm up while cooling.

Let the cookies cool for 5 minutes on the baking sheet. Then transfer to a wire rack to cool completely.
Air Fryer Method
Preheat the basket air fryer to 320º F for ~3 minutes. Arrange 4 or 5 cookies in the basket with space between. Cook for 5 - 6 minutes. See Recipe note for more details.

Let the cookies cool for 5 minutes in the air fryer basket. After 5 minutes, using a flipper (spatula) transfer the cookies to a wire rack to cool completely.

Place cooled cookies in an airtight container on the counter for several days or in the fridge for a week.
Crunchy Salty Chocolate Sprinkles (optional topping)
Chop the peanuts and chocolate together with a pinch or two of flaky sea salt.

Sprinkle over and gently press into the cookies before baking in the oven.
Vegan Nutter Butter Cookies (optional)
After baking the cookies, sandwich two together with fluffy peanut butter filling. Then dip or drizzle the cookies in melted chocolate.

Peanut Butter Filling. Whip together until fluffy ¼ cup peanut butter, 1-2 tablespoons soft butter, 1 tablespoon maple syrup, and a pinch of sea salt.

Chocolate for Dipping. Melt ½ cup vegan chocolate chips and 1 teaspoon refined coconut oil in the microwave. Dip or drizzle the cookies.
NOTES
GF Flour: If using gluten-free flour (I tested using Bob's Red Mill 1:1 gluten free), the cookie dough is quite soft so I recommend chilling the dough for 2 hours.
Measuring Tip: if you don't have a kitchen scale, use the spoon and level method for measuring flour. Spoon the flour into a measuring cup until it's overflowing then level off with the flat side of a knife.
*Scooping straight from a big bag of flour may result in too much flour in the dough.
Peanut Butter: the consistency of commercial brands like creamy Jif or Skippy work the best with this vegan peanut butter cookie recipe.
Runny or Natural Peanut Butter: works with some finessing:
Mix the peanut butter well to ensure no separation then store in the fridge until solid.
Make the cookies as per the recipe. I recommend chilling the dough for a minimum 2 hours up to 24 hours.
Place directly from fridge into preheated oven.
These tips should eliminate or minimize too much cookie spread.
You could also add an additional 2-4 tablespoons of flour if the dough is too soft (it really depends on how runny your peanut butter is).
Aquafaba v. Dairy-free Milk: in my recipe testing, the aquafaba peanut butter cookies were a bit thicker and softer/more tender. The plant-based milk cookies were chewier and slightly thinner.  Both incredible!
Air Fryer Cooking Method: 
Cook time and temperature will depend on your brand of air fryer.

I recommend a test batch with 1 or 2 cookies to test time and temperature before committing to a whole batch.
For my air fryer (Kalorik Basket style from Costco) 5 ½ minutes was perfect.
The air fryer cookies are thicker, super tender, and melt in your mouth delicious.
If using parchment paper, include enough cookies in the batch to hold the paper down as the 'air' fryer blows hot air around the basket and this could create a hazard.
I did not use oil or parchment paper and my cookies did not stick. But you know your own air fryer. and it may need a light spray or wipe of oil before preheating. Try with and without in your test batch.
Expert Tip - let the cookies cool in the air fryer basket before transferring to cooling rack as vegan cookies are delicate when they first come out of the oven.
Important!! Use a flipper/spatula to remove the cookies from the air fry basket once cool. 
This recipe is from simplyceecee.co food blog. All images and content are copyright protected. Please do not use my images or republish this recipe without prior permission. Thank you.