This vegan ranch dressing is a tangy, creamy, dairy free version of classic ranch. It's quick and easy to make at home and tastes better than any store-bought brand. The whole family agrees it's the perfect dairy-free dressing for dipping, drizzling, and dunking.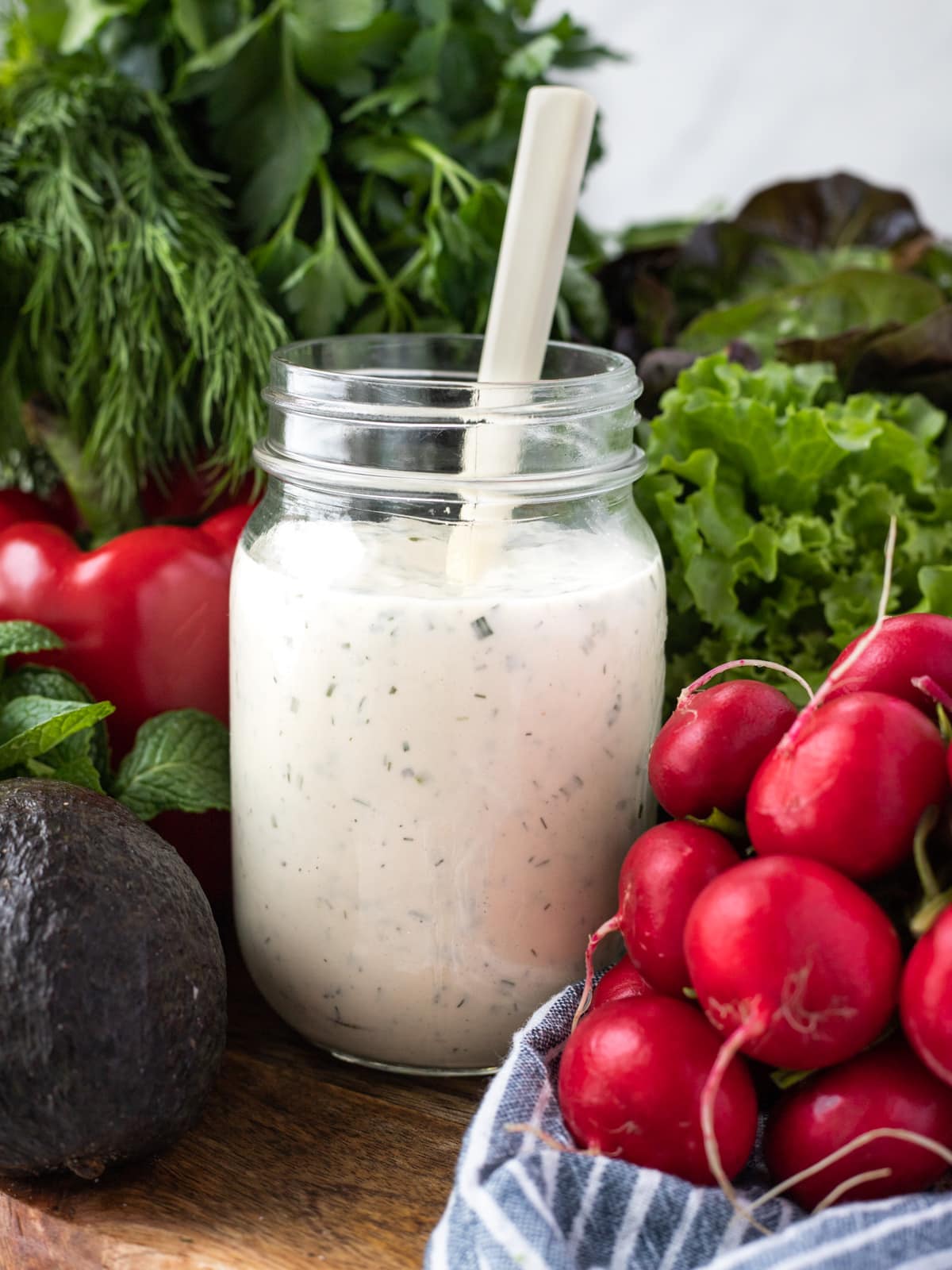 There's no argument that ranch dressing is a super popular and beloved salad dressing and chip dip! But a bottle of classic ranch dressing is made with buttermilk, mayonnaise, and eggs so it's not vegan, vegetarian or dairy free friendly.
No worries though, today I'm sharing THE BEST, egg-free, vegan ranch dressing with all the creamy awesomeness of traditional Ranch! I love using cashews to create the rich, creamy texture without any dairy. Plus they're oil free and gluten free! The addition of fresh lemon juice and classic ranch seasonings give this dressing its signature tang and flavor. Everyone loves this vegan ranch dressing!
We go through A LOT of cashews at our house making creamy sauces and fillings for Vegan Sausage Rolls, Cashew Chicken Stir Fry (vegan), and of course luscious vegan heavy cream and decadent cashew cream!
Ingredients for Dairy-free Ranch
You'll need only a handful of ingredients to make this ranch from scratch. Gather together the following ingredients and let's get started:
raw cashews: best prices in bulk aisle, at stores like Costco or order online
tanginess: fresh lemon juice and vinegar
spices: garlic powder, onion powder, paprika (not smoky), salt and pepper
herbs: dill, chives, parsley (dry or fresh)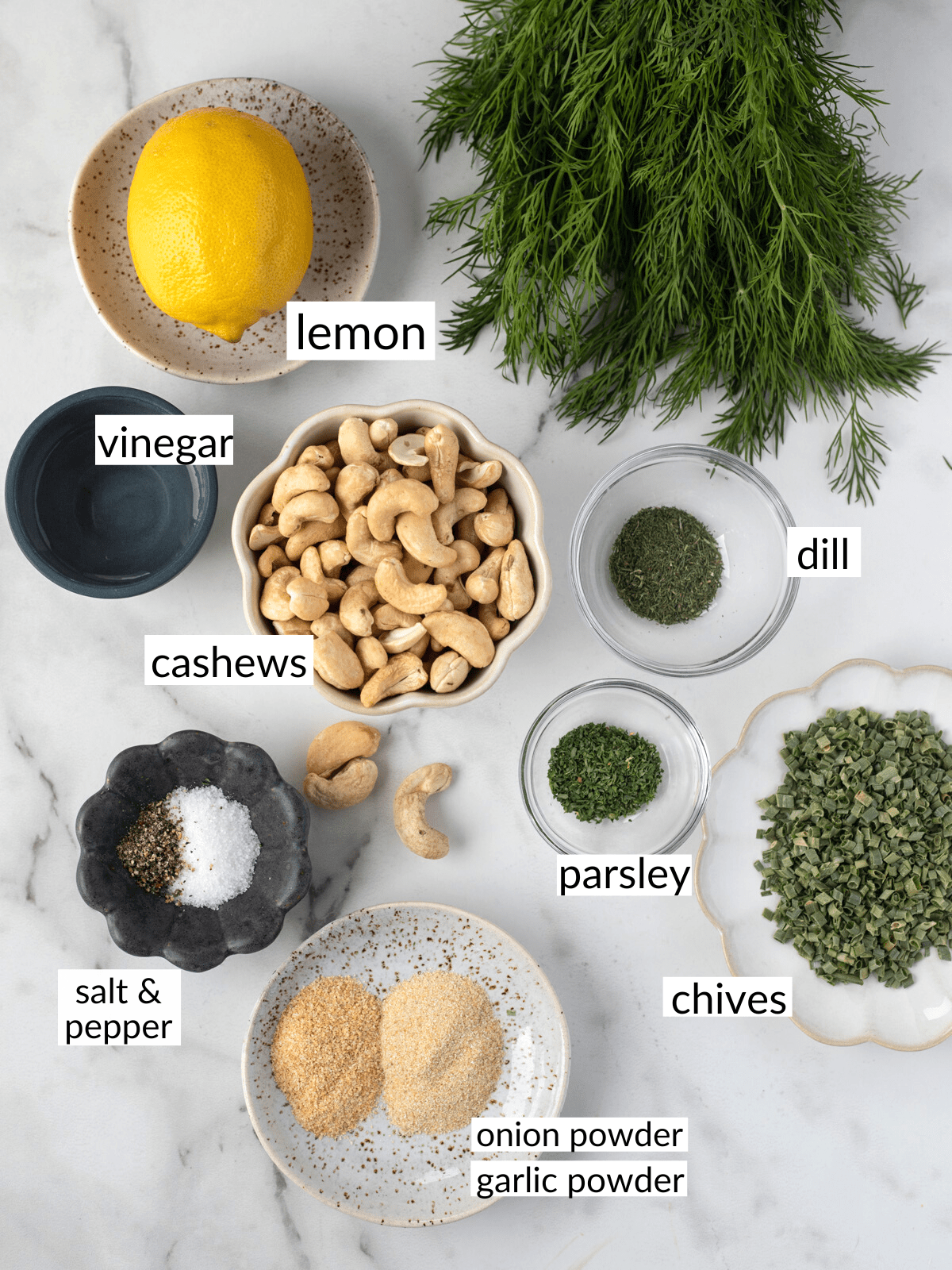 Ingredient Variations & Substitutions
Put your own fingerprints on this ranch dressing by playing around with the ingredients - try peppercorn ranch, parmesan ranch or spicy ranch dressing. Here's a few ideas to get you started:
Dry or fresh herbs?: Seems like there are strong opinions out there regarding fresh v. dry herbs. Whichever you choose, keep these two tips in mind: Ranch dressing made with dry herbs will last a bit longer in the fridge. The ratio of fresh to dry herbs is ~3:1. I recommend starting with a small amount of dry herbs then adding more - tasting as you go.
Garlic and onion options: Sub fresh garlic if you prefer (start with one clove).
Paprika: aka sweet paprika made from bright, sweet peppers (no heat). The paprika is optional, but just a pinch adds a freshness to the ranch dressing that I love.
Acid: Interchange white vinegar, fresh lemon juice or even apple cider vinegar for tanginess.
Million Dollar Flavor Tip: I like to remove ¼ cup of the blended ranch dressing and change up the flavor. For a Spicy Ranch: stir in one teaspoonful of sriracha sauce (or your favorite hot sauce) at time to taste. Parmesan Ranch: add a tablespoonful of vegan parmesan for a cheesy kick. Peppercorn Ranch is a favorite - stir in fresh cracked black peppercorns to taste.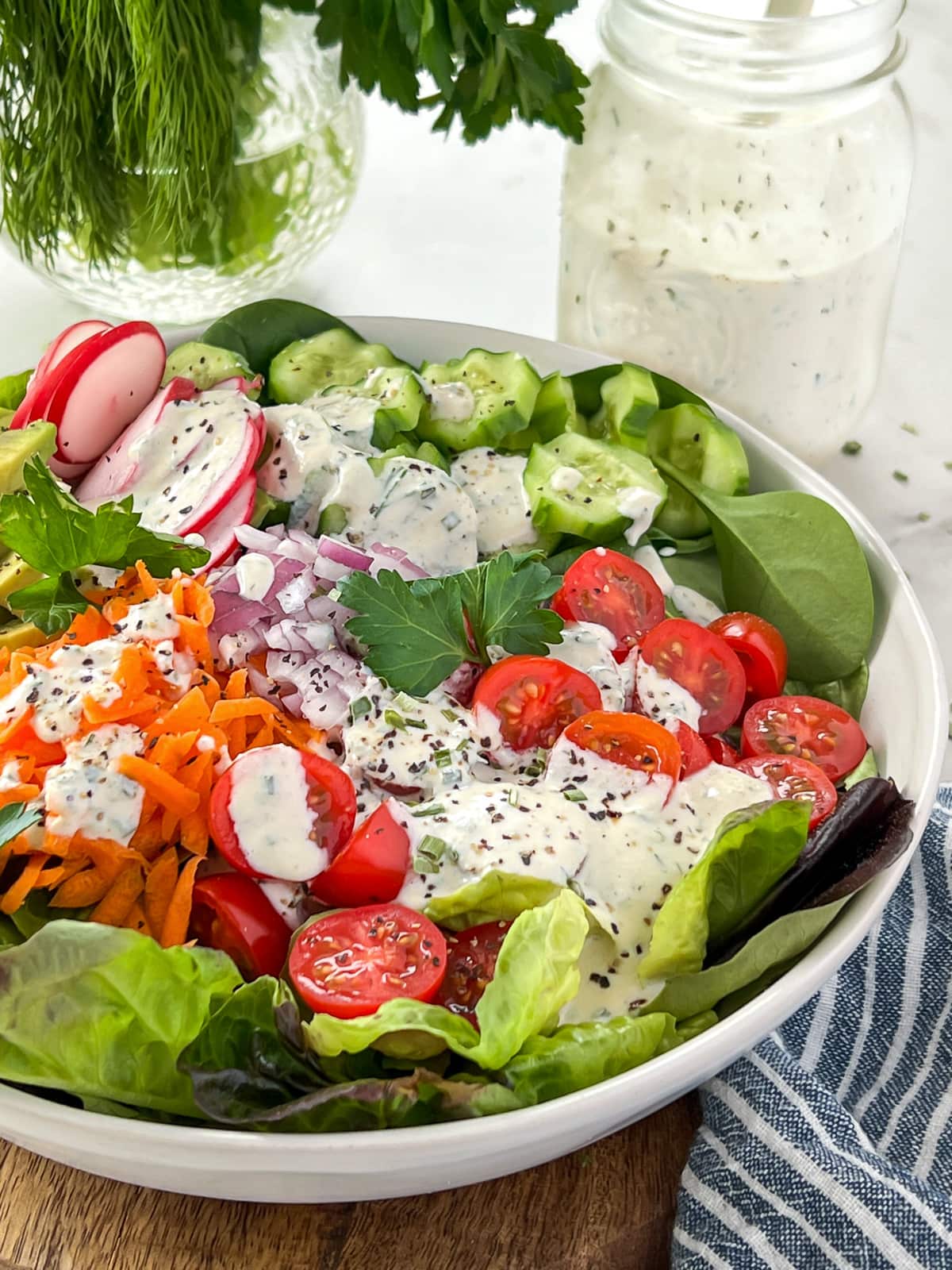 Ranch Dressing - vegan version!
Made with only a handful of wholesome, plant based ingredients and a high speed blender, it's the perfect condiment to have on hand to dress your favorite salads, veggie dips, and sandwiches! Let's get started:
Blend ingredients: Add the cashews, water, and acid, garlic powder, onion powder, and salt to the cup of a high speed blender. Blend until smooth and creamy. Pro Tip: If serving as a dip, leave the cashew sauce slightly thicker; for a dressing, thin with water to the desired consistency. This sauce thickens as it chills.
Finish the dressing: Stir in the dry (or fresh) herbs. Transfer to a jar and chill in the fridge for an hour or more. Before serving, give the dressing a stir and a taste - adjust the flavors and consistency as needed.
Helpful Tips
This is an easy recipe, but here's a few tips to help along the way:
No high speed blender?: Don't worry, cashews are a very blendable nut. Soaking them for several hours will saturate them making them super soft and plump so you can use a regular blender or magic bullet. Note: If you do soak the nuts, you'll want to reduce the liquid added in the recipe.
Million Dollar Flavor Tip: Don't be fooled when you first taste the ranch dressing, the flavors continue to develop and intensify as it chills and the spices hydrate. I recommend making the recipe as written, letting it chill for an hour or more, and then taste and further adjust the flavors before serving.
Healthy & wholesome: No artificial flavors, colors or additives.
Hold the herbs: I prefer to stir in the herbs after the dressing has been blended to prevent the dressing from turning green(ish). As well, the flecks of herbs are very pretty.
Dip or dressing?: Perfect for dipping, drizzling, and dunking, this dairy-free ranch dressing will thicken up as it chills. Stir in a splash of water to correct consistency as needed.
Serving Suggestions
Use this plant-based ranch dressing the same way you would use traditional Ranch. Here's some perfect pairings:
How to Store
Because there are no perishable ingredients (like mayonnaise, eggs or sour cream) this vegan ranch stores well in the fridge for 7- 10 days (using dry herbs and garlic) in an airtight container or glass jar. Stir and thin as needed before serving.
Did you make this vegan ranch recipe? I'd love to see it!
Please leave a review and ⭐️ rating below. Thank you so much for sharing!
Tag me with any photos on Instagram
NEVER MISS A RECIPE: Sign up for my email NEWSLETTER!
Easy Vegan Ranch Dressing (gf)
This easy Vegan Ranch Dressing recipe is as tangy and creamy as classic ranch, but it's oil free, dairy free, gluten free, and made without eggs! Simple to make from scratch with only a handful of ingredients, it's a delicious and versatile vegan condiment that everyone loves!
Rate this recipe!
INGREDIENTS
1

cup

raw cashews

¾

cup

water (more for thinning)

2

tablespoons

white vinegar

1

tablespoon

lemon juice, fresh

1

teaspoon

onion powder

1

teaspoon

garlic powder

½

teaspoon

fine salt

¼

teaspoon

coarse black pepper

¼

teaspoon

paprika powder (optional)

½ - 1

teaspoon

dry dill

½

teaspoon

dry parsley

2

tablespoons

fresh chives
INSTRUCTIONS
Blend cashews with ¾ cup water, vinegar, lemon juice, onion powder, garlic powder, and salt. Add more water as needed to correct consistency (dressing or dip).

Whisk or stir in all remaining ingredients until well combined. Taste and adjust flavors to taste.

Pour into a jar and chill in the refrigerator until ready to use. The flavors will develop as the dressing chills. Store in fridge for 7-10 days.

When ready to use, stir, taste, and adjust flavors and consistency as needed.
NOTES
Make a batch of classic vegan ranch then change up the flavor all week. Take out a ¼ cup of dressing then add a bunch of fresh dill or coarse ground black pepper, add vegan parmesan or fresh garlic, or make spicy vegan ranch with sriracha sauce, buffalo sauce or one of your other favorite hot sauces.
This dairy-free ranch will thicken and the flavors will intensify while it chills. Stir and adjust as needed before serving.
This recipe is from simplyceecee.co food blog. All images and content are copyright protected. Please do not use my images or republish this recipe without prior permission. Thank you.