This succulent vegan shawarma is a huge family favorite for good reason! It's packed with shawarma spiced soy curls, crispy chickpeas, creamy hummus, and fresh veggies wrapped in warm pita bread. But the secret that makes this THE BEST vegan shawarma wrap is the 2 craveable sauces!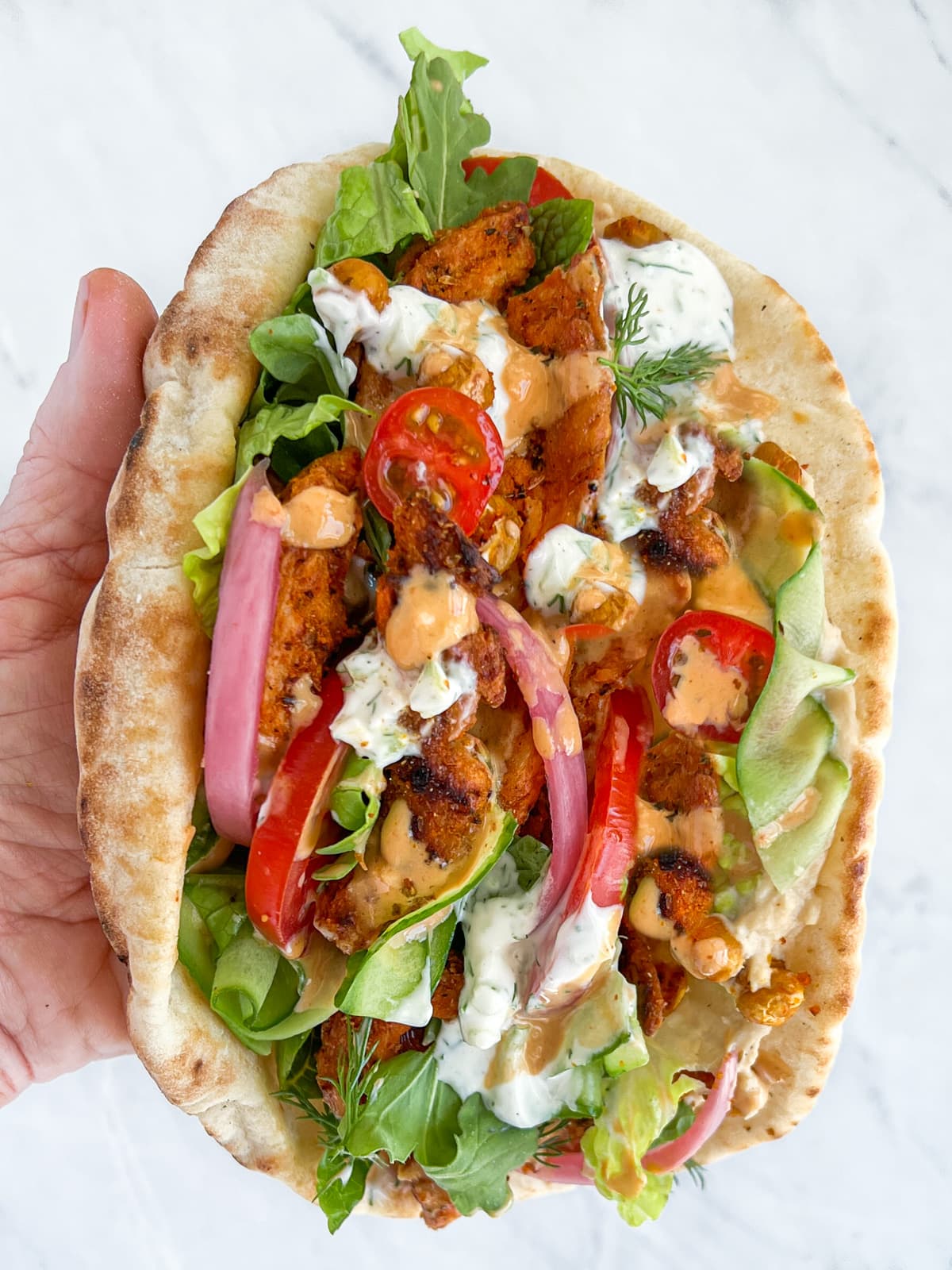 We're obsessed with these vegetarian shawarma wraps! I mean, they have all the best parts of a classic shawarma, but they're meat free. Don't be fooled though, they are just as juicy, satisfying, and filling as traditional shaved chicken or beef shawarma sandwiches!
For this meaty, vegan version, I used shawarma spiced soy curls and chickpeas, tons of fresh veggies, creamy hummus, and shawarma sauces all wrapped up in a warm pita bread. The secret ingredient to making the best, juicy vegan shawarma is definitely the sauces. Yup, there's two!!
This plant based shawarma is incredible with just the dairy-free tzatziki sauce. However, to push the flavor profile over the top (highly recommended), I add an addictive sweet and spicy tahini sauce. This epic, flavor combination is pure magic.
Shawarma Ingredients (veggie version!)
This affordable meal uses only a few pantry and fridge items:
Variations & Options
Customize your shawarma to your own taste. Keep it simple or add all the toppings, fillings, and sauces - it's up to you:
What Are Soy Curls?
Soy Curl Spotlight: So let's talk about soy curls! Soy curls are an amazing plant-based meat substitute. They are made from soybeans which are rich in fiber and protein and are gluten free. I use the Butler Brand soy curls which are non-GMO soybeans, processed without chemicals, and packaged without additives or preservatives*.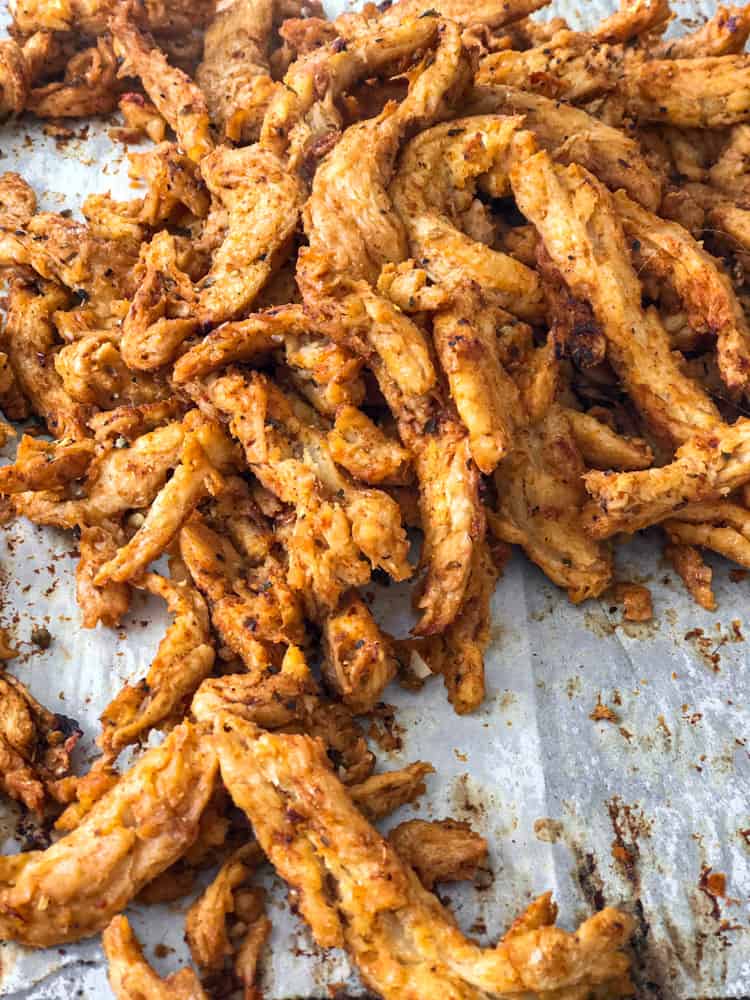 How to Cook Soy Curls
I tried both pan frying and baking soy curls to find the best texture and flavor with the healthiest result. Although both methods were tasty, the sheet pan (baking) method was best for this shawarma recipe. It produced the most succulent, meaty results without too much hands-on time - leaving enough time to prepare the sauces and toppings.
If you are as surprised and impressed by the texture of soy curls as we are (it's quite similar to chicken tenders), try these soy curl recipes next: vegan cashew chicken, vegan ginger beef!
How to Make Vegan Shawarma
This recipe is easy to make, but it does have a few components. To save time, use store bought hummus, pita bread, and shawarma spice. As well, the sauces and spice blend can be made days in advance! Let's get into the details:
Preheat the oven to 400º F. Cover a baking sheet with parchment paper or a silicone mat.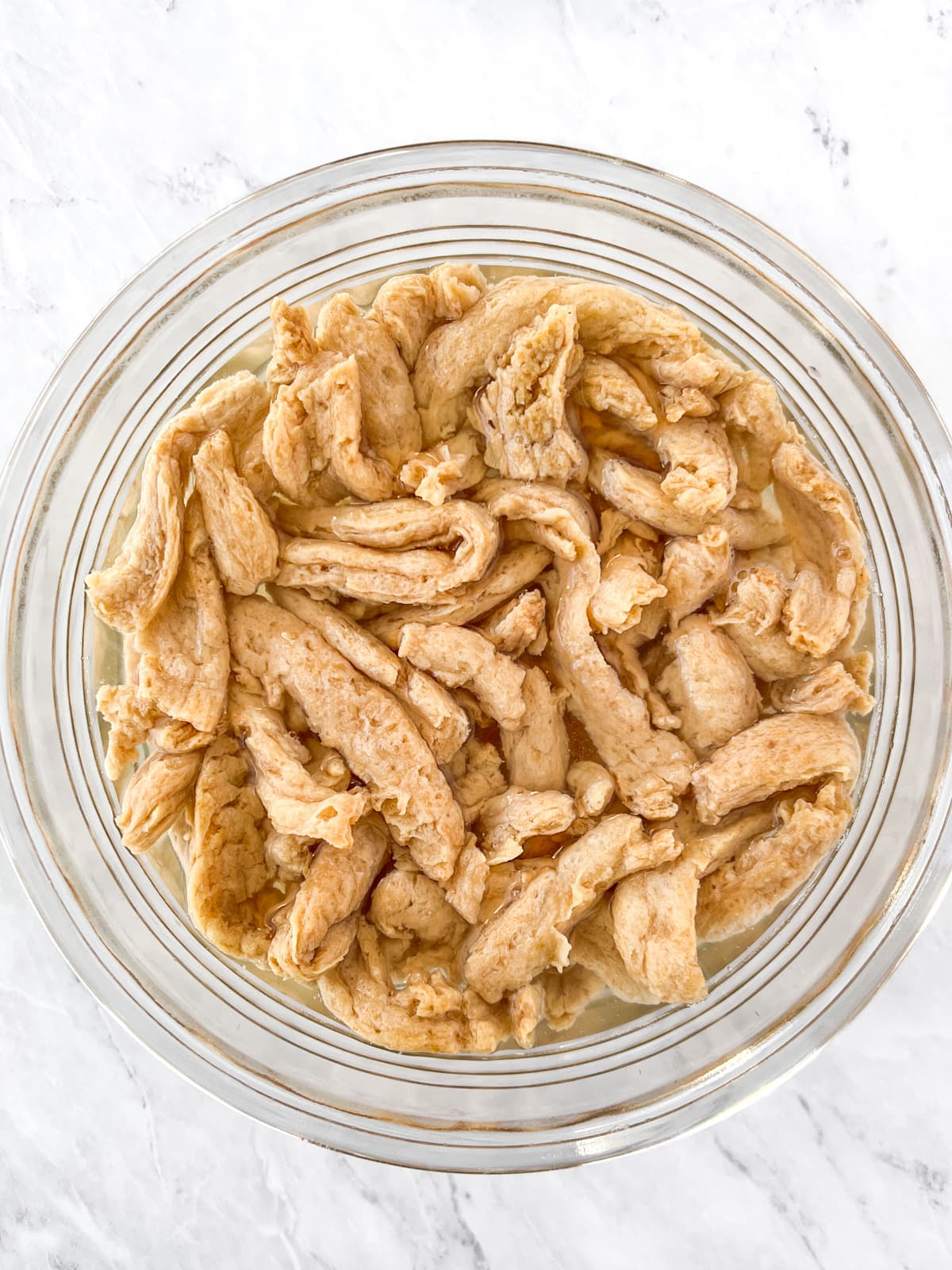 Hydrate the soy curls (8-10 minutes). Drain and gently squeeze excess liquid.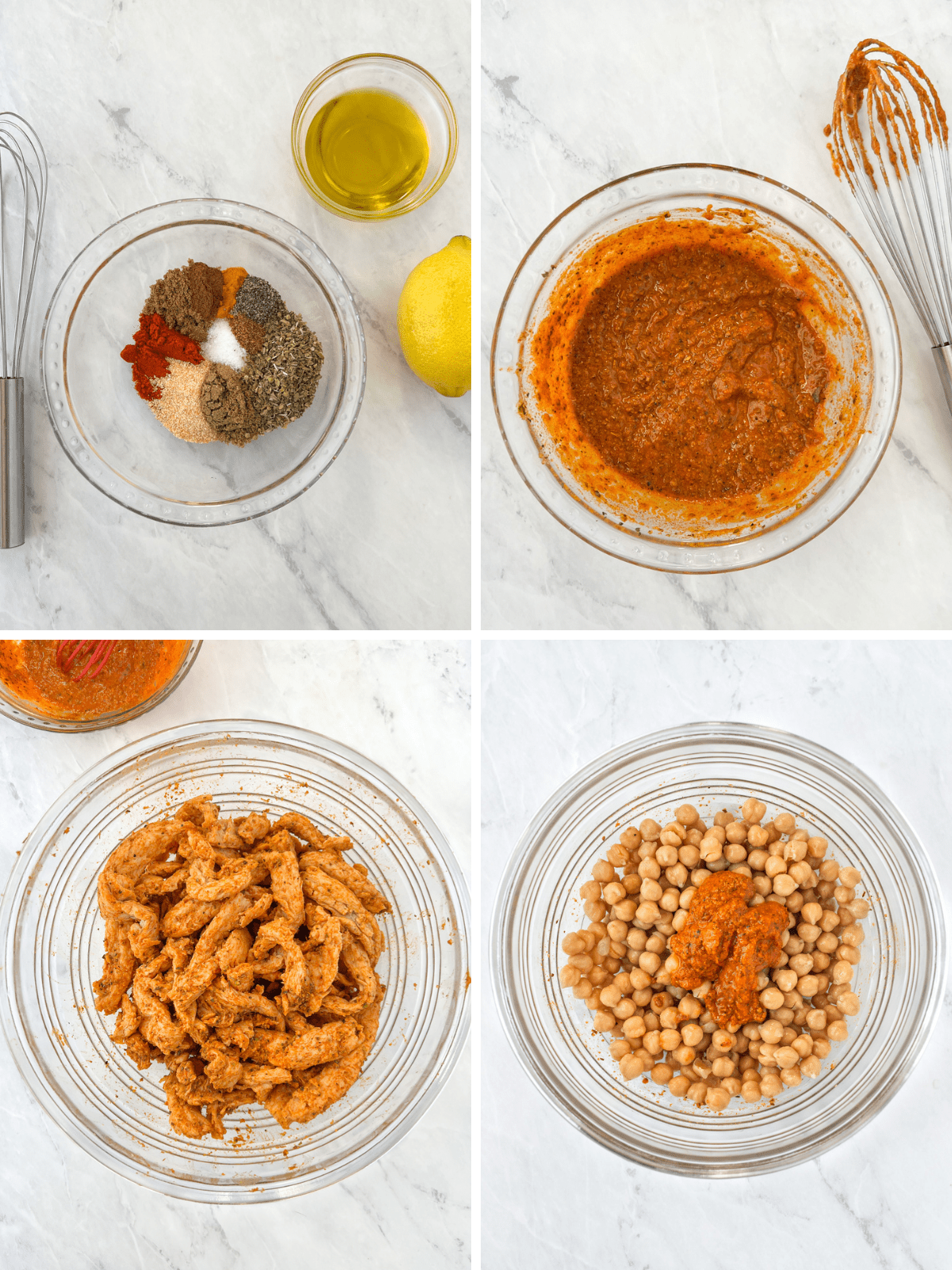 Meanwhile mix shawarma spice blend then add in the lemon juice and oil to make a marinade. Toss the soy curls and then the chickpeas with the marinade to coat.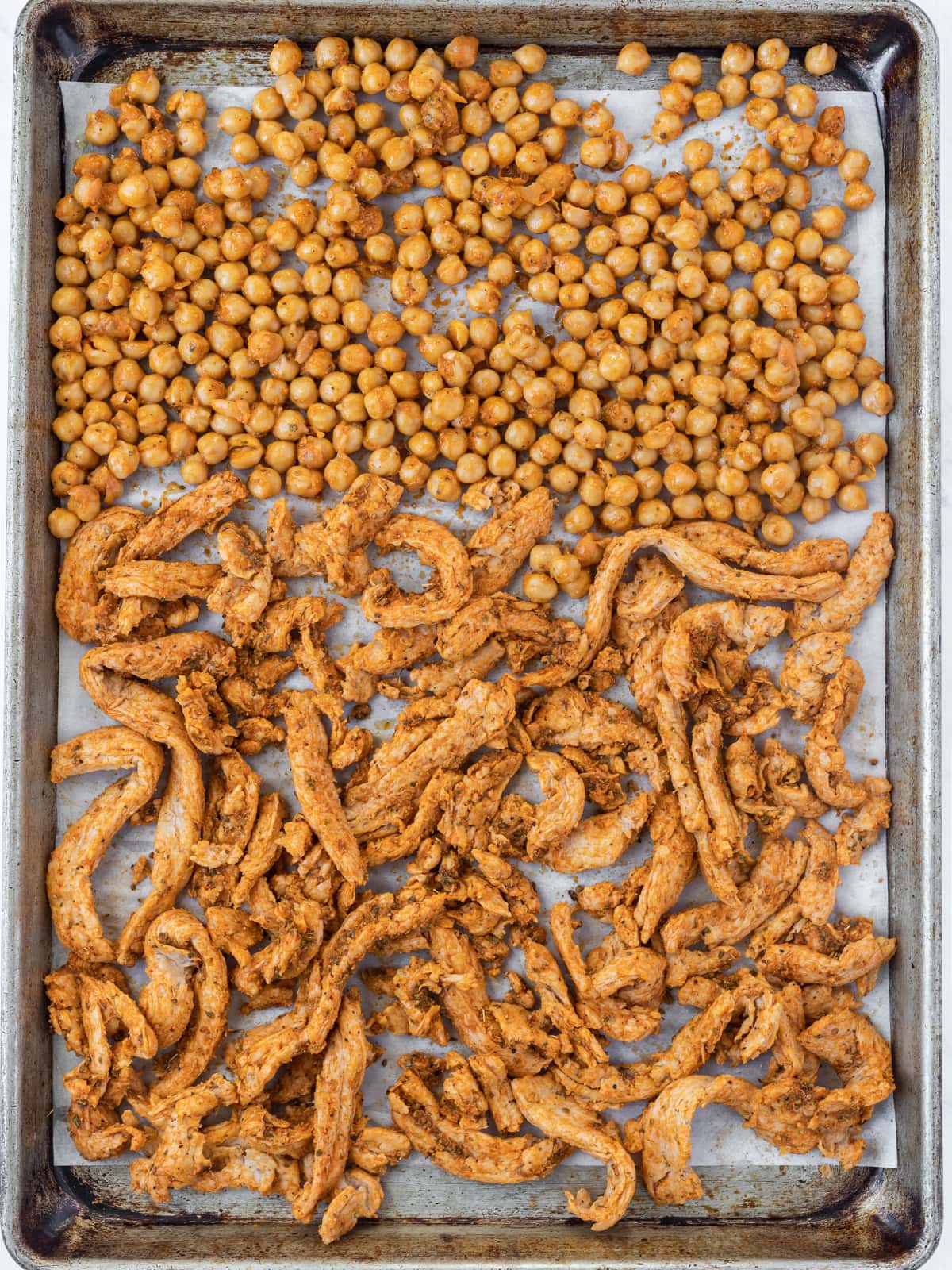 Spread evenly in a single layer on a baking sheet.
While the soy curls are baking, prep the veggies and make the non-dairy sauces.
Serve vegan chicken shawarma on a pillowy pita bread with your favorite toppings, and a generous drizzle of sauce. Enjoy!
Expert Tips
A few tips to make this shawarma recipe effortless: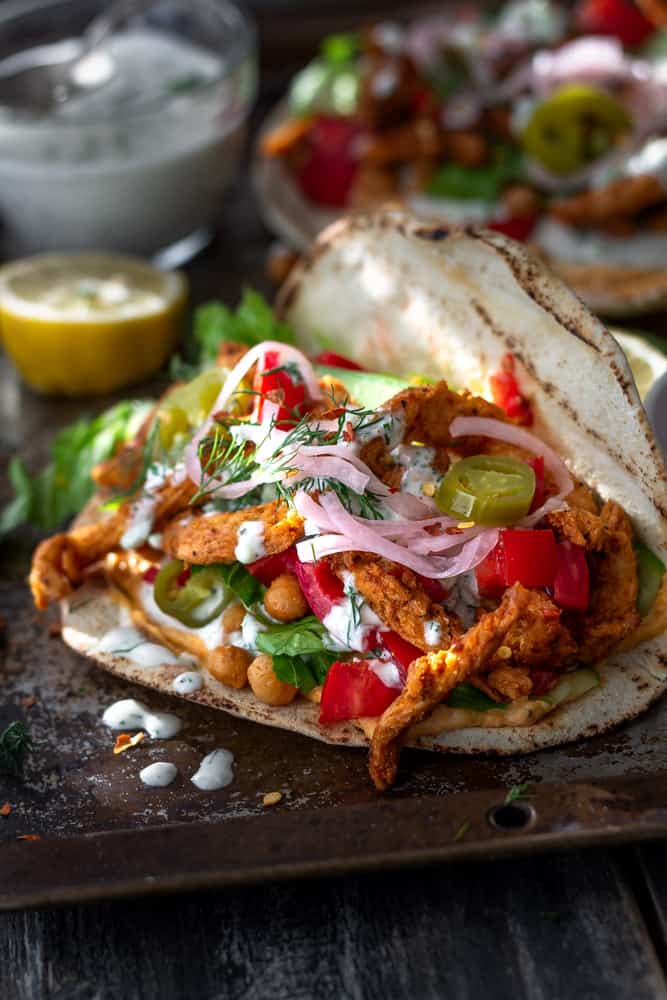 More Vegan, Dairy Free Sauces and Dips
Here at Simply Ceecee we're all about easy and flavorful vegan sauces. They're a simple way to add some pizzazz to everything from leftovers to vegan tacos, salads, burgers, and so much more. There's a sauce for everyone (dairy free, egg free, gluten free, plant based, vegetarian, oil free, low carb, keto, and always vegan). Here's some of our favorites:
If you tried this epic Vegan Shawarma recipe or any other recipe on the blog, please let me know how you liked it by leaving a rating and review below! Be sure to follow along on Instagram and Pinterest for more delicious vegan recipes.
JOIN US SUNDAY MORNINGS: Sign up for my weekly NEWSLETTER!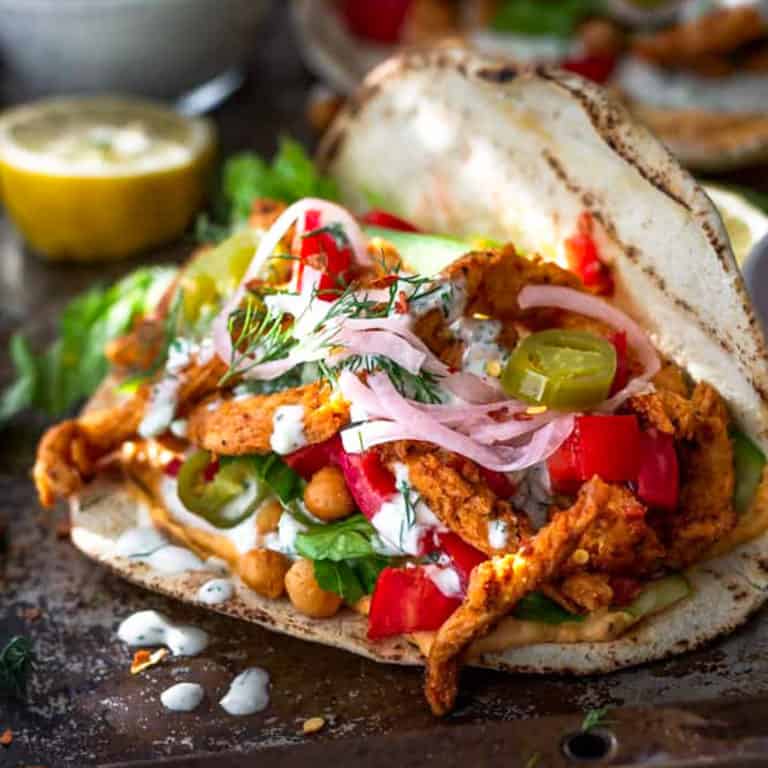 Vegan Shawarma with Two Epic Sauces!
The most succulent, spicy, vegan shawarma recipe! This high protein, saucy shawarma wrap is made with spicy soy curl tenders and crispy chickpeas. Topped with your choice of tomatoes, cucumbers, pickled onions, and shredded romaine all wrapped in warm pita bread then drizzled with two craveable sauces. So addictively delicious!
Rate this recipe!
INGREDIENTS
4

ounces

soy curls (dry measure)

19

ounce

can chickpeas (drain, rinse, and pat dry)
Shawarma Seasoning/Marinade Ingredients
1

tablespoon

paprika (sweet or smoked)

1 ½

teaspoons

cumin

¼

teaspoon

cinnamon

2

teaspoons

ground coriander

1 ½

teaspoons

garlic powder (2 cloves fresh garlic)

1

tablespoon

dry oregano

¼

teaspoon

cayenne

½

teaspoon

coarse salt

½

teaspoon

coarse black pepper (to taste)

1

tablespoon

brown sugar (optional)

2

tablespoons

lemon juice

2

tablespoons

olive oil

extra water to thin sauce
Shawarma Toppings
1-2

tomatoes, chopped

2

mini cucumbers, peeled, sliced

romaine lettuce, sliced

red onions (pickled or thin raw slices)

½ - 1

cup

hummus (optional)

parsley and dill, rough chop for garnish
Shawarma Sauces
1

tzatziki sauce recipe*

1

sweet and spicy tahini sauce*
INSTRUCTIONS
Preheat oven to 400º F.

Line a large baking sheet with parchment paper. Spread 1 tablespoon of oil even over the parchment for extra crispiness (optional).

Prepare the soy curls: Hydrate soy curls as per package directions (using water or broth). I use Butler Brand soy curls. Half the 8 oz package is about ¾ of a pound hydrated.

Drain & rinse the soy curls: Then gently squeeze excess liquid from soy curls.
Shawarma Marinade
Shawarma blend: Stir all shawarma seasoning dry ingredients together in a small bowl. Then add the oil (or water if oil free) and ~2 tablespoons of lemon juice. Add more water as needed to make a loose paste.

Season the soy curls: Toss ¾ of the shawarma marinade with the soy curls in mixing bowl or large ziplock bag. Toss until the soy curls are evenly coated.

Spread out in a single layer over ¾ of the prepared sheet pan.

Season the chickpeas: Next add the chickpeas and the remaining marinade to the same bowl/bag. Toss to coat then spread out next to the soy curls.

Into the oven: Bake for 23-26 minutes, stirring halfway through. Remove the chickpeas and any smaller soy curls if needed.
Make Sauces & Prep Toppings
Sauces can be made several days in advance. Make one or both.

Prep the veggies: Slice and chop the toppings and fresh herbs while the soy curls are baking.
Assembling the Shawarma Wraps
Warm both sides of the pita bread on a griddle/skillet over medium heat. Can also heat in the oven or microwave until warmed through.

Add the filling: Lay the pita bread on a plate, top with a pile of soy curls, chickpeas, and veggie toppings. Liberally drizzle with the sauces. Sprinkle with chopped fresh herbs.

Time to Dig in: Serve immediately with extra sauce for dipping and don't forget the napkins!
NOTES
Soy curls: You can buy Butler soy curls online, at vegan markets, most health stores or bulk stores.
Shawarma spice blend: Mix up a double batch and store in a glass jar to have on hand to add extra flavor to crispy potatoes, tofu scramble, grilled veggies, and so much more.
Shawarma sauces: The two sauces are easy to make and together are a dynamite flavor explosion. To save time make the sauces up to a week in advance and store in the refrigerator until ready to use. Any leftover sauce is fabulous on veggie sandwiches, burritos, buddha bowls, tacos, etc.
The best bread for shawarma: A thin tortilla is not going to cut it this time. Choose a sturdier wrap like pita bread and put the filling on top of the pita not inside the pocket. A pillowy flatbread or pizza shell are both excellent choices as well.
Warming the shawarma wrap: Don't skip warming the wrap - it makes all the difference and softens the bread so it's easier to roll. Flavor Tip: While the griddle is warming, brush garlic butter on each side of the pita. Grilled both sides just until warm and fragrant. Remember to keep it soft though!
Storing tips: Store any leftovers in separate containers in the fridge for 4 or 5 days. The sweet and spicy tahini sauce will keep well for at least 10 days.
This recipe is from simplyceecee.co food blog. All images and content are copyright protected. Please do not use my images or republish this recipe without prior permission. Thank you.
Originally posted in October 2019. Revised June 2021 to include updated photos, tips, and substitutions.