If this vegan shawarma wrap doesn't blow your hair back, I don't know what will! This Middle Eastern spiced vegan shawarma wrap is stuffed with succulent soy curl tenders and chickpeas baked to crispy perfection. The fresh vegetables, creamy hummus, and two sauces (sweet and spicy tahini sauce and tangy tzatziki) create a big bold, spicy, vibrant flavour profile that vegan dreams are made of. Served on warm, freshly made pita bread it's epic!
These succulent Butler soy curl tenders are a game changer for all eaters (it's the new vegan chicken replacement)! Keep reading for all the nourishing ingredients, tips, vegan meat alternatives, serving suggestions, and time management tips . . .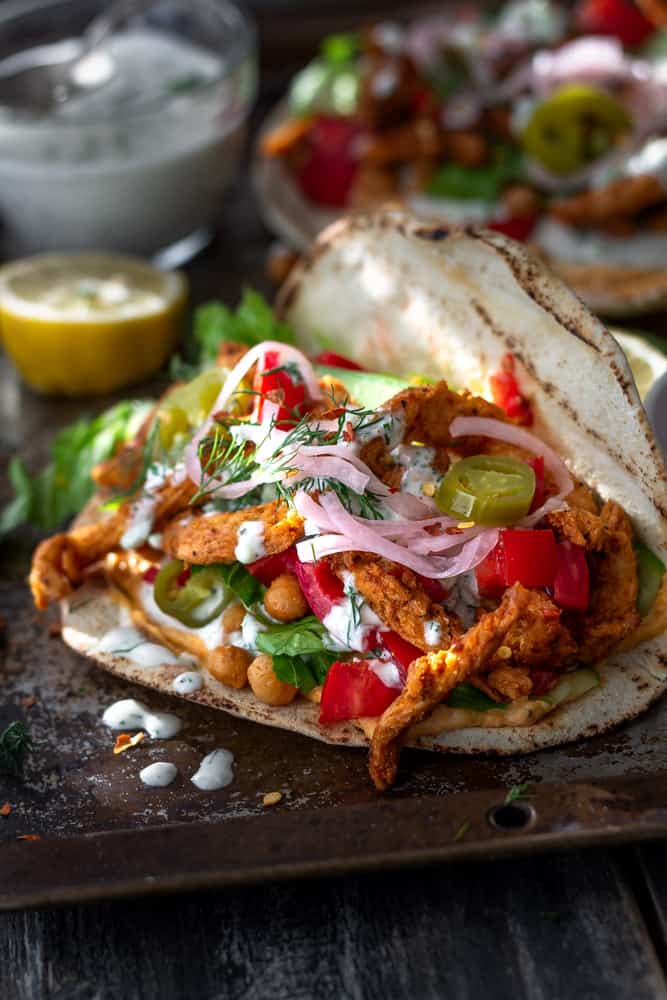 Every Sunday my family gathers for dinner at our house. I look forward to it all week, and it's my favourite day of the week by far. However, everyone has different tastes and favourites which can be tricky to navigate.
Cooking with quality ingredients, incredible texture, and amazing flavours has always been a priority to me; and being a vegan cook has not changed that one bit. This healthy vegan shawarma wrap (maybe you call it gyro or donair) drizzled with classic dairy-free tzatziki and sweet and spicy tahini hits all the spots and leaves the WHOLE family satisfied - vegan or not!!
Why You Will Crave this Shawarma!
Picture this - a soft, warm pita slathered with creamy hummus then loaded with succulent soy curls and crispy chickpeas baked to perfection in Greek spices. It's so stuffed with fresh cucumber ribbons, juicy tomatoes, pickled onions, and jalapeños that you'll need both hands to hold this big bold juicy Greek sandwich. But wait! The secret to making this THE BEST vegan/vegetarian shawarma wrap is the sauce. And this one is drizzled with two unbelievably luscious sauces!
There's no reason to miss out on this beloved Greek sandwich because you eat a plant-based/vegan diet. The Greek spices and vegetable toppings are same as the traditional shawarma, and dairy-free tzatziki is easy to make! All that's left is the shawarma or gyro vegan meat alternative for which there are many incredible choices including: shredded mushrooms, crispy chickpeas and cauliflower, shredded seitan, tofu, tempeh, jackfruit or soy curls!
Ingredient Spotlight - Soy Curls
So let's talk soy curls! Soy curls are an amazing plant-based meat substitute. They are made from soybeans which are rich in fiber and protein and are gluten free. I use the Butler Brand soy curls which are non-GMO soybeans, processed without chemicals, and packaged without additives or preservatives*.
Not going to lie, I was SUPER surprised and delighted by the texture which is quite similar to chicken tenders! Not even joking, they are the best vegan meat replacement ever! Plus they are super versatile - perfect vegan meat alternative for gyros, donair and shawarma sandwiches, vegan cashew chicken, vegan ginger beef, and so much more!
*Get all the soy curl nutritional information details on the Butler website.
How to Cook Soy Curls
I played around with cooking methods for the soy curls trying to find the best texture and flavor with the healthiest result. Although both pan frying and baking soy curls were tasty, baking on a sheet pan was the best method for this shawarma wrap recipe. It produced the most succulent and flavourful result without too much hands-on time.
This easy, baked method freed up 20-25 minutes to get those fabulous shawarma sauces made and the veggies prepared.
Addictive Sweet and Spicy Tahini Sauce
This shawarma is incredible with traditional dairy-free tzatziki sauce; however, to push the flavor profile over the top (recommended), I liberally drizzled the shawarma wrap with addictive sweet and spicy tahini sauce. Talk about a flavor bomb!!! This ultra flavorful sauce combination is pure magic.
What Wrap is Best for Shawarma?
This veggie soy curl shawarma is juicy, like drip-down-your-arms, pass-the-extra-napkins, kinda juicy. Because of said juiciness, I suggest using freshly baked, warm pita bread; but don't stuff the filling inside the pocket, place it on top and wrap the pita around the filling. Similarly, a sturdy but pillowy-soft pizza flatbread or naan warmed and wrapped is utterly delicious.
Warm the wrap of choice in the oven on low heat, in the microwave or on a griddle over medium heat. Keeping in mind that you don't want the wrap to be crispy - just warm, but still pliable.
How to Make the Best Vegan Shawarma Sandwich
This soy curl recipe has a few steps; however, they are all super easy to make.
Preheat the oven to 400º F. Cover a baking sheet with parchment.
While the soy curls are hydrating (10 minutes), mix up the shawarma spice rub.
Drain, rinse, and pat dry the chickpeas.
Spice up the soy curls and chickpeas, spread evenly on sheet pan and bake until crispy.
Cut the fresh, crunchy veggies and make the both sauces.
Warm the pitas, naan or flatbread, and start assembling!
Assembling Your Vegetarian Shawarma
It's fun to place all the dishes out and let your guests make their own veggie shawarma wrap. However, there is a bit of an art to making the best, least messy, wrap.
First start with the warm wrap, add a generous layer of hummus (this helps things stick together).
Next add the soy curls and chickpeas (don't overdo it - remember you have to wrap the pita around everything!).
Toppings are next with cucumbers, tomatoes, lettuce, pickled onions, etc.
After that, drizzle the sweet and spicy tahini sauce and the tzatziki on liberally. Wrap everything into a tight bundle, grab with both hands, and enjoy.
Pass the extra napkins!
More Vegan, Dairy Free Sauces and Dips
We're all about a delicious, dairy-free (oil-free and gluten-free friendly) vegan sauces, drizzles, and dips at our house. Here's some of our favorites:
Did you make my Best Vegan Shawarma Wrap recipe?
Please leave a comment and rating below. Thank you for your support!
Tag me on Instagram and Facebook!
NEVER MISS A RECIPE: Sign up for my email NEWSLETTER!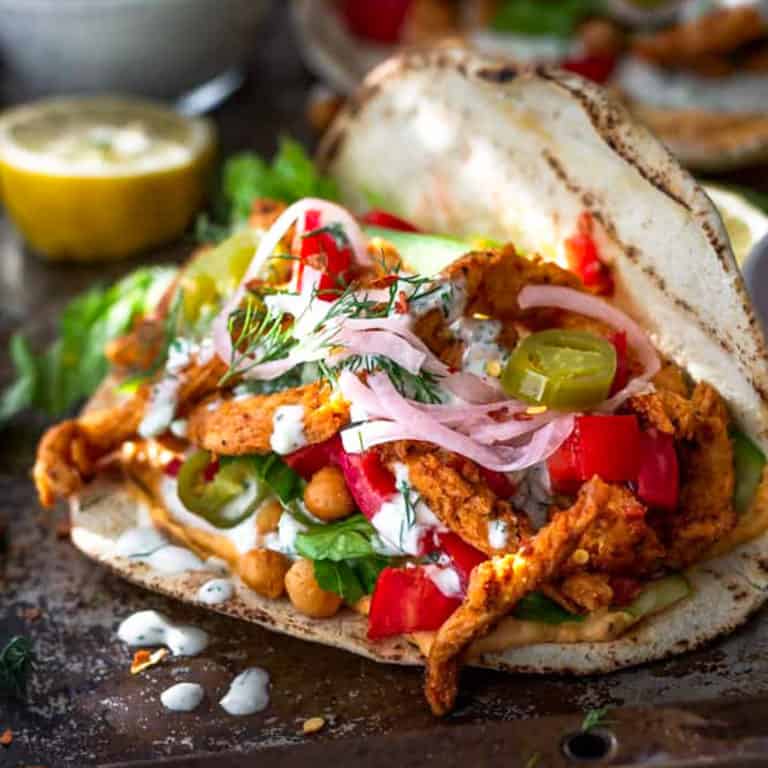 Best Vegan Shawarma Wrap with Two Sauces!
The most succulent, spicy, soy curl recipe! Super flavorful, high protein, saucy vegan shawarma with chickpeas, tomatoes, cucumbers, pickled onions, and romaine wrapped in a pita with two sauces. So addictively delicious!
Rate this recipe!
INGREDIENTS
1,

4 oz

bag soy curls (dry measure)

1,

19 oz

tin chickpeas, rinse and pat dry

1

Greek shawarma spice blend mix (below)

1

tzatziki sauce recipe

1

sweet and spicy tahini drizzle

1-2

tomatoes, chopped

2

mini cucumbers, peeled, seeded, sliced

romaine lettuce, chopped

parsley and dill, rough chop for garnish

pickled red onions*

½ - 1

cup

hummus, homemade or store bought

3-4

pita, flatbread or naan
INSTRUCTIONS
NOTES
Soy Curls: You can buy Butler soy curls online or at most vegan markets. If in Canada, available from Vegan Supply (Vancouver), Homey Foods in Calgary, Bulk Barn.
Greek Shawarma/Donair Spice Blend: Mix up a big batch of this spice blend and store in a glass jar so it's always on hand - just add a couple tablespoons to the other ingredients (garlic, maple, lemon). It's a real time saver and you can use the Greek spice blend on potatoes, tofu scrambles, grilled veggies, and so much more.
Sauces: the two sauces are easy to make and together are a dynamite flavor explosion. Any extra sauce is fabulous on sandwiches, burritos, buddha bowls, tacos, etc.
Shortcuts: to save time, make your two sauces the day before and store in the fridge.
Wraps: a thin tortilla is not going to cut it this time. Choose something sturdy like a pita and put the filling on top of the pita not inside it. I love a pillowy flatbread or pizza shell too. Don't skip warming the wrap - it makes all the difference. Remember to keep it soft tho!
Leftovers: store in separate containers in the fridge for up to 3 or 4 days. The sweet and spicy tahini sauce will keep well for a week.
This recipe is from simplyceecee.co food blog. All images and content are copyright protected. Please do not use my images or republish this recipe without prior permission. Thank you.
Originally posted in October 2019. Revised June 2021 to include updated photos, tips, and substitutions.