Sushi for dinner? Yass, please!!!! When you're craving sushi, but don't want take-out or the hassle of rolling sushi, these deconstructed vegan sushi rolls are the perfect fun and delicious option!! This take on a popular and beloved Japanese 'fast food' is packed with colourful, crunchy veggies, sweet, salty, umami flavors, and of course lots of dipping sauces.
If you love a delectable vegan sushi bowl - made without fish or dairy - keep reading for step-by-step directions for making your own. These easy veggie bowls will 1000% satisfy your sushi cravings!
How to Make Vegan Sushi Bowls
Vegan sushi bowls are easy to make, simple, inexpensive, light, fresh and nourishing - everyone loves them, vegan or not!
Some of my family's most crave-worthy, plant-based sushi includes popular choices like California rolls, spicy dynamite rolls, avocado rolls, and veggie rolls. It's totally possible for vegans and vegetarians to enjoy 'sushi' made without fish. These days there are tons of options while dining in or out. Here are 2 of our favorite sushi rolls deconstructed to 'star' in your homemade vegan sushi bowl!
Pro Tip: for more sushi roll ideas, tips for making perfect sushi rice, how to roll sushi like a pro, and 4 more sauce recipes, check out my Vegan Sushi Recipe!
Jump to:
Vegan Sushi Bowl Essentials
We love sushi bowls! They are basically a rice bowl with all the flavors and fillings of rolled sushi, but less time consuming! Here's what you'll need to build your own epic sushi bowls:
Rice - Japanese style short-grain rice (aka sushi rice), brown rice, quinoa or cauliflower rice all work for a sushi bowl. So if you are gluten-free or grain-free, there's still a yummy option for you!
Sushi Filling - this is where the magic happens! Choose all your favorite yummy sushi ingredients like grated carrots, cucumber sticks, radish slices, avocadoes, sweet potato fries, marinated tofu, etc. Plus choose one 'star' ingredient (more below)!
Sushi Dipping Sauce - serve with traditional sauces like soy sauce (tamari), wasabi, and pickled ginger but also try unagi sauce (eel sauce), teriyaki sauce, dynamite sauce, sweet soy sauce, and spicy mayo dipping sauce.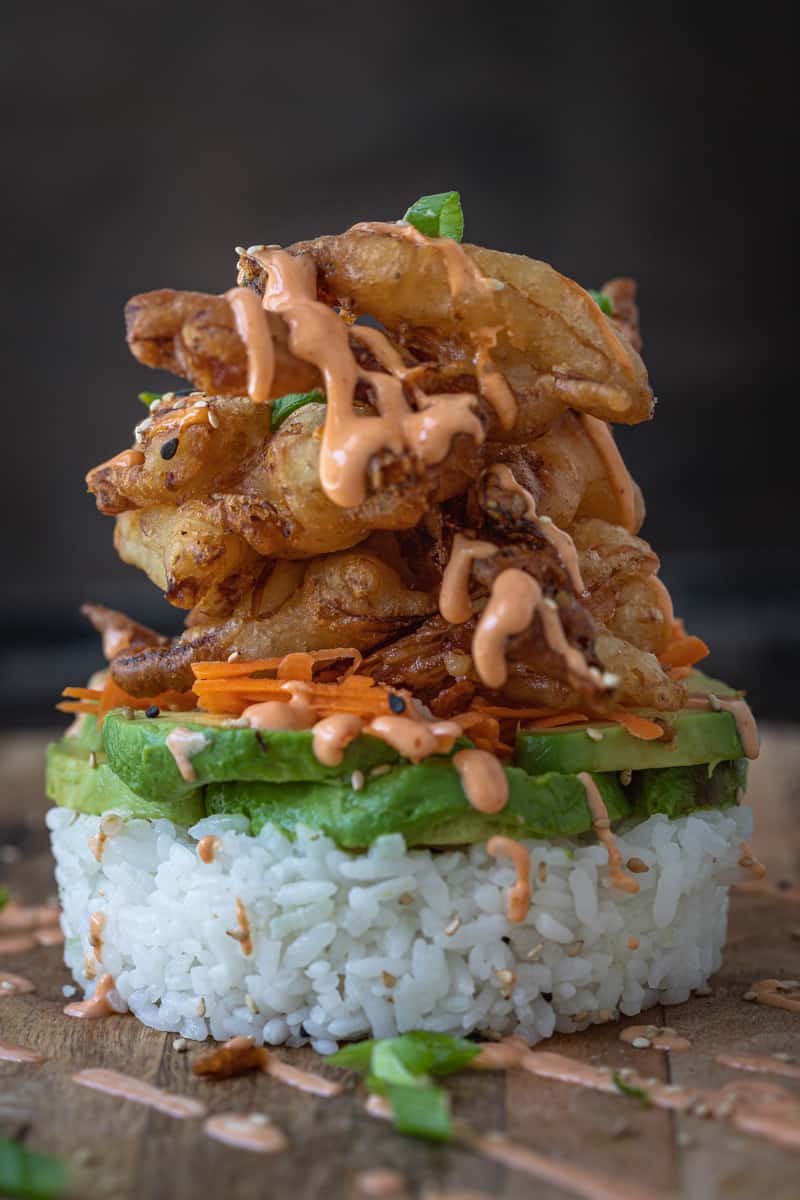 Building an Epic Vegan Sushi Bowl
It's fun to set out all the sushi bowl fixings: rice, toppings, and sauces buffet style and let each guest create their own masterpiece. When planning your filling, keep in mind that the key to the most incredible sushi bowls is a variety of textures (crunchy, creamy, crispy, chunky, smooth) and balanced flavors (sweet, salty, spicy, sour, umami).
To Assemble: place a scoop of rice in each bowl. Add small piles of grated carrots, cucumbers, cubed or sliced avocados (or an avocado rose!) whatever your favorites are. Then choose one 'star' ingredient (see below) and of course dipping sauces galore.
Garnish with pickled ginger, a glob of wasabi, toasted sesame seeds, and nori/seaweed crumbles.
Vegan Dynamite Sushi Roll Bowl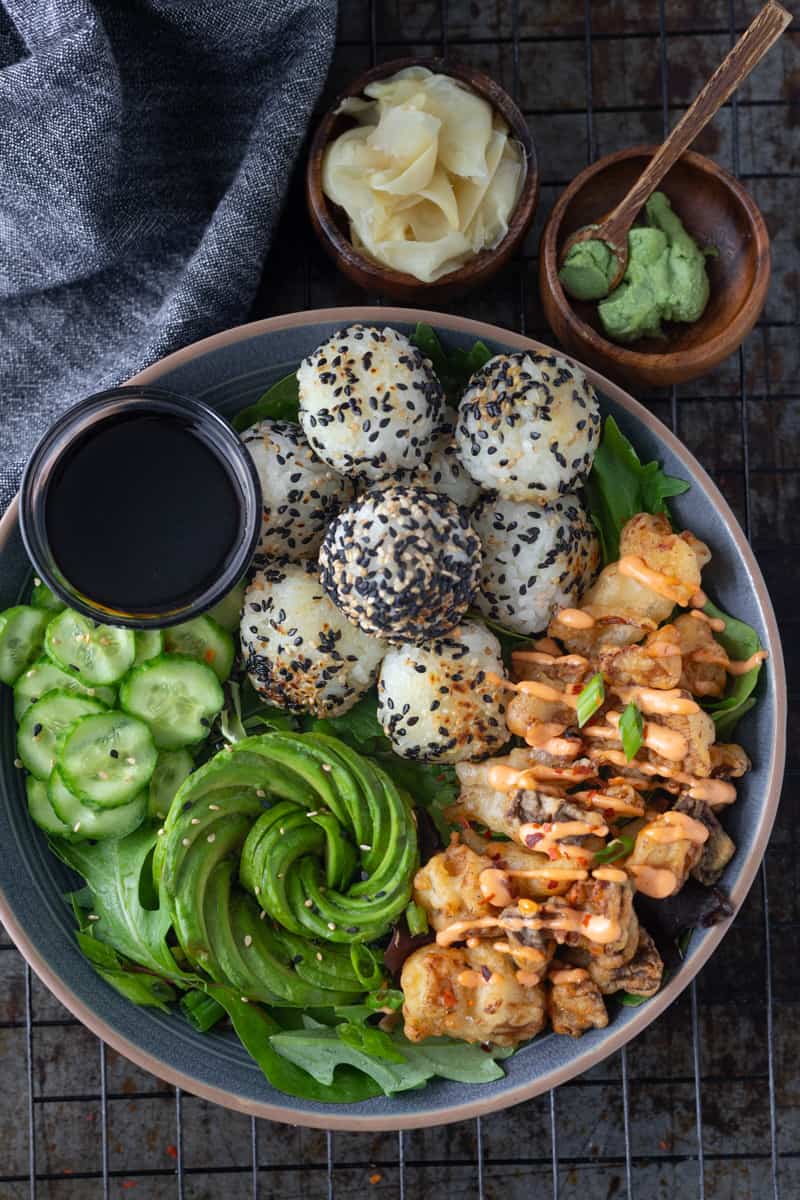 Tempura King Oyster Mushrooms - these tempura mushrooms mimic the texture and crunchiness of tempura shrimp very closely. They are warm, crunchy and toothsome - an ultra flavorful, super satisfying eating experience. Pairing them with creamy avocado and crisp cucumbers or carrots and a generous drizzle of classic dynamite sauce is honestly vegan sushi perfection!!
Here's how to make the crispy, crunchy tempura mushrooms:
Shred, pull or cut the king oyster mushrooms to the size you prefer. *The shredded version creates small super crunchy 'tentacles' that are incredible!
Heat the oil.
Sift the dry ingredients for the batter. Don't add the cold water until the oil is ready to go.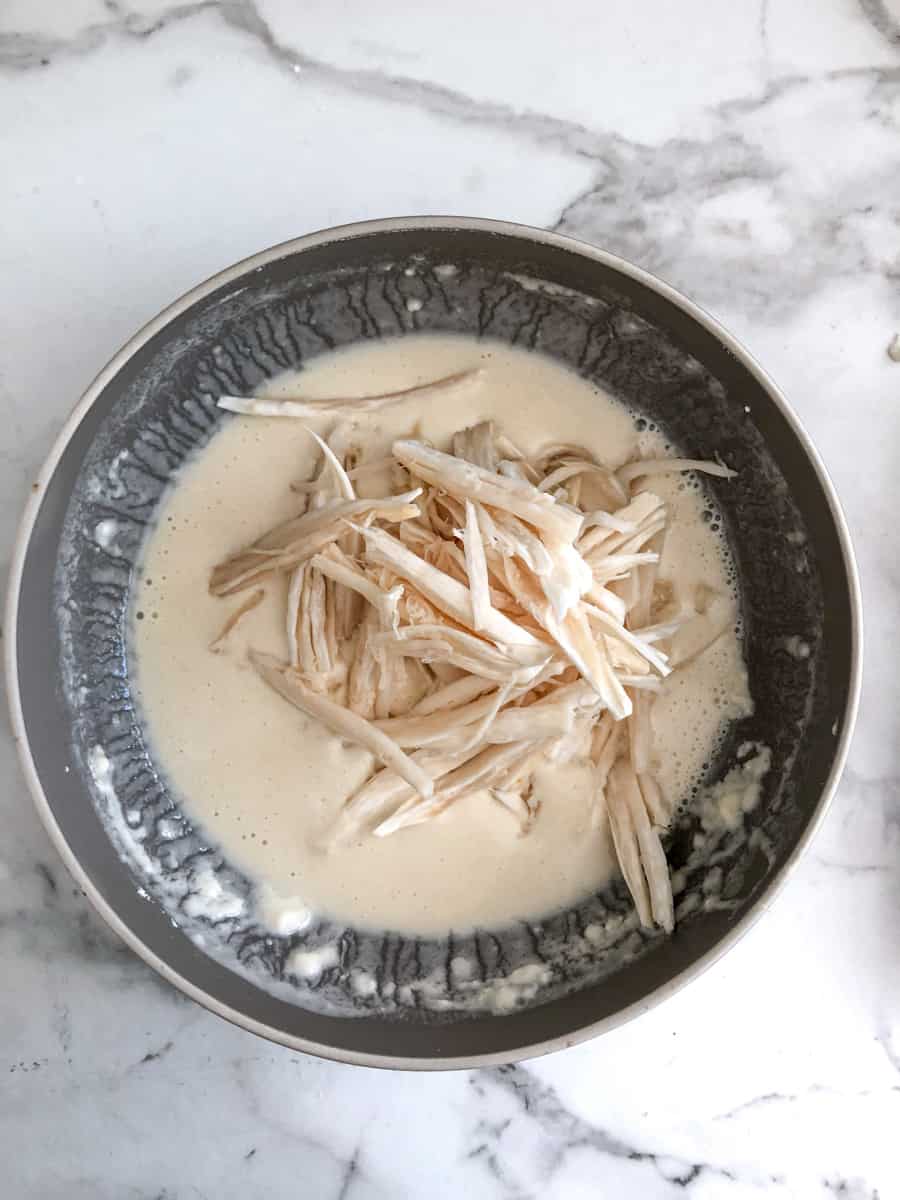 Once the oil is hot, add a few clusters of shredded mushrooms at a time. Cook until golden then flip and cook the other side.
Transfer to a baking rack (place paper towelling under to catch the drippings).
Immediately sprinkle with salt.
Check the heat of the oil then continue frying in batches until all the mushrooms are cooked.
I don't fry or deep fry food very often; but every now and then there is something worth the extra indulgence, and these tempura mushrooms are one of those exceptions!!!! (So are these Vegan Baja Fish Tacos!)
Vegan California Sushi Roll Bowl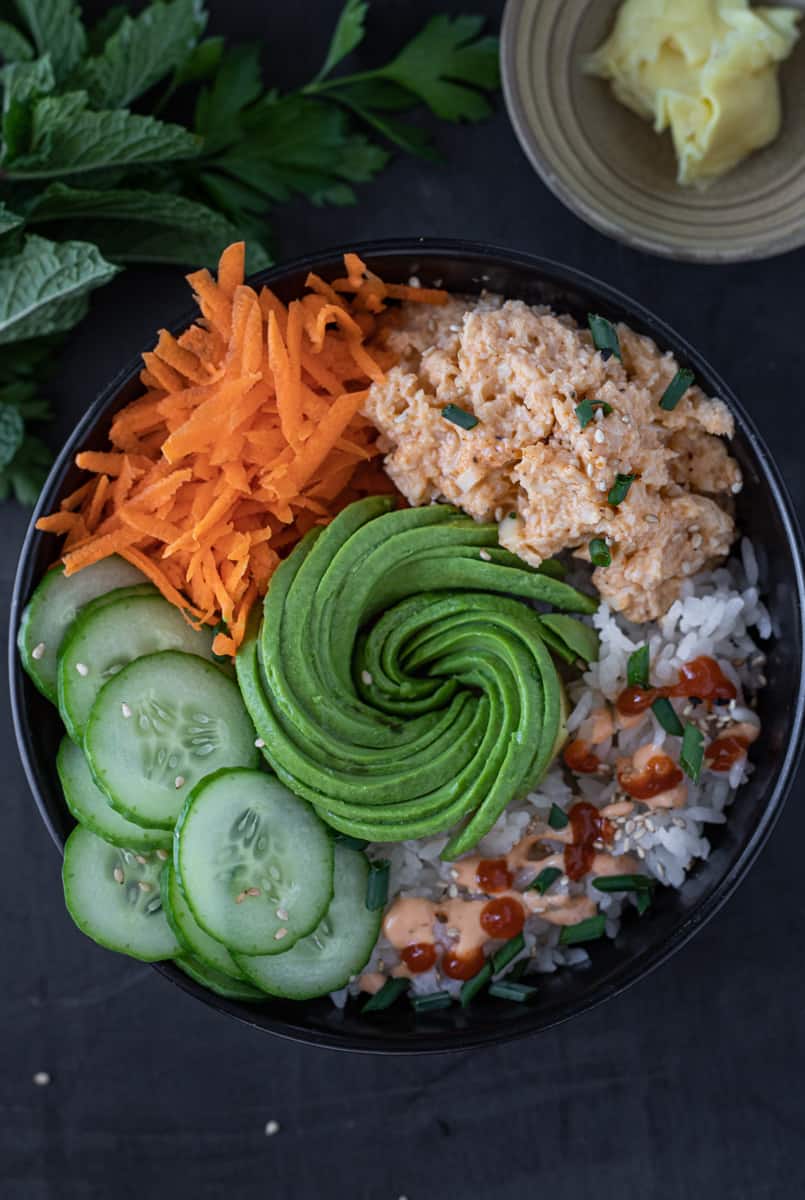 A classic California sushi roll: crab salad, avocado, cucumber, nori, rice.
For my vegan version of the crab filling, I wanted something that was light with a texture similar to the fish version. Hearts of palm is a good vegan crab alternative for a California roll.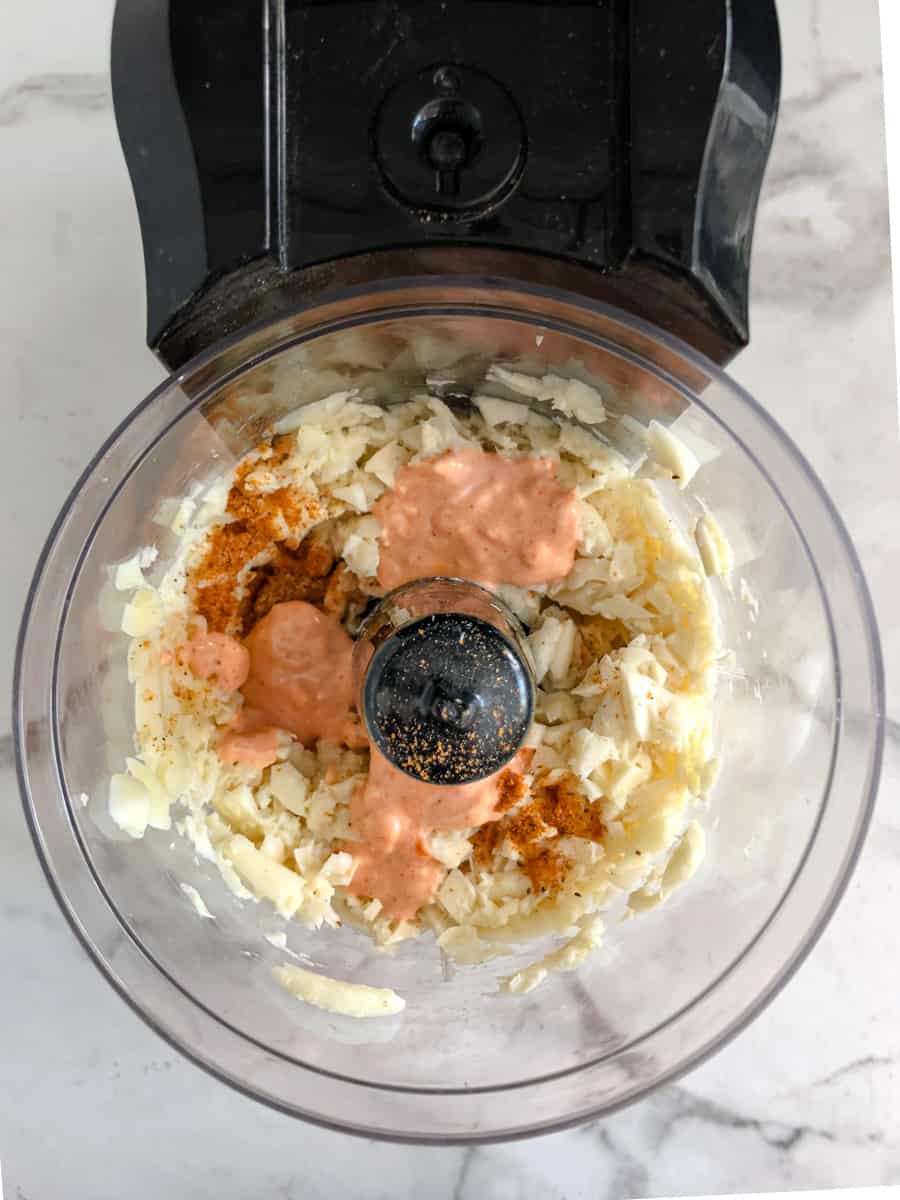 Easy directions for vegan crab filling: rinse the hearts of palm, pat dry, pulse them in a small food processor. Then add the 'sea' spices and Vegenaise for creaminess. Done!
Leftover Tip: Leftover 'crab' filling makes a great bunwich with leafy greens, cucumber ribbons, sprouts, avocado and a gherkin!
How to Make an Avocado Rose
When I'm feeling fancy, I make an avocado rose for my vegan bowls. People love them!
They take a bit of practice to get the hang of, but it's totally worth the effort.
Here are the steps for making a pretty avocado rose.
Choose a firm but ripe avocado (save the soft avocados for guacamole).
Remove pit and peel avocado.
Make even slices along the width of the avocado being careful to keep the avocado shape. Pro Tip: Be sure to cut all the way through the avocado or the pieces won't slide away from each other.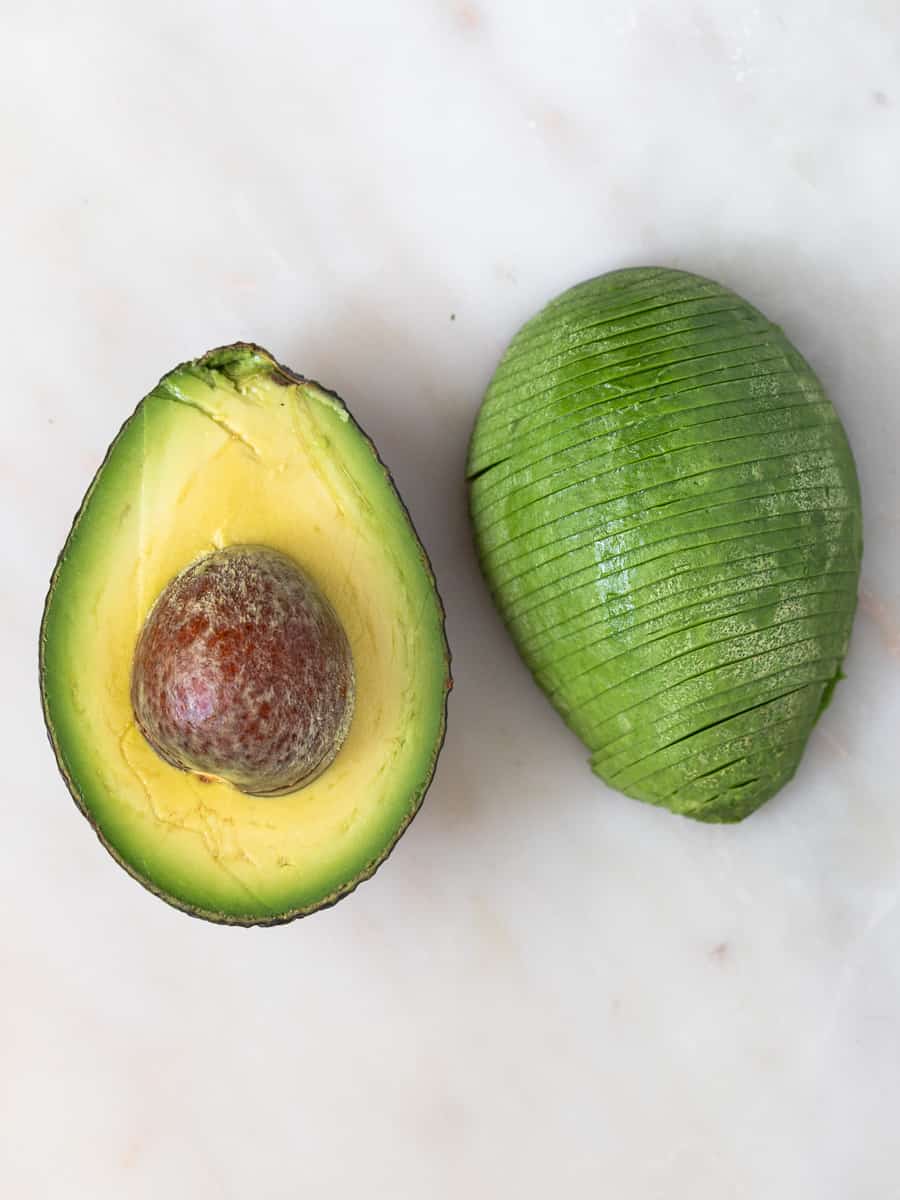 Cup your hands over the sliced avocado (thumbs on one side, fingers on opposite side) and gently slide the pieces away from each other into a long rope.
Pro Tip: have a kitchen towel close to keep hands clean throughout the process. Use a gentle touch to separate the slices being careful not to smash the avocado slices.
Twist the rope into a tight circle.
Gently press the tops of the rose petals slightly outward to 'open' the rose.
Use a knife or spatula to move the rose to any meal that uses avocado like a Buddha bowl, taco bowl, avocado toast or charcuterie board to make it fancier!
More Sushi Toppings and Garnish Ideas
pickled ginger
soy sauce (tamari if gluten free)
wasabi (a must!)
nori crumbles, seaweed snack crumbled and sprinkled over bowl
toasted sesame seeds or try Seaweed Gomasio a 'sesame salt' seaweed flavor
edamame beans - great texture, flavor, and protein
mango slices - gorgeous colour, sweetness and freshness
pickled daikon, pickled radish, pickled carrots - crunchy, sour, and tangy
sauce sauce and more sauce (keep reading for sushi sauce recipes and ideas)
Top 6 Favorite Sushi Dipping Sauces (vegan)
In our family, we LOVE a good sauce on everything. And our sushi is no exception. These are our top 6 vegan sushi sauces (dairy-free, oil-free, gluten-free, vegetarian):
Spicy Dynamite Sauce - ¼ cup Vegenaise, 2 tbsp sriracha sauce, 1 tsp soy sauce (tarmari)
Creamy Sweet Chili Garlic Sauce (sweet heat!) - ¼ cup Vegenaise, 2-3 tbsp Sambal, 1 small garlic clove, ½ - 1 tsp maple syrup, 1 tsp soy sauce
Unagi - Eel Sauce (vegan)* - ingredients and instructions on Vegan Sushi Roll post
Creamy Teriyaki Sauce - 1 tbsp teriyaki or eel sauce which is very similar + 1 tbsp Vegenaise (more or less to taste)
Wasabi Soy Sauce - creamy or not (add a blob of wasabi into a small dish, drizzle with soy sauce or tamari, stir to incorporate until you get the consistency you enjoy - thick or thin). To make it super creamy add a small dab of Vegenaise and mix to incorporate. Taste and adjust per desired flavor and texture.
Sweet and Spicy Tahini Sauce - completely scrumptious and elevates every vegan dinner!
*Despite its name, eel sauce does not have eel in it.
Vegan Sushi Meal Prep and Storage
Make ahead components: rice, dipping sauces, vegan crab filling, shredded carrots, cucumbers - store individually in the fridge. Use up for lunches and dinners for up to 3 or 4 days (rice can stay in fridge for longer or be frozen).
For the freshest sushi bowl, avocado, mango, and tempura mushrooms are best prepared right before serving.
Tempura Mushrooms - to reheat the tempura mushrooms the next day, throw them in an airfryer for a few minutes or a toaster oven to warm them through and crisp them up.
More Delicious Vegan Bowl Ideas
Easy Vegan Tofu Taco Bowl - spectacular taco flavor, homemade crunchy bowl + yummy sauce
Vegan Buddha Bowl - totally adaptable plant-based tofu bowl with incredible Dragon Dressing!
Mediterranean Bowl - with authentic Greek potatoes and the BEST homemade vegan feta!!

Did you make this recipe? I'd love to see it!
Tag me on IG @ceeceecooks and please leave a comment below.
NEVER MISS A RECIPE: Sign up for my email NEWSLETTER!
Epic Vegan Sushi Bowl Recipe
Vegan sushi bowls - all the delicious flavors and textures of sushi without the rolling. Two popular sushi roll bowl options (vegan style): dynamite roll and California roll! Easy to make, super satisfying, and so delicious that everyone loves them - vegan or not! Don't forget the sauce!
Rate this recipe!
INGREDIENTS
Basic Sushi Bowl Ingredients (for all options)
2

cups

cooked rice (sushi, basmati, brown)

2-3

Persian cucumbers, julienne

1-2

grated carrots

1-2

avocado (sliced, diced, rose)
Optional Toppings and Ingredients for all Bowls
1

cup

edamame beans

pickled ginger

wasabi

sesame seeds, toasted

nori flakes (optional)
Mushroom Shrimp Tempura (vegan Dynamite Roll)
3-4

king oyster mushrooms, shredded/pulled

1

cup

flour, ap or gf

1

tablespoon

cornstarch

1

teaspoon

garlic powder

½

teaspoon

salt

1 - 1 ¼

cups

soda water or ice cold water

oil for frying
Crabby Hearts of Palm (vegan California Roll)
14

oz tin

hearts of palm, whole

2-3

tablespoons

Vegenaise

2

teaspoons

sriracha

1 - 1 ½

teaspoon

old bay seasoning

pinch

salt, to taste
INSTRUCTIONS
Rice, (white, brown)
Prepare the sushi rice (basmati, brown or quinoa) or use leftover rice!
Basic Sushi Rice Bowl Ingredients
Prepare the vegetables: julienne or matchstick the cucumbers, shred the carrots, and slice or dice the avocado.

If you're feeling fancy, try an avocado rose!
How to Make an Avocado Rose
Easy but takes a little finessing: Slice avocado in half, remove pit, and skin.

Place cut side down and make thin slices across the avocado.

Pro Tip: Make sure you slice all the way through the avocado for each slice. Maintain the avocado shape as you slice it.

Cup your fingers over the avocado and gently slide the slices away from each other starting in the center. Fanning the slices into a long snake.

Start at one end and curl the avocado snake into itself until it's coiled into a circle (rose).

'Open' the rose by gently pressing the top of the petals out.
Vegan Dynamite Roll Option
Start heating the oil in a medium size pan or skillet over medium heat (to ~350 - 360º F).

King Oyster Mushrooms - remove the caps and shred the stems by holding one end and pulling a fork through the length of the stem. Turn the stem and continue to shred until you've shredded the whole stem. Pull any bigger pieces apart.

OR for larger chunks, break the stems into long thin pieces instead of shredding.

Save the caps for another recipe or break into chunks and fry along with the rest.

Tempura Batter: sift all dry ingredients into a medium bowl. *Add 1 cup of cold water, stir, and then add more as needed to resemble thin pancake batter.

*Don't add the cold water to the dry ingredients until the oil is hot and the mushrooms are ready to go.

Check to be sure the oil is hot. If no thermometer, place drop of batter into the pan - it should sink down, bounce up, and then sizzle and bubble right away.

Once the oil is ready, add the first batch of mushrooms to the pan. Pro Tip: At least half the surface should be oil (don't overcrowd the pan).

After 2 or 3 minutes, gently flip the mushrooms (away from you) and cook the other side until golden and crispy.

Remove to cooling rack with paper towel below to catch the drippings. Immediately sprinkle with salt so it sticks to the hot tempura. Continue until all the mushrooms are cooked.

Remove all the stray bits of tempura from the oil before each new batch so you don't get burnt bits sticking to next batch.
Vegan California Roll Option
Hearts of palm vegan crab meat.

Drain, rinse and pat dry the hearts of palm.

Cut into large chunks and add to food processor. Pulse a few times. Do not over blend.

Add the vegan mayo and sriracha, old bay, and salt. Pulse a few times.

Stir with a spoon, taste, adjust seasoning as necessary. Store in the fridge for up to a week.
Vegan Sushi Dipping Sauces and Accompaniments
Make your choice of sauces (details in post) and accompaniments, eg. spicy mayo, soy sauce, wasabi, pickled ginger, and toasted sesame seeds.
NOTES
Tips for the crispiest tempura mushrooms: sift the dry ingredients, use ice cold water. Make sure the oil is hot. Don't overcrowd the pan. 
These sushi bowls are super fast to make especially if you have leftover rice or salad fixings.
The sauces all keep well in the fridge for up to a week (some longer) and are great to have on hand for Buddha bowls, grilled vegetables, tacos, tofu scrambles, etc.
Hearts of Palm - for best texture, use whole not sliced hearts of palm.
Leftover crabby hearts of palm makes a delicious sandwich: toasted sourdough, leafy greens, cucumber ribbons, hot pickled jalapenos, and avocado slices.
Managing your time: get the rice started (stove top or Instant Pot), prepare the veggies, one 'star' ingredient, and a couple sauces. By the time the rice is ready, so is everything else!
To make the dynamite roll stack: press the rice into a baking ring, add 2 layers of avocado around the outside edge (leaving a space in the center). Add a small pile of carrots in the space. Pour dynamite sauce over carrots in the middle space. Pile the tempura mushrooms on top. Drizzle with your favorite sauces, a sprinkle of green onions, sesame seeds, and pickled ginger. Enjoy!
This recipe is from simplyceecee.co food blog. All images and content are copyright protected. Please do not use my images or republish this recipe without prior permission. Thank you.