This delicious creamy, vegan tofu ricotta recipe is ready in 5 minutes! The combination of tofu and cashews create an amazingly authentic and creamy ricotta cheese texture making it the best vegan cheese replacement for all your favorite Italian dishes!
I've included step-by-step instructions for making this gluten-free, oil-free, dairy-free, vegan tofu ricotta. It's easy, it's creamy, and it's delicious!
If you're missing cheese because of a dairy allergy or you just don't eat dairy, you're going to be excited for this simple vegan tofu ricotta recipe!! Made with tofu and cashews, this vegan ricotta has a similar mild flavor, lots of texture, and all the creaminess of dairy ricotta.
You're going to love it in all your favorite Italian pasta dishes, like vegan lasagna, vegan zucchini lasagna, baked spaghetti, sprinkled on veggie meatball subs, pizzas or on garlic toast with marinara sauce. Once you have a batch of this tofu ricotta on hand, you'll find a million ways to enjoy it!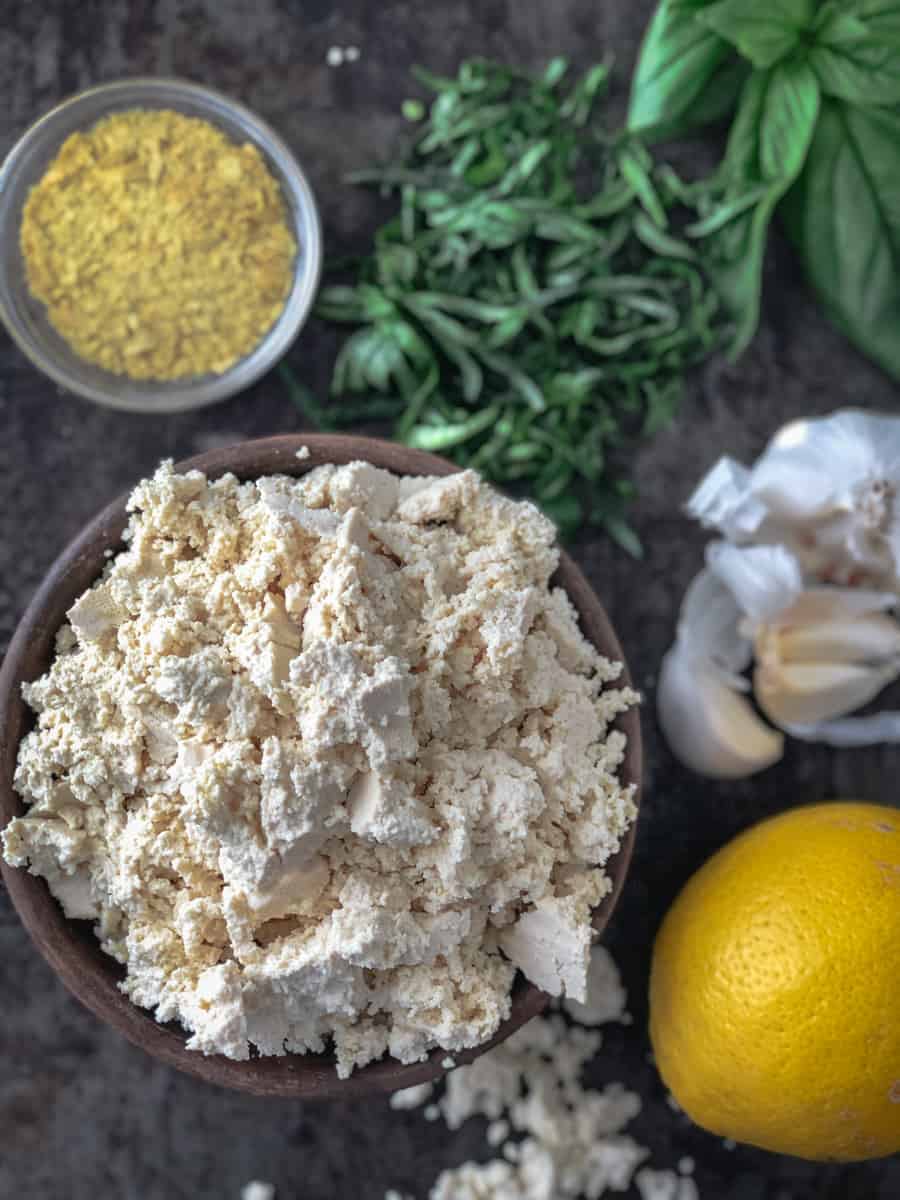 Dairy Free Tofu Ricotta Ingredients
Here's what you'll need to make this homemade tofu ricotta recipe:
Tofu (firm) - crumbled for authentic texture
Cashew sauce - adds luscious creaminess and flavor
Lemon juice - adds tanginess
Flavor makers - nutritional yeast, fresh garlic, onion powder, and salt
Garnishes - fresh basil and red pepper flakes
How to Make Vegan Ricotta Cheese
The best part about this ricotta is it's super easy to make - it's ready in like 5 minutes! If you don't have a high-speed food processor, plan on a bit of extra time to soak your cashews so they are plump and soft before blending. Let's get started:
Press the tofu: use firm/extra firm for the best texture. It's not necessary to press if you use a firm tofu (just wrap in a clean kitchen towel and squeeze out any excess water - there shouldn't really be much). If the tofu feels soft, press it by wrapping in a clean kitchen towel or paper towels. Place a few heavy books or a cast iron pan on top while you are preparing the other recipe components.
Make the cashew cream: this is a breeze: everything into the blender and mix until smooth. Pro Tip: Store extra cashew sauce in the fridge to drizzled over rice bowls or tacos all week. Here's some other cashew sauce flavor options!
Prep garnish - mince the garlic, chop the basil.
Crumble the tofu: using your hands or a fork, crumble the tofu into small bits similar to dairy ricotta cheese texture. Add ¼ cup cashew cream and all remaining ingredients. Mix well until completely incorporated. Taste and adjust seasonings as necessary.
Vegan Cheese - FAQ
Here are some of the questions, I get asked about vegan cheese:
What is vegan ricotta made of?
Dairy-free or vegan ricotta is made with cashews, almonds, tofu, and coconut yogurt. It usually includes nutritional yeast, lemon juice, garlic, and salt.
How long does it last?
Vegan ricotta will stay fresh in the fridge for at least 4 or 5 days or as long as it continues to maintain its texture (it can get watery after too long). But cashews and tofu are both long lasting ingredients.
Can you freeze tofu ricotta?
Yes! Ricotta can be frozen for a couple months in a freezer-friendly container. When ready to use, transfer to the fridge to thaw overnight. Give it a stir before use.
Ways to Serve Vegan Ricotta
Of course, Italian lasagna is going to call for ricotta cheese! We also love to use it in place of cottage cheese or spread on toast with slow roast tomatoes and fresh basil. Ricotta is perfect for sprinkling over nachos on game day or pizza on Friday nights. Anywhere you would serve ricotta cheese, this vegan replacement, will be a perfect substitution. Let me know in the comments below, your favorite way to use ricotta!
More Vegan Basics
Here's a few more recipes that take the place of cheese by adding creaminess and comfort to a recipe:
Did you make this vegan tofu ricotta recipe?
If so, please leave a rating & comment below.
Follow me on Instagram and Facebook
NEVER MISS A RECIPE: Sign up for my email NEWSLETTER!
Easy Vegan Ricotta Cheese (tofu + cashews)
EASY and delicious, this vegan ricotta cheese is made with both tofu and cashews to give it the creamiest, most authentic texture. It's an absolutely delicious, dairy-free cheese replacement for ricotta cheese in your favorite Italian pasta dishes.
Rate this recipe!
INGREDIENTS
Cashew Cream
½

cup

cashews, raw unsalted

½

cup

non-dairy milk (or water)
Tofu Filling
350

grams

firm tofu, crumbled

2

teaspoons

lemon juice (to taste)

1

tablespoon

nutritional yeast

1

clove

garlic

½

teaspoon

onion powder

½

teaspoon

salt

¼

cup

basil leaves, chopped

hot pepper flakes (optional)
INSTRUCTIONS
Remove excess water from tofu by wrapping the block in a clean kitchen towel or a few paper towels. Place under a couple heavy cookbooks or a cast-iron pan while you prepare the other ingredients.

Making the cashew cream: Place the cashews, dairy-free milk*/water, and salt in a high-power blender and process until smooth, thick, and creamy ~1 minute.

Using your hands or a fork, crumble the tofu into small pieces in a medium bowl.

Add lemon juice, nutritional yeast, minced garlic, onion powder, salt, and basil. Mix well. Taste for flavor and make adjustments as desired.

Pour in ¼ cup cashew cream and stir to combine. Add more cashew cream as desired for creaminess.

Add a sprinkle of hot pepper flakes (optional).

Store in a covered container in the fridge for 4 or 5 days or freeze in an airtight container for a month.
NOTES
Tofu - I use extra firm or firm tofu. Wrap the tofu block in a towel or some paper towels and squeeze out any excess water. If the tofu is a softer variety, wrap it and then press for about 15 minutes by adding a stack of cookbooks on top.
Tofu - crumble the tofu with your hands or a fork until it resembles dairy ricotta texture.
Storage - this vegan ricotta keeps well in the fridge in a lidded container for 4-5 days.
Leftovers - serve any leftovers in pasta dishes, on tacos, in soup or on pizza.
This recipe is from simplyceecee.co food blog. All images and content are copyright protected. Please do not use my images or republish this recipe without prior permission. Thank you.