There is nothing more satisfying than sipping a hearty, wholesome vegan soup on a cold winter evening. This vegetable bean soup is a simple, one-pot recipe that is soup'er flavourful and versatile. It's healthy, vegetarian, gluten-free, and oil-free friendly!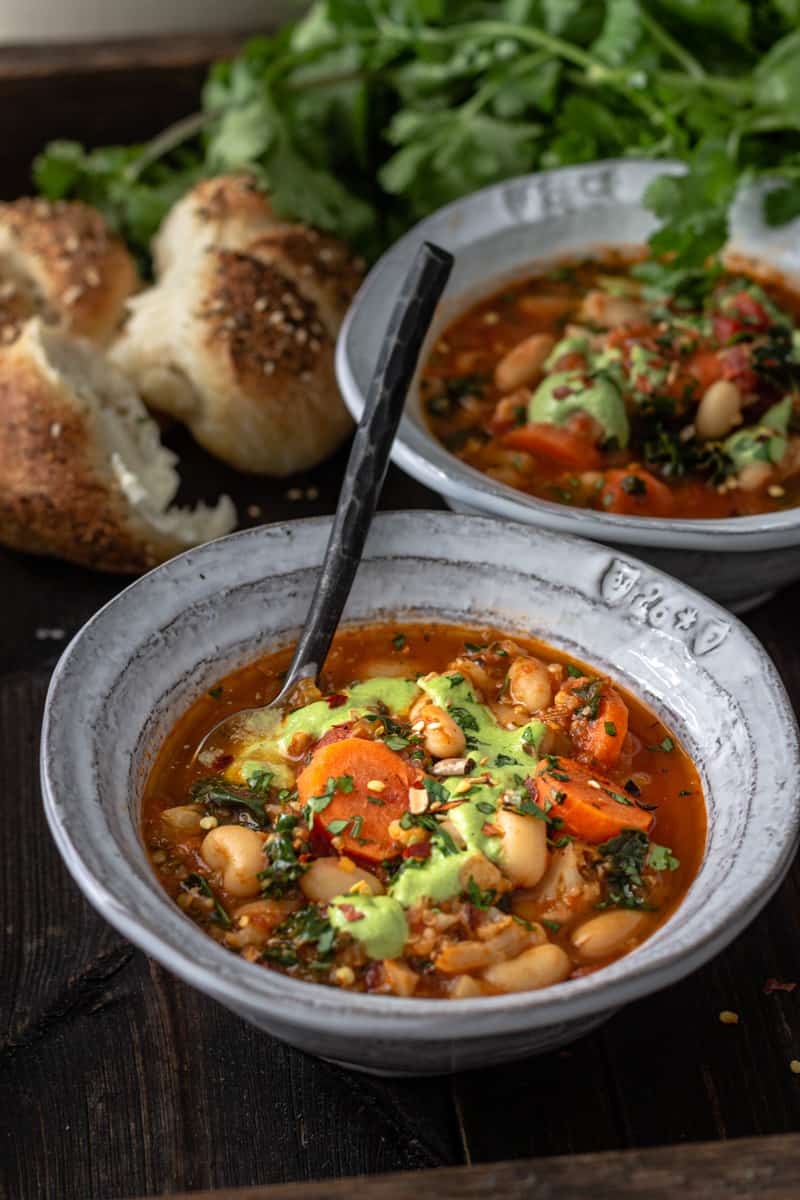 Everyone loves an easy, delicious vegetarian soup made with simple everyday ingredients. I like to rotate this hearty vegetable bean soup recipe with another very popular and soul warming soup on the blog: Spicy Coconut Curry Cauliflower-Broccoli Soup with mushrooms and kale!
Ingredients for Vegetable, White Bean Soup
The great thing about this one-pot soup is you can swap any vegetable, bean or grain for what you have on hand. Although it's very hearty and filling on its own, adding a fluffy Vegan Cloud Biscuits or a chunk of crusty Overnight Bread for sopping up all the broth and goodies is divine! Let's make soup.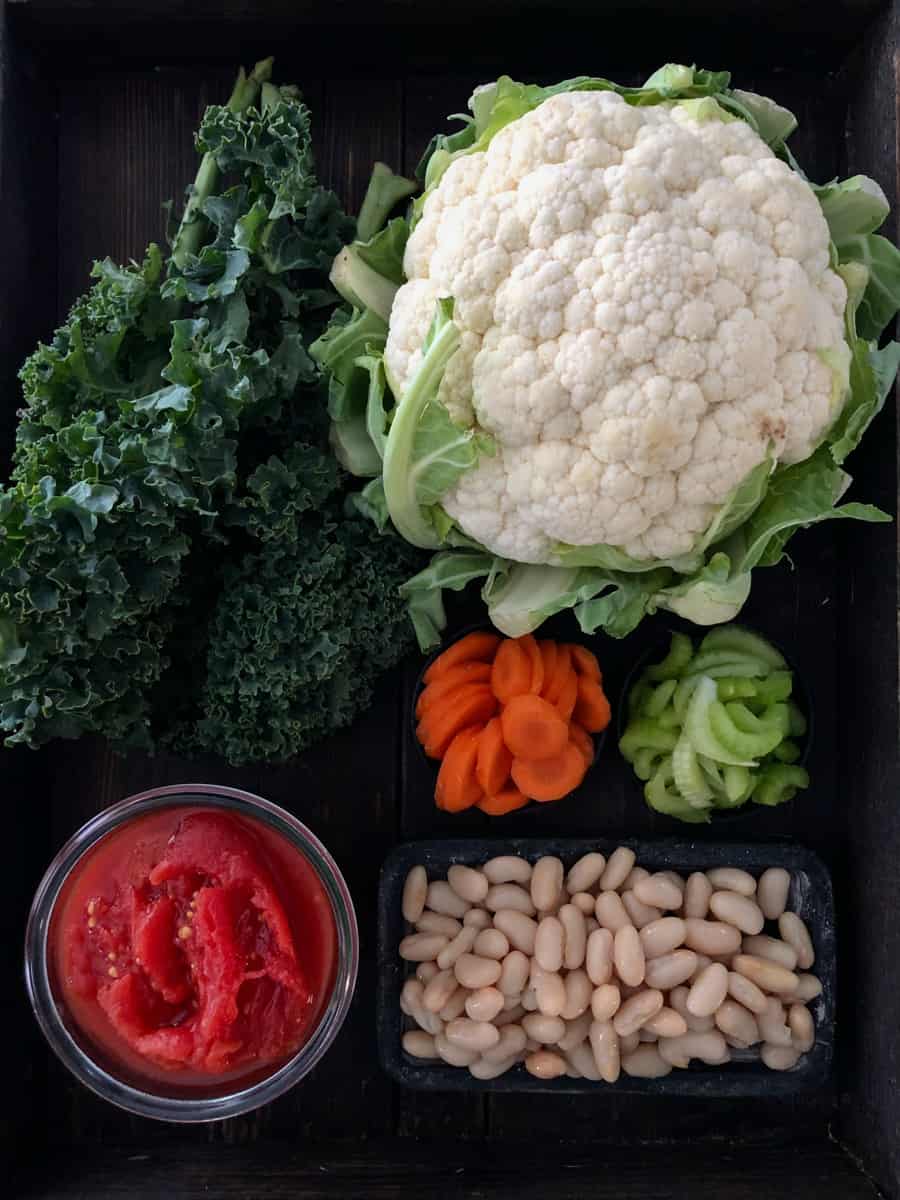 Aromatics - sautéing onions, garlic, and celery creates a deep flavour foundation for the soup. The vegetables create lots of flavour and depth. Diced onions and minced garlic are fried slowly over medium heat until tender and lightly golden which creates a delicious, flavourful foundation for the soup. Don't rush this step.

Cauliflower - finely chopped, grated or riced, the cauliflower adds bulk, texture, and flavour.
Tomatoes - any type works: whole peeled, diced, crushed, fire roasted, stewed or chopped canned tomatoes.
Beans - any white bean will work for this soup. Use canned beans for speed and convenience. Here are a few suggestions for creamy white beans:
The cannellini bean (white kidney beans) - I like the size, meaty texture, and nuttiness of the creamy cannellini.
The navy bean is a smaller, mild, bean which is perfectly soft and creamy for soup.
The great northern is a medium-sized white bean with firm, meaty flesh so it holds its shape well in soup.
I've used butter beans (lima), they are a BIG, meaty bean; I've been on the lookout for baby lima beans which I think would be perfecto!
We are a bean-loving family so I typically add a handful of pinto or black beans for additional texture.
Pro Tip: if beans cause you some 'discomfort' (the magical fruit and all . . .) be sure to rinse the beans before using.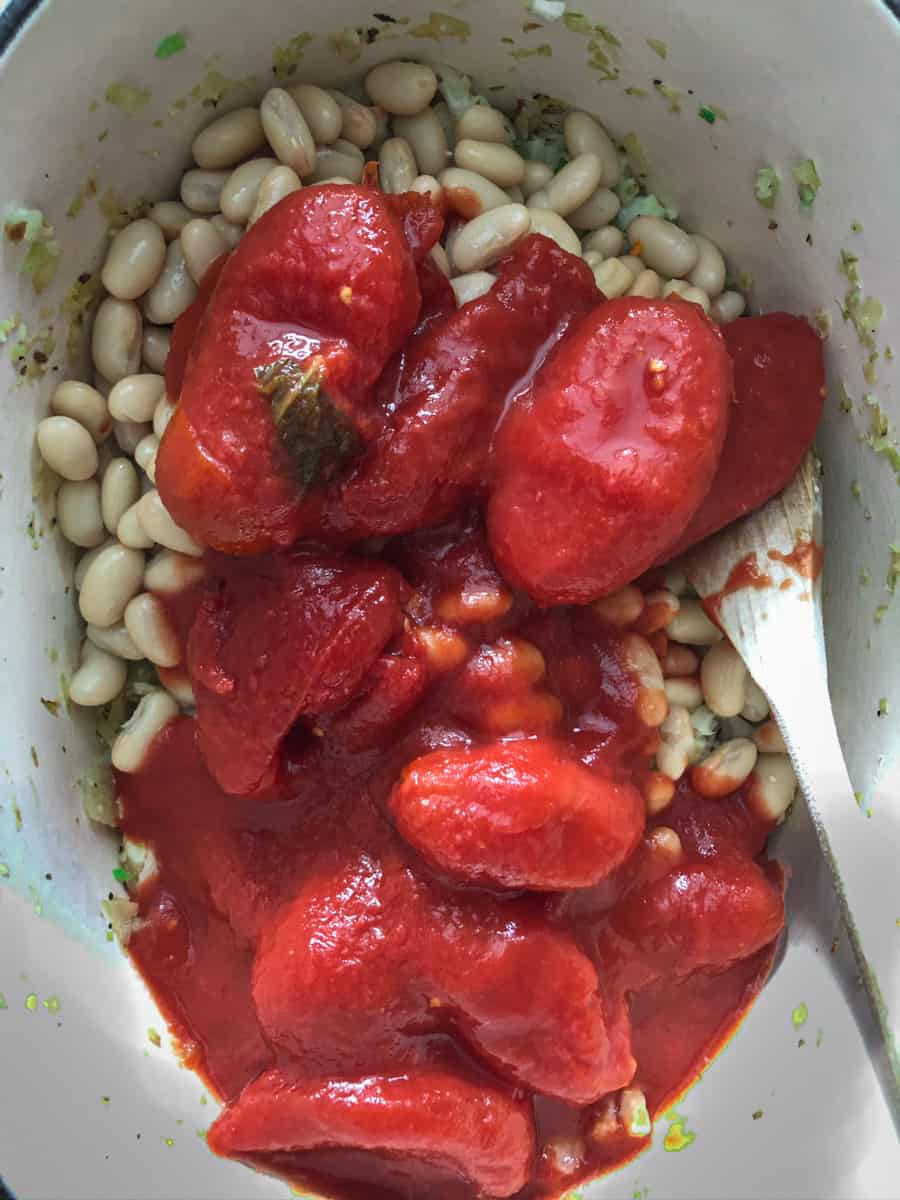 Quinoa - quinoa is a delicious, nutritious, fast cooking grain/seed that adds bulk and texture to the soup.

Carrots - to ensure a variety of vegetable textures, slice the carrots into coins or strips and add them with the tomatoes so they will be perfectly tender crisp and sweet.

Kale/Spinach - rough chop the kale into bite-size pieces and add with carrots so it has time to soften (curly kale takes a bit longer).
If you use spinach, rough chop it and add it right before serving.

Flavour Makers - Spicing this bean soup is really a matter of taste. I love the flavour of fennel and oregano in white bean soup! But it's equally delicious with any combination of spices (fresh or dry) like basil, rosemary, sage, thyme, curry leaves or use Mexican or Indian spices.
Broth base, powder or cube (I use Better than Bouillon), nutritional yeast, and soy sauce all add delicious and unique layers of flavour for the soup.
A squeeze of lime and chopped cilantro finishes the soup with brightness and freshness.
How to Make Vegetarian Bean Soup Creamy
Even though, white beans are soft, tender, and naturally add creaminess while simmering in the broth; you can easily bump up the creaminess in this bean soup.
Here are a couple options: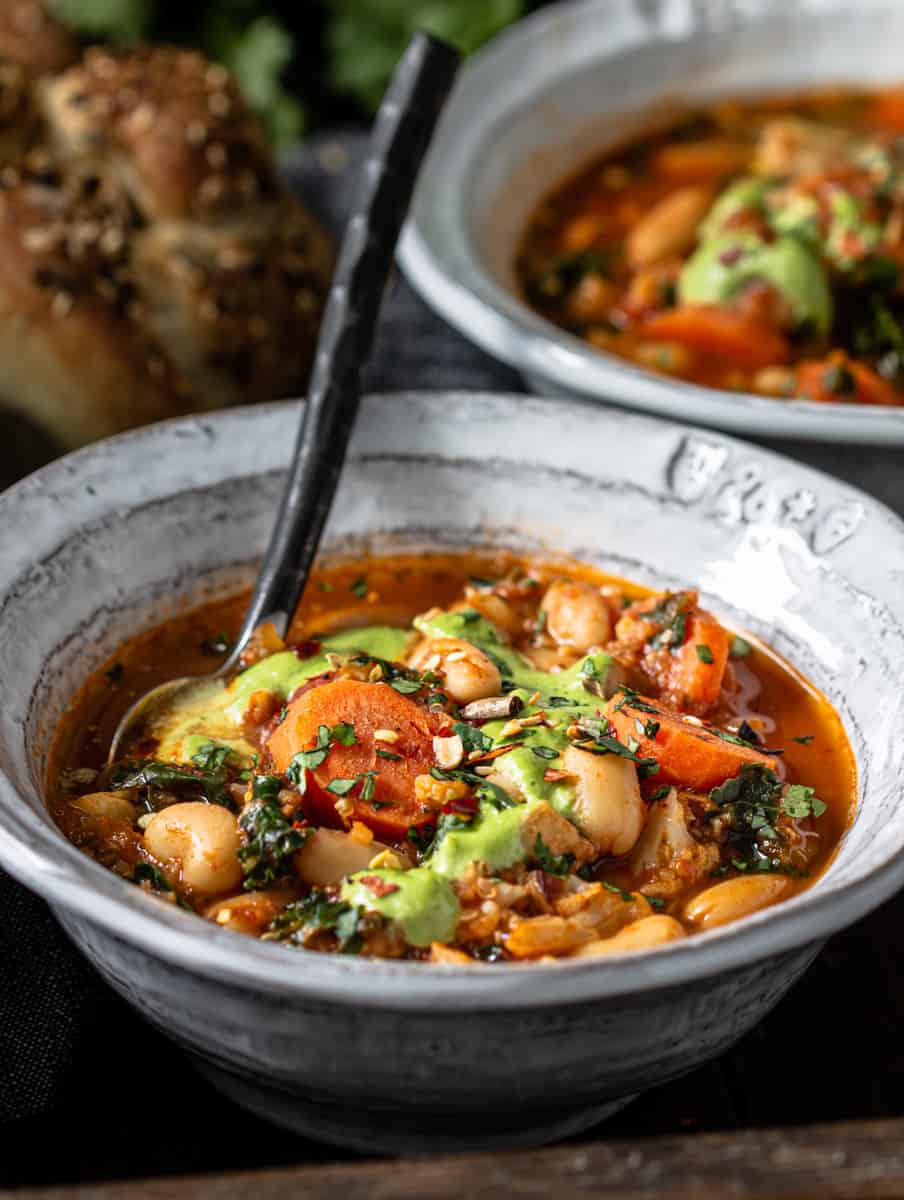 For the simplest, healthiest option, blend about ⅓ of the soup with an immersion or stand blender before you add the greens. I like to keep a lot of texture so ⅓ of the soup is perfect for us, but if you want more creaminess, blend up to ½ of the soup.
For a slightly more decadent version that bumps up creaminess but retains all the texture, swirl some cashew cream in each bowl before serving. Very yummy and my favourite way to serve!
Storing and Freezing Vegetable Bean Soup
The soup can be stored in covered containers in the fridge for 5 or 6 days. Use individual size for quick meal prep for lunches all week.
Store the soup in freezer-friendly containers for up to 3 months. I like individual size containers for easy lunch ideas and quick thawing.
Let the soup come to room temperature and then gently warm in microwave or on the stove. You will likely need to add a splash or two of liquid as it heats through.
More Easy Vegan Bean Recipes
One of our family favourites and SO easy: Chickpea Mushroom Bake on rice
Hot and Spicy Vegan Comfort Food: Spicy Poblano Mushroom Enchiladas
The most popular recipe on the blog (for good reason!): Delicious Stuffed Sweet Potatoes

Did you make this hearty vegetable bean soup recipe?
Please leave feedback and a rating below.
For more vegan food inspiration, follow along on Instagram and Facebook!
NEVER MISS A RECIPE: Sign up for my email NEWSLETTER!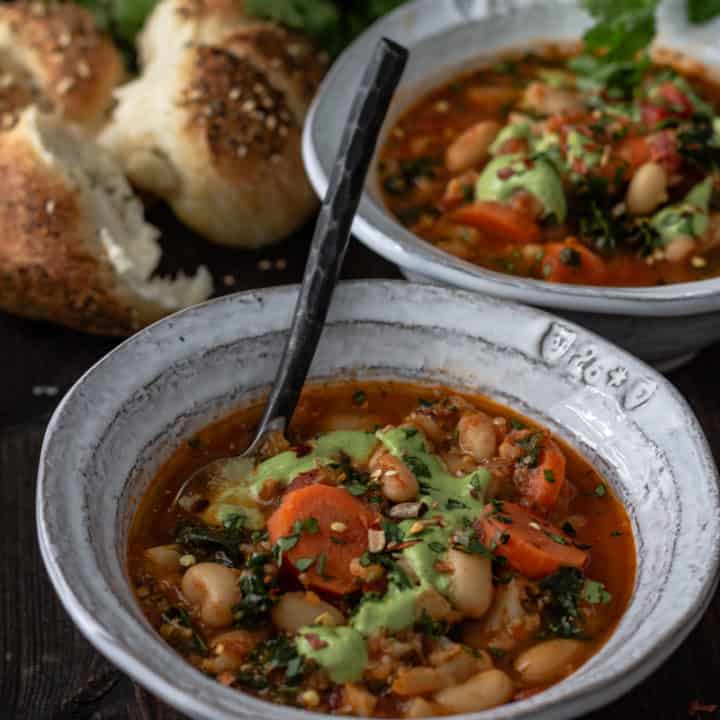 Vegetable Bean Soup Recipe (vegan)
Easy to make, this one-pot, creamy, white bean soup is loaded with vegetables and quinoa. It's super flavourful, nourishing and warming for the body and soul. Naturally gluten-free, vegetarian, plant-based and oil-free friendly this vegan soup is perfect for all eaters!
Rate this recipe!
INGREDIENTS
2

tbsp

oil

1

tsp

fennel seeds, toasted

1

onion, chopped

2

cloves

garlic, chopped

2-3

cups

cauliflower, chopped

1

tbsp

dry oregano (or more to taste)

1-2

tsp

hot pepper flakes, to taste

2

carrots, cut into coins or strips

3

cups

white beans

1

28 oz

can tomatoes

4-6

cups

water

1

tbsp

vegetable broth base, powder, cube

½

cup

quinoa, uncooked

2

tbsp

nutritional yeast

1

tbsp

soy sauce

2

cups

kale or spinach, chopped

½

cup

cashew cream (optional)

lime juice

cilantro or basil, chopped
INSTRUCTIONS
In a large pot or dutch oven, warm the oil over medium heat until shimmering. Add the fennel seeds and let roast for 30 seconds to 1 minute until fragrant.

Add chopped onions, garlic, and cauliflower. Saute until tender and lightly golden (about 10-12 minutes). Add salt, pepper, oregano, and red pepper flakes.

Add carrots, rinsed beans, tomatoes, water mixed with 1 tbsp broth base, quinoa to the pan and stir to combine. Cover and let simmer over medium to medium-low for 15 minutes.

Add nutritional yeast, soy sauce, kale and simmer until quinoa cooked.

Pro Tip: if using a tender leafy green like spinach, add only a couple minutes before serving.

If you want the soup creamier, you can blend ⅓ of the soup with an immersion blender or in a stand blender before adding the greens. Then stir back into the soup.

OR if you want to keep all the texture, instead just add a swirl of cashew cream* to the top of each bowl of soup before serving.

*Make the cashew cream while the soup is simmering.

Top each bowl of soup with chopped cilantro/basil, hot pepper flakes, and a squeeze of lime.
*Quick Cashew Milk/Cream
½ cup raw unsalted cashews

½ cup boiling water

pinch of salt

Place cashews in the jug of high-power blender. Pour boiling water over cashews - cover with lid. Wait 5 minutes, add a pinch of salt and blend until creamy. Add a tablespoon of water at a time to loosen cream until desired consistency is met as necessary.

Leftover cashew cream can stored in the fridge for up to a week.
NOTES
Original Recipe inspired by Anna from Easy Animal Free
Vegetables - this vegetarian bean soup is very versatile - swap out any vegetables for whatever you have on hand.
Beans - choose at least one white bean for creaminess, but a medley of beans would be delicious.
Flavouring the soup - there are so many options for adding flavour to this soup - you don't have to stick with just Tuscan spices! I think Indian or Mexican spices would be incredible with white beans and tomatoes.
Freezer friendly soup - I like to freeze in individual-size portions for quick lunches or dinners throughout the week. But also, it thaws much quicker when frozen in smaller sizes. You may need to add a tablespoonful of water or two when reheating.
This recipe is from simplyceecee.co food blog. All images and content are copyright protected. Please do not use my images or republish this recipe without prior permission. Thank you.