This homemade vegan Worcestershire sauce recipe (aka: Worcester sauce) has all the salty, sour, umami flavors with a kiss of sweetness as the original Worcestershire; but no anchovies (and no gluten)! Perfect for adding zippiness to vegan Caesar salad, Bloody Mary's and for elevating vegan chili and vegan shepherd's pie.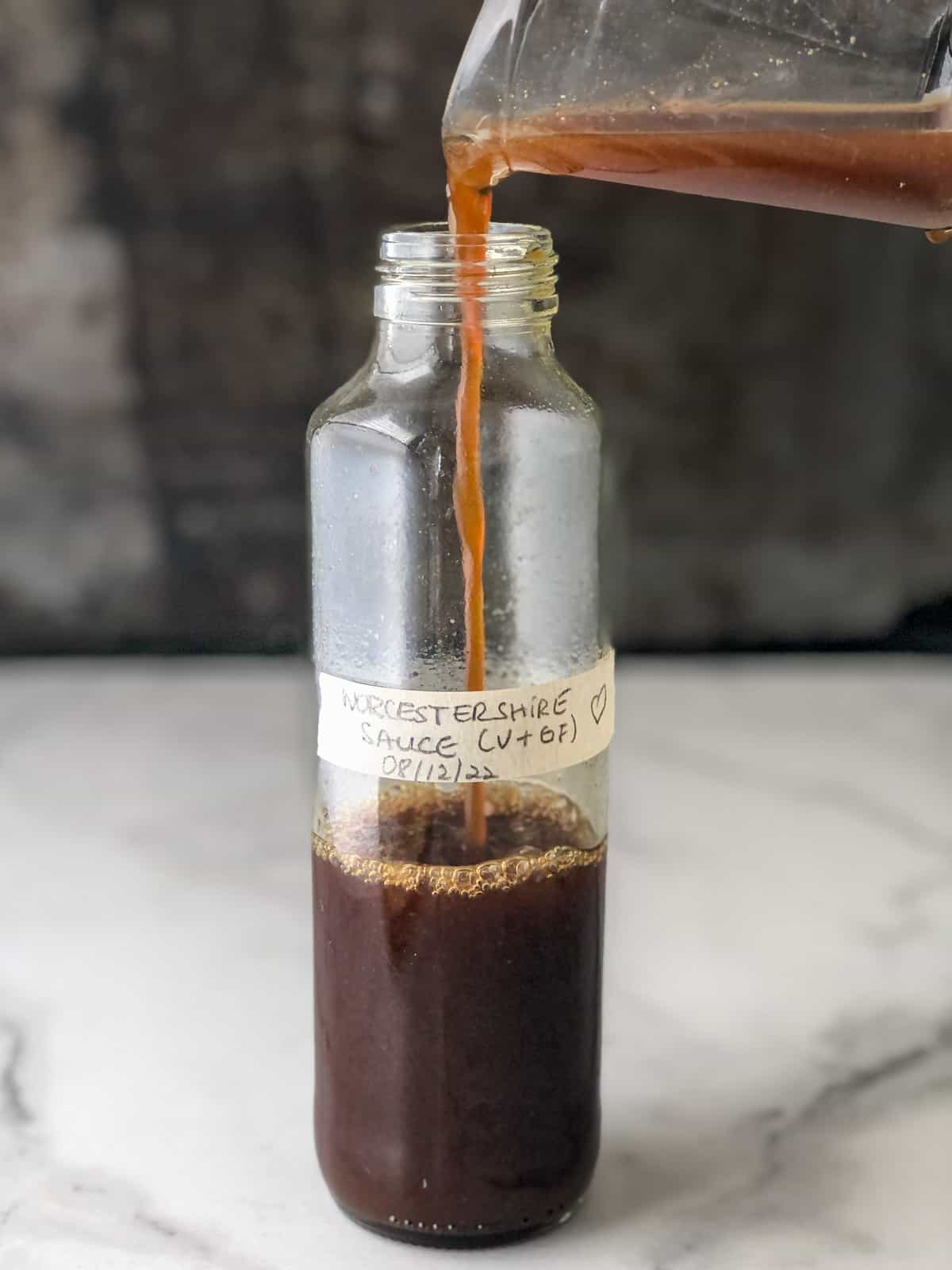 As a vegan/vegetarian/plant based cook, I'm always looking for ways to build flavor without meat or animal products, and vegan sauces are a secret weapon in my kitchen! Having a bottle of this easy to make (hard to find) vegan Worcestershire sauce in the fridge is just the answer to add a big boost of flavor to burgers, vegan bolognese, Brussels sprouts sauce and it makes a dynamite marinade too!
Traditionally made with a fermented anchovy paste, malt vinegar, and tamarind sauce, this British condiment isn't suitable for vegans, vegetarians or for those with fish allergies or wheat allergies. However, with a few ingredient swaps and some kitchen magic, this vegan Worcestershire has a similar super concentrated and fermented umami flavor making it the perfect vegan-substitute for traditional worcestershire.
Ingredients and Substitutions
Easy to tweak and customize to your personal preference, this worcestershire recipe is pretty close to what I remember the original tasting like. Here's the handful of pantry staples I used to make this 20 minute vegan condiment: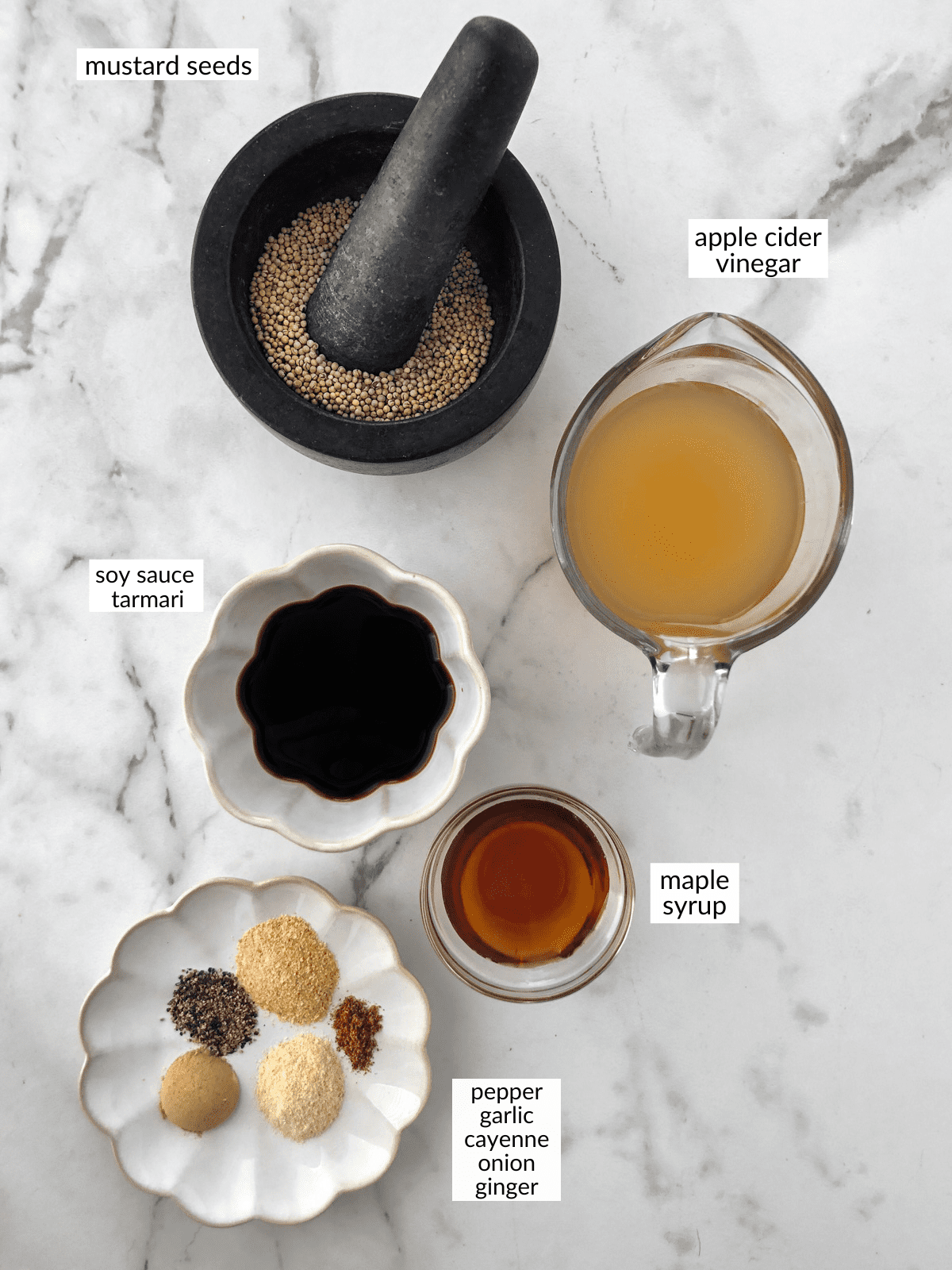 Soy Sauce/Tamari: this is the salty fermented umami ingredient that replaces the anchovy paste from a traditional Worcestershire sauce recipe.
Apple Cider Vinegar: adds the perfect balance of sour and tanginess for this vegan Worcestershire version replacing the tamarind and barley malt vinegar of the original recipe.
Maple Syrup: I like maple syrup for both viscosity and richness, but sub brown sugar, agave or molasses to personal preference.
Mustard Seeds: I love the extra flavor that toasted mustard seeds add, but yellow mustard works as well.
Seasoning: ginger, garlic, and onion powders - trio of spices for flavor complexity. Some recipes add a pinch of cinnamon, allspice or cloves (about ¼ teaspoon - choose just one not all three).
Peppers: ground black pepper and cayenne pepper for heat. Skip the cayenne if sensitive to heat.
How to Make
Don't worry about driving all over town looking for a bottle of vegan/vegetarian Worcestershire sauce, it's quick and easy to make at home with only a few basic ingredients. Here's how to make it: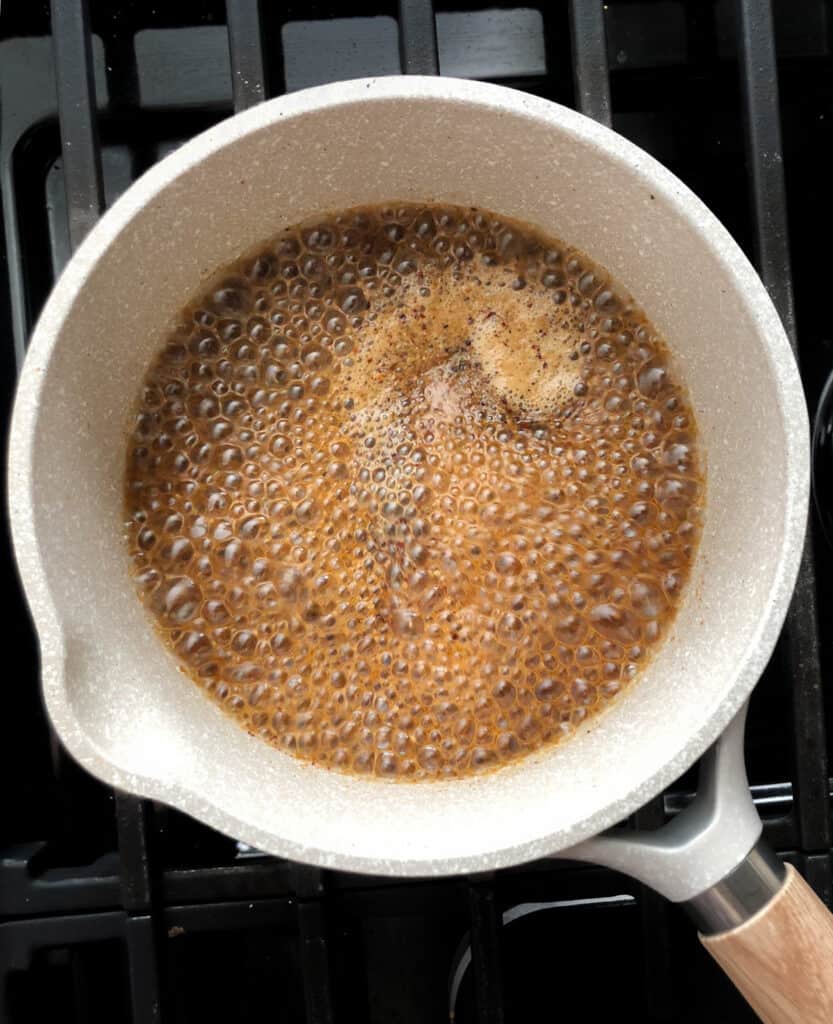 Add ingredients: whisk all ingredients in a small saucepan over medium-high heat.
Cook the sauce: Bring to a boil. Reduce the heat and let simmer for 15-20 minutes while the spices infuse and the sauce slightly reduces. Taste and adjust seasonings as needed.
Remove from heat: Let cool completely. Strain into a glass bottle (see Expert Tips).
Storing: Make a label with the sauce name and date for the bottle. Place in the fridge for up to 3 months.
Expert Tips
This homemade Worcestershire is a very simple vegan condiment to make at home. Here's a few tips that will help you nail your sauce the first time:
Sauce too Acidic?: Taste the sauce after it simmers; if the sauce is too sharp (acidic), add another teaspoon of sweetener.
Sweetener: Maple syrup, brown sugar, and molasses all add sweetness in this recipe. Molasses (in the original recipe) is not as sweet but brings extra complexity. Play around with a mixture of these 3 ingredients to get the level of sweetness and depth of flavor you prefer.
Simmer the sauce: Worcestershire is a thin condiment (slightly thicker than water - not syrupy). A slow simmer will reduce the water content and slightly thicken the sauce. It also concentrates the flavors and infuses the flavors from the spices nicely.
Strain the Sauce: After the Worcestershire sauce has completely cooled, strain it into a jar or bottle. Add the lid and store in the fridge for several months.
Million Dollar Tip: After you strain the sauce, gently press the 'spice sludge' in the strainer with the back of a spoon to remove any excess liquid. What's left in the strainer is a super concentrated, ultra flavorful spice bomb. Don't throw it out! Store in an airtight container in the fridge or freezer. Anytime you need a boost of flavor (similar to when you'd use vegetable bouillon), pop a teaspoon or two of this flavor concentrate into stir fry sauce, vegan chili, soup, gravy, etc.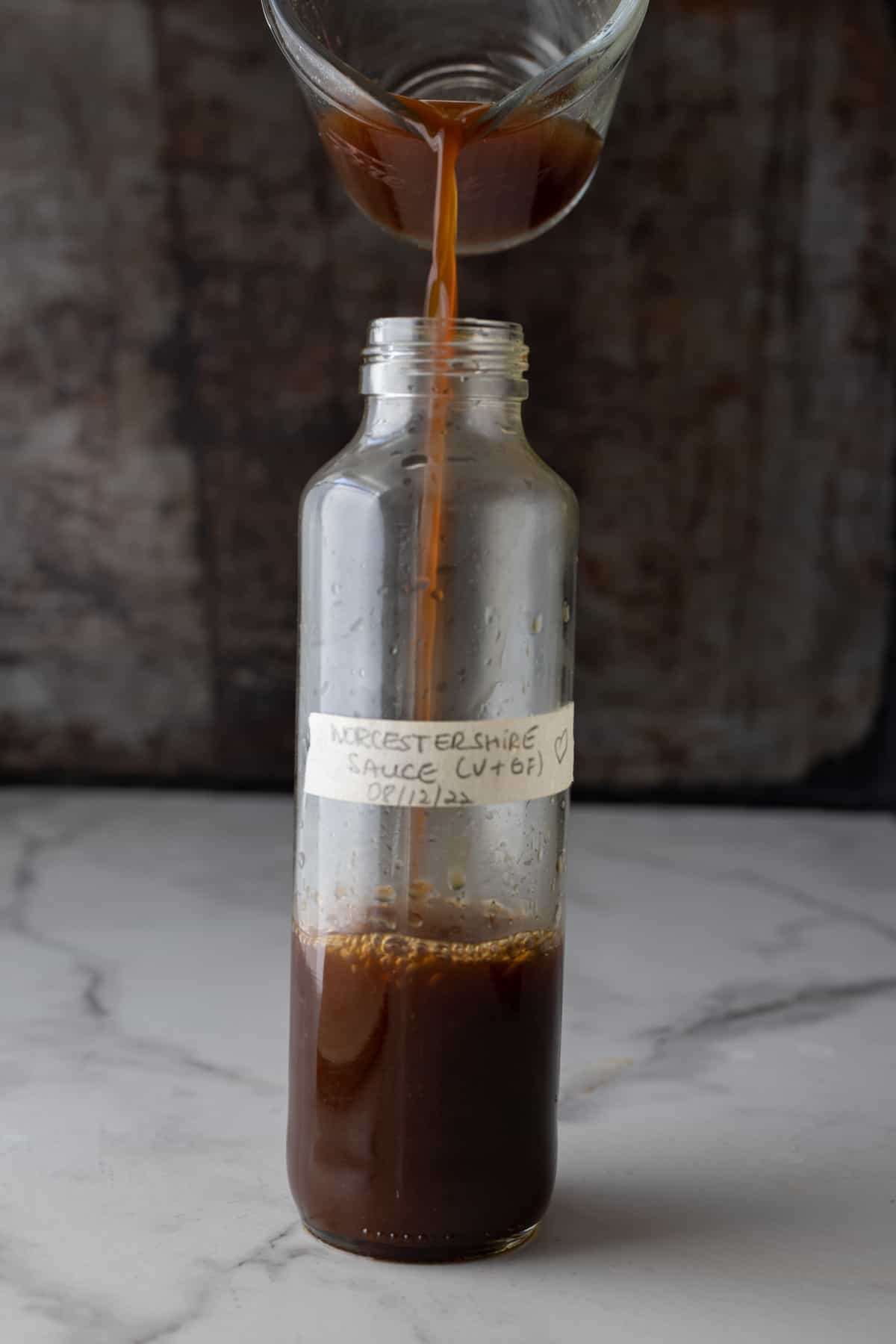 How to Use
We always have a bottle of vegan Worcestershire sauce in the fridge - it's so versatile! Here's a few of the ways to use it:
as a dressing: classic vegan Caesar salad dressing
for cocktails: like Bloody Mary and Caesars
a flavor booster: elevate your vegan chili, tofu spaghetti pie, veggie soups, homemade Chex mix and more
as a condiment: mix with ketchup or mayo to serve as a condiment on burgers, roasted veggies, sandwiches, vegan meatballs or baked on top of vegan meatloaf
as a marinade: for tofu, veggies and grilled meat (vegan)
FAQ & Storage Tips
How long does it last?
Store homemade Worcestershire sauce in the fridge for three to six months in a jar or bottle. Because of the ingredients, it lasts a long time when refrigerated.
What does Worcestershire sauce taste like?
Worcestershire sauce is a thin, brown, fermented condiment with a strong concentrated umami flavor. It's a savory, tangy, sour, salty, slightly sweet condiment perfect for adding depth and zip to vegan sauces, grilled vegan meats, salad dressings, and marinades.
Is Worcestershire sauce vegan?
No, Worcestershire sauce (aka Worcester Sauce or English Sauce) is not vegan. It's a fermented anchovy sauce that originated in Britain. However, you can buy or easily make a fish-free Worcestershire sauce alternative that is a very flavorful vegan alternative.
Is Worcestershire sauce gluten free?
Most store-bought brands of vegan Worcestershire are not gluten free. However, this Worcestershire sauce substitute recipe is easily gluten free and vegan.
Can I buy vegan Worcestershire sauce?
Yes, there are a few brands that make Worcestershire sauce without anchovies: eg. Annie's, Whole Foods 365, Kroegers, and Albertsons to name a few. Find them in store or online. Another British condiment Henderson's Relish has a similar taste to Worcestershire sauce and is vegan if you can find it (it's not available where I live).
More Vegan Sauces
If you love a tasty sauce for drizzling, dipping, and salads, try one of these next:
Did you make this recipe? I'd love to see it!
Please leave a review and ⭐️ rating below. Thank you so much for sharing!
Tag me on Instagram 
NEVER MISS A RECIPE: Sign up for my email NEWSLETTER!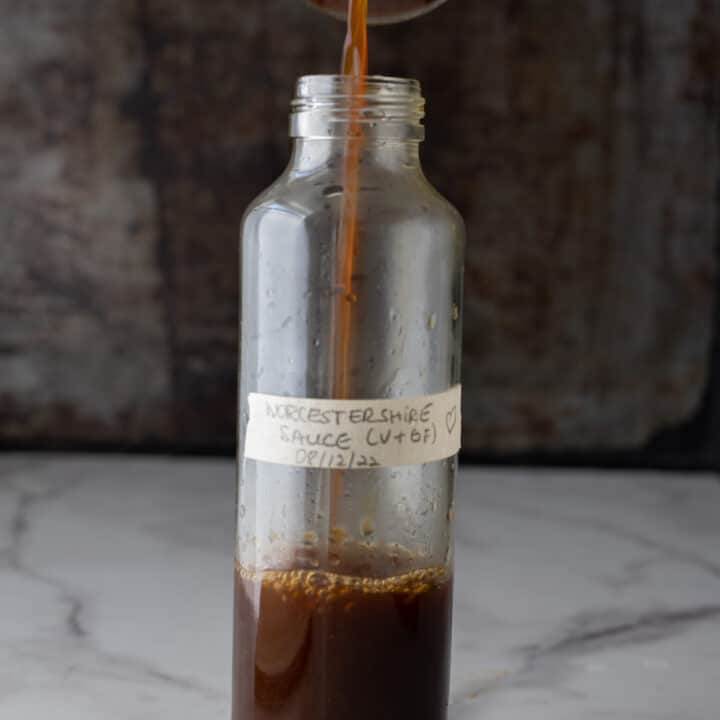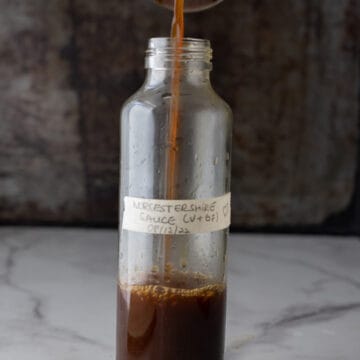 Vegan Worcestershire Sauce (GF)
Homemade vegan Worcestershire sauce has all the salty, sour, umami flavors with just a kiss of sweetness as the original Worcestershire, but no anchovies (and no gluten)! It's the perfect vegan alternative to Worcestershire sauce adding a ton of flavor to vegan Caesar salad, bloody Mary's, tofu marinades, and sauces like chili, shepherds pie and vegan spaghetti.
Rate this recipe!
INGREDIENTS
1

cup

apple cider vinegar

¼

cup

soy sauce / tamari

3

tablespoons

maple syrup

¾

teaspoon

mustard seeds, ground*

½

teaspoon

garlic powder

½

teaspoon

onion powder

½

teaspoon

ginger powder

¼

teaspoon

black pepper

⅛

teaspoon

cayenne (optional)
INSTRUCTIONS
Place all ingredients in a small saucepan over medium-high heat.

Let the sauce come to a boil stirring. Reduce the heat to medium-low.

Continue to stir occasionally while the sauce simmers and the sauces reduces for about 15-20 minutes. Worcestershire sauce is a thin condiment.

Remove from heat and let cool.

Once cool, strain into a clean jar or bottle with a lid and store in the fridge for up to three months.
NOTES
Each different brand and ingredient brings a slight different flavor profile so taste as you go to customize this vegan worcestershire to suit your palate and dietary restrictions:
Mustard: I like the earthy flavor toasted mustard seeds brings to the sauce. I dry toast them and then grind them in a mortar pestle. Sub ½ - ¾ teaspoon yellow mustard if you prefer.
Sweetener: use a combination of brown sugar and maple syrup or all of one or the other. The original Worcestershire recipe uses molasses so sub in a teaspoon of molasses instead of some maple syrup if desired.
Vinegar: I use apple cider vinegar as it adds sour and tangy in the perfect balance for this vegan condiment since we are not using tamarind paste which is sour. However, play around with white vinegar or malt vinegar to your taste.
Spices: some recipes call for cinnamon, cloves or allspice. I didn't use them; however add ⅛ teaspoon of any one of them (not all) and see if you prefer the sauce with a hint of fall spices.
Million Dollar Tip: don't miss the million dollar flavor bomb tip in Expert Tips!
This recipe is from simplyceecee.co food blog. All images and content are copyright protected. Please do not use my images or republish this recipe without prior permission. Thank you.