Don't be surprised if you catch your family licking their plates when you serve this incredible vegan lasagna roll recipe for dinner!!
We absolutely devour this lasagna, talk about vegan comfort food at its very best!! Rich and satisfying with wonderful depth of flavor, and it's so pretty! The tender lasagna noodles are rolled with a hearty, toothsome cauliflower-walnut crumble and garlicky spinach filling and a generous smear of rich and cream cashew sauce. And to take these plant-based lasagna rolls over the top, they're baked to bubbling perfection in Italian marinara sauce with a mountain of gooey dairy-free cheese on top. You'll be oohing and ahhing with every single bite, I promise!
Keep reading for step-by-step instructions and photos. In addition, you'll find pro tips and options for making these incredible (and pretty easy) lasagna rolls at home!
Family Approved Vegan Lasagna Recipes
Without a doubt, lasagna is the ultimate Italian comfort food - vegan or not! It's a cozy, stick-to-your ribs meal that I depend on to keep our family warm and satisfied through our long, cold Canadian winters. Classic lasagna recipes can be a bit more time consuming, however they are totally worth the extra effort. We looove lasagna!
Here are a few more fabulous vegan lasagna recipes to try that are sure to impress and delight your family and friends:
Vegan Lasagna with Bechamel is an extremely luscious and hard to resist classic lasagna with its thick blanket of bechamel and authentic Italian marinara sauce.
Cal-Ital Vegan Lasagna is a beloved recipe that's been in my family for decades. It's quite simply irresistible stuffed with chunks of vegan Italian sausage and balsamic mushroom pieces layered between tender pasta sheets. After that it's baked to perfection in a signature tangy, vegan goat cheese and roasted red pepper sauce and topped with cheesy, gooey mozzarella.
There's more incredible comfort food recipes to browse on my Vegan Comfort Food page.
Ingredients for Vegan Lasagna Roll Ups
The tender veggie crumble, creamy lux cashew sauce, rich red marinara, and cheesy mozzarella in these lasagna roll ups all blend together in a symphony of culinary perfection! Our family and friends flip for these yummy lasagna rolls.
In the world of lasagna, this vegan lasagna roll recipe is pretty easy. Here's what you'll need . . .
Lasagna Noodles - tender pasta noodles cooked to al dente perfection. Use regular or gluten free noodles.
Marinara Sauce - homemade or your favorite store brand.
Cashew Cream Sauce - easy to make and adds a smooth, rich, creaminess to the lasagna.
Vegetable Filling - hearty, meaty cauliflower-walnut crumble and garlicky spinach.
Vegan Cheese - adds melted golden cheesy top.
How to make Vegan Lasagna Rolls
Cauliflower-Walnut Crumble - first thing, get the cauli crumble ready and into the oven. This is easy to do: cauliflower, walnuts, spices, pulse pulse pulse in the food processor, then into the oven. Meanwhile, prepare the other recipe components.
Pro Tip: The texture of this hearty crumble is perfection (we use it in our favourite tacos and quesadillas too). Just be careful not to over process the crumble - leave some texture. No mushy vegan lasagna filling for us!
Marinara Sauce - if you made my homemade Rich Red Marinara Sauce ahead of time (which I highly recommend), you're all set. Alternatively use your favorite store brand of marinara. For the most delicious results, choose the best tasting red sauce you can find (or make). Here's the one I turn to in a pinch: Rao's Marinara Sauce (affiliate link). It's got great flavor and is easy to find in store and online.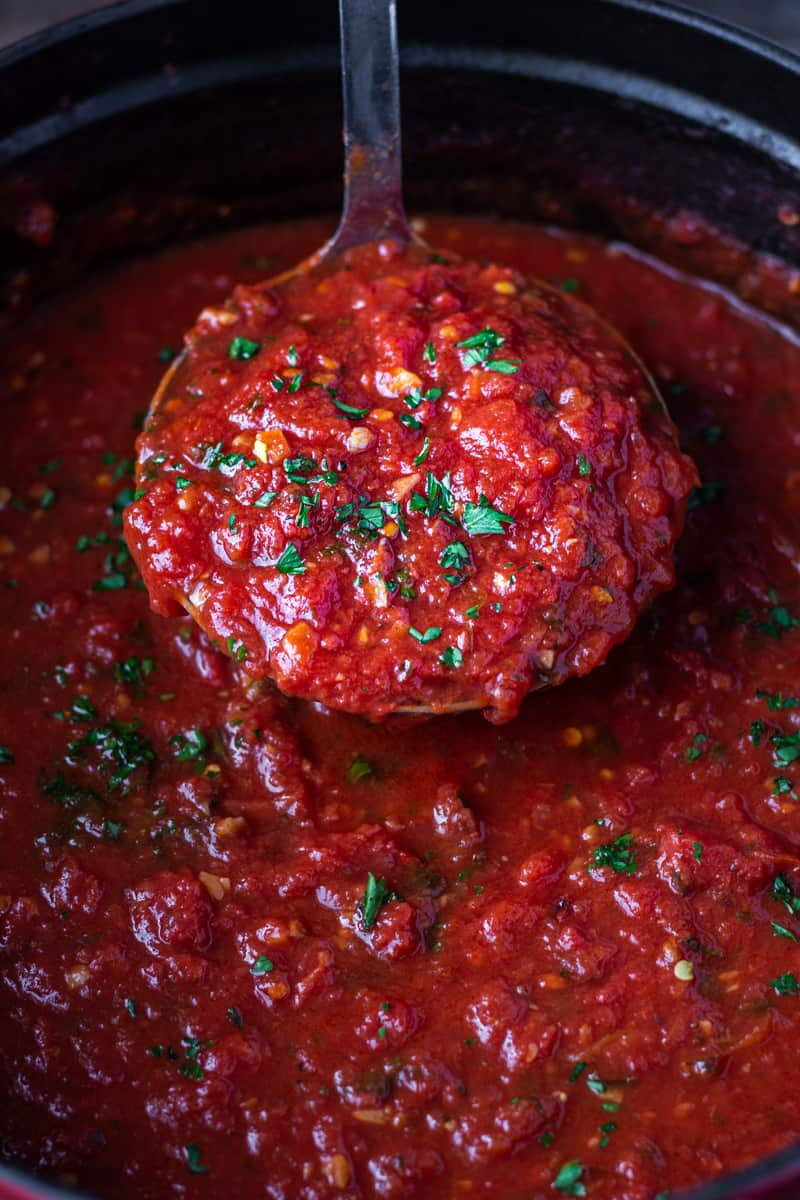 Cashew Cream - this sauce is so easy and delicious and leftovers can be drizzled on everything! The combination of the thick, cashew sauce together with tangy rich red marinara is a vegan food experience you don't want to miss - trust me on this!
Prepare the cashew cream by placing everything into the blender and processing until smooth. Ready in under 5 minutes, and it's heavenly! I use my Vitamix (affiliate link).
Garlicky Spinach - super simple! Really you are just wilting spinach with garlic and salt. Pro Tip: The largest heap of spinach wilts into the tiniest pile imaginable so use waaaaaay more than you think you'll need.
Alternatively, sub in a couple boxes of frozen chopped spinach. Let it thaw, squeeze out the excess water, and use it as directed.
Let's Get Rolling
Very simple: here's how to make lasagna roll ups . . .
Place a lasagna noodle on your work surface (be sure to pat it dry). Keep the remaining noodles, flat and covered.
Smear cashew cream sauce over the entire length of the noodle.
Spread a layer of cauliflower-walnut crumble over cashew sauce.
Sprinkle with steamed spinach.
Roll it up and place with the frilly side of the pasta up in the prepared pan.
Add some large dollops of marinara sauce and then smooth over the top.
Cover with vegan mozza cheese. I used Miyokos Mozzarella!
Place in the oven and bake until golden and melty.
Top with chopped herbs and hot pepper flakes.
Serve with extra marinara and cashew cream for drizzling.
Storing and Freezing Vegan Lasagna Roll Ups
Store any leftover lasagna rolls in the fridge for up to 3 or 4 days. To reheat the lasagna rolls, warm in microwave or in the oven (325º F) covered until warmed through.
Can I Freeze Lasagna Rolls? Yes! They freeze beautifully so are ideal for meal prep or weekday lunches. Thaw them in the fridge or at room temperature, and then warm them as mentioned above. Freeze for up to 2 months.
More Vegan Comfort Food Recipes
Easy Vegan Sushi recipe with 4 incredible dipping sauces - this sushi is unreal!
Delicious Chickpea Mushroom Bake - super easy and unbelievably delicious - not even kidding! Best, simple family weeknight meal.
Curry Cauliflower Rice Soup with mushrooms - seriously one of my favorite soup recipes ever!
Easiest Overnight No Knead Bread - serve this crusty bread warm with pasta or soup.
Did you make my easy Vegan Lasagna Rolls recipe? I'd love to see it! Please leave a comment below and tag me on IG @ceeceecooks
NEVER MISS A RECIPE: Sign up for my email NEWSLETTER
Best Vegan Lasagna Roll
Easy to make, yummy, and oh so pretty! These gorgeous vegan lasagna rolls are filled with plant-based cauliflower-walnut crumbles, spinach, and a luscious cashew cream. They are baked in an authentic Italian rich red marinara sauce and topped with vegan mozza. An incredible five-star pasta dish that impresses everyone's eyes and stomach!!!!
Rate this recipe!
INGREDIENTS
Italian Cauliflower-Walnut Crumble
3

cups

cauliflower florets (small cauliflower)

2

cups

walnuts

1

tsp

garlic powder

1

tsp

onion powder

1-3

tsp

oregano

1

tsp

thyme

hot pepper flakes
4

cups

marinara sauce (homemade or store-bought)
Quick & Easy Cashew Sauce
1

cup

cashews

¾

cup

hot water

2-4

cloves

garlic

salt
Garlicky Spinach Layer
6-7

cups

fresh spinach or 2 boxes frozen spinach

2

cloves

garlic, chopped

1

tsp

olive oil (optional)
Cheese and Garnish
½

round

mozza cheese (I used Miyokos), grated

2-3

tbsp

flat Italian parsley, chopped

fresh basil, ribbons (optional)

1

tbsp

red pepper flakes

9-12

pasta noodles, cooked
INSTRUCTIONS
Cauliflower-Walnut Crumble  
Preheat oven to 400º F.  Cover a baking sheet with parchment paper.

Place all ingredients in food processor and pulse a few times until the mixture is evenly 'ground'. Don't overprocess them, there should be texture.

Spread crumbles evenly on prepared baking sheet and bake for 20-30 minutes. Stirring after 15 minutes (the edges brown more quickly). 

Remove from oven and set aside.
Rich Red Marinara Sauce Recipe
Make my easy, homemade marinara sauce recipe or use your favorite store brand. You'll need ~3 ½ - 4 cups.
Cashew Cream Sauce
If you have a high-speed blender (like a Vitamix), boil water and pour ½ cup over cashews in the jug of your blender. Then add remaining ingredients (garlic and salt) and blend until smooth. Add remaining water for a looser sauce.

If you do not have a high-speed blender, let the cashews sit in boiling hot water for 30 minutes or cool water for 2 hours to soften and hydrate them. Drain, rinse and use as above.
Spinach Layer
If using frozen spinach, thaw and squeeze out excess water first.

Heat the olive oil in a pan, add garlic and saute on medium low until lightly golden. 

Place all spinach (fresh or thawed) in the pan over medium heat stirring until it wilts and is warm. 

Add S&P and hot pepper flakes to taste.

Use a splash of water in the pan if oil-free.
Assembling the Vegan Lasagna Rolls
Cook lasagna noodles as per package directions. Drain and pat dry.

Pro Tip: to keep the pasta from curling, lay them flat, add a light sprinkle of water or a wet towel to prevent them from drying out.

Spoon a cup of marinara sauce into the bottom of an 8x8 baking dish (or similar).

Lay one cooked noodle on your work surface, spread cashew cream the full length of the noodle, cover with cauliflower-walnut crumble.

Add a layer of garlicky spinach and then roll up. 

Place each roll (ruffled side up) into the prepared baking dish.

Smooth a thick layer of marinara sauce over the tops, letting it ooze between and around the rolls as well.

Add a pile of grated vegan mozzarella cheese on top.

I like Miyokos mozza* but use whichever brand you enjoy!

Side Note: I used half the 226 gram round of Miyokos mozza. It grated into a nice big pile!

Serve with additional warm marinara, chopped parsley/basil, and red pepper flakes.
NOTES
Prepare the lasagna noodles as per package directions. Drain the noodles. Keep them flat and covered while you are working so they don't dry out or curl up. Pat dry before filling them.
The rich red marinara sauce recipe is super delicious and doesn't take long to make. It's a pretty big batch so the rest of the sauce can be frozen for future recipes.
If you'd like to venture out and try other flavors of cashew cream in this recipe, please check out my Sauce Page.
Leftover lasagna rolls will store in the fridge for several days and still be delicious. They can also be frozen with good success. Just thaw and warm in the oven when ready to eat.
The cauli crumble, marinara, cashew cream can all be made a couple days in advance and stored in the fridge until ready to assemble. 
This recipe is from simplyceecee.co food blog. All images and content are copyright protected. Please do not use my images or republish this recipe without prior permission. Thank you.
Originally posted January 2018, updated with new photos and instructions May 2021