These fluffy, vegan dinner rolls are the best I've ever had. So tender and buttery, they practically melt in your mouth! And the best part is they are so simple to make with a Bucket of Dough (refrigerator dough). No mess, no special equipment, and no kneading! Just shape, proof, bake, and enjoy.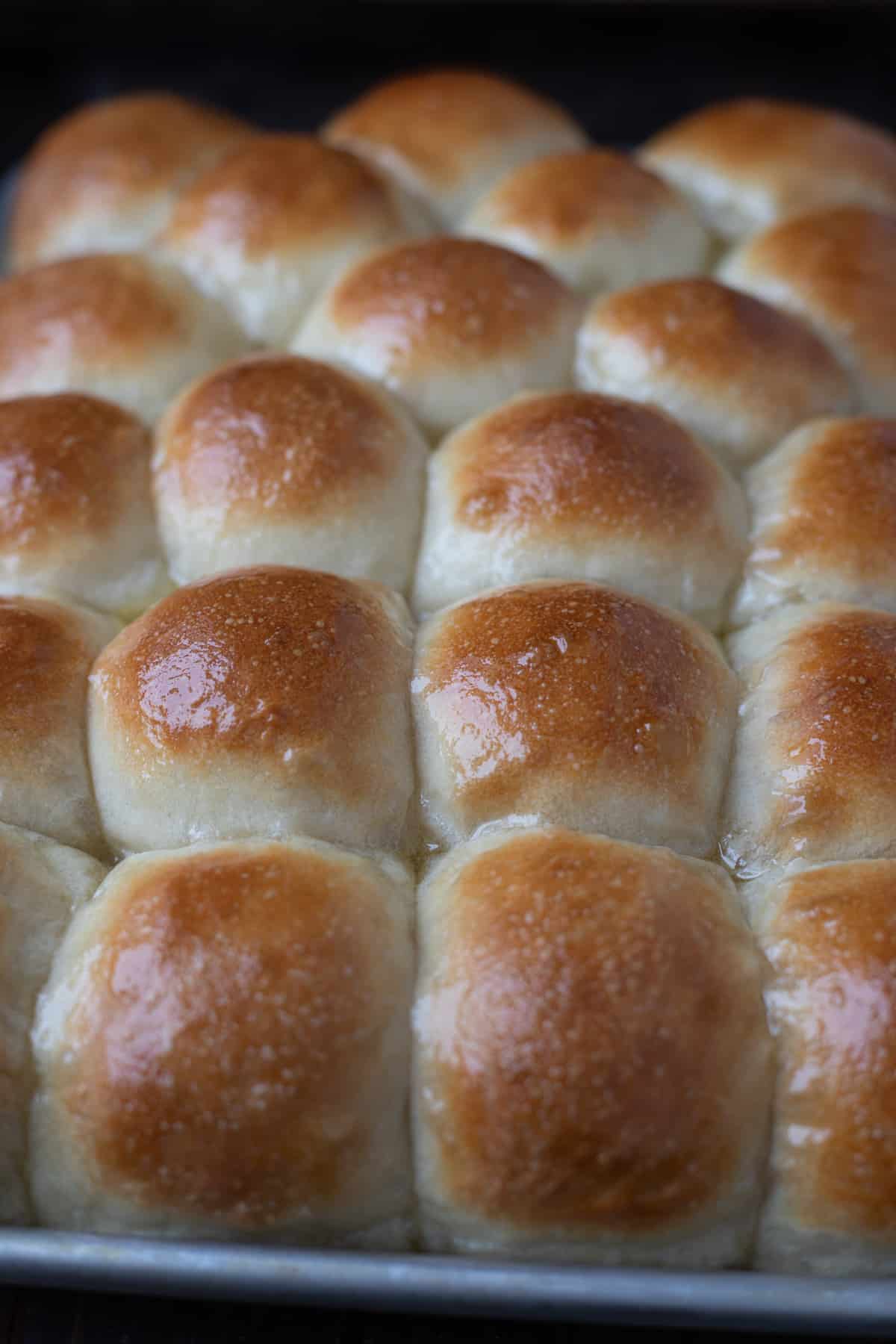 Our family is obsessed with bread! There's something so comforting about the smell and taste of freshly baked bread isn't there? Plus bread is so simple and inexpensive to make! These easy yeast rolls are beginner friendly so absolutely everyone can enjoy baking homemade bread from scratch. Let's get into the details!
Not just for Thanksgiving and Christmas, these vegan rolls are incredible hot out of the oven slathered in butter served as a side dish with veggie soup and vegan chili.
Magical No Knead Bread Dough
All purpose refrigerator bread dough (aka a Bucket of Dough) is ridiculously easy to make! It takes 5 minutes to mix and can be stored in the fridge for baking over the next 2 weeks. Make small batch (or big batch) vegan dinner rolls, vegan cinnamon rolls, pizzas, pitas, sandwich bread, soft breadsticks, and so much more.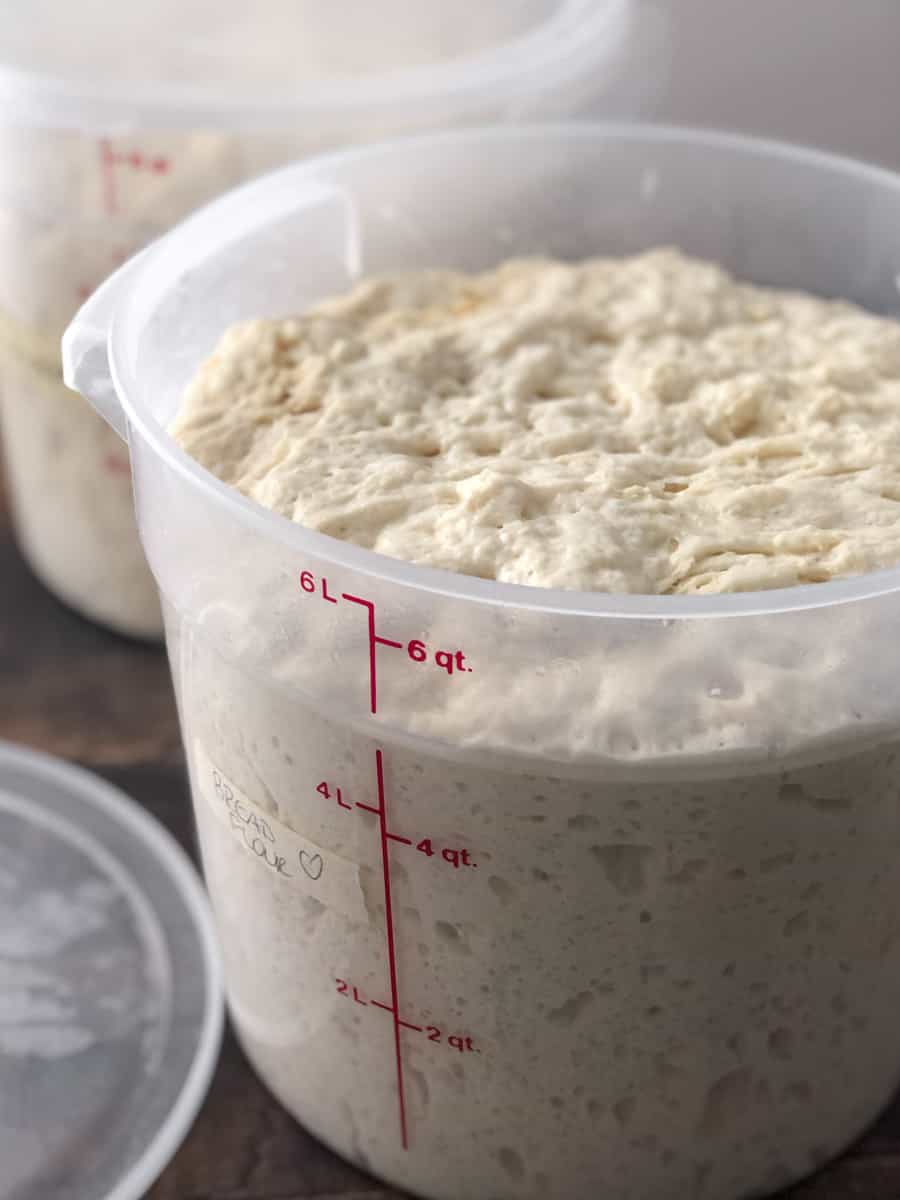 Which will be your favorite - soft, buttery, classic dinner rolls or the crusty, chewy roll - more like French bread? With this no knead dinner roll recipe, you can make either or both - the only difference is the oven temperature.
Ingredients You'll Need
These vegan dinner rolls are delicious made without eggs or dairy! Here's what you'll need.
refrigerator bread dough - takes 5 minutes of hands-on time and can be made up to 2 weeks in advance and all you need is flour, water, yeast, oil/butter, and salt
dairy free butter - for brushing the rolls
add-ins and toppings - optional variations (garlic butter, sweet butter, herbs, seeds)
How to Shape Dinner Rolls
This no knead dough makes baking refrigerator dinner rolls from scratch so simple and convenient, it's like having Pillsbury dough in the fridge; but homemade!
For Both Variations
Divide the bread dough into equal size pieces.
Shape a portion of the dough by rolling it in a circular motion under your cupped hand across the work surface. You want to create friction* which tightens the outside of the dinner roll into a smooth tight surface.
*Choose a spot to round the dough where there is no flour on your work surface. You may need to dust your palm lightly if the dough is too sticky.
Transfer to a baking sheet to rise.
Details for each method below.
Baking Dinner Rolls (2 methods)
Same recipe, different results. A hotter/higher heat will cause the dinner buns to rise more quickly in the oven (oven spring) which results in a thinner, softer crust. Brushing butter on the dinner rolls after baking also creates a softer, more tender crust.
A slightly lower, moderate oven temperature causes the dinner rolls to rise at a slower rate and takes longer for the dinner rolls to cook through. The longer the rolls are in the oven, the thicker the crust will be. For crusty rolls, don't brush butter on the top.
How to Make Soft Vegan Dinner Rolls
Soft, pillowy dinner rolls (aka tear aparts/pull apart) are small, light and fluffy. They rise (proof) touching each other so they bake into one another and are beyond satisfying when you tear them apart.
The sides are slightly pale while the tops are golden and buttery. They are the classic, soft, white yeast dinner rolls that typically make an appearance at Sunday family dinners and on holiday dinner tables.
preheat the oven to 445º F, rack in center of oven, prepare pan
50-55 gram balls or ~2 ounces (can make smaller or larger)
place the rolls on a prepared, rimmed quarter baking sheet or 8x8 square pan
the rolls will be about ½" apart or just touching
cover and let rise in a warm spot until light and puffy (30-45 minutes)
bake 12-15 minutes until golden and delicious
brush with butter (or sweet butter). Serve and devour while hot!
How to Make Crusty Dinner Rolls
These crusty vegan dinner rolls are unbelievably scrumptious!! With a soft, tender crumb and a slightly crispy, chewy crust, the texture is very similar to crusty French bread.
These crusty dinner rolls bake without touching each other creating a larger crust surface like a hamburger bun. The sides are golden and the tops are medium brown.
The 50-55 gram size is just right for dinner and the 75 gram size is perfect for a deli sandwich or vegan hamburger bun.
preheat the oven to 400º F, rack in center of oven, prepare pan
50-75 gram balls (~1 ½ - 2 ½ ounces)
place the rolls on a parchment-lined baking sheet about 2" apart
cover and let rise in a warm spot until light and puffy (35-45 minutes)
for the BEST crust, right before going into the hot oven, spritz with water (just like baking sourdough bread)
bake 18-23 minutes (depending on size) until medium brown and delicious
serve and devour while hot!
Expert Tips and FAQ
Here's a few tips and questions I get asked about making vegan dinner rolls from scratch:
Portioning and shaping dough: Don't worry about the shape being perfect or the rolls being exactly the same size, they change as they rise and bake together.
What size should a dinner roll be?: These yeast rolls can be made larger or smaller depending on your crowd and what you are using them for.
Can I make these dairy free dinner rolls ahead?: Yes! The no knead dough can be made up to 2 weeks ahead of baking.
The rolls can be shaped and then placed in the fridge (covered) 24 hours in advance of baking. Bring them out while the oven is preheating and then proceed with baking as per recipe.
Vegan bread washes: In place of eggs/egg whites, brushing plant based milk on soft dinner rolls before baking promotes a rich color and soft crust. Brushing melted butter after baking creates a soft crust and added flavor.
As well, a spritz of water right before going into a hot oven will promote the most delicious chewy crust (same method used when baking sourdough bread!).
Variations: Once baked, brush dinner rolls with garlic butter or sweet butter (see recipe notes). Sprinkle with fresh or dry herbs or sesame seeds after baking.
Storage and Freezing Tips
Storage: Store completely cooled, vegan dinner buns in a plastic bag at room temperature for one or two days or in the fridge for several days. See recipe notes for more tips.

Freezer: Leftover, baked yeast rolls can be frozen for up to 3 months in a freezer bag. Reheat in 350º F oven or microwave if desired.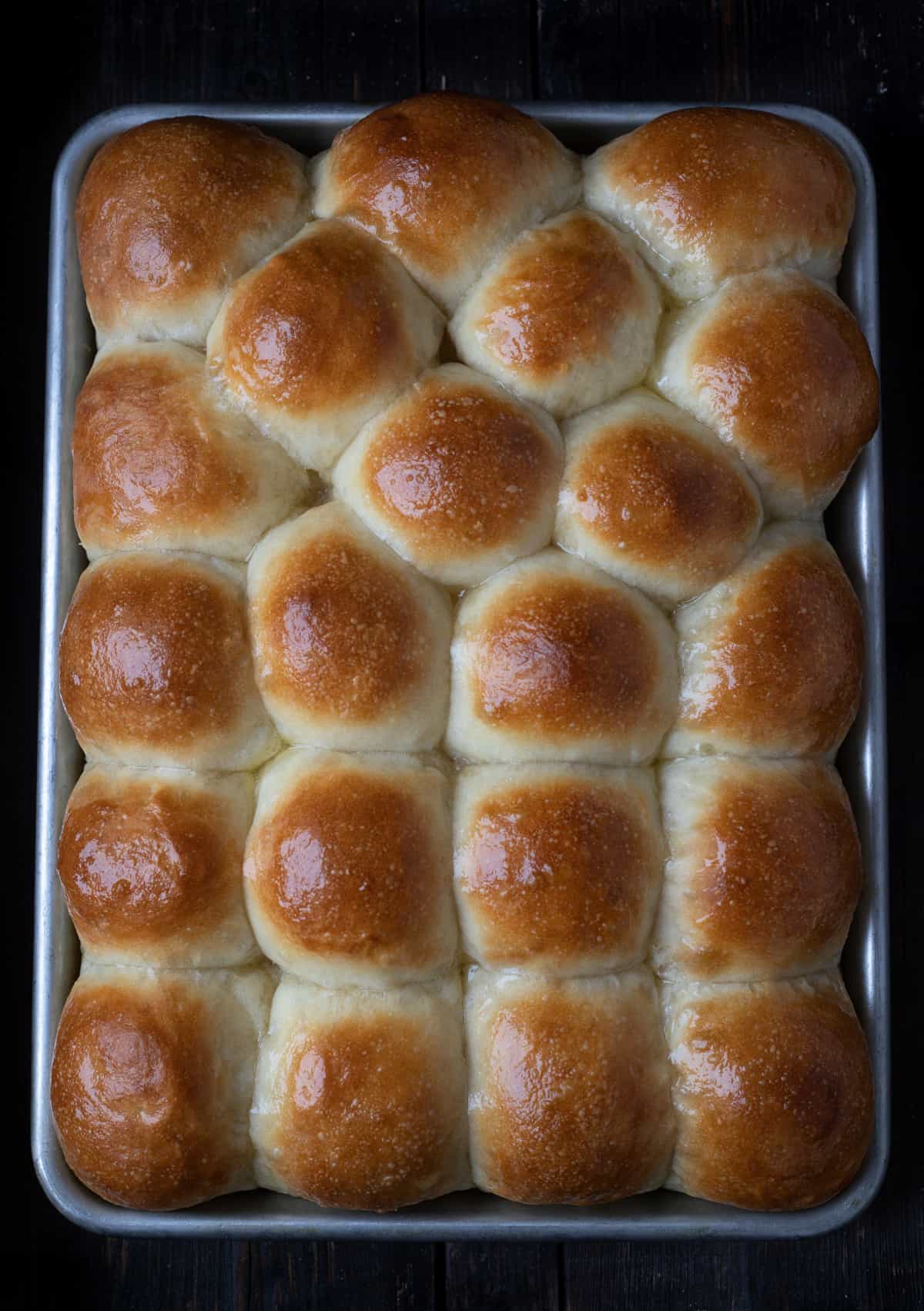 More Vegan Baking
Here's more easy vegan recipes you can make with your no knead bread dough:
Did you try these Vegan Dinner Rolls? Please let me know how you liked it by leaving a rating and review below! Be sure to follow along on Instagram and Pinterest for more delicious vegan recipes.
JOIN US SUNDAY MORNINGS: Sign up for my weekly NEWSLETTER!
Soft Vegan Dinner Rolls (2 ways)
These soft, fluffy, buttery dinner rolls are absolutely incredible. They are melt-in-your mouth tender and ridiculously flavorful! The crusty version is a carby bread lovers dream come true served hot out of oven with butter, as a side for dinner, and they make THE BEST DANG hamburger buns ever!
Rate this recipe!
INGREDIENTS
500 - 900

grams

refrigerator dough

2

tablespoons

vegan butter, melted

1

tablespoon

agave or maple syrup, more to taste
INSTRUCTIONS
How Much Dough?
Pinch off a large piece of refrigerator dough depending on how many dinner rolls you'd like to make.

FYI: In the recipe photo I made 21, 50ish gram (just over 1 ½ ounces) rolls with about half the bucket of dough. Each dough ball was around the size of a large golf ball.

Lightly flour your work surface and quickly shape the large piece into a nice ball. Using a bench scraper or large knife, divide into evenly sized pieces (they don't have to be exact).
Shaping (Rounding) the Rolls
Shape each piece into a ball by rounding (see blog post for specific details). Basically, place a cupped hand over the piece of dough and make circular motions on the work surface creating friction which produces a smooth tight, round ball.

Arrange balls on a parchment lined or greased bottom and sides of a quarter baking sheet. ½" apart for soft dinner rolls and 2" apart for crusty dinner rolls.

Cover with plastic and a light kitchen towel and let rise in a warm spot until light and puffy (about 30-45 minutes depending on how warm your kitchen is).
Preheat Oven
While the rolls are proofing (rising), preheat the oven to 400º F or 445ºF depending which dinner rolls you are baking.

Place the oven rack in the center of the oven.
Baking the Dinner Rolls (2 methods)
Soft Dinner Rolls - remove plastic, place in preheated 445º F oven until medium golden ~12-15 minutes (depending on size of rolls and how hot your oven runs).

Soft Dinner Rolls - remove from oven, brush with butter.

Let cool around 5 minutes then transfer to cooling rack to cool completely so the sides don't steam and get soggy.

Crusty Dinner Rolls - remove plastic. Right before placing in hot oven, spray a couple times with water. Immediately put into 400º F oven and close the door. Set timer for 18-23 minutes (depending on size of rolls and how hot your oven runs).

The rolls will be medium brown, and beautifully crunchy/crusty - very difficult to resist!

Do not brush with any topping. Do not place in plastic bag.
NOTES
Rolls Browning Too Fast?: I didn't have this issue, but if your rolls are browning too quickly, place a piece of foil over the top for the last few minutes.
Preventing Soggy Rolls: Remove the baked tear-apart dinner rolls (soft dinner rolls) from the baking sheet after a few minutes so the sides don't steam and become soggy while cooling.
Pull-apart Roll Option: After baking, brush the top of the dinner rolls with a mixture of sweet butter (2 tablespoons melted non dairy butter and 1 tablespoon maple syrup). Add a pinch of flaky sea salt to rolls for salty sweet option.
Whipped 'Honey' Butter: Stir together a tablespoonful or two of maple syrup with 2 tablespoons of soft vegan butter and serve alongside the rolls for a kiss of sweetness.
Storage Tip: Soft dinner buns can be stored in a plastic bag at room temperature for several days. They can also be stored in the fridge for several days (but refrigeration may some cause drying).
Storing crusty rolls (or bread) in plastic causes the crust to lose its crispness.
This recipe is from simplyceecee.co food blog. All images and content are copyright protected. Please do not use my images or republish this recipe without prior permission. Thank you.