Learn how to make your own big batch of all purpose refrigerator dough from scratch and for the next 14 days use it to bake your own vegan bread and bakery items. Need freshly baked bread, dinner rolls or soft puffy pita bread for dinner? No problem! Got a craving for gooey vegan cinnamon rolls or soft garlic breadsticks? We've got you covered.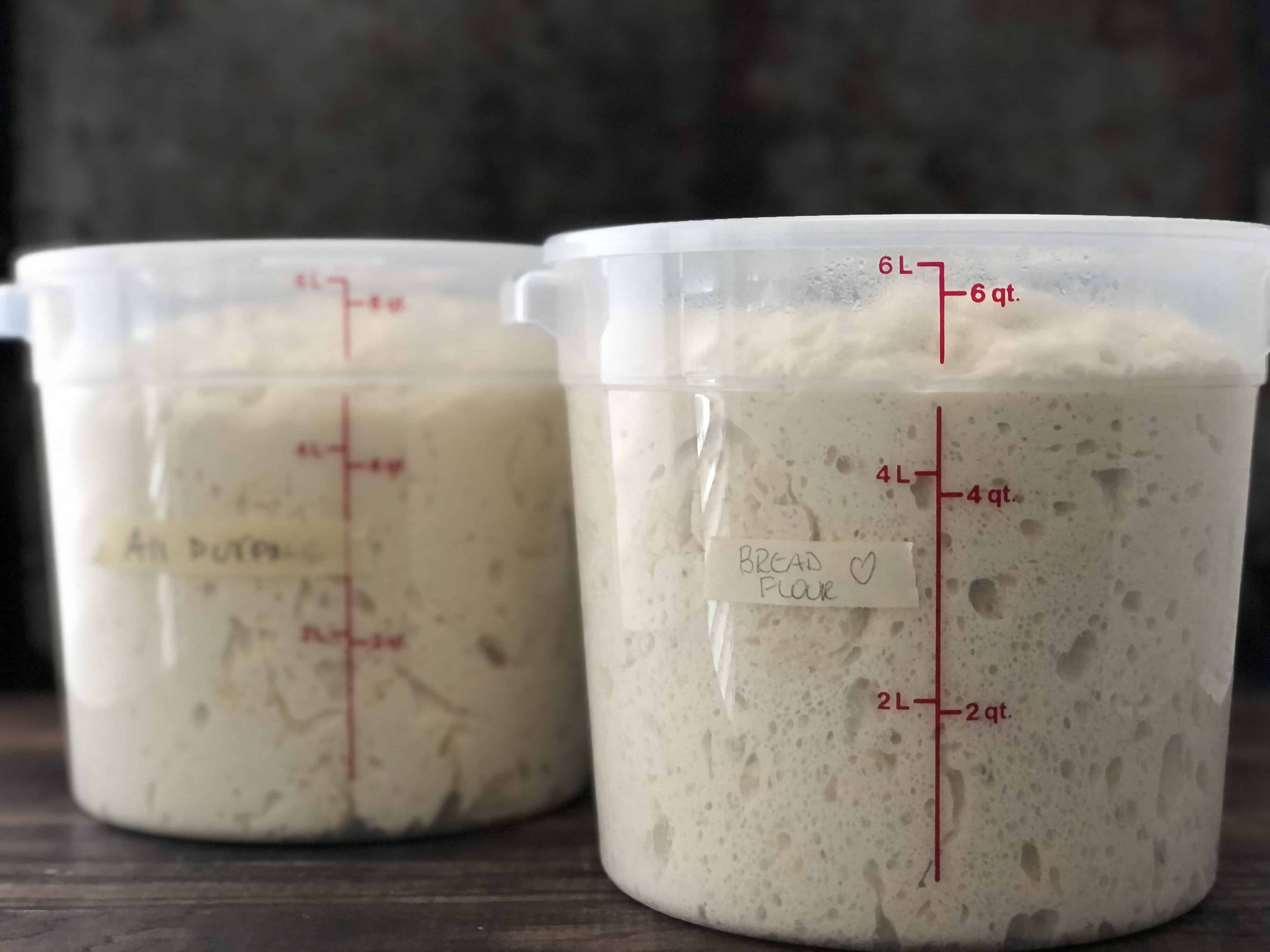 There's just something magical about dough, the feel and smell of it; watching it rise and transform into delicious food is very rewarding (and pretty cool science too). Baking grounds me, and stirs up a sweet nostalgia from using recipes passed from one generation to the next.
I promise, this all purpose refrigerator dough master recipe is going to be a game changer in your kitchen like it is in mine. It's the ultimate, simple, fuss-free method to make basically everything bread related from scratch in half the time.
Plus, it's perfect for small batch cinnamon knots, soft burger buns, bagels, etc. just twist off the size you need, shape and bake.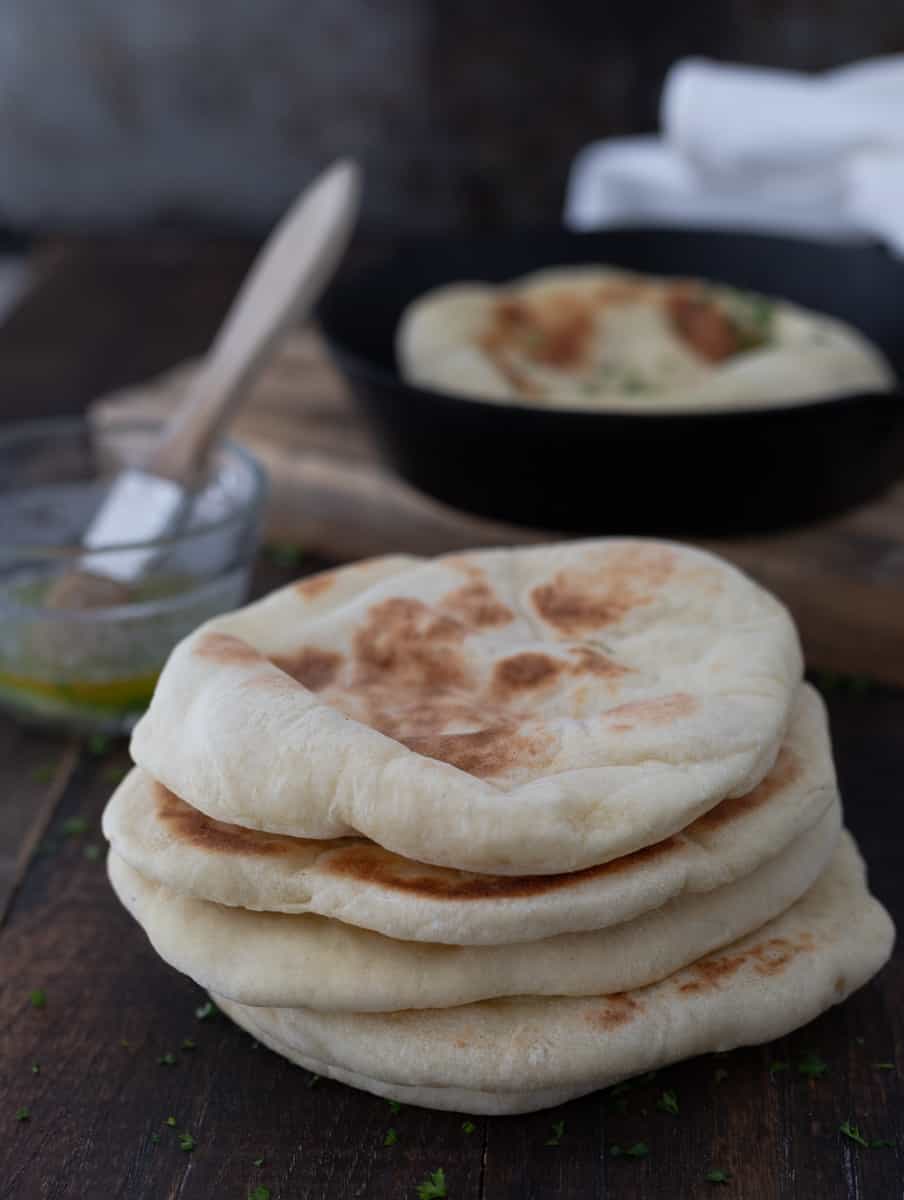 This refrigerator dough recipe is made without eggs and without dairy. It's made using only simple ingredients - flour, yeast, water, salt - with endless possibilities! Sometimes called universal dough, crazy bread dough or miracle dough, this multi-purpose dough recipe is totally vegan and totally versatile.
Also, kids love creating their own pizzas, cinnamon rolls, garlicky breadsticks or monkey bread with their own chunk of dough!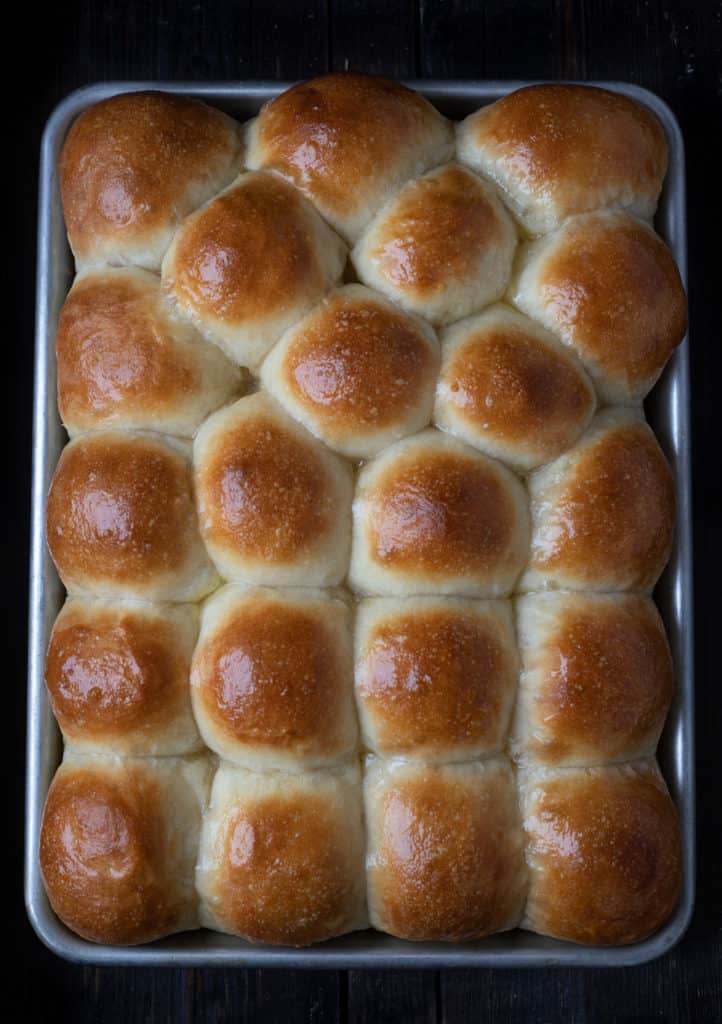 If you are you looking for a simple, uncomplicated refrigerator bread dough recipe that takes little effort and creates professional results, keep reading. You'll find step-by-step instructions plus plenty of ideas for baking soft, pillowy sandwich bread, rustic Dutch oven bread and much much more.
Let's get started mixing up your first bucket of dough!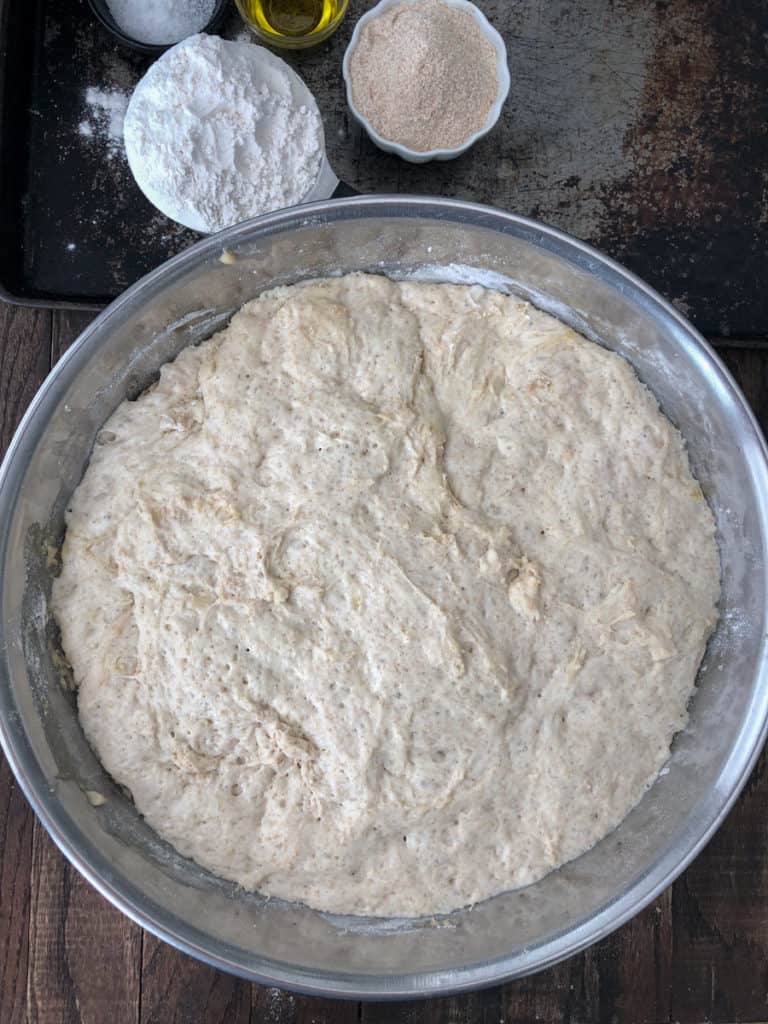 Why refrigerator dough will change your life
Very easy to make from scratch (minimal effort) - works every time!
Economical - uses only simple, inexpensive ingredients.
Allergy Friendly - eggless, dairy-free, nut free and soy free.
Convenient / multi-purpose for making pizza, pita, rolls, cinnamon buns, breadsticks.
Time saving - quick and easy for essentials and meal prep.
Ingredients for master dough recipe
Since this is considered a 'lean' dough aka vegan/vegetarian (eggless, no dairy), it can remain in the refrigerator for up to 14 days. Enriched doughs have a shorter fridge life.
Flour - all purpose (10-11.5% protein) or bread flour (~12% protein). The flour creates the structure for the bread (gluten strands).
Yeast - I use active dry (traditional) type yeast but you can use instant or fast acting yeast in this recipe. The yeast adds flavour and it's the leavening agent.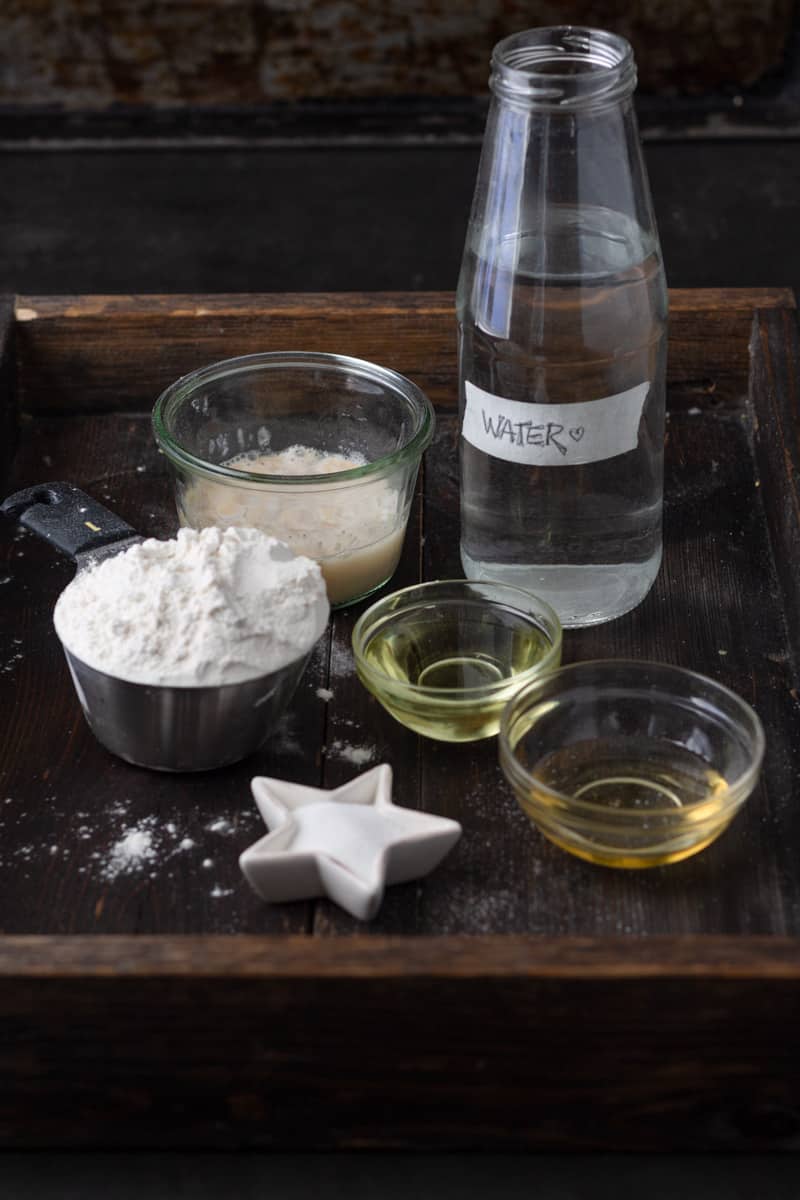 Water - room temperature (will feel slightly warm to touch). Water that is too hot will kill off the yeast. When the water is too cool, it takes longer to proof.
Sweetener - feeds the yeast so it grows. Use any vegan source, I like maple syrup or agave.
Oil - adds richness and makes the bread tender. Use a light, neutral tasting oil such as canola or vegetable. Can sub in melted plant based butter for extra flavor.
Salt - inhibits/slows the growth of the yeast while tightening the gluten strands of the dough. Plus enhances flavour. Table salt is fine. If substituting a coarse ground salt, use up to 1 tablespoon. The amount of salt can be reduced if you follow a salt restricted diet, but it does make a change to flavour and texture.
How to make easy refrigerator dough
With a bucket of refrigerated bread dough on hand, you can have freshly baked bread every day of the week! It's quick and easy to make - no kneading or punching down required! This dough is perfect for making everything from essentials like bread and buns to fancy desserts like a gorgeous chocolate hazelnut star for the holidays and so much more.
Follow these easy step-by-step instructions for making the master dough and you can begin making your own bakery-quality baked goods in no time. Let's get mixing!
Start with the liquid ingredients. Measure the luke warm water into the bucket.
Add the yeast and stir together. Mix in the remaining liquid ingredients.
Add the flour and then the salt on top.
Using a dough scraper, clean hands or a large spoon, mix the wet and dry ingredients together until there are no dry bits. Pro Tip: You may need to wet your hands a couple times to get all the dry patches from the bottom incorporated.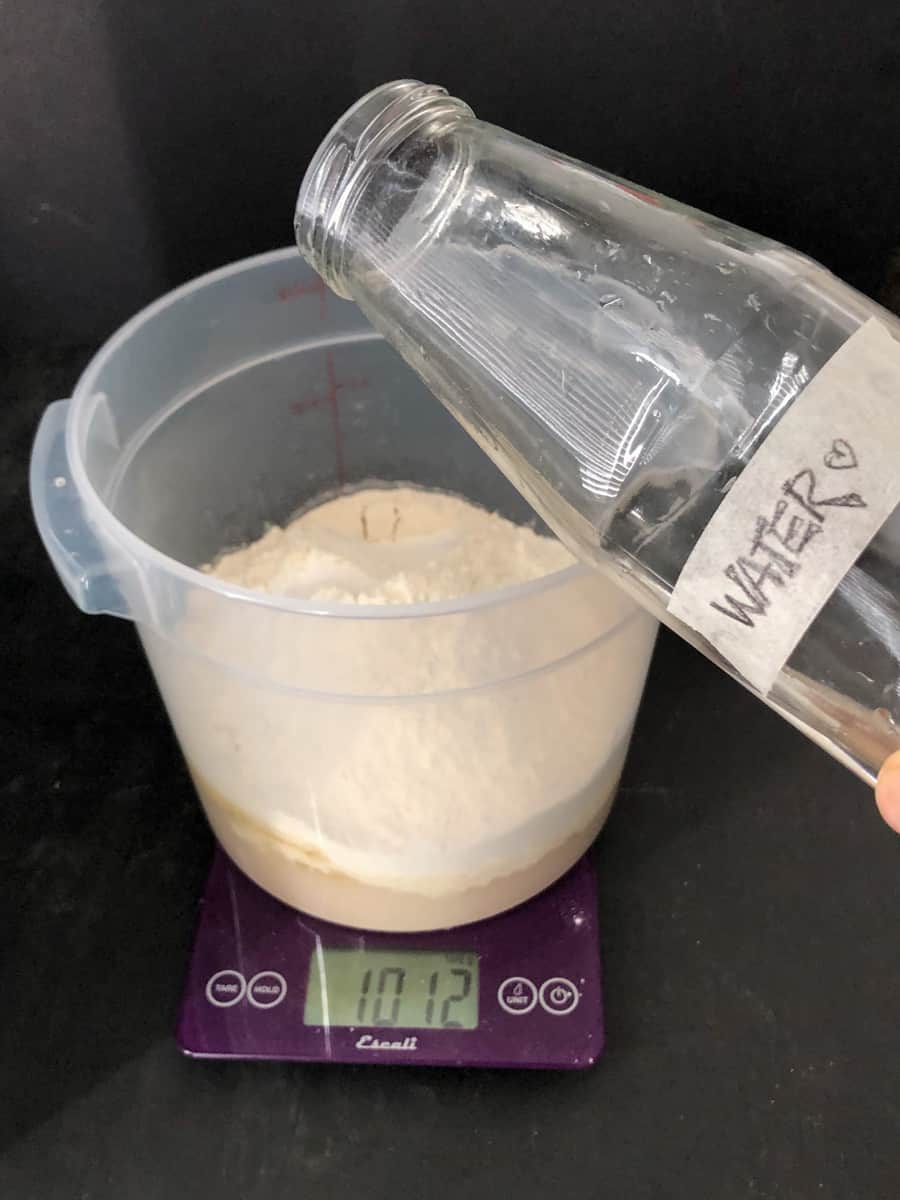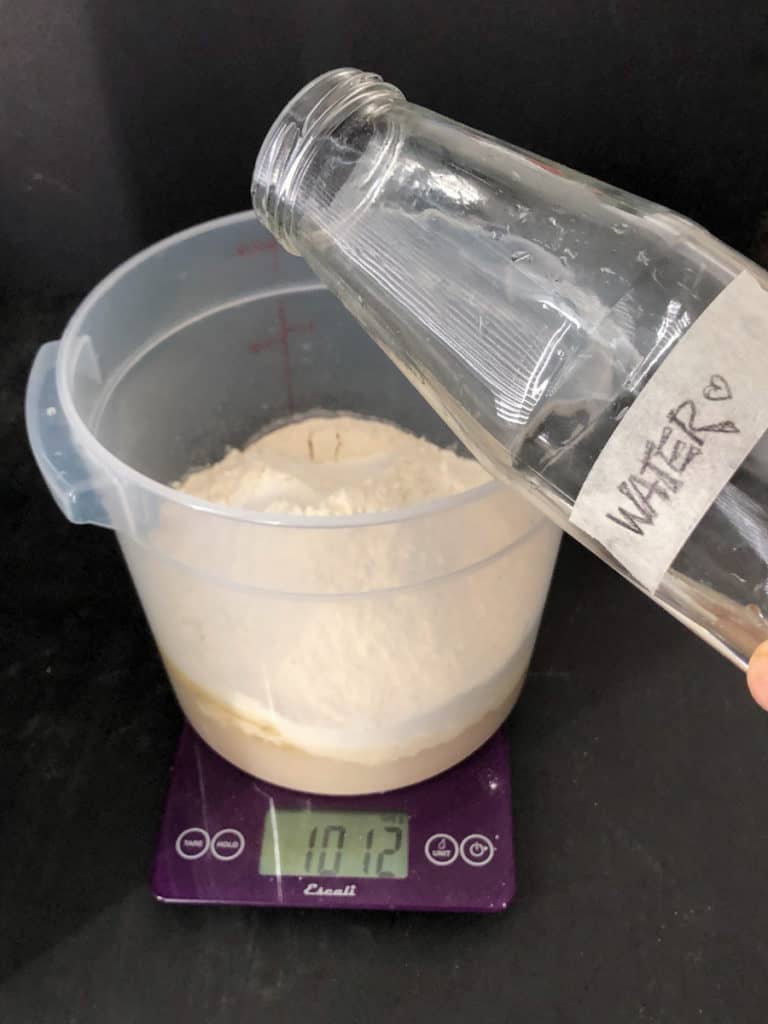 5. Cover and let the dough sit at room temperature until it's puffy and rising (~2 hours depending on the temperature of your kitchen).
6. Then place in the fridge. The dough can be used right away but is less sticky and easier to handle if you store the bread dough in fridge overnight (or at least for a couple hours).
Note: refrigerating bread dough will change/enhance the flavor over the 2 weeks.
Equipment Essentials
Because this is a big batch of dough, I find a bucket useful; however, I've been making bread for a long time with zero specialized equipment so don't feel like you have to run out and buy anything to get started.
Here are a few basics that are helpful, but not necessary to start baking bread:
Food Scale - baking is a more precise science than cooking. A digital food scale makes baking so much easier. I've been using the same one several times a week for many years - Escali, Arti Digital Scale.
Pro Tip: the TARE button will be your new best friend, it resets the scale to zero each time without having to use a new dish or do math for each ingredient addition.
Dough Bucket with a lid - you definitely don't need a dough bucket, but once I got my bucket, it changed big batch bread dough making for me! A bucket helps with organization, storage, and clean up. I bought these in a 2 pack, 6 quart - Cambro, 6 quart. They are the perfect size for proofing and storing this refrigerator dough, fit easily in the fridge, and make clean up a breeze.
Pro Tip: round is better than square (no corners for the dry ingredients to hide).
Bench/Dough Scraper - optional but wonderful for mixing, folding and cutting the dough as well as clean up. I have a metal scraper and a plastic scraper.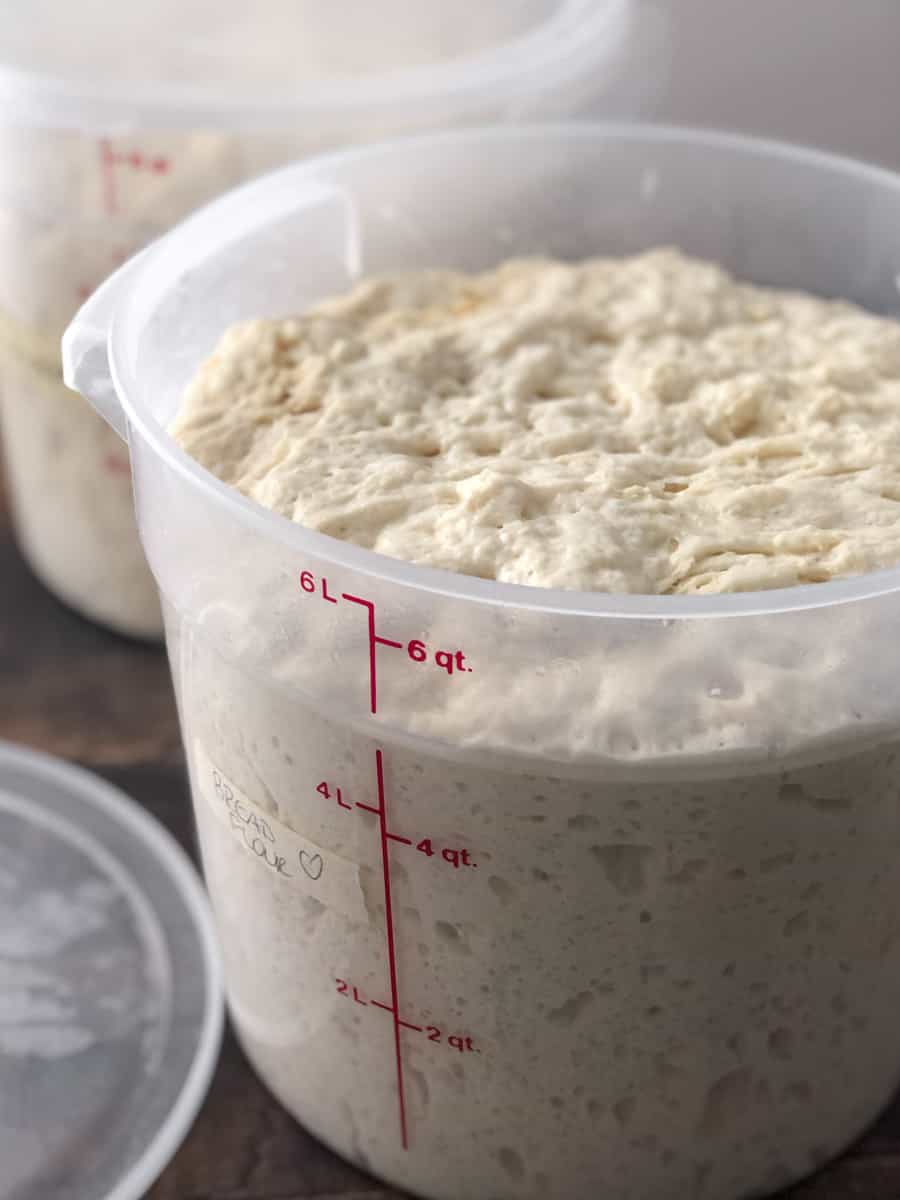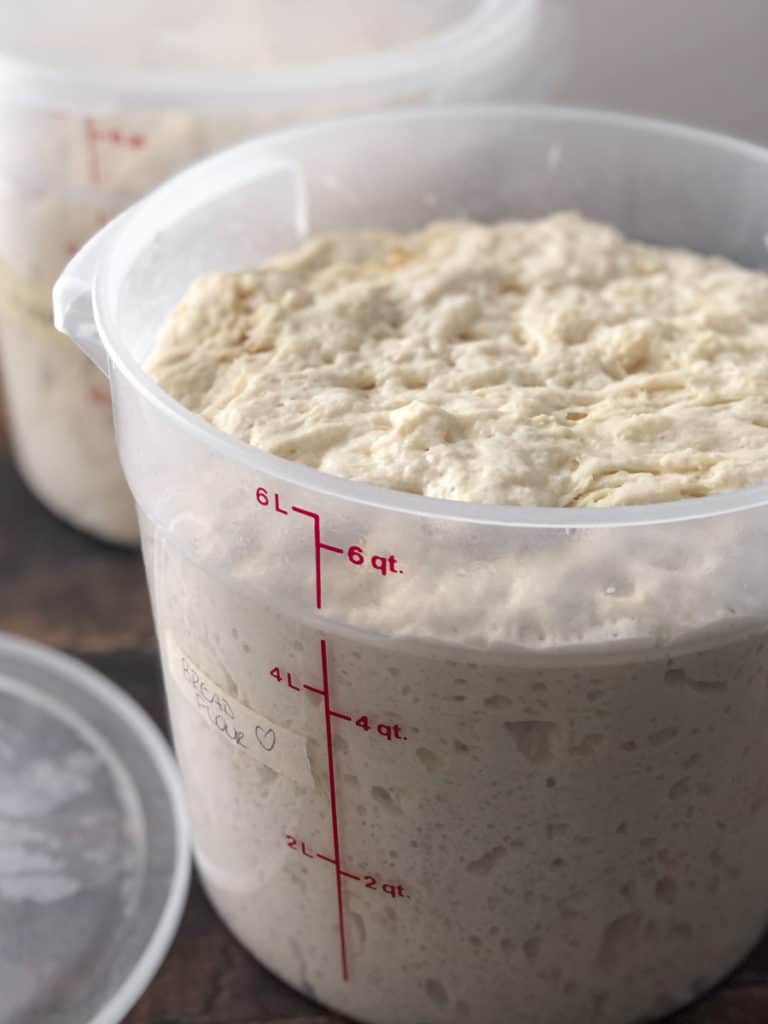 Dough making terminology
Hydration - The water/liquid - flour ratio is called the hydration level (expressed in a percentage). This dough is ~70% hydration.
Proofing - proofing yeast is a test to be sure the yeast is active. Proofing the bread dough is the stage when the yeast is growing and producing gas that causes the dough to rise, and get puffy (you may hear the term 'double in size').
Rising Time - aka the second proof. The time after the dough has been shaped and is covered and rising before baking. Typically (and more quickly) done at room temperature, but also a slower proof can be done in the fridge overnight.
Kitchen (Ambient) Temperature - if your kitchen is cool (climate or air conditioning), the proofing/rising times likely will take longer (remember the yeast thrives in a warm, draught-free environment). As well, if your kitchen is on the warm side, the proofing time will likely be shorter.
Around 75-80º F (24-26º C) is recommended kitchen temperature for yeast dough.
Pro Tip: my kitchen is not this warm, but I cover my bread dough (or sourdough) and place it near the warm stove.

Storing unbaked refrigerator dough
Fridge Time - this bread dough can be stored in a bucket in the fridge for up to 14 days. After 2 days, cover the vent (hole) in the lid with a piece of tape. The dough will collapse in the bucket after you pull a piece off, do not be concerned, this is normal. Continue to use it as per recipe instructions.
Can the bread dough be frozen? - if you don't use up all your bread dough, you can freeze it in one pound balls or smaller. Wrap tight in freezer friendly plastic or airtight container for up to a month.
Thawing Bread Dough - thaw the dough in the fridge overnight prior to baking day. Bring to room temperature, then shape and bake following the recipe.
Things to make with one bucket of dough!
This recipe makes ~4, 1 pound loaves of bread or a loaf of bread, some pitas, and a tray of cinnamon rolls. The variations and combinations are endless.
In the coming weeks, I will adding more recipes you can make with your all purpose refrigerator dough recipe including crusty rustic loaf, soft tear-apart rolls, pita bread, pizza crust, cinnamon raisin bread, sweet and savory breads, Swedish knots, homemade pretzels, plus so much more. But in the meantime, cut off a chunk and make an easy pan loaf or some garlic breadsticks.
Good luck and happy baking. I hope you find the same joy baking from scratch (the easy way) as I do!
Bread Making Resources
For a really deep dive into bread making, more pro tips, techniques, troubleshooting, science, and hundreds of year's experience, here are a few of my top resources and inspirations:
Did you make this recipe? I'd love to see it!
Pleave a star rating and review below and tag me on Instagram with any photos!
NEVER MISS A RECIPE: Sign up for my email NEWSLETTER!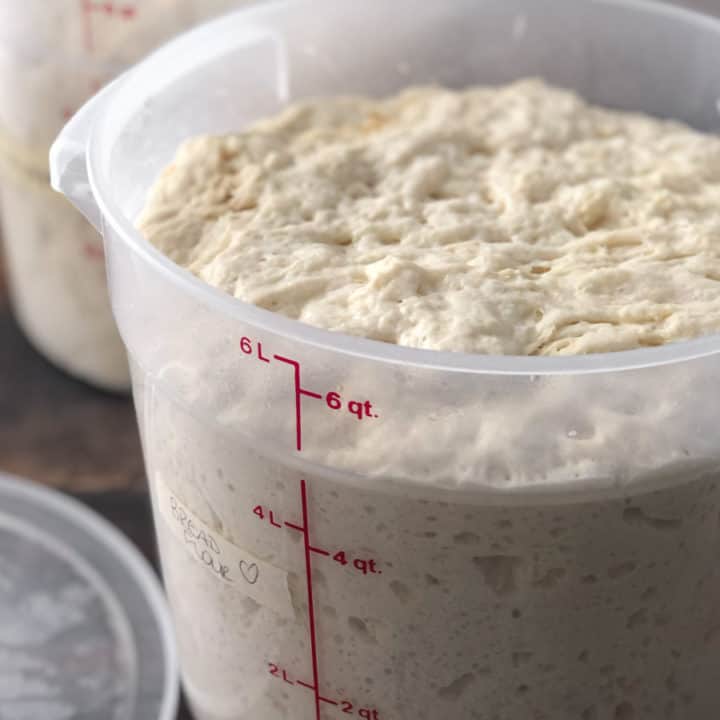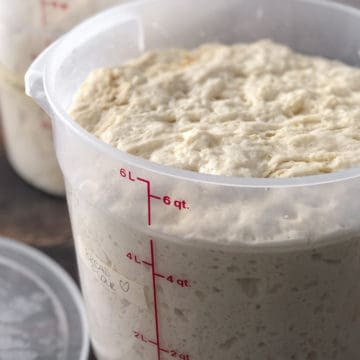 All Purpose Refrigerator Dough Master Recipe (vegan)
This all-purpose refrigerator dough (aka crazy bread dough/miracle dough) is easy to make, super versatile and totally vegan. You can make anything with this universal bread dough from bread to pitas and fancy sweet rolls, pizza, pita, and cinnamon rolls. No kneading, no mess, and very little effort to create professional quality baked goods.
Rate this recipe!
Equipment
bucket with lid

digital kitchen scale (recommended)
INGREDIENTS
680

grams

water* (room temperature)

1

tablespoon

yeast

50

grams

oil or melted vegan butter

2

tablespoons

maple syrup / agave

1000

grams

flour*

20

grams

table salt (or 1 tablespoon coarse ground)
INSTRUCTIONS
I recommend using a food scale for this recipe!

In a large plastic bucket or large bowl combine the water (~3 cups*) and yeast. Stir until dissolved.

In the winter in my climate (cold and dry), I sometimes add a couple extra tablespoons of water to be sure there are no dry bits and the flour is hydrated.

Add the oil (scant ¼ cup) and maple syrup and stir to incorporate.

Add the flour (~6 ½ cups*) and salt (~3 teaspoons) to the bucket. I use all purpose flour or bread flour.

*scoop and sweep method: I use a ¼ cup scoop to fill my 1 cup scoop and then level it with the flat side of a kitchen knife. Note: Weighing the ingredients is the most accurate.

Using a dough scraper, your hands or a large spoon, mix together until all the flour is completely incorporated.

I wet my hands several times to help get all the dry bits from the bottom of the bucket.

The dough should be tacky/sticky but not sloppy or dry.

Depending on what your climate is like and the flour you choose, you may need more or less water.

Place lid on the bucket* or cover the bowl with a plastic bowl cover (creating a nice warm, draught-free environment for flour to hydrate, the yeast to grow and the dough to rise).

*As the yeast is activated, it will produce gas so the bucket/container should not be airtight. I poke a small hole in the top of my dough bucket which works well or just place lid on top of bucket without sealing it.

Leave the dough at room temperature for ~2 hours to rise.

Place the bucket of dough in the fridge for up to two weeks. Pinch off a piece when you are ready to bake a whole loaf or just a bun or two.

Pro Tip - remember to cover the hole in the lid with a little piece of tape after 2 days.
NOTES
This refrigerator dough can be used right away after the initial proof, but it is much easier to handle (less sticky) if it spends some time in the fridge first. You may require addition flour on the work surfaces when shaping and rolling the dough when used prior to refrigeration. 
Yeast can be stored in fridge for a couple of months or for longer in the freezer.
This recipe works really well at my elevation (1045m/3438f) and climate (sunny but cold and dry).
Flour - if you don't have a digital scale (recommended), use the scoop and sweep method. When you dig a measuring cup into a compact bag of flour, it measures more flour than required. Use a smaller scoop to fill the 1 cup measure and then sweep the top with the flat side of a kitchen knife or spatula.
Pro Tip if using a digital scale:
The Tare button zeros out the scale before/after adding each ingredient. eg. turn scale on, set unit (grams), place dough bucket on scale, press Tare - scale will read zero. Pour in water, add yeast. Press Tare - scale will read zero. Repeat with remaining ingredients, zeroing out the scale before each new addition.
The basic refrigerator dough recipe can be used for so many thing - try it with some of  your family's baked recipes - you'll save so much time.
For a deep dive into all the pro tips, tricks and science behind bread making, check out my Resources section in the post.
This recipe is from simplyceecee.co food blog. All images and content are copyright protected. Please do not use my images or republish this recipe without prior permission. Thank you.