Nothing beats soft, fluffy homemade cinnamon rolls. These quick and easy, eggless cinnamon rolls are made with refrigerator dough! There's no fancy equipment needed, no kneading, and no mess. Just a few simple steps and you and your family will be devouring the best vegan cinnamon rolls slathered with lemony cream cheese frosting!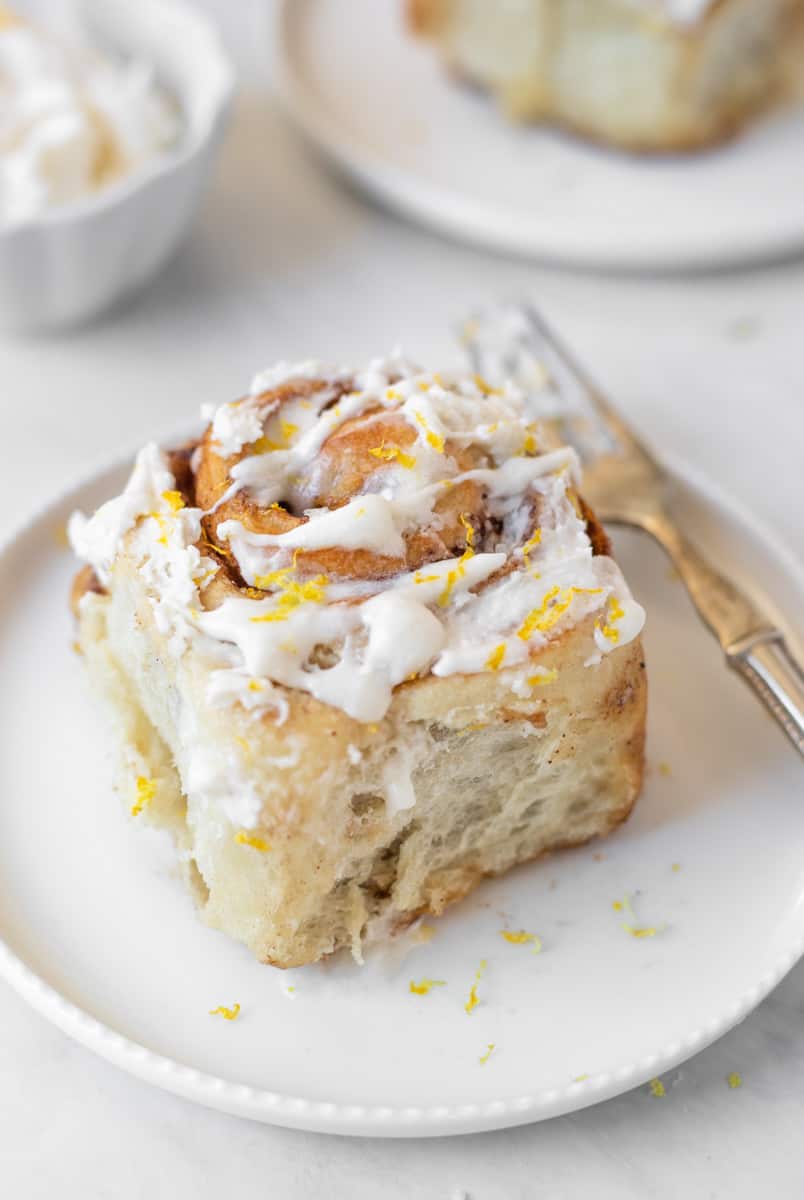 This is another recipe in my refrigerator dough series. It's a super versatile dough that's soft and buttery, ridiculously easy to make, and amazing for baking delicious bread, dinner buns, garlicky breadsticks, sweet buns, pizza dough, pitas and so much more.
Forget running out for Cinnabons or to Trader Joe's, these homemade cinnamon rolls are next level delicious and simple to make! I've included easy, step-by-step instructions and lots of tips to guide you along the way. Let's get started.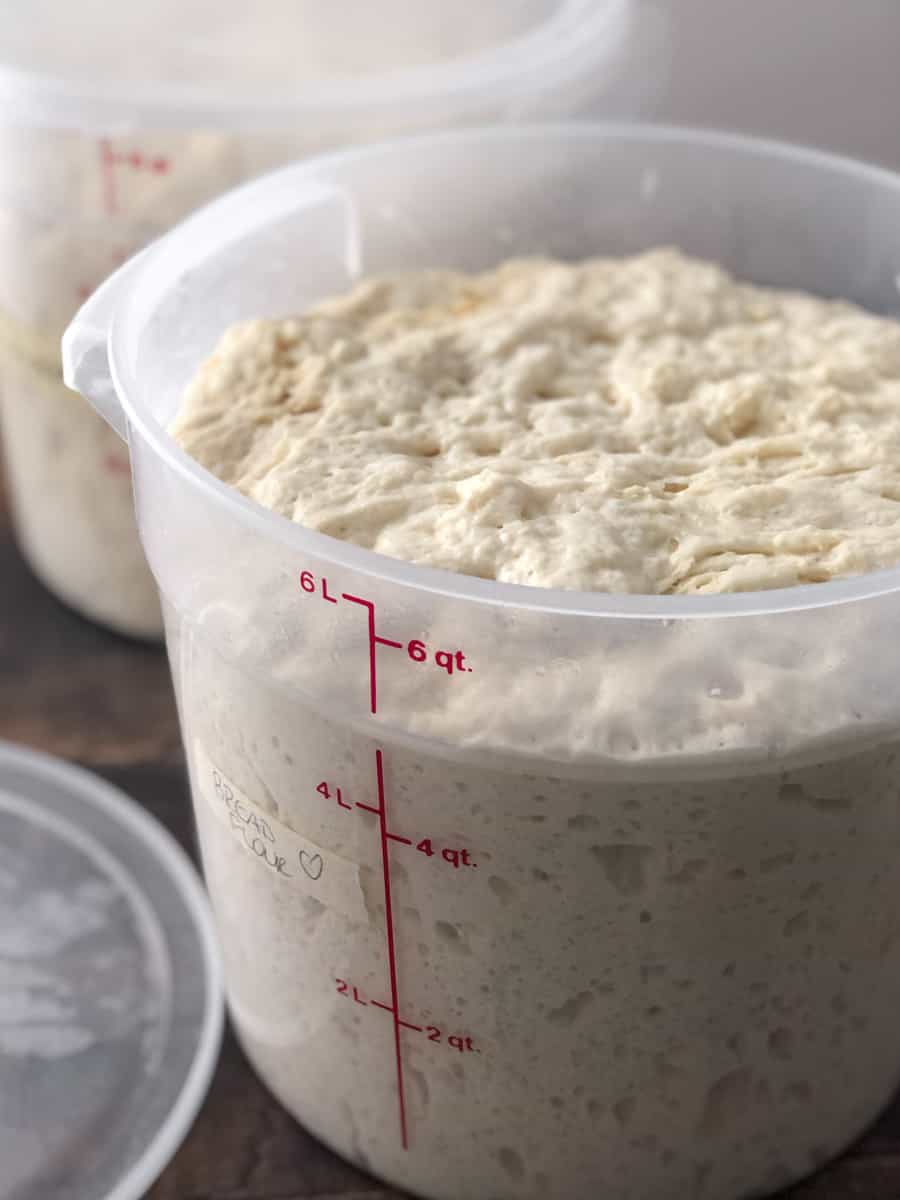 Are these the easiest and dreamiest cinnamon rolls ever? I think so! Just twist off a piece of dough, shape, proof, and bake! This is the perfect, no fail, vegan cinnamon roll recipe for everyone from beginners to pros.
Recipe Ingredients
Baking cinnamon rolls from scratch has never been easier - you need only a few pantry ingredients - no eggs, no dairy! Prepare the refrigerator dough (up to 2 weeks in advance), then grab a few more basic ingredients and you're ready to get baking:
refrigerator dough - enriched vegan dough made with flour, water, yeast, butter. This is the easiest, no knead, no punching or proofing bread dough ever. It's enriched with vegan butter (or oil) and maple syrup for a hint of sweetness. I wrote a whole post on how to make this foolproof all purpose dough with loads of tips and hints, easy to follow directions with photos, and suggested ways to use it.
cinnamon roll filling - traditional cinnamon spice and brown sugar or try chai spices
frosting - simple vanilla/lemon frosting or vegan cream cheese frosting made with butter and icing sugar.
How to make Cinnamon Rolls from Scratch
Once you've made the dough, it's time to assemble the cinnamon rolls. Here's the easy process:
Be sure your room temperature butter is soft (but not melted) before starting (you don't want to tear the dough).
Mix together the cinnamon sugar filling.
Twist off a piece of refrigerator dough about the size of a melon (larger or smaller depending on how many cinnamon rolls you're making). Then shape, proof, and bake the rolls. That's it!
Prepare the pan by greasing and fitting with parchment paper.
On a lightly floured surface, roll the dough ¼" thick into a rectangle.
Smear the dough evenly with the soften vegan butter then sprinkle with the cinnamon sugar filling.
Starting at the long end, roll the dough into a log (jelly roll style) and pinch to seal the edge.
Slice into even pieces. Place scroll side up in the prepared pan leaving some space between for the dough to rise.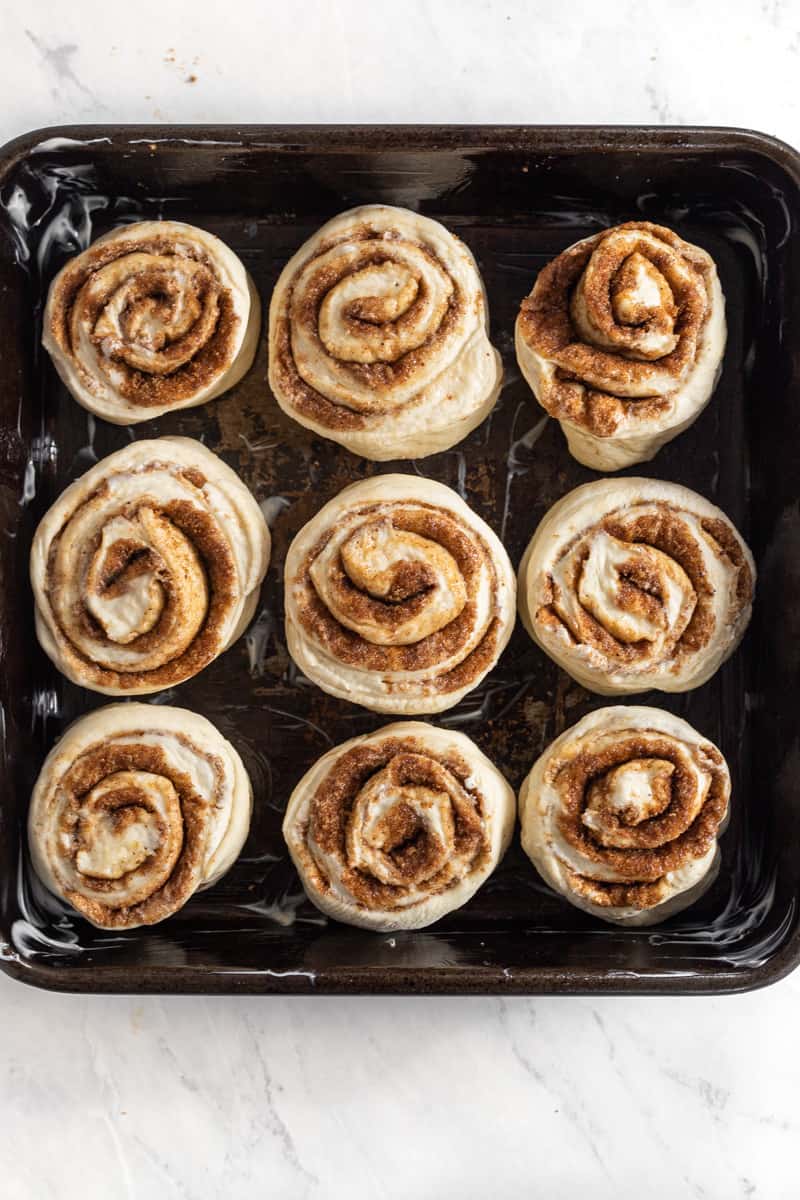 Cover and let the dough rise while the oven is preheating to 350º F.
Bake, frost, and enjoy!
TIPS for Success
Rolling the dough - lightly dust the rolling pin with flour to prevent sticking. As needed add more flour to the work surface so the dough does not stick and tear. If the dough sticks to the counter while you are rolling the dough, use a bench scraper to gently lift it in those spots.
How to cut the rolls - to get even sized rolls - cut the log in half. Then cut each half in half (giving you 4 pieces). For 8 large rolls: cut the 4 pieces in half again. Or for 12 standard-size rolls: cut the 4 pieces into 3's. For 7 or 9 rolls: measure the whole log, divide by 7 or 9, then cut accordingly. Use your bench scraper, a sharp knife, scissors or even dental floss to cut the rolls.
Choosing a pan - use a round, square or rectangle pan / baking dish. I've baked cinnamon rolls in everything from loaf pans, springform pans, muffin tins, pie plates, baking sheets, and cast iron skillets. Choose a size that's suitable for the number and size of cinnamon rolls you are baking.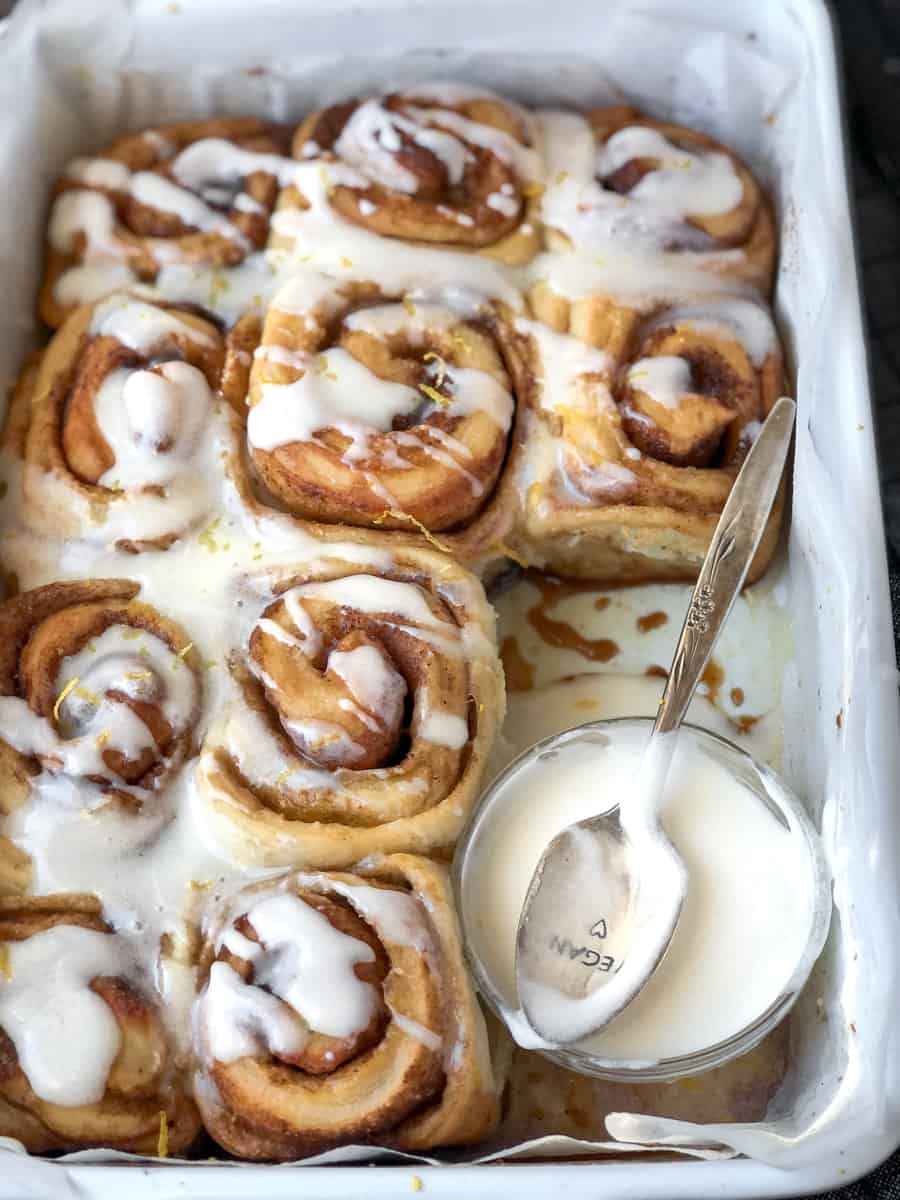 How to arrange the rolls - whichever pan you use, be sure there is some space between each roll to expand during the proofing. They will rise up and touch as they bake creating the fluffy, irresistible signature pull apart nature of cinnamon rolls. *If the rolls are too tightly packed, the middle of the roll will pop up when baked!
How to proof cinnamon rolls - cover with plastic and a kitchen towel and let the rolls rise (proof) in a warm spot while the oven is preheating.
Baking - if the rolls are browning too quickly, cover with a sheet of tin foil for the last bit of baking. Baking in a cast iron will require less time to cook!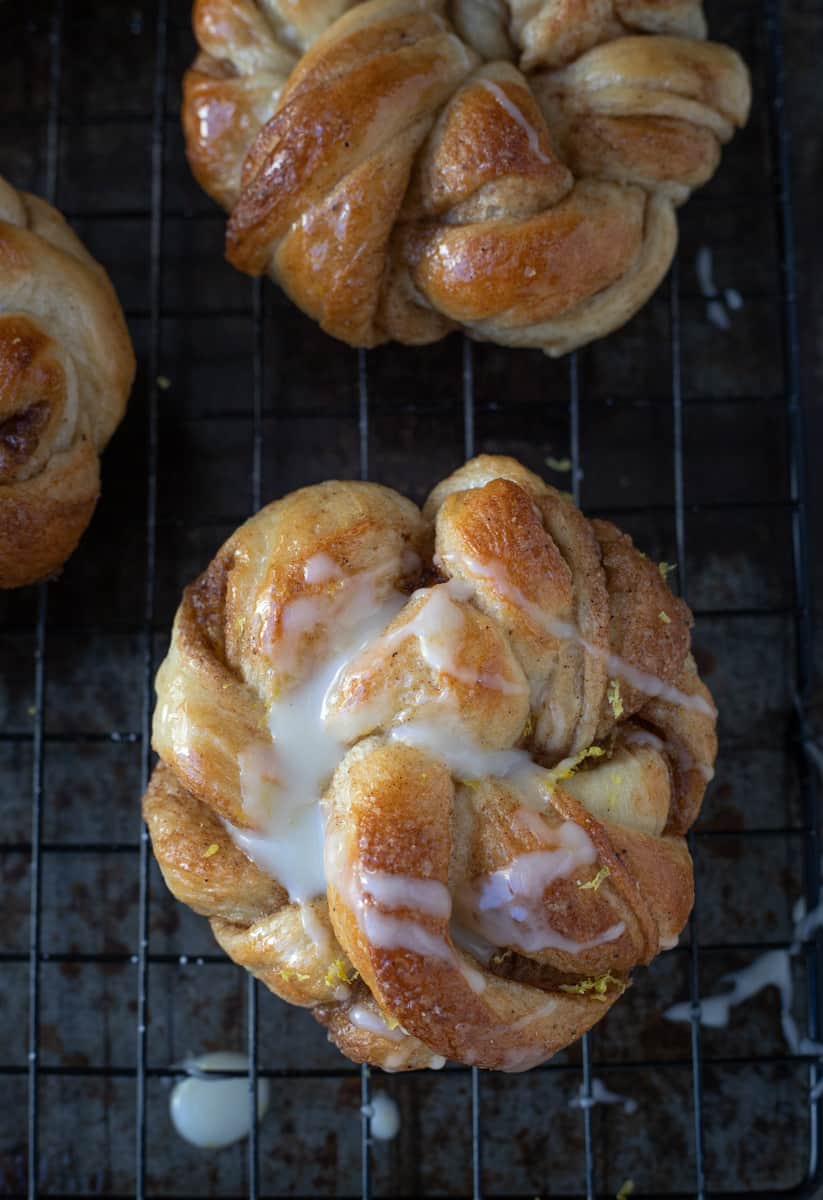 Common Questions
Are cinnamon rolls vegan?
Yes, cinnamon rolls are easily made vegan without dairy milk or eggs! Just use these dairy-free substitutes: almond milk or oat milk, vegan butter or margarine, and skip the eggs. No one will even notice, it's as delicious as traditional cinnamon roll dough.
Why does the middle pop up?
If the cinnamon rolls are placed too close together or the pan is too small, the centers of the rolls can pop up when baked. Still taste good though and you can quickly pop them back in when you remove them from the oven!
What can I add to cinnamon rolls?
Popular cinnamon roll add-ins include walnuts, pecans, raisins, chopped apple, chocolate chunks, and orange zest to name a few. Stir into the cinnamon sugar filling or sprinkle over the filling before rolling.
You might also try swapping the cinnamon for chai spice or cardamom spice (love from my Swedish roots - see photo).
How to Store and Freeze
Store at room temperature, covered, for a couple days or in the fridge for up to 5 days (if they last!). Reheat in the microwave for 20-25 seconds to bring the glorious gooeyness back to life.
To freeze baked cinnamon buns, wrap in plastic and tinfoil or in plastic wrap and a freezer proof container for up to 30 days. When ready to eat, remove from freezer and let thaw. Gently warm in the microwave, frost, and enjoy.
More Vegan Baking Recipes
I'm here to tell you that baking without eggs and dairy is NOT boring, gummy or tasteless. Check out my Vegan Baking and Dessert page for more, but in the meantime, here's some EASY, vegan baking favorites that everyone loves:
Did you make this recipe? I'd love to see it!
Please leave a star rating and comment at the bottom of the page.
Thank you so much for sharing! Tag me on Instagram 
For more Vegan Recipes: Sign up for my email NEWSLETTER!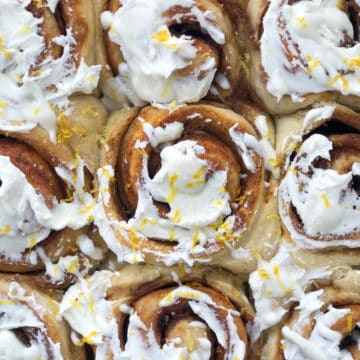 Easy Eggless Cinnamon Rolls (vegan)
You won't believe this easy cinnamon rolls recipe is eggless, dairy free, and totally vegan! They are light, fluffy, and super irresistible slathered in lemony cream cheese frosting. Be sure to have a fresh batch ready for a weekend brunch and Christmas morning!
Rate this recipe!
INGREDIENTS
1 ½

pound

chunk of refrigerator dough, size of melon
Cinnamon Sugar Filling
6

tablespoons

vegan butter, soft

⅔ - ¾

cup

brown sugar, packed

1 - 1 ½

tablespoons

cinnamon or chai spice
Vegan Cinnamon Roll Icing (vanilla or lemon)
1

tablespoon

vegan butter, softened

1

cup

powdered sugar

2

tablespoons

almond milk or oat milk

½ - 1

teaspoon

lemon extract + zest (or vanilla extract)
Lemony Vegan Cream Cheese Frosting Option
⅓

cup

vegan cream cheese (room temperature)

3

tablespoons

vegan butter (room temperature)

¾

cup

powdered icing sugar

½

teaspoon

lemon extract (more to taste) and lemon zest

pinch

salt
INSTRUCTIONS
Lightly butter bottom of pan (helps to hold parchment), add the parchment, then butter the bottom and sides of parchment. This will ensure the cinnamon buns don't stick.

If no parchment, generously grease pan (bottom and sides). Then after they are baked, run a knife along the sides of the pan and turn the cinnamon rolls out onto a serving plate or cooling rack soon after baking (before the sugar hardens ~5 minutes).
Cinnamon Sugar Filling
Toss the sugar and cinnamon together in a mixing bowl.
Rolling the Dough
Pinch off a chunk of refrigerator dough about the size of a melon. On a lightly floured work surface, turn out the dough and form into a quick ball.

Using a floured rolling pin, roll the dough into a ~12 x 18 rectangle about ¼" thick. Keep the edges as straight as possible, but it does not have to be perfect.

Lift the edges periodically to be sure the dough isn't sticking. If it is, gently lift and dust lightly with flour to prevent sticking during rolling.

Baker's Tip: flour your rolling pin by putting flour in your cupped hand and rubbing it along the surface of the rolling pin.
Assembling the Rolls
Spread the room temperature butter evenly over the dough leaving a small border (1") at one of the long ends for sealing.

Sprinkle the brown sugar and cinnamon mixture evenly over the butter. Gently pressing into the butter. Sprinkle with nuts or raisins if using.

Starting at the long end, roll the dough into a tight log - tucking and evening the edges with your hands as you go. Press to seal the edge.

Turn seam side down before slicing.

Baker's Tip: if the dough is sticking as you are rolling the log, use a bench scraper or spatula to gently release and lift the roll it so it doesn't tear.

Cut the log (using knife, bench scraper or even dental floss (unflavored), into 9-12 even sized pieces.

Transfer the rolls to the prepared pan scroll side up leaving some space between. Cover loosely with plastic wrap and a kitchen towel. Place in a warm spot to rise for ~45 minutes* until puffy and airy (see photo).

*May take longer/shorter depending on kitchen temperature.
Vegan Cinnamon Roll Icing (lemon or vanilla)
While the cinnamon rolls are proofing, make either one of the icing variations.

Cream the butter, stir in the powdered sugar. Add almond/oat milk as needed for desired consistency. Stir in lemon (or vanilla) extract and lemon zest (optional).
Lemony Vegan Cream Cheese Frosting Option
Using hand mixer, beat together the softened cream cheese (I use Miyoko's), vegan butter, powdered sugar, and lemon extract.

Add more powdered sugar as needed for desired consistency.
Bake and Serve
Place in preheated oven for 23-35 minutes until medium golden (caramel) and the centers are set. The bake time will depend how big you cut the rolls, how hot your oven runs, and the type of pan you choose.

Allow the rolls to cool for 10-15 minutes then frost, sprinkle with lemon zest, pass the extra frosting, and enjoy!
NOTES
Choice of pan for 9 rolls -  use 8" round springform pan or 9x9 square.  
For 12 rolls - use 9x13 pan (or similar).
To be sure your cinnamon rolls don't stick, line the pan with parchment and grease the parchment paper. If you don't have any baking paper, be sure to turn the cinnamon rolls out before the sugar hardens which happens quickly.
Store cinnamon rolls at room temperature for 2 or 3 days - covered. In fridge for up to 5 days - but may benefit from a short trip to the microwave to freshen up.
For best results - frost only a few cinnamon rolls at a time. Store the frosting and sweet rolls separately and then frost before serving.
This recipe is from simplyceecee.co food blog. All images and content are copyright protected. Please do not use my images or republish this recipe without prior permission. Thank you.