This savory Vegan Shepherd's Pie recipe is super easy to make, hearty, and extra flavorful. You're going to love the delicious combination of melt-in-your-mouth, spicy mince topped with crispy, garlic mashed potatoes. A comforting and satisfying vegan main dish that is guaranteed to become a new family favorite.
When I saw Gordon Ramsay, making his classic British Shepherd's pie, I just knew I had to recreate a vegan version. He says, "the secret to a great Shepherd's pie is all in the mince". So I kept the flavors and textures as close to his Shepherd's pie recipe as possible without meat or eggs. The meaty mince filling is a combination of vegan ground beef, traditional seasonings, vegetables, and red wine. Then it's topped with a crown of garlic mashed potatoes (freshly made or leftovers!). It's classic vegan comfort food - rustic, hearty, and satisfying - gluten free to boot!
Here's What You'll Need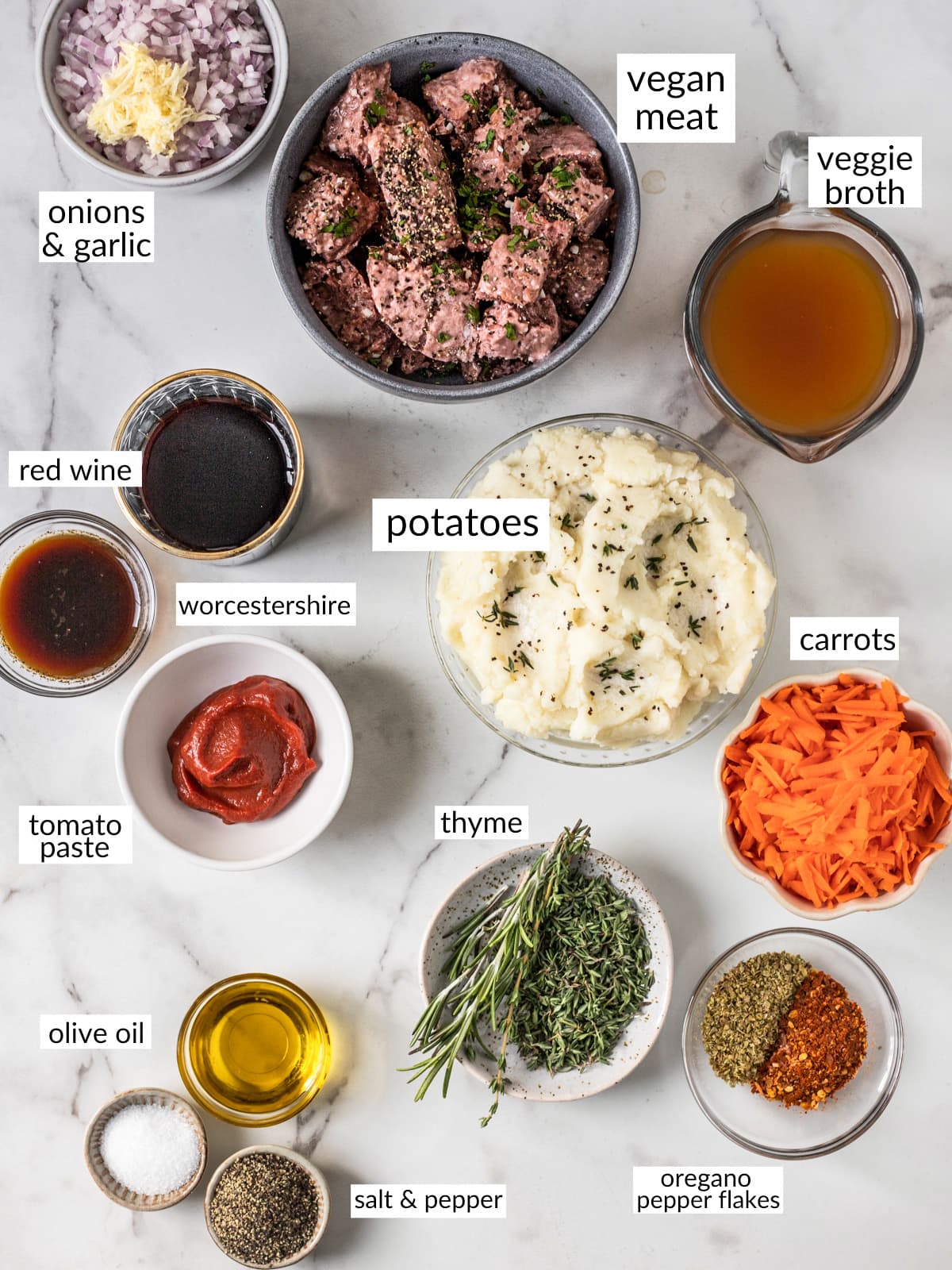 To make this simple vegan casserole, you'll need just a handful of ingredients: olive oil, carrots, onions, garlic, vegan meat (I used Beyond meat), vegan mashed potatoes, vegan heavy cream, tomato paste, vegan worcestershire sauce, red wine, veggie broth, dry oregano, fresh thyme, salt & pepper, red pepper flakes, and vegan parmesan cheese.
How to Make Shepherd's Pie Vegan
As I mentioned, this meatless shepherd's pie is very simple to make - only 3 steps! Let's get into the details including my TIPS for managing your timing (full directions in the recipe card):
Vegetable stock - mix up veggie stock (I use Better Than Bouillon).
Prepare vegetables - peel and cut the potatoes and garlic cloves; grate the carrots and onions. Pro Tip: grating the carrots and onions helps to thicken the sauce but the veggies kind of meld into the sauce. For more texture, dice the veggies instead.
Gather ingredients - gather all spices, wine, vegan Worcestershire sauce, and tomato paste and set near stove.
Preheat oven - 350º F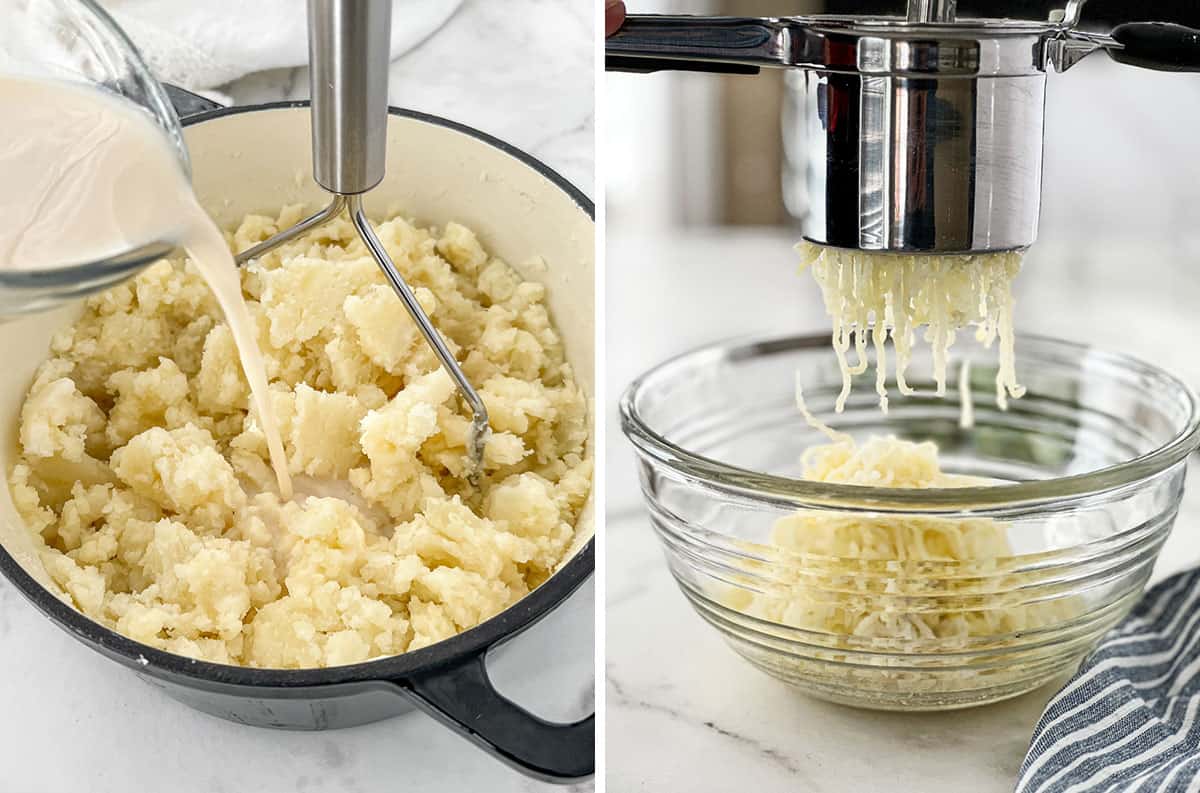 Make mashed potatoes - get the potatoes cooking. Once ready, mash or rice the potatoes with the vegan butter, dairy-free heavy cream, and seasoning. For loads of expert tips on making perfect mashed potatoes, check out my vegan mashed potatoes post.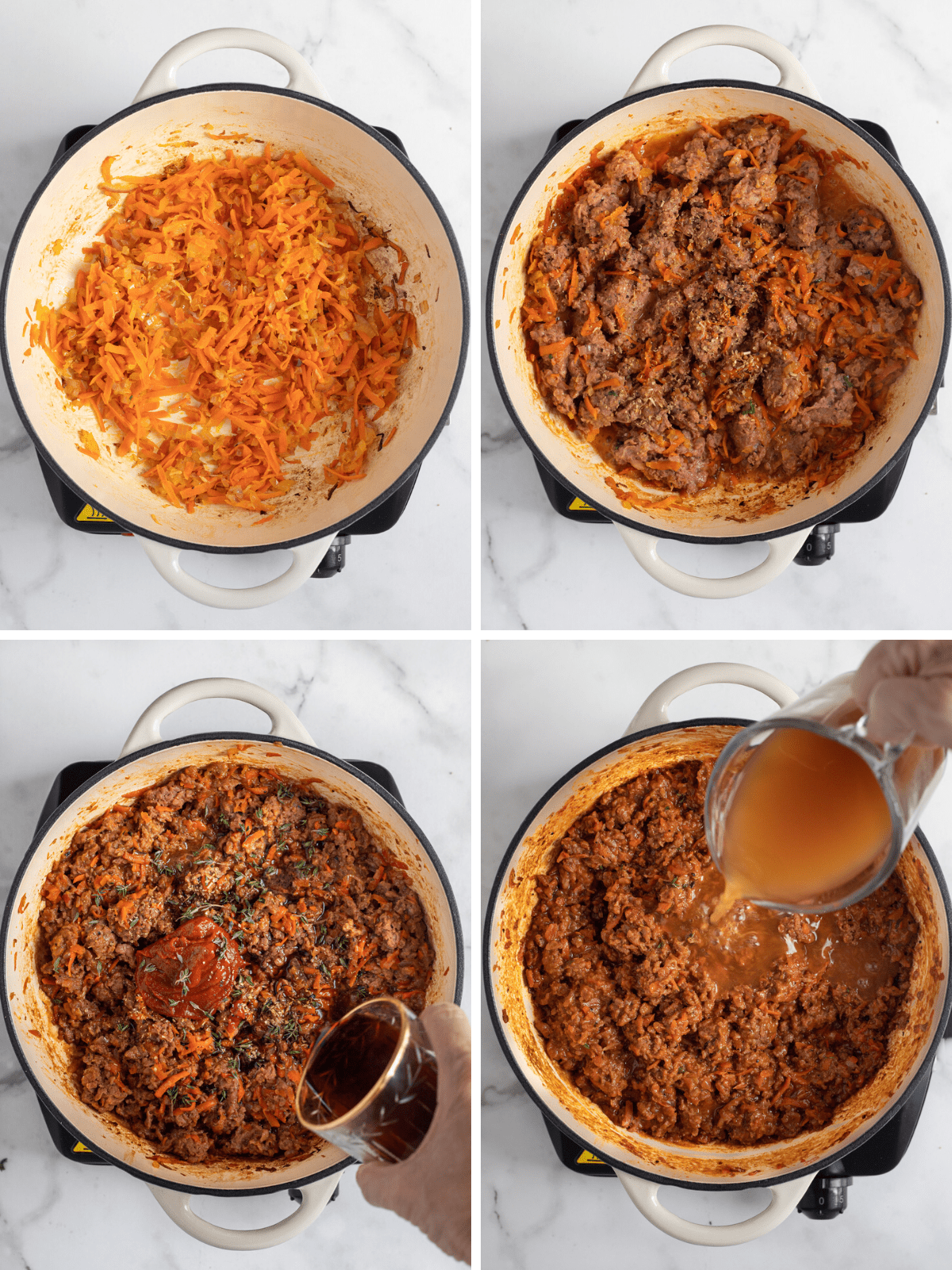 Start the mince filling - start by browning the veggies until they begin to take on some color (5-6 minutes). Then add the vegan ground meat, stirring and breaking it up as it browns. Season with salt and pepper.
Add the Worcestershire sauce, tomato paste, red wine, fresh thyme leaves, dry oregano, and red pepper flakes stirring to incorporate. Once the wine has cooked down, add the broth - simmer for 5 minutes and remove from heat. If adding peas, stir them in now.
Pro Tip: For a saucier stew/mince, add more broth or remove from heat sooner.
Assemble - if using a separate dish, transfer the mince to the prepared dish(es), then pipe or spread the mashed potatoes over the top. Create as many edges as possible (for maximum crispiness) by swirling the potatoes with the back of a spoon or dragging a fork across the top to create ridges. Adds dots of butter for extra decadence (optional).
Bake - until golden and the sauce is bubbling up the sides (~18-20 minutes). I broil for the last few minutes for extra color.
Serve - serve Shepherd's pie with a rainbow salad, a side of steamed peas or broccoli, and some crusty overnight bread.
Variations & Substitutions
Put your own spin on this recipe by making the gravy thicker or thinner, doubling up the mince, adding extra veggies or some heat. Here's a few ideas for customizing:
Vary the vegetables: Stir peas, carrots, corn or thinly sliced beans (fresh or frozen) into the mince for extra servings of veggies and texture.
Potatoes: I've heard it said that Shepherd's pie (and cottage pie) originated from British and Irish cooks getting creative with leftovers (my kind of people!). So use up those leftover mashed potatoes in this recipe (just be sure to bring them to room temperature first so they are easy to spread).
Worcestershire sub: In a pinch use tamari or soy sauce in place of gluten free Worcestershire sauce.
Red wine option: Sub in Guinness stout or use extra veggie broth if you prefer.
Make it cheesy: Top the veggie Shepherd's pie with grated vegan parmesan cheese or another shredded dairy-free cheese.
Individual servings: For a special treat, serve Shepherd's pie in individual pots (extra fancy for holiday dinners or to impress guests). Grease with butter or spray the ramekins before filling to prevent sticking.
MILLION DOLLAR TIP - texture: My advice about texture for any recipe is to include a variety of textures for the most delicious results. For this recipe, the potatoes should be soft, but not sloppy because the stew/mince also leans toward soft. I like to make the potatoes fluffy and buttery, but not too soft (definitely not whipped) with a crunchy crust. Play around and put your own fingerprints on this recipe. Enjoy!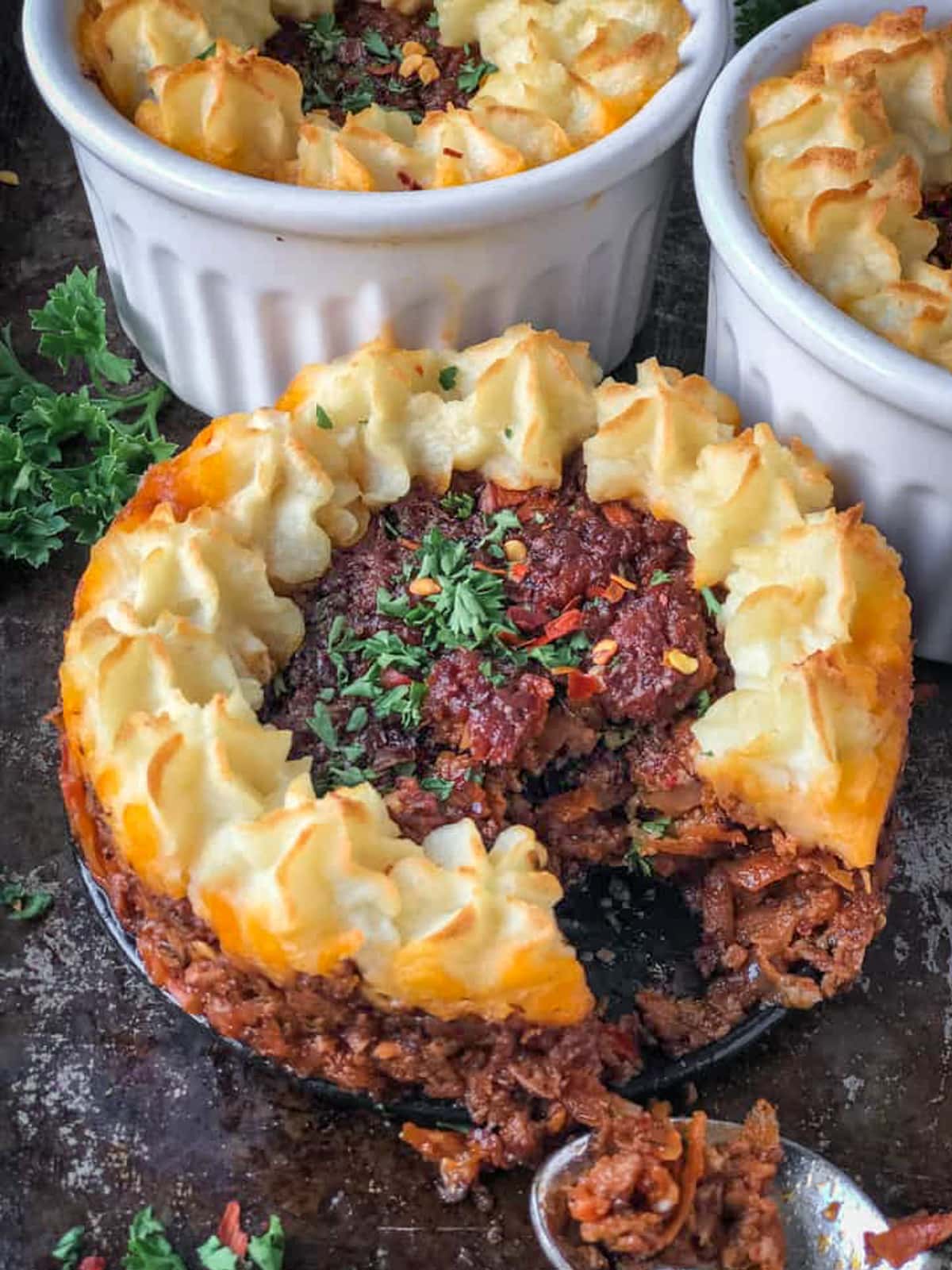 Make Ahead, Storing & Reheating
Make ahead: To get ahead, make the Shepherd's pie components the day before your big holiday dinner. Store in separate containers covered in the fridge. When ready, assemble (while the oven is preheating), bake, and enjoy!
Storing: Leftovers keep in the fridge for 3 or 4 days.
Freezing and reheating: Freeze leftovers in individual size portions for a quick and easy weeknight dinner or lunch. Let the Shepherd's pie thaw, then warm in a 350º F oven or in the microwave until heated through.
What to Serve with Vegan Shepherd's Pie
Here are some lighter side dish suggestions to balance this hearty meat and potatoes dishes: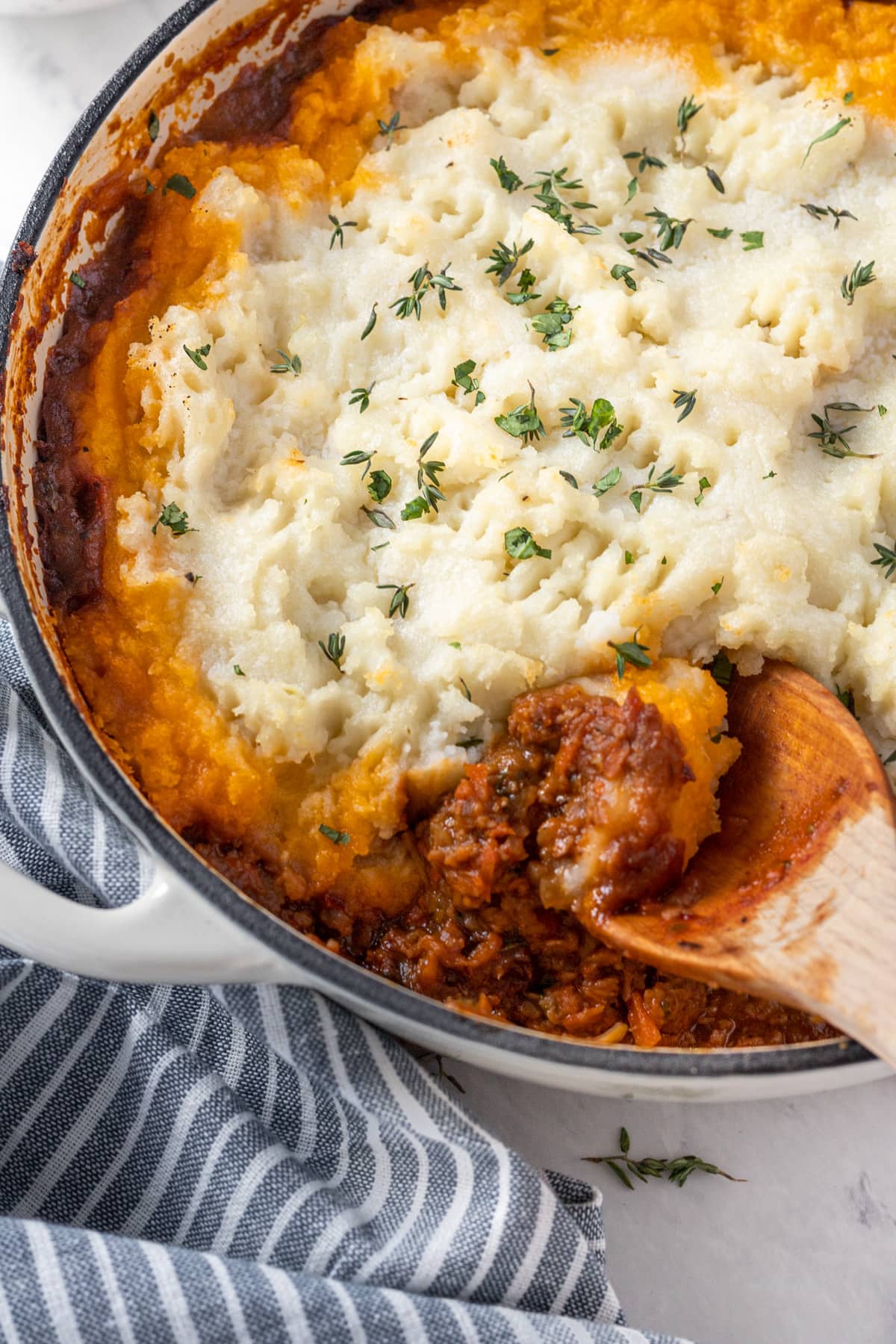 More Vegan Dinner Ideas
More ideas for Meatless Mondays or any vegan weeknight meal:
Did you make this recipe? I'd love to see it!
Please let me know in the comments. Thank you so much for sharing!
Tag me on Instagram
NEVER MISS A RECIPE: Sign up for my email NEWSLETTER!
Easy Vegan Shepherd's Pie (gf)
This easy Vegan Shepherd's pie is a layer of hearty vegan mince topped with fluffy, garlic mashed potatoes baked to crispy golden perfection. An incredible vegan version of Gordon Ramsay's classic British Shepherd's pie recipe. Super flavorful, thick, rich, and oh so satisfying. Gluten free to boot!
Rate this recipe!
INGREDIENTS
Vegan Garlic Mashed Potatoes
5-6

medium

russet potatoes (about 2 pounds)

2-3

cloves

garlic, peeled

2-4

tablespoons

vegan butter

¼

cup

vegan heavy cream (or plant-based milk)

S&P

2

tablespoons

vegan parmesan cheese or grated cheese
Vegan Mince using Beyond Meat
1-2

tablespoons

olive oil

1

small

onion, grated or diced

1

cup

carrots, grated

2-3

cloves

garlic, grated or minced

4

patties

Beyond meat, thawed

2

tablespoons

worcestershire sauce (vegan)

2

tablespoons

tomato paste

½

cup

red wine

4-6

sprigs

fresh thyme

1 ½

teaspoons

oregano, dry leaves

1

teaspoon

red pepper flakes

1

cup

vegetable broth

fresh herbs (parsley, thyme), chopped
INSTRUCTIONS
Prepare 6 ramekin cups by greasing sides and bottom (if using).
Peel and cut the potatoes into chunks. Place the potatoes, garlic cloves, and salt into a pot and cover with cold water. Bring to a boil then cook until fork tender (around 12-15 minutes depending on how big your cubes are).

Drain, mash or rice the potatoes into the pot. Add in 2-4 tablespoons butter and a few tablespoons of vegan heavy cream/milk and mash/mix to desired consistency adding more milk/butter as desired. Season to taste.
VEGETABLE MINCE FILLING  
Heat oil in a Dutch oven or oven proof skillet over medium-high heat. Add grated onions and carrots cooking for 5-6 minutes while the vegetables soften, become fragrant and change color.

Stir in the garlic and vegan meat* breaking up and cooking till browned and cooked through. *I used Beyond meat patties but you could sub for your favorite veggie mince (see notes).

Add the vegan Worcestershire sauce, tomato paste, red wine, fresh thyme leaves, (chopped fresh rosemary if using), dry oregano, and red pepper flakes stirring to incorporate.  

Once the red wine has evaporated, add the veggie broth. Cook for 4 or 5 minutes, then turn the heat off. Taste and adjust seasoning as needed.
To Assemble
Spread or pipe the mashed potatoes on top of the mince filling. Swirl the potatoes with the back of a spoon or drag a fork across the top to make ridges to get golden. Dot the tops with dairy-free butter or grated parmesan cheese for extra crispiness.

For individual servings: divide the mince filling evenly among 4-6 ramekins/pots (depending on size). Top with a scoop of potatoes and a few dabs of butter. Place on baking sheet before going into the oven.

Bake, uncovered, for 18-20 minutes until the potatoes are golden and the sauce is bubbling up around the sides. I like to broil for the last few minutes for extra golden tops.

Sprinkle with fresh thyme/parsley and hot pepper flakes. 

Serve with a leafy green salad and a side of steamed peas or broccoli.
NOTES
Vegetable Broth - I like the flavor of Better than Bouillon organic vegetable broth or No Beef base.
Grating the Veggies - grating the carrots and onions helps to thicken the mince filling while also adding flavor. If you want more texture, dice the veggies instead.
Vegan Worcestershire Sauce - use store bought (check the label) or make this easy gluten free, vegan worcestershire sauce recipe.
Leftovers and Reheating - store leftovers in the fridge for 3-4 days. Reheat in the oven at 350ºF or in the microwave until heated through.
Red Wine - sub in Guinness Ale or more veggie broth for red wine if preferred.
Vegan Meat Options - I use Beyond Meat patties as I like the extra flavor they added but you could sub for Impossible meat crumble or your favorite veggie mince, mushrooms or lentils.
Where to find Beyond Meat - look for it fresh or frozen at the grocery store.
This recipe is from simplyceecee.co food blog. All images and content are copyright protected. Please do not use my images or republish this recipe without prior permission. Thank you.
originally posted January 2019, updated November 2022