Cozy up with a bowl of vegan tomato soup! Made with slow roasted tomatoes, vegan heavy cream, and fresh herbs, this ultra flavorful and creamy classic tomato soup recipe is dairy free. Minimum effort with a maximum flavor payoff!
Who doesn't love dipping gooey vegan grilled cheese sandwiches into tomato soup? It's a beloved and nostalgic combination for lunch or dinner for a reason!
Here in Canada, we have long, cold winters so my family craves warming comfort food like soup, vegan chili, served with homemade bread! One of my favorite meals to make on Sunday afternoons is this creamy, slow roasted tomato soup because it tastes so darn amazing, it's wholesome and satisfying; and the whole house smells like an Italian restaurant!
Tomato Soup Ingredients
It takes only a few basic ingredients to build the epic flavors in this tomato soup. So gather up these ingredients, and let's get started:
Ingredient Substitutions & Variations
This homemade, tomato basil soup recipe is vibrant, creamy, thick and delicious as written. However, there's lots of room for you to customize it. Here's a few ideas:
How to Make it!
This is a really simple but impressive vegetarian tomato soup that's very easy to make from scratch. Let's get into the details:
Start by roasting fresh tomatoes, onion, garlic cloves, thyme, olive oil, and S&P in a lasagna-size pan until the tomatoes soften, burst, and release some of their juices.
While the tomatoes are in the oven, make the vegan heavy cream and veggie stock.
Then transfer the veggies to a Vitamix and blend to desired consistency.
Next the tomatoes and vegetable stock go into a Dutch oven or soup pot to simmer.
To add creaminess (and balance the acidity), stir in non-dairy heavy cream.
Taste and adjust seasonings as needed; correct consistency with more broth/water.
Let the soup simmer for 5-10 minutes more. Stir in a knob of butter for a velvety finish right before serving.
Serve topped with basil ribbons*, homemade croutons, and red pepper flakes.
Expert Tips
Ways to Serve
This plant based tomato soup is a satisfying, flavorful meal served with just crackers or a wedge of crusty bread. However, here's a few more suggestions for serving:
Storing and Reheating Soup
Storing: Store leftover soup in the fridge in an airtight container or jar for up to a week. Cool completely before storing.
Reheating: Warm leftover soup in a saucepan over medium-low heat or reheat in the microwave. You'll need to add more water or broth when reheating to thin it out.
More Tomato Recipes
If you like to cook with tomatoes, here's some of our favorites using fresh and canned tomatoes:
If you tried this creamy Vegan Tomato Soup or any other recipe on the blog, please let me know how you liked it by leaving a rating and review below! Follow along on Instagram and Pinterest for more delicious vegan recipes.
JOIN US SUNDAY MORNINGS: Sign up for my weekly NEWSLETTER!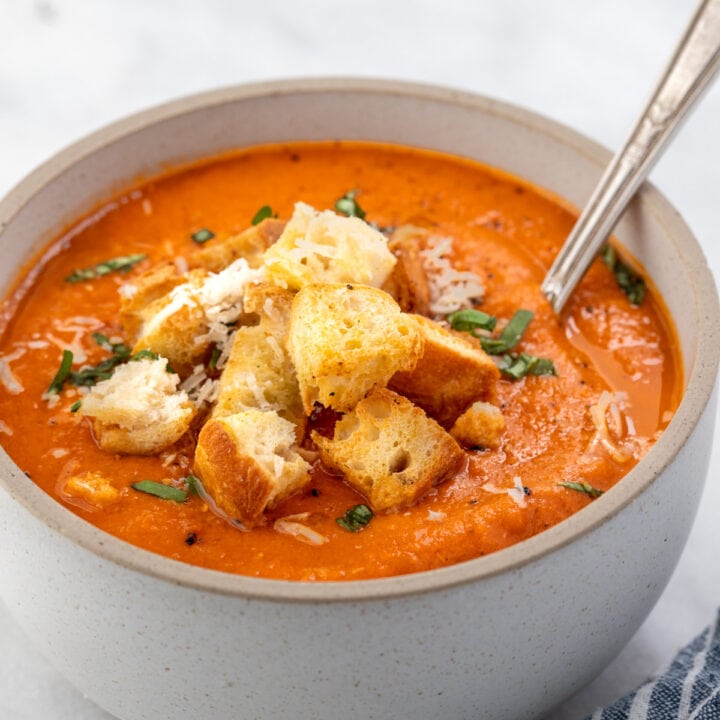 Easy Vegan Tomato Soup
Rich and creamy, this dairy free tomato soup is the best! Serve it silky smooth or leave some texture. The whole family devours this classic cream of tomato soup (vegan version) with a stack of buttery crackers or crispy grilled cheese for dipping.
Rate this recipe!
INGREDIENTS
6

cups

cherry tomatoes, fresh or frozen

2

tablespoons

olive oil

1

onion, rough chop

5-6

cloves

garlic, peeled

4-6

fresh thyme sprigs or leaves

1

teaspoon

salt

1

teaspoon

coarse black pepper

1-2

cups

vegetable broth/stock

½

cup

vegan heavy cream

6-10

leaves

fresh basil, ribbons (more to taste)

pinch

red pepper flakes

croutons for garnish
INSTRUCTIONS
Place tomatoes into a baking dish 11" x 9". Drizzle with olive oil, add garlic cloves, onion, fresh or dry thyme, salt and pepper. Place in the oven to roast for 40 - 45 minutes until the tomatoes are soft, have released their juices and are starting to caramelize.

Meanwhile, make the vegan heavy cream and prepare the vegetable stock (if necessary).

Transfer the roasted tomatoes into a blender and blend until desired consistency adding broth or water as needed.

Pour the blended tomatoes and the veggie stock into a soup pot or Dutch oven over medium heat. Stir in ~¼ cup of heavy cream. Simmer for another 10 minutes, tasting and adjusting seasoning as needed.

Add more veggie stock to thin the soup, more cashew cream for a creamier tomato bisque, and more salt to enhance the flavors.

Spoon into warm bowls. Top with hot pepper flakes, basil ribbons, vegan parmesan cheese, and crunchy croutons.
NOTES
Fresh Tomatoes: Use flavorful tomatoes (eg. cherry, cocktail or romas). If using larger tomatoes, cut half or quarters. Larger tomatoes may take extra time for roasting down. Veggie Broth: Flavorful broth = flavorful soup. I recommend Better than Bouillon vegetarian soup base. Dairy Free Tomato Soup Options: Sub coconut milk/cream for vegan heavy cream (it will change the flavor and texture slightly). Storage & Reheating: Store leftover soup in the fridge for up to 7 days in an airtight container or jar. The soup thickens as it chills. Add more broth or water to thin as needed when reheating. Homemade Croutons: Make quick air fryer croutons while the tomatoes are roasting.
This recipe is from simplyceecee.co food blog. All images and content are copyright protected. Please do not use my images or republish this recipe without prior permission. Thank you.