Sharing delicious plant-based recipes ranging from simple, vegan comfort food to fancy, gourmet dishes, and decadent desserts. There's something for everyone!
Frequently heard about vegan food . . .
Vegan dishes are tasteless – like cardboard.
Vegetables aren't going to fill me up.
Where will I get my protein?
I could never give up cheese!
I'd like to make some vegan dishes, but I don't know where to start.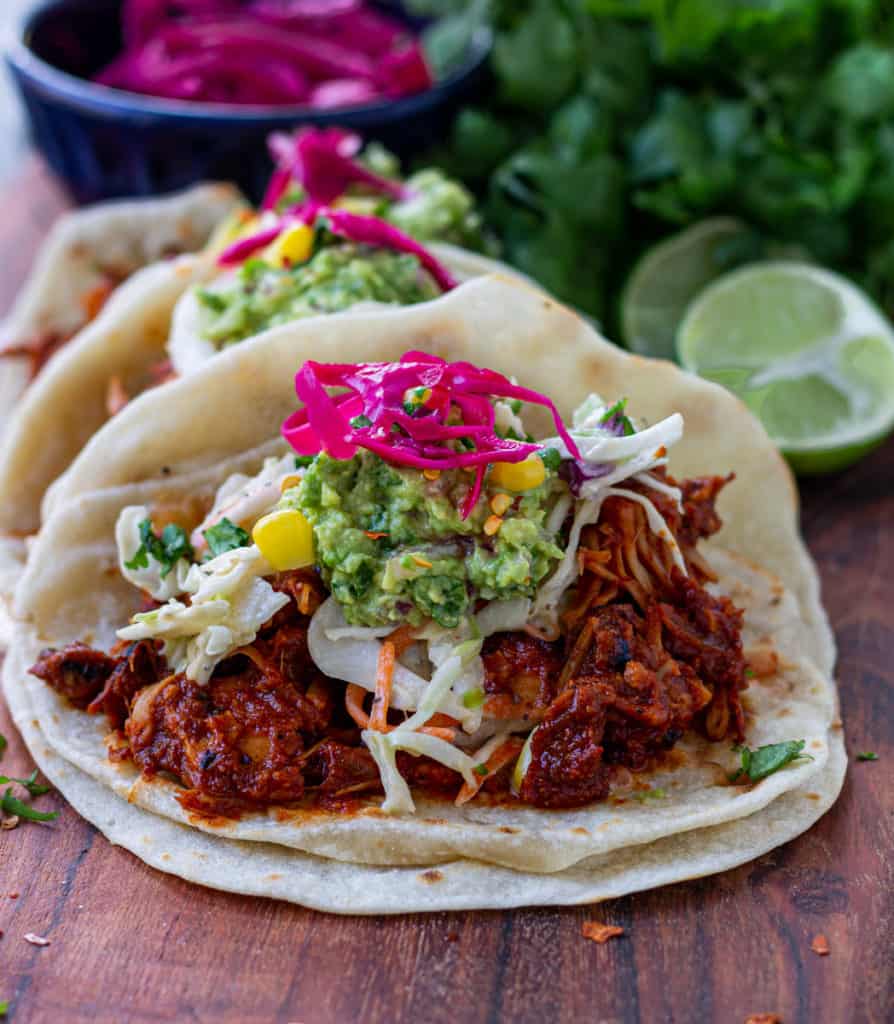 Well, I'm here to help! Everyone can enjoy delicious, flavourful, vegan food that is satiating, packed with protein, and easy to make. You won't miss the cheese. I promise!
---
What you'll find on Simply Ceecee . . .
Easy and delicious recipes for beginning cooks, new vegans, and seasoned pros alike: Chickpea Cauliflower Tacos with Slaw, Creamy Rosé Veggie Pasta or Simple Vegan Rice Bowls, hearty Vegan Chili for Everyone! are perfect for weeknight meals and are popular family favourites.
Indulgent, restaurant-quality meals like Lasagna with Béchamel and Vegan Ginger Beef Recipe with Yum Yum sauce that will impress your family and friends.
Decadent treats to delight your sweet tooth! Try our famous Peanut Butter Chocolate Chip Banana Bread Recipe, Epic Marshmallow Chocolate Chunk Cookie Cups or a holiday favourite, One-Bite Peanut Butter Cups.
Recipes that work. Our recipes are tested, tweaked, and tested again to ensure the flavours and textures are super scrumptious.
Helpful and pro tips, time management, and ingredient substitutions to ensure your cooking experience is as simple and enjoyable as possible.
Whatever you're craving, I promise you, there is a vegan version that will surprise and satisfy you.
---
What people are saying . . .
"If this dish were available at a restaurant down the street, I'd be there every night for dinner!" Drew
"OMG, we have made this banana bread 3 times in the past 2 weeks. Needless to say I'm obsessed!!!" Thea
"This recipe rocks! My husband was sold by the flavours! Thank you so much for sharing your gift and good food! " Colleen
"Okay Ceecee, I was pretty sceptical trying tofu, but this was absolutely delicious! We will be having this one again! I was amazed at how filling it was and the wonderful medley of flavours! Awesome meal! Jim & Kathryn
"Is this vegan?" said Everyone always!
---
About Tracy | How Simply Ceecee came to be . . .
In the kitchen at a very young age, I loved cooking and baking from scratch. I starred in a 'cooking show' when I was in elementary school, turned our summer beach cabin into a restaurant for one whole blissful summer, and threw my first dinner party in junior high school. What can I say, cooking is my happy place!
In 2008 my young daughter stopped eating meat which started my research into and journey toward (first vegetarian and eventually) a vegan lifestyle.
Although the physical blog didn't come to be until many years later (2018), it was born from a strong desire to share what I have learned about creating delicious, nutritious food without the use of any animal products. A roadmap of sorts to help you fast forward through some of the trials and tribulations I experienced and get you straight to the good stuff.
---
Much health and peace on your journey whether it be one, meat-free meal a week, more veggie-focused meals or a total transformation of your way of eating. I'm happy to help, contact me ([email protected]) with any questions.
Ceecee's goal is to share the magic of plants by creating plant-based recipes that are flavorful, nourishing, luxurious, and sometimes indulgent that everyone loves.
Please make and share my recipes with your family and friends, and let me know what you think.
Ceecee's recipes have been featured in Vegan Food and Living magazine, Parade Magazine, Forks Over Knives, Best of Vegan and FeedFeed.