Light and fluffy vegan buttermilk biscuits are quick and easy to make in under 30 minutes! Bake these tall, buttery vegan biscuits in the oven or the air fryer. Top with butter and cherry berry jam for breakfast or serve as a side dish with vegan gravy at Thanksgiving.
Why these Biscuits are the Best!
If you think vegan biscuits could never be as tender, buttery, and flaky as regular biscuits, you haven't tried this biscuit recipe yet! Here's why you'll fall in love with this simple biscuit recipe:
Uses basic pantry ingredients. Convenient and inexpensive to make with only 7 basic ingredients (no dairy, no eggs).
Quick and easy. Perfect for beginner and home bakers, you'll need only 1 bowl ! No mixers, rolling pins or special equipment to clean up! Plus they're ready in under 30 minutes.
Sweet or savory side dish. An easy and versatile dairy free side dish to serve with any meal! Perfect for breakfast with tofu scramble or serve it instead of bread with vegan bolognese, vegan chili or soup.
Air fryer option. Vegan biscuits baked in the air fryer are perfection! When it's too hot to turn on the oven, pop the biscuits into the air fryer - you won't be disappointed! On days you don't feel like expending ANY effort, try this fabulous express Air Fryer Biscuits (Pillsbury ready made refrigerator biscuits) recipe - such a great alternative.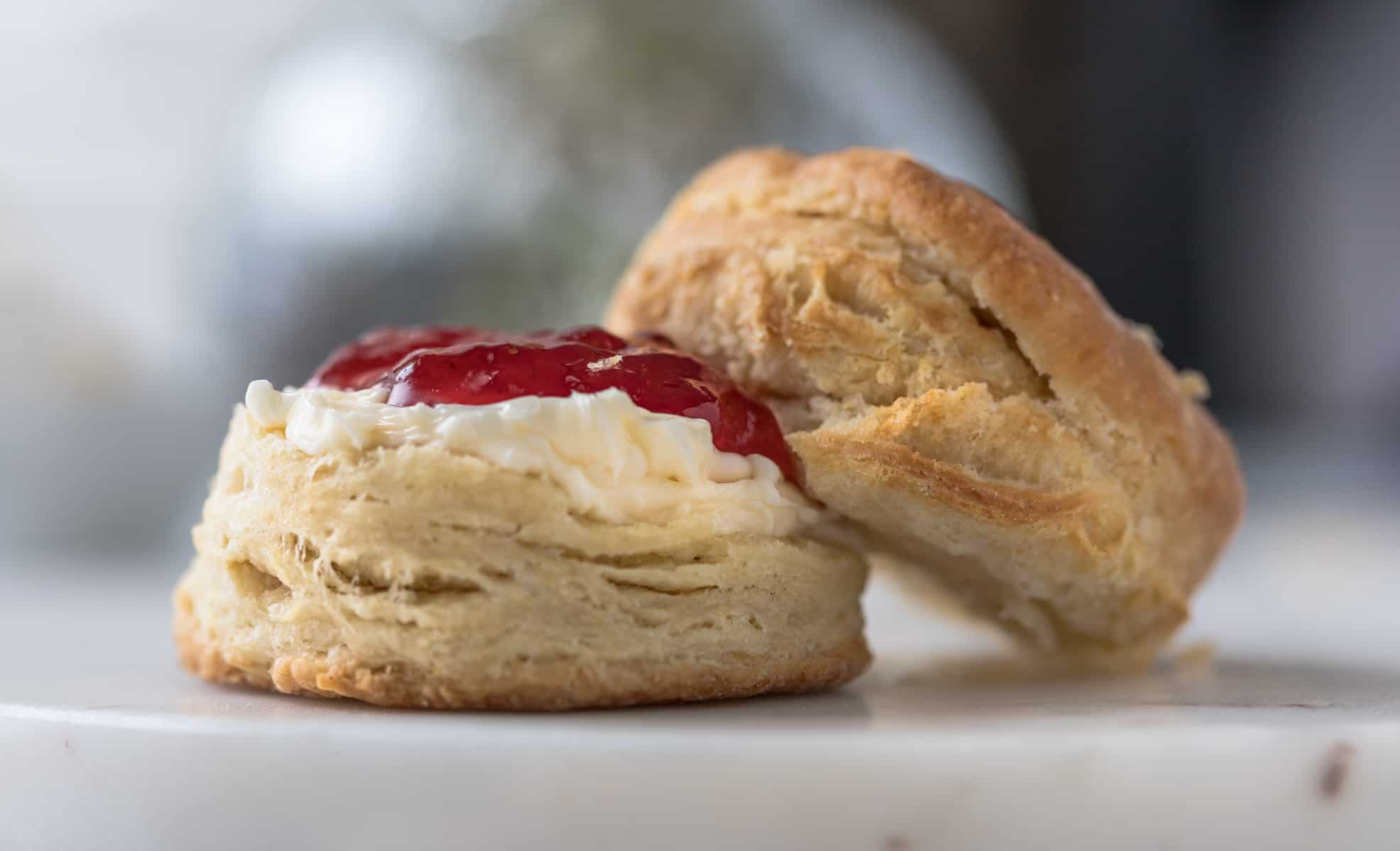 Ingredients for Vegan Buttermilk Biscuits
These plant-based biscuits come together quickly so gather up all the ingredients before you get started. Here's what you'll need: vegan butter/margarine, flour, baking powder, sugar, salt, dairy-free milk (like almond milk, oat or soy milk) and apple cider vinegar (or lemon juice).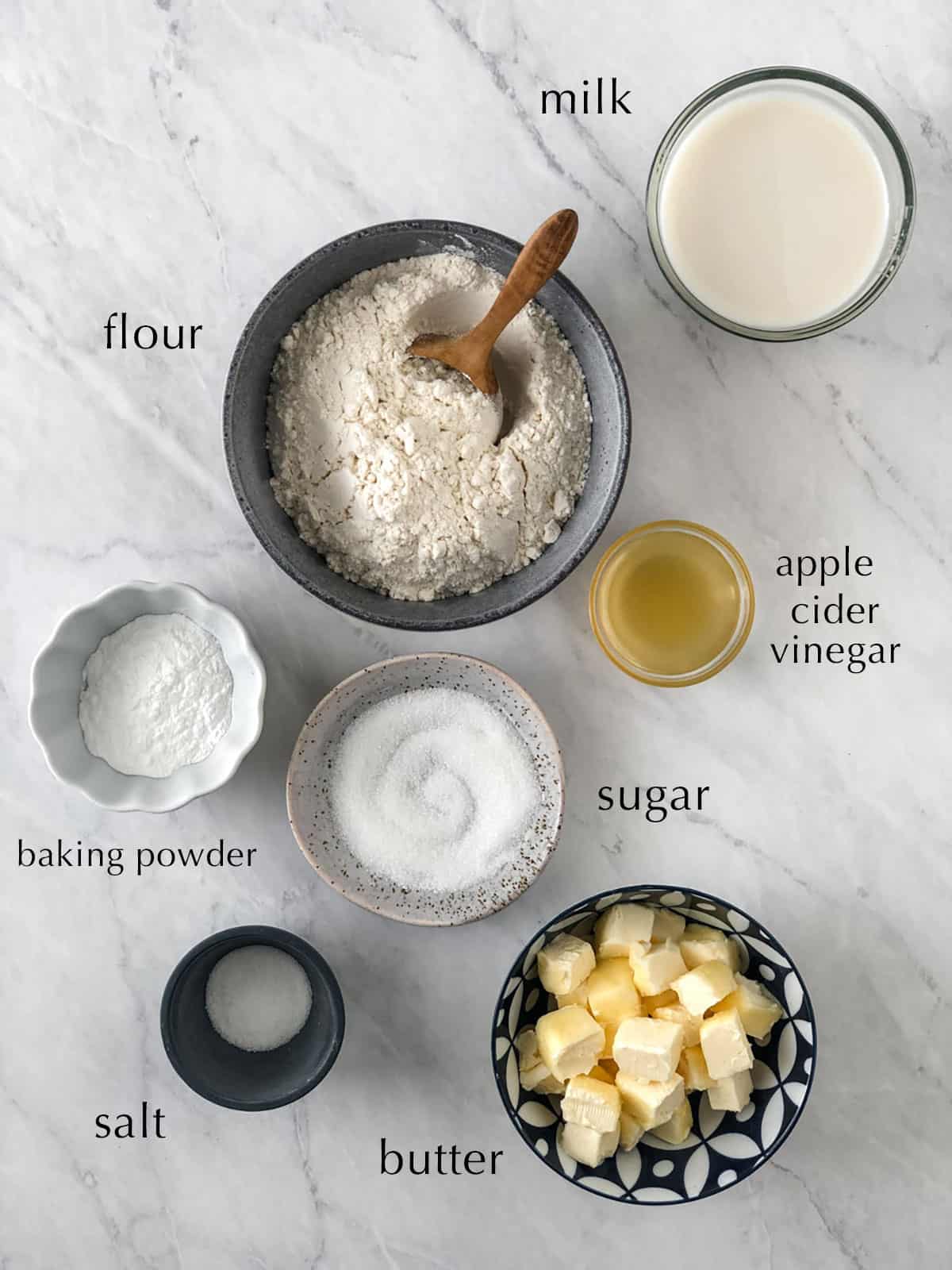 A Few Ingredient Notes
Flour. All purpose flour works great for this biscuit recipe.
Butter. Because butter is a major flavor factor, use your best tasting non-dairy butter or margarine. I love Miyoko's Cultured butter for making homemade biscuits, but use any dairy-free vegasolid butter or margarine you have (not the soft or tub style).
Dairy-free Milk. This biscuit recipe is made without milk (dairy), but it does have plain non-dairy milk - use any type you have on hand.
Acid. No apple cider vinegar? No problem - use lemon juice or white vinegar instead.
How To Make Fluffy Biscuits without Milk
Biscuits are easy to make from scratch without milk, dairy or eggs! For the flakiest, most tender biscuits, it's best to keep the butter cold and the oven hot - let's dive right into the details . . .
Mix the dry ingredients: Preheat the oven. Line a baking sheet with parchment paper. Whisk the dry ingredients together in a mixing bowl.
Cut in the butter: Cut the cold butter into cubes and work it into the dough using a pastry cutter, two knives in a scissor motion or the back of a fork until the butter is pea-sized and covered in flour. You can also freeze and grate the butter on a box grater.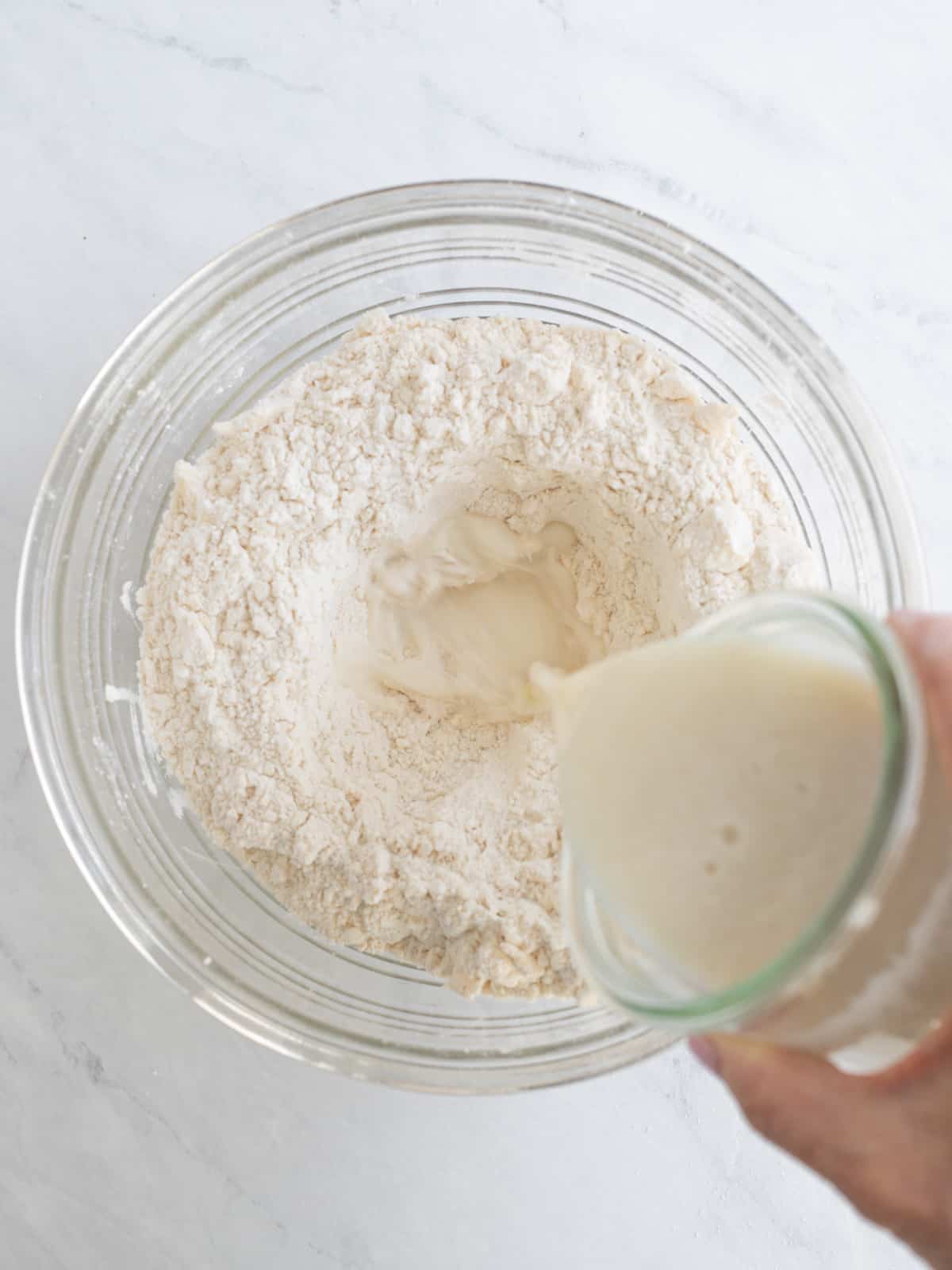 Add wet ingredients: Make a well and add the vegan buttermilk. Stir until the dough comes together (it will be shaggy). Turn the dough out onto a lightly floured surface.
Laminate the dough: Working quickly, fold the dough over itself and press down, fold and press, fold and press, grabbing the crumbly bits and pieces as you go. Maybe 10-12 folds should do it.
Cut the biscuits: Pat the dough into a circle about ¾ - 1" thick. Using a 2 ½" round cutter, cut biscuits. Arrange on a parchment lined baking sheet with space between each biscuit.
Oven baking: Bake in a hot oven for 12-18 minutes. Once the biscuits are fully baked, transfer to a wire cooling rack or slather with butter and eat immediately!
Air fryer baking: Bake in preheated air fryer for 7-9 minutes. It's almost impossible to believe how incredible these biscuits are in the air fryer!
Biscuit Variations
The best part about this vegan biscuit recipe? Its versatility! Sweet or savory, drop biscuits, square or classic rounds, oven or air fryer option, these biscuits are the best!
Easy drop biscuits: stir in an additional 2 tablespoons of milk creating a thick, sticky batter. Drop heaping tablespoon portions of biscuit dough onto a prepared baking sheet. (Yield 12-15). Bake as directed until golden brown.
Square biscuits: After the dough is patted into ¾ - 1" thick rectangle, slice using a sharp knife into ~3" squares. This is a popular shape for biscuits because there are no scraps to rework plus the shape works well for small lunch sandwiches.
Soft sided biscuits: For soft sided biscuits, place the biscuit cutouts closer together on the baking sheet (1" apart) so they will touch as they bake which helps with the structure and height as well.
Customizable add ins: Add ½ cup of grated dairy free cheese or raisins with the wet ingredients.
Air fryer option: Biscuits in the air fryer cook in half the time and are spectacular! The texture is fluffy, flaky, ever so slightly crispy perfection!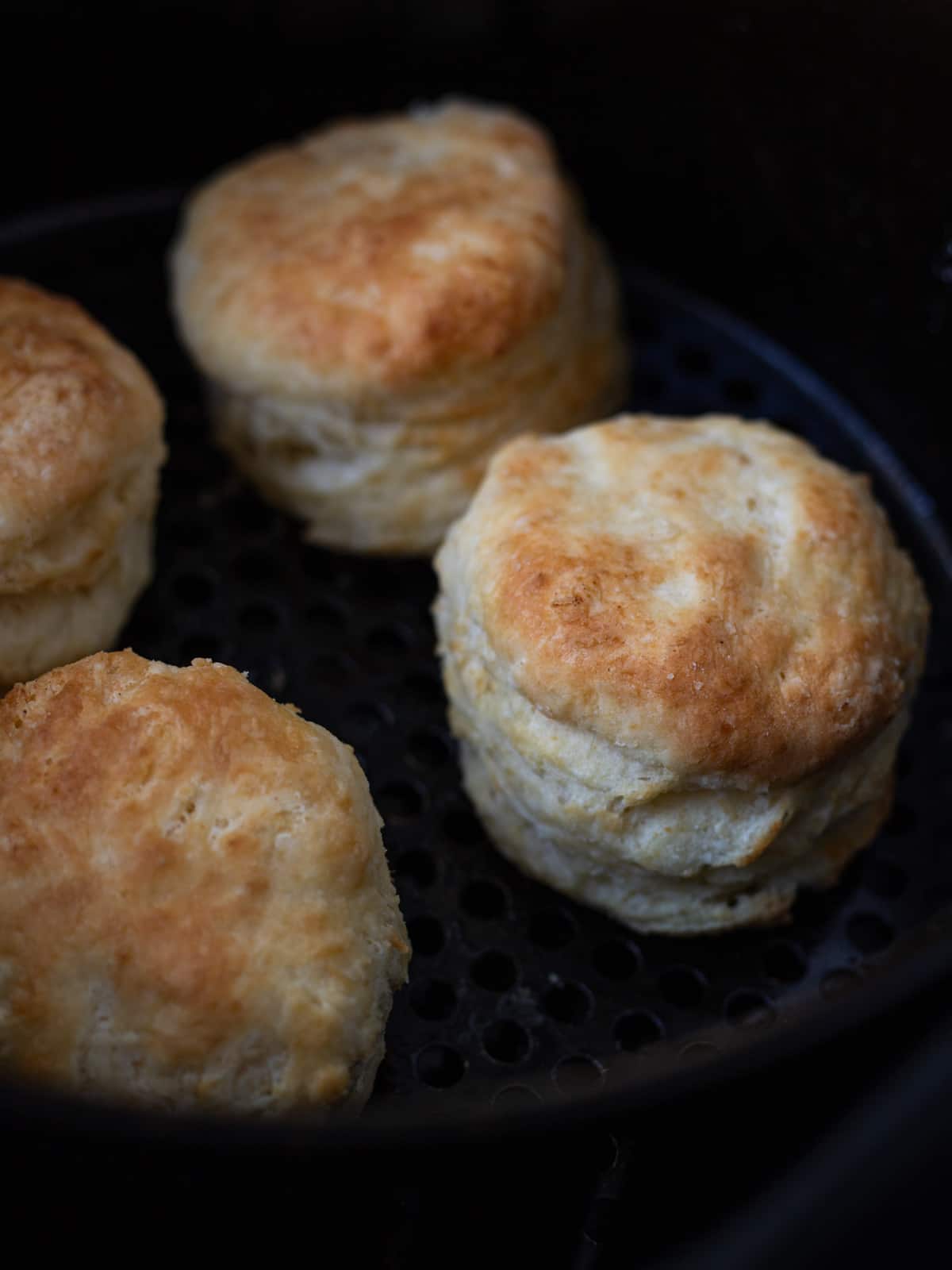 The Secret to Tall Buttery Biscuits
Don't be intimidated to make homemade biscuits - they're quick and easy! Here's my failproof biscuit making tips so your vegan biscuits turn out tall, fluffy and incredible every time:
Test the baking powder: For tall fluffy biscuits, you need active baking powder. Here's a quick test: sprinkle 1 teaspoon of baking powder over ¼ cup hot water. If it bubbles, it's active; if not, don't use it. Also, check the expiry date!
Cold butter: Cold butter produces the best results (leave in the fridge until ready to use). Here's why: The flour-coated butter creates pockets in the biscuit dough which puffs up around the butter and creates that irresistible tender flakiness.
Laminating the dough: Fold the dough on top of itself to create layers. This is done quickly so as not to melt the chunks of butter in the dough.
Tall Biscuits: I use a 2 ½" round for the perfect biscuit. My testing showed smaller biscuits didn't have enough base structure for the height. Same results when the biscuit dough was thicker than 1".
FAQs
Here's a few common questions about making baking powder biscuits from scratch (if you have any more, let me know!):
Why didn't my biscuits rise?
If your biscuits don't rise, your baking powder may not be active. Also be sure the biscuit dough is cold and the oven is preheated and hot before baking.
Can I use water instead of milk for biscuits?
Yes, I tested a biscuit recipe using water instead of milk; however, they were not as flavorful. Choose your favorite non-dairy milk or make your own like this easy almond milk for the best flavor.
Why are my biscuits tough?
Biscuits are tough for a few reasons: the dough is overworked/the gluten is overdeveloped, there's not enough fat/liquid in the recipe or there's too much flour.
How to Serve
These dairy-free biscuits are irresistible when served straight out of the oven with butter, but here's a few more ways to enjoy them:
For breakfast or snack: Slather with some dairy-free cream cheese and a drizzle of maple syrup or vegan honey - add some fresh berries for the perfect vegan breakfast or treat. Or split the biscuit open and fill with vegan eggs, cheese, and sausage.
For Dessert or Tea: Fill a vegan drop biscuit with non-dairy whipped cream and fresh berries or fruit compote for a delicious dairy-free dessert or afternoon tea.
Side dish for dinner: Serve these easy dairy free biscuits instead of bread to accompany any vegan dinner. Or serve them at Thanksgiving smothered in mushroom gravy!
How To Store, Freeze, and Thaw Biscuits
Now that you've found the best no milk biscuit recipe out there, you don't want them to go to waste. Here's a few easy storage tips:
Storage: Store in an airtight container for 2-3 days at room temperature or in the refrigerator for up to 5 days.
Freezer: Once completely cooled, freeze baked biscuits in an airtight container or freezer bag for 2-3 months.
Reheat: Of course fresh is best, but to reheat biscuits in the oven, place thawed biscuits in a 300º F oven for 4 - 5 minutes or until heated through. To reheat biscuits in the air fryer, cook at 300º F for ~2 minutes (the air fryers will all vary so keep your eyes on them the first time reheating biscuits). To reheat biscuits in the microwave, warm for 20 seconds and then in 10 second intervals until heated through.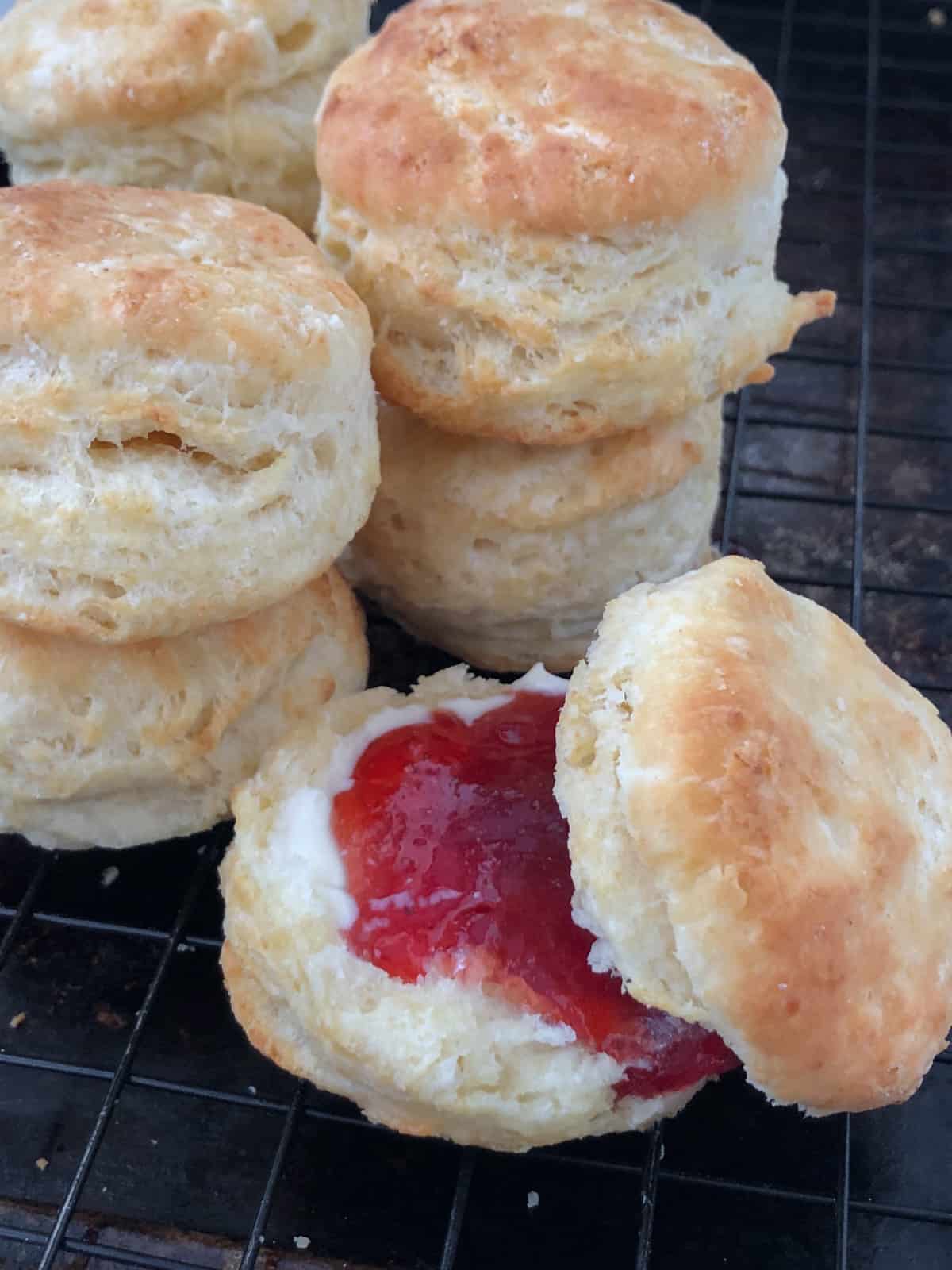 More Vegan Baking Recipes
For more delicious vegan treats, try some of these family favorites:
Happy Baking!
Did you make my fluffy vegan buttermilk biscuits? I'd love to see them!
Please leave a comment and star rating below and tag me on
Instagram if you take pictures!
Craving More?: Sign up for my Sunday morning NEWSLETTER
Best Buttermilk Biscuit Recipe (vegan)
Super light and fluffy, these vegan biscuits are melt in your mouth tender and delicious! This easy no milk biscuit recipe is perfect for beginners and home bakers who want to bake vegan treats from scratch! Your family and friends won't believe how tender and flaky these biscuits are!
Rate this recipe!
INGREDIENTS
¾

cup

non-dairy milk, cold

1

tablespoon

apple cider vinegar or lemon juice

2

cups

all purpose flour

1

tablespoon

sugar

1

tablespoon

baking powder

½ - 1

teaspoon

salt, to taste

½

cup

vegan butter, cold, cubed or grated
INSTRUCTIONS
Preheat oven to 450º F with your rack in the center position. Prepare a parchment lined baking sheet.

Measure out the milk* and stir in the apple cider vinegar to create a buttermilk. Set aside.

*I use soy milk, but any non-dairy milk will work.

Whisk dry ingredients together. 

Cut in the cold, dairy-free butter until it's an even, crumbly mixture (like flour covered cottage cheese).

Use a pastry cutter, cross cut (scissor motion) with two kitchen knives or grate frozen butter on box grater.

Make a well in the dry ingredients, pour in the buttermilk mixture. Stir using a wooden spoon or spatula until the ingredients start to come together - there may be some shaggy bits.

Turn out dough onto lightly floured surface. Working quickly, laminate the dough 10-12 times by folding it in half and pressing it back onto itself - gathering up the crumbly bits as you go to build some layers. *Don't overwork the dough.

Pat to ¾ - 1" thick circle or rectangle.

Cut with round cookie cutter (recommend 2.5") OR cut with a sharp knife into ~3" squares.

Place on parchment-lined baking sheet with some room between.

Optional: Brush with additional plant-based milk to enhance golden tops

Pro Tip: Placing the biscuits closer together will yield soft-sided biscuits. If you prefer a crispier edge, place the biscuits 1" or more apart on baking sheet.
Oven Baking Method
Bake at 450º F for 12-16 minutes until fluffy and golden. This will depend on your oven so keep your eyes on those biscuits! Mine take ~12 minutes.

Serve hot out of the oven slathered with butter.
Air Fryer Baking Method
Very lightly spray the bottom of the basket air fryer with cooking spray then preheat to 390º F for 3 or 4 minutes.

Arrange biscuits in a single layer with space between. Up to 4 biscuits in a batch was perfect for my air fryer.*

Cook until golden (~7-9 minutes). No flipping necessary. Mine are perfect in 7 ½ minutes!!!

Optional: With one minute left, lightly spray or brush melted butter on biscuit top for extra golden tops.
NOTES
Make Ahead - you can prepare and cut the biscuits then place them in the fridge on a baking sheet (loosely covered).
Yield - I cut 8 - 9, 1" thick biscuits from the initial batch. Then I can usually get a few from a re-roll.
Vegan Drop Biscuits - this drop biscuit dough is a little stickier. Use a heaping tablespoon to drop biscuit dough onto a prepared baking sheet with room between each. Bake as directed.
Leftover Baked Biscuits - can be wrapped and kept on the counter or the fridge for a couple days. They are delicious when lightly warmed in oven or microwave before serving.
Air Fryer Option - all air fryer brands and styles are slightly different. *I recommend a test run with one biscuit to check temperature and timing on your particular brand. My air fryer is a Kalorik Basket Air Fryer from Costco. I air fry up to 4 biscuits at a time. I do not use parchment or flip the biscuits. The air fryer produces beautiful, tall, flaky biscuits!
This recipe is from simplyceecee.co food blog. All images and content are copyright protected. Please do not use my images or republish this recipe without prior permission. Thank you.