This easy vegan cornbread recipe is spectacular! Fluffy and moist, it's just sweet enough, rich and buttery with a kiss of heat from jalapeño peppers. Ready in just 30 minutes from start to finish, it will be your new go-to side dish with any meal especially vegan chili!
There's nothing like the smell of cornbread baking in the oven! This vegan version of Southern-style buttermilk cornbread is no exception. It's loaded with corn flavor and has the perfect cornbread texture - golden crust, moist and tender crumb dotted with kernels of corn and flecks of jalapeño peppers. We love it served warm with whipped salted maple butter. You'll never need another homemade cornbread recipe after this one!
Why this is the Best Vegan Cornbread!
This vegan cornbread recipe is bursting with corn flavor (from two sources) and it tastes divine! It's perfectly sweet, tender but not cakey, and crumbly but not falling apart. I can't recommend it enough!
Quick and easy: This is a simple cornbread recipe to make from scratch, and clean up is a breeze.
Affordable: Cheap and easy, this homemade cornbread is made with basic pantry ingredients.
Customizable: Make your cornbread sweet or savory, smooth or rustic, and keep it simple or load it up with all the add in!
Versatile: Make cornbread in a cast iron skillet, a baking pan or make vegan cornbread muffins! See recipe card notes for cooking details.
Cornbread Ingredients
This recipe is made with only a handful of pantry ingredients (no egg and no dairy needed!):
All purpose flour: I use all purpose flour for this recipe. But use 1:1 gluten free flour (like Bob's) for gluten free cornbread.
Stone ground cornmeal: For the signature golden color and corn flavor. A medium stone ground cornmeal is the ideal texture for rustic cornbread while a fine grind cornmeal produces a more refined cakey texture. I typically make a medium-fine grind!
Pantry items: Baking powder, baking soda, and salt.
Vegan butter: For buttery rich flavor and tender moist crumb.
Vegan buttermilk: Made by mixing non dairy milk with acid. In my testing, I found that soy milk and white vinegar or apple cider vinegar had the strongest curdling response (but you can use any non-dairy milk). The buttermilk boosts the creaminess and adds flavor.
Maple Syrup: The hint of sweetness in this cornbread recipe comes from maple syrup.
Ingredient Variations and Notes
You've got some room to customize this stone ground cornbread recipe to make it your own family recipe:
Hint of garlic: Slice a clove (or two) of garlic in half and put it in the hot skillet at the same time as the butter for a hint of garlic in the buttery golden bottom crust. Spectacularly subtle.
Spicy, savory, sweet mix Ins: I always add niblets of corn (for the freshest corn flavor), green onions, and diced jalapeños to the cornbread batter to add texture, flavor, and color. These are optional, but highly recommended.
Oil vs butter: I use melted vegan butter in this recipe for both flavor and texture. Some recipes call for oil instead of butter and some use a combination of both - your choice.
Level of sweetness: Sub any sugar for maple syrup if you prefer. Reduce the sugar to ¼ cup if you like a less sweet cornbread. If you're used to a sweeter cornbread, bump up the sugar.
Make it Cheesy: Stir some grated, dairy-free jalapeño jack or Tex-Mex cheese into the cornbread batter before baking.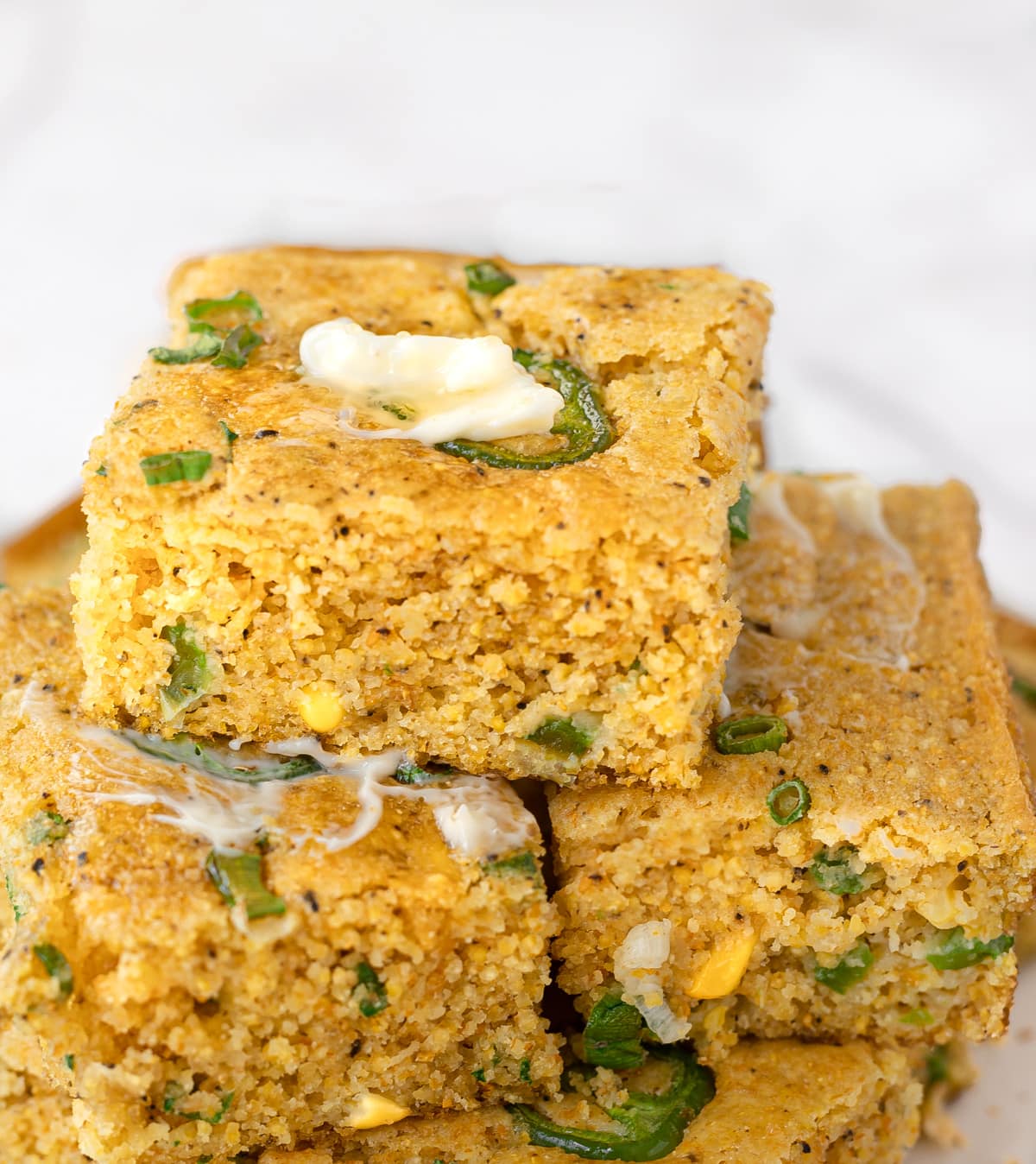 How to Make Vegan Cornbread
You may be surprised to learn that vegan cornbread is pretty darn easy to make from scratch. It takes only a few steps and is ready in under 30 minutes from start to finish. Let's make some together:
Start by preheating the oven to 425º F. Stick a cast iron pan* in the oven at the same time. Use an 8-10" cast iron pan (the smaller the skillet, the thicker the cornbread).
While the oven heats up, mix together the wet ingredients. Stir the vegan buttermilk ingredients together and let it curdle while you melt the vegan butter.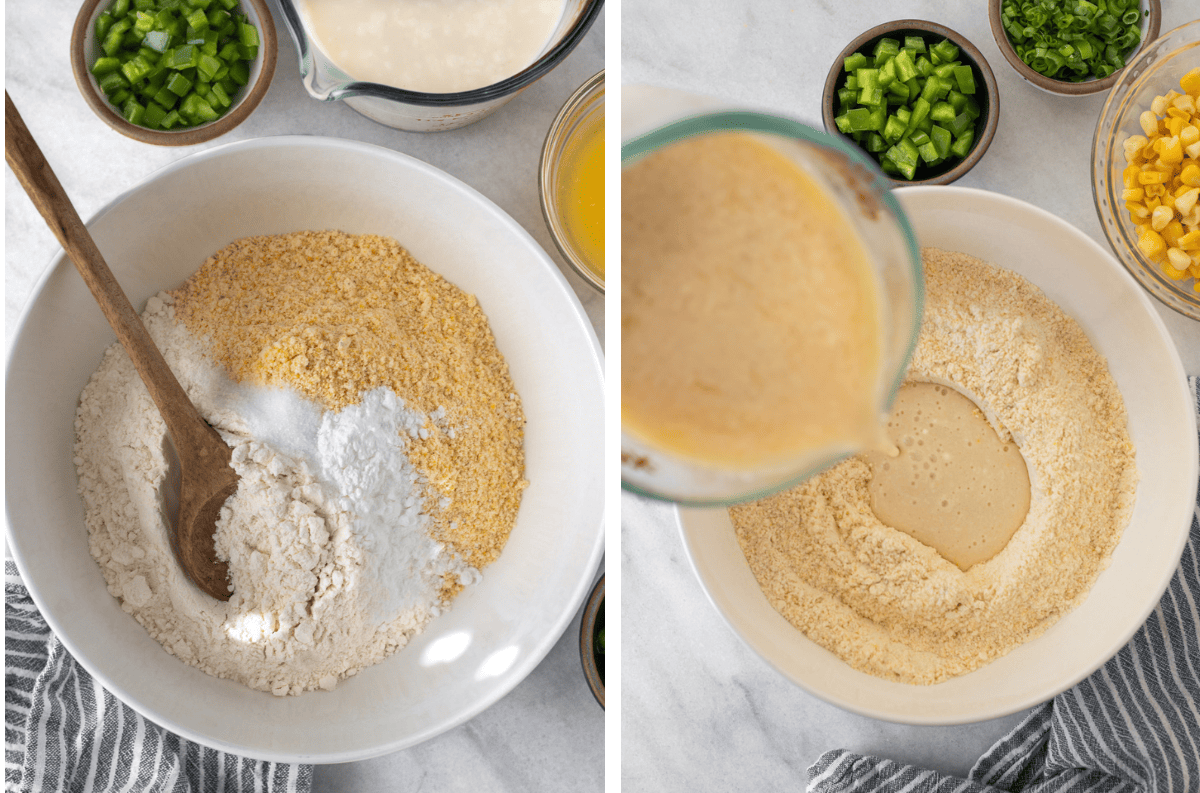 Stir the dry ingredients together in a large bowl.
Prep the veggies: Slice the green onions and jalapeños (if using).
Mix the cornbread batter: Pour the wet ingredients (buttermilk, maple syrup, and melted butter) into the dry ingredients and stir until just incorporated.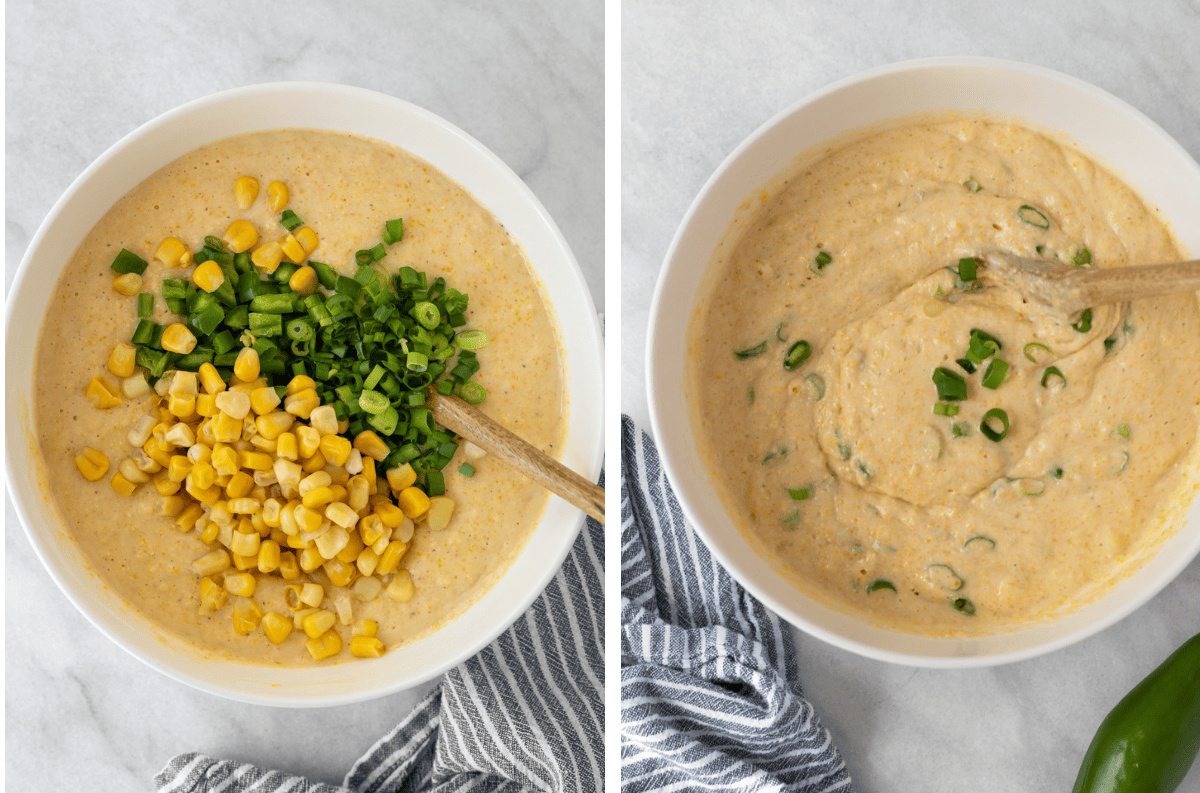 Fold in any add-ins now (reserving some for sprinkling on top). The batter will be thick and pourable. Let the batter sit for 10 minutes to hydrate the cornmeal and flour.
Prepare the cast iron skillet: Once the batter is ready, remove the very hot cast iron pan from the oven (wear oven mitts). Add a tablespoon of butter and a clove (or two) of garlic sliced in half and swirl it around the bottom and sides of the skillet. Remove the garlic with a spoon.
Bake your cornbread: Swirl the cornbread batter into the hot skillet, sprinkle with reserved green onions and jalapeños (or add sliced jalapeños to the top). Return the skillet to the oven and reduce the temperature to 375º F. Bake until golden and the center is set and springs back to touch. This should take ~20 to 25 minutes.
Enjoy!: Let the baked cornbread cool for at least 15 minutes (or longer). Lots of time to admire how pretty it is - then slice and devour it with salted maple butter.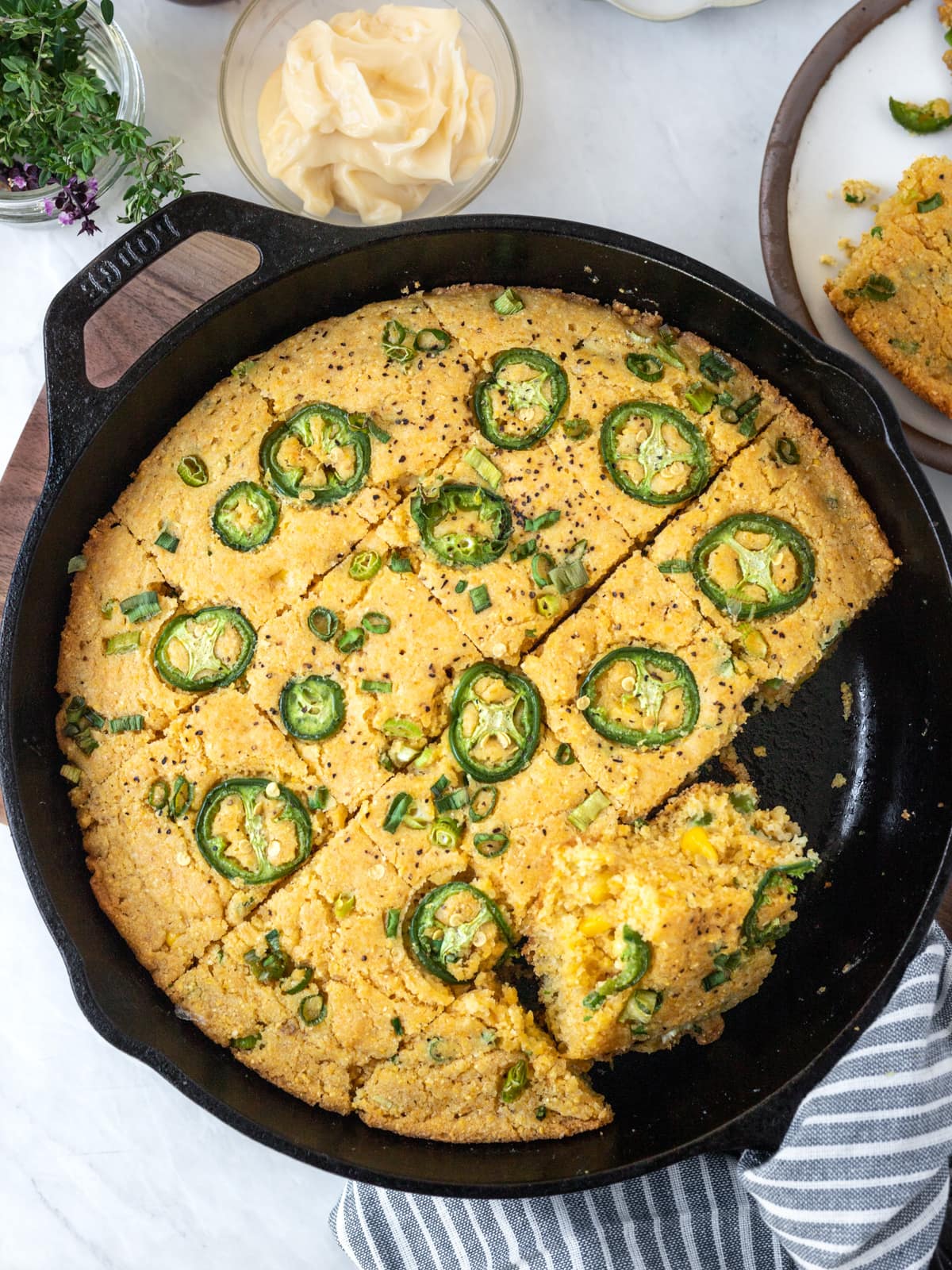 Expert Tips
Here's a few tips that will ensure your vegan cornbread is golden, moist and tender, but not too crumbly:
Hot cast iron skillet: Just like making sourdough bread and overnight bread, a sizzling hot skillet will ensure an incredible crust. Swirling garlic butter on the bottom of the hot skillet right before pouring in the cornbread batter adds another layer of flavor and texture to the bottom crust.
The perfect crumb and crust: If you cook the cornbread at too low a temperature it dries out. A higher temperature to start maximizes the bread rise and sear on the bottom crust, then lowering the temperature finishes cooking the inside for a perfectly moist and tender center.
Million Dollar Tip: I know you're going to want to dig into your cornbread immediately because it smells so dang fantastic; but learn from my mistake. LET THE VEGAN CORNBREAD COOL for at least 15 minutes. Vegan cornbread is tender because of no eggs to bind it. It's really tender when hot, but firms up as it cools. No one wants their cornbread in their lap.
What Goes with Cornbread
We love this vegan skillet cornbread as a savory, buttery side dish on the Thanksgiving table and it pairs perfectly with the fiery intensity of vegan chilli. Plus it's a hit at barbecues, potlucks, and family get togethers. More serving suggestions:
Storing Leftovers
If you have any leftover cornbread, it keeps well wrapped on the counter or in the fridge for up to a week. Pop it wrapped into the freezer for up to 3 months.
More Incredible Vegan Baking Recipes
Don't believe the rumors that vegan baking is boring, bland, and gummy. It's not and here's proof:
If you tried my divine Vegan Cornbread Recipe, please let me know how you liked it by leaving a rating and review below! Follow along on Instagram and Pinterest for more delicious vegan recipes.
JOIN US SUNDAY MORNINGS: Sign up for my weekly NEWSLETTER!
The Best Vegan Cornbread Recipe (with salted maple butter)
Nothing smells better than cornbread baking in the oven. This tried and true cornbread recipe is a family favorite. It's bursting with corn flavor, and we love the buttery golden crust and tender moist center dotted with corn and jalapeño peppers. Ready in just 30 minutes from start to finish, there's nothing better with soup or chili!
Rate this recipe!
INGREDIENTS
1 ⅓

cups

soy milk

1

tablespoon

white vinegar (or apple cider vinegar)

¾

cup

all purpose flour + 1 tablespoon

1 ¼

cups

medium grind cornmeal (use fine grind for less rustic)*

2

teaspoons

baking powder

½

teaspoon

baking soda

1

teaspoon

kosher salt

⅓

cup

vegan butter, melted

⅓

cup

maple syrup

1-2

jalapeno peppers, diced or sliced

1

tablespoon

dairy free butter

1

clove

garlic, peeled and halved
Add Ins
1

cup

sweet corn, fresh or frozen (thawed)

2 - 3

green onions, sliced

1-2

jalapeno peppers, diced or sliced thin
Salted Maple Butter Topping
3

tablespoons

vegan butter/margarine, softened

2

tablespoons

maple syrup

flaky salt (to taste)

fresh thyme leaves
INSTRUCTIONS
Preheating the Oven / Pan
Preheat the oven to 425º F with rack in middle position.

Place 8 - 10" cast iron skillet into the oven to preheat.
Cornbread Batter
Stir the non-dairy milk and vinegar together in a measuring cup. Set aside to curdle which will be your vegan buttermilk. Melt the butter.

Measure dry ingredients into a medium size bowl and stir together.

Make a well in the center of the dry ingredients. Add the buttermilk, melted butter, and maple syrup. Stir until the batter comes together.

OPTIONAL ADD INS: Now is the time to fold any add ins ie. corn kernels, green onions, and jalapeños into the batter.

Remove the HOT pan from the oven, add 1 tablespoon of butter and the halved garlic clove swirl to coat the bottom and sides of the skillet. Remove the garlic pieces.

Swirl the cornbread batter evenly into the hot pan.

Garnish the top with thin slices of jalapeños, a handful of green onion slices, and coarse black pepper if desired.

Reduce heat to 375ºF then bake for 20 - 25 minutes until the top is golden and the a toothpick comes out clean when tested in the center.

Let cool for at least 15 minutes before slicing and serving.
Salted Maple Butter
Whisk together softened vegan butter with the maple syrup until smooth and fluffy.

Stir in a sprinkle or two of flaky salt. Taste and adjust maple syrup and salt as needed.

Slather on warm cornbread with a sprinkle of fresh thyme leaves.
NOTES
*Stone Ground Cornmeal Texture: The grind on cornmeal is a personal preference. Some like a grittier cornbread some like it more refined. I like something in between so I dump half a bag (at a time) of Bob's Red Mill medium grind into my Vitamix and pulse/blend it for a 10-15 seconds or so until it is slightly finer bits than medium, but still has a good rustic texture. Cast-iron Skillet: Use an 8-10" skillet (the photos in this recipe are 10" skillet). The smaller the cast iron, the thicker the cornbread. No Cast-iron Skillet?: No problem, use a baking pan. Follow the steps above except, don't preheat the baking pan (just the oven). Bake in a generously buttered 9" square or round cake pan for 20-23 minutes at 400º F until golden and the center springs back when touched. Move pan to wire rack to cool for ~15 minutes, then cut into 9 or 12 squares and enjoy. Vegan Cornbread Muffins: Make the recipe as above. Fill greased muffin tins. Bake in 425º F oven for 5 minutes then reduce heat to 350º F for 15-17 minutes until golden and a toothpick or knife comes out clean.
This recipe is from simplyceecee.co food blog. All images and content are copyright protected. Please do not use my images or republish this recipe without prior permission. Thank you.