Looking for some cozy, vegan comfort food to make this Fall and Winter? Check out my list of Popular Vegan Dinner Recipes - a go-to vegan recipe guide you can count on to get dinner sorted on Meatless Mondays and every other day of the week too!
To kick off Fall and Winter 2023, I've gathered together 20 of my top tried and true vegan dinner recipes. Whether you follow a vegan lifestyle, are wondering about plant-based meals, need a great recipe to serve vegan friends and family or just want to add more veggies to your meals, you're sure to love some (or all) of these vegan recipes. These aren't just delicious vegan dinner recipes, they are delicious dinner recipes period.
There's something for everyone: vegans, vegetarians, plant based, and meat eaters alike. Most of the recipes are special diet/allergy friendly: no eggs or dairy, gluten free, soy free, oil free, and refined sugar free to name a few. Okay, let's get into the details of our BEST VEGAN RECIPES (comfort food edition)!
A taste of Italy! A simple twist on a classic Italian dish, this vegan bolognese is just as rich and full of flavor as the original; but it's completely plant based. Serve it over spaghetti, polenta or baked potatoes with a vegan Caesar salad on the side for a delicious and hearty vegan weeknight dinner.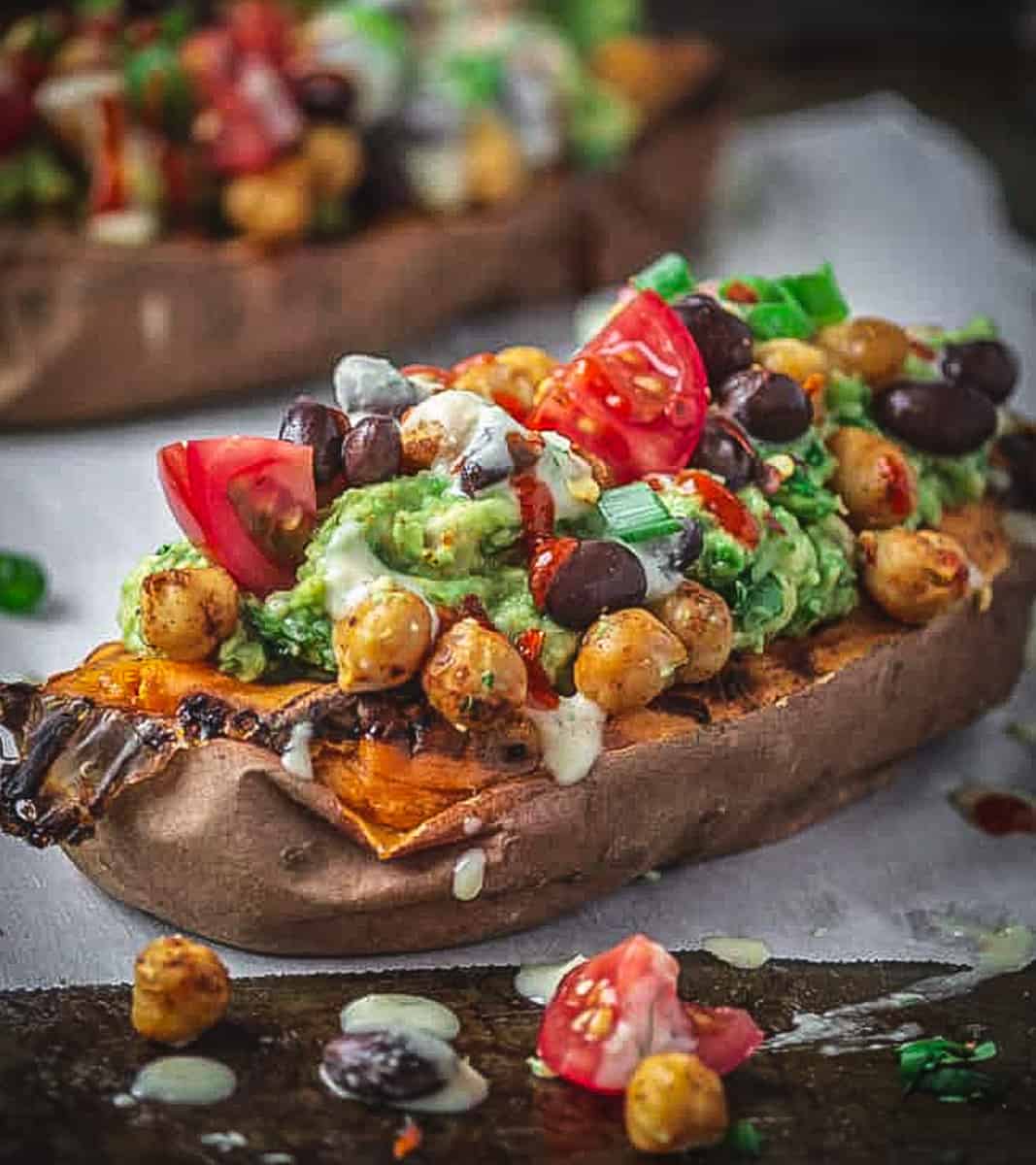 If you love sweet potatoes, you've hit the jackpot. This is the mother of all stuffed sweet potato recipes. Bursting with epic flavors and freshness, these baked sweet potatoes are filled with black beans, tomatoes, avocado, and a delicious dilly hummus drizzle. A healthy, flavorful, vegan dinner option that's gluten free too.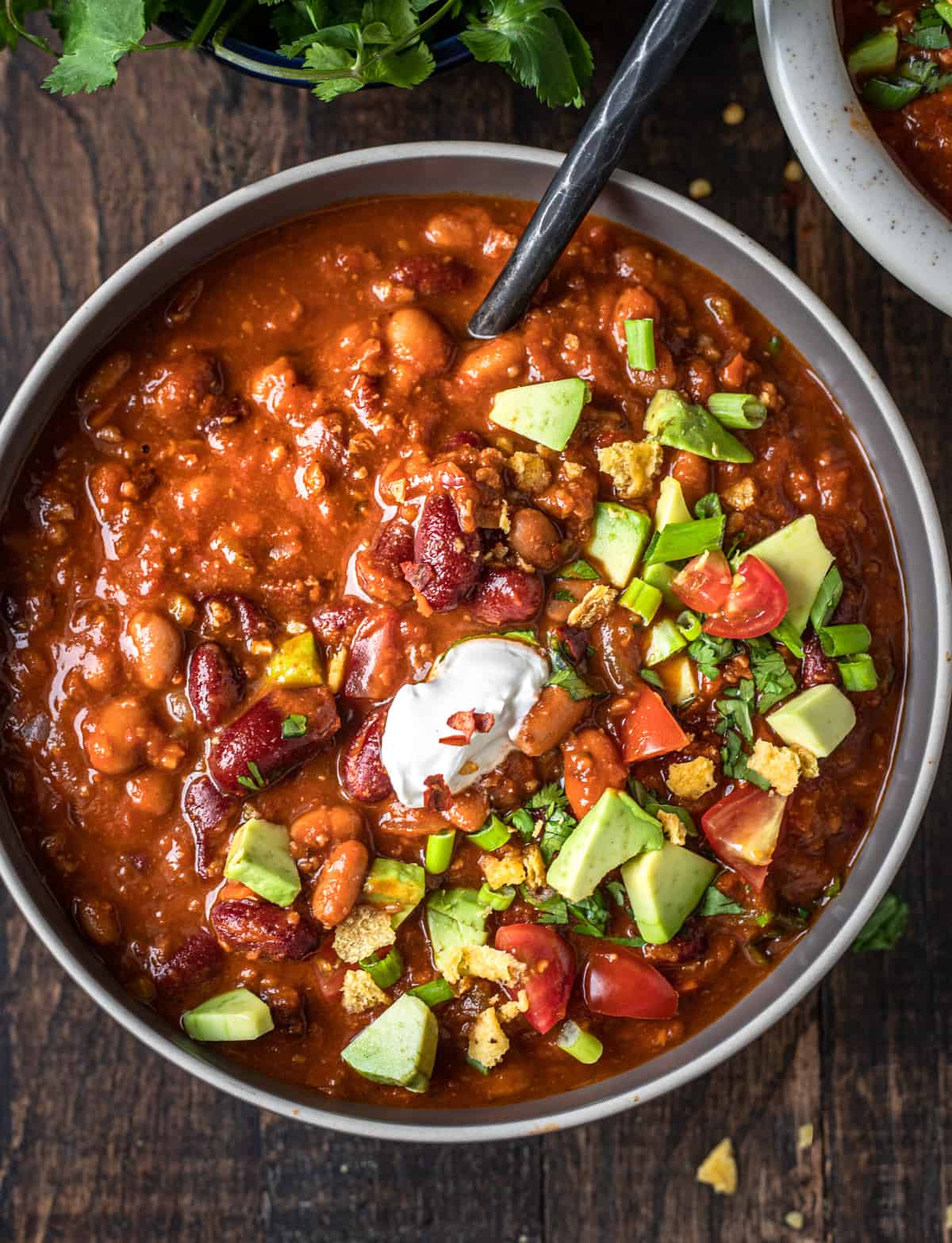 This is the ultimate vegan chili recipe for vegans and meat eaters alike! Ultra hearty and craveable, it's packed with loads of veggies, beans, and spicy plant-based meat simmering in a thick and rich, smoky chili sauce. Easy, protein rich, gluten free, and oh so tasty!!
This easy, vegan cornbread recipe is spectacular! Rich and buttery, it's just sweet enough and loaded with corn flavor. It has the perfect cornbread texture - golden crust, moist and tender crumb dotted with kernels of corn and flecks of jalapeño peppers. Ready in just 30 minutes from start to finish, it's the perfect side dish with any meal especially vegan chili!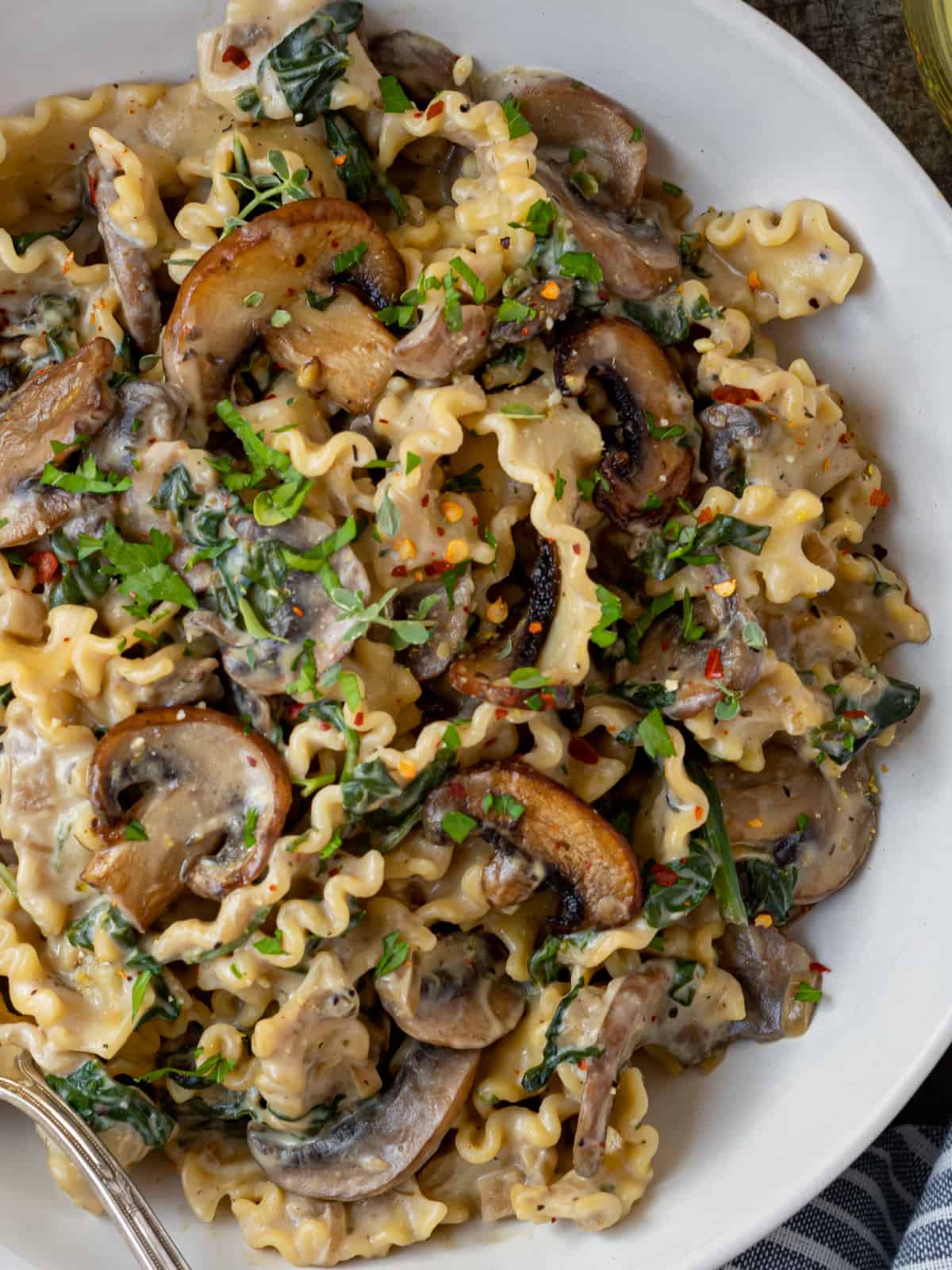 Mushroom lovers rejoice! This Vegan Mushroom Pasta is beyond delicious. It's simple to make, loaded with meaty mushrooms and spinach simmering in a luxurious vegan mushroom sauce. One of my favorite fast and flavorful vegan dinner recipes that I'm sure you'll love too.
Okay, if you love a thick, rich, luxurious tomato bisque then make this vegan tomato soup for dinner tonight - you'll be so happy you did! The whole house will smell like a 5 star Italian restaurant, and there's very little hands-on effort for a huge flavor payoff!!! Serve alongside vegan grilled cheese, soft chewy homemade breadsticks or garnish with a big handful of crunchy homemade croutons.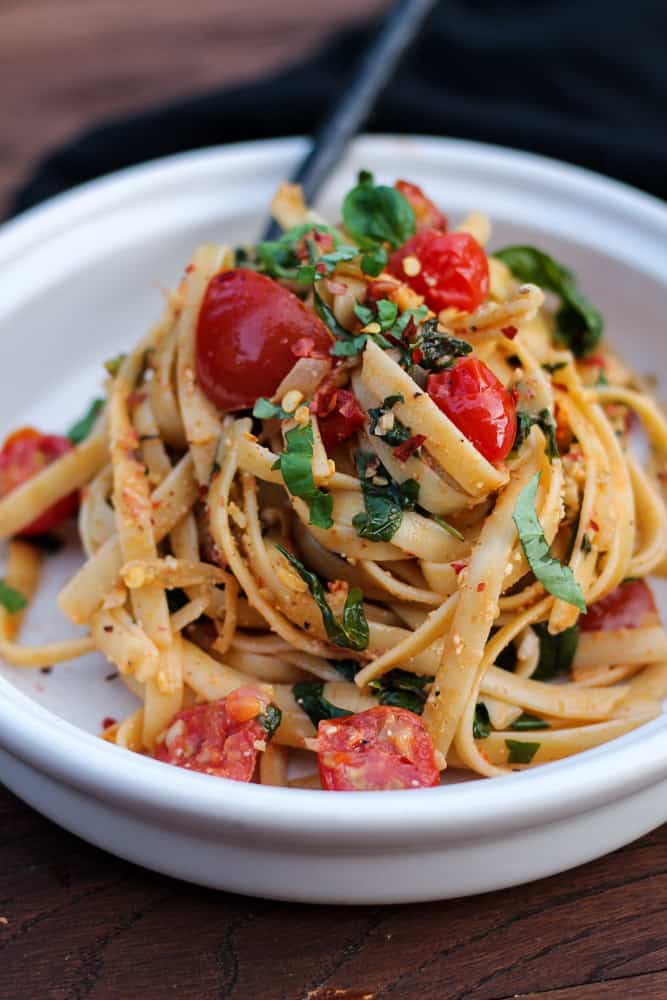 This Pasta with Cherry Tomato Sauce is a quick and easy vegan dinner recipe for Meatless Monday and all the other days too. The flavor combination is killer: tomatoes (fresh and sun dried), garlic, onions, olive oil, and white wine along with fresh basil, feta cheese, toasted pine nuts, and fried capers. A top family favorite!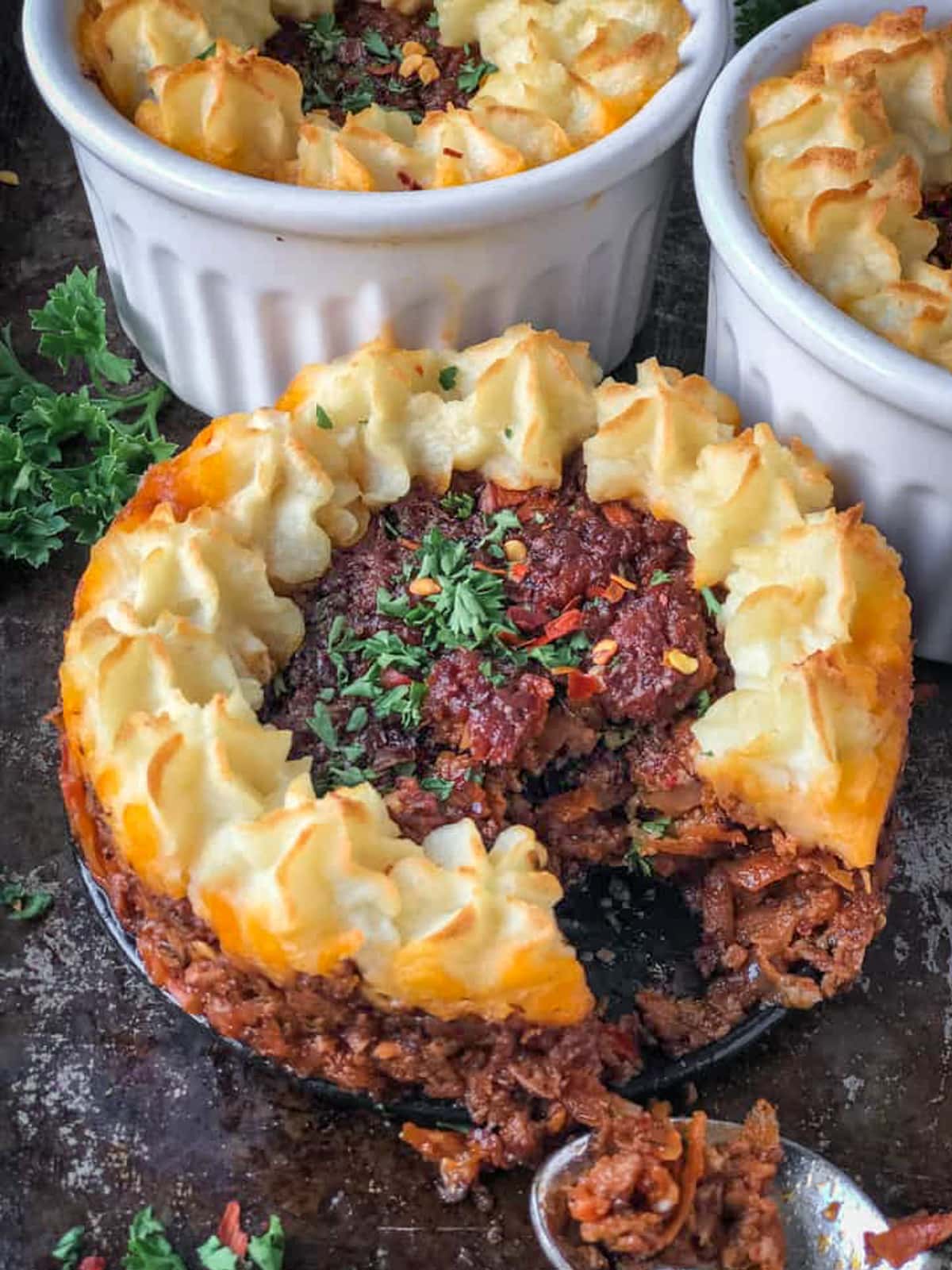 When I saw Gordon Ramsay, making his classic British Shepherd's pie, I knew I had to create a vegan version: Vegan Shepherd's Pie. He says, "the secret to a great Shepherd's pie is all in the mince". So I kept the flavors and textures as close to a traditional Shepherd's pie as possible, but made it vegan. Talk about vegan comfort food at its very best and gluten free to boot!
This vegan sausage roll recipe is second to none! Flaky, golden layers of tender puff pastry filled with the most incredibly addictive, savory mushroom-onion filling.
If you want to impress your non-vegan family and friends, this is the recipe! It's the most popular vegan appetizer recipe on the blog for the holidays.
A flavorful vegan dinner recipe everyone enjoys: Easy Orange Tofu (just like Panda Express). This super tasty and quick meal can be made in ~30 minutes! If you don't know what to serve vegan friends or you've got tofu skeptics in your life, this recipe will be a game changer. Gluten Free.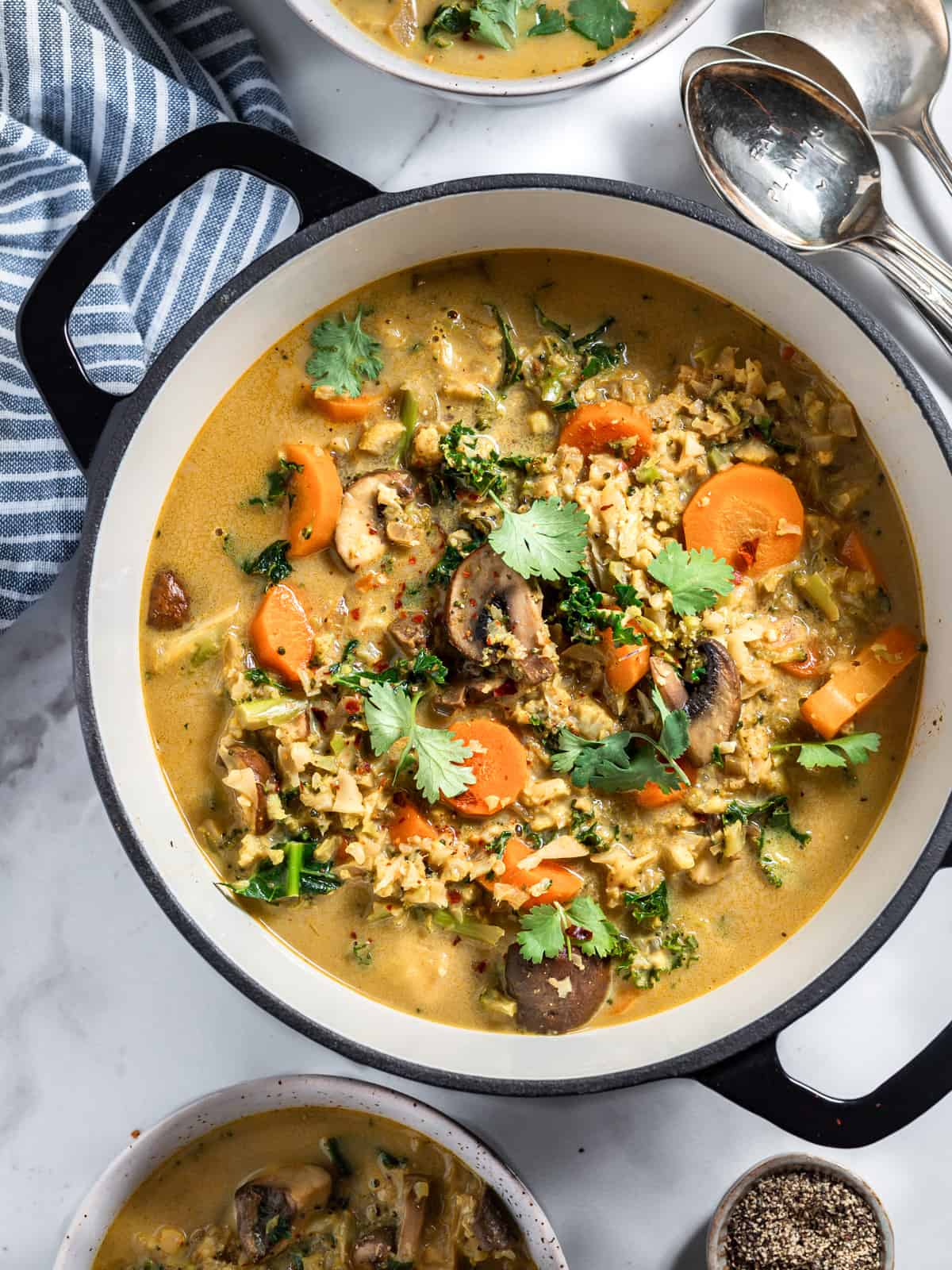 Rich and creamy this vegan cauliflower curry soup is hearty with full depth of flavor. Cauliflower and broccoli are roasted then riced and join tons of other veggies simmering in a luxurious, curry mushroom broth. It's my favorite vegan soup recipe to make on Sundays then enjoy for dinner all week. Vegan and gluten free!
This vegan chickpea and rice casserole is a family favorite for good reason. It's one of those easy dump and bake recipes where everything goes into the casserole dish then you forget about it until it's time to eat.
This super flavorful, plant-based meal is made with a can of chickpeas, mushroom caps, and marinara sauce swirled with cashew cream served over rice. It's a favorite, simple vegan dinner recipes for busy week nights.
This hearty vegan lasagna recipe will knock your socks off! It has all the traditional Italian lasagna flavors - made with homemade marinara sauce, creamy vegan white sauce, and a meaty spinach filling between tender layers of pasta. It's a super satisfying, decadent, vegan dinner recipe for the weekends or company!
If you love Italian marinara sauce and cream sauce, this Creamy Rosé Sauce recipe is for you! It's packed with tons of veggies (and vegan meatballs) served over any type of pasta. This is one of those fantastic, quick, back-pocket vegan dinner recipes that everyone swoons over.
This vegan biscuits recipe is everything you want in a homemade biscuit: tall, fluffy, tender and flaky. I could eat the whole batch - luckily they are quick and easy to make too! Serve them at brunch with butter and homemade jam, along side your favorite soup or chili or stuff them with vegan scrambled eggs for a tasty vegan egg sandwich. Breakfast for dinner, anyone?
This luscious vegan mushroom gravy recipe is soooo delicious! It took me a while to get it perfect - but it is now! Learn all the tricks for developing mega gravy flavor without any drippings (or lumps) and very little effort. Is there anything better than vegan biscuits and gravy? Well, maybe mashed potatoes and vegan gravy . . . .
Super fluffy, buttery, vegan mashed potatoes are the ultimate comfort food! This easy recipe includes all the tips for making perfect mashed potatoes every time. We love ours with plant-based butter or smothered in vegan gravy.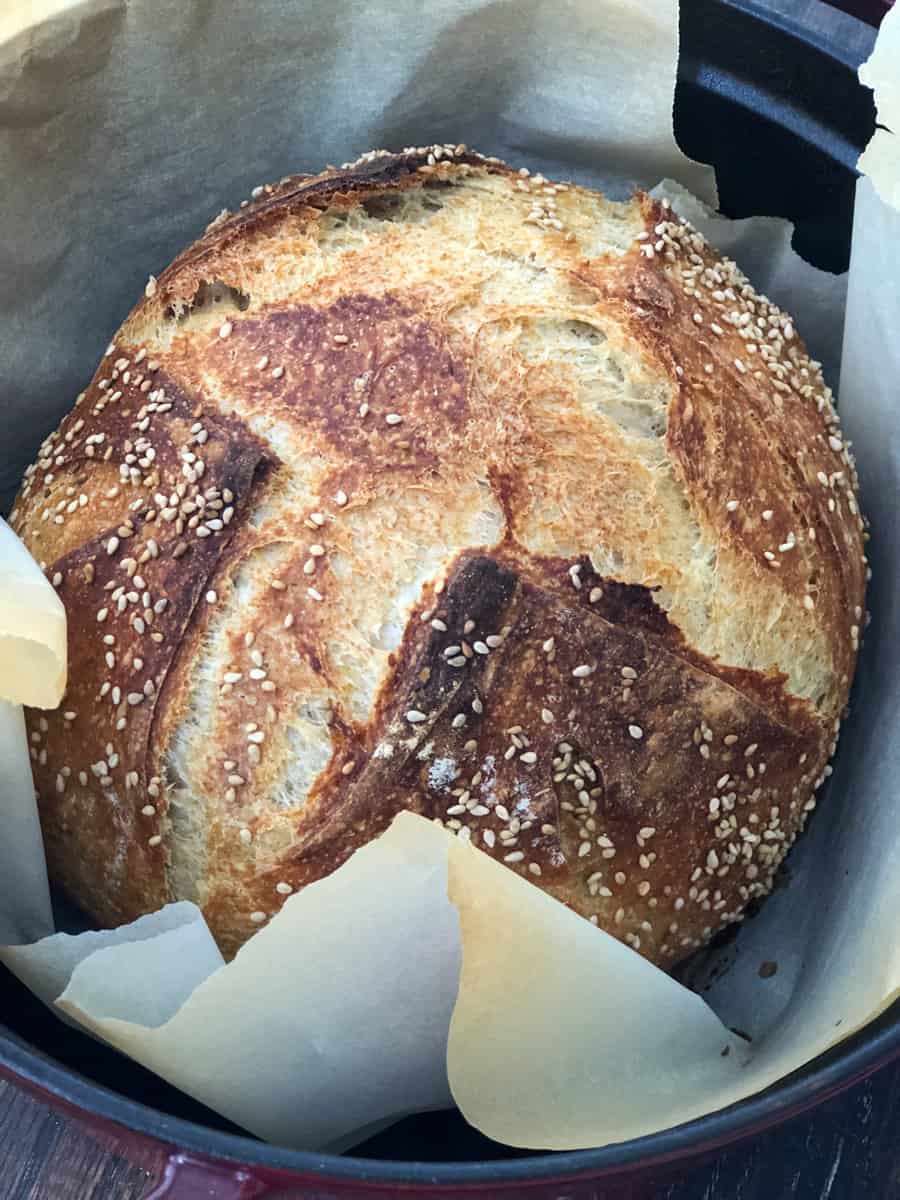 This crusty no-knead overnight bread is both ridiculously easy to make and incredibly delicious to eat. It turns out every. single. time. With just 5 minutes of prep time, only 4 ingredients, and no kneading, this homemade bread recipe is perfect for beginners! Serve it with your favorite vegan soup, chili or pasta dish for dinner.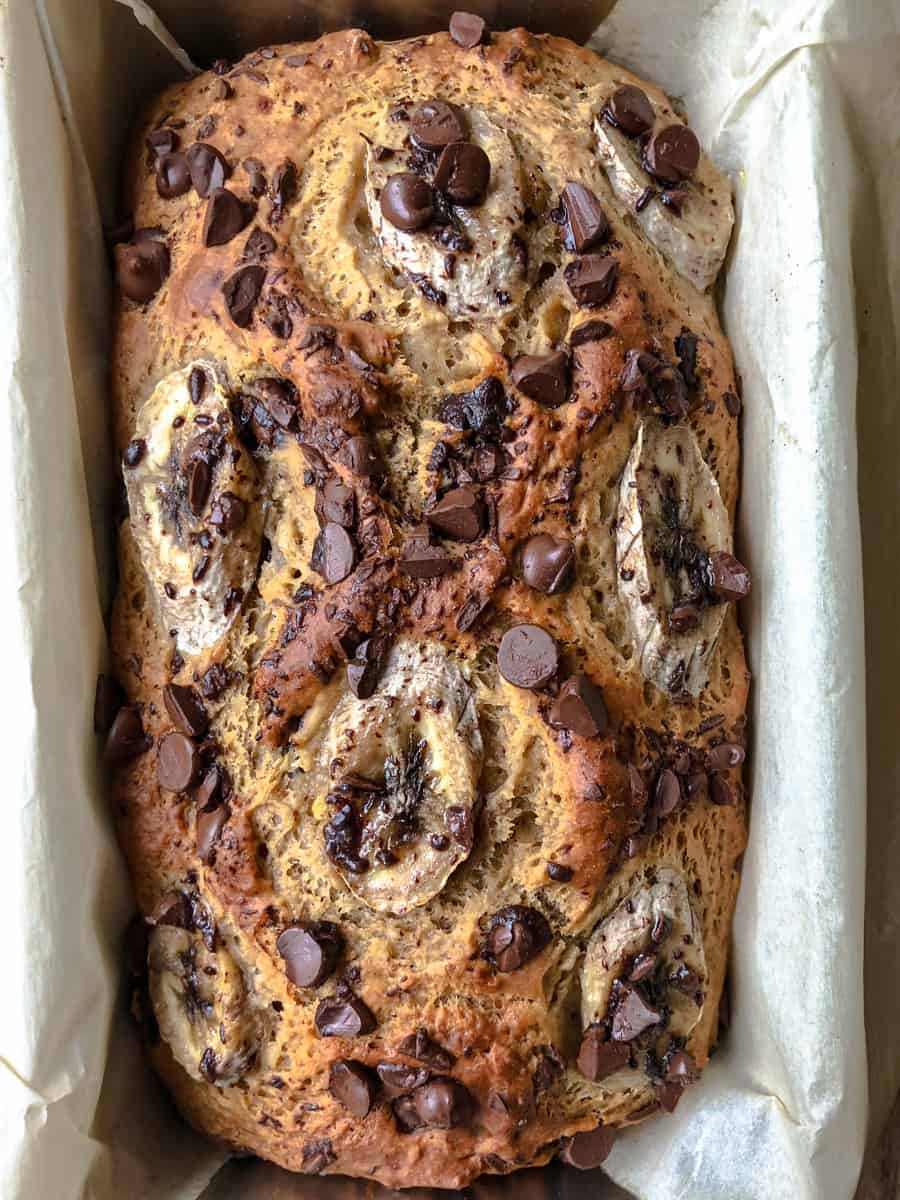 Last one - a cozy, comfort recipe for your sweet tooth! This vegan banana bread recipe is a banana bread lovers dream come true. It has an incredibly tender, moist, crumb and a gorgeous golden crust. Each bite is bursting with banana and chocolate flavors, a kiss of peanut butter, and crunchy walnuts. It's the best dang banana bread recipe ever! Gluten free version too!
I hope these vegan dinner recipes inspire you to try something new this winter. Let me know your favorites in the comments below. Ceecee's readers LOVE to read your reviews and recipe adaptations!
Be sure to follow along on Instagram and Pinterest and sign up for our Sunday morning newsletter for all the latest vegan recipes and news.
20 Popular Vegan Dinner Recipes (for Fall & Winter)
A collection of 20 BEST Vegan Recipes on the blog that will inspire you to cook (and eat!) more vegan meals at home. This recipe for savory Vegan Chickpea Pancakes is one of our favorite weeknight vegan meals because it uses up bits and bobs of leftovers and veggie scraps.
Rate this recipe!
INGREDIENTS
1

tablespoon

oil

1 - 2

cup

veggies (mushrooms, onions, red peppers)

1

big handful

spinach, rough chopped

½

cup

black beans or chickpeas
Chickpea Pancake Batter
1

cup

chickpea flour

¼

cup

nutritional yeast

1

teaspoon

garlic powder

1

teaspoon

onion powder

1-3

teaspoons

dried oregano (or any spice you enjoy)

¼ - ½

teaspoon

salt and pepper (more or less to taste)

¾ - 1

cup

water
½

cup

cashew cream (any flavor)

sriracha sauce

tomatoes, chopped

avocado, diced

green onions, sliced

cilantro, chopped
INSTRUCTIONS
Prepare the filling: Heat oil in a non-stick skillet over medium-high heat until shimmering. Add mushrooms, onions, and red peppers cooking until soft and starting to caramelize (6-7 minutes). Stir in a handful of chopped spinach and black beans/chickpeas and cook until the spinach is wilted. Transfer to a bowl. Wipe out pan.

Pro Tip: If using leftover, cooked veggies, skip the sautéing, chop the vegetables and add straight to the batter.

Mix the chickpea pancake batter: Whisk the chickpea flour, nutritional yeast, spices (garlic powder, onion powder, dry oregano, salt & pepper) together in a medium bowl. Add ¾ cup water and whisk until fully incorporated. If too thick, add more water (a tablespoonful at a time) until it's the consistency of pancake batter. Stir in the veggies and bean mixture.

Cook the savory chickpea pancakes: Heat 1 tablespoon of oil in the same skillet on medium high until shimmering. Scoop the batter using a ~¼ cup measure into the hot pan. Gently spread the batter with the back of a spoon if needed. Cook until brown and crispy (3-5 minutes). Flip and cook on other side. Reduce the heat to medium if the pan is running too hot. Add oil as needed for each new batch of pancakes.

To serve: Serve the pancakes with any (or all) of the optional toppings: chopped tomatoes, green onions, avocado, cilantro, a drizzle of cashew cream and sriracha sauce.
NOTES
Play with spice: Change up the flavor profile by subbing in any spices you enjoy.
Versatile: Add any veggies and beans you have leftover at the end of the week. This is a super versatile and healthy vegan dinner recipe (gluten free too!).
How big are the pancakes?: Make the pancakes smaller or larger as desired (I made 2 batches with 3 pancakes in each batch).
Reduce the heat to medium if the pan is running too hot.

Add more oil to the skillet as needed for each new batch of pancakes.

Storage Tips: Store the pancakes and toppings separately in the fridge for up to 4 days. Delicious hot or cold.
This recipe is from simplyceecee.co food blog. All images and content are copyright protected. Please do not use my images or republish this recipe without prior permission. Thank you.