A simple twist on a classic Italian dish, this vegan bolognese sauce is just as rich and delicious as the original; but it's completely plant based. It's a delicious and hearty vegan weeknight dinner served with vegan Caesar salad that the whole family loves!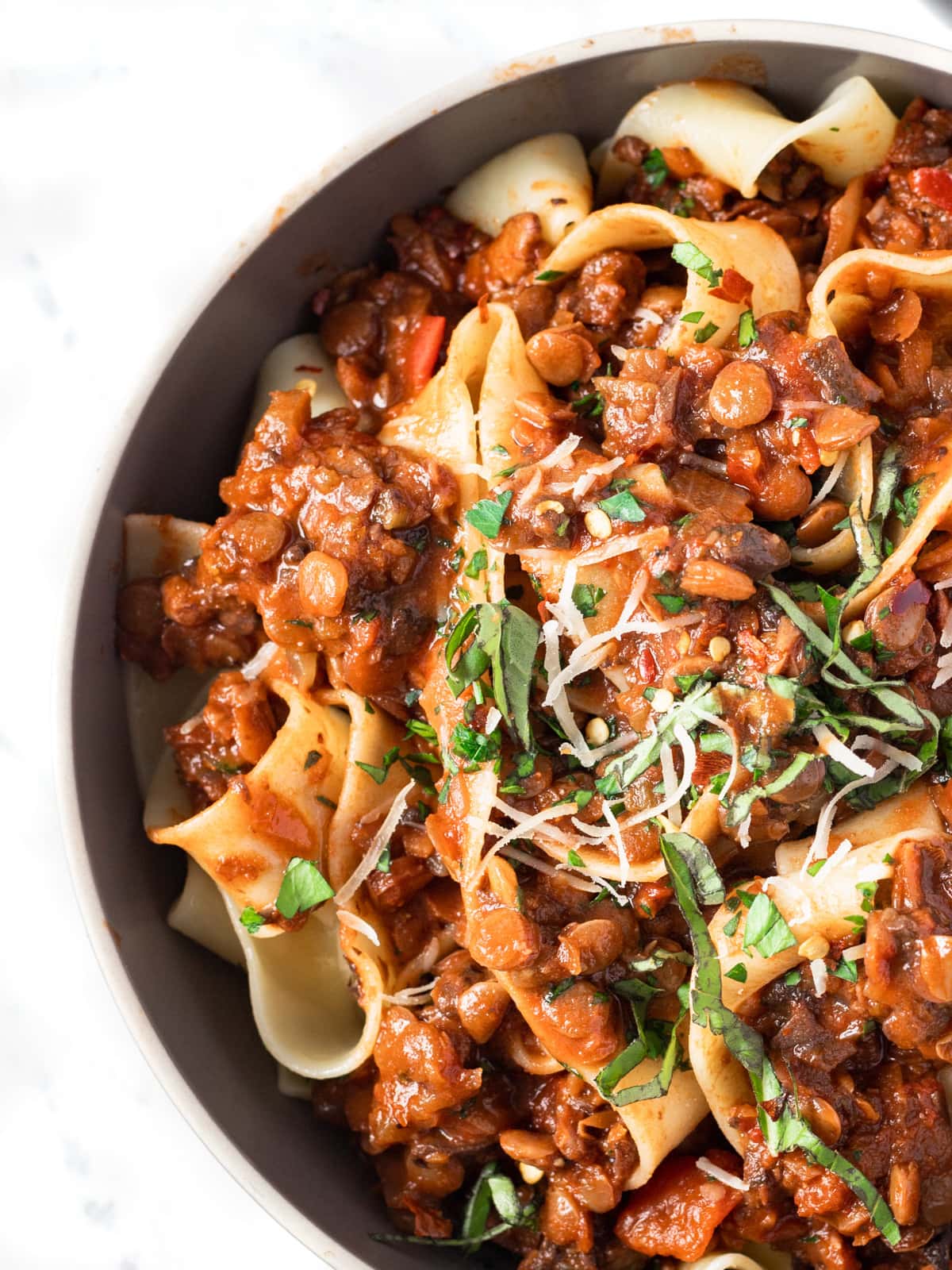 My all-time favorite bolognese recipe is a pot full of slow-simmered veggies, lentils, and walnuts in a rich, silky tomato-wine sauce served over pasta. Just like my vegan mushroom pasta and vegan lasagnas, this vegan bolognese is comfort food at its very best!
Of course, traditional bolognese sauce is made with beef and pancetta, but there have been endless interpretations and modern adaptations of the beloved Italian classic over the years. Replacing the meat with a mince of lentils, walnuts, and mushrooms keeps this full-flavor version meaty while making it super nourishing and totally vegan!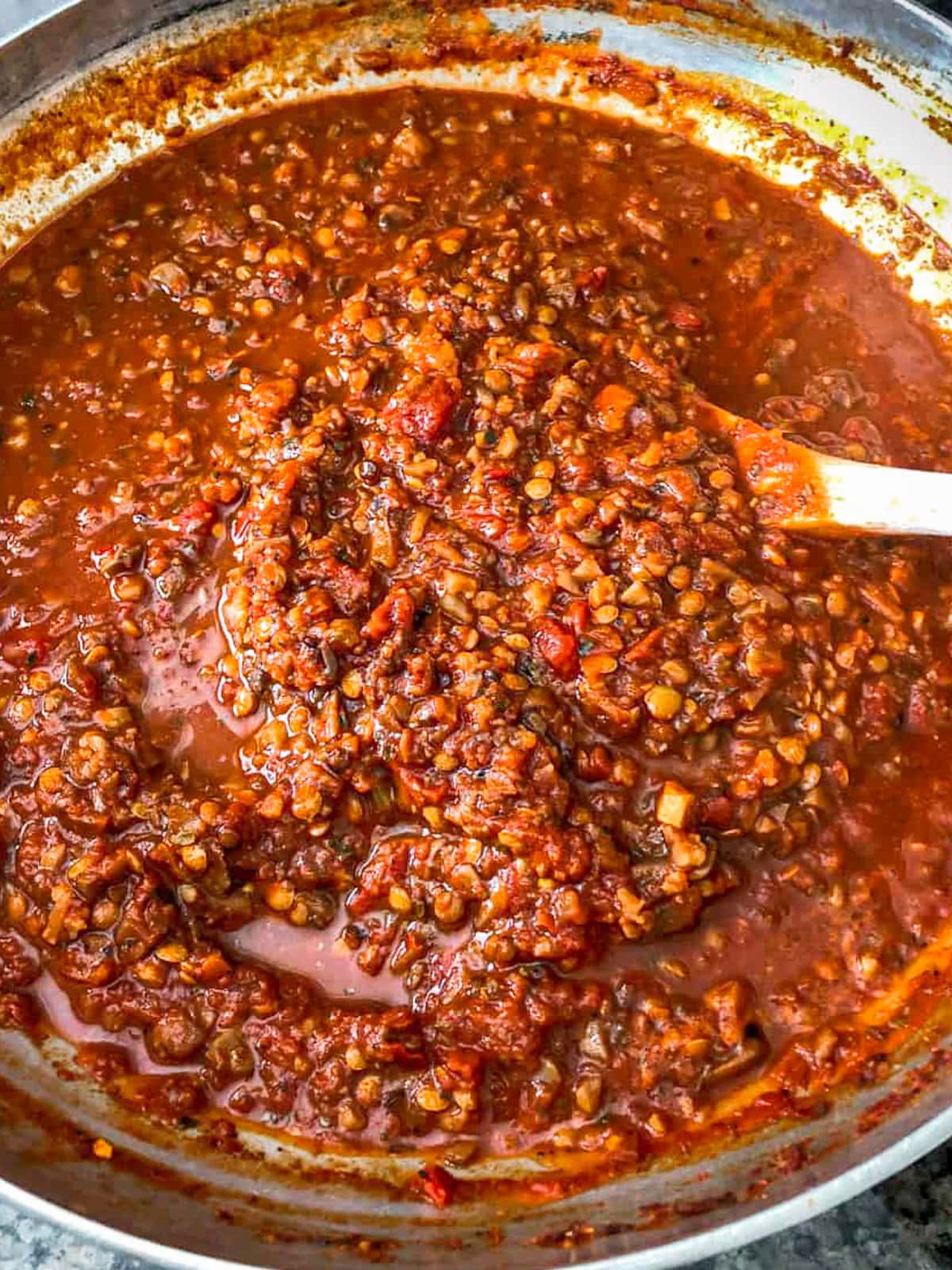 5 Good Reasons to Love Veggie Bolognese
Other than the fact that it's incredibly rich, robust, and filling, here's 4 more reasons to make your bolognese sauce vegan:
nourishing:

packed with whole foods and healthy fats

allergy and special diet friendly: dairy free, gluten free, plant based, soy free
high protein: nutrient rich lentils and walnuts
cheap & easy: simple to make in one pot with basic, affordable pantry and fridge items
Ingredients
Ready to master a full-flavor vegan bolognese at home? Gather together the following ingredients, a glass of wine, and let's get started: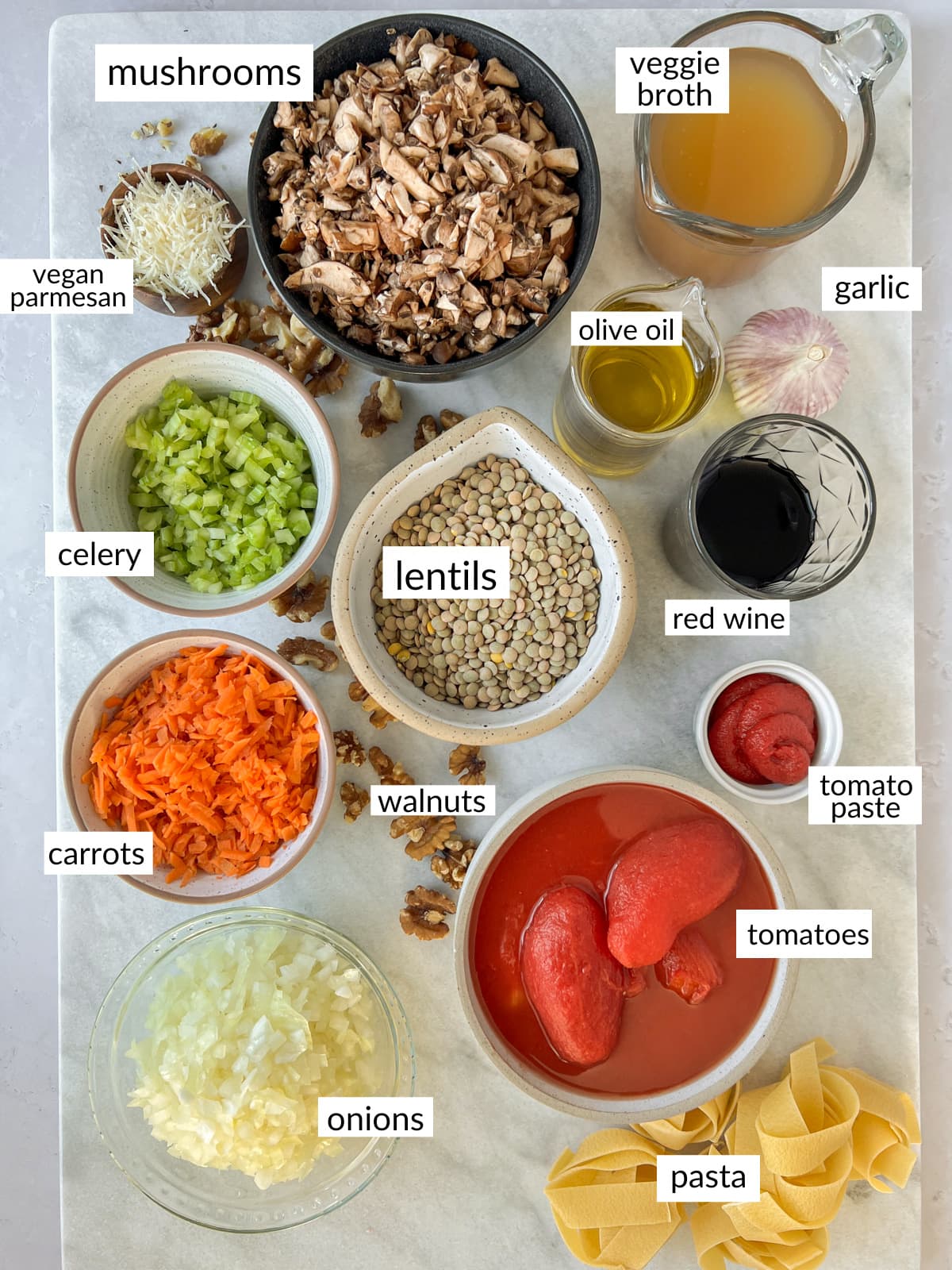 Onions, garlic, celery, carrots, and mushrooms: Diced for flavor and authentic texture.
Olive oil and vegan butter: A mixture of both for extra flavor and richness.
Good quality canned tomatoes and tomato paste.
Dry lentils (more below) and buttery walnuts.
Vegetable broth, red (or white) wine, balsamic vinegar: I recommend a full-flavor broth like Better than Bouillon (vegetable base or try their vegan beef base).
Non-dairy milk or vegan heavy creamy: Adds melt in your mouth silkiness and richness.
Italian seasonings: Oregano, red pepper flakes, salt and pepper, fresh basil/parsley.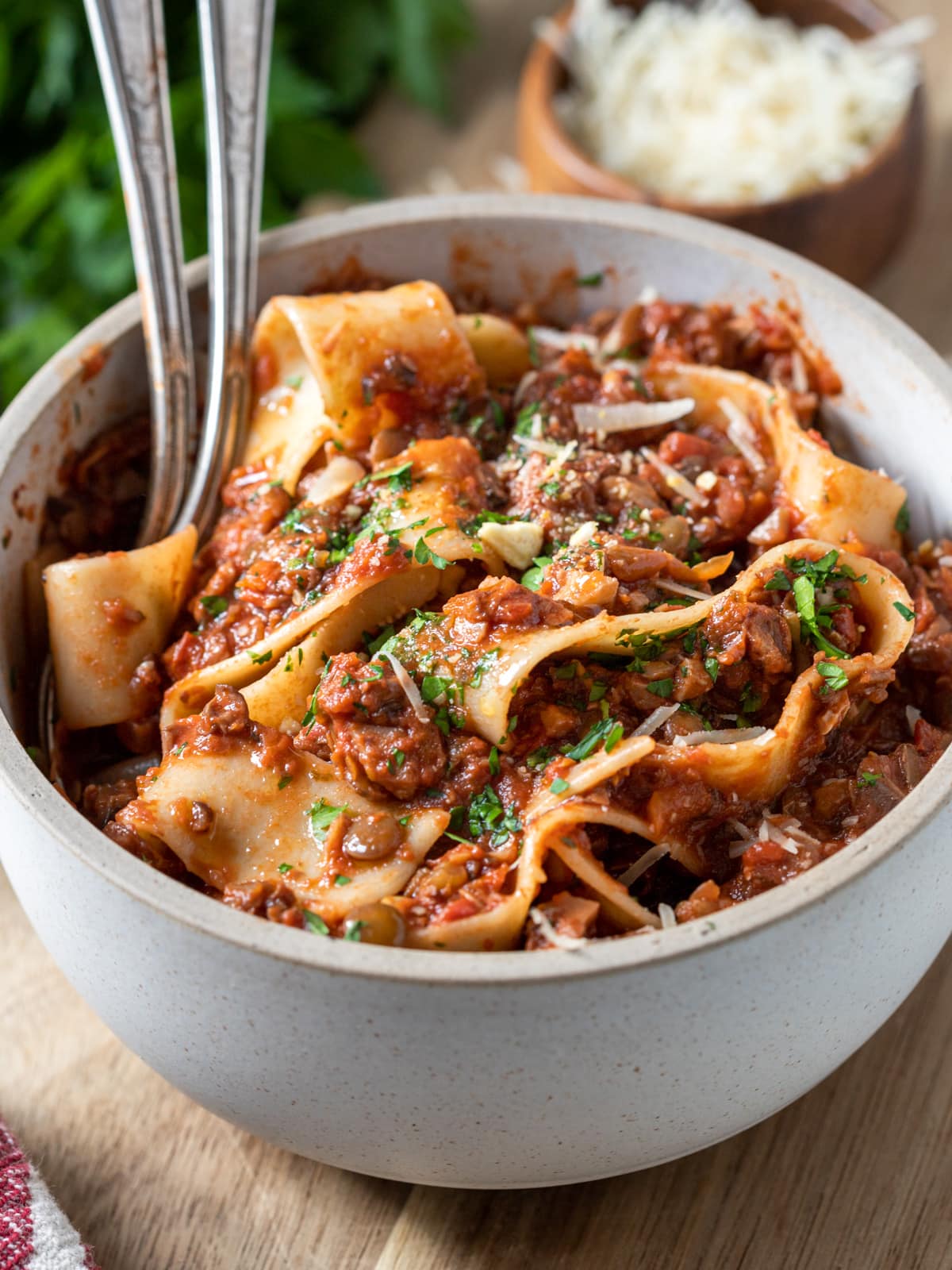 Ingredient Notes & Substitutions
There are endless ways to customize vegetarian bolognese sauce. For this version, I stick pretty close to traditional techniques and flavors, but have fun adding your own fingerprints to this recipe. Here's a few ideas . . .
A word about lentils: Green or brown lentils have a slightly firmer texture and hold their shape when cooked. If you prefer a smaller lentil, try black or French lentils. And for a softer texture, choose red lentils which breakdown and absorb the flavors of the the sauce as it simmers (and cook faster). Use dry lentils, precooked lentils or canned lentils (see notes below).
Cauliflower: Optional, but cauliflower adds great texture and another layer of flavor. I always add it if I have some on hand. Use fresh, frozen or cauliflower rice.
Walnuts: Buttery, crunchy walnuts add texture and pack a huge nutritional punch (the most nutritious nut!). Can sub for another nut/seed if you are out of walnuts.
Whole Tomatoes: San Marzano tomatoes are full flavor (but they can be pricey), crushed tomatoes (or 6n1 ground tomatoes) are also a great choice. Pro Tip: I buy a few extra cans of San Marzano tomatoes when I find a sale!
Wine: Depending on the Italian chef, region or secret family recipe, you'll find either red wine or dry white wine in bolognese sauce recipes. Both are delicious, but you can skip all together or use extra vegetable broth if you prefer.
Balsamic Vinegar: I like a splash of balsamic vinegar for flavor since it's an Italian ingredient, but you could sub in soy sauce or tamari (gf) with success.
Dairy-free Milk: Almost any plant-based milk or vegan cream substitute will work (not coconut milk). The milk adds a nice velvety silkiness to the sauce. Start with ½ cup milk or ¼ cup heavy cream (to make it extra luxe) then add more to suit your personal taste.
Pasta: Thick cut like tagliatella, pappardelle or fettuccine hold up well to a hearty walnut lentil bolognese, but of course spaghetti bolognese is also a popular choice! Choose whole wheat or gluten-free pasta if preferred.
How to make the Best Vegan Bolognese
This is not a complicated recipe to make, you just have to know the secret to making a flavorful sauce: a little patience, a bit of time, and good quality ingredients. The undeniably Italian aroma that fills the house is second only to devouring a big bowl of the sauce toss with hot pasta and parmesan cheese!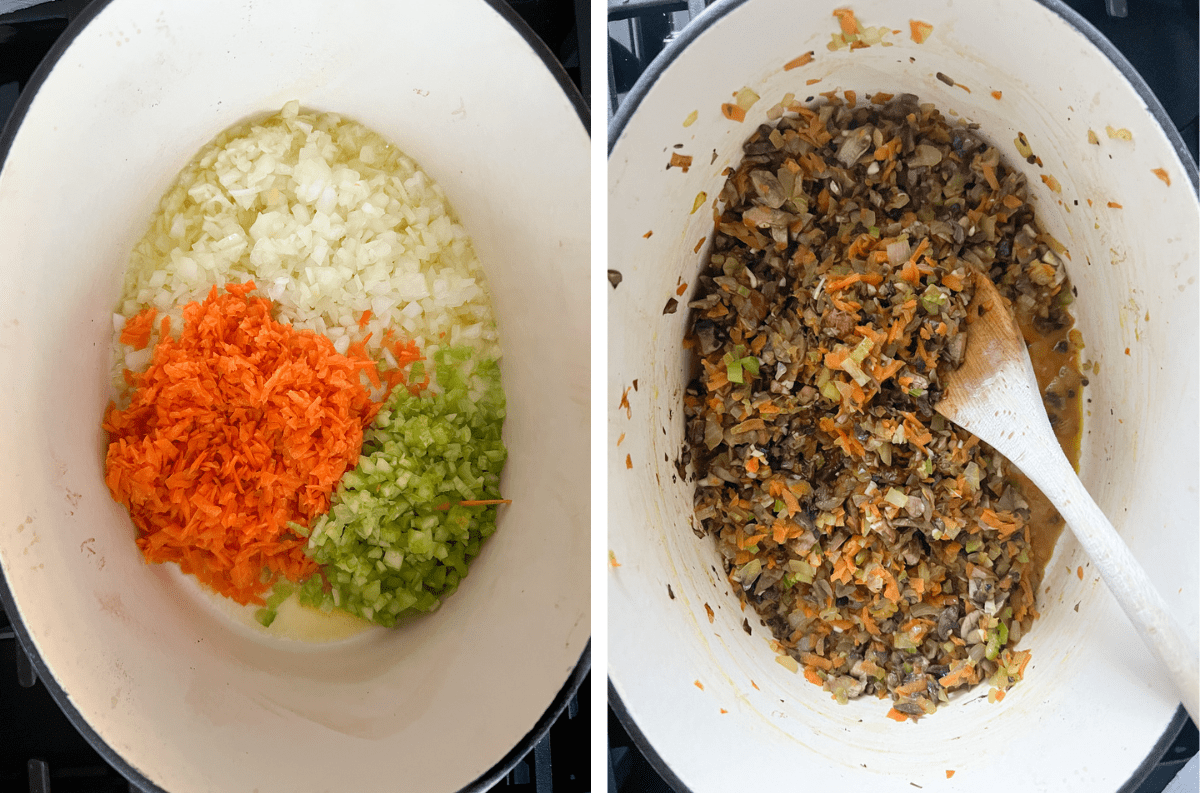 Cook the soffritto: Heat the oil/butter in a large Dutch oven. Once shimmery, add the chopped veggies to the pan. Cook over medium heat until the veggies are soft and fragrant (approximately 8-10 minutes).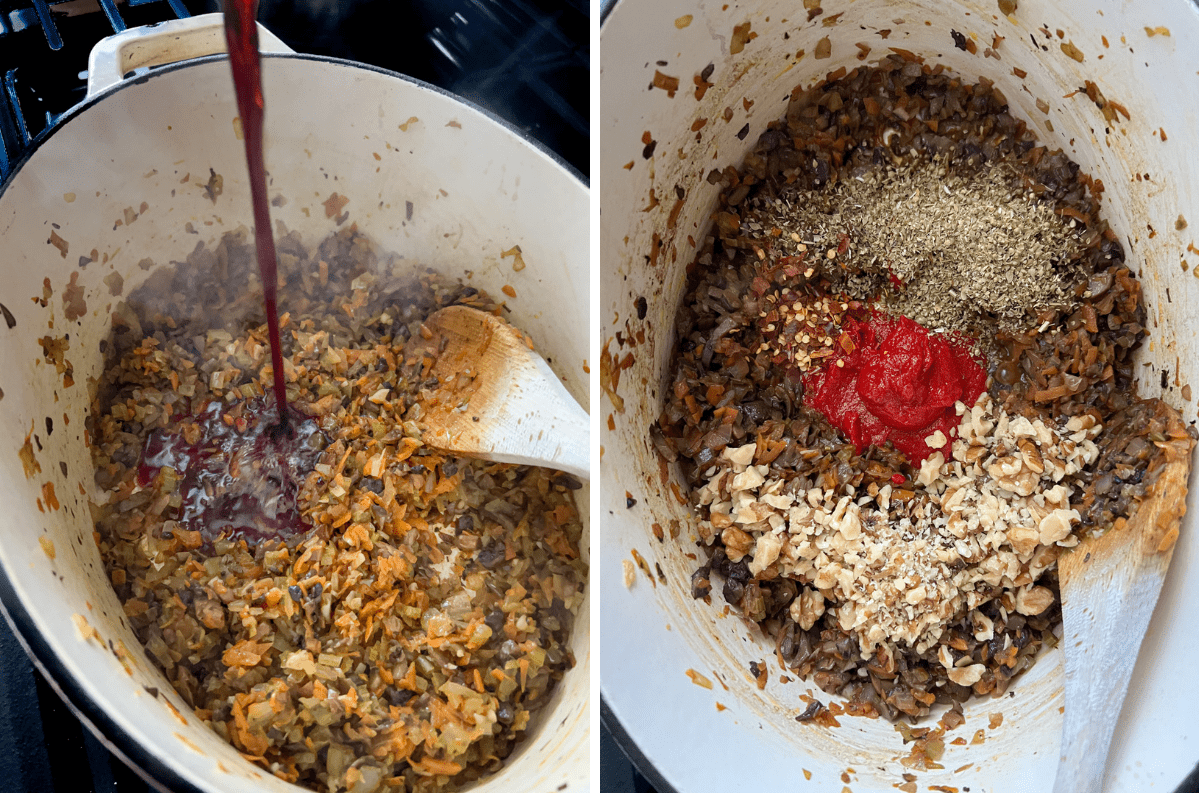 Deglaze the pan with wine stirring until the wine has reduced down.
Add flavor: Add the tomato paste, spices, and Italian seasonings. Cook for 1-2 minutes while the sugars cook off on the tomato paste. Then stir in the balsamic vinegar.
Add the lentils, broth, and tomatoes. Tip: I crush the whole tomatoes by hand while adding them to the sauce.
Simmer for 20 minutes until the lentils are softened. Pro Tip: The smaller the lentils, the quicker they cook.
Uncover, stir in the milk/cream, and let simmer (uncovered) while the sauce thickens and the flavor develops (~20 minutes).
Taste and adjust seasoning as needed.
To serve: Serve on your favorite pasta, mashed potatoes, creamy polenta or baked potatoes. We also love to include a rainbow salad and wedge of crusty no knead bread!
Expert Tips
A few tips and suggestions for making this easy vegetarian pasta dish:
Lentils: If using canned or precooked lentils, reduce the amount of broth added to the sauce for the correct consistency. When ready, the sauce will be thick and rich (see photos).
Million Dollar Flavor Tip: Every incredible Italian dish begins with slow cooking soffritto (finely chopped onions, celery, and carrots). Don't rush this step, let the heat coax all the flavor out of the veggies - it's worth the extra time!
Sauce too Thin/Thick?: If your bolognese sauce is too thin, it needs to cook down longer. NO LID! If your sauce is too thick, lower the heat, add a splash of pasta water/broth and keep the lid on. Cooking with a lid will keep the moisture in the sauce. Check and stir your sauce frequently to be sure it's not sticking. Add salty pasta water to correct consistency as needed.
Smoother Mince: If you prefer a smaller/ground mince, transfer 2-3 cups of the sauce to a blender, partially blend, then return to the pot of sauce.
Managing Your Time
This is my method for managing all the components:
Finely chop the onions and celery. Grate (on the large opening of a box graters) the carrots and then chop them.
Heat the oil and butter, get the veggies cooking.
While they are cooking, chop the mushrooms, garlic, and walnuts.
Once you've added the mushrooms, gather and measure out all other ingredients, mix your veggie stock, and start the pasta water. Follow the rest of the recipe as written.
Remember to save a cup of pasta water when draining (for thinning the bolognese).
FAQ
What can I put in Bolognese sauce instead of meat?
There are many vegan meat replacements you can sub in a veggie bolognese. For example, tofu, tempeh, lentils, mushrooms, walnuts or jackfruit. Commercial meatless products like Gardein, Beyond Meat, Impossible Meat or Lightlife make vegan beef crumbles or try a veggie mince (like cauliflower).
How to Store, Freeze & Reheat
This vegetarian bolognese keeps well in the fridge for several days in an airtight container.
To Freeze: Transfer the sauce to freezer containers/bags and freeze for up to 3 months.
To Reheat: Remove from freezer, thaw on the countertop or in the fridge overnight. Simmer over medium-low heat until warmed through and bubbly. You may need to add a splash of water/pasta water to correct the consistency. If you have one, you could also gently reheat in the microwave oven.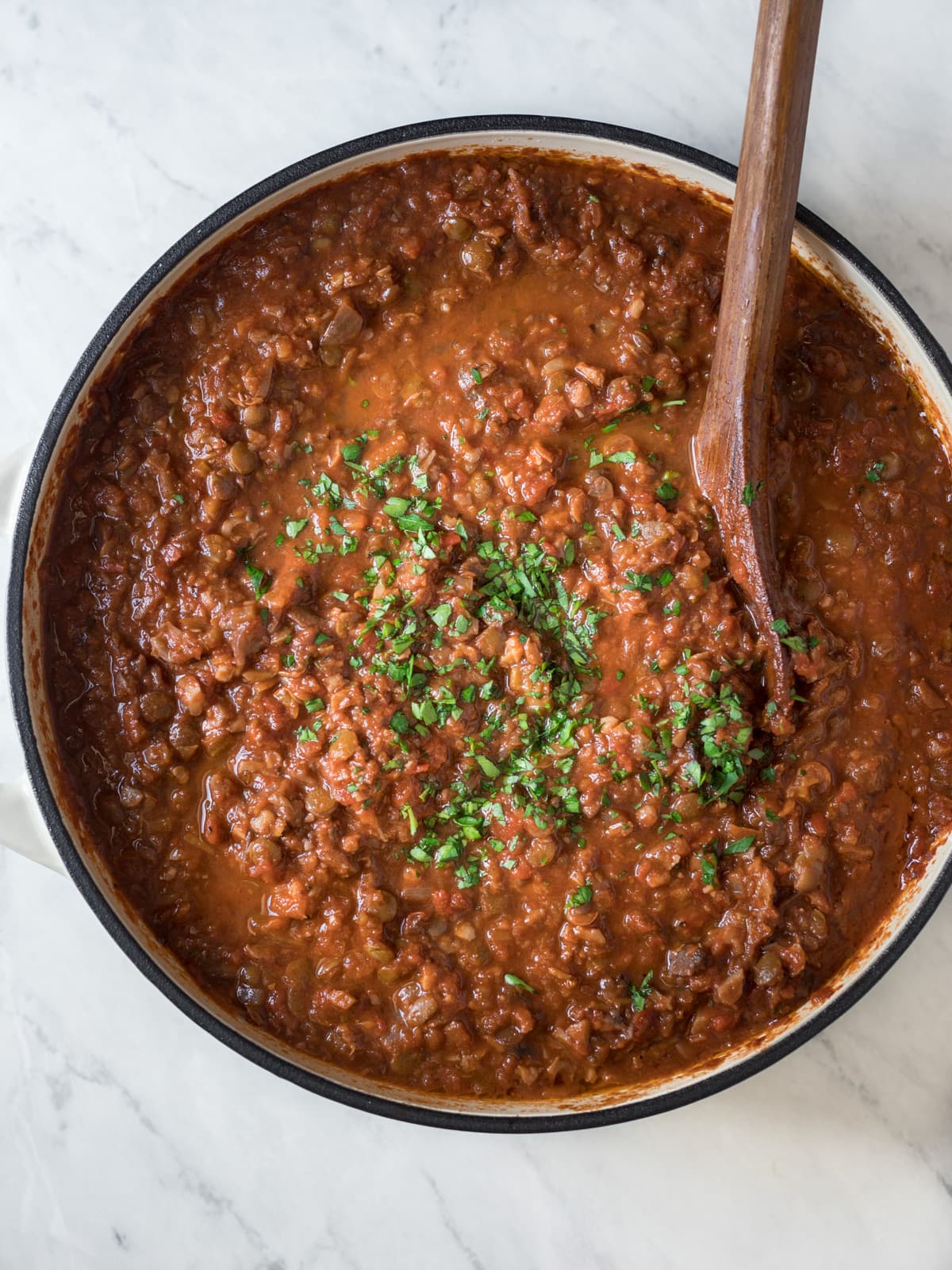 More Vegan Dinner Ideas
Looking for more vegan comfort recipes? Here's some of my best . . .
If you made this Vegan Bolognese or any other recipe on the blog, please let me know how you liked it with a rating and review below! Be sure to follow along on Instagram and Pinterest for more delicious vegan recipes.
JOIN US SUNDAY MORNINGS: Sign up for my weekly NEWSLETTER!
Vegan Lentil Bolognese Sauce (easy!)
Ready to make an incredible, Italian restaurant style, vegan bolognese sauce at home? It's easy to do with lentils, walnuts, mushrooms, and a rich, silky tomato-wine sauce. Try it tossed with pasta, a slice of rustic bread, and a side salad for a hearty weeknight meal.
Rate this recipe!
INGREDIENTS
Soffritto
2

tablespoons

olive oil

1

tablespoon

vegan butter

1

medium

onion, minced

2

medium

carrots, grated and chopped

2

large

celery ribs, finely chopped
Add the Veggies
4-6

cloves

garlic, minced (to taste)

3

cups

mushrooms, small dice

2

cups

cauliflower, finely chopped (optional)
Wine (for deglazing)
½

cup

dry red or white wine (or veggie broth)
Seasonings
3

tablespoons

tomato paste

1 - 1 ½

tablespoons

oregano, dry leaves

½ - 1

teaspoon

red pepper flakes (more or less to taste)

salt and pepper, to taste

½

cup

walnuts, chopped

1

tablespoon

balsamic vinegar
Sauce Ingredients
3

cups

vegetable broth

¾

cup

dry lentils OR 1 ½ - 2 cups cooked lentils

28

oz

whole tomatoes or crushed tomatoes*

½

cup

plant-based milk or vegan cream

4-6

servings

pasta (spaghetti, pappardelle, tagliatella)
Garnishes
½

cup

basil/parsley, chopped

parmesan cheese, vegan
INSTRUCTIONS
Make the Soffritto
Heat 2 tablespoons of olive oil and 1 tablespoon of dairy-free butter in a Dutch oven or deep sauté pan over medium-high heat until shimmering.

Add onions, carrots, and celery to pan. Saute until soft, fragrant, and caramelizing (~8 minutes).

Add the garlic, mushrooms, cauliflower (if using) and continue to cook for ~8-10 minutes until they are caramelizing and brown bits are sticking to the bottom of the pan. Adjust burner temperature as necessary.

Season with salt and pepper to taste.
Deglaze the Pan
Add the wine (or vegetable broth) to dissolve the cooked veggie particles.

Stir and scrape the bottom of the pan for about 2-3 minutes until the liquid is mostly evaporated.
Make the Sauce
Add tomato paste, oregano, red pepper flakes, and chopped walnuts. Cook for another minute or two while the tomato paste browns a bit. Stir in the balsamic vinegar for one minute.

Add veggie broth, dry lentils, and canned tomatoes. Stir to incorporate.

Bring up to a boil, then lower the heat to a gentle simmer. Cover, stirring occasionally while the lentils soften (about 20 minutes).

Remove the lid, stir in ½ cup dairy-free milk or ¼ cup heavy cream. Continue to simmer for another 20+ minutes while the flavors develop and the sauce reduces. Stir occasionally.

Taste and adjust salt, balsamic, and red pepper flakes as needed. If the sauce is too acidic, add a teaspoon of maple syrup.
NOTES
Lentil Options - if using pre-cooked or canned lentils, reduce the amount of liquid to ~1 cup and simmer until bolo is reduced and has a rich, thick consistency. Add more as needed.
Buy dry lentils in bulk or in the International aisle at the grocery store for the best price.
Flavor - sauteing the vegetables creates a lot of flavor so wait for the brown bits on the bottom of the pan before deglazing. Use a vegetable broth with lots of flavor like the Better than Bouillon brand.
Vegan Milk/Cream - use your favorite dairy-free milk or try this vegan heavy cream for a silky sauce. Start with the recommended amount and add more to suit your taste.
Tomatoes - use whole San Marzano tomatoes hand crushed when adding to the sauce or use a can of crushed tomatoes or 6N1 tomatoes (my favorite!).
Smoother Sauce Option - once the bolognese is simmering, transfer 2-3 cups sauce to a blender, pulse a few times then return to the pot and stir through.
Simmering Time - simmering with the lid on keeps moisture in the pot. If the sauce is too thin, remove the lid to let the sauce reduce. If the sauce is too thick, add more pasta water/broth and leave the lid on or mostly on.
Storage and Meal Prep - bolognese sauce stores well in the fridge for 4 days. Freeze in several small containers for quick weeknight meals. The recipe makes a big batch which is great for meal prep.
This recipe is from simplyceecee.co food blog. All images and content are copyright protected. Please do not use my images or republish this recipe without prior permission. Thank you.