This homemade marinara sauce is a thick and rich, super flavorful Italian tomato sauce that's 1000% better than any jarred sauce. Perfect for all your favorite Italian dishes (like epic vegan lasagna), this simple marinara is going to be the hardest working sauce in your kitchen!
Keep reading for the secret ingredient an Italian grandma whispered in my ear for perfect Sunday sauce every single time!
I've been making this exact authentic, Italian marinara sauce recipe for decades (ever since we ate it at Carmine's in NYC)! It has an incredible robust flavor, thick and rich texture, lots of garlic, parsley, basil, and olive oil making it my all-time favorite pasta sauce. For the best Sunday ever, serve with a warm chunk of rustic No-Knead Overnight Bread for dunking!
Ingredients for Hearty Tomato Sauce
I cook a lot of Italian food so having a batch of homemade marinara sauce on hand is a must. Plus it's super simple and fuss-free to make from scratch, and my house smells like an Italian restaurant - your's can too! Here's what you'll need . . .
Tomatoes – this recipe has two kinds of tomatoes (San Marzano and 6N1 affiliate link) both available at most big grocery stores, Italian grocery stores or online:
San Marzano Whole Peeled Tomatoes – the highest-quality, flavourful super star of tomatoes. San Marzano region is famous for its tomatoes because of the specific soil and climate they are grown in. They can be pricey though (I stock up when they are on sale!) so use the best Italian whole peeled canned tomatoes available.
6N1 Ground Tomatoes – my absolute favourite! They are sweet with a thick and rich consistency. Made from vine ripened, unpeeled ground tomatoes with an extra-heavy puree and incredible texture. Available at Italian markets and online. Sub crushed tomatoes like Whole Foods 365 or Muir Glen if 6N1 not available.
Garlic – lots of it, chopped or minced. Adds a pungent flavour and aroma and takes the sauce flavour over the top! The sharpness of garlic is mellowed as it cooks. Take care not to burn the garlic, cook it over low to medium-low heat until it is golden. If the heat is too high, remove the pan and let the oil cool down before continuing.
Herbs and Spices – chopped parsley and basil add a herbaceous brightness to the sauce. Salt, pepper, and hot pepper flakes enhance the sauce flavours and highlight the ingredients.
Secret Ingredient – when an Italian grandma leans over and whispers her secret to perfect marinara sauce, you don't forget! A pinch of baking soda reduces acidity and mellows out any sharpness. Don't overdo it - just a pinch.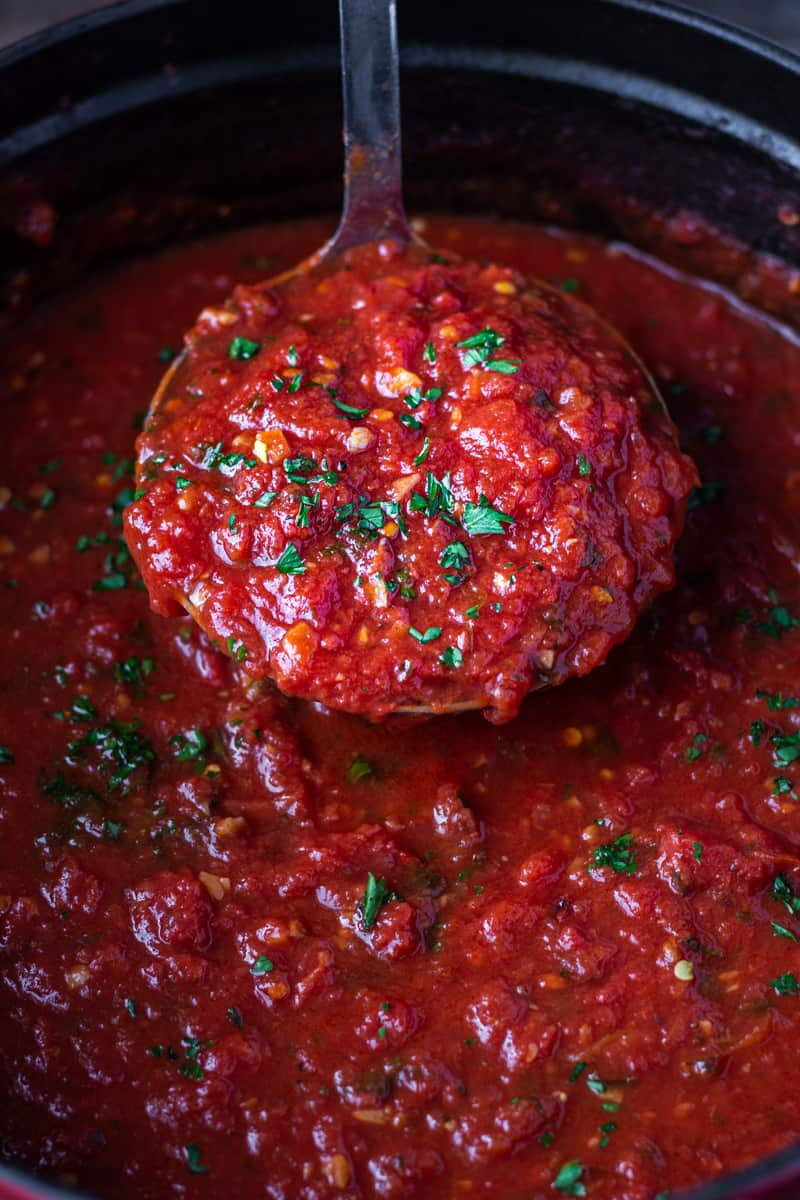 How to Make Authentic Marinara Sauce
It's easy to make this low carb, hearty marinara sauce from scratch - with very little effort and only a few quality ingredients.
Saute garlic in olive oil with herbs and seasonings in a large skillet or Dutch oven.
Add all the tomatoes. Bring up to a boil, stirring while the whole tomatoes break down.
Let simmer while the sauce thickens.
Taste, adjust seasonings. Remove from heat.
What Pasta should I use?
There are lots of choices for pasta these days, gluten-free, vegan, dairy-free, paleo. Just be sure to read the label to double check what you're getting.
If you are interested in making your own homemade pasta, try this Fresh Vegan Pasta recipe.
For a rustic sauce, a thicker pasta like spaghetti, fettuccine, penne or rigatoni is a good choice. They're heartier and hold up to the weight of the sauce.
Remember to salt your water and don't overcook the pasta! Perfectly cooked pasta is al dente (to the bite) – there will still be a little chew in the middle. Cooked too long and it's mushy. Undercooked and it's too chewy.
Pro Tip: save a bit of the starchy, salty water from the pasta before draining and use it to thin out your sauce if required.
FAQ - marinara sauce
What's the difference between marinara sauce and spaghetti sauce?
Marinara sauce is a simple, classic, basic tomato sauce. It does not have added vegetables or a lot of extra spices. Marinara forms the base of many sauces. Spaghetti sauce is typically started with a soffritto (holy trinity), has mushrooms etc. added, possibly tomato paste, plus extra seasoning.
Can marinara sauce be used for pizza sauce?
Oh yes!! This Italian marinara makes a beautiful pizza sauce. Use 'as is' for a super traditional pizza sauce or for a thicker pizza sauce, remove a ladle or two from the pot and stir together with a tablespoonful or two of tomato paste and add a sprinkle of dry oregano leaves.
How do you thicken tomato sauce?
The easiest way to thicken marinara sauce (same for tomato sauce and spaghetti sauce) is to let it simmer without a lid. The lid traps the steam (liquid) in the pot. So removing the lid (or placing it partially on) will allow the sauce to reduce while simmering over low to medium-low heat.
Best Uses for Marinara Sauce
Nothing beats homemade marinara sauce. It's easy to make and freezes beautifully. Naturally vegan and gluten free, this rustic Sunday sauce is going to be the hardest working sauce in your kitchen!
This is the best marinara sauce for scrumptious meatball marinara subs Easy Vegan Meatball Sub with Pesto. Of course, it's the base sauce for all my lasagnas like this Vegan Lasagna with Béchamel. For a super simple, nourishing weeknight meal, try this Creamy Rosé Veggie Pasta recipe. Enjoy!
Soft, homemade breadsticks dipped in marinara sauce and cheese sauce is an excellent Friday night appetizer with a glass of your favorite wine. It makes a simple, tasty marinara pizza sauce as well. The possibilities are endless.
Just In Case: In a pinch, it's good to have a backup store bought jar of marinara sauce. I always have one of these two brands in the pantry: Rao's Marinara Sauce and Classico Riserva Marinara Sauce available widely at most grocery stores and online.
Storing and Freezing Tips
Leftover marinara sauce can be stored in the fridge in an air-tight container for 4 or 5 days without any loss of quality or flavour.
Marinara sauce freezes well. Portion out 2-3 cups in freezer friendly containers.
Space Saving Tip: place the sauce into a freezer bag, flatten, and remove the air. Lay flat on a baking sheet in the freezer. Once frozen, you can stack the flat bags or stand them along the walls of the freezer.
More Vegan Dinner Ideas
If you're always looking for an easy weeknight friendly vegan dinner idea, here's a few:
Did you make my easy Homemade Marinara Sauce recipe?
I'd love to see it! Tag me on Instagram and Facebook!
NEVER MISS A RECIPE: Sign up for my email NEWSLETTER!
Rich Red Italian Marinara Sauce Recipe
This hearty marinara sauce is super simple to make, is bursting with flavor, and is 1000% more delicious than store bought sauce. Plus I've included an Italian grandma's secret tip for perfect tomato sauce every single time!
Rate this recipe!
INGREDIENTS
3-4

tablespoons

olive oil

¼

cup

garlic, chopped (~12 cloves)

10-12

medium-large

basil leaves, chopped

3

tablespoons

fresh parsley, chopped

1,

26 oz

San Marzano whole, peeled canned tomatoes

42 oz

6n1 ground canned tomatoes*

hot pepper flakes (optional)
INSTRUCTIONS
In a large pot, heat the olive oil until shiny. Add the garlic and cook over medium-low until golden. 

Be careful not to burn. If the garlic is cooking too fast, remove from heat and let the oil cool down.

Add the basil, parsley, S&P to taste.  

Add the San Marzano tomatoes and ground tomatoes. Turn the heat up to high and break the tomatoes up as you stir by gently pressing them with the back of your spoon on the side of the pan. Let the sauce come up to a boil.

Substitution Tip: If you don't have ground tomatoes, use 3, 26 oz tins of San Marzano whole tomatoes or sub for good quality crushed tomatoes.

Reduce to simmer for about 30 minutes while the tomatoes break down and the sauce starts to thicken. I place the lid on halfway during the simmer.

Add a sprinkle of hot pepper flakes, taste and adjust seasonings to your preference.

Remove from heat and set aside.
NOTES
Tomatoes - use San Marzano tomatoes or some other flavourful whole, unpeeled tomato if available. Tomatoes - the 6N1 ground tomatoes are really spectacular, but if you can't get a hold of them, use 3 tins of San Marzano tomatoes or a good quality crushed tomato. Storage - the marinara sauce can be frozen for up to 3 months in a freezer-friendly bag or container. I recommend freezing in 2 -3 cup portions for convenience. 
This recipe is from simplyceecee.co food blog. All images and content are copyright protected. Please do not use my images or republish this recipe without prior permission. Thank you.
Originally posted November 2020, revised October 2021