This Vegan Mushroom Pasta is the absolute best!! It's quick and easy to make, loaded with meaty mushrooms and spinach simmering in a luxurious vegan mushroom sauce made with cashew cream. Ready in 30 minutes, it's creamy and nourishing and will absolutely become a new go-to weeknight pasta to feed your family.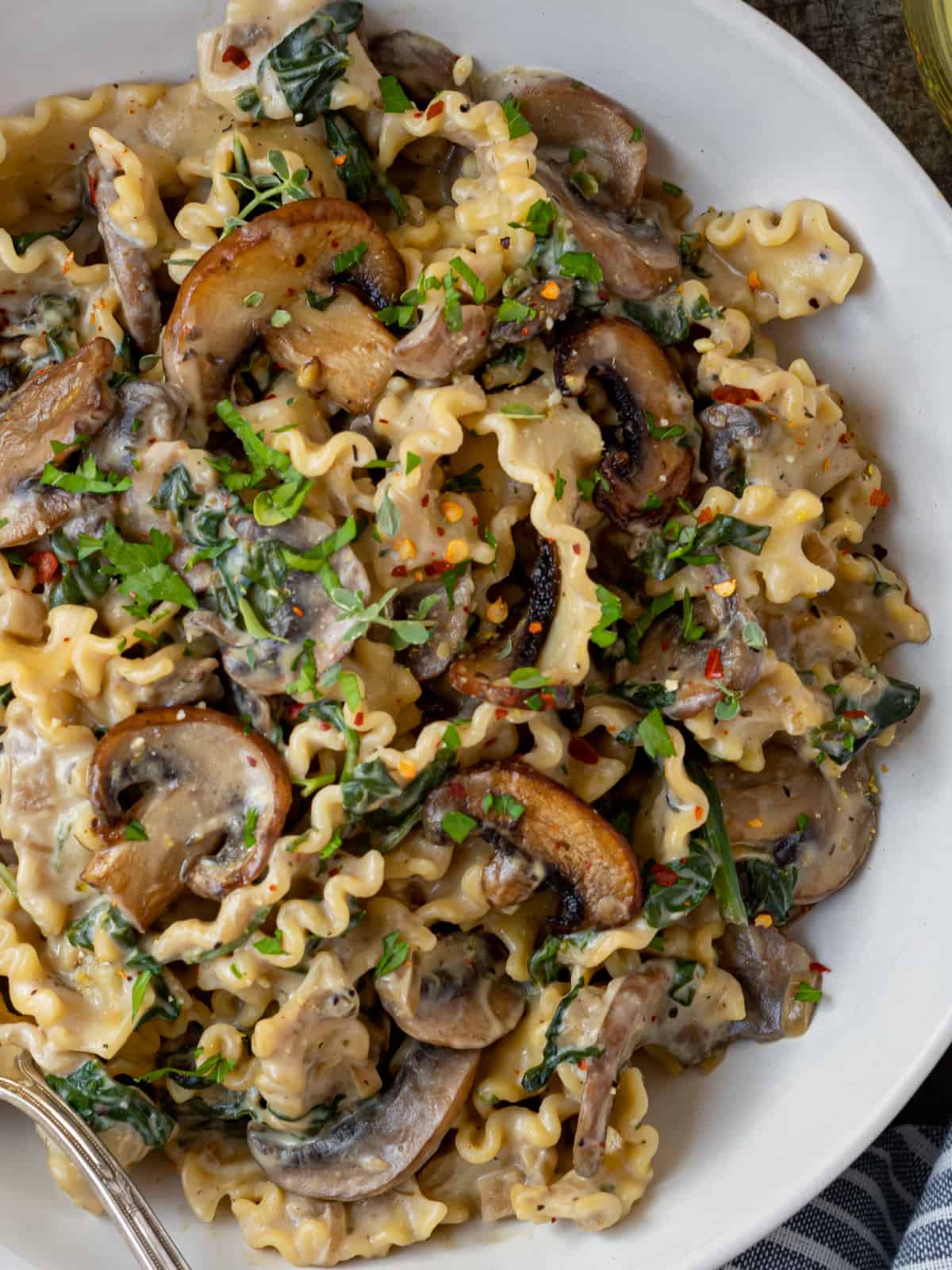 As soon as the weather starts to cool off, I'm craving vegan comfort food. There's just something magical about a warm, creamy bowl of pasta that warms the body and soul.
Just like my Vegan Creamy Tomato Pasta, Pasta with Cherry Tomato Sauce, and Lentil Bolognese, this mushroom pasta sauce is exploding with flavor and comes together in 30 minutes. It reminds me of a super creamy mushroom alfredo sauce. Needless to say, my family can't get enough of this pasta dish and neither can I!
Craving more vegan mushroom recipes? vegan sausage rolls, vegan bolognese, baked mushroom chickpea casserole.
Ingredients You'll Need
Traditional creamy mushroom pasta typically relies on dairy cream, butter, and chicken broth. But this vegan mushroom sauce is equally decadent without those elements. Vegan butter and a cashew cream sauce step in, delivering a velvety texture and rich flavor. Here's everything you'll need: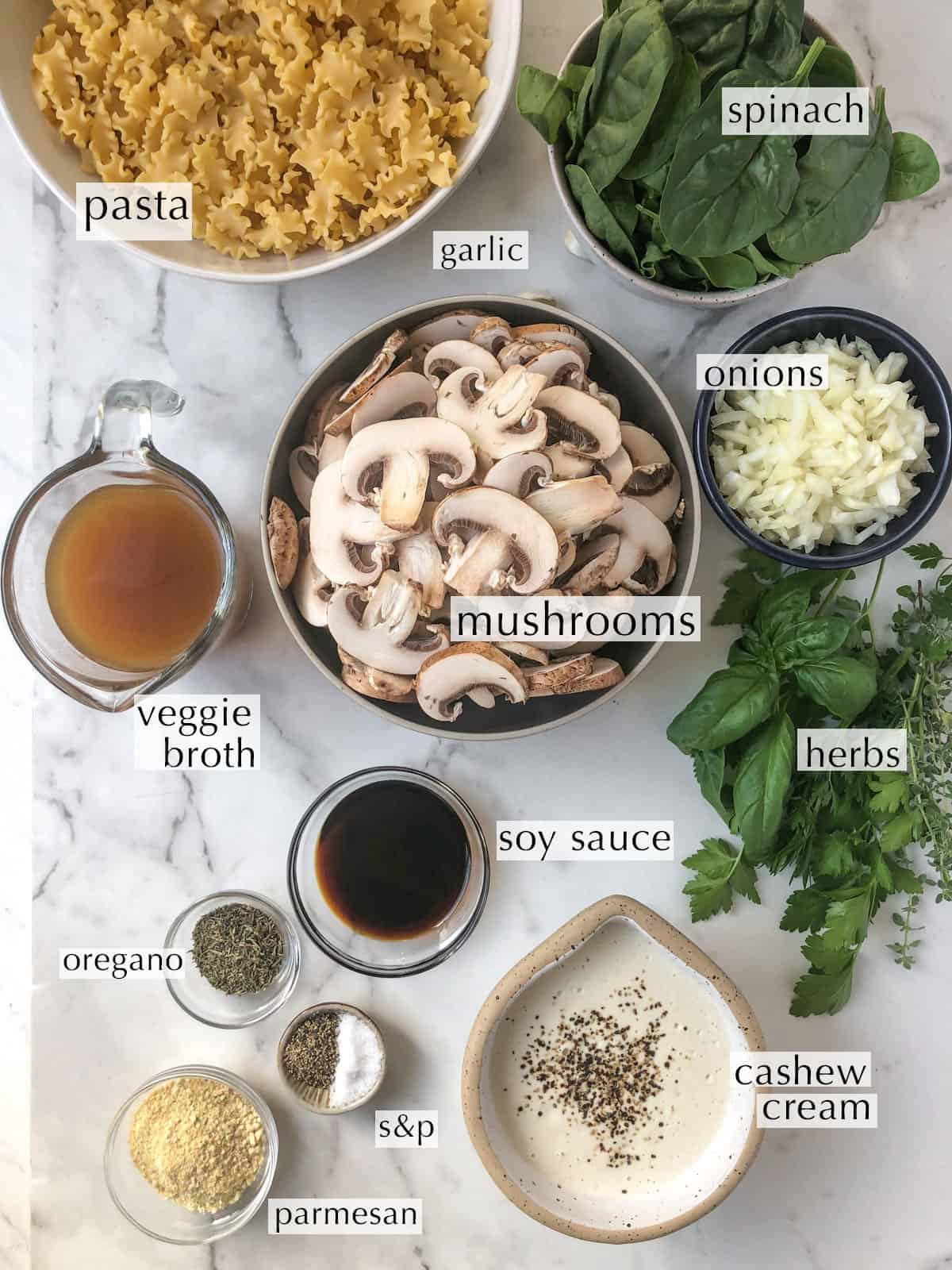 Mushrooms: I typically use cremini mushrooms for their meaty texture and earthy mushroom flavor.
Onions & garlic: Diced onions and minced garlic sautéed in vegan butter and olive oil build the savory flavor.
Dairy-free cream sauce: Made with cashews, water, and salt.
Broth & soy sauce: I like Better than Bouillon Veggie Broth but use your favorite super flavorful veggie broth. Bland broth = bland sauce.
Fresh herbs: Fresh parsley, oregano, thyme or basil enhances the savory flavors in this creamy mushroom sauce.
Pasta: Serve on your favorite pasta including whole grain for extra fiber or gluten free.
Ingredient Substitutions & Variations
This vegan mushroom sauce recipe is very delicious and very forgiving. Here's a few substitutions to taking into account allergies and ingredients you have on hand:
Mushroom lovers: Sub in any favorite mushroom or use a variety of mushrooms!
Veggie Options: I like to add leafy greens whenever possible - spinach is my go-to choice. Add any other vegetables your family enjoys. Chopped broccoli, cauliflower or leeks pair well with this creamy mushroom sauce.
Extra mushroom flavor: To boost the mushroom flavors, I add a teaspoonful or two of porcini mushroom powder to savory dishes.
White Wine: Deglaze your mushrooms and onions with white wine (yum) or broth.
Soy Sauce: Sub with gluten free soy sauce, light soy sauce or tamari as needed.
Parmesan Cheese: Add a sprinkle of your favorite parmesan cheese or try this tasty vegan parmesan cheese for cheesy flavor.
Pro Tip: For the most affordable mushroom powder, buy dry porcini mushrooms (bulk, Costco or Italian markets), pop some into a small food processor and blitz until finely ground. Store in a jar in the pantry.
How to Make Mushroom Sauce for Pasta
Believe it or not, making this pasta dish is a breeze. Let's get into the details:
Get the pasta water on: Cook per package instructions. Don't forget to reserve 1 cup of salty, starchy pasta water to correct the sauce consistency (if needed).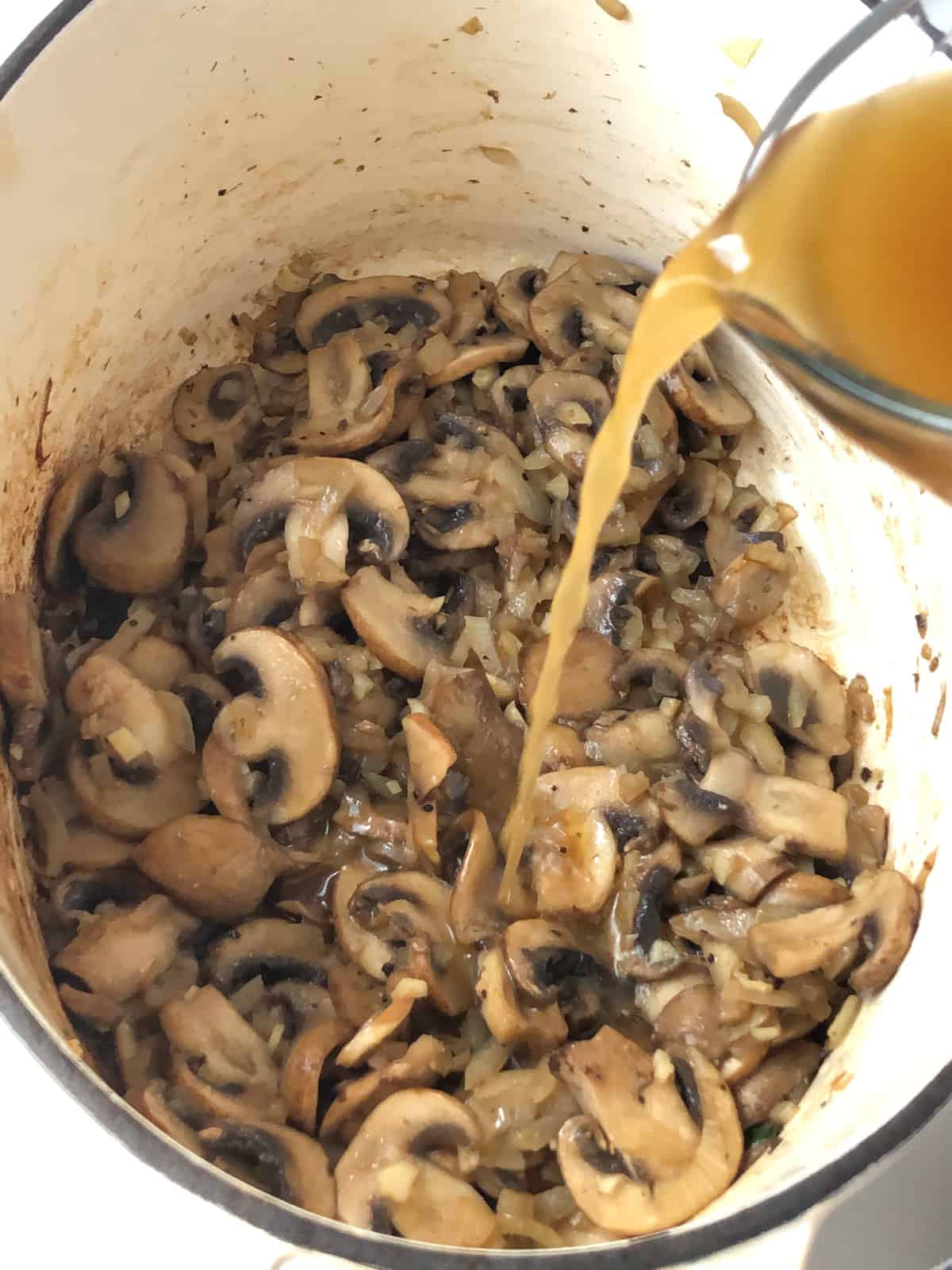 Make your mushroom sauce: Start by cooking the mushrooms, onions, and garlic in vegan butter and oil until the mushrooms are a beautiful golden-brown hue.
Build the sauce flavor: Deglaze the pan with a splash of wine/broth to incorporate the brown bits of flavor into the sauce. Add the soy sauce, spices, and dry herbs.
Cashew cream magic: While your mushrooms are cooking, quickly blend up the dairy-free cream. It's as simple as combining the cashews, boiling water, and a pinch of salt in a high-speed blender (like a Vitamix).
Fold together: Add the cashew cream, veggie broth, and spinach to your mushroom onion mixture, let it bubble up nicely, then reduce the heat to simmer.
Taste, Garnish & Serve: Taste the mushroom sauce and adjust seasonings as needed. Add more water to correct the sauce consistency. Fold the pasta into the cream sauce, top with chopped fresh herbs, black pepper, and red chili flakes - dig in!
Expert Tips
Cleaning Mushrooms: If you're like me, take the easy way to clean the mushrooms: place them in a colander and give them a light shower to wash away any dirt then pat dry. Alternatively, you can wipe away any visible dirt with a damp kitchen towel or veggie brush. It's not recommended to put them in a bowl of water for an extended period (they soak up extra water).
Million Dollar Flavor Tips: One of the ways to build flavor when cooking with vegetables is to brown the veggies which transforms their flavor, texture and smell bringing out complex notes that are nutty, sweet or savory (this is called the Maillard reaction).
Hand in hand with browning the veggies to extract flavor is to then deglaze the pan to dissolve the cooked food particles (brown bits) stuck to the bottom of the pan which incorporates that flavor back into the sauce. It's well worth the extra few minutes of cooking for the return on flavor!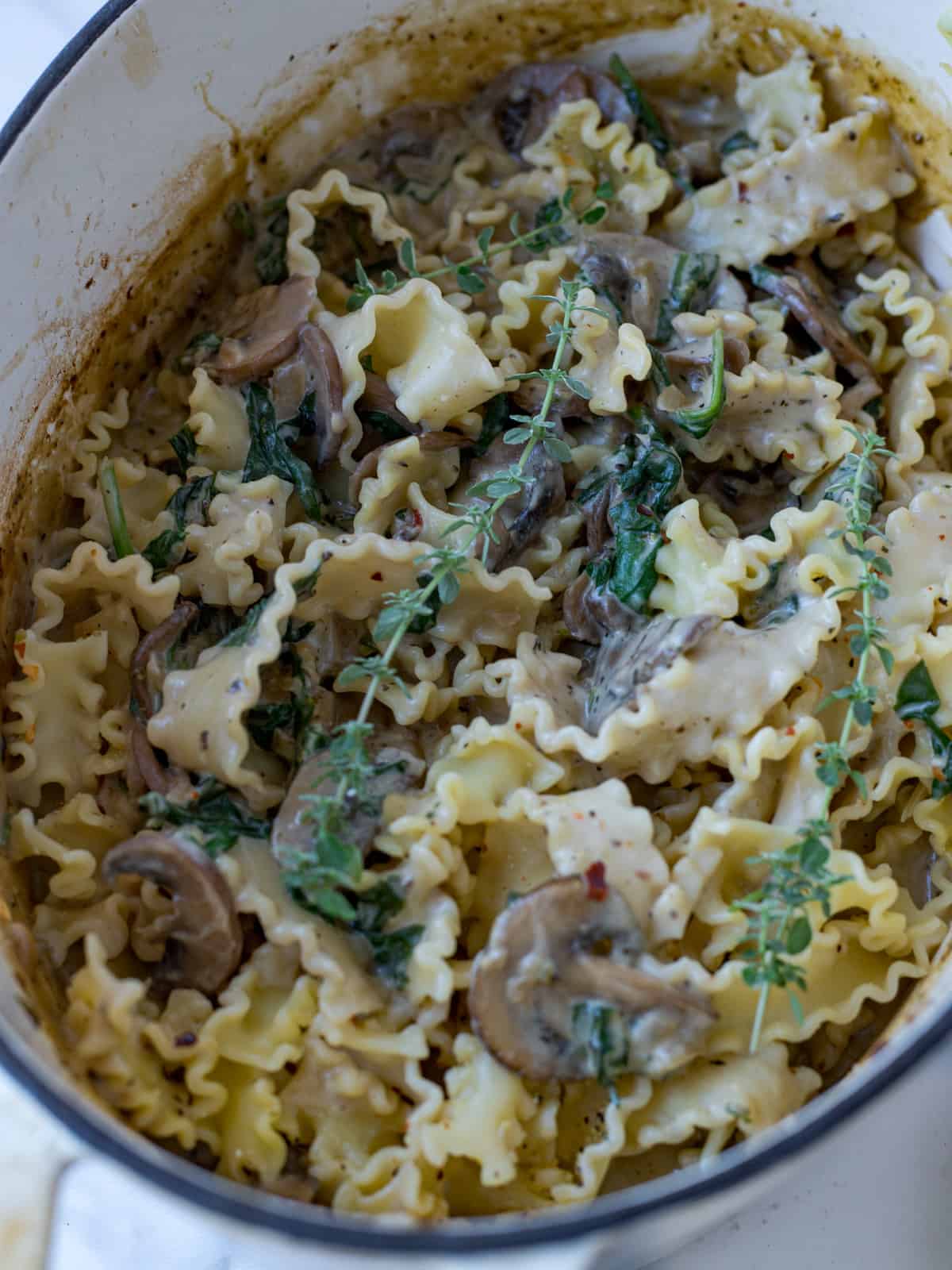 So there you have it! A Vegan Mushroom Pasta dish that's not just satisfying but is also bursting with flavors and creamy goodness. What are you waiting for? Dinner is sorted!
How long does it last?
Store leftover mushroom pasta in a covered container in the fridge for up to 4 days. Reheat in the microwave or a saucepan on the stove over medium-low heat. You may need to add a splash of non-dairy milk or broth to loosen up the sauce when reheating.
What goes with Spinach and Mushroom Pasta?
This creamy vegan mushroom pasta is a satisfying, nourishing meal on its own especially with the addition of spinach. However, if you're feeding a crowd, a few tasty side dishes help expand and stretch a meal - here's a few ideas: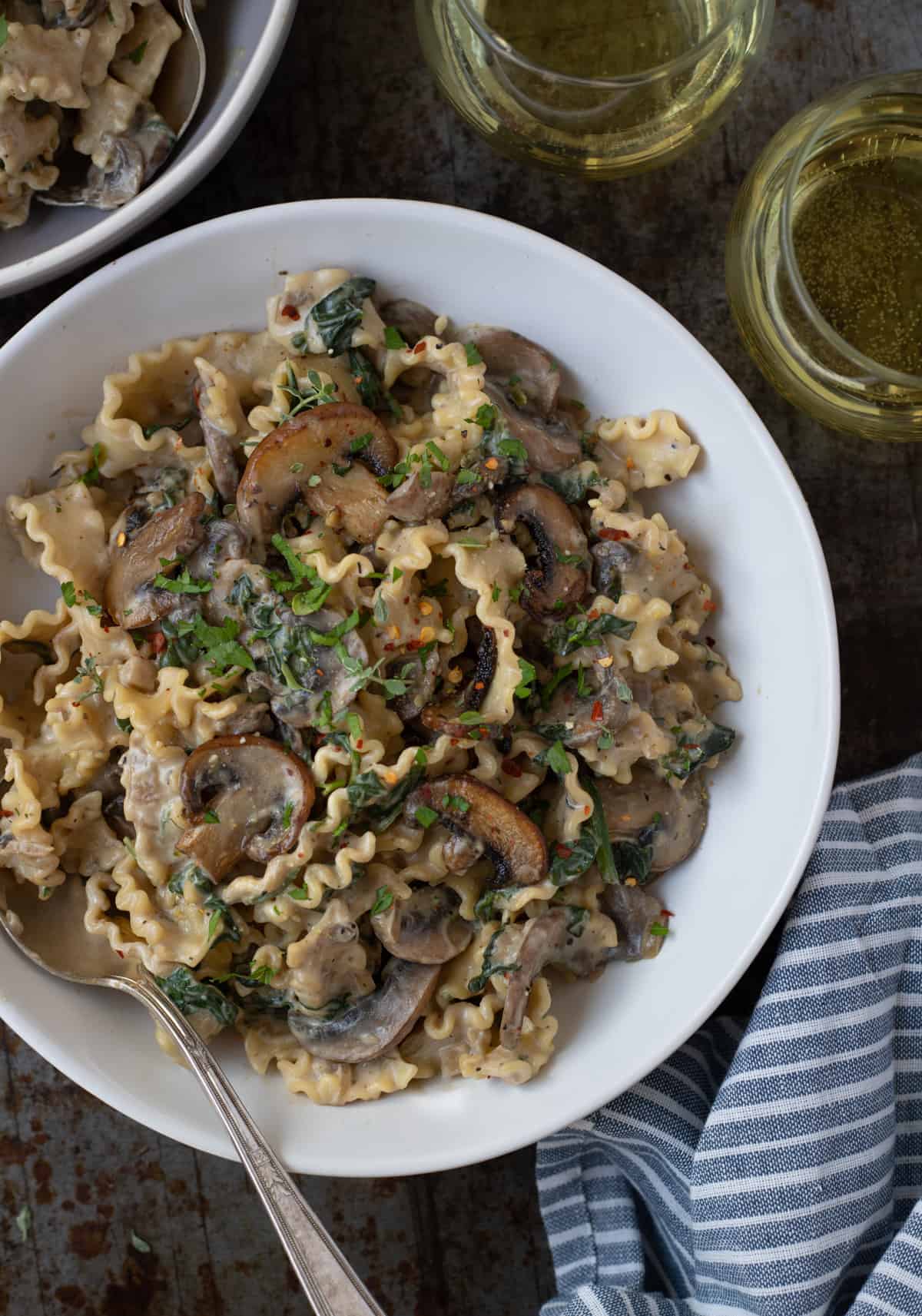 Easy Vegan Pasta Recipes
If you like this vegan mushroom pasta recipe, try some of these pasta recipes next:
Did you make this recipe? I'd love to see it!
Please leave a star rating and comment at the bottom of the page.
Thank you so much for sharing! Tag me on Instagram
For more Vegan Recipes: Sign up for my email NEWSLETTER!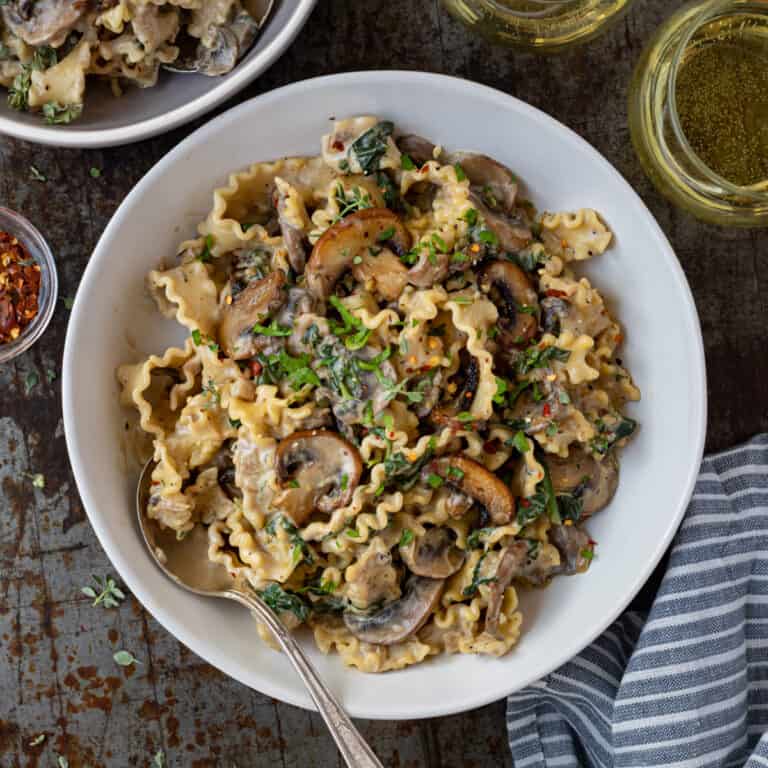 Quick and Creamy Vegan Mushroom Pasta
A simple, super flavorful, creamy and delicious vegan mushroom pasta recipe. This luxurious vegan pasta dish comes together in under 30 minutes! It's a healthy, hearty, gluten-free friendly, dairy free, vegan meal to feed your family on busy weeknights.
Rate this recipe!
INGREDIENTS
Pasta
4

servings

pasta (whole grain, gf)
Mushroom Sauce
2

tablespoons

vegan butter

1

tablespoon

olive oil

1

cup

cooking onion, diced

1

pound

mushrooms, slice or rough chop

2-3

cloves

garlic, minced

2-4

tablespoons

wine/veggie broth (to deglaze)

3

tablespoons

soy sauce (gf or tamari)

1-2

teaspoons

dry thyme and/or oregano leaves

½

teaspoon

kosher salt (more to taste)

1

teaspoon

black pepper, coarse ground

¾

cup

vegetable broth

2

cups

spinach, cut into ribbons
Cashew Cream
⅔

cup

cashew nuts

1

cup

hot water, boiled

½

teaspoon

salt (more to taste)
Garnish
fresh parsley, basil or thyme leaves

1

teaspoon

red chili flakes (optional)
INSTRUCTIONS
Start the Pasta Water
Cook the pasta as per package directions. Reserve one cup of salty pasta water before draining.
Prepare the Vegetables
Dice the onion and mince the garlic.

Slice or rough chop the mushrooms.

Slice the spinach into ribbons. (If baby spinach, can leave whole.)
Dairy Free Mushroom Sauce
Add butter and oil to a large non-stick saute pan style pan over medium-high heat until shimmering. Stir in the onions and mushrooms and garlic. Cook until the musrhooms have released their water and the onions are golden and fragrant (~7-10 minutes).

Add a splash or two of vegetable broth/white wine to deglaze the pan and get up all the brown bits.

Add the soy sauce, dry thyme/oregano, S&P and sauté for another 2 minutes.
Cashew Cream Sauce
While the mushrooms are cooking, make the cashew cream sauce.

In the cup of a high-speed blender (such as Vitamix), add the raw cashews, boiling water, and salt then blend until smooth and creamy. The mixture will be the consistency of whipping cream.
Putting It All Together
Pour the cashew sauce and veggie broth into the mushroom mixture, add the spinach. Let the sauce bubble up on medium-high then reduce the heat to a simmer.

Fold in the cooked, drained pasta. Add a splash of the pasta water as necessary to correct the sauce consistency. Taste and adjust seasoning as necessary

Garnish with chopped parsley/basil or fresh thyme leaves, a generous sprinkle of black pepper, and hot pepper flakes. Enjoy!
NOTES
Pasta: Short cut pasta like penne or rotini work well as they catch the sauce and bits of mushrooms, garlic and spinach, but long pasta like linguine and fettuccine are excellent as well. Use regular, whole grain or gluten free pasta.
Building Flavor: One of the ways to build flavor when cooking with vegetables is to take the time to brown your veggies which transforms both the flavor and texture bringing out a ton of flavor (aka: Maillard Reaction). Deglazing the pan to dissolve the cooked food particles (brown bits) stuck to the bottom of the pan incorporates all that flavor back into the sauce. Well worth extra few minutes of cooking time!
Use ~¼ cup wine or broth to deglaze the pan.
Storage: The mushroom pasta sauce can be stored in the fridge for up to 4 days. Reheat in the microwave or a saucepan on the stove. You may need a splash of non-dairy milk to correct the sauce consistency when reheating.
Extra Serving of Vegetables: Add any veggie scraps like cauliflower and broccoli stems to the sauce! Cut into small pieces and add at the same time as the onions and mushrooms.
This recipe is from simplyceecee.co food blog. All images and content are copyright protected. Please do not use my images or republish this recipe without prior permission. Thank you.