This simple but indulgent vegan affogato coffee dessert recipe is going to blow you away. It's a dreamy combination of bitter, sweet, salty, caramel, chocolate, hot, frozen, creamy crunchy yumminess. You're going to love it!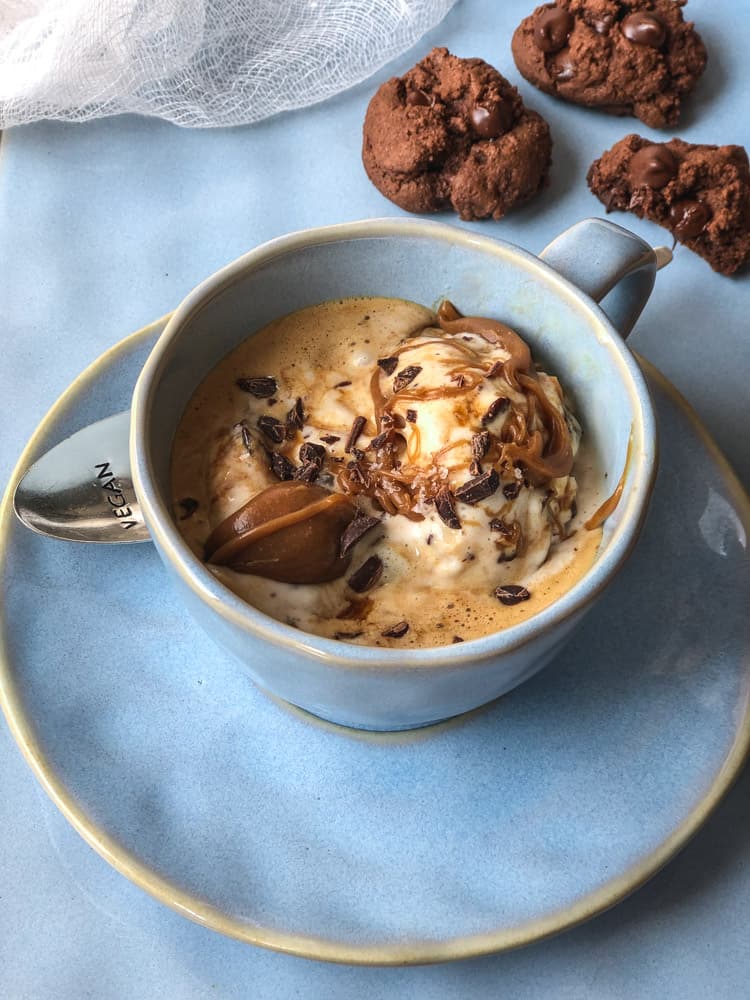 What is Affogato?
Affogato means to drown. In this traditional Italian dessert, it's the vanilla ice cream being drown by a shot of bitter espresso coffee. It's incredibly delicious I mean everyone loves a fancy coffee with cream, right?
Ingredients for Vegan Affogato Dessert
I took some liberties with my affogato dessert! In this amped up and veganized version, I made luscious salted caramel sauce to dollop and drizzle over the dessert. The combination of bitter coffee, cream dairy-free ice cream, and salted caramel is seriously spectacular.
Here's what you'll need:
Dairy-free Ice Cream - there are so many dairy-free ice cream choices these days from making your own 'nice cream', coconut based, chickpea based, and my favourite - cashew based ice cream (I love So Delicious)! I've used the So Delicious Vanilla and Salted Caramel in this dessert and both were delicious.
Espresso Coffee - strong and bitter is best. One shot + one scoop = one serving.
Caramel - ridiculously easy and fast to make, this caramel sauce is for those days you are feeling extra indulgent. You can buy a container of vegan caramel sauce at the store, but I used Yumsome's condensed milk recipe which is super easy.
WARNING: In all fairness to you, this caramel sauce is addictive so beware. Day 3 in the fridge is my favourite for the caramel flavour and texture!
Chocolate Drizzles or Curls - why choose? Grate or curl some chocolate to sprinkle over the dessert right before serving. Melt a few chunks of chocolate to drizzle over top.
Pro Tip: slightly warm a chunk of vegan chocolate in the microwave and then grate it on a box grater. For chocolate curls, slightly warm the chocolate so it's pliable. Using a vegetable peeler, scrape across the chocolate to create beautiful chocolate curls.
What's your mood? Simple and traditional or fancy and indulgent? Either way, you can't lose, this incredible affogato is a winner; and you'll be dreaming about after the first taste.
What to Serve with Affogato
Traditionally affogato would be served with Biscotti. This vegan biscotti recipe is the best there is. Toasted walnuts in pools of melted caramel in a crunchy biscotti biscuit.
Caramel affogato is the perfect fancy dessert for a romantic dinner, a Sunday family feast or just any day you want something sweet and a little caffeine buzz!
For Your Vegan Sweet Tooth
Did you make this recipe? I'd love to see it!
Please leave a star rating and comment at the bottom of the page.
Thank you so much for sharing! Tag me on Instagram
For more Vegan Recipes: Sign up for my email NEWSLETTER!
Decadent Vegan Affogato Dessert Recipe
Let's make Affogato vegan! A scoop of dairy-free ice cream drowning in a warm shot of bitter espresso, topped with a big dollop of sweet caramel and a sprinkle of chocolate curls makes a melty, dreamy vegan dessert. Easy and indulgent!
Rate this recipe!
INGREDIENTS
2

scoops

dairy-free ice cream*

2

shots

espresso

1

recipe caramel sauce*

2

oz

vegan chocolate, melted (optional)

vegan chocolate, grated or chopped

⅛

teaspoon

pinch of salt (more or less to taste)
INSTRUCTIONS
How to Make Vegan Caramel Sauce
INGREDIENTS

150 grams coconut cream powder (~⅔ cup)

150 grams coconut palm sugar (~⅔ cup)

120 ml warm water (~½ cup)

2 tablespoons refined coconut oil (melted)

pinch of sea salt

METHOD

Place all ingredients in a high speed blender and blend on high for 2-3 minutes until thick and gooey.

Place in airtight container in fridge - it gets thicker as it chills.
Chocolate Drizzle or Chocolate Sprinkles
Melt your favourite vegan chocolate for drizzles.

To make sprinkles, finely chop a small piece of vegan chocolate.

For a fancier version, slightly warm the chocolate chunk and then grate on the larger side of a box grater.
Assembling the Affogato Dessert
Make a shot of espresso and pour over the scoop of ice cream.

Drizzle/dollop caramel sauce over ice cream.

Drizzle melted chocolate, add a pinch of finishing salt, and a sprinkle of chopped chocolate.
NOTES
Caramel Sauce - the caramel sauce can be stored in an air-tight container in the fridge for a couple weeks. It thickens up in the fridge so if you want to thin it out, just pop it in the microwave for a few seconds, stir and repeat until desired consistency. Ice Cream - use any type of dairy-free ice cream. I do love the flavour and texture of the So Delicious vanilla or salted caramel cashew based ice cream. It's spectacular!
This recipe is from simplyceecee.co food blog. All images and content are copyright protected. Please do not use my images or republish this recipe without prior permission. Thank you.