This peanut butter chocolate chip vegan banana bread is a banana bread lovers dream come true. It has an incredibly tender, moist, crumb and a gorgeous golden crust. Each bite is bursting with banana and chocolate flavors, a kiss of peanut butter, and crunchy walnuts. It's the best dang banana bread recipe ever! Gluten free version too!
Sometimes I've got only 1 ripe banana and when that happens, I make these small batch vegan banana nut muffins - only 1 bowl and 30 minutes!
Why Everyone Loves this Banana Bread
I know there are a lot of banana bread recipes out there (especially recently), but this vegan banana bread has a couple things that make it THE BEST!
easy to make - only one-bowl and a few simple ingredients
perfect texture - super tender and moist but substantial crumb with an amazing crust
incredible flavor - sweet banana with a hint of nuttiness and flecks of chocolate
crowd pleaser - EVERYONE loves this banana bread - vegan or not!
versatile - gluten free, chocolate free, nut free and egg free banana bread options
reliable recipe - turns out perfect every. single. time
simple recipe - for newly vegan eaters and easy recipe for beginner cooks
Ingredient Review
Vegan baking is a little trickier than vegan cooking mostly because of science, but also because typically a few ingredients are being replaced which can affect texture and flavor. This vegan banana bread is made without eggs or dairy which impacts both flavor and texture, but you won't miss either in this recipe!
As well, making a recipe gluten free also affects the texture; but this gluten free banana bread is super delicious so don't worry about that.
The Bananas
Select spotty bananas because as the bananas ripen, they get softer, sweeter and the depth of flavour is intensified.
Can I freeze bananas? Yes! When bananas are on sale (or reduced), buy them in bulk. Once spotty, peel the bananas, place them on a baking sheet in a single layer and then pop them into the freezer for half an hour. Then transfer the whole, frozen, bananas to a freezer bag. When you have a craving for some yummy banana bread, remove 3 from the bag and let them come to room temperature before baking.
The Binder
I've tested several different vegan egg replacements over the years. For texture, flavour, and nutritional benefit, the flax egg is my number one choice for this banana bread. However, you can sub in 3 tablespoons of aquafaba (chickpea liquid) or your favorite vegan egg replacer.
The Fats
The addition of peanut butter adds a bit of indulgence, rich depth of flavor, protein, improved texture, and a hint of nuttiness. I've had the best success with a medium to runny peanut butter. If your peanut butter is thicker, add an extra tablespoonful of milk when you are beating it with the butter and sugar to keep the batter light.
You could sub the peanut butter for any nut/seed butter or just more butter/oil.
The Toppings
Texture matters (always) but with vegan baking in particular! The addition of chocolate dust, toasted walnut shards, and caramelized banana slices creates an incredible crust and a flavor combination that takes this egg free banana bread over the top!
Walnut Shards - walnut halves broken in two to make long thin pieces which are then lightly pushed into the loaf surface. The walnuts become toasted and crunchy while the loaf bakes.
Vegan Chocolate - This recipe uses chocolate two ways - chips or chunks are stirred into the batter and chocolate dust (finely chopped chocolate) is sprinkled over top.
Among others, I use Enjoy Life and Costco brand dairy-free chocolate chips. But there are so many delicious options for vegan/dairy-free chocolate now!
Pro Tip: Be sure to check the ingredients for dairy sources - 'may contain' means it is made in a facility that uses dairy, but dairy is not an ingredient added to the product.
Why this Recipe Works - pro tips!
This vegan banana bread recipe is a sure thing. It's a reliable recipe that produces a perfect loaf of banana bread every time. Even the gluten free version! This is a pretty simple recipe, but here's a few things I've learned over the years . . .
You get the most flavor from super ripe, spotty bananas. My family doesn't LOVE a strong banana flavor so bananas that are 'semi' overripe work for us!
Cut a few thin slices off the end of one banana before mashing. Sprinkle those slices with coconut sugar for a gorgeous caramelized garnish.
The butter and peanut butter blend more easily if they are at room temperature.
Don't over mix your batter. When you mix it until it's super smooth, it changes the banana bread texture. This loaf is pretty rustic and a little dense (just the way we love it). But overmixing activates the gluten and the texture becomes too refined, can lean toward gummy, and seems overly processed (no one wants that). So mix, but not too much!
I have a very old (but perfectly calibrated) electric oven, my altitude is ~3550' (1084 m), plus it's super dry here - these factors along with choice of pan each impacts baking time so keep your eyes on your banana loaf for the last 10 minutes to determine your perfect baking time - 56 minutes for me.
Don't let the banana bread cool completely in the loaf pan, it steams the sides of the banana bread and makes it too soft (aim for tender not soft). So release the loaf after about 8 or 10 minutes and let it cool completely on a wire rack for the best texture.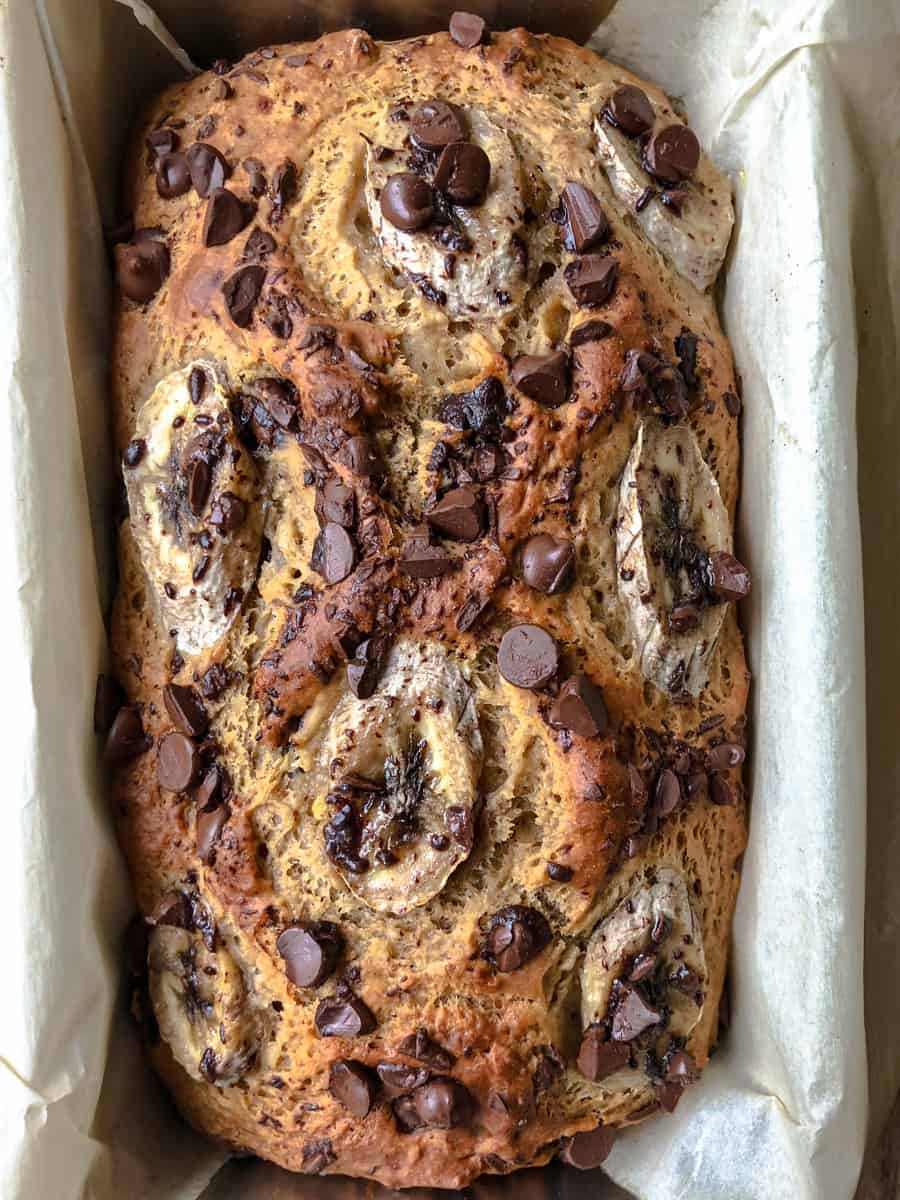 How long does Banana Bread last?
Refrigerator - If you are lucky enough to have leftovers, wrap the banana loaf and store on the counter for 1-2 days or in the fridge for up to a week. My preference is to store in the fridge. This banana bread has never lasted more than two days at our house tho - it's pretty sought after.
Freezer - Banana bread freezes very well. Once completely cool, wrap the whole loaf (or individual slices) in plastic wrap and tin foil and place in freezer. Remove from freezer and bring to room temperature before serving.
It's no secret, I like pretty food and this vegan peanut butter chocolate chip banana bread is a show stopper! It's a perfect hostess during the holidays or thank you gift and is lovely for afternoon coffee with friends. I have it on good authority that it's 'the most incredible banana bread ever'! Happy Baking!
More Vegan Dessert Recipes
Vegan Chocolate Cupcakes - Mother's favourite birthday cupcakes!
Eggless Banana Nut Muffins - small batch muffins with life-changing topping options!!
Vegan Chocolate Chip Marshmallow Cookies - irresistibly delicious and easy!
Vegan Raisin Cookies - Not too sweet, perfectly spiced!
No Knead Overnight Bread - Family favorite hot out of the oven!
Did you make my Vegan Peanut Butter Chocolate Chip Banana Bread recipe? If so, please leave a comment and a rating below.
For more vegan food inspiration, follow along on Instagram and Facebook!
NEVER MISS A RECIPE: Sign up for my email NEWSLETTER!
Easy Vegan Peanut Butter Chocolate Chip Banana Bread
This luscious vegan banana bread has a super tender crumb and an amazing crust. There are crunchy bits from toasty walnuts, sweet bits from chocolate morsels, and peanut-butter-banana goodness in every bite. Plus, it's so pretty! A one-bowl wonder that's baked in 56 minutes!
Rate this recipe!
INGREDIENTS
⅓

cup

vegan butter, softened

3

tablespoons

peanut butter

⅔

cup

brown sugar

1

flax egg

1 - 1 ½

teaspoons

vanilla

2-3

tablespoons

milk

½

teaspoon

baking soda

1 ¼

teaspoons

baking powder

1 ¾

cup

flour, ap

1 ¼

cups

ripe bananas (3 medium-large bananas)

½

cup

chocolate chips

¼

cup

walnut, halves
INSTRUCTIONS
Pre-heat oven to 350º F

Grease the inside of a loaf pan and add a thick strip of parchment paper for easy release.

Cut 6-8 slices off one banana and set aside for garnish.

Mash the remaining bananas with a fork.

Mix a flax egg using 1 tablespoon of flax seed powder and 3 tablespoons of warm water. Set aside.

Remove ~10 chocolate chips from portion and finely chop. Set aside for garnish.

Cream butter, peanut butter, and sugar with hand beaters until light. (You could beat by hand with a wooden spoon as well.)

Add prepared flax egg, vanilla, and milk - mix until light and smooth.

Measure out flour using the spoon and level method*. Stir the baking powder and baking soda into the flour.

Add the mashed bananas and flour alternately to the creamed ingredients mixing on low or using wooden spoon just until incorporated (don't over mix the batter).

Stir in the chocolate chips by hand.

Scrape the batter into the prepared loaf pan. The batter will with thick.

Arrange the banana slices evenly on the loaf (gently pressing them into place).

Poke the walnut shards into the surface of the loaf so they are sticking up and cover the entire loaf.

Sprinkle evenly with chopped chocolate dust.

Bake in oven until a toothpick comes out clean - approx. 56 minutes*.

*Depending on how hot your oven runs, pan size and type, altitude etc, the loaf could take slightly less or more time in the range of 50-60 minutes.

Let cool 10 minutes in pan before releasing to a cooling rack.

Cool completely before slicing with a serrated knife.
NOTES
Peanut Butter - check out this post if you're interested in making your own homemade peanut butter.
Chocolate Chips - Reserve 10, finely chop to create chocolate dust for top of loaf.
Banana Slices - Cut 6-8 thin slices from one of the bananas for top of loaf.
Walnut Shards - Break the walnut halves in half - creating long shards to poke into the top of loaf.
Egg Replacer - for this recipe I prefer a flax egg but you could also use 3 tablespoons of aquafaba (canned chickpea liquid) or Bob's Red Mill egg replacer with good results.
Measuring Flour - U

se spoon and level method. Don't scoop the flour directly out of the bag into the measuring cup which is compacted. Scoop the flour with a spoon to fill the measuring cup then use the back of a knife to level it. 
Flour - I use all purpose flour for this recipe, but you can sub 1:1 gluten free flour with good success.
Cooking Time - Will vary depending on your altitude and how hot your oven runs. Keep your eyes on the loaf for the last 8-10 minutes.
A few indicators that the Banana Bread is ready: First sign - the house will smell incredible! Visual sign - the top of the loaf will be perfectly golden. Last - a toothpick stuck in the center comes out (mostly) clean. See
IG story highlights
for step by step baking video.
This recipe is from simplyceecee.co food blog. All images and content are copyright protected. Please do not use my images or republish this recipe without prior permission. Thank you.