These deliciously moist, banana nut muffins are fluffy, tender, perfectly sweet and 100% vegan. Each bite is bursting with peanut butter-banana goodness, a kiss of warming spices, bits of nuts and that salted, maple walnut-ginger crunchy top that is going to knock your socks off.
Easy to make, this small batch banana nut muffin recipe makes 6 gorgeous vegan muffins in under 30 minutes. Perfect for snacking or breakfast on the go. Let's get baking . . .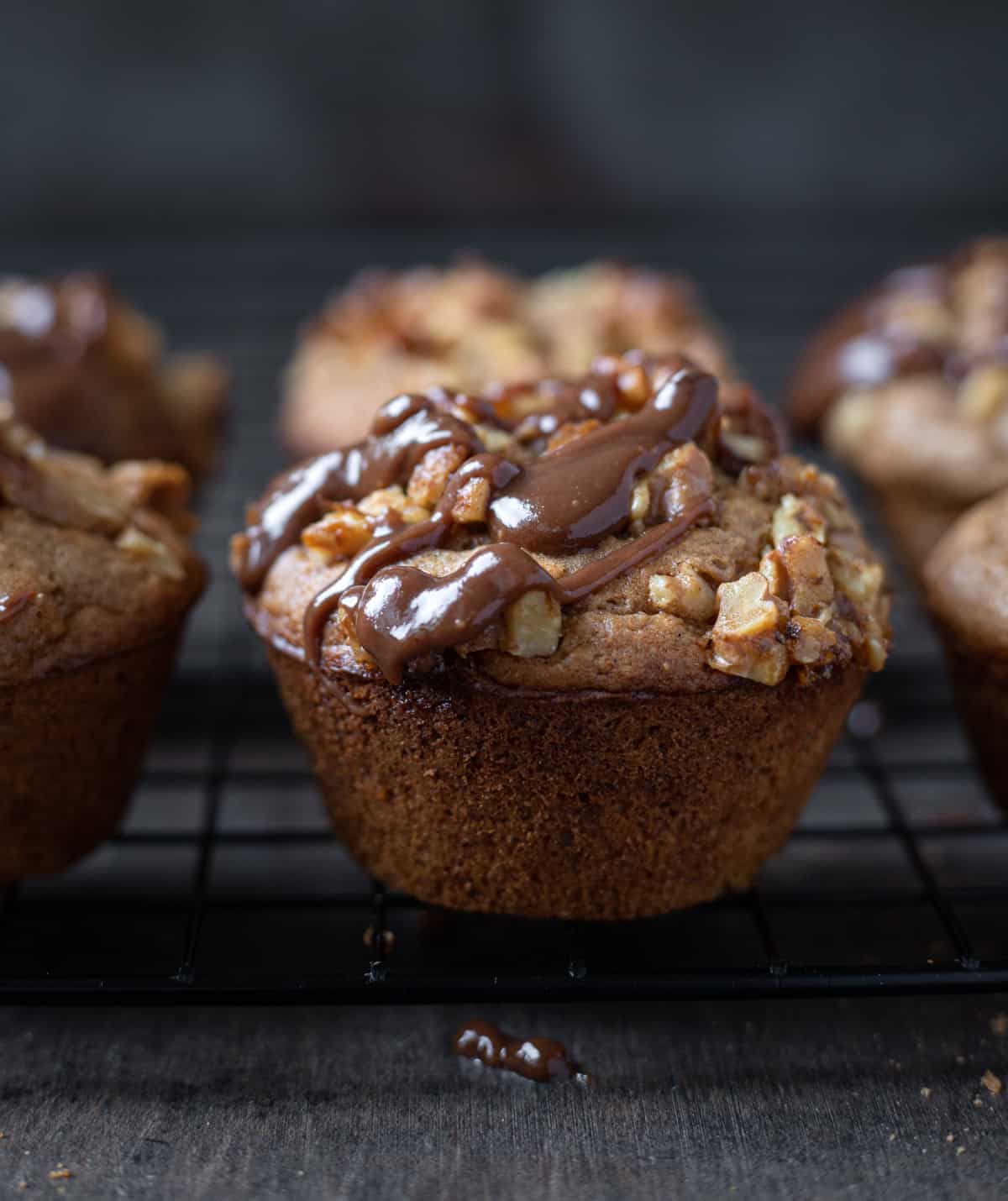 Ceecee's epic Vegan Banana Bread recipe is on the blog and it's incredible; but when I've got only one banana (and 30 minutes), I make these quick and easy banana muffins. There's nothing like a warm muffin straight out the the oven slathered with butter or a smear of chocolate-peanut butter sauce. Big yums to that combo!
This one-bowl wonder is a perfect easy-to-follow recipe for newly vegan cooks, beginner bakers, and everyone else who loves delicious homemade muffins. All you need is a spotty banana and a few other basic kitchen ingredients.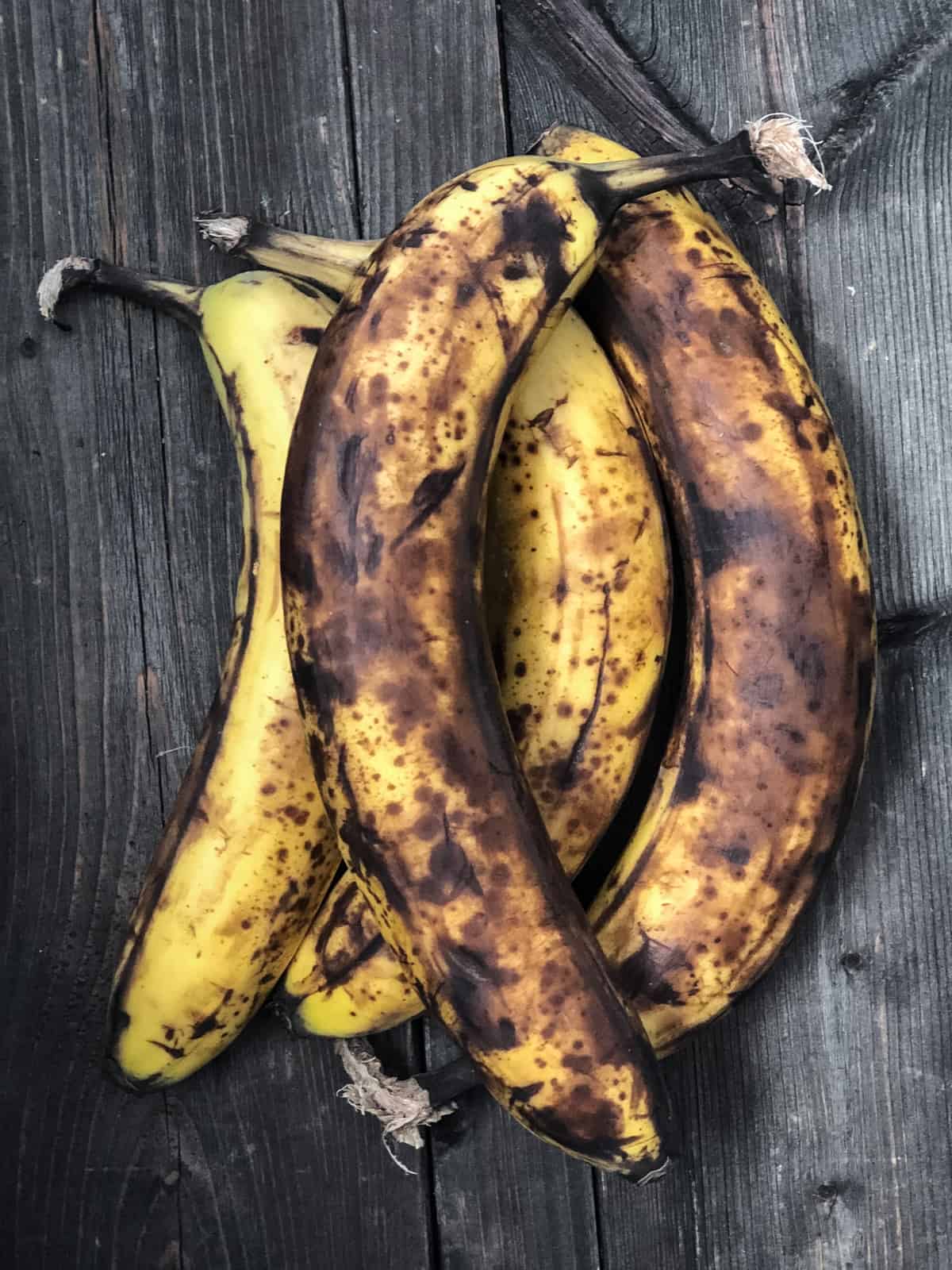 Ingredient Essentials
These banana muffins are simple and pretty healthy - you won't need any eggs or dairy, and they are easily oil-free and gluten-free friendly. Here's what you'll need:
Bananas. 1 Large ripe (spotty) banana. As bananas ripen, the banana flavor is intensified and gets sweeter which is perfect for adding natural sweetness, flavor, and moisture to vegan baking!
Peanut butter. A tasty replacement for oil/butter in these banana muffins if you are oil free. Peanut butter (or any nut butter) adds an incredible richness and nutty depth of flavor and tenderness to the muffin crumb. Choose the natural, runny kind or make your own homemade peanut butter!
Flour. I tested this recipe using all purpose flour; but just like my vegan banana bread recipe, you can sub a 1:1 gluten-free flour mix like Bob's Red Mill or similar with good success.
Sugar. I use the medium brown sugar for extra flavor - but any brown sugar will work.
Milk. Any plain, unflavored dairy-free milk.
Spices. These little muffins pack a lot of spice. I doubled the cinnamon factor and added some nutmeg to create super warm, cozy banana muffins. Plus there is ginger in the crunchy maple walnut topping - yum!
Nuts. Walnuts pack the most nutritional benefit of any nut. Plus they are big and meaty and crunchy so a good choice for baking because they hold their texture well. But pecans are a popular choice for banana muffins as well!
Vanilla. Pure vanilla extract brings flavor and helps balance the flavor profile.
How to Make Perfect Vegan Muffins
Made in just one bowl! Mash the banana, add in the rest of the wet ingredients like peanut butter and milk, fold in the dry ingredients and voila, the yummiest moist and tender banana muffins ever.
Choose a topping - crunchy salted maple walnut or chocolatey peanut butter swirl. Both are simple and delicious. I like to make the topping first so once the wet and dry ingredients are mixed together, the muffins can go straight into the hot oven.
Don't bother with paper liners - save those for cupcakes. Either spray the muffin tin with cooking spray or my preferred method is to lightly wipe the tin with butter/margarine for added flavor and color.
Optional Muffin Toppings
Here are a couple great ideas to push simple vegan banana muffins over the top into gourmet muffin status!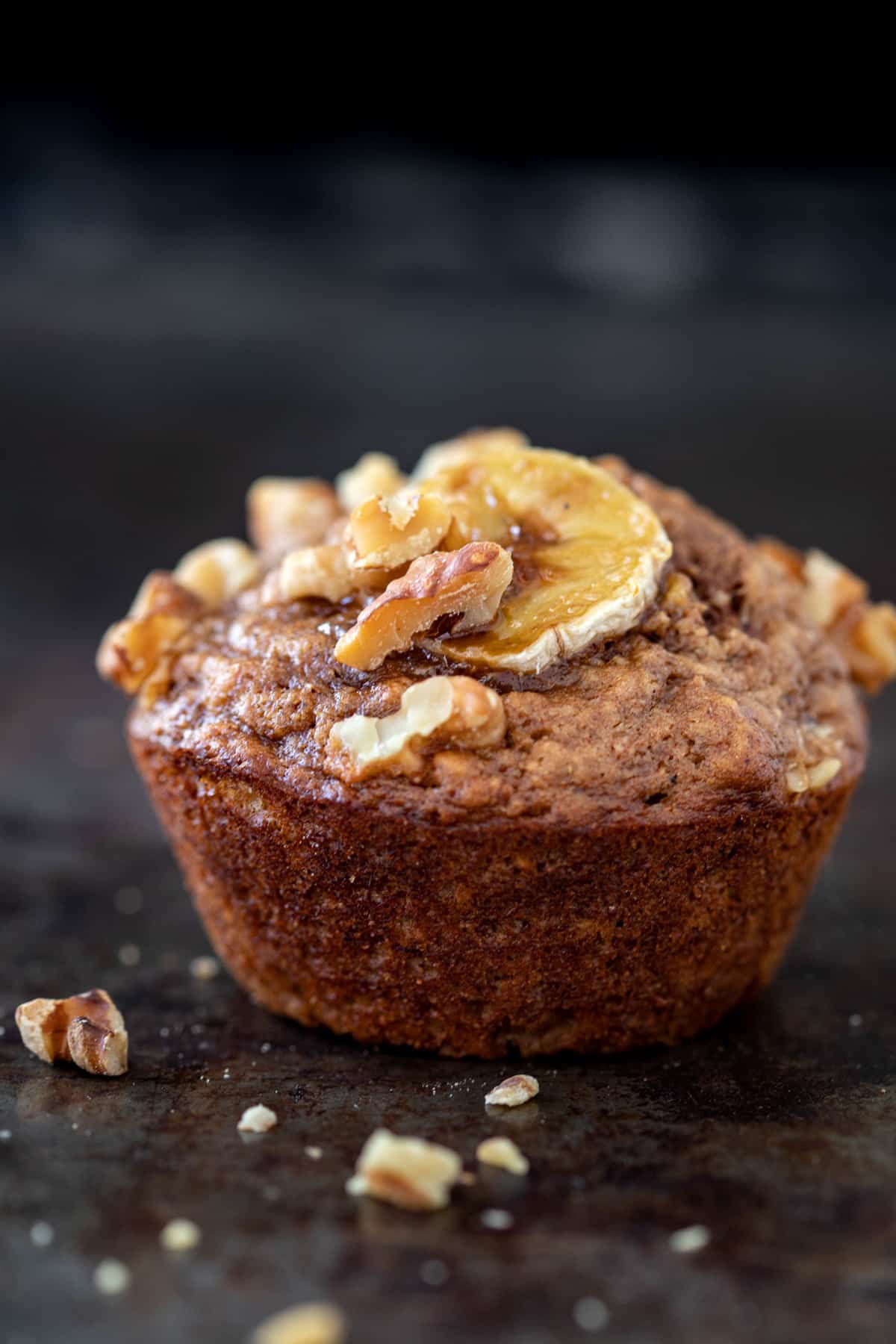 Caramelized Banana Slices. Sprinkle banana slices with coconut sugar or brown sugar right before tucking one slice on top of each muffin along with a sprinkle of chopped nuts.
Crunchy Salty-Sweet Topping. Chop a handful of walnuts on a cutting board, drizzle with a teaspoon or two of maple syrup, a sprinkle of flaky sea salt, and a kiss of ginger spice. Toss to incorporate. Sprinkle over the top of each muffin before baking! Serious spicy-salty-sweet game changer!
Chocolate Peanut Butter Lovers. For the chocoholics out there, add a swirl of chocolate peanut butter or nutella to the top of each muffin (before and after baking!).
How to Store Banana Nut Muffins
These muffins are best served warm, straight out the oven; but they are also amazing to take for a breakfast or a snack on the go. Wrap and store on the counter for 1 - 2 days or pop them into the fridge for up to a week.
Can these muffins be frozen? Yes! Once the muffins are completely cool, place them in a freezer friendly bag or container for up to a couple months. When ready to eat, let it come to room temperature on the counter (~ 30 minutes) or gently warm in microwave.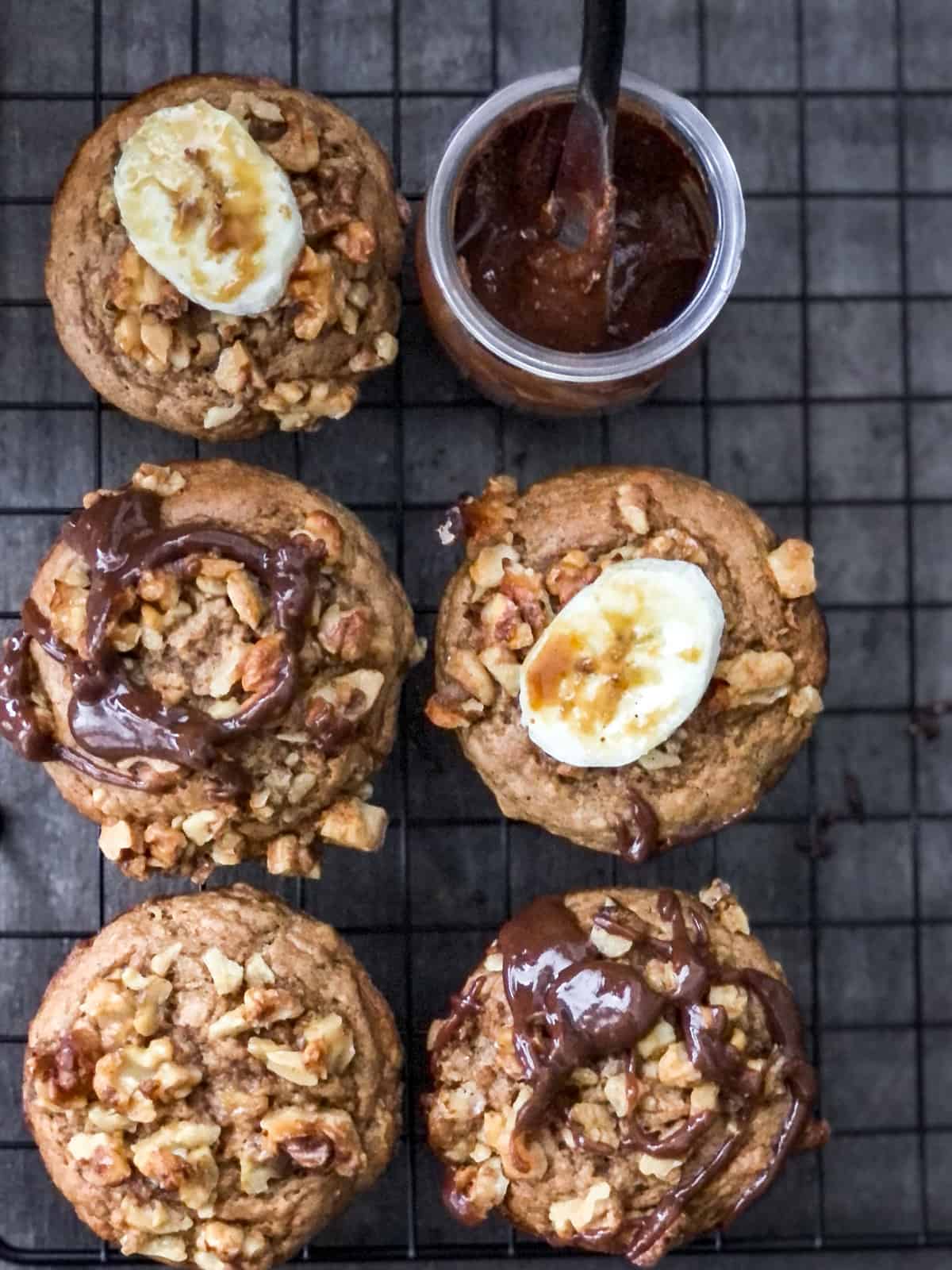 More Delicious Vegan Baking
If you have a sweet tooth, you'll love these extraordinary vegan desserts.
Epic Vegan Peanut Butter Chocolate Chip Banana Bread - The one everybody loves!
Chocolate Chip Marshmallow Cookie Cups - to die for! Super addictive.
Walnut Praline Biscotti - indulgent and droolworthy - the only biscotti you'll ever want!
Chocolate Peanut Butter Cups - family and friends are obsessed - make a double batch!

Did you try this Vegan Banana Nut Muffin recipe?
If so, please leave a rating and comment. Thank you for your support!
Tag me on IG @ceeceecooks and Facebook!
NEVER MISS A RECIPE: Sign up for my email NEWSLETTER!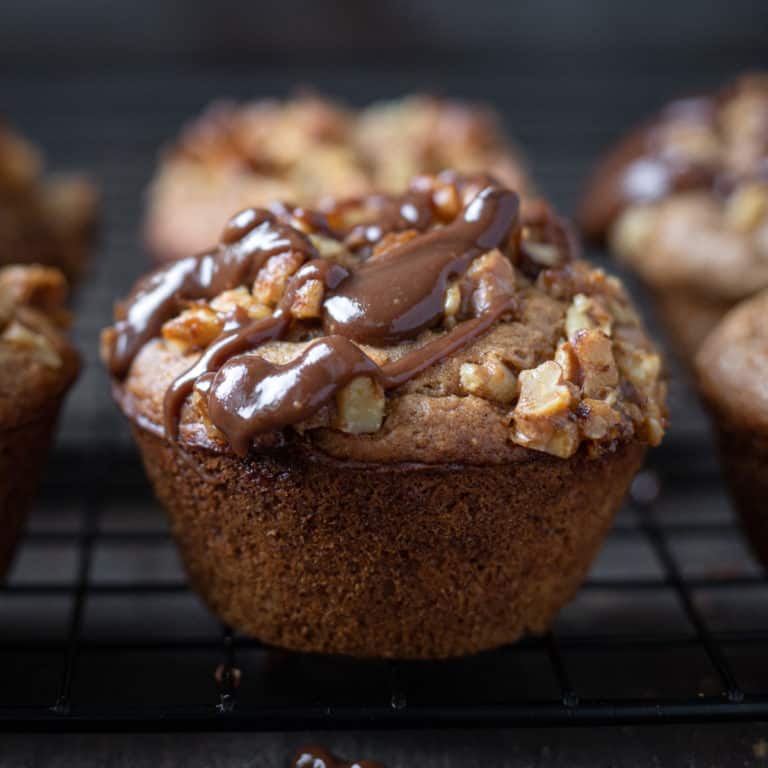 Vegan Banana Nut Muffins (small batch)
Soft and buttery, vegan, banana nut muffins with an incredible salted maple walnut crunch topping that are ready to devour in under 30 minutes. This small batch muffin recipe is super simple, is bursting with delicious nutty banana flavor, and is the perfect size for breakfast or a quick snack on the go!
Rate this recipe!
INGREDIENTS
⅓

cup

plant-based milk

¾

teaspoon

apple cider vinegar

½

cup

banana, mashed (1 large)

¼

cup

peanut butter or oil

⅓

cup

brown sugar, loose pack

1

teaspoon

pure vanilla extract

⅔

cup + 1 tbsp

all purpose flour

1 ½

teaspoons

baking powder

1 - 1 ¼

teaspoons

cinnamon spice

¼

teaspoon

nutmeg

pinch

salt

⅓

cup

walnuts, chopped
Maple Walnut Topping
5-8

whole walnuts, rough chop

1-2

teaspoons

maple syrup

sprinkle

flaky sea salt

⅛

teaspoon

ground ginger
Chocolate Peanut Butter or Nutella Option
¼

cup

chocolate peanut butter or nutella
INSTRUCTIONS
Prepare muffin tins by lightly coating with baking spray or wipe with butter.

Prepare muffin topping of choice* and set aside.
Banana Nut Muffin Batter
In a measuring cup, stir together the milk and apple cider vinegar. Set aside.

Using a fork, mash the banana in a large mixing bowl.

Add the runny peanut butter and sugar to the bowl - stir to incorporate.

Stir the vanilla and the 'soured' milk into the bowl ingredients.

Measure the flour, baking powder, cinnamon, nutmeg, and salt into the bowl.

Fold the dry ingredients into the wet ingredients just until incorporated.

Chop the walnuts to desired size and stir into the batter.

Divide the batter evenly among the prepared 6 muffin cups.
Banana Nut Muffin Topping* - 2 Options
OPTION 1: On the cutting board, rough chop the walnuts (they can be a bit chunkier than the nuts baked into the batter). Pour 1-2 tsp maple syrup, a sprinkle of flaky sea salt, and ginger powder over walnuts - toss to combine. Sprinkle evenly over each muffin.

OPTION 2: Swirl a dollop of chocolate peanut butter* (or nutella) on the top of each muffin. Warm the nutella slightly in microwave so it can be drizzled.

*Chocolate peanut butter: Mix together ¼ cup runny peanut butter and 1-2 tablespoons chocolate (melted + cooled), plus ¼ tsp vanilla. Add 1-2 tsp coconut oil (melted) to loosen if the peanut butter is thick or it seizes.
Time to Bake
Place muffins in preheated 425º F oven for 5 minutes.

Reduce heat to 350º F for 17-19 minutes until tops golden and toothpick comes out clean or with just a few crumbs attached.

Cool for 5 minutes then remove from muffin tin. Let cool on wire rack.
NOTES
Bananas. The more (over)ripe your banana is, the sweeter it will be so you may need to adjust the amount of sugar to your taste.  Sugar. I use medium brown sugar for extra flavor in this recipe. I don't pack the brown sugar for this muffin recipe as the bananas, cinnamon, and toppings all add sweetness as well.  Flour. Made with all purpose flour but can sub for 1:1 gluten-free flour or whole wheat flour (you may need another tablespoon of milk if using whole wheat flour as it's a little thirstier than all purpose flour). Batter. The batter will be semi loose like cake batter. Divide evenly among 6 muffins. Peanut Butter. Nut butter adds an incredible depth of flavor and tenderness to vegan baking. Can sub neutral oil or dairy-free butter/margarine 1:1 swap. Nuts. Chopped walnuts or pecans. I chop the walnuts in the batter a bit smaller than the walnuts on top of the muffins.  Spices. These banana muffins have a heavy dose of cinnamon, start with ½ tsp and add more to your personal taste. Mixing. Hand mix with a wooden spoon. Toppings. Make either of the topping options first and set aside. Once the batter is mixed and the oven is preheated, sprinkle on top and pop right into the hot oven. Cooling. Remove muffins from pan after ~5 minutes so the sides don't steam and get soggy. Cool on baking rack. Storage. Store, wrapped at room temperature for 1 or 2 days or in the fridge for a week (perfect for breakfast or snacking all week). Freeze in airtight container for up to a couple months.
This recipe is from simplyceecee.co food blog. All images and content are copyright protected. Please do not use my images or republish this recipe without prior permission. Thank you.