This Vegan Caesar Salad recipe is an irresistible combination of fresh, crisp romaine lettuce, crunchy garlic croutons, salty parmesan cheese, crispy capers, and a killer vegan Caesar dressing. It's quite simply the best vegan caesar salad I've ever tasted! Try it, I think you'll agree.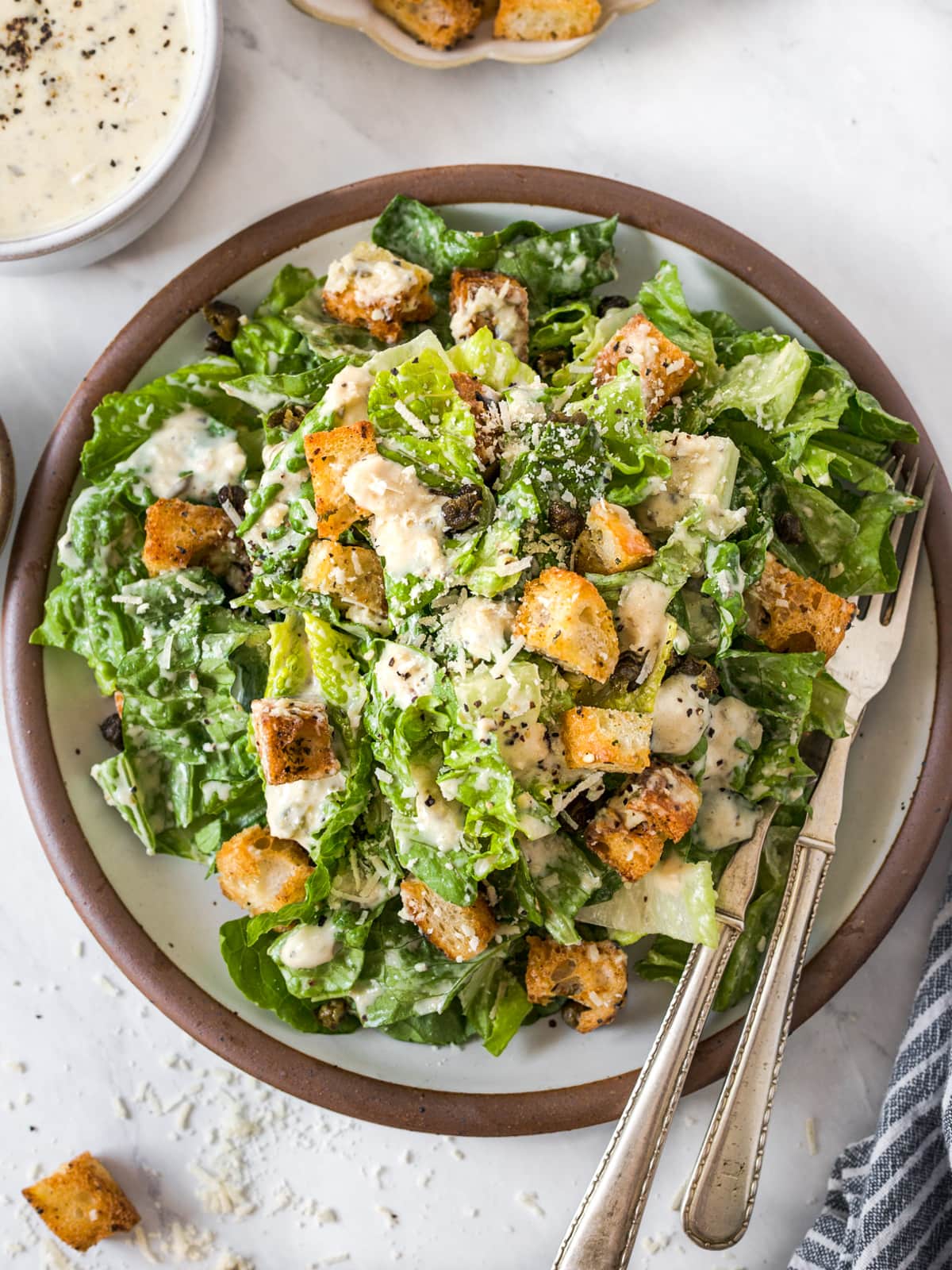 I've been obsessed with caesar salad my whole life so making a vegan version was a must! I kept all the traditional flavors and textures that you've come to expect from a classic Caesar salad, but without the eggs and anchovies.
In my opinion, the ultimate caesar salad needs two things: Crunch from crisp Romaine lettuce and a ton of crunchy homemade sourdough croutons and a unforgettable caesar dressing. This vegan caesar salad recipe delivers both in epic fashion. Expect all the crunch and a craveable, creamy, garlicky, lemon explosion of classic caesar flavor in every bite!
Let's get into the details.
Ingredients & Variations
Just as delicious as any fancy restaurant caesar salad, this vegan version needs only a few ingredients and 10 minutes to make at home! Here's a list of the ingredients: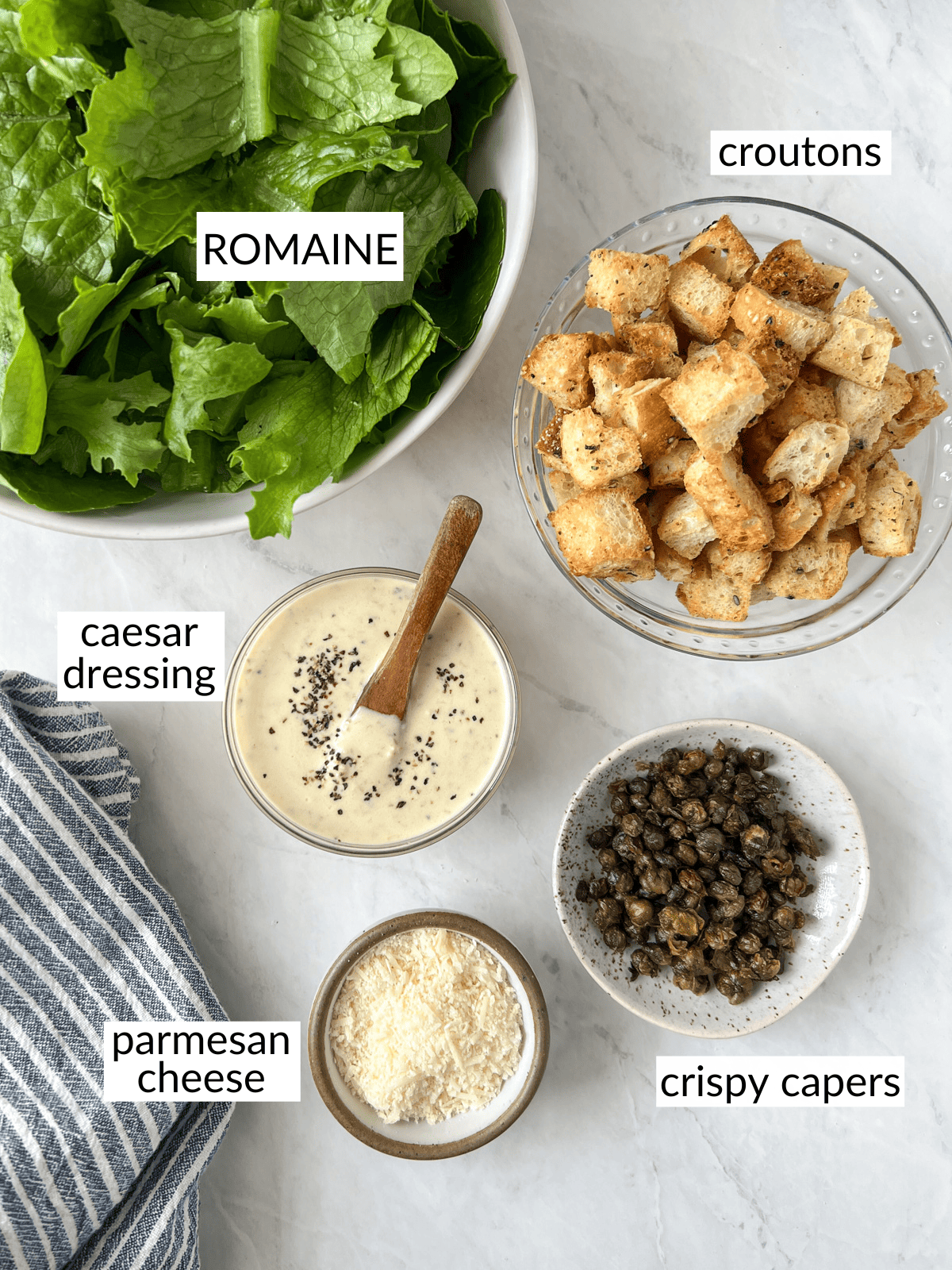 Ingredients for the salad
Leafy greens: Romaine is the fresh, crisp lettuce of choice for caesar salad - it's sturdy enough to hold up to the creamy dressing. You could use kale or a combination of the two as well.
Crunchy croutons: Make quick and easy homemade croutons or use store bought.
Crispy chickpea croutons: Totally optional but crispy chickpeas add extra flavor, texture, plant protein, and they're gf! I usually add croutons OR crispy chickpeas!
Parmesan cheese: We like this vegan parmesan or use your favorite store bought brand (I like Violife vegan parmesan).
Crispy fried capers: Optional but they take only 5 minutes to make and are unbelievably delicious! See recipe card for step by step directions.
Ingredients for dairy free caesar dressing
There are many other versions for the creamy base of caesar dressing (eg. cashew caesar and tahini caesar); but my family loves this highly seasoned vegan caesar dressing the best: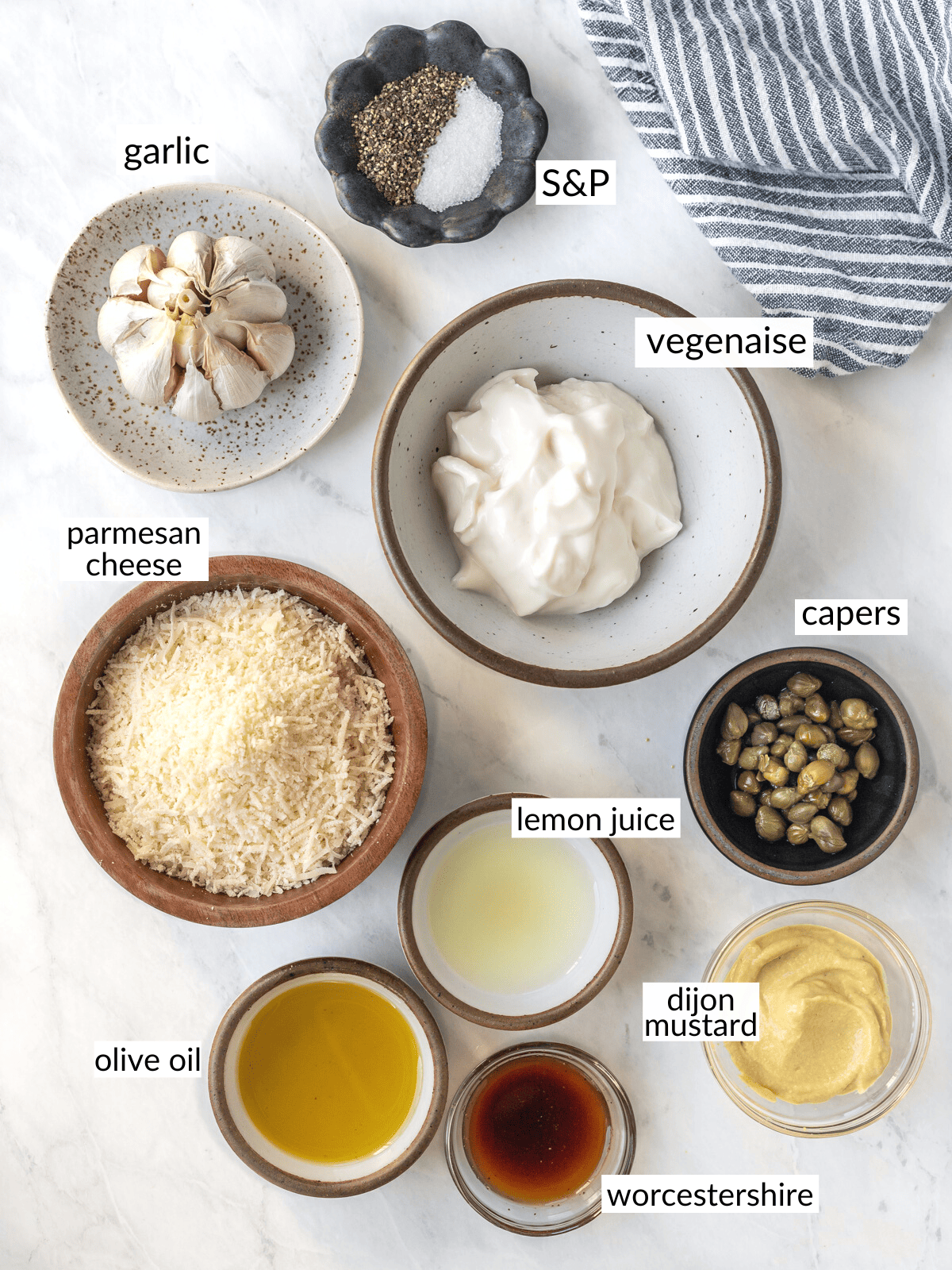 Vegenaise: Vegan mayonnaise is one component used to make the creamy dressing base. I always use Follow Your Heart Vegenaise because it has the best flavor (found in the refrigerated aisle).
Dijon mustard: Adds tanginess, creaminess, and deepens the dressing flavor plus helps with viscosity.
Olive oil: Adds richness and creaminess. Can sub any mild oil like grapeseed, vegetable or canola oil if preferred.
Lemon juice: Freshly squeezed lemon juice adds the acidity.
Vegan Worcestershire sauce: A great vegan substitute for anchovies. It provides the depth, saltiness, and umami flavor anchovies usually add. Can sub in light soy sauce in a pinch.
Capers: A briny, acidic, salty, savory (vegan and vegetarian) anchovy substitute.
Garlic: Fresh, minced garlic is a caesar dressing essential!
Seasoning: Freshly ground salt and pepper to enhance and bring all the flavors together.
Million Dollar Tip: Your caesar salad is only as good as your vegan caesar dressing - so play with the ingredients to get the perfect balance of flavors for you! We love bold, full flavored dressings, but customize it to your taste.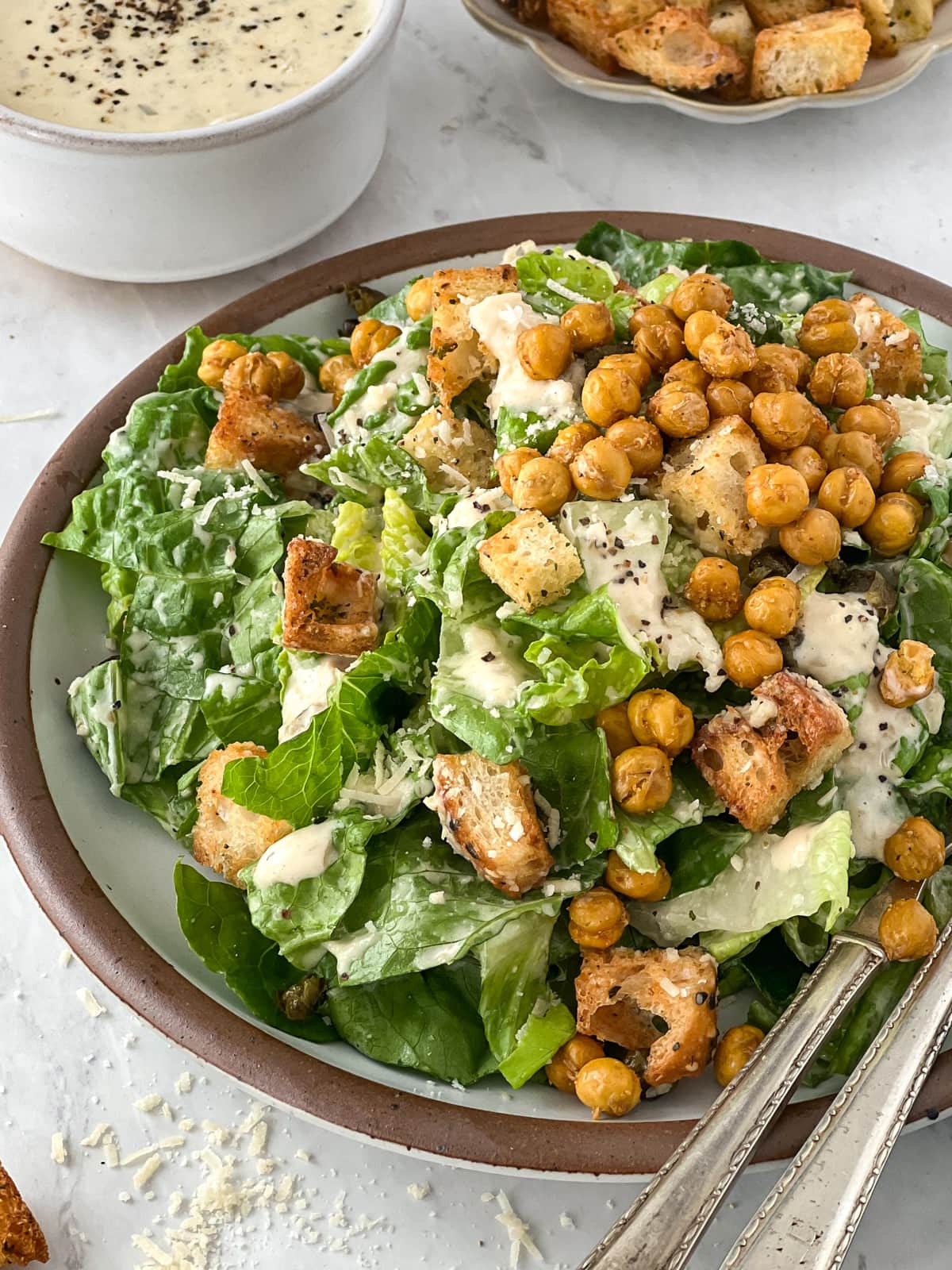 How to Make a Really Tasty Vegan Caesar Salad
Are you ready to make the best tasting vegan Caesar salad? You're just 4 easy steps away: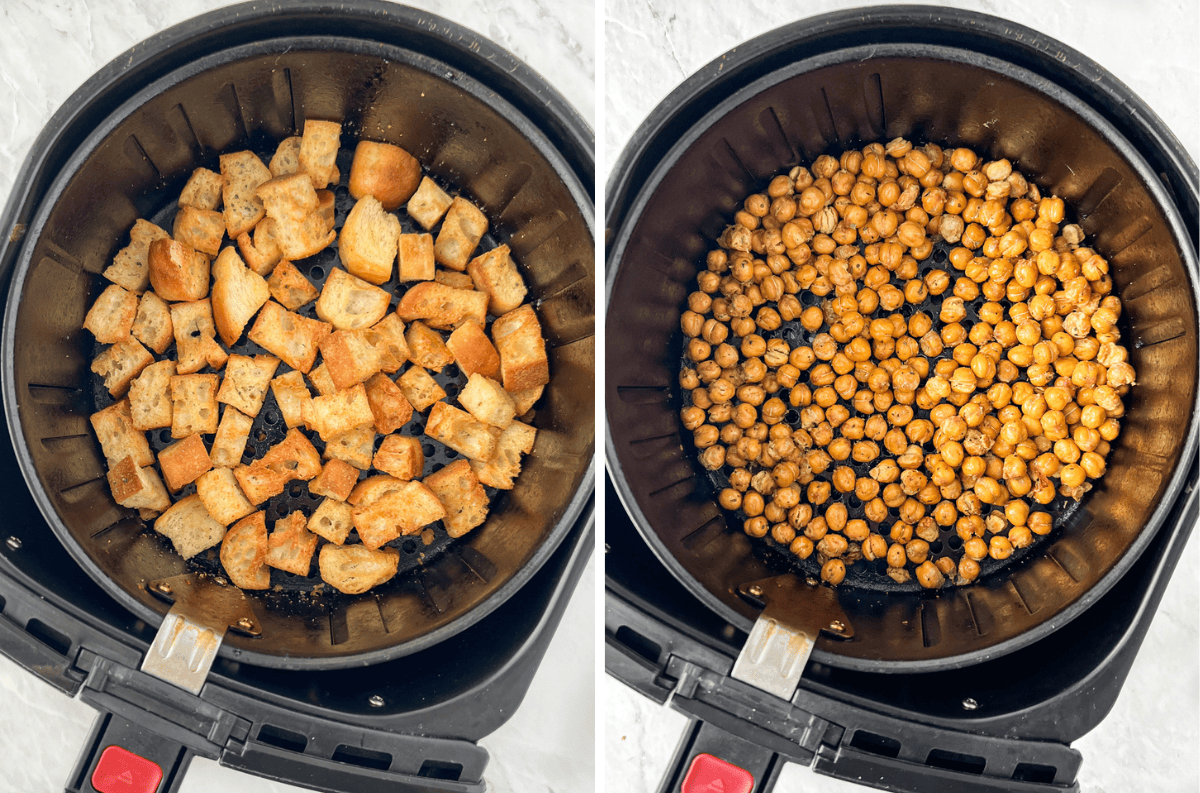 Make the Croutons (or use store bought croutons): This recipe for crunchy homemade croutons takes only a few minutes to make. They can be made several days in advance.
Make Crispy GF Chickpea Croutons (if using): I usually choose croutons OR crispy air fryer chickpeas. Roasted chickpeas are a wonderful, crunchy, gluten free crouton option that are also protein and fiber rich. Make them several days in advance to save time. My recipe stays crunchy for days!
Wash the lettuce: Rinse and spin the romaine in a salad spinner to dry. This can be done ahead of time then placed in the fridge to chill and get extra crisp before using. If no salad spinner, rinse and pat the romaine dry with kitchen towels then store in the fridge in a large bowl covered in damp paper towels or in a plastic bag. Cut or break into pieces before using.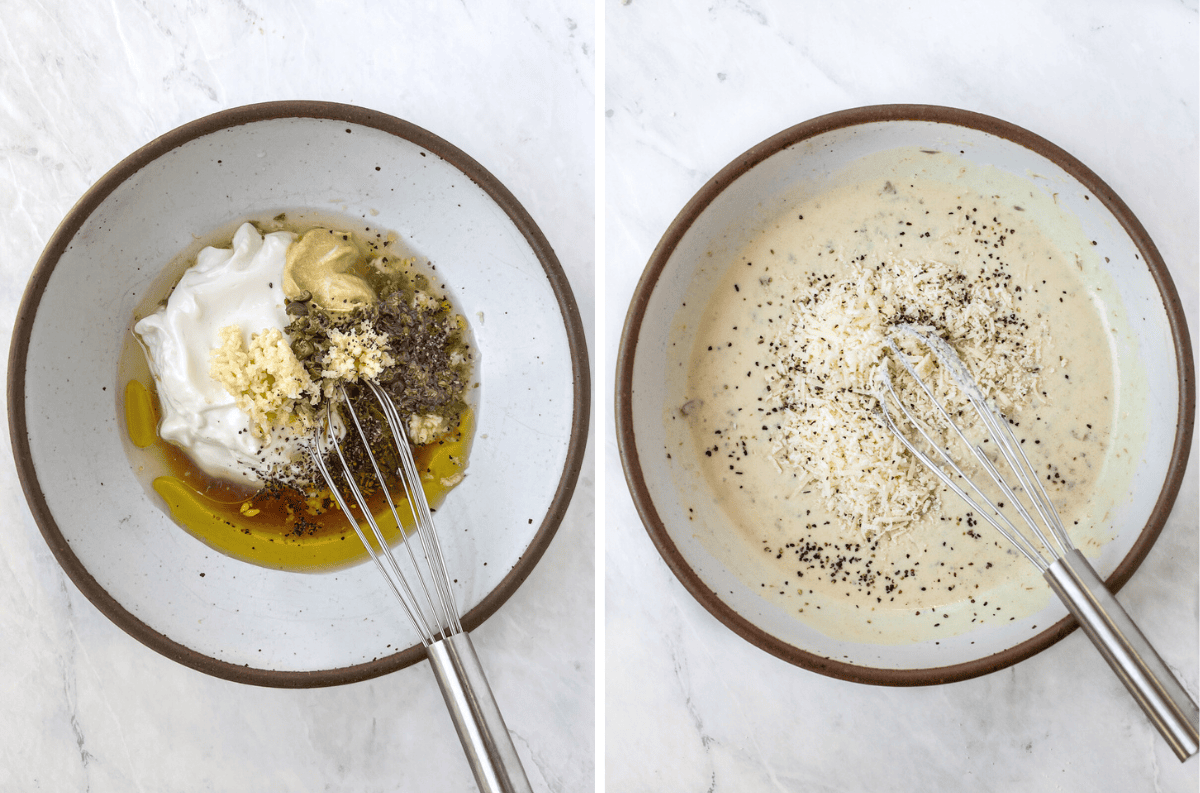 Make the dairy free caesar dressing: Place all the dressing ingredients into a small bowl or jar and mix to combine. Taste and adjust seasonings as needed. Chill in the refrigerator until ready to use.
Assemble the salad and dig in!: Toss the romaine leaves with enough caesar dressing to create a light coating that will flavor each bite. Finish with a few turns of fresh ground black pepper, homemade croutons, extra parmesan, and a sprinkle of crispy capers. Serve immediately and enjoy!
Cooking Tips & Notes
Just a couple additional things I'd tell you if we were making this salad together:
How to shave parmesan cheese: An easy way to shave a block of parmesan cheese is to use a vegetable peeler! Or use a box grater and grate your cheese.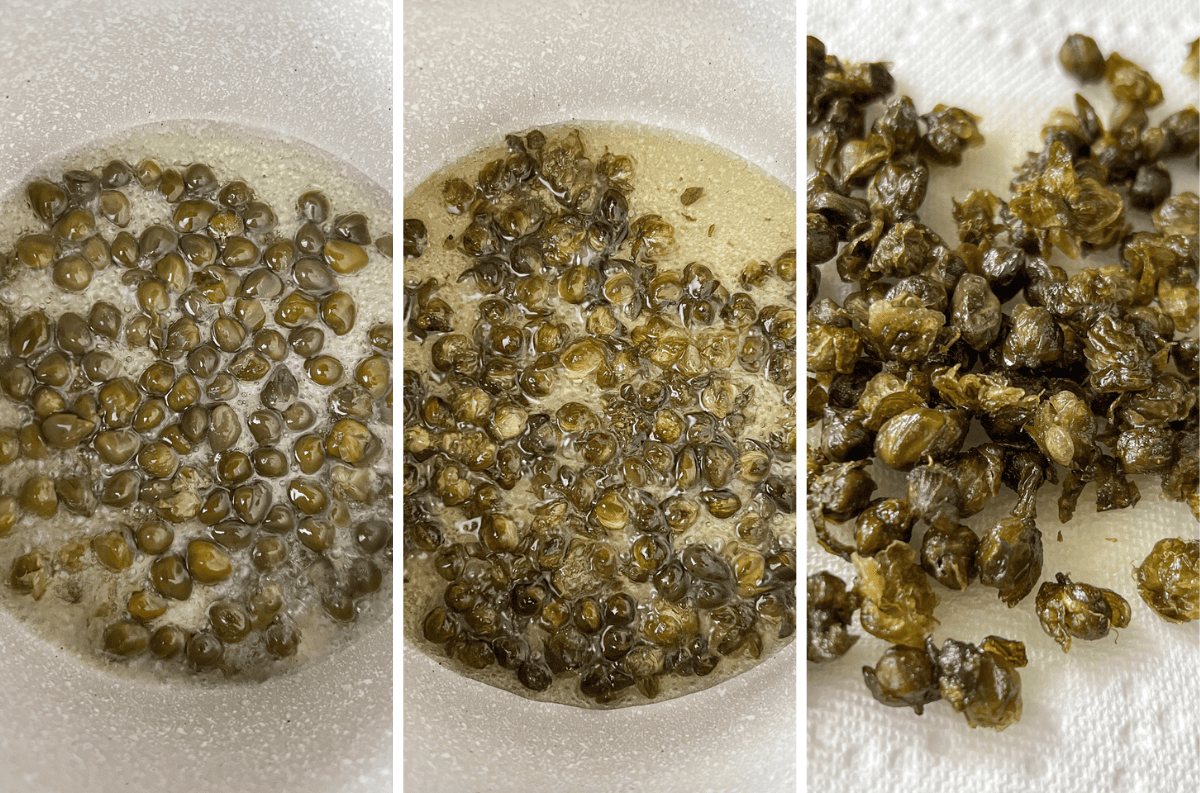 How to make crispy capers: One of the things that sets this vegan Caesar salad apart from other recipes is the crispy fried capers. They take only a few minutes to pan fry and the outcome is spectacular. Much like crispy bacon bits, once pan fried, capers magically transform into crispy, salty, slightly oily flavor bombs. If you fall in love with them (like I did) try my easy Cherry Tomato Pasta recipe too!
Say 'No' to soggy croutons!: Dress the romaine leaves and croutons right before serving for the freshest results.
Can this salad be made ahead?: Yes! Prepare each component and store separately until ready to use. The croutons, chickpeas, and caesar dressing can all be made several days in advance. Store the dressing in the fridge and the chickpeas and croutons at room temperature.
What to Serve with Caesar Salad
Now that you've made the ultimate vegan caesar salad recipe, it's time to enjoy it! It's the perfect, easy side dish for practically everything! Here's a few other recipes to pair caesar salad with:
Summertime favorite: served alongside grilled Beyond Burgers or Beyond Sausages
Make a caesar wrap with crispy chickpeas and salad tucked into a tortilla or pita.
How to Store
Caesar salad is best served fresh. However, if you have leftovers, store them in the fridge in an airtight container for 1 or 2 days.
The caesar dressing on its own can be stored for up to 10 days in the fridge in an airtight container (and it's spectacular on absolutely everything).
Meal prep: Store the salad ingredients and dressing separately then assemble individual portions right before serving. Can also make mason jar salads with the dressing at the bottom, then the romaine followed by the croutons, parmesan cheese and crispy capers. Keep the jars upright until time to serve then just dump everything into a bowl and toss together.
More Vegan Salads to Try
Browse our whole collection of flavorful vegan salad recipes!
Did you make this vegan caesar salad recipe? I'd love to hear about it.
Please let me know in the comments below. Thank you so much for sharing!
Tag me on Instagram or Facebook
NEVER MISS A RECIPE: Sign up for my email NEWSLETTER!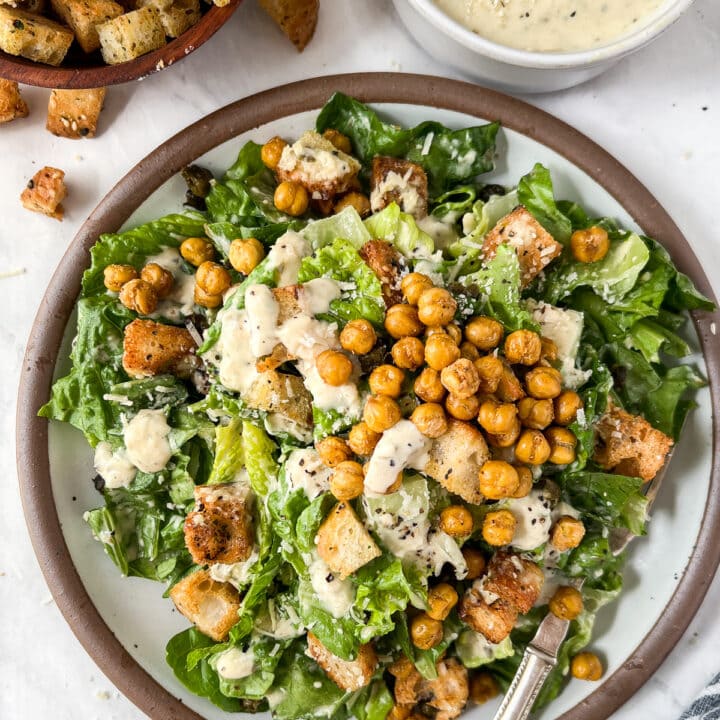 The BEST Vegan Caesar Salad Recipe
When only THE BEST will do. This vegan caesar salad takes only minutes to make (egg free, anchovy free, dairy free) and tastes delicious and authentic! Make it fresh in 10 minutes to take to BBQ, cookouts, picnics and family get togethers. This is everyone's favorite vegan caesar salad recipe (vegan or not)!
Rate this recipe!
INGREDIENTS
Salad Ingredients
1

large head

romaine lettuce, cut into bite-size pieces

2

cups

seasoned croutons (homemade or store bought)

¼

cup

parmesan cheese, grated

2-3

tablespoons

crispy capers (optional)
5 Minute Vegan Caesar Dressing
½

cup

Vegenaise (vegan mayo)

1

tablespoon

dijon mustard

1

tablespoon

olive oil

2

cloves

garlic, finely minced

2

tablespoons

lemon juice, fresh

1

tablespoon

capers, finely minced

1

tablespoon

Worcestershire sauce

salt and pepper

2-4

tablespoons

vegan parmesan cheese, grated
INSTRUCTIONS
Make the caesar dressing: Start by chopping the capers and garlic until finely minced. Place all the dressing ingredients into a bowl or jar and mix until smooth. Taste and adjust flavors as needed (add extra lemon juice or caper brine for extra bite). Chill until ready to use.

Use a salad spinner to wash and spin the lettuce dry. Chop or break into bite size pieces and place in the fridge to chill.

Assemble the salad: Right before serving, combine the lettuce and croutons in a large salad bowl. Drizzle with caesar dressing then toss together to lightly coat the romaine leaves. Top with black pepper, parmesan cheese, crispy capers, extra croutons, and chickpeas if using. Enjoy!
NOTES
How much parmesan cheese and croutons should I use?: When it comes to adding parmesan cheese and croutons to caesar salad, I recommend that you measure with your heart. There is no one right answer for everyone! Enjoy.
How to make crispy capers: One of the things that sets this vegan Caesar salad apart from other recipes is the crispy fried capers. I made about 3 tablespoons of capers for this recipe. 
Cover the bottom of a small skillet or saucepan with oil (see photo in post). Heat over high until shimmering. While the oil is heating, pat the capers dry with a kitchen towel.
Remove the pan from the heat and spoon the capers into the oil being extra careful for any oil spattering. Return to the heat and let the capers fry until crispy gently shake the pan (or stir) so they don't burn. It takes about 2-5 minutes. You may need to cover the saucepan with a splash guard or partially cover with a lid to prevent the splattering oil from going everywhere for the first couple minutes (while the capers burst open and the water evaporates).
Remove the capers from the pan with a spider spoon or slotted spoon to a layer of paper towels. Let the capers drain and cool until ready to use.
Save the oil to use in a stir fry, soup or any recipe that calls for oil. It has a mild salty, briny flavor from the capers.
This recipe is from simplyceecee.co food blog. All images and content are copyright protected. Please do not use my images or republish this recipe without prior permission. Thank you.