Quick and easy, this vegan shaved Brussels sprout salad is bursting with tangy, juicy flavors and major crunch from toasted pistachios and ramen noodles.
This showstopper salad is fancy and festive enough for Christmas dinner, but simple and convenient enough for everyday lunches or weeknight dinners. Vegan and gluten-free too!
I love Brussels sprouts and our family always has them on the table at Thanksgiving and Christmas (Crispy Brussels Sprouts - 2 ways).
Our newest Brussels sprout obsession is this super gorgeous and colorful, chopped winter salad that's bursting with flavor from a creamy, pomegranate balsamic vinaigrette that's going to make your taste buds sing! Plus let's talk about the major crunch factor!!! Juicy pomegranate seeds, roasted pistachios, and toasted dry ramen noodles bring a crave-able crunchiness that's completely addictive!
How to Shave Brussels Sprouts
Shaving/shredding Brussels sprouts can be a bit time consuming, but it's not difficult to do. I almost always do them by hand because - no cleanup, but here's a few different methods:
Sharp Knife - use a sharp knife and slice as evenly and thin as possible. Watch your fingers though because they are small and not too sturdy. Tip: Shave a small slice off one side to create a flat bottom edge before hand shredding. This method is a bit more time consuming, but with practice, you can shave that time in half (ha ha - get it)!
Mandoline Slicer- super easy for shaving vegetables. It produces perfectly even slices, ultra sharp blade though! The challenge with this method is the sprouts are tiny and round so it's a wee bit scary. Be sure to use the guard!
Food Processor - if yours has a shredding blade, this method is quick and easy.
Buy Pre-Shredded - buy a bag of pre-shredded Brussels sprouts at Trader Joes or your local grocery market - always a convenient option.
Cooking Tip (zero waste): Save any pieces or ends of the sprouts that get too small to shave and store in the fridge or freezer. Add them to your next stir fry, rosé pasta sauce, veggie soup or oven roasted veggies.
Salad Ingredients
Simple ingredients come together quickly to create this flavorful and festive winter salad. Here's what you'll need:
Brussels sprouts
white/red cabbage or bag of coleslaw
bean sprouts

red pepper

green or red onions
dry ramen noodles
pistachio nuts
pomegranate seeds
3 minute creamy pomegranate balsamic vinaigrette
How to Make Shaved Brussels Sprout Salad
Quick and simple this salad is super nourishing and flavorful plus gluten-free and vegan!
Toast the ramen noodles in the oven on a baking sheet. Let cool.
Toast the pistachio nuts and/or any seeds in a dry pan for BIG flavor!
Shred the cabbage and Brussels sprouts with knife or mandoline.
Slice/chop onions and peppers.
Pomegranate arils (seeds) - cut the pomegranate in half, peel, and remove each beautiful jewelled ruby red seed (or as a time saver, buy a container of arils at the market).
Place all salad dressing ingredients into a blender and blend until smooth and creamy.
Place the salad ingredients (except nuts, seeds, ramen noodles, dressing) into a large salad bowl. Store in the fridge covered until ready to serve.
Right before serving, sprinkle the pistachios and ramen noodles on top. Toss with desired amount of pomegranate-balsamic dressing. Serve immediately.
Recipe Tips for Success
This recipe can easily be doubled. Add extra of everything or add chopped spinach, kale or carrots.
Sub any nuts or seeds you have on hand for pistachios. Sunflower seeds and pumpkins seeds are amazing in this salad. Tip: for extra saltiness, choose roasted salted nuts/seeds.
Swap the fruit - if you can't find pomegranates, apples or cranberries work beautifully.
Make the pomegranate-balsamic vinaigrette sweeter by adding maple syrup; tangier by adding more lemon or vinegar; creamier by adding more Vegenaise; and richer by adding an additional tablespoon of oil.
Making the dressing in the blender emulsifies the oil and vinegar (temporarily). I like to blend (or reblend) right before serving the salad for the creamiest dressing.
This winter salad is best served immediately when the nuts and noodles are crunchy. However, the salad can be made the day before and stored in the fridge. Store all the components (nuts, seeds, ramen noodles, and salad dressing separately until ready to serve).
What to Serve with Winter Salad
This crunchy, throw together, raw winter salad is perfect for lunch or serve it as a healthy side dish at any meal. Bulk it up for a heartier vegan dinner salad.
as a side dish with veggie chili or pasta bolognese
as a full meal with breadsticks
add crunch to vegan tacos
bulk it up by adding crispy chickpeas, tofu or tempeh.
make it heartier by adding quinoa, sweet potato or avocado.
take it to a potluck, picnic or buffet style party!
Hungry for More Vegan Holiday Recipes?
Here are some of our other favorite Thanksgiving and Christmas vegan recipes. Everyone loves them!
Did you make this easy Shaved Brussels Sprout Salad recipe? I'd love to see it!
Please let me know in the comments. Thank you so much for sharing!
Tag me on Instagram 
NEVER MISS A RECIPE: Sign up for my email NEWSLETTER!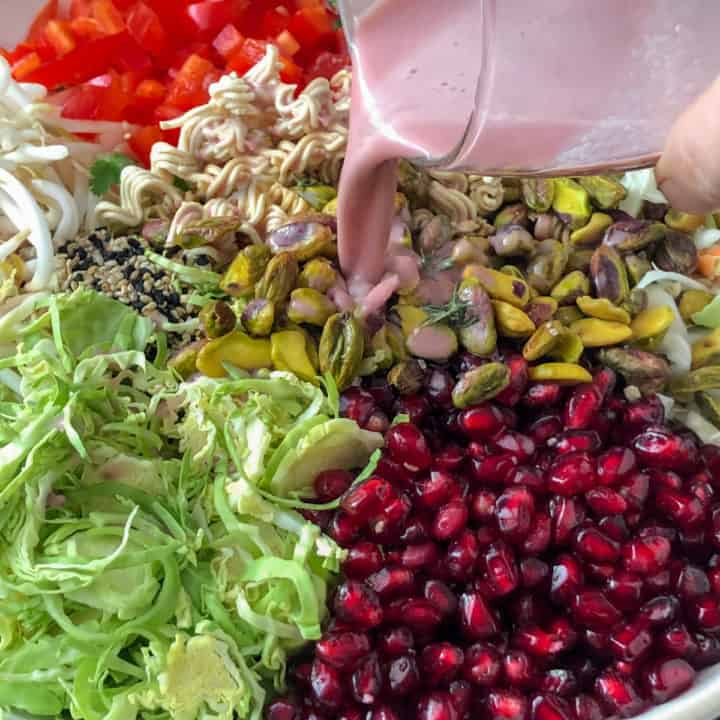 Shaved Brussels Sprouts Salad Recipe (vegan + gf)
The most craveable crunchy Brussels sprouts salad ever made with pomegranates, pistachios, and toasted ramen noodles - this salad is a showstopper! Easy-to-make, vegan, and gluten-free this flavorful and festive winter salad is tossed with the prettiest, creamy-tangy pomegranate balsamic vinaigrette - it'll make your taste buds sing.
Rate this recipe!
INGREDIENTS
Salad Ingredients
12-20

Brussels sprouts, shredded

3-4

cups

white/red cabbage, shredded (or coleslaw)

1

red pepper, sliced or chopped

5

green onions, sliced

2

cups

bean sprouts

1

pomegranate, seeds

½ - 1

cup

pistachio nuts, shelled

1

package

ramen noodles, toasted

sunflower, pumpkin or sesame seeds (optional)

cilantro, thai basil, chopped
Creamy Pomegranate Balsamic Salad Dressing (Dairy Free)
1

tablespoon

fresh lemon juice

3

tablespoons

white balsamic vinegar (or dark)

¼

cup

pomegranate juice*

2

tablespoons

Vegenaise or dairy free yogurt

1

small clove

garlic, minced

3

tablespoons

neutral oil

salt and pepper, to taste

1

tablespoon

maple syrup (optional)

1-2

teaspoons

red pepper flakes, more to taste

fresh thyme leaves (optional)
INSTRUCTIONS
Salad Ingredients
The amounts in this recipe are just a guideline, add more or less of anything to customize the salad to your taste.

Shave sprouts on a mandoline (using guide) or with a sharp knife.

Time Saving Tip: buy pre-shredded Brussels sprouts at the market.

Add all other veggies to a large bowl.

Make ahead to this point, cover and store in fridge until ready to serve.
Ramen Noodles
Lightly break up the ramen noodles in the package.

Toast ramen noodles in preheated oven until lightly golden (~10 minutes) or use the air fryer (320º F) a few minutes until golden.
Creamy Pomegranate Balsamic Dressing
Place all dressing ingredients (except maple syrup, red pepper flakes and herbs) into a blender and blend until smooth and emulsified.

Stir in the maple syrup for sweetness, red pepper flakes for heat, and fresh thyme leaves (if using). Taste and adjust the seasonings as needed.

Store in refrigerator until ready to use.

A note about garlic - this dressing is both light and flavorful. The garlic helps balance the flavors, but can overpower pretty easily. I added a very small clove so it gave the dressing just a kiss of garlic.
To Serve
Add the pistachios/nuts, ramen, and dressing right before serving. Toss to incorporate.
NOTES
Dressing: adjust the flavors to your taste. If the dressing seems flat to your taste, add more salt. For more zing, add another tablespoon of balsamic vinegar or more lemon. For a richer dressing, add another tablespoon of oil; creamier, add more Vegenaise. Balsamic Vinegar: I used white balsamic but you could sub for dark balsamic vinegar - it will change the color. Pomegranate Juice: can sub for orange juice or any juice you have on hand. Garlic: just a small clove! Taste and add more if desired. You don't want the garlic to overwhelm this light dressing.
***Also note: if you are making the dressing ahead of time, the garlic flavor will increase in potency over time so keep that in mind. Nuts & Seeds: if you use raw pistachios, toast in a dry skillet over medium heat or roast on a baking sheet in a 325º F oven until fragrant and lightly toasted. Or buy roasted/salted pistachios if you prefer.
Sub in toasted sunflower seeds, pumpkin seeds or sesame seeds or add a combination of nuts/seeds. Fruit: if you can't find pomegranates, apples, pears or cranberries are delicious and festive in this winter salad as well.
This recipe is from simplyceecee.co food blog. All images and content are copyright protected. Please do not use my images or republish this recipe without prior permission. Thank you.