Ready to light up your tastebuds? This smoky, spicy, succulent jackfruit tacos recipe is just the ticket!
Fully loaded jackfruit tacos stuffed with the sauciest, smokiest filling paired with creamy tropical slaw create a major flavour explosion and incredible crunch factor. Every single person who eats these delicious, juicy jackfruit tacos, goes crazy for them. I think you will too!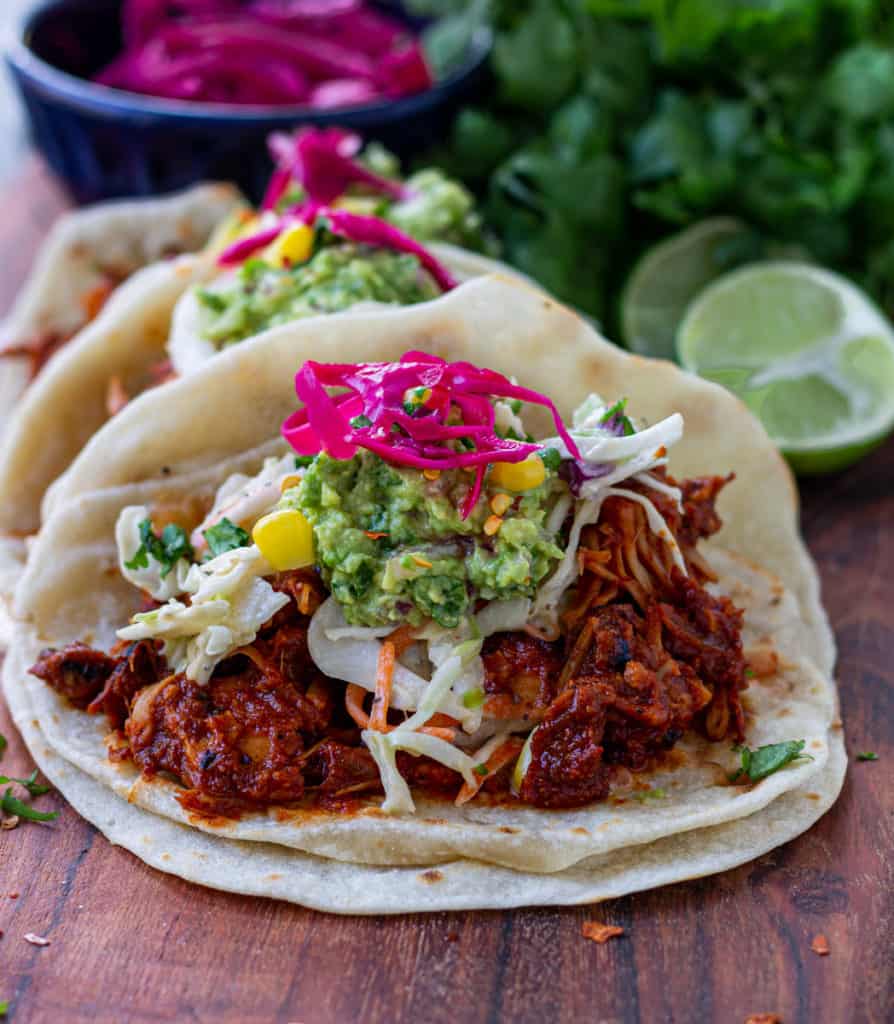 Easy to make, super meaty, and satisfying these yummy tacos are dairy-free, nut-free, oil-free friendly, meat-free, and easily gluten-free. The saucy jackfruit chunks and creamy tropical slaw create a perfect flavour combination! That juicy drip tho, pass the extra napkins!!!!
Jackfruit Taco Ingredients
Jackfruit is the ideal choice for a vegan meat replacement in tacos. It brings loads of texture, takes on any flavour, is easy to find, and it's inexpensive. Canned jackfruit comes packed in brine/water or syrup - for this recipe, use the brine version.
*Shopping Tip: look for jackfruit in the canned vegetable aisle or International aisle at most grocery stores.
For the best results (texture and flavor), follow these step-by-step tips for preparing the jackfruit chunks: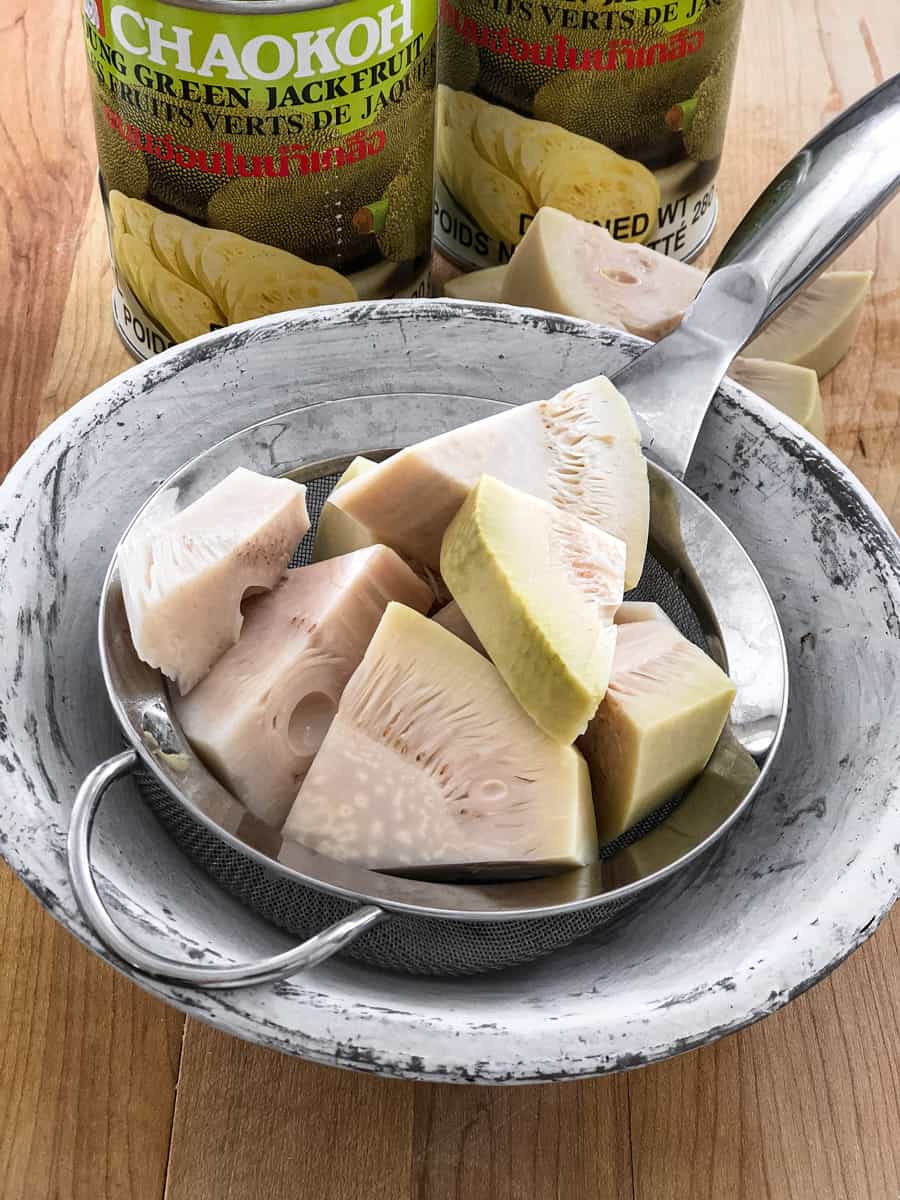 Drain, rinse, and pat the jackfruit dry.
Remove the large seed pods and discard (picture 1).
Break the jackfruit pieces away from the core in chunks. Some of the cores will be a bit tough so just chop them into a few pieces with a knife (picture 2).
Canned jackfruit holds a lot of water, so place all chunks into a clean kitchen towel and gently wring out the water (picture 3).
Layer the Flavor (Spice Rub and Sauce)
The Rub - for the best flavour results, sprinkling the prepared jackfruit with a spicy rub will push the flavour profile over the top.
The Sauce - the cooked jackfruit simmers in a spicy sauce of smoked tomatoes, garlic, ginger, adobo peppers, and lots of dry spices until it reduces to a rich, saucy, flavor explosion. Time Saving Tip: Grab your favorite smoky sweet bold BBQ sauce, add some sriracha, and use that when you're pressed for time!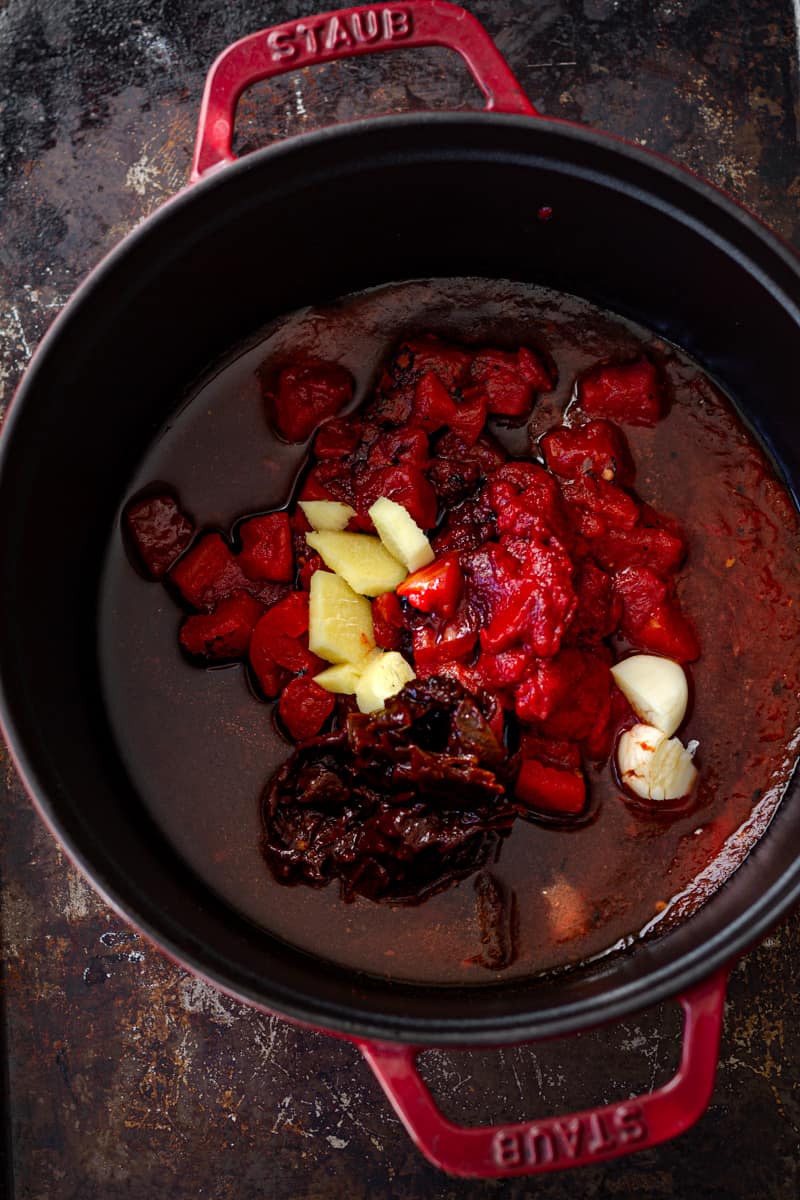 Crunchy Texture
Tropical Slaw - the tropical flavors of this crunchy slaw are a superb compliment to the spicy jackfruit. Creamy and slightly sweet, this luscious slaw tempers the spiciness so all eaters can enjoy!
Tortillas - make your own or buy your favourite tortillas. A thicker tortilla, crispy tostada, taco shell or pita are all good choices for holding the weight and juiciness of this filling. Pro Tip: For the best results, I like to dry fry the tortillas in a hot pan until slightly charred and crispy.
Best Method for Cooking Perfect Jackfruit
Removing excess water from the jackfruit will immediately make a difference to the texture (just like it does with tofu and mushrooms). The jackfruit becomes more compressed, denser, and meatier.
A cast-iron skillet is recommended as it heats up fast and retains the heat so any remaining water cooks out of the jackfruit quickly while it chars and caramelizes. Heat some oil until super hot and then add the jackfruit to sear (much like grilling on the BBQ).
Oil-free Tip: if you are oil-free, use a non-stick pan or add just enough water/broth to prevent the jackfruit from sticking.
Vegan Taco Toppings
fresh, steamed, sweet corn
avocado slices or guacamole
chopped cilantro
These luscious tacos are the best vegan carnita-inspired tacos ever. Adding some chunky guacamole and tangy pickled onions creates the most mouthwateringly delicious vegan tacos ever! I can't wait to hear what you think!
More Vegan Tacos Recipes to Love
Did you make this Vegan Jackfruit Tacos recipe? Please leave a rating and comment below to let me know how it went!
For more inspiration, follow along on Instagram and Facebook!
NEVER MISS A RECIPE: Sign up for my Sunday morning NEWSLETTER!
Jackfruit Tacos Recipe
So succulent and delicious these smoky, spicy, jackfruit tacos are going to surprise and delight your tastebuds. Topped with crunchy tropical slaw, they are juicy, saucy, and super substantial. I can't wait for you to try them!
Rate this recipe!
INGREDIENTS
Jackfruit
2

20 oz tins

jackfruit in brine, drained, rinsed, squeezed
Dry Rub
1

tbsp

chili powder

2

tsp

smoky paprika

1

tsp

cumin

1

tsp

garlic powder

1

tsp

onion powder
Sweet Spicy Sauce
1

cup

onions, chopped

2-3

cloves

garlic, smashed

1-2

tbsp

oil (or splash of broth if oil free)

1

15 oz tin

fire roasted tomatoes

1

tbsp

molasses

1-2

tbsp

maple syrup

2

tbsp

tamari

½

cup

orange or pineapple juice

½

lime, juiced

1"

piece

ginger, sliced

2

chipotles in adobo

½

cup

water/broth
Tropical Slaw Ingredients
½

cup

Vegenaise

2

tbsp

dijon mustard

3

tbsp

apple cider vinegar

1

tbsp

soy sauce

1

tbsp

maple syrup

1-2

tbsp

orange/pineapple juice

salt, to taste

3-4

cups

slaw mix or shredded cabbage

2

green onions, sliced

cilantro, rough chop

2

tbsp

coconut shreds (optional)

4

slices

fresh pineapple chunks, grilled (optional)
Taco Toppings (optional)
avocado slices or guacamole (recipe link below)

1

cup

fresh corn, steamed and removed from cob

pickled red onion

cilantro, chopped

1

lime, cut into wedges
Tortilla
6-8

6"

tortilla, corn or flour
INSTRUCTIONS
Preparing the Jackfruit
Jackfruit: Drain, rinse, and pat dry.

Gently pull the jackfruit away from the core in large chunks. I remove and discard the large seed pods. Some cores are firmer than others, either break into chunks or chop the harder cores with a knife.

Wrap all jackfruit chunks and chopped cores in a clean kitchen towel. Gently squeeze out the excess water.
Spice Rub
Add all spice rub ingredients into a small bowl and stir together.

Sprinkle over jackfruit and toss to incorporate. Set aside.
Sweet & Spicy BBQ Sauce
Sauté the onions and garlic in a medium cast-iron skillet or pan over medium-high heat until fragrant and golden (5-6 minutes).

Add the rest of the ingredients and bring up to a boil.

Pour everything into a blender and blend until smooth.

Wipe out skillet to use next.
Preparing the Filling
Add 1 -2 tbsp of oil to the cast-iron pan over high heat until hot. Add the jackfruit chunks and let it cook for 4 or 5 minutes or until it starts to turn golden or charred edges.

Pour the sweet and spicy sauce over the cooked jackfruit, let it come back to a boil and then reduce the heat to medium (to low) and let it simmer and thicken. Pro Tip: The sauce is ready when it's thick and rich like BBQ sauce. Add a splash of water or broth to thin if needed.

While the jackfruit is simmering, prepare the slaw dressing and other optional toppings.
Tropical Slaw Dressing
Measure all ingredients into a jar or small bowl. Shake or whisk until incorporated. Taste and adjust as desired.

Place the shredded cabbage, onions, and cilantro into a large bowl. Pour as much dressing as desired over the slaw and toss to incorporate.

Sprinkle with coconut shreds and pineapple chunks if using.

Store the remaining dressing (if any) in a jar in the fridge.
Additional Taco Toppings
Slice avocados or make Guacamole Recipe

Steam corn if using (optional).

Chop cilantro and slice limes.

Warm both sides of the tortillas on a dry griddle or pan.

Assemble by layering warmed tortillas with a generous serving of spicy jackfruit topped with creamy slaw, a dollop of guacamole, and top with chopped cilantro, pickled onions, and a lime wedge.

Add any optional topping ingredients or serve on the side.
NOTES
Jackfruit - Preparing the jackfruit is easy to do, removing excess water from the jackfruit is a game changer to the texture. Don't throw the cores away! Some will be firmer than others - break the softer cores into chunks and chop the firmer cores with a knife.
Use the canned jackfruit in brine or water (not syrup) for this recipe. Typically found in the canned vegetable aisle at the grocery stores, but check the International Food aisles as well. 
Slaw - I use fresh tangerine/Mandarine oranges for this slaw. Pineapple juice may be slightly sweeter or tarter so adjust the maple syrup to your preference.
BBQ Sauce time saving Tip - Sub your favorite Bold spicy sweet BBQ sauce when pressed for time!
Storage - Store any leftover jackfruit filling in the fridge for up to a week. The slaw dressing will keep well in the fridge for several days in a jar. If already mixed into the cabbage, you will get the best texture if eaten the same or next day.
Leftovers - The jackfruit filling is delicious leftover in a rice bowl with some guacamole and pico later in the week.
This recipe is from simplyceecee.co food blog. All images and content are copyright protected. Please do not use my images or republish this recipe without prior permission. Thank you.