This is the best vegan sausage rolls recipe bar none! Flaky, golden layers of tender puff pastry filled with the most incredibly addictive, savory mushroom onion filling. Dip them in honey mustard sauce for extra deliciousness.
These vegetarian sausage rolls are easy to make, freeze well, are delicious leftover. I promise they will be the favorite appetizer of the night!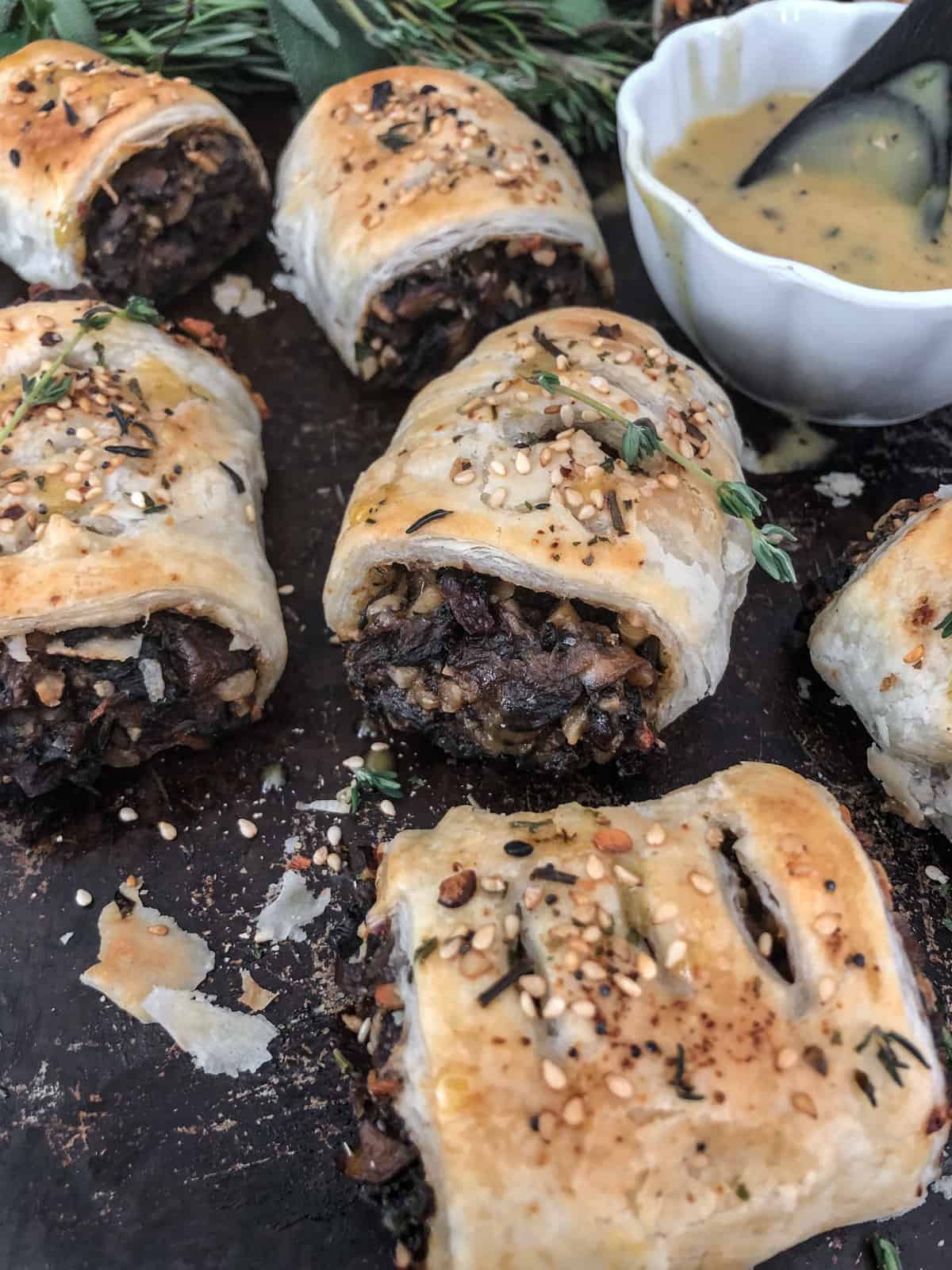 These vegan sausage rolls make quite a stir at every cocktail party, family get together, dinner party, and holiday celebration we've ever hosted. And for good reason, the texture is perfection from the savory, salty-sweet and meaty filling to the flaky golden pastry. Each bite has everyone oohing and ahhing - secure one early, they are ALWAYS the first to go!
If you have leftover mushrooms, try this creamy Vegan Mushroom Pasta for an easy weeknight meal or use them up in this five star Italian Vegan Bolognese.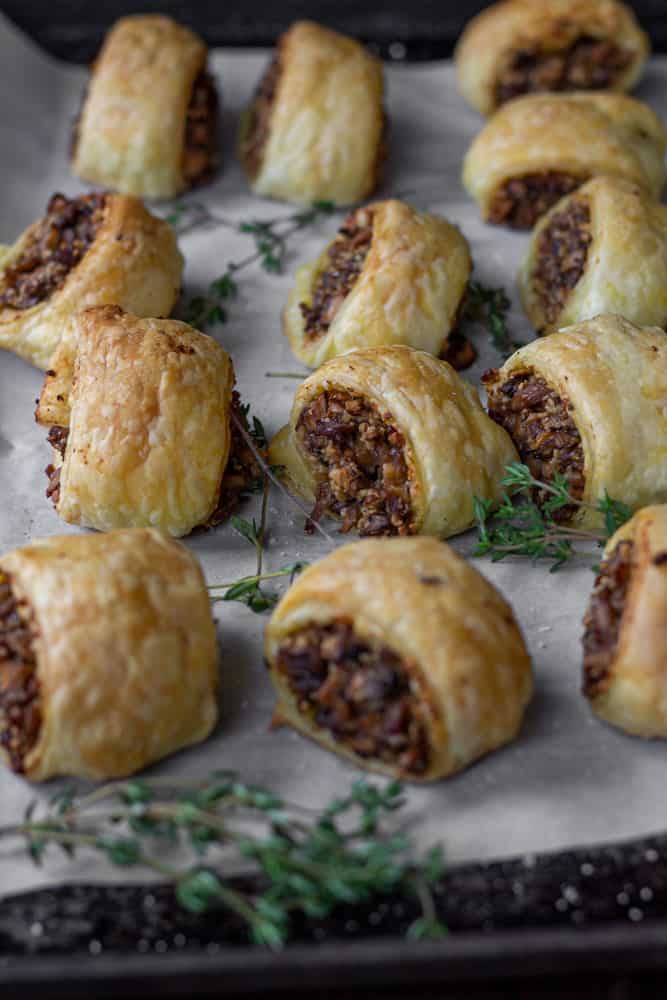 Ingredient Review
To create the perfect vegan sausage roll texture and savory-sweet umami depth of flavor, gather together these ingredients:
Puff Pastry: A major component of veggie sausage rolls - the puff pastry wrapper is tender, golden, and flaky. Luckily vegan puff pastry sheets can easily be found in grocery stores these days which is super convenient. *Check the ingredients on package to ensure vegan.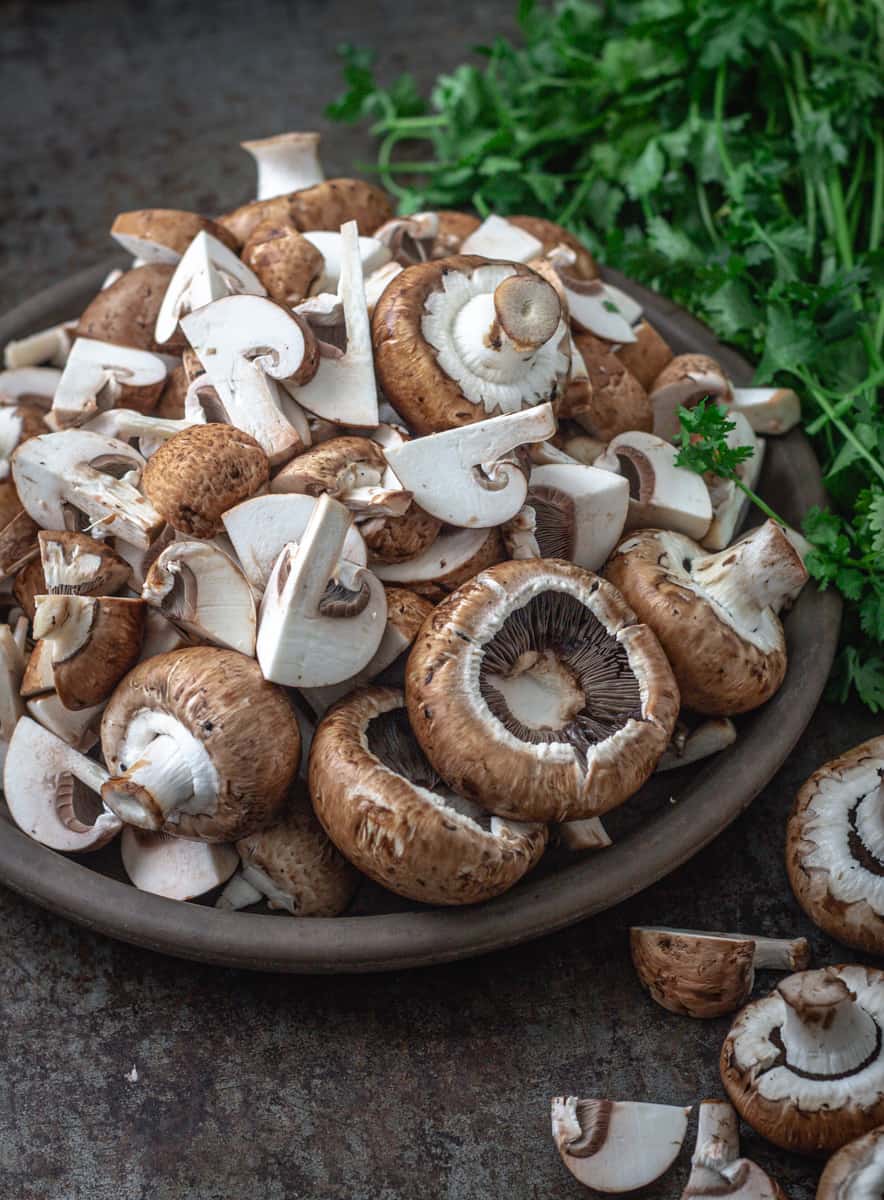 Mushrooms & Onions: The moreish mushroom-onion filling is hands down the star in this mushroom roll recipe. Mushrooms add incredible flavor and meaty texture. Use chestnut, oyster, cremini, button mushrooms or mix it up and use a combination of each. Use white, yellow or red onions.
Cashew Nuts: Cashew nuts take the filling flavor and texture over the top. They add a slight sweetness, creaminess, and magically bring the consistency of the filling together. Can sub for another nut - walnuts work well. I'd add ~½ teaspoon of maple syrup if using walnuts to replace sweetness of cashews.
Flavor Makers: The pairing of tamari /soy sauce, fresh thyme, fresh garlic, and nutritional yeast intensify the depth of flavor. The savory, garlicky, salty-sweet, umami flavors of the filling will have you reaching for seconds and thirds!
Honey Mustard Dipping Sauce: Optional, but honestly such an incredible flavor combo, I highly recommend. Quick and easy to make, oil-free and vegan honey mustard sauce.
Let's Make Sausage Rolls (vegan style)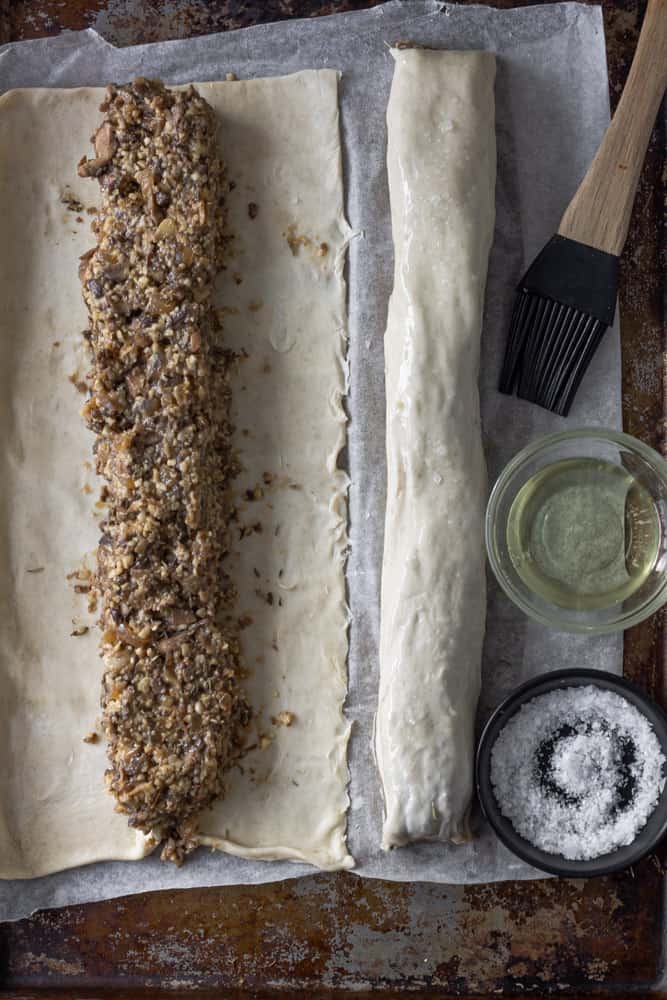 Very easy to make, these vegetarian mushroom sausage rolls take only a few steps - taste like you fussed, but you didn't! Always a HUGE hit at parties, you'll probably want to double the recipe (at least)!
Ready to get started?:
First, simply unfold the vegan puff pastry. Cut it down the middle (lengthways).
The filling is almost as easy: cook the mushroom-onion filling then let it cool (full details in recipe card).
Spoon a row of filling slightly off center of the puff pastry.
Moisten the edge of the pastry with plant-based milk (or water).
Pull the long edge of the pastry up and over the filling. Tightly roll the pastry around the filling slightly overlapping to create a seam.
Cut the roll into cocktail size (one or two-bite) pieces and place on a parchment or silicone lined baking sheet. Make the sausage rolls a bit larger and style them like the famous Gregg's vegan sausage roll if you want a more substantial roll (see photos).
Score the tops with a sharp knife or scissors then brush lightly with dairy-free milk or melted vegan butter. Sprinkle tops with sesame seeds or Everything but the Bagel.
Bake until golden and flaky.
Sausage Rolls (vegan version) - FAQ
Can vegans/vegetarians eat sausage rolls?
Yes! Sausage rolls can be filled with mushrooms, mince, soy, and even commercially made vegan sausages. Ensure the puff pastry is made without animal products (vegetable shortening). So vegans and vegetarians can enjoy sausage rolls at cocktail parties and holiday events as well!
Can vegan sausage rolls be made ahead?
Yes, make the sausage rolls and slice them into serving size pieces. Place on a baking sheet, wrapped in plastic in the fridge until ready to bake and serve.
Can you freeze vegan sausage rolls?
These sausage rolls freeze beautifully. Make them, slice them, and place on a parchment-lined baking sheet in a single layer without touching in the freezer for an hour or two. Once frozen, pop them into a freezer friendly container or bag to be used up in the next couple months.
When ready to serve, place the frozen rolls on a baking sheet, bring to room temperature while the oven is preheating and cook as directed.
More Vegan Recipes
If you like these Veggie Sausage Rolls you're going to love these flavorful vegan dishes:
Did you make this delicious Vegan Sausage Roll recipe?
I'd love to see it! Tag me on IG @ceeceecooks and Facebook!
NEVER MISS A RECIPE: Sign up for my email NEWSLETTER!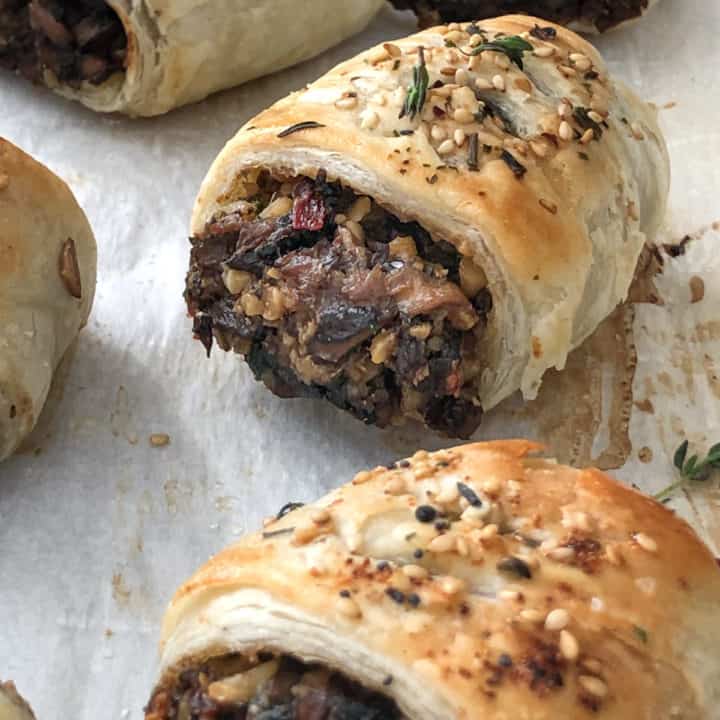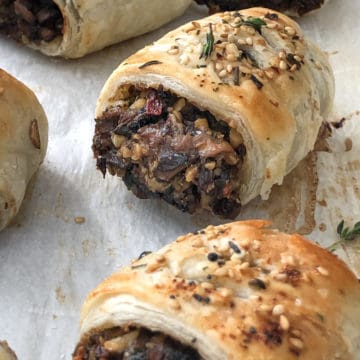 Vegan Mushroom Sausage Rolls
These vegetarian sausage rolls are incredible! The combination of caramelized mushrooms and onions, cashew crumbs and nutritional yeast create a rich, umami, slightly sweet and savory filling that is irresistible rolled in tender, flaky golden puff pastry. EVERYONE loves this fabulous vegan appetizer - vegan or not! Don't forget the luscious (oil-free) tangy honey mustard dipping sauce!!!
Rate this recipe!
INGREDIENTS
1

white onion, chopped

3-4

cloves

garlic, minced

2

teaspoons

olive oil (if oil-free use broth)

5

cups

mushrooms (450 g), chopped

6-8

sprigs

thyme leaves, fresh

¼

cup

curly parsley, chopped

4-5

tbsp

soy sauce (tarmari)

1

cup

raw cashew nuts, pulsed

2-3

tablespoons

nutritional yeast

S&P

1

puff pastry sheet (vegan), cut in half

seeds and sprinkles for garnish

honey mustard sauce (optional)
INSTRUCTIONS
Heat 2 teaspoons of oil in a large skillet until shimmering. Add the onions and garlic and cook over medium heat until soft and starting to take on some color.

If oil free, use a splash of broth as necessary to keep the veggies from sticking.

In the meantime, chop the mushrooms (eg. button, oyster, chestnut, cremini or an assortment).

Pull the leaves off the thyme stems and set aside.

PRO TIP: You can toss the whole sprig in during cooking and then remove the stems right before serving.

Add the mushrooms to the pan and cook for around 5-7 minutes until they are caramelized the liquid has evaporated.

Add the soy sauce (tamari), thyme leaves/sprigs, and parsley.

Reduce the heat to medium-low and let reduce until most of the liquid has bubbled away. Remove from heat.

Place a big, full cup of cashew nuts in a food processor and pulse until the texture is breadcrumb like. *Could sub another nut eg. walnuts

Add the crumbled cashews and nutritional yeast to the mushroom mixture, stir to combine. Taste the mixture and adjust seasonings to your personal taste.
Assembling the Sausage Rolls
Roll out the puff pastry on a clean, lightly floured surface. Cut in half lengthways to create a long rectangle (see photo).

Spoon mushroom slightly off center of the pastry. Lightly moisten the long edge of the pastry.

Lift the long side of the pastry up and over the filling - tuck and roll to create a tight roll. Brush more milk to the edge to seal if required.

*I cut them into cocktail size pieces (one or two bite). But you can cut them any size you prefer. See photos.

Arrange the pieces seam side down on a baking sheet. Brush with plant-based milk or melted butter, sprinkle with Everything But the Bagel, a few sesame seeds or chopped parsley.
Baking the Sausage Rolls
Bake until golden approximately 20 minutes. Serve immediately with dipping sauce.
Honey Mustard Dipping Sauce (oil-free + vegan)
NOTES
5 Minute Honey Mustard Sauce: this oil-free and vegan version 'honey' mustard (maple syrup and Dijon) dipping sauce recipe is totally irresistible paired with the savory mushroom sauce rolls. Trust me!
Puff Pastry: available in the frozen aisle at the grocery store. There are many vegan brands available. Check the label to be sure no dairy or eggs. The label might say 'may contain' milk but typically that is legalese because they are made in a factory where dairy products are used.
Make Ahead / Freezing:
These sausage rolls freeze beautifully. Make them up until the point that you brush them with oil/milk. Cut them into appropriate sizes and transfer to a parchment-line baking sheet in a single layer without touching. Pop the baking sheet into the freezer for a couple hours. 
Once they are frozen, store them in an airtight container or bag in the freezer until needed.
When you are ready to cook, place the sausage rolls on a baking sheet. Let them come to room temperature while the oven is preheating, brush with oil/milk, and bake as directed. Baking them from frozen will increase the cooking time.
Reheat sausage rolls the next day in the oven, microwave or airfryer!
Original recipe from The Happy Pear.
This recipe is from simplyceecee.co food blog. All images and content are copyright protected. Please do not use my images or republish this recipe without prior permission. Thank you.
Originally posted November 2019.