Better than store-bought, this fresh and creamy almond milk is incredibly delicious. There are so many choices for dairy-free nut and seeds milks these days, but there's nothing like homemade. This one is my favourite plant-based milk ever!
Dairy-Free Almond Milk Ingredients
Making nut milk at home is easy and affordable. Buy the nuts in bulk for the best price.
Almonds - raw, unsalted almonds. Available at Costco, grocery store, bulk stores or online.
Water - boiling hot water for soaking and filter water for blending.
Dates - for natural sweetness. Cooking/baking dates are more economical and work perfectly. Found in the baking aisle. (See Cooking v Medjool dates in photo.)
Vanilla - pure vanilla extract
Salt - pinch of salt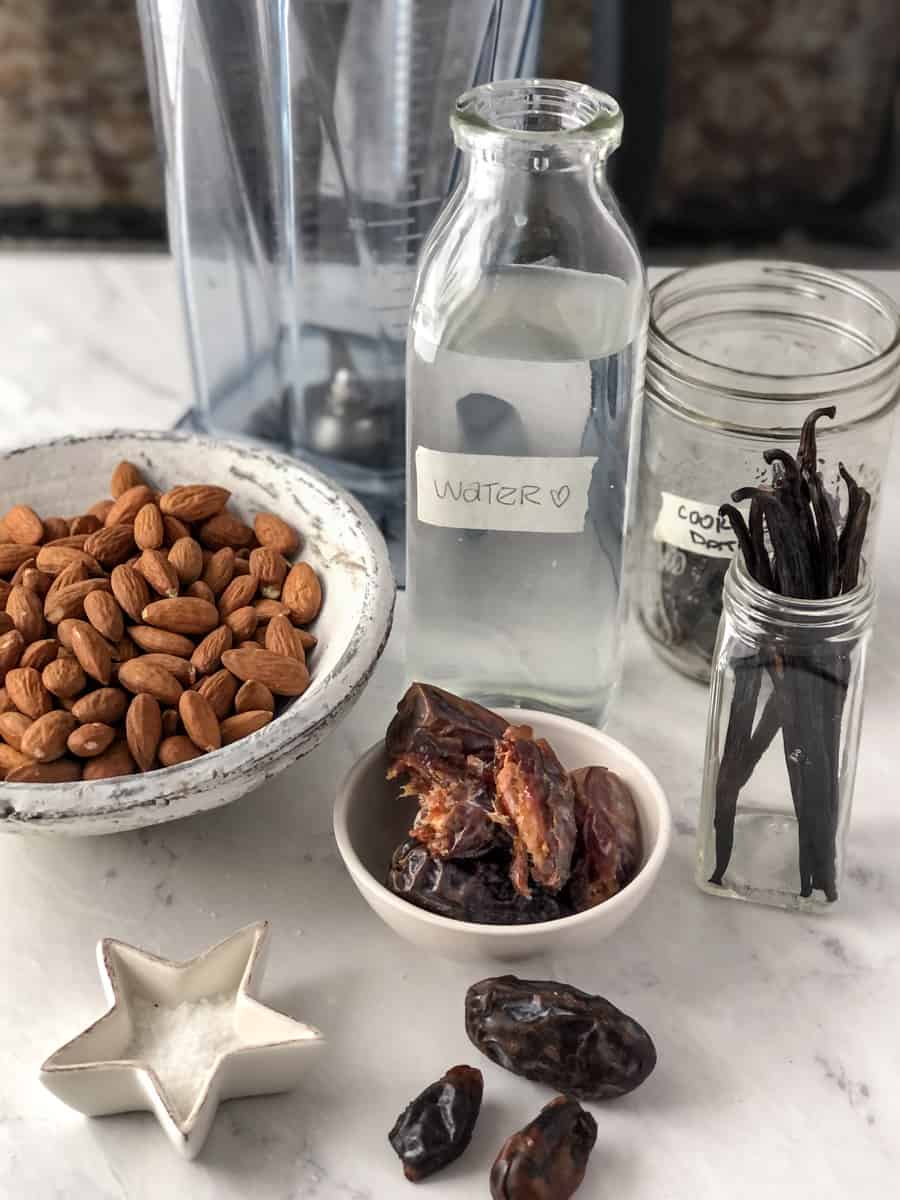 How to Make Almond Milk
Making almond milk is easy and if you have a high speed blender (like a Vitamix), it takes no time at all. If not, you'll just need a bit of extra time for soaking the almonds first. I soak them in boiling water for about an hour and they get nice and plump and juicy.
Once the almonds are soaked, drain and rinse them. Throw them back into the blender along with the water, dates, and vanilla, and start blending until smooth and creamy - around 2 minutes.

Water Tip: less water = creamier richer milk; more water = thinner lighter milk. I typically use 3 ½ cups.
Date Tip: I use 'cooking' dates for this recipe which are much less expensive than Medjool dates and work perfectly. Cooking dates are smaller so I use 4 instead of 1 or 2 Medjool dates.
Once blended, strain the milk through a nut milk bag into a large bowl. (If you don't have a nut bag, use a clean dish towel.) This step separates the pulp from the milk.
While holding the top, gently squeeze the bag until all the liquid is extracted; and you're left with just almond pulp.
Pro Tip: The pulp can be saved in the fridge for a few days or in the freezer if you decide to try a recipe for almond pulp baking or almond flour!
Storing and Freezing Tips
Store the milk in the fridge in a jar with a tight-fitting lid for up to a week. Remember to shake before using.
Freeze any leftover milk in ice cube trays. Once frozen, transfer them to an airtight bag for up to three months. They are perfect for popping into smoothies!
More Delicious Vegan Recipes
Spicy Cardamom Walnut Milk - spicy and sweet when you cozy up for afternoon tea.
Epic Vegan Banana Split Vegan Smoothie Bowl - add chocolate and salted caramel swirls!
Decadent Affogato Dessert (vegan) - totally addictive!
Did you make my delicious homemade almond milk recipe? If so, please leave a comment and rating below. For more vegan food inspiration, follow along on Instagram and Facebook!
NEVER MISS A RECIPE: Sign up for my email NEWSLETTER!
Delicious Homemade Almond Milk Recipe
Better than store-bought, this fresh and creamy almond milk is simple to make, dairy free and delicious! Sweetened with dates and a hint of vanilla it's my favourite paired with frozen blueberries on muesli for breakfast!
Rate this recipe!
INGREDIENTS
1

cup

raw unsalted almonds, soaked

3-4

cups

filtered water

2-4

dates, pitted

1

tsp

vanilla extract, pure

pinch

sea salt
INSTRUCTIONS
Soaking the Almonds (*extra time needed for soaking)
Start by soaking your raw whole almonds. Pour boiling water over the almonds in the container of a blender, and let it sit for an hour or two with the lid on. This makes them plump and juicy so they blend up smooth and creamy.

Pro Tip: if you have a high-speed blender like a Vitamix, you can skip the soaking and go straight to blending.

Drain and rinse the almonds. Return to the blender, add filtered water* and the remaining ingredients. Blend until smooth and creamy ~ one minute or more as required.

Water: less water = thicker/richer milk; more water = thinner milk.
Straining the Milk
Pour the mixture into a milk bag or use a clean, thin dish towel in/over a bowl.

Gather the corners of the towel, twist to secure the top and gently squeeze the milk into the bowl.
Storing the Plant-based Milk
Pour the strained almond milk into a clean jar with a lid and store in the refrigerator for 5 or 6 days. Remember to shake before using.
Optional Flavours
Blueberry - Add a handful of blueberries and blend which is a delicious addition to your morning cereal.Hot Chocolate - Add a cup of almond milk, some cocoa powder and a splash of maple syrup to a small saucepan and warm over medium heat. Pour into a mug, add a few marshmallows, and enjoy!
NOTES
If you don't have a high-speed blender like a Vitamix, you'll need extra time for soaking the almonds.
Cooking dates are small and are usually pitted (I use 4). Medjool dates are large and typically have a pit so that would need to be removed prior to using (I use 1-2 Medjools).
The more water you add while blending, the thinner and lighter the milk will be. If you want a thicker, creamier product, use less water.
A very small pinch of salt will enhance the flavours of the milk. It's totally optional.
Keep the milk in the fridge in a lidded glass jar for 5 or 6 days (shake before using).
Freeze in ice cube trays then transfer to a freezer bag for future use in smoothies or soups.
This recipe is from simplyceecee.co food blog. All images and content are copyright protected. Please do not use my images or republish this recipe without prior permission. Thank you.