If you've got a head of cauliflower on hand, you must try these easy, delicious, roasted cauliflower and chickpea tacos with creamy dilly coleslaw! Healthy, flavorful, quick and fuss free, these taco are meat and dairy free, soy free, gluten-free and oil-free friendly! It's no wonder these crave-worthy veggie tacos are on repeat at our house!
Newbies to a vegan (vegetarian, plant-based) diet are always asking me for easy to make, delicious, protein rich, vegan meal suggestions. This taco recipe is perfect for novice and pros alike! Keep reading for easy step by step instructions, help with kitchen management, and serving ideas . . .
Why Everyone Loves this Taco Recipe!
These cauliflower chickpea tacos are simple and delicious. I recommend this meal to all my friends and clients looking for an easy vegan everyday meal. You don't have to be a pro cook to whip these tacos up for dinner, and everyone loves them - vegan or not!
easy to make - perfect for the novice cook or someone new to meat-free cooking
versatile - you can sub in your favorite vegetables and toppings
quick and easy - not a lot of chopping and fussing. Ready in under 30 minutes
great leftovers - make a big batch and you've got leftovers all week
adaptable - easily oil-free, gluten-free, soy-free, nut-free, whole 30, dairy-free, meat-free
healthy - packed with a variety of vegetables
flavorful - lots of flavor from roasted and raw vegetables, coleslaw, spices, and toppings
affordable - made with simple, inexpensive ingredients
toothsome - they have a good substantial bite so are very filling and satisfying for vegans, vegetarians, whole food plant based, and meat eaters to eat!
We love them because they are flavourful, tender, crunchy, spicy, creamy, tangy, warm, and filling. I think you'll love them too.
Vegan Taco Ingredients
Roasted Cauliflower and Chickpeas - the cauliflower gets sweet and tender in the oven and the chickpeas get a little crunchy crust. Nice and spicy, you'll get a hit of heat from the Mexican spice blend.
Sloppy Dilly Slaw - This slaw is so deliciously creamy and crunchy that you won't need any additional sauces or drizzles. Use the juice from pickles or pickled peppers to amp up the flavour or stick with more traditional vinegar. Either way, you won't be disappointed.
Avocado Slices - creamy avocado slices are the perfect addition. They add a lovely creaminess but also texture. I don't recommend skipping them!
Tomatoes - Juicy tomato chunks add a delicious freshness and more texture to these yummy tacos.
Spices - a warming blend of Mexican spices to bump up the Fiesta of flavors. Make a batch of my homemade taco seasoning blend to save time!
Onions - Raw onion adds a slightly sweet, pungent, sharpness that perfectly balances the other ingredients. Use red or white onions sliced thin.
Tortilla - The perfect vehicle to get all this yumminess to your mouth - warm, almost crispy tortillas. We use flour tortillas, and just dry fry them on the stove. Of course, you can easily sub for gluten-free tortillas!
Kitchen Organization
Follow these simple steps to make this easy vegan meal fuss free!
Cut the cauliflower - for the cauliflower and chickpeas to be ready at the same time, the cauliflower has to be chopped (or divided into small florets). Cauliflower cooks slower than chickpeas so either cook them on separate baking sheets (put cauliflower in first) or cut the cauliflower smaller.
Drain, rinse, and pat dry the chickpeas.
Mix the spices together to create a paste.
Toss to coat the cauli-chickpea mixture.
Place on a baking sheet in a preheated oven.
Make the slaw.
Prepare the toppings.
Warm the tortillas.
Voila! Time to eat!
More Vegan Taco Recipes
If you love tacos, check out my vegan taco page. In the meantime, here are some of our favorites:
Simple Delicious Vegan Tacos (2 ways) - easy, delicious, taco staple recipe in our house!
Easy Tofu Taco Meat Bowl - on weekly rotation including this addictive sauce and how to make a crunchy tortilla bowl!
Succulent Vegan Shawarma with Crispy Chickpeas - top 3 most popular recipe on the blog for good reason! Made with soy curls which are a game changer for vegan cooking!
Sweet Summer Corn Tacos - simply irresistible made with sweet summer corn - healthy, fresh and delicious!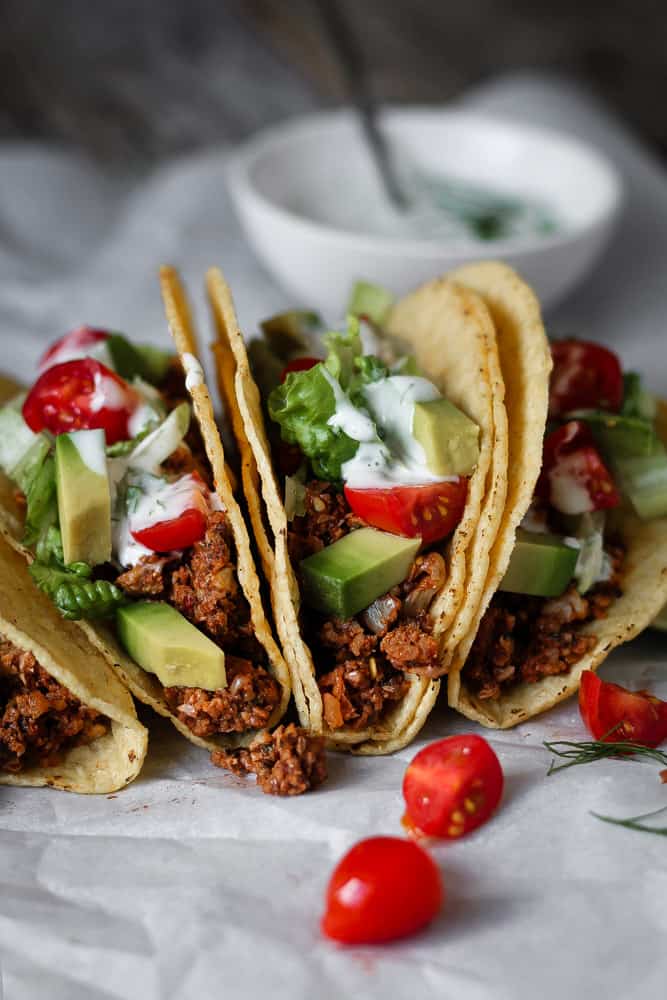 Did you make my Cauliflower Chickpea Tacos recipe? 
If so, giving it a star rating and comment helps others discover my blog and recipes. Thank you so much for your support!
I love seeing your creations so tag me on IG @ceeceecooks and Facebook!
NEVER MISS A RECIPE: Sign up for my email NEWSLETTER!
Cauliflower Chickpea Tacos with Sloppy Slaw
Fast and delicious, these protein-rich tacos are packed with flavour and super healthy. Roasted cauliflower and crispy chickpeas with a Mexican spice rub wrapped in a warm tortilla and topped with avocado, tomatoes, and creamy dilly slaw. The perfect simple vegan meal for everyone from new vegans and vegetarians to seasoned pros!
Rate this recipe!
INGREDIENTS
Baked Cauliflower and Chickpeas
3

cups

cauliflower florets, chopped small

1

tin

chickpeas, drained, rinsed, patted dry
1

teaspoon

garlic powder

1

teaspoon

onion powder

1

teaspoon

cumin powder

1

teaspoon

smoked paprika powder

1

tablespoon

chili powder

1

teaspoon

hot pepper flakes (to taste)

½ - 1

very juicy lime (~ 2 tbsp)

2

teaspoons

oil (omit if oil free)

1-2

tablespoons

water (to loosen spice mix)
Dilly Coleslaw
2-3

cups

slaw mix or shredded cabbage*

¼

cup

Vegenaise (or vegan mayo)

3-4

tablespoons

pickle juice (or vinegar)

squeeze

lemon

2

tablespoons

dill (small bunch, chopped)

salt and pepper (to taste)

¼ - ½

teaspoon

sugar

1

tbsp

sriracha sauce (optional but delicious)
Toppings
1

avocado, sliced

10-12

cherry tomatoes, halved

6-8

slices

red onion

cilantro or dill, chopped

4-6

tortillas, 6", warmed
INSTRUCTIONS
Preheat oven to 400º F

Line baking sheet with parchment paper.
CAULIFLOWER-CHICKPEA FILLING
Cut a small cauliflower into small-medium size florets and place in large bowl.

Drain, rinse and pat dry a tin of chickpeas and place in the bowl.

Whisk together spices* plus lime, oil, and water in a small bowl to make a loose paste.

Pro Tip - I've been using 1 - 2 tablespoons (or more) of my homemade Taco Seasoning Blend in place of these spices. I make a batch so I always have some in the pantry.

Toss cauliflower and chickpeas in spice mixture until well coated.

Arrange in a single layer on a prepared baking sheet and place in oven for 15 minutes.

Stir and check veggies. Cook for another 7-10 minutes (cauliflower should be soft and caramelized but not mushy and chickpeas will be crispy on the outside but tender on the inside).

Remove from oven and give a rough chop to the cauliflower if needed.
SLOPPY DILLY SLAW
Use a bag of coleslaw from the grocery store or slice ½ cabbage (white, purple or combo) thin with a sharp knife or a mandoline to make 2-3 cups.

Option: sometimes I add toasted sunflower seeds to the slaw.

Whisk sauce ingredients* together, taste for flavour - adjust as necessary. Toss with cabbage to incorporate.

*Use pickle juice for the slaw or pickled jalapeno juice - but of course, any vinegar will work perfectly fine and then add chopped dill and S&P to taste
NOTES
Cauliflower - play around with the chop size. Too big and you don't get the natural sweetness of the roasting. Too small and they loose texture.
Chickpeas - make sure to pat dry and don't overcrowd the pan so you get a nice crunchy outside but tender inside.
Slaw - we love it with pickle juice - but if that isn't sour enough for you, add a squirt of white vinegar to the pickle juice.
Leftovers - this recipe makes great leftovers. Store everything in separate containers to be enjoyed all week. Repurpose the leftovers into a Buddha bowl the next day served on rice with baked sweet potatoes or leftover peanut satay tofu, fresh leafy greens, tomatoes, avocado, sprouts and of course a drizzling sauce.  Also delicious in a burrito or enchilada the next day!
This recipe is from simplyceecee.co food blog. All images and content are copyright protected. Please do not use my images or republish this recipe without prior permission. Thank you.