This crunchy Southwestern Chopped Salad is made with colorful chopped vegetables, black beans, and crispy baked vegan chicken tenders liberally drizzled with spicy Tex-Mex dressing and topped with crunchy tortilla chip crumbles. This family favorite meal is dairy free, gluten free, oil free, vegan, and ultra yummy!
There's nothing like a full meal salad for a quick vegan dinner idea. I make a lot of vegan bowls for weeknight dinners - they are so easy and versatile, plus this sauce will make anything 1000% more delicious so I recommend having a jar on hand at all times!
10 Reasons You'll Love this Chopped Salad
Easy to make - a bit of chopping or buy pre-chopped at the market.
Colourful and nourishing - lots of variety.
Versatile - use any veggies, beans, grains, and sauce.
Perfect for meal prep to help make weeknight dinners fuss free.
Healthy - packed with veggies, oil-free, gluten-free, egg-free dairy-free, meat-free!
Add orzo/rice or serve in a wrap for a heartier version.
Great salad for BBQ, potluck or parties.
Inexpensive to make.
Delicious - loaded with dynamite flavor and lots of texture - no boring vegan salads here!
Sauce - choose the bold spicy creamy Tex-Mex dressing or try it with Sweet and Spicy Tahini, Creamy Cilantro Jalapeno Dressing or Dilly Firecracker Drizzle.
Vegetarian Chopped Salad Ingredients
This vegan chopped salad bowl is packed with a fiesta of delicious bold flavors, colors and textures. Use any in season summer vegetables, your favorite pasta/rice/beans, and a scrumptious dressing. Here's what you'll need:
This chopped salad bowl is a family favorite for a reason! It is easy to make, super versatile, hearty and is packed with flavor. Once the grains and vegan chicken are started, chop the veggies, make the dressing and you are eating in under 30 minutes!!!!
Leafy Greens - choose a variety of leafy greens like spinach, arugula, romaine, red or green leaf lettuce and iceberg.
Eat the Rainbow - load up the colorful, nourishing summer vegetables like carrots, cucumbers, celery, bell peppers, juicy tomatoes (cherry or grape)
Orzo/Grains - the addition of orzo or rice amps up the carb and satiation factor. It's a good choice because its texture brings a nice toothsomeness and its size blends perfectly with the chopped crunchy vegetables and spicy dressing. Rice, couscous, lentils or quinoa would work as well.
Plant-based Protein - the addition of crispy chick'n tenders adds another delicious layer of flavour, texture, and heartiness. Our vote for the tastiest, most delicious meat replacement for this bowl is the Gardein Chipotle-Lime Fingers or Seven Grain Crispy Tenders. They are crunchy, tender, flavourful, and loved by all eaters! However, you could easily sub with crispy tofu or tempeh.
Corn - to amp up the flavour and bring out the sweetness of the corn, fast fry it in garlic, lime, and salt. Add the frozen or fresh corn to a hot pan. Add the minced garlic clove, a squeeze of lime juice, hot pepper flakes, lots of black pepper, and a pinch of salt - stir until slightly charred about 3-4 minutes. Remove from heat and let cool.
Ingredients for Tex-Mex Salad Dressing
The magic is in the dressing and this one does not disappoint! It's mega creamy, spicy, dairy free, and totally addictive!
This big bold spicy Tex-Mex Dressing is incredible as a salad dressing, dip or drizzle. It's a super easy to make oil-free and dairy-free flavor bomb dressing that's irresistible! Try it on all your salads, rice bowls, tacos, breakfast burritos or drizzled over grilled veggies.
You're going to love this spicy, sweet, savory dressing that is the perfect combination of creaminess from Vegenaise (sour cream), spiciness from chili powder and cumin, tanginess from lime and a touch of sweetness from maple syrup.
We are a saucy family and this Tex-Mex dressing is a crowd favorite; but be sure to check out more of our favorites to try on my Sauce and Dressing page.
Make Ahead and Meal Prep Tips
To make weeknight dinners easier and keep your salad maximally fresh, chop and toss everything together except the juicy vegetables and avocado.
Make a huge chopped salad on Sundays (or your meal prep day).
Cut and store the juicy vegetables like tomatoes and cucumbers in separate containers.
Mix dressing and store in a glass jar - can be stored for up to a week in the fridge.
Slice avocado and add dressing just before serving.
I make all our dressings/drizzles from scratch and store them in the fridge for use during the week.
On the go? No problem - pile everything into a large tortilla, add a generous drizzle of dressing and wrap it up like a burrito to eat on the way to work or on the job! Very filling and satisfying!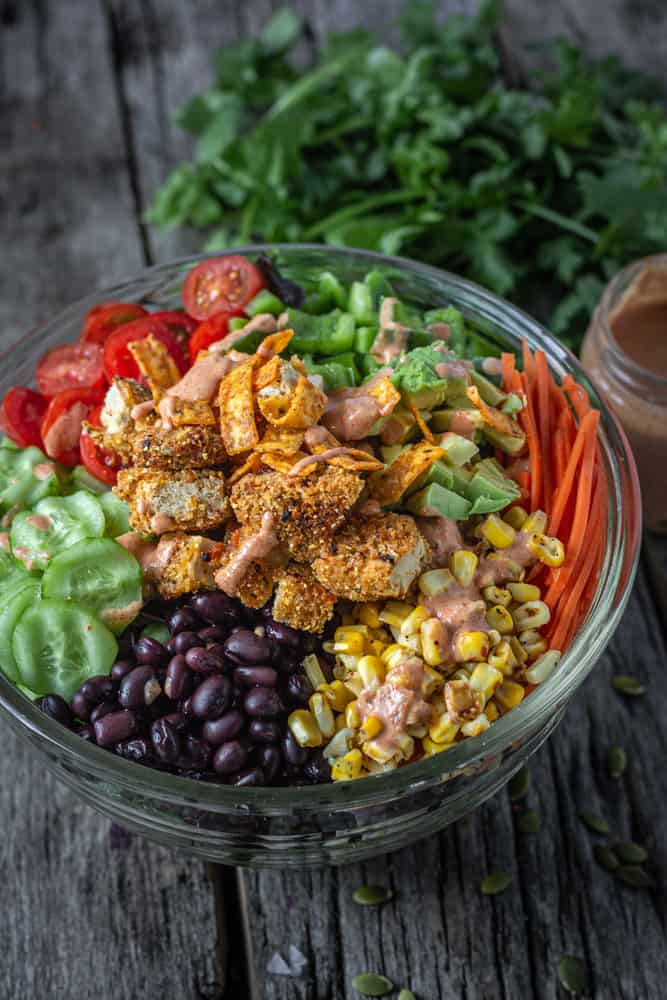 More Incredible Vegan Dinner Recipe Ideas
Super easy to make and packing a huge flavour punch, we drizzle this Tex-Mex dressing on everything! Try it on these Delicious Stuffed Sweet Potatoes, Simple Vegan Rice Bowl, Holy Smokes Jackfruit Tacos or Cauliflower Tacos.
Did you make this recipe? I'd love to see it! Please leave a comment below and tag me on IG @ceeceecooks with any photos!
NEVER MISS A RECIPE: Sign up for my email NEWSLETTER!
Southwestern Chopped Salad with Creamy Tex-Mex Dressing (vegan)
Loaded with flavor, this healthy, Southwestern Chopped Salad and creamy Tex-Mex salad dressing is a family favorite! Easy to make plus it's dairy free, gluten free, and vegan!
Rate this recipe!
INGREDIENTS
Grains & Vegan Chicken
1 - 1 ⅓

cups

orzo, rice or couscous, cooked

8-12

pieces

Gardein Chipotle-Lime Fingers
Grilled Corn
1 ½

cups

corn, fresh or frozen

1

clove

garlic, medium sized (minced)

salt and pepper (to taste)

½

teaspoon

red pepper flakes

½

lime, juiced
Salad Ingredients
1 ⅓

cups

black beans, drained and rinsed

1 - 1 ⅓

cups

tomatoes, chopped

1 ⅓

cucumbers, chopped or sliced

1

large

carrot, julienne or chopped

1

cup

onions, chopped

1-2

avocados, chunks

1 ⅓

red, green OR yellow pepper, chopped

2-4

handfuls

Spring mix greens, chopped

cilantro, chopped

1

lime, cut into wedges

tortilla chips, crumbled
Vegan Tex-Mex Dressing
½

cup

mayonnaise (vegan)

1

teaspoon

garlic powder

1

teaspoon

onion powder

1

teaspoon

cumin powder

1-2

teaspoons

chili powder

¼

teaspoon

cayenne (optional)

2-3

teaspoons

apple cider vinegar

2

teaspoons

lime juice

¼ - ⅓

cup

salsa, medium

¼ - ½

teaspoon

maple syrup (optional)
INSTRUCTIONS
Salad Bowl
Orzo/Grain - optional but delicious for a heartier salad. I use orzo or rice. Prepare as per package directions. Remove from heat and allow to cool.
Flash Fry Corn
Heat a cast iron or non-stick skillet over high heat. Add the frozen (or fresh) corn and toss it around for a minute or two in the hot pan.

Add the minced garlic, a bunch of freshly ground black pepper, hot pepper flakes, salt, and the juice from half a lime.

Cook for another 2-3 minutes - reduce heat if necessary.

Remove from heat and set aside to cool.
Vegetables and Beans
Veggies - Wash, pat dry, peel, and chop vegetables as per directions.

Beans - Drain and rinse any beans you enjoy. Black beans are delicious in this salad but pinto beans or any small firm bean would also be a good choice.
Vegan Tex-Mex Salad Dressing
Place all ingredients into a bowl and stir to combine. Taste and adjust seasonings to your preference.

PRO TIP: Keep in mind the heat index on your salsa which may impact how much additional spice you add to the dressing. Start with the lower quantity of spices, then adjust accordingly.

If the dressing is too sour for your taste, add ¼ - ½ tsp maple syrup. For a tangier dressing, add more apple cider vinegar. Spicier, add more chili powder or cayenne pepper. Creamier, add more Vegenaise. Chunkier, add more salsa.

Store the dressing in an airtight container in the fridge for up to a week.
To Serve
Place chopped greens in a large bowl.

Pile on the grains (if using), vegetables, beans, and avocado on top.

Top with vegan chicken (whole or chopped), crumbled tortilla chips, cilantro, lime wedges and a liberal drizzle of salad dressing. Enjoy!
NOTES
GRAIN/PASTA - To make a heartier meal, add your favorite grain. 
BEANS - Black beans can be swapped out for any favourite bean.
GREENS - Choose a variety of greens like romaine, spinach, leafy greens, kale, Spring mix. Chop well!
LEFTOVERS/STORAGE - Best when served fresh, but if you store the salad and dressing in separate containers, it will keep well in the fridge for several days.
TEX-MEX SALAD DRESSING (vegan)
If the dressing is too sour for your taste, add ¼ - ½ tsp maple syrup. For a tangier dressing, add more apple cider vinegar. Spicier, add more chili powder or a pinch of cayenne pepper. Creamier, add more mayonnaise. Chunkier, add more salsa.
Swap vegan sour cream for the Vegenaise.
Store leftover dressing in the fridge in an airtight container for up to one week.
This recipe is from simplyceecee.co food blog. All images and content are copyright protected. Please do not use my images or republish this recipe without prior permission. Thank you.