We're obsessed with this Vegan Taco bowl! It's packed full with all our favorite taco ingredients like a Mexican-spiced meaty filling made with tofu crumbles, black beans, rice, pico de gallo, guacamole, creamy slaw, and an addictive firecracker drizzle.
Ready in under 30 minutes, this vegan taco bowl is an ideal weeknight meal when you want something substantial and nourishing. Make ahead options to enjoy all wee, lots of room for customizing this power bowl, and your choice of vegan sauces for drizzling from spicy vegan chipotle sauce, southwest tex mex sauce or firecracker drizzle.
How to Make Tofu Taco Meat Crumble
Tofu Taco Meat Filling - Tofu crumbles is an easy to make, inexpensive, protein packed, vegan ground beef substitute. There is no need to sacrifice flavor or texture when cooking vegetarian meals. Tofu crumbles take on the flavors of the taco seasoning and spicy Mexican sauce and the texture is very similar to traditional taco filling.
Crumbled tofu is a wonderful plant-based meat replacement that can be used in lots of vegan recipes like breakfast burrito, easy vegan tacos, quesadillas or these sensational vegan lasagna roll ups.
For the best texture, use extra firm or firm tofu for making these tofu meat crumbles. It's not necessary to press the tofu for this recipe. See my master tofu cooking guide post for a deep dive into 'how to cook tofu that tastes good'.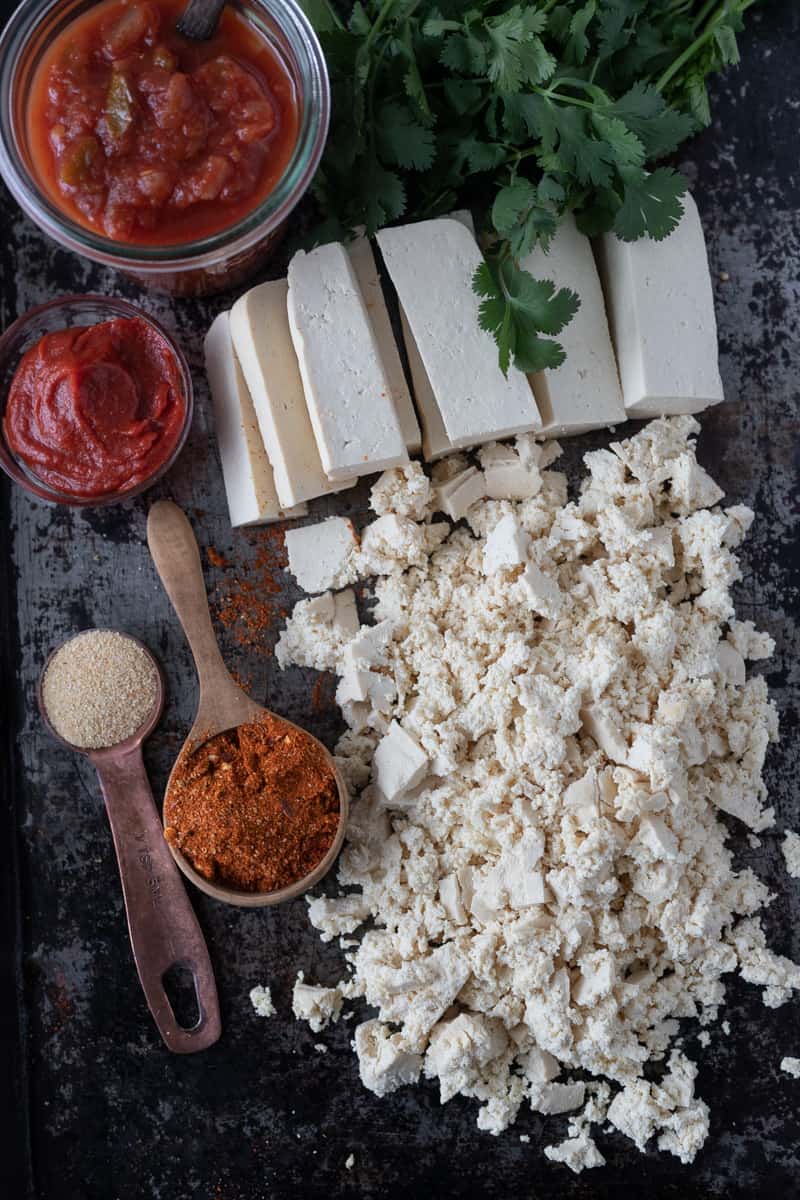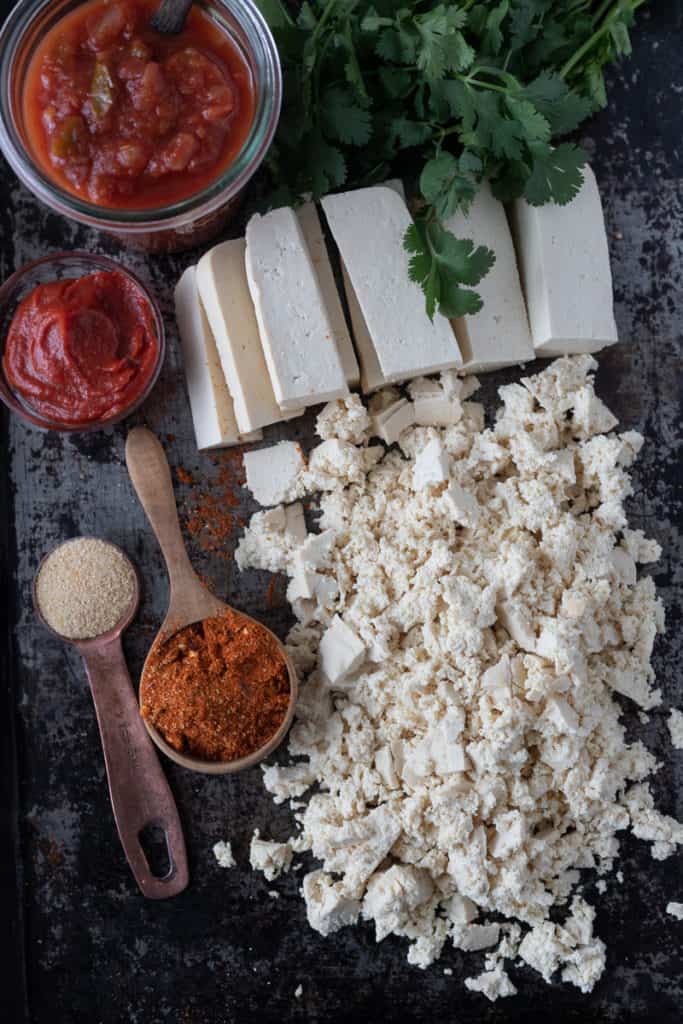 Cutting the tofu block into fingers makes it easier to crumble, but it's an optional step.
Heat up some oil, add the crumbled tofu and let it cook for 3 or 4 minutes without stirring while the water cooks out and the edges become a bit crispy.
Then add taco spices, stir and let sit for another 3 or 4 minutes without stirring.
Mix in the tomato paste and salsa to add flavor, depth, and substance.
This spiced tofu meat is so versatile plus it freezes well so is great for meal prep all week.
Vegan Taco Bowl Ingredients
We could devour vegan taco bowls 8 days a week at our house. They are so easy to make, super customizable, plus oil-free and gluten-free friendly. Who doesn't love a fresh, spicy, creamy, crunchy, protein rich, nourishing power bowl? Here's the ingredients for this vegan taco bowl . . .
hearty filling - spiced tofu meat crumbles.
beans - 99% of the time I use black beans, but pinto beans or even chickpeas work as well.
rice - white, brown or cauliflower rice (low carb option)
greens - romaine or iceberg lettuce add crunch, but any leafy green will work - add a variety!
coleslaw - adds creaminess, tanginess and great crunch.
pico de gallo - a vibrant punch of flavor and freshness. Homemade pico or store bought.
guacamole - adds a luxurious tangy, salty, creaminess. Choose ripe avocados that are firm (not hard or mushy to touch).
vegan sauce/drizzle - the most important part!!! A vegan sauce like firecracker dilly sauce or a smoky sauce like creamy chipotle lime drizzle are popular at our house. But, the sweet and spicy tahini sauce, the creamy jalapeno cashew sauce or the tex-mex dressing recipe would all be outstanding as well.
tortilla bowl - warm tortilla on a hot dry skillet or griddle and serve as a crispy plate or a bowl.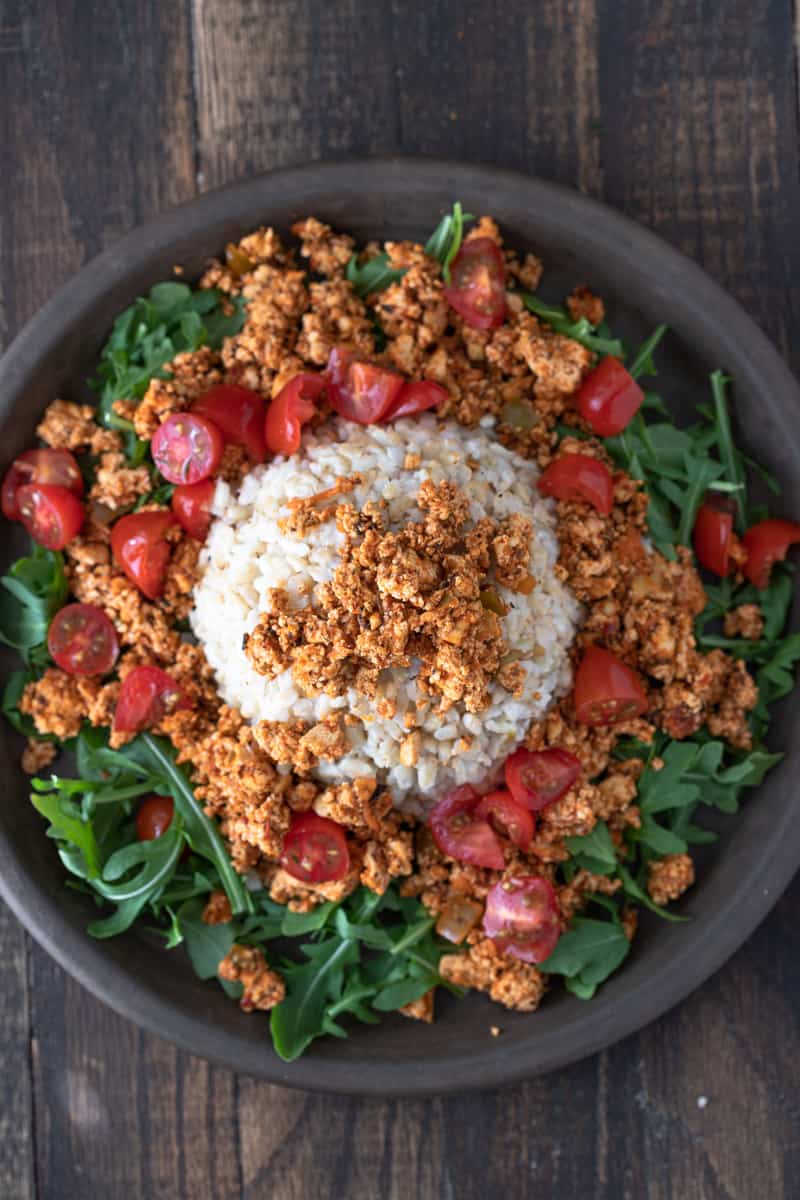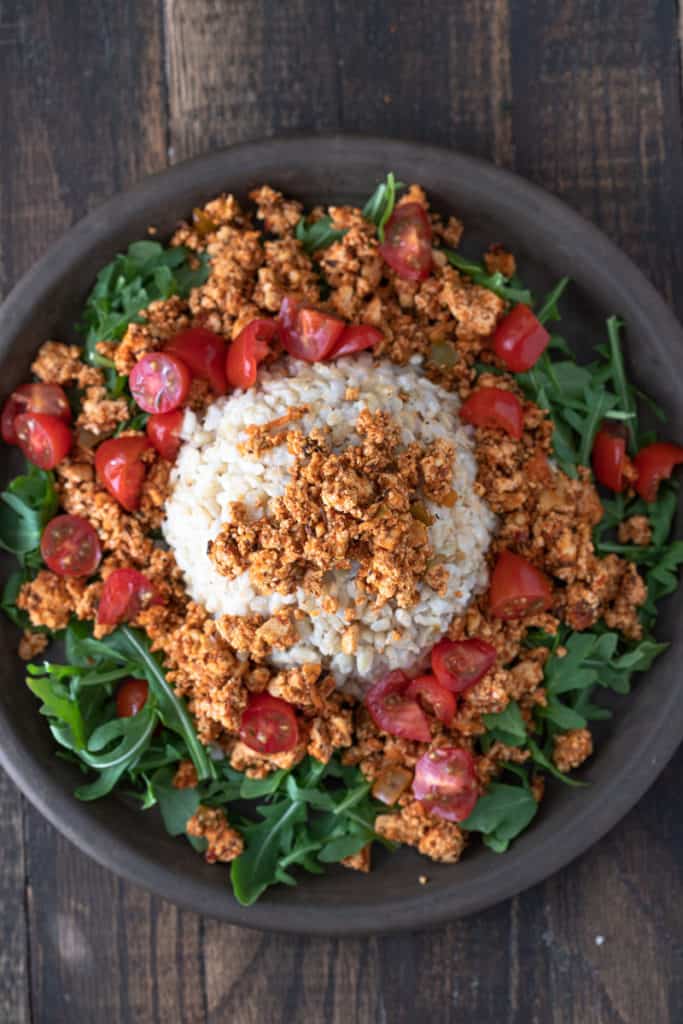 Optional Toppings to Customize your Taco Bowl
Some days you just need ALL the options!! In the summer when fresh corn is abundant, I always add it to our bowls. Plus those tangy pickled red onions are impossible to resist . . .
filling options - sub cauliflower-walnut crumbles for tofu taco crumbles.
grilled corn or corn salsa - fresh summer corn is best, but frozen or canned can be substituted.
pickled red onions or cabbage - pickled red onions are bright, tangy and pair perfectly with the spicy taco filling. My pickled onion recipe is super quick and makes everything more delicious!
vegan sour cream - tofutti is my favorite brand.
bump up the heat with jalapeño (fresh or pickled), extra hot sauce or red pepper flakes.
crunchy tortilla chips or strips.
How to Make Easy Tortilla Bowls
Choose an ovenproof dish the size you want your crispy taco bowl to be. Small size for individual portions or to use as serving dishes to set up a taco bar (Chipotle Bowl style). Larger for teenagers or for sharing.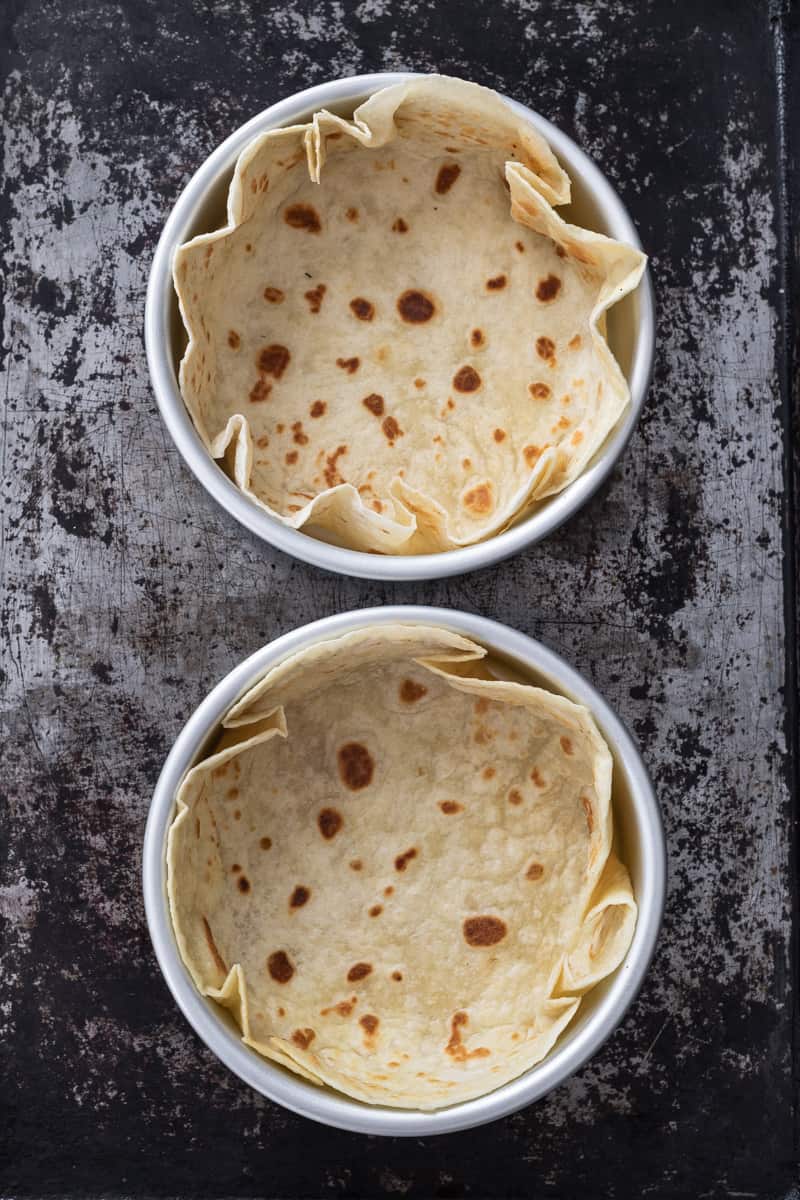 Heat the tortilla shell (with or without oil). If using oil (which will make a crispier taco bowl), heat a tablespoon of oil in a cast iron pan until shimmering. Cook the tortilla on both sides and then immediately press it into the oven proof bowl. Into the oven to crisp up and voila - easy homemade taco bowl!
Time Saving Tips!
Although all the components for this vegan taco bowl are easy to make, here are a few subs for a speedier version: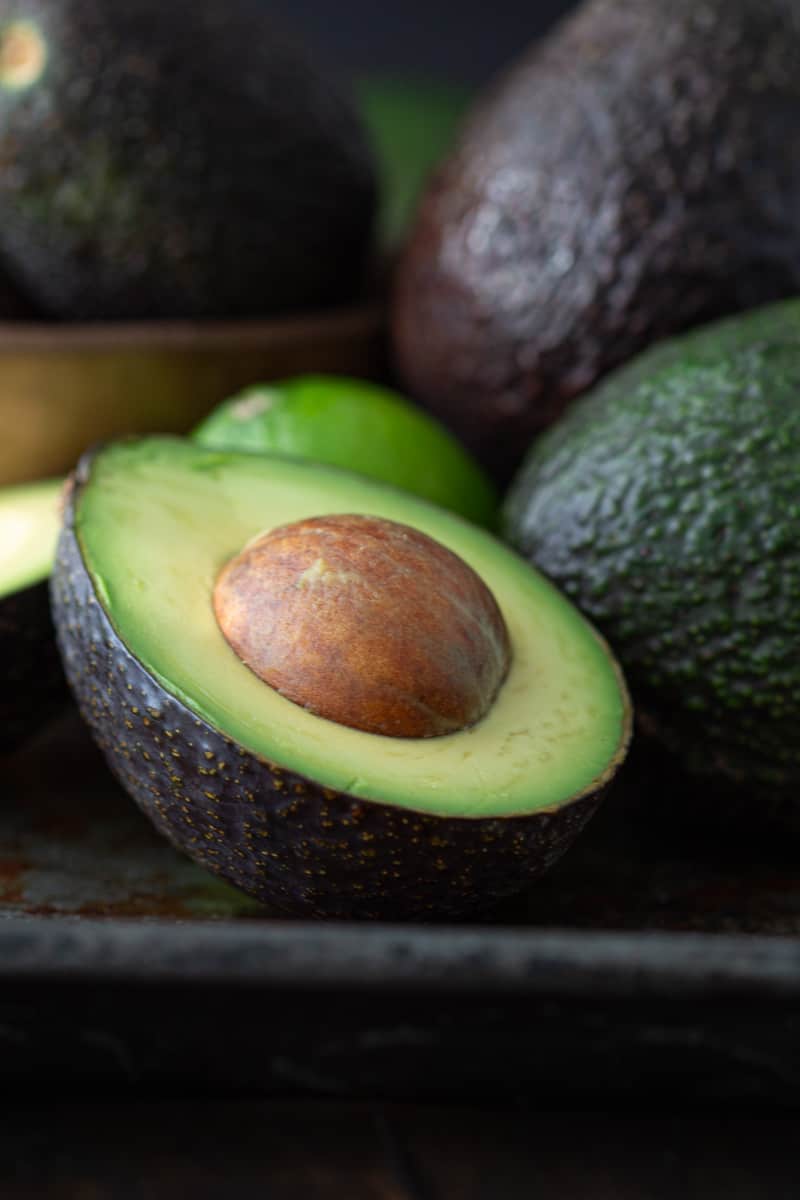 Guacamole Substitution - chopped avocado or store bought guacamole.
Pico de Gallo Alternative - cherry tomato halves or chopped tomatoes with a squeeze of lime juice and salt or buy pico at the market.
Slaw Substitution - bag of shredded cabbage dressed with lime juice and salt.
Rice Option - save time by bulk cooking rice on the weekend and freeze or skip the rice altogether. I do rice about half the time (winter).
Drizzle/Sauce - use store bought vegan ranch or creamy chipotle (try Follow Your Heart brand).
Vegan Taco Bowl Sauce Recipes
The two most popular taco bowl sauce recipes in our house:
Firecracker Dilly Sauce (recipe below) - dang delicious.
Creamy, smoky, chipotle drizzling sauce - ¼ cup Vegenaise, 2 tbsp chipotle in adobo sauce, ½ lime. Place everything in the blender and mix until smooth. Stores well in the fridge for up to a week (so you could double it cause it's yummy on everything!).
I'm quite a saucy vegan - if you are too, check out more dairy-free, oil-free drizzling sauces on my Vegan Sauce and Dressing page.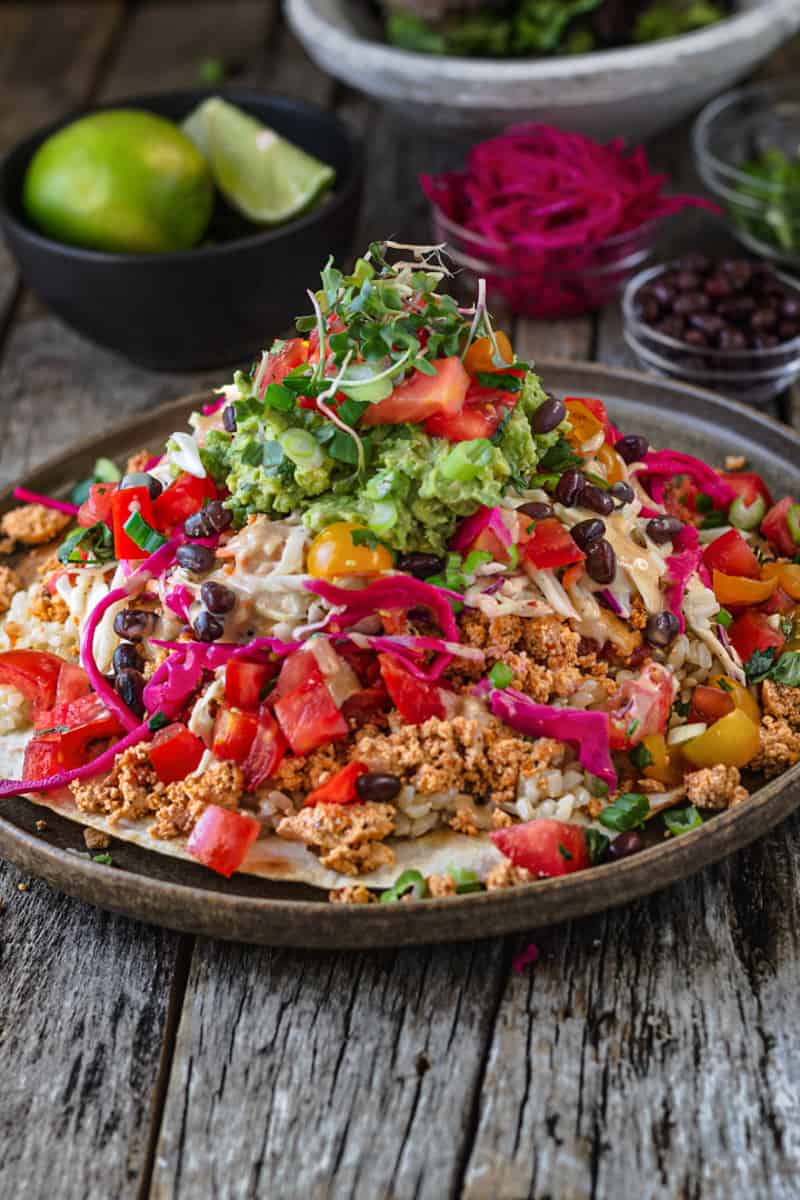 More Easy Everyday Vegan Recipes
Here's some more easy, nourishing, vegan dinner ideas:
Tofu Satay Noodle Bowl
Cauliflower Chickpea Taco
Black Bean Stuffed Sweet Potatoes
Savory Chickpea Pancakes
Did you make these spicy Tofu Taco Bowls? I'd love to see it!
Please leave a rating and review at the bottom of the recipe.
Tag me on IG @ceeceecooks and Facebook
DON'T MISS A RECIPE: Sign up for my email NEWSLETTER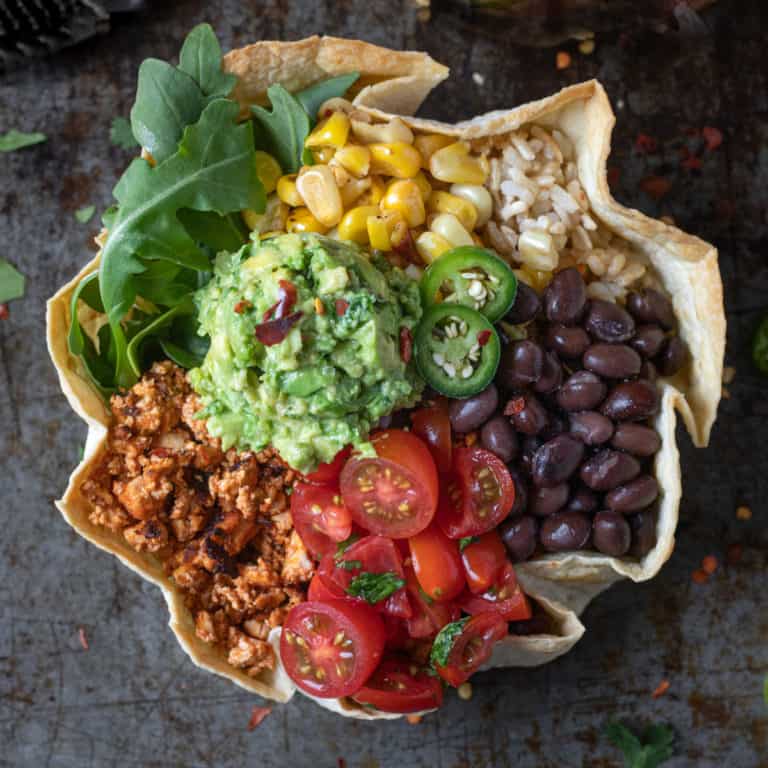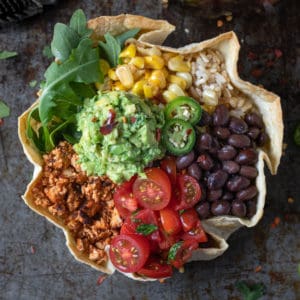 Easy Vegan Taco Bowls
Simple vegan taco bowl recipe made with spicy tofu taco meat crumbles, guacamole, pico de gallo and black beans. It's quick, easy, and healthy for those weeknight meals when you want something substantial but also light and nourishing. You're going to LOVE this incredible vegan buddha bowl served in a crispy homemade tortilla bowl shell!
Rate this recipe!
INGREDIENTS
Tofu Crumble and Rice
1 ⅓

cups

cooked rice

350 g

block

tofu, extra firm

2-3

tablespoons

taco seasoning*

1

teaspoon

garlic powder

1

tablespoon

dry oregano

2-3

tablespoons

tomato paste

¼

cup

water

2

teaspoon

coconut sugar (or maple syrup)

1

cup

salsa

2-3

teaspoons

chipotle pepper sauce (Tabasco)

¼-1/2

cup

water for thinning
Firecracker Dilly Drizzle + Slaw Dressing
½

cup

Vegenaise

3-4

tablespoons

jalapeno juice, pickle juice, lemon or vinegar

8+

pickled jalapeno slices, chopped

1-2

cloves

garlic, minced

1

teaspoon

cracked black pepper (to taste)

1

teaspoon

hot pepper flakes

2-4

tablespoons

fresh dill, chopped

2-3

cups

cabbage, shredded
Crispy Tortilla Bowl or Plate
4

tortillas (medium or large)
INSTRUCTIONS
Tofu Crumble and Rice
If you don't have cooked rice, make 1 cup basmati or brown rice now (if using).

Gently squeeze excess water from the block of tofu by wrapping it in a few sheets of paper towel or a clean kitchen towel.

Heat 1 tablespoon of oil over medium-high heat until shimmery. Crumble the block of tofu into the skillet. Cook for about 3 or 4 minutes without stirring.

Sprinkle with taco seasoning, garlic powder, and oregano. Stir to incorporate.

Let cook for another 3-4 minutes without stirring.

Mix together the tomato paste and ¼ cup of water plus coconut sugar. Add it and the salsa to the tofu and fry over medium to high heat for ~5 minutes. Stirring frequently.

Add the chipotle tabasco sauce and up to ¼ cup more water as needed.

Simmer over medium-low until the tofu taco filling is thick and cooked down.

Taste and adjust seasoning to your personal preference.
Guacamole Recipe
Make this delicious guacamole recipe while the tofu filling is cooking (worth it) or if you prefer, simply dice an avocado.
Pico De Gallo Recipe
Make this simple pico de gallo recipe or if you prefer cut about 10-12 cherry tomatoes in half (or quarters), sprinkle with lime juice and salt (to taste).
Slaw
Mix together half the firecracker dilly sauce into 2 cups of shredded cabbage.
Firecracker Dilly Drizzle (this stuff is fabulous!)
In a small mixing bowl, whisk together the ingredients for the drizzle. Use half in the slaw and pass the rest for drizzling.
Optional Toppings
grilled corn (fresh or frozen) - a must in the summer!

beans (black, pinto, chickpeas) - I always add black beans.

pickled onions, cabbage or hot peppers - recommended

greens (serve on a bed of assorted greens) - easy way to add nutrients

homemade taco bowls or warm crispy tortilla plates

vegan cheese crumbles or grated cheese
Crispy Tortilla Bowl or Plate
For the tortilla bowl: Warm a tablespoon of oil in a skillet over medium-high heat. Heat the tortillas for 30-40 seconds on each side. Remove from the skillet with tongs.

Press the tortilla into an ovenproof bowl (I used a kitchen towel to protect my hands). Place the bowl/s on a baking sheet in a preheated 350º F oven for 10-12 minutes until crispy.

For a tortilla plate: warm a medium tortilla on a dry skillet until crispy on both sides.
Assembling the Taco Bowl
Place a hot, crispy tortilla on a plate, layer on the greens, rice, tofu taco meat, beans, corn, slaw, pico, pickled peppers, guacamole and a liberal drizzle of firecracker sauce.

If using the tortilla bowl, fill the bowl with greens and rice on the bottom and then make piles of the rest of the ingredients. Top with a generous drizzle of firecracker sauce.
NOTES
I make the tortilla bowls when I'm feeling fancy, but usually just toast tortilla shells on a dry griddle for a minute or two on each side.
Rice is optional depending on how hungry everyone is. Usually in the winter, I'll add the rice for a heartier bowl.
For the express bowl version, use your favorite store-bought brands of guacamole, salsa, pico de gallo, pre-cut slaw, and favorite sauce for drizzling.
Set everything up to create a taco bar like they do at Chipotle. It's fun for everyone to create their own taco bowl.
This recipe is from simplyceecee.co food blog. All images and content are copyright protected. Please do not use my images or republish this recipe without prior permission. Thank you.