These black bean stuffed sweet potatoes are easy to make and bursting with flavor and freshness. Loaded with plant-based protein and fresh veggies, these nourishing sweet potatoes are a family favorite just like my taco stuffed sweet potatoes! A simple, healthy lunch or weeknight dinner to feed your family.
If you love sweet potatoes, you've hit the jackpot. This is the mother of all stuffed sweet potato recipes. Filled with black beans, tomatoes, avocado, and a delicious dilly hummus drizzle, this flavor pairing is epic. Keep reading for step by step instructions, lots of tips and alternatives . . .
Ingredients You'll Need
This Mexican spiced sweet potato is made with fresh, basic ingredients. Gather together sweet potatoes, black beans, tomatoes, red onion, avocado, fresh dill and cilantro, hummus, fresh lime and warming spices like cayenne, cumin, paprika and cinnamon.
Substitutions & Variations
These Mexican-inspired baked sweet potatoes are the perfect beginning to a delicious (and nutritious) vegan meal. It's so versatile, feel free to put your own fingerprints on the combination of flavor and textures you add. Here's a few ideas:
chickpeas - add chickpeas (raw or baked) for flavor and extra texture. You can bake them in the oven (see below) or make them ultra crunchy with this simple air fryer chickpea recipe.
vegan sauce - the dilly hummus is outstanding with these stuffed sweet potatoes, however, for a flavor variation try another sauce like: Sweet and Spicy Tahini Sauce and Vegan Tzatziki, Southwest Sauce or Spicy Cashew dressing (Tex-Mex).
avocado - dice, slice or skip the avocado if you don't like it. Or if you're obsessed with guacamole like my family is, make this quick vegan guacamole recipe.
add more toppings - top with pickled red onions, dairy free coleslaw or corn chips for extra crunchiness.
MILLION DOLLAR TIP (leftovers)- to make this meal (or the leftovers) stretch further, add a scoop of quinoa, rice, bulgur or couscous. Include some grilled frozen corn and a diced red or orange pepper.
How to Make Vegan Stuffed Sweet Potatoes
This is an easy recipe to manage.
Preheat the oven.
Prep the sweet potatoes and chickpeas (if using) - pop into the oven.
Make the dilly hummus or vegan sauce of choice.
Slice the avocados or make guacamole.
Drain and rinse the black beans.
Slice the tomatoes and green onions, and chop the cilantro/dill.
Once the sweet potatoes are baked, pile with fillings, drizzle with sauce, garnish, and ENJOY!
Are Sweet Potatoes Healthy?
You betcha!!! Besides tasting incredible, sweet potatoes pack a gigantic nutrient punch. Dr. Greger (How Not to Die) says that sweet potatoes are ranked one of the healthiest and cheapest superfoods for vegan, vegetarian and plant-based meals. Their antioxidant power (skin on) approaches that of blueberries.
Sweet potatoes really are a superfood. You can serve them with almost anything - sweet or savory. Spoon vegan chili or bolognese sauce over baked sweet potatoes with a drizzle of cashew cream for a healthy vegan meal!
TIPS: How to Bake Sweet Potatoes (2 ways)!
Whether you bake or roast your sweet potatoes, both are delicious and both are baked without oil. The baked version is perfect for small - medium size potatoes they are sweet and tender. The roasted version is a great choice for medium to large size sweet potatoes. They are deliciously sweet and caramelized.
How to BAKE Sweet Potatoes
Preheat oven to 425º F. Add a slice of parchment paper to a baking sheet.
Wash and pat potatoes dry. Pierce with fork a number of times.
Place on baking sheet in oven. Don't wrap in tinfoil - you want the skin to get crispy and caramelized.
Cook for 30-45 minutes* or until tender when gently squeezed or fork tender.

*The cooking time will vary depending on size of sweet potatoes.
How to ROAST Sweet Potatoes
Slice in half lengthwise. Sprinkle the cut side with lime juice, a light dusting of cinnamon, cumin, and garlic powder. Flip over and place cut side down on a parchment-lined baking sheet. Bake in oven until soft and caramelized around 20-30 minutes.
NOTE: The timing will vary depending on how big the potatoes are and how hot your oven runs. Check on them periodically by gently squeezing them to check for softness or until they are easily pierced with a fork.
PRO TIP: you can remove some of the cooked potato if it's a BIG potato and save it in the fridge for use later in a taco bowl, chili, or vegan taco.
Is it okay to eat Sweet Potato Skins?
Yes! The potato skins have a lot of nutrients! I love the the crisp caramelized texture - drizzle with sweet and spicy tahini and a sprinkle of chopped green onions.
Other ways to serve baked sweet potato skins: Loaded and twice baked with cheese and onions they're a real crowd pleaser! Or seasoned potato peelings? Toss with a sprinkle of seasoning and oil then baked, deep fried or cooked in the air fryer to crispy perfection - must try!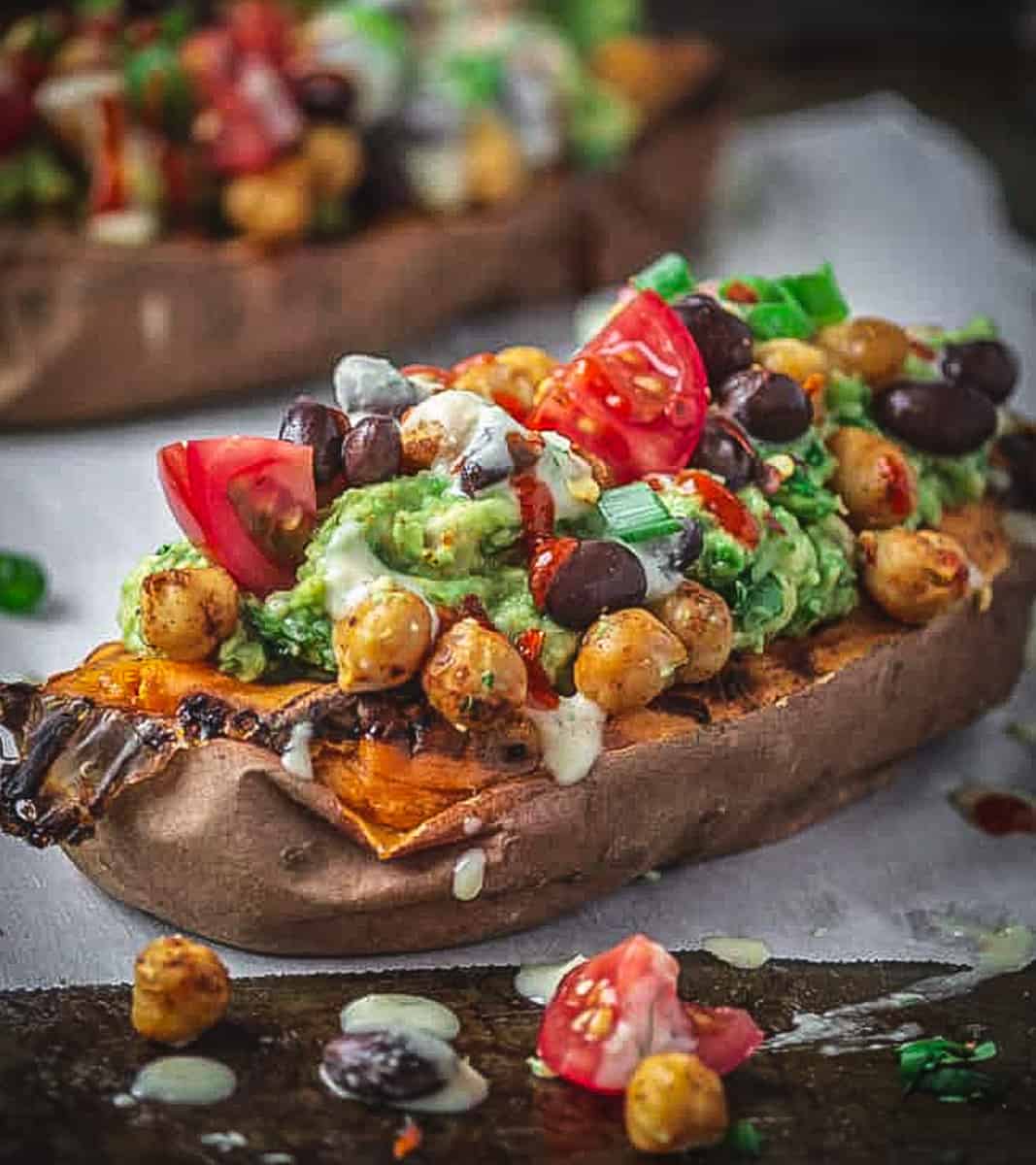 More Delicious Vegan Recipes
If you're look for some more delicious vegan dinner ideas, here's a few of our favorites:
Did you make this recipe? I'd love to see it!
Please leave a star rating and comment at the bottom of the page.
Thank you so much for sharing! Tag me on Instagram
For more Vegan Recipes: Sign up for my email NEWSLETTER!
Easy Black Bean Stuffed Sweet Potatoes (gf)
Sweet potato lovers rejoice! This Mexican inspired, black bean stuffed sweet potato recipe is a scrumptious, flavorful, healthy meal for lunch or dinner! It's easy to make, protein rich, gluten-free, oil-free, dairy-free and super yummy. Perfect make ahead or meal prep recipe that everyone loves!
Rate this recipe!
INGREDIENTS
2

medium

sweet potatoes, cut in half*

½

medium

lime, juiced

½

teaspoon

cinnamon

½

teaspoon

cumin

19 oz

can

black beans, drained and rinsed
Dilly Hummus Drizzle
½

cup

hummus (store bought or homemade)

2-3

cloves

garlic, minced

½

medium

lemon, juice (to taste)

⅛

teaspoon

cayenne pepper

½

teaspoon

smoked paprika

¼

teaspoon

maple syrup

1-2

tablespoon

fresh dill, finely chopped

1-2

tablespoon

plant-based milk (for thinning)
1

large

avocado, sliced or diced
Baked Sweet Potato Toppings
12

cherry tomatoes, halved

2-3

green onions, sliced

cilantro, chopped

sriracha sauce
Optional Add Ons
19 oz

can

chickpeas

1

cup

cooked quinoa, rice or couscous
INSTRUCTIONS
Bake the Sweet Potatoes
Preheat oven to 400º F.

Prepare baking sheet with parchment paper.

Wash sweet potatoes, pat dry, and cut them in half lengthwise (leave skin on).

Squeeze lime juice on cut side of sweet potatoes. Sprinkle with a pinch of cinnamon, cumin, and salt.

Place cut side down on baking sheet.

Bake for 25-40 minutes until soft and caramelized (cooking time will vary depending on size, how hot your oven runs, etc. - when you check them give a gentle squeeze - they should feel soft or easily pierced with a fork).
Roasted Chickpeas (optional)
1, 19 oz can of chickpeas (drain, rinse, pat dry, place in a bowl).

Toss with 1 teaspoon garlic powder, 1 teaspoon onion powder, 1 teaspoon cumin, 1 teaspoon chili powder, 1 teaspoon oregano, pinch of salt, juice of ½ lemon (or lime), hot pepper flakes to taste.

Spread in a single layer on the baking sheet with sweet potato halves or on their own baking sheet.

Place in the oven (stir the chickpeas after 15 minutes - then check them after another 5 minutes - they will have to come out before the potatoes depending on how big your potatoes are). See air fryer instructions below!
Dilly Hummus Drizzle
Use store-bought hummus or homemade Hummus

Whisk together all the ingredients (except milk) in a small bowl. Taste and adjust seasoning per taste. Thin with milk to drizzle consistency.
Slice the avocado or cut it into chunks to sprinkle over the baked sweet potatoes or make a quick guacamole recipe (recipe linked above)
Putting It All Together (quick and easy)
Cut the tomatoes, green onions, and some dill (garnish) while the sweet potatoes are baking.

Once baked, pinch in the sides of the potatoes to break up the flesh. Then rough up the top of the potatoes with a fork if needed.

Sprinkle with black beans (or chickpeas if using), add a scoop of guacamole or diced avocado, drizzle with dilly hummus and sriracha sauce. Top with lots of juicy tomatoes, green onions, and chopped dill or cilantro.
NOTES
SWEET POTATOES: Choose smallish to medium sweet potatoes so they cook faster. Select potatoes that are close in size to each other so they cook at the same speed.
OPTIONAL TOPPINGS: Roasted chickpeas and guacamole are extra (ha ha). But they add lots of texture, flavor, and nutrients. Please feel free to customize this baked sweet potato to your preferences and dietary needs. 
AIR FRYER CHICKPEAS: check out this post for the crunchiest, easiest air fryer chickpeas. They make an incredible high-protein vegan snack too. Plus the recipe includes a delicious crunchy chocolate bark to make with leftover chickpeas.
LEFTOVERS: Delicious for lunch or dinner the next day, these stuffed sweet potatoes are easy to reheat for a quick and healthy vegan meal in minutes. OR add a scoop of quinoa/rice to stretch the leftovers and serve with a rainbow side salad and steamed broccoli for dinner.
STORAGE: Store the components separately in the fridge and then compile when ready to eat for best textural results.
Recipe Inspiration from The Minimialist Baker
This recipe is from simplyceecee.co food blog. All images and content are copyright protected. Please do not use my images or republish this recipe without prior permission. Thank you.
Original post July 2019