If you're on the fence about tofu or you want to impress a friend with a tofu dish, this is it! This spicy peanut tofu bowl is so easy to make, the flavors are completely addictive and the texture is unbelievable. Everyone loves this quick and easy tofu noodle bowl.
Keep reading as I guide you through the easy steps for making this delicious and healthy, spicy peanut tofu noodle bowl. For a deep dive into cooking and seasoning tofu, check out my post: How to cook tofu that tastes good!
Spicy Peanut Satay Tofu Bowl Ingredients
Packed with the most scrumptious saucy tofu, crunchy veggies and rice noodles, this noodle bowl is everything! Here's what you'll need.
TOFU - Choose firm or extra-firm tofu for the best results. Tofu texture and its ability to soak up sauce is greatly improved by pressing excess water from the tofu. Just wrap the block of tofu in some paper towelling or a clean kitchen towel, and place a few heavy cookbooks on top for 10 minutes or more. The tofu is then baked and quickly fried in the spicy peanut sauce which makes it thick, sticky, and completely irresistible.
Pro Tip: In my experience people who 'hate' tofu (or won't even try it) haven't had tofu that is properly prepared or spiced. This recipe and method is going to change all of that - I promise!!!
Reader Review: 'This "Spicy Satay Tofu Noodle Bowl" is so delish. I have tried tofu recipes a couple of times ... but were without the wow factor. This is the recipe that makes tofu so versatile, tasty and healthy! It is now on the weekly menu.' Colleen
SATAY PEANUT SAUCE - I double up this easy peanut sauce recipe and store the leftovers in the fridge to use later in the week. It's super easy to make and will elevate anything and everything you drizzle it on. Pro Tip: Serve leftover peanut sauce as a dipping sauce for salad rolls, drizzle it on pizzas, tacos, tofu scrambles, and buddha bowls. It's all good!
VEGETABLES - This tofu peanut bowl is super adaptive! Use any vegetables you have on hand for example radishes, sprouts, broccoli or edamame beans are a delicious addition. As well, mint adds a lovely summery freshness.
I typically use rice noodles, but soba or zucchini noodles, rice or quinoa are delicious gluten-free choices as well. This bowl is delicious served hot or cold and really causes a stir at the office if you take it for leftovers. No joke!!
While there are a few steps, they're all easy, and worth it. I've included a few suggestions below for managing your time.
Tips for Making a Delicious Tofu Noodle Bowl
While the tofu is pressing, stir together the marinade and the satay peanut sauce.
Cut tofu into cubes, toss with marinade and cornstarch. Pop into the oven.
While the tofu is baking, prepare the rice noodles and vegetables. Pro Tip: Chopping adverse? Skip the chopping and buy pre-cut veggies in the produce aisle at the grocery store!
Toss everything together, sauce it up, add the garnish, and serve with extra sauce, sriracha, chopped peanuts, and lime wedges.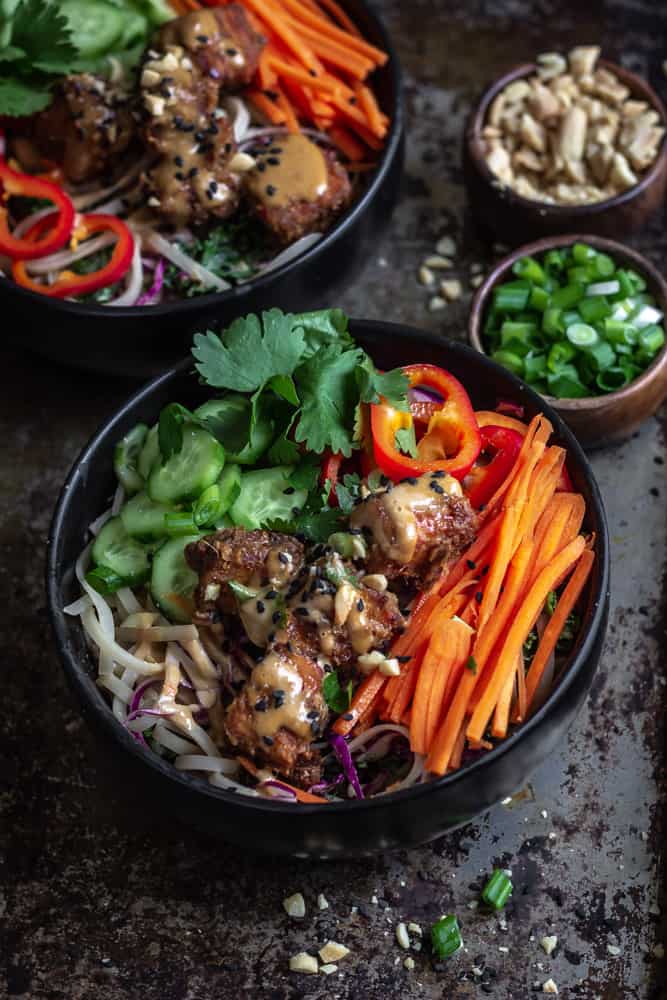 More Easy Vegan Buddha Bowl Recipes
If you like plant-based buddha bowls like my family does, try some these easy vegan bowls for dinner:
Spicy Taco Buddha Bowl - easy to make, delicious and healthy plant-based bowl.
Ultimate Mediterranean Bowl with Greek Potatoes - those Greek potatoes tho!!!!
Mexican Rice and Chorizo Bowl - spicy chickpeas and amazing Mexican red rice.
Sweet and Spicy Jackfruit Bowl - family favorite vegan bowl with smoky jackfruit.
Did you make my delicious, healthy Spicy Peanut Tofu Bowl recipe?
Leaving a comment and star rating helps others discover my blog and recipes. Please share your photos with me on IG @ceeceecooks and Facebook, I love to see your re-creations!
NEVER MISS A RECIPE: Sign up for my email NEWSLETTER
Spicy Satay Tofu Noodle Bowl
This incredible Satay Tofu Noodle Bowl recipe is spicy, saucy, and totally addictive! It's an easy to make, healthy, flavorful recipe that is oil-free, gluten-free, vegetarian, and vegan. Everyone loves this scrumptious Buddha bowl - vegan or not!
INGREDIENTS
TOFU & TOFU MARINADE
350

grams

organic tofu block

2-3

tbsp

soya sauce or tamari

1

tbsp

chili sauce

1

tsp

maple syrup

½

tsp

sesame oil (optional - for flavour)

3-4

tbsp

cornstarch
SATAY (PEANUT) SAUCE
4-5

tbsp

peanut butter

¼

cup

orange juice or any

2-4

tbsp

lime juice

3

tbsp

soya sauce (tamari)

2

tbsp

maple syrup, to taste

1

tsp

sesame oil (optional - for flavour)

1-2

cloves

fresh garlic, minced or grated

1-2

tsp

fresh ginger, minced or grated

3-4

tbsp

sriracha (more or less to taste)

1-3

tbsp

hot water, for thinning
VEGGIES & NOODLES
2-3

servings

rice noodles, cooked

2+

cups

cabbage, shredded

2

carrots, julienne

1

large

cucumber (or 3-4 mini), julienne

1

red, orange or yellow peppers, sliced thin
GARNISH
1

handful

cilantro mint basil, chopped

2-3

green onions, sliced

½

cup

peanuts, crushed

1

lime, quartered
INSTRUCTIONS
Preparing the Tofu
Wrap the tofu block with a few sheets of paper towelling or a clean dish cloth. Put a couple heavy cookbooks on top and let it press for 10 minutes.
Tofu Marinade
Whisk together the marinade ingredients (not the cornstarch): soy sauce, chili sauce, maple syrup, and sesame oil (if using) in a large bowl. Set aside.
Cooking the Tofu
Preheat oven to 400º F.

Prepare a parchment lined baking sheet.

Cut the pressed tofu into ¾ - 1" pieces.

Toss the tofu cubes with the marinade. Then sprinkle with cornstarch - toss until sticky and coated.

Arrange on a baking sheet in a single layer and bake for 15-18 minutes (flipping halfway through).

Remove tofu from oven and place it in a hot cast iron skillet with ½ cup of the peanut satay sauce and cook over medium to high heat until thick and sticky (2 minutes). This really elevates the tofu texture and flavour.
Peanut Satay Sauce
Whisk together the peanut butter, orange juice, lime juice, soya sauce, maple syrup, sesame oil (if using), garlic, ginger, and sriracha until smooth. Add a tablespoonful or two of hot water until sauce is desired thickness.
Everything Else
While the tofu is in the oven, prepare the rice noodles as per package instructions.

Shred cabbage (white and purple) or use a pre-shredded, organic slaw mix.

Julienne or cut the cucumbers and carrots (I use this peeler).

Cut the peppers into thin slices.
Putting It All Together
In a large bowl, toss the noodles together with enough sauce to coat everything.

Top with vegetables and tofu cubes. Garnish with cilantro, basil, green onions, and crushed peanuts. Pass with extra sauce, sriracha, and lime wedges.
NOTES
Tofu - you can skip the last step (heating in the skillet with sauce) and just add the baked tofu to the noodles and toss with satay sauce (but I wouldn't!).
Veggies - sub in any vegetables you enjoy or have on hand.
Peanut Sauce - the peanut sauce stores well in the fridge the whole week. You can also pop it into the freezer. Bring to room temperature before using.
This recipe is from simplyceecee.co food blog. All images and content are copyright protected. Please do not use my images or republish this recipe without prior permission. Thank you.
Originally posted in May 2019, reposted in May 2021 with updated photos and instructions.