This sizzling pan fried tofu recipe is incredible on its own, but pair it with your favorite tofu sauce or marinade and you've got a tasty meatless dinner that's ready in under 30 minutes. Plus tofu is high protein, low carb, and gluten free!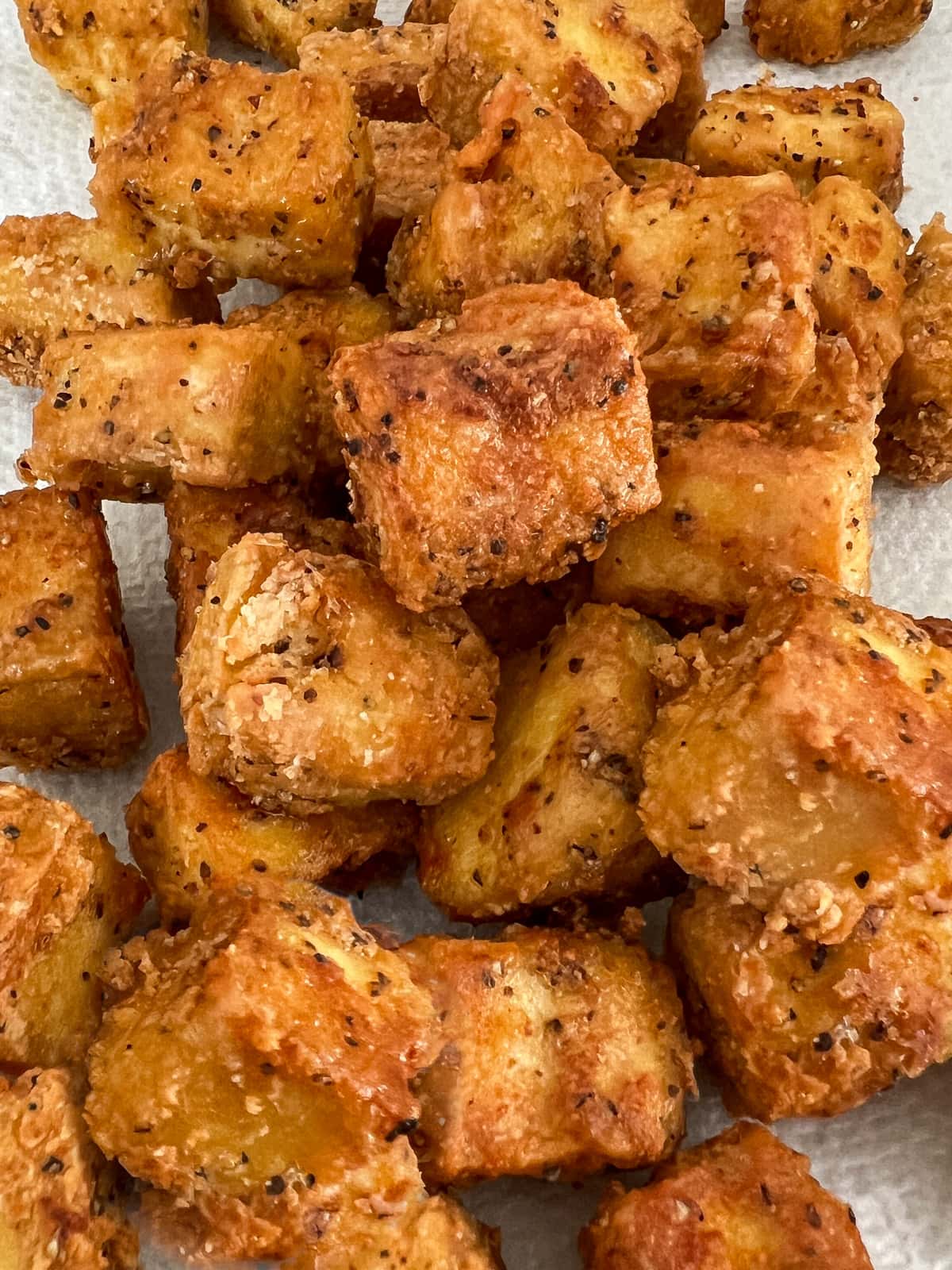 We're huge tofu fans at my house. And when busy weeknights call for a quick and healthy dinner recipe, my go-to option is none other than tofu! Whether it's pan fried, oven baked tofu, air fried, crumbled or marinated tofu this versatile plant protein delivers a tasty meal in 30 minutes or less.
Today I'll show you how to make delicious pan fried tofu that's perfectly golden brown and crispy on the outside and succulent and tender on the inside! Trust me, this fried tofu is completely irresistible on its own, but it's equally amazing bathed in an Asian sesame garlic sauce (recipe below). Or enjoy it as teriyaki tofu, orange tofu, honey garlic tofu or lemon pepper tofu.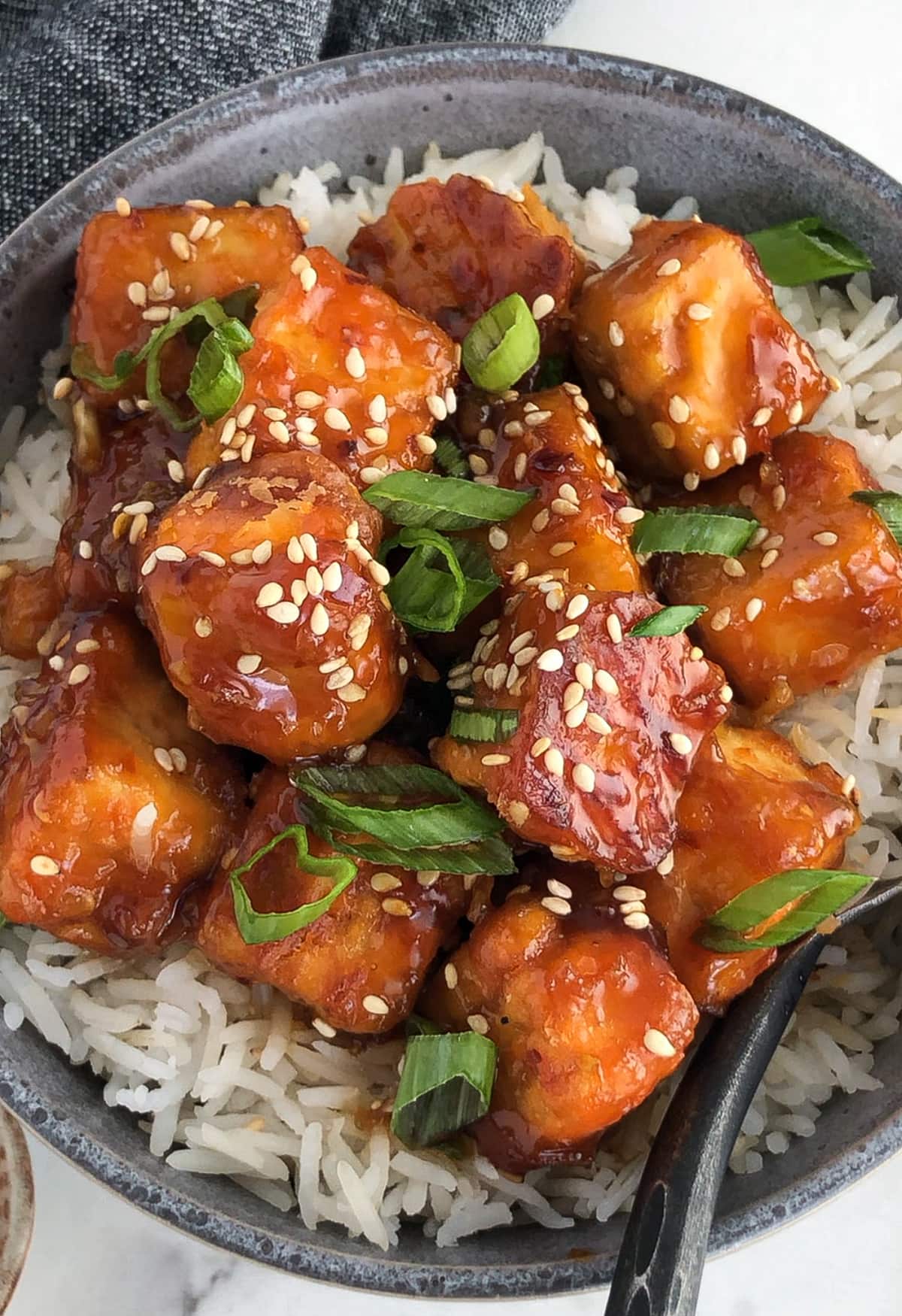 Why Everyone Loves Pan-Fried Tofu
I've converted A LOT of tofu resistors into enthusiastic tofu lovers. Here's why:
affordable: tofu is an inexpensive, easy to find, and versatile protein for family dinners
time saving: dinner is ready in under 30 minutes and made in one pan
tastes delicious: every tofu bite is irresistibly crispy and flavorful
best vegan meat substitute: a healthy, low calorie, low carb, plant protein with neutral flavor similar to chicken
special diet and allergy friendly: vegan, vegetarian, plant based, gluten free, nut free
If you love tofu like we do, try this spicy tofu noodle bowl, vegan butter chicken or fluffy tofu scramble next!
Crispy Fried Tofu Ingredients
You'll need two sets of ingredients for this pan-fried tofu if you're making the sesame garlic tofu option: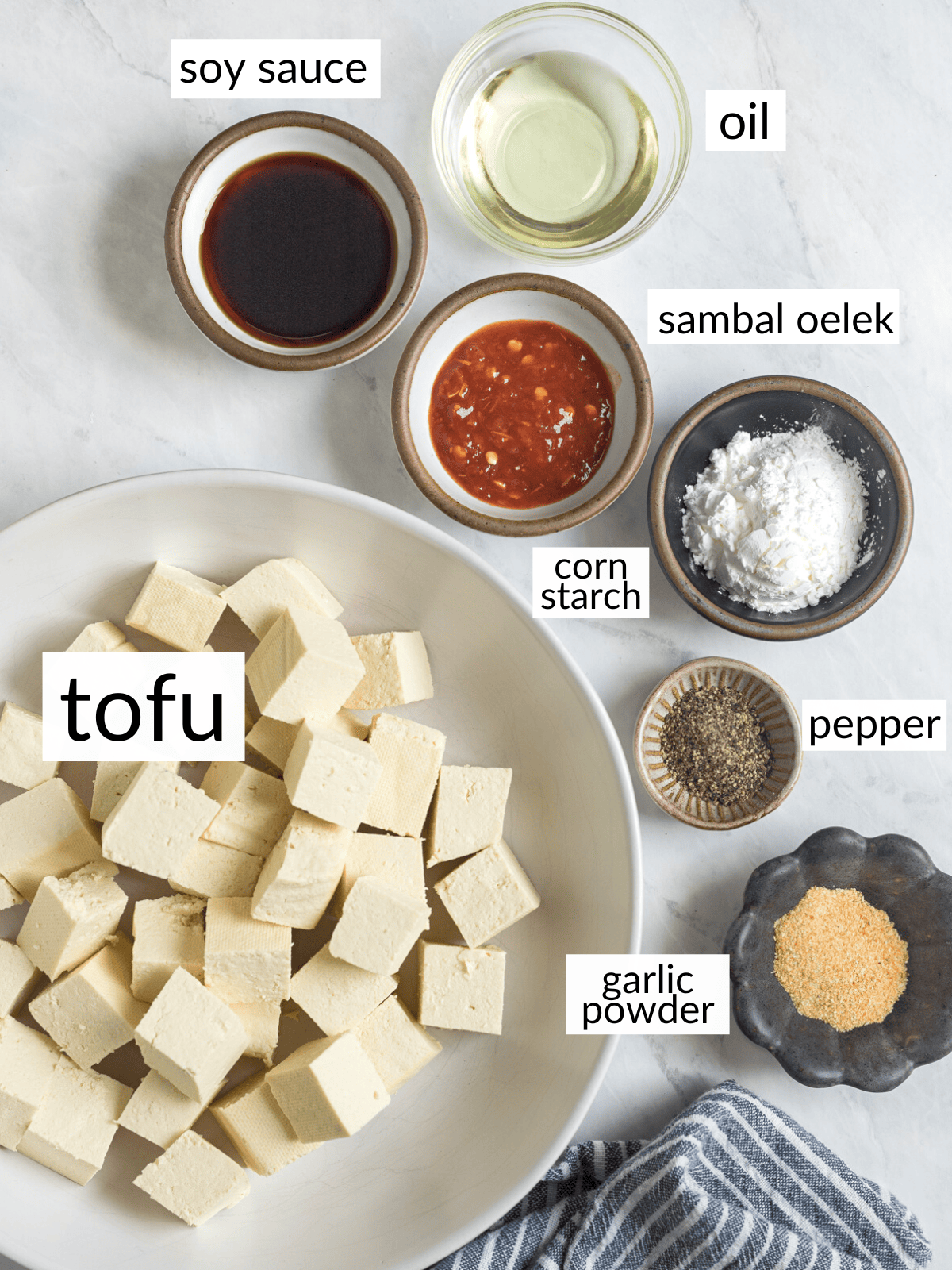 For the tofu:
Tofu: I recommend extra firm tofu for this recipe.
Oil: Use a neutral oil with a high smoke point (eg. canola, sunflower, avocado).
Cornstarch: To boost crispiness.
Tofu Seasonings: Sambal oelek, soy sauce (or tamari), coarse black pepper, garlic powder.
Garnish: I love the flavor of sliced green onions and toasted sesame seeds with this tasty pan-fried tofu.
For the garlic sesame sauce gather together soy sauce (tamari), sambal oelek chilli sauce, oil, maple syrup, vinegar, fresh ginger and garlic, pepper, sriracha, and cornstarch.
How to Make Sizzling Pan Fried Tofu!
I know tofu gets a bad rap for being rubbery and bland. But once, you learn how to season and cook it, you'll be obsessed I'm sure of it!
Follow these easy steps for making crispy tofu with bonus garlic sesame sauce!: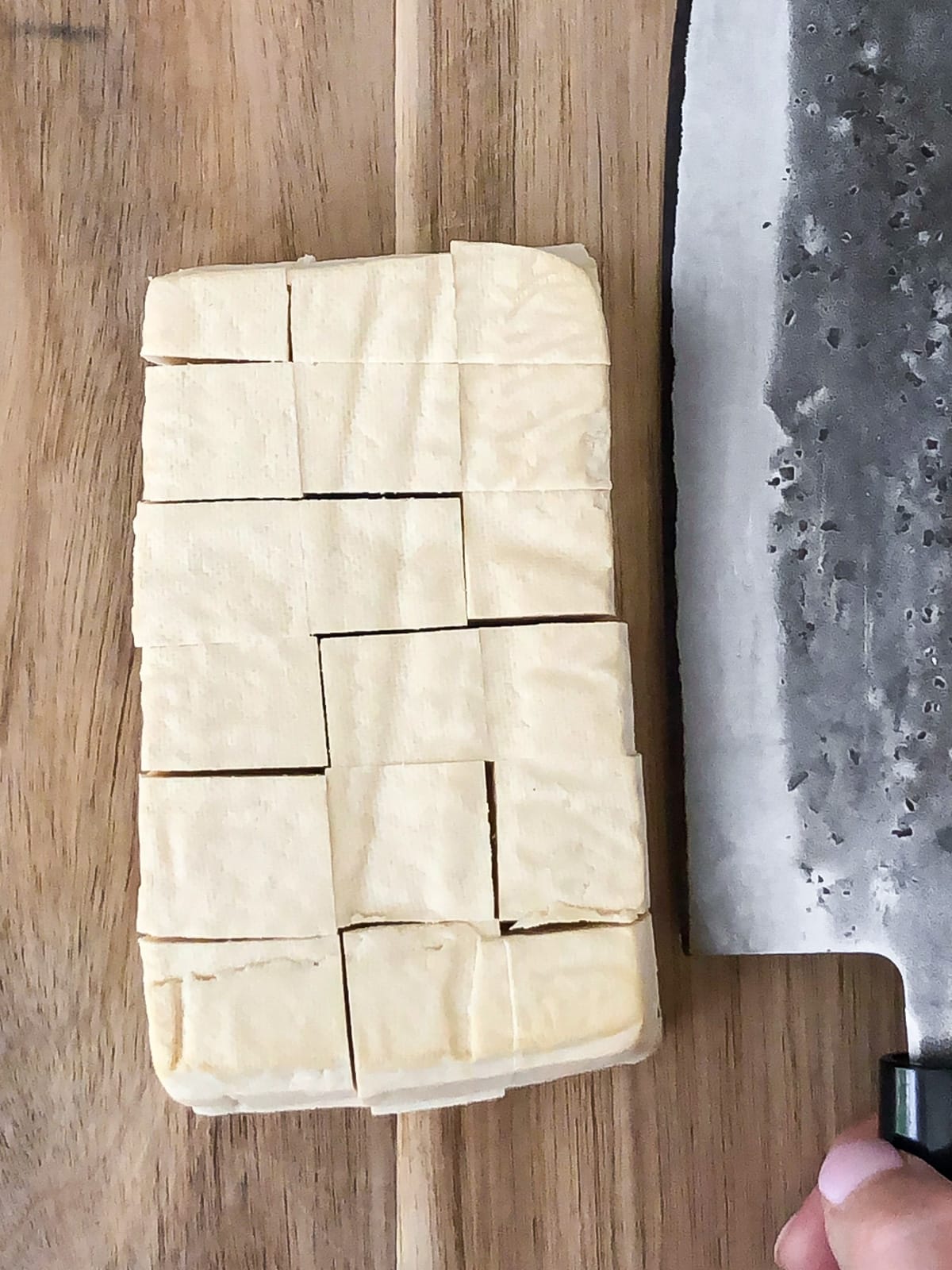 Drain then wrap the extra firm tofu in paper towels and gently squeeze out any excess/surface water. Pat dry.
Cut or break the tofu into bite-size pieces then place into a large bowl.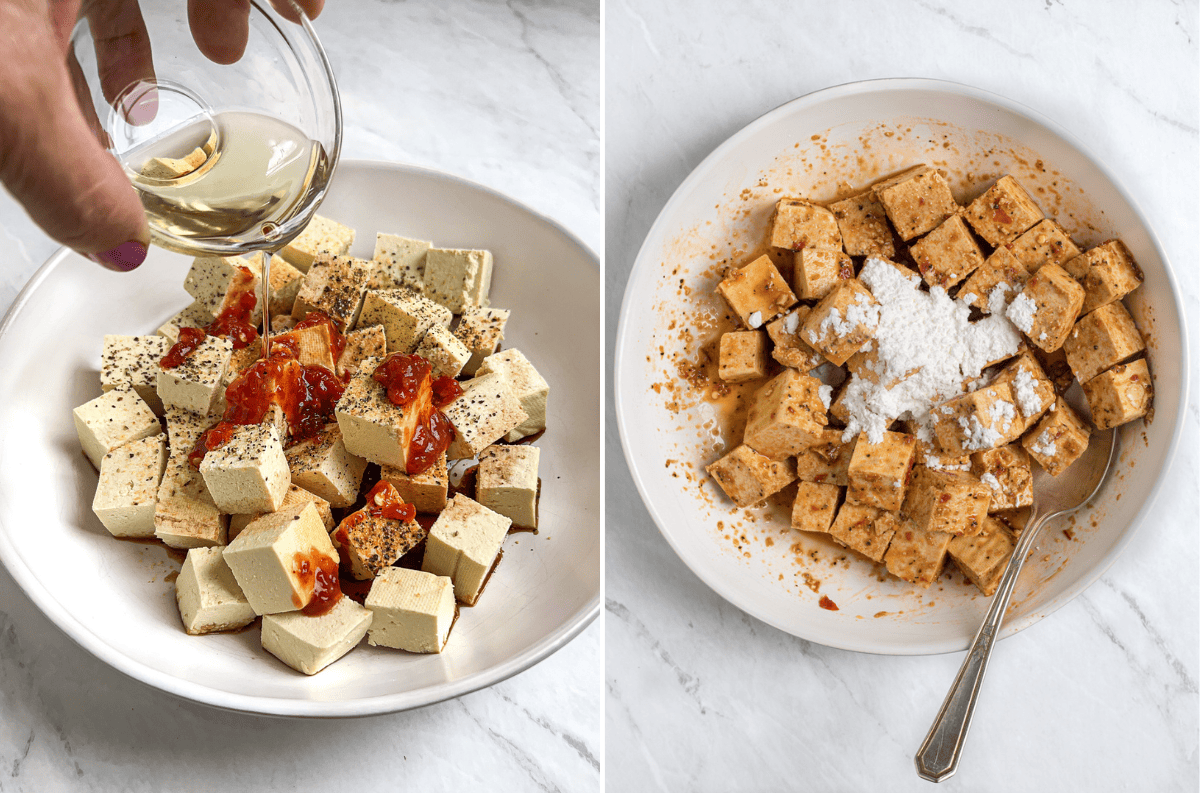 Season the tofu pieces: Pour all the tofu seasoning over the cubes and mix together making sure each tofu cube is evenly coated. Next sprinkle with cornstarch and toss to coat again (no dry spots).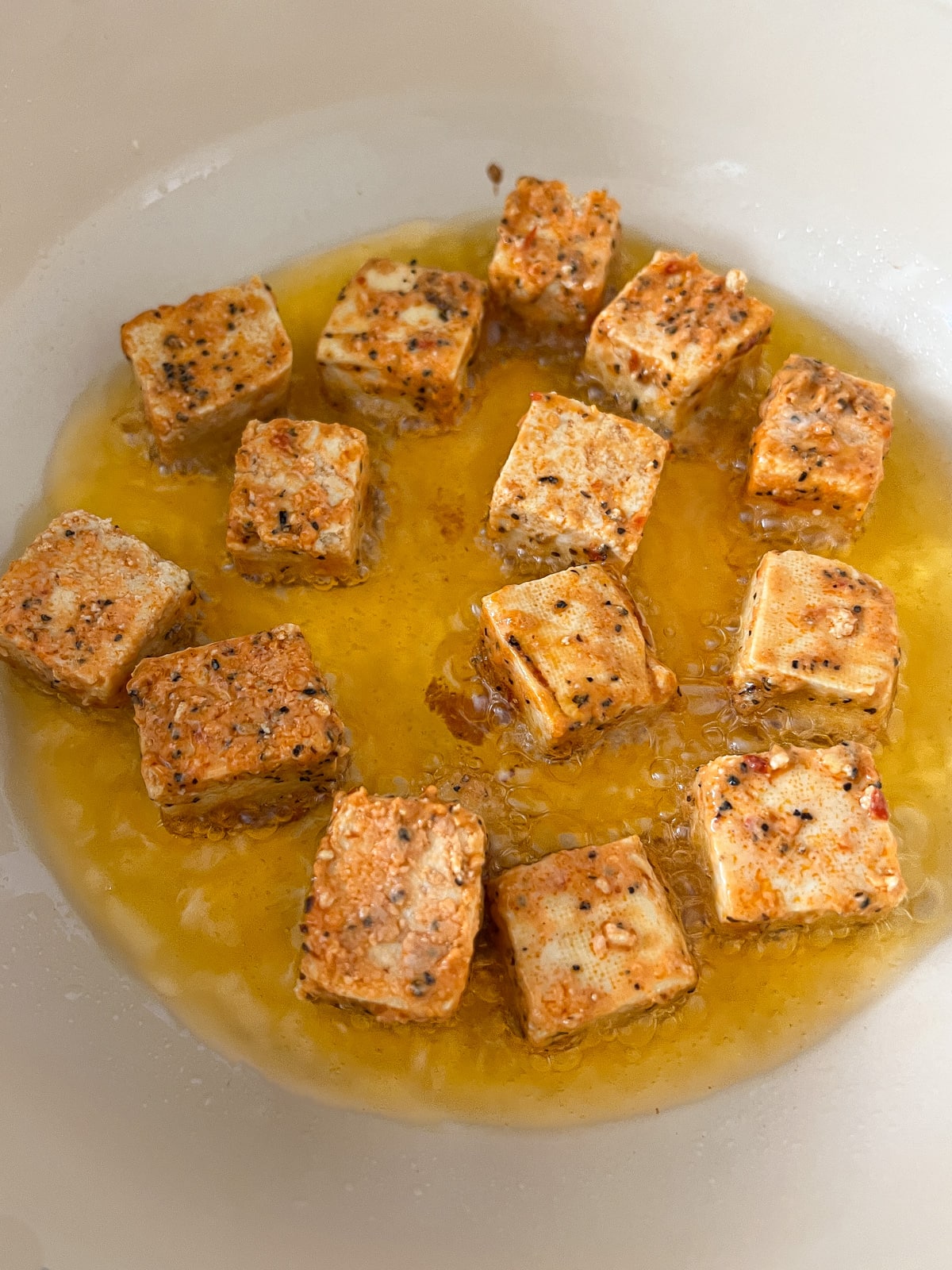 Shallow fry the tofu pieces: Start off by adding enough oil to generously coat the bottom of a skillet. Then when the oil is hot, carefully add the tofu pieces in a single layer. Flip the pieces as they turn golden brown. Pro Tip: I usually flip the tofu just once since the oil comes up the sides of the tofu turning it crispy. If your pieces are larger or the oil is shallow, you may need to flip to get more of the sides crispy.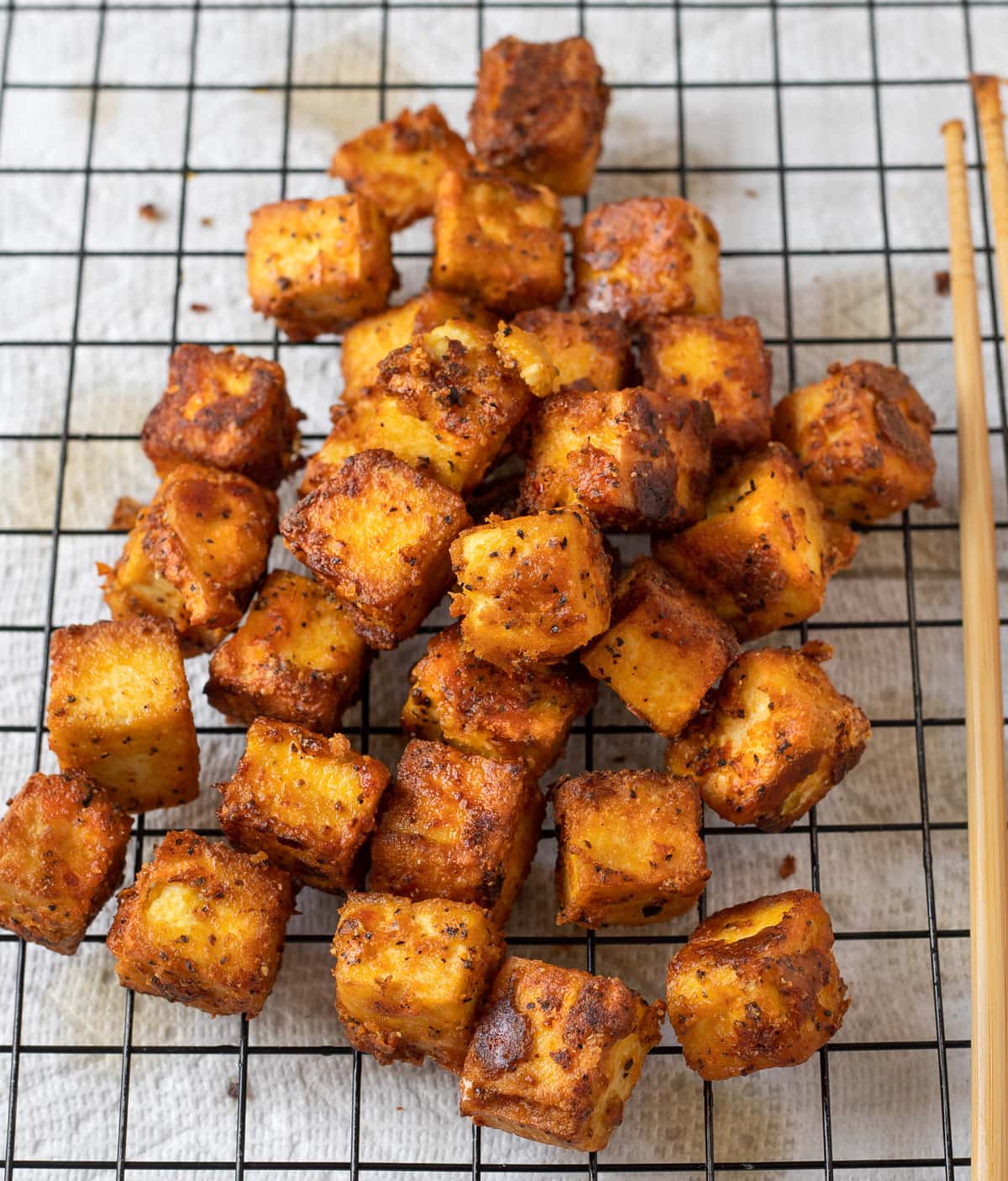 Transfer the cooked tofu to a paper towel to catch any excess drippings. Pro Tip: Use chopsticks, tongs or a large fork to flip and transfer the tofu pieces.
Enjoy AS IS or make a tasty sauce like sesame garlic sauce!
For the sesame sauce, whisk all the ingredient together. Using the same skillet (wiped out), add the sesame sauce ingredients to the pan and cook over medium heat stirring until it begins to thicken. Add the crispy fried tofu to the pan and stir to thoroughly coat.
Serve immediately: Garnish with sesame seeds and sliced scallions. Serve on its own or with a side of rice and veggies for a full meal.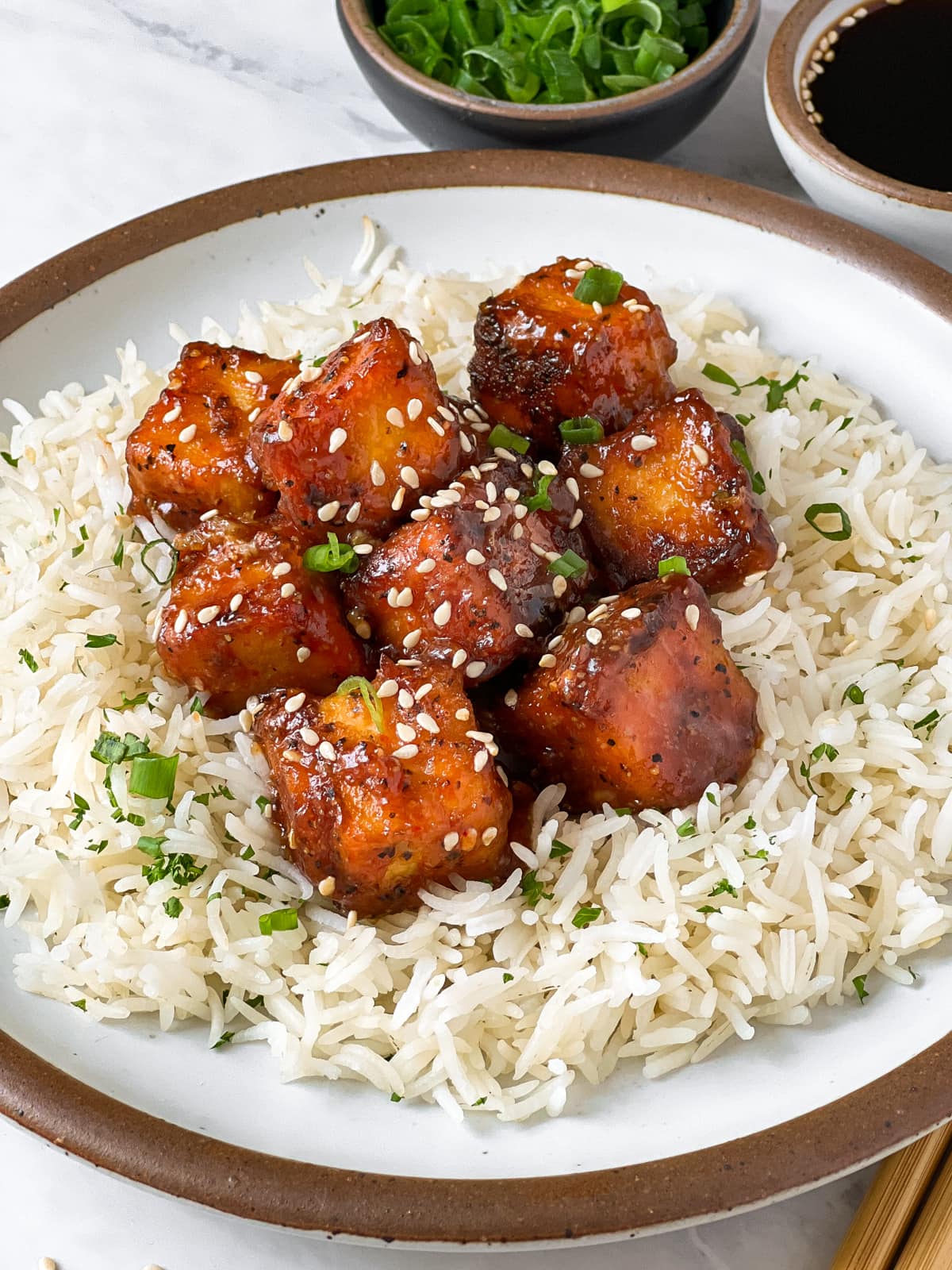 Expert Tips
The magic of this pan fried tofu is its epic texture and incredible flavor. Here's a few tips to help you make perfectly crisp tofu every time:
Choose the right tofu: I recommend extra-firm tofu. It is compressed and has a low water content. There are many different textures of tofu from silken (soft) to extra firm. Tofu density is based on its water content (more water = softer tofu).
Cutting tofu: Cut or break the tofu into bite-size pieces (~1" cubes or any shape).
The secrets to crispy tofu: For an epic crunch, coat the tofu pieces in cornstarch. Use a non-stick skillet over medium-high heat. Fry the tofu in oil. Wait to add the tofu pieces until the oil is HOT. Don't crowd the pan and don't rush the process. Let the surface get golden brown before flipping.
Do I have to use oil?: If you follow an oil-free diet, you can still enjoy tofu cooked in a pan. The texture is more like sautéed or seared tofu with a light crust - it's super delicious.
Million Dollar Tofu Tip: Don't overcook the tofu! I can't say this enough, overcooked tofu is rubbery and dry (it's not good). When you first start cooking tofu, test it periodically as you're cooking. It won't take long to find the perfect cooking time, temperature, and texture to suit your preference (rare, medium or well done).
Build flavor using two layers of seasoning! Tofu has a neutral flavor (it can take quite a bit of spice so seasoning it liberally). I like to add a layer of seasoning before cooking and then a second layer of flavor with a sauce like sesame, teriyaki or a dipping sauce.
Make ahead option: Often I press a few blocks of tofu at a time. Once pressed for ~30 minutes (if needed), wrap in fresh paper towels and store in a plastic bag in the fridge for up to several days. It's a great time saver for busy weeknight dinners.
Tofu FAQ
Do you have to press tofu before pan frying?
The answer to the great tofu (pressing) debate is: it depends (on the type of tofu you use). There's a wide range of opinions on the need to press or not to press tofu. This is what I do: If I'm using extra firm tofu in vacuum packs (refrigerated section) or a similar dense tofu, I just wrap the tofu and gently squeeze any excess water out then pat dry. If my tofu is softer like medium, medium firm or firm, I usually press it for 30 minutes or longer if I have the time.
Is tofu healthy?
Yes, tofu is healthy, but you don't have to take my word for it. Read more about the health benefits of tofu and tofu nutrition in this article by leading health expert Dr. Michael Greger.
How to Serve
Fried tofu is best served immediately while it's hot and crunchy. But hot or cold, it's very scrumptious! You can add this crispy tofu to pretty much everything:
as an appetizer: Cut the tofu into nuggets, cubes or batons and serve with your favorite dipping sauce like sweet and spicy tahini, creamy BBQ sauce or vegan ranch.
in a noodle bowl: Like this tofu noodle bowl with incredible spicy peanut sauce.
elevate your salad bowls: My favorite ULTRA EASY and quick, summer dinner is to start some tofu. Then make a huge green salad with lots of shredded cabbage, croutons, toasted sunflower seeds, diced avocado, chickpeas, quinoa or sweet potato cubes added in. Top it off with a killer vegan salad dressing. Ready in 20 minutes, super healthy, and delicious! Delicious on vegan Caesar salad too!
as a plant protein: Bump up the plant based protein on pizzas, nachos, tacos or in stir fries.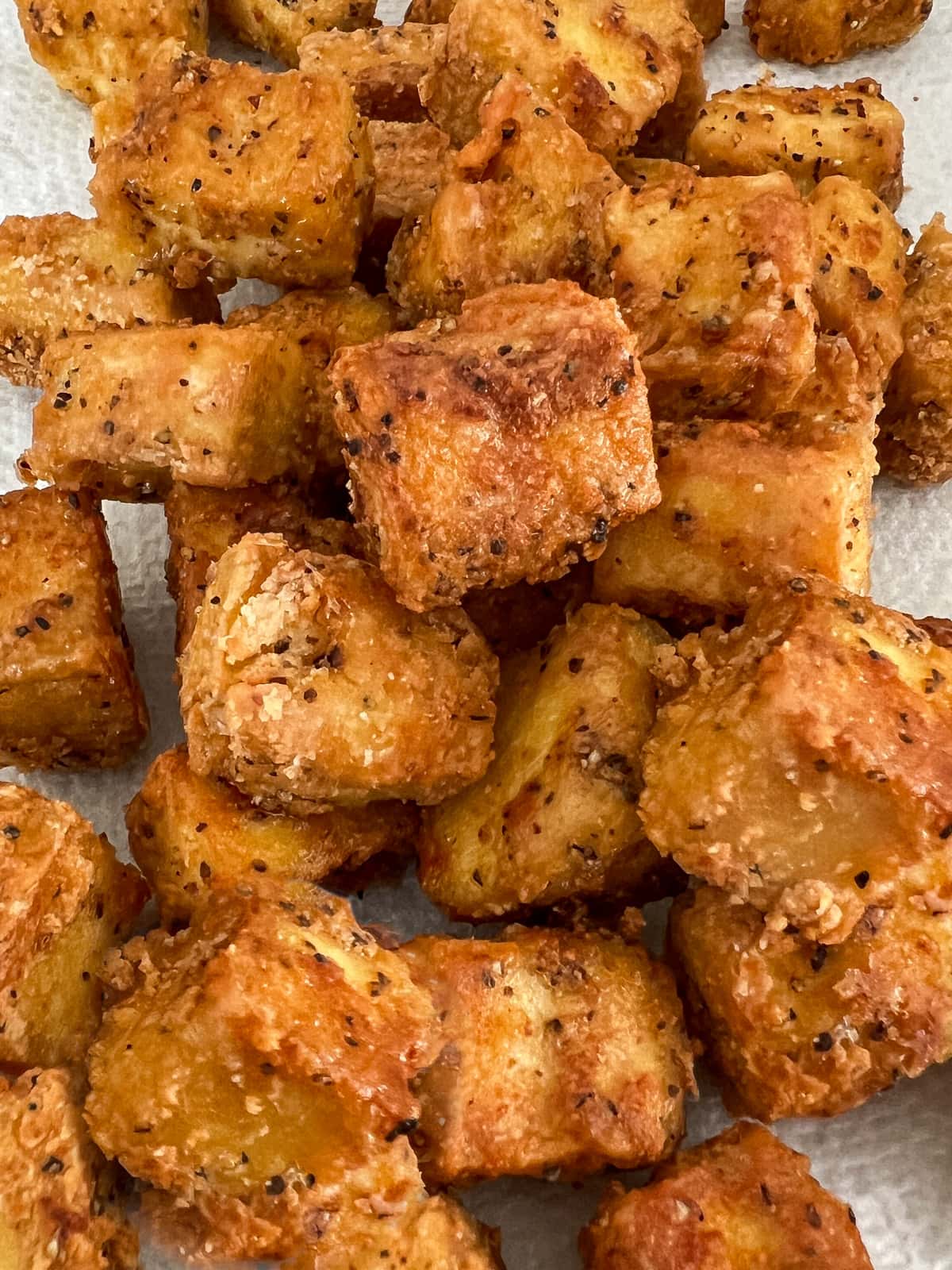 How to Store & Reheat Tofu
Leftover tofu: I love cold leftover tofu - the inside texture is spectacular - similar to cooked chicken. Is it exactly the same? Nope, it's much better and it's cruelty free! Fried tofu lasts in the fridge for up to a week.
Reheating tofu: Reheat tofu in an air fryer or toaster oven to bring the crispiness back to life or in the microwave just until warmed through.
More Delicious Tofu Recipes
Here's a couple more ultra tasty tofu recipes:
If you tried this quick, Crispy Pan Fried Tofu recipe, please let me know how you liked it by leaving a rating and review below! Be sure to follow along on Instagram and Pinterest or sign up for our Sunday morning newsletter for more delicious vegan recipes.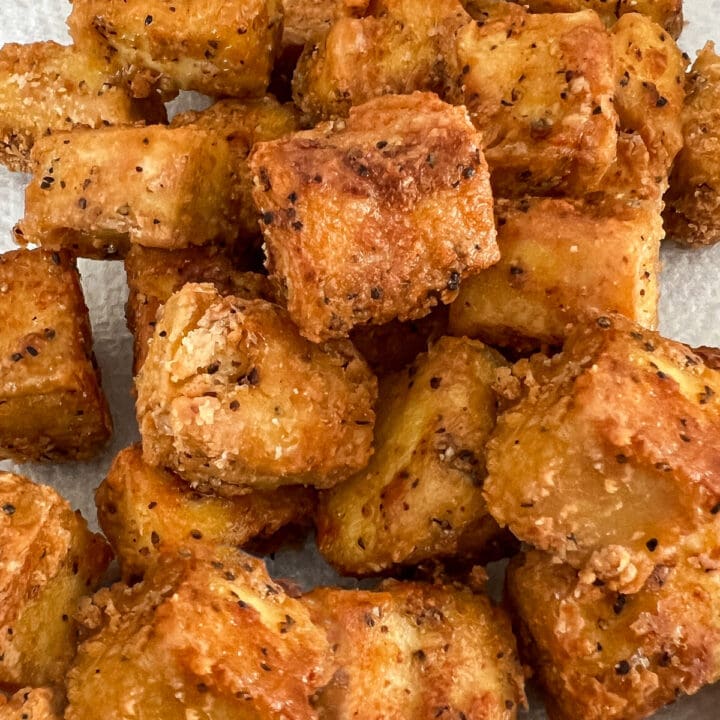 How to Make Extra Crispy Pan-Fried Tofu (gf)
A delicious and easy pan-fried tofu recipe for vegetarians/vegans and meat eaters alike. When you need a meal in minutes, this tofu is a super flavorful, ultra crunchy and versatile plant-protein that's perfect on rice with veggies, added to a salads, bowls, tacos and so much more.
Rate this recipe!
INGREDIENTS
1

block

tofu, extra firm

1

tablespoon

neutral oil

1 ½

tablespoons

soy sauce (tamari for gf)

1

tablespoon

sambal oelek

½

teaspoon

garlic powder

1 - 1 ½

teaspoons

coarse ground black pepper

2

tablespoons

cornstarch
For Frying Tofu
¼ - 1

cup

neutral oil (as needed)
Garlic Sesame Marinade
¼

cup

soy sauce

2

tablespoons

maple syrup (more to taste)

1

tablespoon

white vinegar (rice vinegar)

1 - 2

tablespoons

sriracha sauce

1

tablespoon

oil

1

teaspoon

sesame oil (optional)

2

cloves

garlic, minced

1

teaspoon

ginger, minced (more to taste)

1

tablespoon

cornstarch + 2 tablespoons water = slurry
For Serving
toasted sesame seeds

4

green onions, sliced
INSTRUCTIONS
Wrap the tofu in a towel and gently squeeze out excess water. Stack a few heavy cookbooks on top while you prepare the other ingredients.

Slice or break the tofu into bite size cubes. Toss the tofu with the oil, soy, sambal oelek, garlic and pepper to coat the pieces. Then sprinkle with cornstarch and toss again until thoroughly coated and sticky.

Add enough oil to generously cover the bottom of a skillet so the oil will come up the sides of the tofu. Heat over medium high until the oil is shimmering. Once hot, arrange the tofu pieces (cubes) in a single layer in the hot skillet - they will sizzle! Let them cook and turn golden (~2 minutes) flip* and repeat on the opposite side until golden and crispy. Use chopsticks, a fork or tongs.

Transfer the tofu to a pile of paper towels to remove excess drippings. ENJOY AS IS or make the sesame garlic sauce.

Make the sesame sauce: Pour out the oil and wipe the skillet. Whisk the sauce ingredients together then pour into the skillet and cook over medium heat. As the sauce begins to bubble, it will start thickening (about 2-4 minutes). Transfer the cooked tofu into the pan and toss to coat evenly. Continue to stir until the sauce is glossy and thickened. Turn off the heat. Note: if the sauce becomes too thick, add a splash of water to correct consistency.

To serve: Remove from heat and serve immediately garnished with a sprinkle of toasted sesame seeds and sliced green onions over a bed of rice and steamed veggies (if desired).
NOTES
Tofu: Use firm or extra firm tofu for the best results. *Pan Frying Tofu: If your oil is deep enough, you'll just have to flip the tofu pieces one time since the oil will come up the sides of the tofu cubes making them crisp! However, if the tofu cubes are large or the oil is shallow, you'll have to flip a couple more times. The fist side takes the longest to cook, after that, it will be only ~30 - 60 seconds per side to crispy up. Be vigilant so you don't overcook the tofu! Sweetener: Sub in your favorite sweetener instead of maple syrup (eg. brown sugar, coconut sugar). Save the Oil: Let the leftover oil cool completely in the skillet, then pour it into a jar. Use it next time you are pan frying tofu or anything else.  Storing Tofu: Store any leftover tofu in the fridge for up to a week. If you are meal prepping this pan fried tofu. Instead of dunking all the tofu into all the sesame garlic sauce, take out just the amount of tofu and sauce you will need for one serving and store the rest in separate containers in the fridge. Reheating Tofu: Although I love cold leftover tofu the next day, you can re-crisp in an air fryer or toaster oven or just warm through in the microwave if desired.
This recipe is from simplyceecee.co food blog. All images and content are copyright protected. Please do not use my images or republish this recipe without prior permission. Thank you.