This Thai crunch salad is an irresistible combination of crisp vegetables, toasted peanuts and crunchy ramen noodles tossed in a drinkable, spicy peanut ginger sauce. Ready in under 30 minutes, this make-ahead friendly salad is perfect for summer parties. Vegan and gluten free!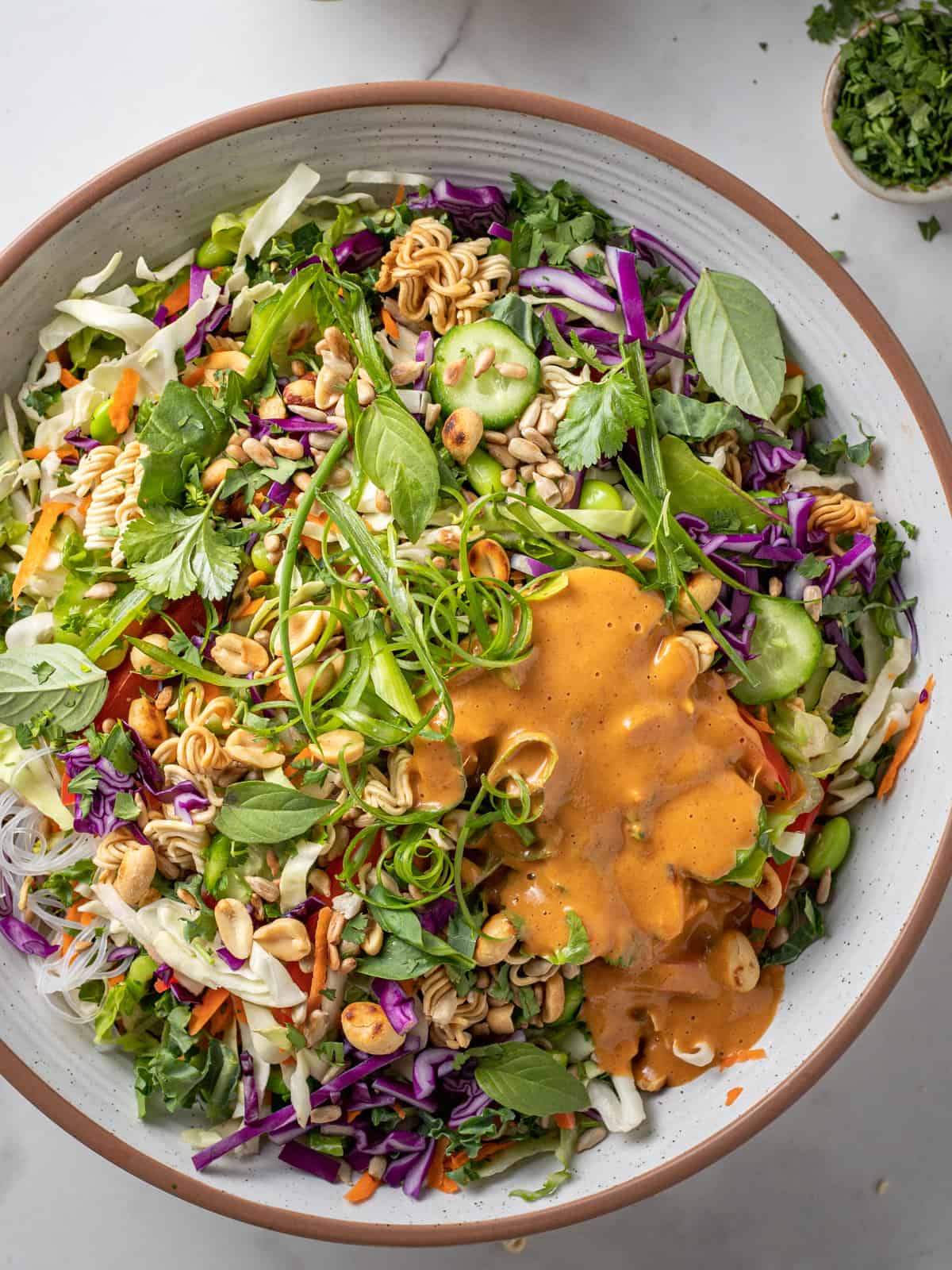 I've been loving Thai style crunch salads since my daughter and I visited Asia where we devoured them every day! Of course, the salad dressing is where the magic is so this recipe includes a craveable peanut ginger dressing!
This is a popular salad to take to BBQs, picnics, and summer parties! And just like my vegan Greek salad, crunchy Asian cabbage salad, Mediterranean cucumber salad, and veggie pesto pasta, it can be made ahead and everyone loves it!
Why You'll Love this Recipe!
This recipe is inspired by California Pizza Kitchen's popular Thai crunch salad. Other than the totally addictive Thai peanut dressing, here's a few more reasons you'll love it:
Easy & Make Ahead Friendly: quick and easy to make with any crunchy veggies, this Asian slaw is the perfect make-ahead salad for meal prep and summer parties. The sturdy veggies hold up well to the dressing for several days in the fridge.
Healthy and Nourishing: packed with a variety of colorful veggies, this salad is bursting with nutrients and fiber.
Special Diet Friendly: this Thai Crunch Salad is perfect for anyone with vegan, vegetarian, plant based, raw, dairy free, keto, gluten free, low carb, soy free, and sugar free dietary preferences or restrictions.
What's in Cabbage Crunch Salad?
Let me share the secret for making THE best salad: epic flavor and crunch overload! Here's the ingredients you'll need to create your own drool worthy CPK Thai Crunch Salad at home: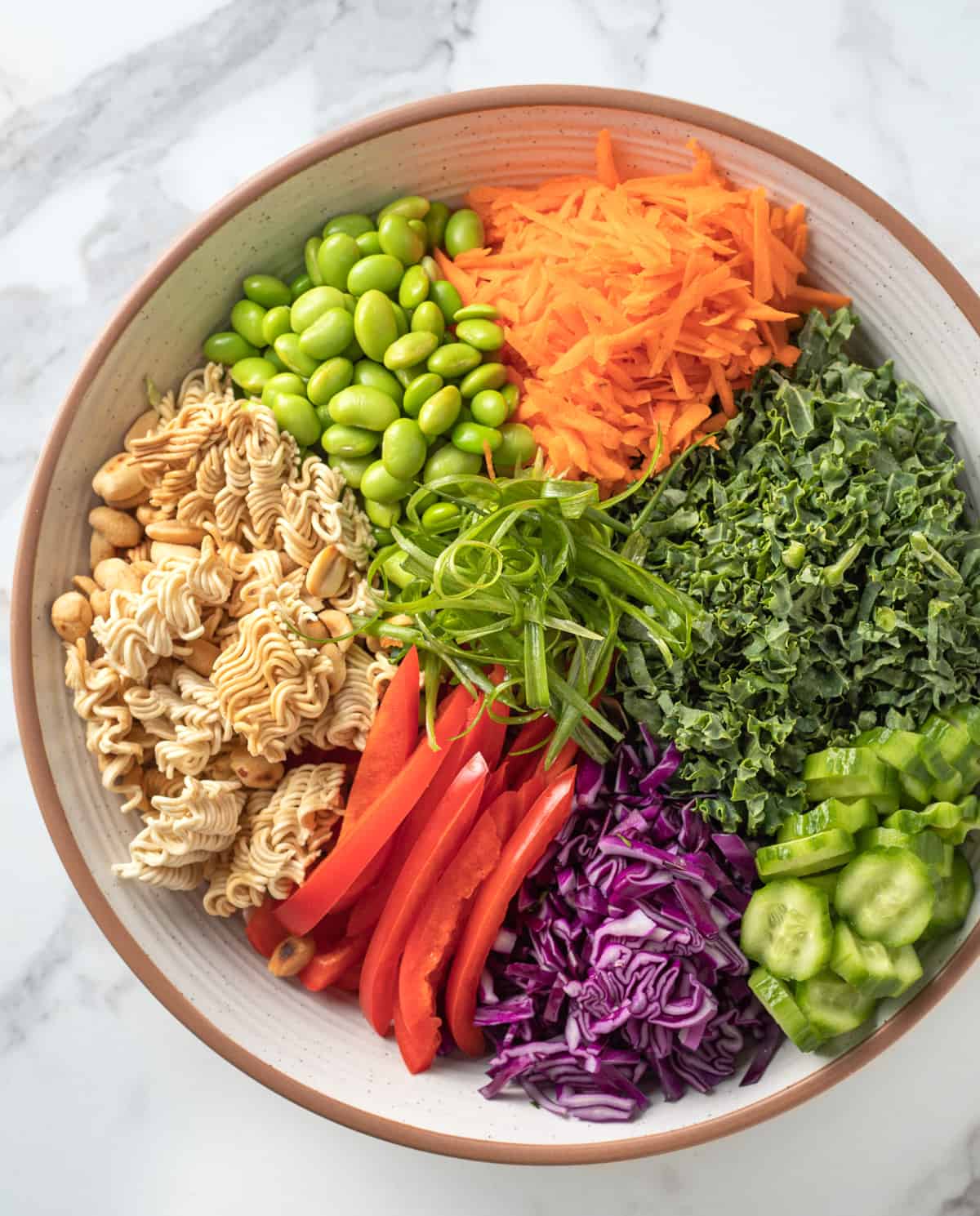 Salad Ingredients: choose veggies that stay crunchy for several days like shredded cabbage, purple cabbage, red peppers, cucumbers, green onions, shredded carrots, edamame, and fresh herbs like cilantro, mint, and Thai basil (not to be confused with Italian basil).
Crunchy Salad Toppings: for the crunch factor you'll need roasted peanuts (cashews, pistachios or almonds), sunflower seeds, and toasted ramen noodles.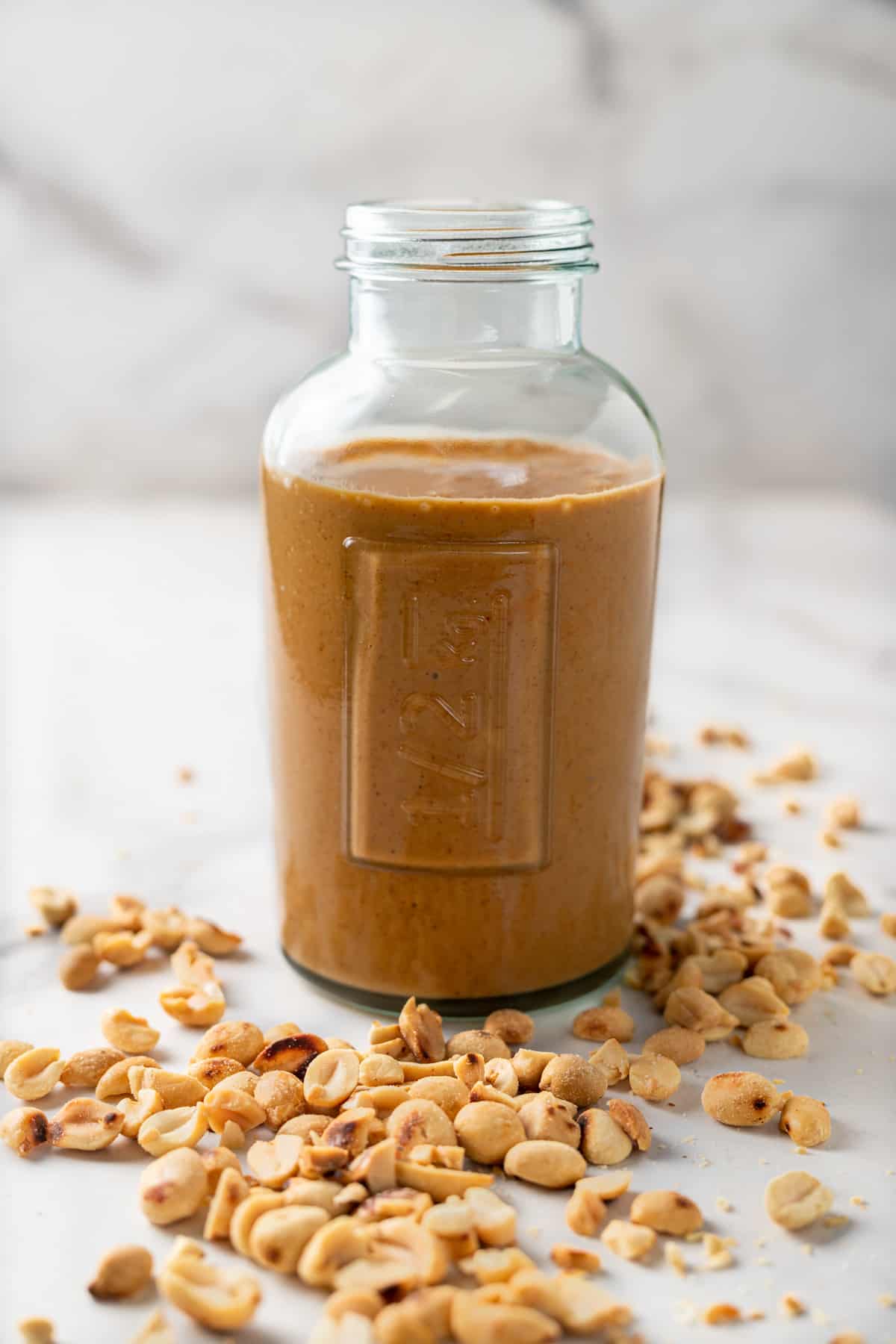 Peanut Ginger Dressing: for the totally drinkable, sweet, salty, savory, tangy, vegan peanut ginger sauce, gather together these ingredients: peanut butter, rice wine vinegar, maple syrup, fresh lime juice, soy sauce, fresh ginger, fresh garlic, and hot sauce.
A Few Notes & Substitutions
The crunch salads we loved in Vietnam had variations - sometimes they were served with grated green mango or in a whole pineapple with noodles or rice. Here's a few ideas for customizing your own salad:
Cabbage: use green and purple cabbage or napa cabbage. Shred it using a sharp knife or let a mandoline do all the work. For convenience, buy pre shredded cabbage.
Kale or romaine lettuce: add some thinly sliced ribbons of kale/romaine for extra crunch and nutrients.
Edamame: a wonderful source of plant-based protein, buy frozen shelled edamame or sub in sliced snow peas or sugar snap peas.
Make it vegan chicken salad: add some sliced plant-based chicken tenders like Gardein, Impossible Meat or Beyond Meat. Just pop them into the air fryer while you're making the salad and peanut sauce.
Avocado: avocado slices add richness, healthy plant-based fat, and creaminess.
Brighten the flavor profile: slice some green apples or add grated green mango to the salad ingredients to add a zesty twist.
Make it hearty: thin rice noodles, vermicelli noodles, soba noodles or quinoa are all wonderful, gluten-free additions to a crunch salad.
Swap the peanut butter: use almond butter or cashew butter instead of peanut butter for a slightly different flavor profile.
Sugar free option: sub the maple syrup for the sweetener of your choice or skip altogether.
Soy sauce option: choose gluten-free tamari or coconut aminos as required.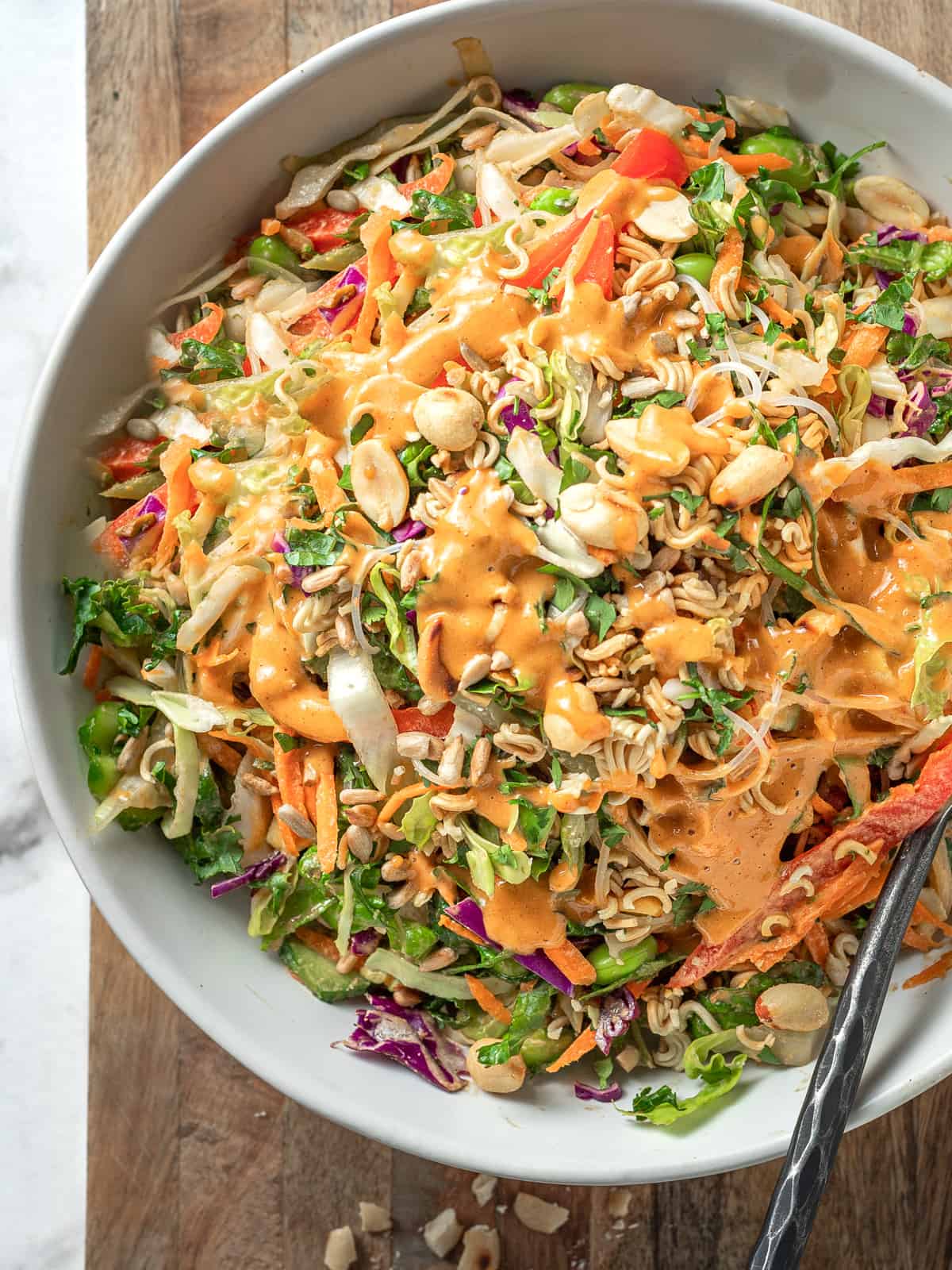 How to Make a Crunchy Thai Salad!
Thai Crunch Salad is a delicious, nourishing, weeknight friendly meal that you can whip up in 20 minutes. No fancy equipment needed, and no turning on the oven! Here's the simple steps:
Make the spicy peanut dressing: place all dressing ingredients into a blender and blitz until smooth and creamy. Place in fridge to chill.
Toast the ramen noodles, nuts/seeds: toast the noodles, nuts and seeds in the air fryer, on the stove or in the oven.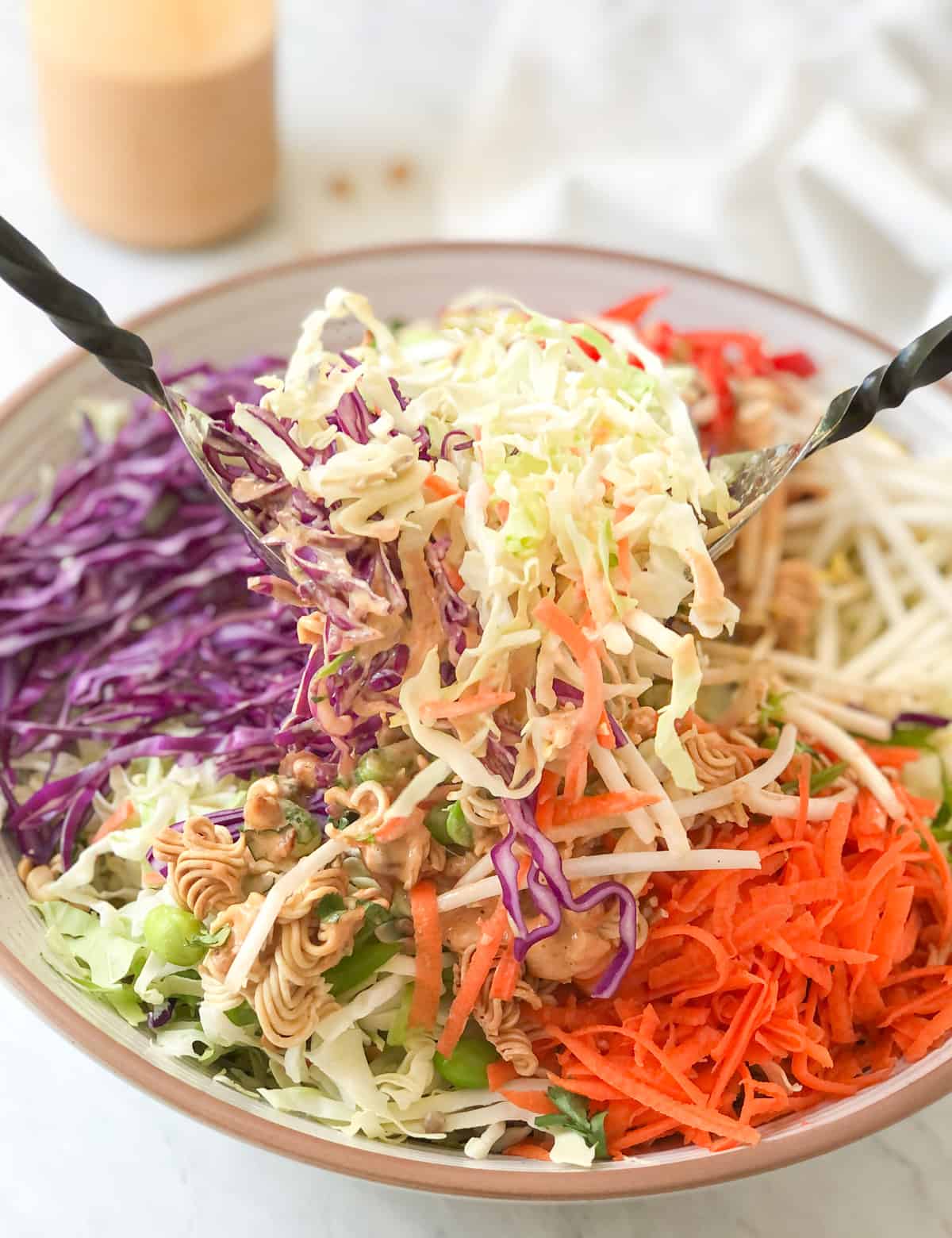 Assemble the salad: start with a layer of the shredded cabbage, then pile on the other vegetables and noodles (if using).
Drizzle with dressing: add a copious amount of ginger peanut dressing and toss everything together.
Garnish with crunchy ramen noodles, nuts/seeds, and chopped herbs to taste.
How to Serve
Serve this Thai veggie salad as a light lunch or side dish for dinner. Pair it with rice noodles, quinoa or couscous for a more substantial meal. Here's a few more ideas for serving:
Serve with protein: add a side of plant-based protein or quick dinner rolls for a heartier vegan dinner. Try it with marinated tofu, vegan chicken tenders or grilled vegan kabob.
As a drizzle or dipping sauce: drizzle the peanut ginger sauce over Buddha bowls or grilled veggies. Use for dipping with raw vegetables or vegan summer rolls.
Serve in a Mason Jar: we love our mason jar salads, and peanut crunch salad in a jar is perfect for grab and go lunches, picnics, and road trips. Check out this post on how to layer a mason jar salad.
Storage Tips
Leftover 'dressed' salad can be stored in the fridge for a day or two. The ramen noodles become soft like in a peanut noodle salad - delicious. Sprinkle a few crunchy ramen noodles on the leftovers for added crunch.
To extend the storage time and quality by several days, package the salad ingredients and peanut dressing separately then toss together when ready to serve.
Did you make this recipe? I'd love to see it!
Tag me on Instagram and please leave a comment and rating below.
NEVER MISS A RECIPE: Join our Sunday morning NEWSLETTER!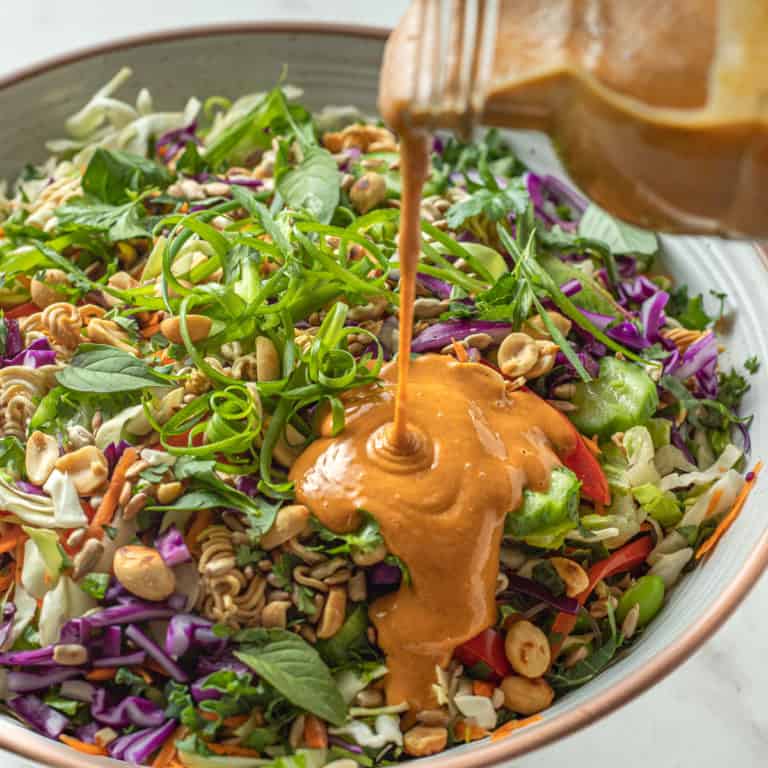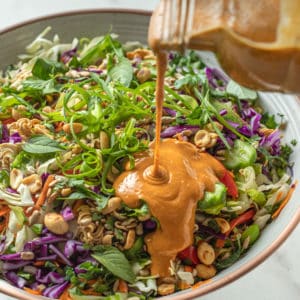 Thai Crunch Salad CPK Copycat (with peanut ginger sauce)
This healthy, vegan Thai crunch salad is an irresistible combination of crunchy shredded vegetables, toasted nuts and seeds, topped with the most incredible, drinkable spicy peanut ginger dressing. For epic flavor and crunch overload, make this CPK Thai crunch salad copycat at home in under 30 minutes!
Rate this recipe!
INGREDIENTS
Chopped Salad Ingredients
4

cups

shredded cabbage or coleslaw mix

1

cup

red cabbage or napa cabbage, shredded

1 ½

cups

carrots, shredded

1

cup

cucumbers, large diced

1

cup

red pepper, large dice or thinly sliced

3-4

green onions, sliced

1

cup

edamame, steamed

1 ½

cups

bean sprouts

1

red serrano pepper, finely chopped
Spicy Peanut Ginger Dressing
½

cup

peanut butter (natural)

3

tablespoons

rice vinegar

2

tablespoons

lime juice, fresh

2

tablespoons

maple syrup

2

teaspoons

sesame oil (optional)

2

tablespoons

sriracha or sambal

2-3

tablespoons

soy sauce (tamari)

1"

piece

fresh ginger (more to taste)

1

clove

garlic

2-4

tablespoons

water
Garnish
1

cup

cilantro, Thai basil, mint chopped

½

cup

roasted peanuts and/or sunflower seeds

1

package

ramen noodles, roughly broken and toasted
INSTRUCTIONS
For the Salad
Using a sharp knife or a mandoline, shred the cabbage thin like coleslaw.

Slice, dice, and shred the remaining vegetables.

Toast peanuts/sunflower seeds in a dry skillet over medium-high until fragrant and lightly toasted. Shaking the pan as needed. Remove from heat to cool then rough chop the peanuts and set aside.

Pro Tip: If toasting the ramen noodles in the oven, the nuts can go on the same baking sheet!
Toasted Ramen Noodles
Break the ramen noodles into chunks and place on a baking sheet in the oven at 375ºF for 5-8 minutes - shaking as needed.

Or bake in the toaster oven until golden. Or in the air fryer at 320º F until lightly golden (5-7 minutes) shaking as needed. Keep your eye on them, they go fast!

The noodles will not be evenly golden which is totally fine.
For the Ginger Peanut Sauce
Place all ingredients in a blender and blend until smooth. Taste and adjust as desired. Add more vinegar and lime juice for sour/tartness, maple syrup for sweetness, chili paste/sriracha or ginger for heat, and garlic for pungency.

If oil free, easily skip the sesame oil - this dressing is fabulous without it!

Place in fridge until needed.
To Serve
Toss together the salad ingredients and about ⅔ of the peanut salad dressing in a large bowl until evenly coated. Top with fresh herbs, chopped peanuts, sunflower seeds (optional), and toasted ramen noodles. Serve with a extra sauce and lime wedges.
NOTES
For an even quicker meal:
make the peanut sauce up to a week in advance and store in a jar in the fridge until needed.
use pre shredded veggies.
toast ramen noodles and nuts/seeds weeks in advance and store in a airtight container in the pantry. Make extras and sprinkle on salads and bowls all week for extra crunch.
For variety: add optional add ins like rice noodles and kale or vegan chicken as desired.
Make ahead: a great healthy salad to make ahead for lunches (mason jars!), picnics, potlucks and BBQs!
This recipe is from simplyceecee.co food blog. All images and content are copyright protected. Please do not use my images or republish this recipe without prior permission. Thank you.